Posted by Tom Baker (Chiba, 1989-91).
The Japan Writers Conference is a free annual event for English-language writers, held in a different part of Japan each year. In 2016, it will take place on the weekend of Oct. 29-30 at Tokushima University in Shikoku. A good number of current and former JETs always take part, and one of them is this year's conference host: Tokushima University Lecturer Suzanne Kamata.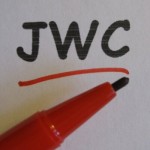 Suzanne has written several novels and compiled several anthologies and is an editor for www.literarymama.com. She and three other published authors will participate in a panel called "Inspiring Fiction: Where do You Get Your Ideas?"
That panel is just one of about 30 presentations scheduled. JET alum and textbook author Todd Jay Leonard will give a lecture titled "Helpful Hints on How to Get Published in the EFL Market in Japan." JET alum Elaine Lies, a Reuters journalist, will present "Food, Glorious Food," a workshop on how to write evocatively about the emotional, sensory and nostalgic power of food. Current JET Victoria Vlisides, who writes for JapanTravel.com, will give a presentation called "Bust into the Japan Writing Scene."
Poet and novelist Holly Thompson, who first came to Japan in connection with the pre-JET MEF program, will give two presentations. One is "Poems with Plot—A Narrative Poetry Workshop." The other, with novelist Mariko Nagai, is a joint lecture on "Verse Novels Crossing Borders."
For details on those and about two dozen other presentations, visit www.japanwritersconference.org or follow @JapanWritersCon on Twitter.
************
What do people do after JET? Here's one great example.
On November 16, JETAA DC held the latest in their JET Talks series with a talk by JET alum George Rose (Fukushima-ken, 1989-91), former interpreter for Hideki Irabu and current Director of Pacific Rim Operations for the New York Yankees, not to mention former JETAA NY President.
Here's a video of the talk. (Thanks to JETAA DC Vice-President Joy Young for passing this on!) Many great anecdotes including one about interpreting for Hideki Matsui on the Regis and Kathy Show. Plus, did you know that George played a role in helping the Yankees sign Masahiro Tanaka? Watch and enjoy!
***************
Bruce Feiler (Tochigi-ken, 1989-90), author of Learning to Bow  as well as several books on religion including Walking the Bible, Abraham and Where God Was Born along with other popular books including The Council of Dads, and, most recently, The Secrets of Happy Family, can now add CNN commentator to his resume. He has been providing religion-related perspectives in live conversations with Anderson Cooper, Wolf Blitzer and others.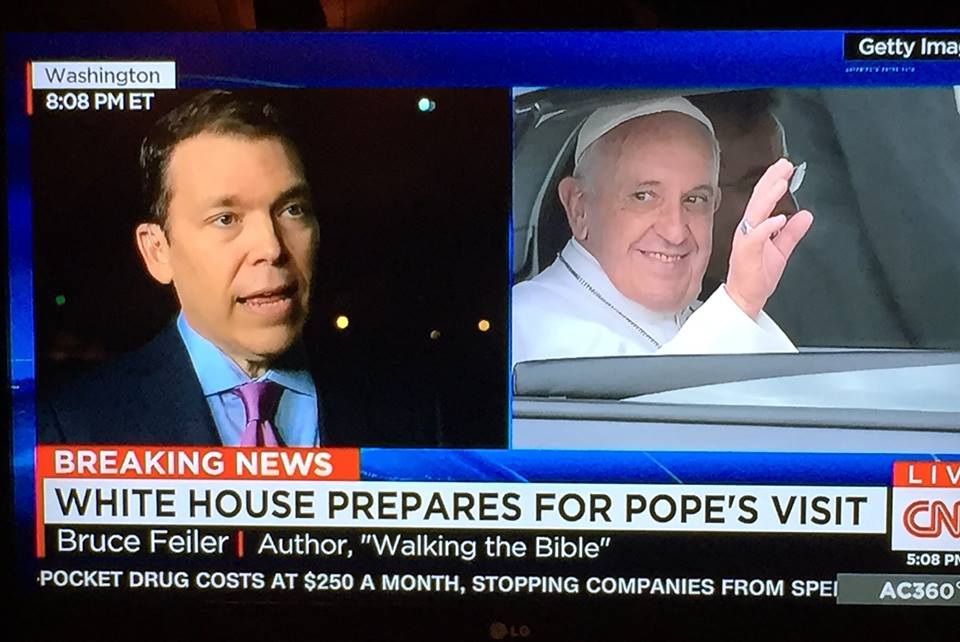 ****************************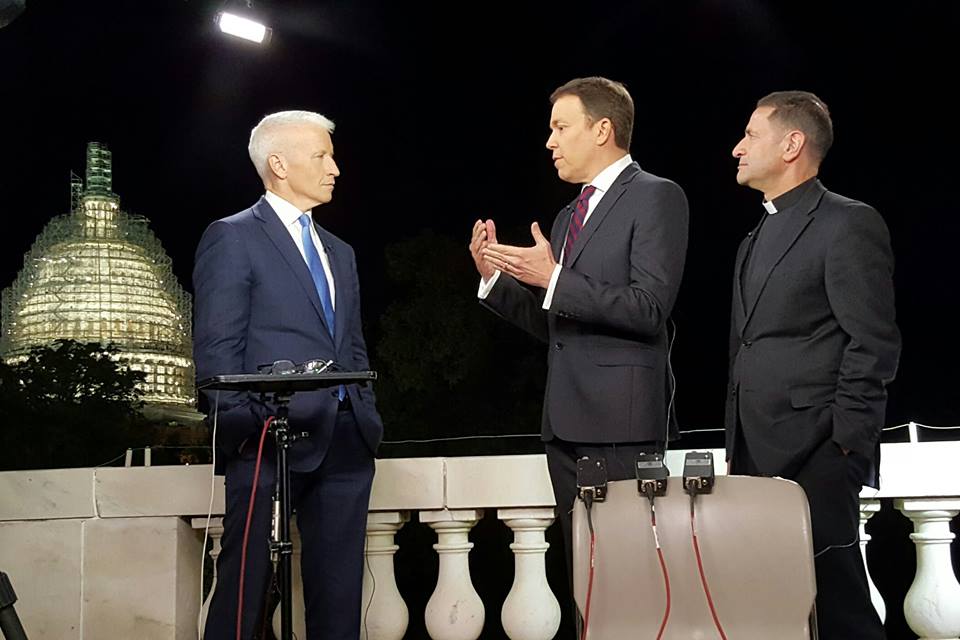 To read prior JETwit posts about Bruce Feiler, please click here. 
For more regular updates, follow Bruce on Facebook:  www.facebook.com/brucefeilerauthor.
And Twitter:  www.twitter.com/brucefeiler.
A great article on the foreign policy advisors to several Republican candidates, including JET alum Richard Fontaine–outsider foreign policy advisor to Jeb Bush and former security advisor to Sen. John McCain–who is featured and quoted extensively in the article.
"Between Iraq and a Hawk Base"
http://www.nytimes.com/2015/09/06/magazine/between-iraq-and-a-hawk-base.html?_r=0

Posted by Eden Law, 2010-2011 ALT Fukushima-ken, President of JETAANSW.
As part of the drive to promote tourism to Japan (not to mention combining a long-held passion and dream), ex-JET Julius Pang introduced a Tohoku photography tour to showcase the beauty of Japan in autumn, in an area that sadly has become known for other things in recent years. Americans are especially well-suited to taking advantage of this tour package, considering how strong the US dollar is against the Australian (yes, Julius's Australia-based company, Incredible Photo Tours, welcomes overseas clients), travel will be especially cheap, with accommodation, transport and food taken care of.
Starting from Tokyo, the tour goes to various places throughout Tohoku such as Zao Onsen, Sendai, Hiraizumi, Akita, Bandai, Aizu-Wakamatsu, Nikko, Naruko Gorge, Shirakami Sanchi, Hirosaki, Nyuto Onsen and Lake Towada. With the advantage of the inside knowledge of an ex-JET, and the expertise of a tour guide who has won awards for his photography, it's a great tour package to consider for your next trip to Japan. Julius also has other tours, such as the Japan Classic Autumn tour, that does the classic route of Tokyo, Hakone, Himeji, Kyoto, Hiroshima, Miyajima, Okayama, Takamatsu, Mt Koya and Osaka.
For more information, check out the Tohoku Autumn Tour, or the Classic Autumn Tour at Incredible Photo Tours.
By JQ magazine editor Justin Tedaldi (CIR Kobe-shi, 2001-02) for Examiner.com. Visit his Japanese culture page here for related stories.
As spring continues and the weather continues to warm, New Yorkers can enjoy activities all over the city both indoors and out.
This month's highlights include:
Friday, May 1, 8:00 p.m.
Best Buy Theater, 1515 Broadway
$35
Japan's most daring rock band, VAMPS is fronted by vocalist hyde of L'arc~en~Ciel and guitarist K.A.Z of Oblivion Dust. Now touring in support of their latest album, Bloodsuckers (available on iTunes), VAMPS returns to take another bite out of the Big Apple for their first area performance since 2013.
Monday, May 4, 6:30 p.m.
Monkey Business: Japan/America Writers' Dialogue in Words and Pictures
Asia Society, 725 Park Avenue
$15, $10 Asia Society members, $12 students/seniors
Join this annual conversation between contemporary Japanese and American authors in which Asia Society hosts an international dialogue, curated and moderated by the co-founders and editors of the Tokyo-based literary journal Monkey Business with writers who are featured in the latest edition of Monkey Business (#5), a unique, cutting-edge annual literary journal which showcases newly-translated Japanese as well as contributions from contemporary American and British writers.
Thursday, May 7, 6:30 p.m.
The Magical Art of Translation: From Haruki Murakami to Japan's Latest Storytellers
Japan Society, 333 East 47th Street
$12, $8 Japan Society members, students/seniors
Since 1989, Jay Rubin has translated many of Haruki Murakami's most successful and prize-winning novels, including The Wind-Up Bird Chronicle, Norwegian Wood and 1Q84. In this program, he is joined by Ted Goossen, translator of Murakami's most recent U.S. publications, The Strange Library and Wind/Pinball: Two Early Novels, and co-editor of Monkey Business literary magazine, which showcases the best of contemporary Japanese literature for an international audience. They will discuss the unique challenges of translating modern Japanese literary works into American English, and vice versa. Rubin will also talk about his transition from translator to novelist vis-à-vis his debut novel The Sun Gods. Joining the discussion from Tokyo will be authors Aoko Matsuda and Satoshi Kitamura, and Motoyuki Shibata, friend and translating partner of Murakami. Author Roland Kelts, co-editor of Monkey Business, moderates the discussion. Followed by a reception.
For the complete story, click here.
A great summary of the long-term value of the JET Program (i.e., Return on JET-vestment) by University of Indiana journalism professor (and JET alum) Emily Metzgar:
The JET Program and the US-Japan Relationship:  Alumni of the Japan Exchange and Teaching Program are an important part of bilateral ties.
As official Washington prepares for the late April visit of Japanese Prime Minister Shinzo Abe and his scheduled address to a joint session of Congress, many aspects of the bilateral relationship between the United States and Japan will rightly be feted, including a robust strategic alliance and significant economic ties between the two nations. The visit also presents an opportunity to consider a less discussed but increasingly important aspect of the U.S.-Japan relationship writ large: The extensive – and growing – network of American alumni of Japan's long-standing Japan Exchange and Teaching (JET) Program.
Click here to read the rest of the op-ed:  http://thediplomat.com/2015/04/the-jet-program-and-the-us-japan-relationship/
JETwit is very excited to share the below message from Emily Metzgar (Shimane-1993-95), Professor of Journalism at University of Indiana who has already published prior research on the JET Program and alumni community. To help Emily with the book, read below and click this link:  http://bit.ly/1Fvjvof
*********************
Dear American JET Alumni,
I'm writing a book about American alumni of the JET Program and the growing influence of this community on the broader US-Japan relationship. I'm a professor at Indiana University and a JET alum (Shimane, 1993-1995). I've already published some research  about American alumni of JET and the tremendous potential of this pool of college educated people with on-the-ground experience in Japan. My book will document that influence in a variety of contexts — political, cultural, educational, corporate, etc.
As I work on this book I need your help. I'm interested in talking with American alumni about the various ways they remain involved with Japan after finishing their tenure with JET. Would you be willing to be interviewed for this project?
I've set up an online data collection site and am asking that alumni who are willing to be interviewed use that link to provide a few details about themselves so I can determine whom to contact and when, based on my research timeline. This project is authorized by my university's Institutional Review Board (IRB) and as the first item at the link below indicates, all safeguards associated with such university-approved research are in place.
If you're willing to share your post-JET experiences and your insights about the growing influence of the American JET alumni community please click on this link (http://bit.ly/1Fvjvof) and provide the requested information (name, contact info, years & position on JET, current job, and nature of continued involvement with Japan). I will follow up with you soon to set up a phone or Skype interview.
If you have any questions about this request or if you'd just like to know more about this book project — I'm always happy to talk about it! — please don't hesitate to get in touch.
Thanks so much for any insights you can share. I'm looking forward to hearing from you.
Sincerely,
Emily
By Sheila Burt (Toyama-ken, 2010-2012) for JQ magazine. Sheila is a grant proposal writer at the Center for Bionic Medicine at the Rehabilitation Institute of Chicago. Read more of her reporting and writing at her blog.
Robin Hilton (Aichi-ken, 1996-99) is a radio producer and co-host of NPR's music program All Songs Considered. In this JQ exclusive, Hilton shares his experiences on the JET Program in the late 1990s and his radio documentary Big in Japan, a comical and poignant reflection on his daily life as an English teacher in Japan.
Growing up in the small town of Abilene in central Kansas, Hilton never imagined living or working in Japan. But around the same time he graduated from the University of Kansas in 1992, Abilene initiated a sister city and exchange program with Minori, Japan (now Omitama) in Ibaraki-ken. At the encouragement of the program's director, Hilton applied for a job teaching English more than 6,000 miles away from his hometown, as he was excited to begin a new endeavor outside of his comfort zone and experience a different culture. Yet Hilton would still have to wait a few years before his new adventure in Japan could begin.
"I didn't get [the position]," Hilton recalls, "but it planted the seed in me, so a few years later I decided to try for the JET Program. I didn't grow up with a deep fascination with or love of the country. But it ended up being one of the greatest things I've ever done with my life, and I certainly have that deep love for Japan now."
a
By Eden Law (Fukushima-ken, 2010-11) for JQ magazine. Eden currently serves on the JETAA New South Wales committee in Sydney, Australia as the online social media, webmaster and occasional editor. Got feedback? Leave a comment below.
In 2013, the JETAA Initiative project was launched by the United States-Japan Bridging Foundation (USJBF), with funding provided by the The Japan Foundation Center for Global Partnership (CGP). The first phase of the project was to assess the feasibility of a national JETAA organization, with the next phases dealing with the structure, duties and objectives of the new organization.
The first phase (feasibility study) has now wrapped up and its findings presented at the September 2014 National JETAA USA Conference, and the next phase is currently underway. JQ spoke with Laurel Lukaszewski (Kagoshima-ken, 1990-92), JETAA Initiative project director (who is also a highly noted, Washington D.C.-based ceramic artist in her own right), who kindly gave her time to discuss the JETAA Initiative, the findings and next steps for the project.
How did you come to be selected for the role of project director of the JETAA Initiative?
I applied for the position after I saw the job announcement posted in a number of different places. I work as an artist full-time, but my schedule is flexible and I thought this would be an exciting project. In my previous career, I was the executive director of the Japan-America Society of Washington, D.C. Before that, I worked for the Japan-America Society of the State of Washington in Seattle as their program director. I've also been part of the JET selection process for over 15 years (reviewing applications, interviewing, working at the embassy as the review committee liaison for two seasons). I have also been a board member of the National Cherry Blossom Festival since 2002 and have served on a number of arts-related nonprofit boards and committees over the years. I was also the secretary, then president, of the JETAA Pacific Northwest chapter in Seattle in the late '90s, so JETAA is near and dear to my heart.
It's been a year since your appointment. What were the main challenges you faced as a director?
While not exactly a challenge, it has been paramount to reach out to all 19 chapters in the U.S. to give them an understanding of what we are doing and why we think creating a national organization is necessary. To do this, both [JETAA co-founder] Paige Cottingham-Streater (Mie-ken, 1988-89) and I have attended national and regional conferences to give presentations and speak with alumni to garner their support. We have also made site visits to chapters in Kansas City, Atlanta and Denver to find out what challenges exist at the local level. It was also imperative to show the progress we made over the first year to our funder, The Japan Foundation Center for Global Partnership, so that we could continue.
Why was there a need to examine to conduct a feasibility study on whether a national organization was required?
The only way a national organization will be successful is if the JET alumni community wants it. This is being created for them. I believe very strongly that a national organization will strengthen the network and relationships between both chapters and individual alumni, as well as elevate the status and recognition of the JET Programme and its alumni in the greater U.S.-Japan arena, but the JET alumni community needs to believe this, too. We hope that the national organization will provide much needed support to smaller chapters and give alumni who live outside of large cities a way to connect to the broader JETAA community.
JET alum Emily Metzgar (Shimane-ken, 1995-93), a professor of journalism at Indiana University, has a column in USAToday this week titled, "Is U.S. 'stuck on stupid' on Ebola outbreak?"
If Emily's name sounds familiar, it's because she's also the author of Promoting Japan:  One JET at a time, a paper based on surveys of and research on the JET alumni community that attempts to measure  return on JET-vestment.
Thanks to JET alum Jennifer Butler, who works for the Consulate in Nashville and also is a former JETAA USA Country Rep, for passing on the link to this news about JET alum Leah Hashinger who created a mobile ESL program –  http://www.lipscomb.edu/news/archive/detail/101/28681:
JET alum Leah Hashinger, a student in the Master of Arts in Civic Leadership program at the Nelson & Sue Andrews Institute for Civic Leadership at Lipscomb University, was recently awarded a Salute to Excellence Award from the Center for Nonprofit Management for her coordination of the ESL to Go program at the Tennessee Foreign Language Institute.
TFLI won first place, receiving a $25,000 prize in the Frist Foundation's Innovation in Action category at the Center for Nonprofit Management's awards ceremony. Hashinger, ESL to Go program manager, and Angela Harris, director of ESL/TESL at the institute, accepted the award.
Responding to the repeated identification of transportation as the number one barrier for refugees and immigrants in accessing English classes, ESL to Go offers a unique model of service delivery and access. The classroom-on-wheels (a truck outfitted as a classroom) brings English as a second language classes to refugees and immigrants in Davidson County.
"In 2011, I had the unique opportunity to transform an innovative idea into a reality," said Hashinger. As a volunteer at TFLI, I began working with my supervisor on developing a mobile classroom that would bring English classes to the apartments where refugees live. The challenge allowed me to step into a leadership role where I learned to gather support from the community, build partnerships, gain trust and continue to respond to the dynamic needs of our students."
Each year, CNM hosts Salute to Excellence, the "Academy Awards" of the Middle Tennessee nonprofit community, with a dinner and awards presentation that honors area nonprofits for their commitment to management excellence. The ceremony featured 12 awards and $210,000 in prize money for this year's finalists. More than 1,000 guests and 35 of Nashville's nonprofit organizations attended.
Hashinger is also the 2014 recipient of the Center for Nonprofit Management Award for Andrews Institute students. The award provides students a discounted tuition rate to earn their master's degree in civic leadership.
"Watching Nashville become a leader in embracing cultural and ethnic diversity has inspired me to pursue a path of leadership as well," said Hashinger. "As a civic leader, I will continually work to highlight the positive impact that immigration has on Nashville's culture and economy, while developing innovative ways to fund nonprofit programs and rethink service delivery."
From the CLAIR New York Facebook page:
We are saddened to learn of the passing of Ms. Nancy Kikuchi, one of the founding members of the JETAA Southern California chapter and a tireless advocate for the Japanese-American community in Los Angeles. Nancy was a Mombusho English Fellow before becoming one of the original JETs back in 1987. Returning to LA, she helped organize the chapter and served as its president from 1989 to 1993. Remaining active in alumni affairs, she went on to pursue a career in real estate, served as an advocate and consultant for the people of Little Tokyo, and worked for a number of community-based organizations. She was among five 2012 Women of the Year named by the Downtown Los Angeles Chapter of the Japanese American Citizens League and the Japanese Women's Society of Southern California . Nancy embodied the talents, abilities, and aspirations of the finest JET Program participants, strengthening ties between Japan and her home country, and building on that experience to serve her community while always being there for Japan, for JET, and for her fellow alumni.
Each month, current and former JET participants are featured in the "JET Plaza" section of the CLAIR Forum magazine. The July 2014 edition includes an article by JET alumnus Laurel Stevens Lukaszewski. Posted by Celine Castex (Chiba-ken, 2006-11), currently programme coordinator at CLAIR Tokyo.
***********
Laurel Stevens Lukaszewski (Kagoshima-ken, Minamitane-cho, 1990-92), is a professional artist who has shown her work throughout the US and in the UK. She is also the former executive director of the Japan-America Society of Washington, DC and is currently project director for the United-States Japan Bridging Foundation's JETAA Initiative. Since 2002 she has been a member of the National Cherry Blossom Festival's Board of Directors. Raised on both the east and west coasts of the US, Ms. Lukaszewski holds a bachelor's degree in International Affairs and a master's degree in Asian Studies from Florida State University. She lives in the DC metro area with her husband and two rambunctious cats. To view her artwork, please visit www.laurellukaszewski.com
Enduring Connections
Twenty-four years ago I interviewed for the JET Programme in Atlanta, on my birthday. I felt this was a good omen, so I was not nervous even though this was my first professional interview. Despite spending the last two years of college studying all things Japanese, from language to religion, I had no personal connection with the country and had never been there. What was merely acting on a brief comment by a Japanese politics professor about an opportunity to teach in Japan led me down a path that has guided me over the past two decades.
I spent my two years on JET as the first Assistant English Teacher to be assigned to the town of Minamitane-cho, on Tanegashima, an island off of the southern tip of Kyushu in Kagoshima-ken. I taught at five junior high schools and visited eight elementary schools, usually the first foreigner any of the students had ever met. My role in class varied depending on the school, but every teacher I worked with was eager to include me in activities ranging from PTA BBQs to harvesting sugar cane with students.
During my first weeks I experienced two homestays before moving into my own apartment. In Kirishima, a beautiful mountain town overlooking the Sakurajima volcano, I stayed with a family with three school-age daughters. I did not know at the time that they would become my Japanese family, that their home would become mine whenever I returned to Japan, even decades later. Arriving in Minamitane-cho, I had a second homestay. And, once again, I had no idea that this young couple with three-year-old twins would end up being lifelong friends, attending my wedding, sending seasonal messages as the twins grew into young adults, and hosting my husband and me years later when we were stranded in Kagoshima by a typhoon.
One of the wonderful things about JET is it allows you to become part of the community. Whether anticipated or not, you become involved in the lives of your neighbors, teachers and students. When an art teacher learned my hobby was pottery, she invited me to visit her studio even though she did not speak English. Every week I would join another teacher and my neighbor and spend the evenings working with clay and chatting—an immersion experience in neighborhood news and gossip. When I returned to the US, it was these memories of Japan that endured. My experience taught me I could live in a world where I did not necessarily understand everything, but could still cope and thrive. Read More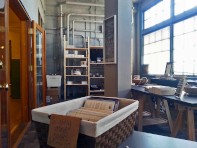 Thanks to JET alum David Jacobson, who works for Chin Music Press, for sharing this press release.  Chin Music Press is a Seattle-based publisher owned and run by Bruce Rutledge (Monbusho English Fellow, Chiba-ken, 1985-87) with a reputation for noteworthy cover art.
Indie Book Publisher Opens Office/Retail Space in Seattle's Pike Place Market
Press Release
July 16, 2014

Local independent book publisher Chin Music Press today opened a new office and retail/exhibit space in Seattle's famed Pike Place Market. The retail space, open from 11am to 5pm Tuesday through Saturday, will feature all Chin Music titles as well as related posters, zines, chapbooks, stationery, broadsides and other artwork.

"It's a great privilege for a small publisher like us to be able to obtain space at Pike Place Market," said Chin Music Press Publisher Bruce Rutledge. "We now have room to give all of our titles the shelf space and attention they deserve. But more importantly, we can add to the literary ecosystem in Seattle. We look forward to connecting with other presses, bookstores, artists and lovers of literature to make our space a vibrant part of the community."

"The Pike Place Market is very pleased to have Chin Music Press join the market community," said Kelly Lindsay, director of programs and marketing for the Pike Place Market Preservation and Development Authority. "We believe the Seattle community, as well as visitors from around the world, will enjoy Chin Music's first retail store and the opportunity to directly engage with featured artists, writers and photographers. Now home to five independent bookstores, the Pike Place Market is a destination for people who love to read. "

Chin Music Press is best known in Seattle for such titles asShiro: Wit, Wisdom and Recipes from a Sushi Pioneer,Yokohama Yankee and A Commonplace Book of Pie. It has won awards and accolades for its books, with one NPR reviewer saying the press provided "a triumphant kick in the pants for anyone who doubts the future of paper-and-ink books." Read More