By Julio Perez Jr. (Kyoto-shi, 2011-13) for JQ magazine. A bibliophile, writer, translator, and graduate from Columbia University, Julio is currently seeking opportunities with publications in New York. You can follow his enthusiasm for Japan, literature, and board gaming on Twitter @brittlejules.
A scholar, author and translator of Japanese folklore and ghost stories, Zack Davisson (Nara-ken, 2001-04; Osaka-shi, 2004-06) joined the JET Program in 2001 with some basic Japanese knowledge and a strong desire to learn much more. After spending five years on the program, he remained in Japan to acquire a master's degree in Japanese studies while writing freelance and translating for Osaka University.
The theme of Japanese ghosts running through Davisson's writing and translation dovetails the interests of manga legend Shigeru Mizuki, who is famous for the classic series GeGeGe no Kitaro. Mizuki is equally well known in Japan for his autobiographical works about his experiences as a soldier during World War II. A great fan of Mizuki, Davisson now contributes to publisher Drawn and Quarterly's English adaptations of Kitaro and is the translator of the first volume of Mizuki's historical manga Showa 1926-1939: A History of Japan, released last month in North America.
In this exclusive, expansive interview, Davisson discusses his time on JET, the significance of Mizuki's supernatural and historical works, and the unique methods and madness of manga translation.
How did you first become interested in learning the Japanese language, and how long have you been studying it? For aspiring translators who are still studying, do you have any advice about textbooks, programs, or techniques?
I actually became interested when I was about 10 years old and my mother took me to see Seven Samurai at a local art theater. I was hooked pretty early—if I you look at my class pictures from that time I am wearing ridiculous Japan t-shirts. I took Japanese in high school when it was offered as a foreign language, but there were only four of us in the class, so it was cancelled—no one was interested in learning Japanese back then. This was the '80s, so there was no "Cool Japan." That pretty much ended my language studies for a while.
Decades later when I went on JET, I was useless language-wise. I thought I knew more Japanese than I did, but really just the set phrases and greetings. I was determined to leave JET functionally bilingual, so I just studied as hard as I could from day one, eventually getting my master's degree in Japan.
My only real advice for people is to go to Japan, and talk and read and practice as much as humanly possible. There is no substitute for immersion and experience. I always say I learned more Japanese at my local bar, the 100 Club, than I did doing my MA. Talk, talk, talk. Read, read, read. Use Japanese as a living language, don't just study it as an abstract. And, of course, marry a Japanese person. That's a huge advantage!
When and where were you posted for JET? Could you talk a bit about your time there and what you remember fondly?
I started JET in…I think 2001. Crazy to think it was more than 10 years ago, because it doesn't feel that way. I was unusual in that I was a 5-year JET that worked in two prefectures. I did three years in Nara and then two years in Osaka. I don't know if they still allow you to do that. I was one of the first in my prefecture to get that contract extension, and even then there were only two of us allowed to do it.
As for fond memories…all of JET is fond memories for me. I loved it. Kansai was the perfect area. Nara, Osaka, and Kyoto were all in easy reach so I had the best of everything. I lived in ancient and traditional Japan, but had wild and modern Japan nearby anytime I wanted. I did everything I could possibly do, went everywhere, tried everything—it changed my life. And my career; I got started in writing and translating doing articles for my prefectural newsletter, then moved on to publishing magazine articles for Kansai Time Out and Japanzine. And now I have my Shigeru Mizuki translations out and my book, Yurei: The Japanese Ghost, coming next year. I owe all that to JET and the people I met on JET.
In what ways did you become involved in your community?
I wasn't a big community person, other than I threw myself into every matsuri I could. I was fascinated with Shinto festivals, especially the big, loud, and dangerous ones. Anything fueled with alcohol and adrenaline. I did the Okayama Hadaka Matsuri four times and brought the magic sticks out twice. I carried this massive mikoshi in a little village in Nara every year. In Osaka, I carried these giant, flaming torches in the Taimatsu Matsuri for my town. I loved the primal nature of these matsuri, the physicality and closeness to the gods—it's something we've completely lost in the U.S. In our quest for safety and comfort we've lost something intangible. Something Joseph Campbell would have recognized and appreciated.
Other than that, I was a regular at a local bar, the 100 Club in Osaka. A different kind of community, but that was another life changer. I'm still friends with my pals from the 100 Club and we even got matching tattoos. Not quite as sweet as volunteering at the local children's eikaiwa, but there it is.
By JQ magazine editor Justin Tedaldi (CIR Kobe-shi, 2001-02) for Examiner.com. Visit his Japanese culture page here for related stories.
With Thanksgiving weekend (and the hopes of eating right) now just a memory, we turn to colder weather, falling snow, and the new year to come. Fortunately for Japanese culture fans, December is just as busy as the holiday season itself. Whether you're hosting guests from out of town or looking to squeeze in an event or two in between parties, we've got you covered.
This month's highlights include:
Now through Saturday, Dec. 21
Yayoi Kusama: I Who Have Arrived in Heaven
David Zwirner Gallery, 525 West 19th Street
Free
In case you missed last year's retrospectiveat the Whitney featuring the artist's mega-buzzed about Fireflies on the Water, this current exhibition by Yayoi Kusama features 27 new large-scale paintings and The Souls of Millions of Light Years Away, a new mirrored infinity room made especially for this exhibition and the United States debut of another infinity room, which was recently on view in Tokyo at the Mori Art Museum. Also exhibited is the artist's video installation, entitled Manhattan Suicide Addict, that draws its title from her first semi-autobiographical novel published in 1978.
Wednesday, Dec. 4, 8:00 p.m.
Three's Keys feat. Taka Kigawa
Klavierhaus Recital Hall, 211 West 58th Street
$15
As part of its third annual festival entitled Timbre Tantrum, Composers Concordance("Enterprising new music organization" -New York Times) presents this all-piano production featuring Taka Kigawa ("Extraordinary pianist" -New York Times), Inna Faliks ("Signature blend of grace and raw power" -Lucid Culture) and Carlton Holmes ("Inventive" -Jazziz). Each pianist will present a 20-minute solo set of their own contemporary repertoire, including music by Shchedrin, Zhurbin, Ellington, Palkowski, Monk, and Alexander. The grand finale serves up a triple-piano suite composed by Dan Cooper, Sean Hickey, Debra Kaye, Milica Paranosic, and Gene Pritsker performed on Klavierhaus' antique instruments, including a 19th century Pleyel.The concert will be followed by a brief reception.
Thursday, Dec. 5, 8:00 p.m.
Town Hall, 123 West 43rd Street
$49.50-$89.50
A violinist since the age of four, contemporary classical and crossover musician Taro Hakase returns to New York as part of his first-ever world tour. Entitled JAPONISM after his latest album, Hakase's pop-infused compositions and charismatic showmanship are known to get fans dancing at his concerts. First brought to international attention following a collaboration soundtrack and a concert tour with Celine Dion in 1996, Hakase has performed before over two million people and has sold more than six million albums in Japan alone. Along with his eight piece band, Hakase brings his tour to one of New York's most celebrated stages.
For the complete story, click here.
By JQ magazine editor Justin Tedaldi (CIR Kobe-shi, 2001-02) for Shukan NY Seikatsu. Visit his Examiner.com Japanese culture page here for related stories.
Since its launch in 2008, social network J-COLLABO has been working with numerous artists to make innovative Japanese-themed collaborations accessible to the public. Now it has taken the next step in its evolution with J-LABO Brooklyn, which had its pre-opening party in Park Slope last month.
"J-LABO is a place where the conventions of intercultural chemistry are challenged and the possibilities of creative collaboration and experimentation are deeply explored as a unifying effort between Japanese culture and the cultures of the world," explained John Figueredo, marketing and PR supervisor for J-COLLABO. "Artists who gather under J-LABO can collaborate, create and implement Japanese-themed works."
The organization now seeks to raise $40,000 to renovate J-LABO Brooklyn through crowdsourcing funds and events.
"When it is complete, J-LABO will provide a dedicated exhibition/performance space, an artist residency program, classes, and a design lab," Figueredo said. "With these facilities as a base, J-COLLABO will provide a venue for learning and cultural exchange as well as a generator of new art and design."
The names of all donors will be carved on a plate for display inside the venue. J-LABO's next event is an opening reception on Dec. 7 featuring live painting by Fukuoka-based calligrapher and artist Sugita Koki preceding his newest exhibition entitled Kotokama, which will be on display through Dec. 20.
For more information, please visit www.j-collabo.org.
WIT Life is a periodic series written by professional Writer/Interpreter/Translator Stacy Smith (Kumamoto-ken CIR, 2000-03).  She starts her day by watching Fujisankei's newscast in Japanese, and here she shares some of the interesting tidbits and trends along with her own observations.
This week I had the opportunity to interpret for a Japanese delegation comprised of two groups who traveled to New York to receive the annual Tiffany Foundation Award.  This award was created by the Tiffany Foundation in collaboration with the Japan Center for International Exchange (JCIE), and it recognizes non-profits that are preserving Japanese traditional arts at the national and regional community levels.  This year's recipients were the Association for the Promotion of Ipponsugi Street, located in Ishikawa Prefecture, and envisi, located in Miyagi Prefecture.  They were the 6th round of winners since the award's establishment in late 2007.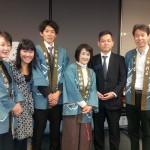 The Association for the Promotion of Ipponsugi Street, whose members are featured here wearing the happi coats, preserves their city Nanao's unique custom of  花嫁のれん (hanayome noren).  Noren are long curtains that hang in the entrances to Japanese restaurants and traditional Japanese rooms, and the special bridal ones are dyed using the Kaga yuzen technique.  Hanayome noren are hung in the doorway leading to the butsuma (a small room holding sacred objects) for the bride to walk through when she gets married, a ritual that Read More
By JQ magazine editor Justin Tedaldi (CIR Kobe-shi, 2001-02) for Examiner.com. Visit his Japanese culture page here for related stories.
From Nintendo to manga to metal to Tarantino, November is just as colorful as the blowing leaves in the air and on the ground. Add to that a Meiji era throwback exhibition at Resobox, the destroy-all-monsters vibe of Kaiju Big Battel (just in time for Turkey Day), and a world premiere at Japan Society and you've got an irresistibly epic rundown.
This month's highlights include:
Wednesday, Oct. 30, 7:00 p.m.
JETAA New York presents Live Your Dream: The Taylor Anderson Story
Columbia University, Uris Hall 301
$7 advance, $10 at the door, students free with ID
Following its New York premiere at Japan Society last July, the New York chapter of the Japan Exchange and Teaching (JET) Program Alumni Association presents an encore screening of this touching documentary film about Taylor Anderson and all the young people who travel the world trying to make a difference. Taylor was an extraordinary American who dedicated herself to teaching Japanese children in the JET program, living her dream right up to the events of March 11, 2011. Includes a post-screening Q&A session with director/producer Regge Life and Taylor's father Andy Anderson.
Friday, Nov. 1, 8:00 p.m.
The Legend of Zelda: Symphony of the Goddesses Second Quest
The Theater at Madison Square Garden
$62.50-$112.50
While F. Scott Fitzgerald famously pooh-poohed second acts, second quests are an entirely different matter. Back by popular demand and presented by Jason Michael Paul Productions, The Legend of Zelda: Symphony of the Goddesses returns to the Theater at MSG with breathtakingly new visuals and music exploring additional chapters from the Zelda franchise as well as the beautifully orchestrated four movement symphony recounting the classic storylines from some of the most popular video games in history. Take up your wooden sword and shield as a live orchestra and the Montclair State University Vocal Accord brings to life the masterpieces of legendary Nintendo composer and sound director Koji Kondo.
Thursday, Nov. 7
The Life & Works of Osamu Tezuka
Japan Society, 333 East 47th Street
$25/$20 Japan Society members, seniors and students
Best known as the creator of Astro Boy, Osamu Tezuka (1928-1989) is often credited as the "Godfather of Anime and Manga" due to his prolific output, pioneering techniques, and reimagining of genres. His work redefined Japanese cartoons, transforming them into an irresistible art form, and incorporated a variety of new styles in their creation. Leaving a lasting impact on literature and film, his work also influenced a range of other artistic genres. In this special lecture, Tezuka's works are presented by JET alum Roland Kelts (Osaka-shi, 1998-99), author of Japanamerica. This event is moderated by NYC-based cartoonist Katie Skelly. Ticket price includes a pre-event wine and Japanese hors d'oeuvres reception.
For the complete story, click here.
Posted by Eden Law of JETAA New South Wales:

To help promote the Japan Festival 2013 happening in Sydney on December 14, we folks at the JETAA New South Wales chapter have hit upon the idea of running an uchiwa design competition. As the Japan Festival takes place at the height of the Australian summer, an uchiwa seemed a logical choice as one of the cultural icons of Japan. Competitors are invited to submit a design that will decorate a thousand uchiwa, or traditional Japanese rigid fans, which will be handed out to help visitors to the festival stay cool and look cool. Some additional prizes may also be announced at a later date.
It's been an idea that's been percolating for a while, which we've able to realise thanks to the support and funding of the Sydney Japanese consulate. Part of the planning required sorting out our funding and locating a printer in Japan – anyone who's ever been in Japan during summer would have noticed the masses of these uchiwa printed in their thousands by companies to promote and advertise everything from business services, new products to idol concerts and movies. If successful, we hope to run it next year again, and hope that it will become our unique stamp on the festival.
The competition site can be viewed at www.jetaansw.org/uchiwa-comp-page/, and runs until November 3rd 2013. Winner will be announced on our website, Facebook group (as well as the festival page) and Twitter.
Maryland-based Ehime-ken JET alums Elayna Snider and Chelsea Reidy have put together an illustrated book of their "88 temple pilgrimage" by bicycle in Shikoku.  They now have a Kickstarter page to help them raise funds to publish it and a wonderful video that explains what this is all about.  Definitely worth a look.  It's hard to do justice in my own words, so click the link and watch and read for yourself:
http://www.kickstarter.com/projects/1042996508/temple-by-temple  
Excerpts from the Kickstarter site:
There are 88 temples on Japan's 88 temple pilgrimage. With two bicycles, a tent, notebooks and pens, plus a Rolleiflex, we will go to all of them. While we travel the 900-mile route, we'll be collecting the materials needed to make 88 hand-bound versions of our illustrated book, Temple by Temple.

Elayna does the art, Chelsea does the words. A children's book? It can be. A coffee table book? Sure. A book you have around and pick up from time to time? Yes! The idea and project did not come from any prescribed place of "Let's make a kids book." We are two people with varying ideas and skills and we combined them to make a book that describes the route, the temples, and this 1,200 year old pilgrimage which draws people of all different faiths and from all over the world.
By Jessica Sattell (Fukuoka-ken, 2007-08) for JQ magazine. Jessica is a freelance writer and a graduate student in arts journalism. She was previously the publicist for Japan-focused publishers Stone Bridge Press and Chin Music Press.
The abstract and avant-garde sculptor, painter and all-around revolutionary Japanese artist Tarō Okamoto famously said, "Art is an explostion" (geijutsu wa bakuhatsu da).
"Explosive" barely describes the energy and innovation in Japanese art in the latter half of the twentieth century. As From Postwar to Postmodern, Art in Japan 1945-1989: Primary Documents discusses, the decades between the end of World War II and the end of the Cold War marked an intensely fruitful period of groundbreaking creativity in Japan. The excitement, anxiety, and electricity that surged against the rigidity of old structures propelled Japanese art and artists into a much greater international conversation.
Published earlier this year by the Museum of Modern Art in New York and distributed by Duke University Press, this hefty tome accompanied the fall 2012-winter 2013 MoMA exhibition Tokyo 1955-1970: A New Avant Garde. There's been a huge wave of both popular and scholarly interest in Japanese modern and contemporary art and dozens of high-profile shows at major North American museums and galleries, but the MoMA exhibit was the first to examine the "postwar" period that had been previously underrepresented. Part of this may be that the term "postwar" is tricky to define; the effects of WWII are undoubtedly still felt today and many argue that Japan is still "postwar."
This book provides a solid foundation for an exploration of the issues and precedents leading up to the transformation of "postwar" art into the "postmodern" time. But, rather than simply rehash existing scholarship about Japanese history from 1945-1989, the book's co-editors allow the artists, philosophers, critics and curators of this historical time to speak for themselves. The bulk of From Postwar to Postmodern includes a huge and multifaceted collection of primary source materials—personal essays, artist statements, interviews, magazine articles, interviews, critiques and manifestos—many of which have been translated into English for the very first time.
WIT Life is a periodic series written by professional Writer/Interpreter/Translator Stacy Smith (Kumamoto-ken CIR, 2000-03). She starts her day by watching Fujisankei's newscast in Japanese, and here she shares some of the interesting tidbits and trends together with her own observations.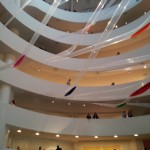 On Saturday I finally had the chance to check out the exhibition Gutai: Splendid Playground (Feb 15-May 8) at the Guggenheim, and it was well worth the wait.  Frank Lloyd Wright's rotunda is filled with Sadamasa Motonaga's Work (Water), an installation of tubes filled with colored water commissioned by the museum to be recreated for this space.
Gutai (具体) literally means "concreteness" and refers to the way the members of the Kansai-based Gutai Art Association (59 Japanese artists from 1954-1972) sought to directly engage with materials in an experimental way.  The group would hold festivals and other events designed to break down the barriers between art, the ordinary public and everyday life.
One interesting aspect of the movement that I wasn't aware of was its Read More
By Stacy Smith (Kumamoto-ken CIR, 2000-03) for JQ magazine. Stacy is a professional Japanese writer/interpreter/translator. She starts her day by watching Fujisankei's newscast in Japanese, and shares some of the interesting tidbits and trends together with her own observations in the periodic series WITLife.
In recent years, Long Island City has experienced a rapid gentrification, being converted from an abandoned, industrial wasteland to a hotspot of waterfront apartments and art institutions. Of course it has big hitters like the Noguchi Museum that are well known to Japanophiles, but there are also Japan-related galleries flying under the radar just waiting to be discovered. One such place is Resobox, a short walk from the Queensboro Plaza subway stop whose location is marked by only a small, overhanging sign and a signboard that sits on the sidewalk reading: "The place where people who are conversant with, dedicated to and influenced by Japanese art can gather, create innovative arts through the collaborative process and disseminate them to the world."  Interest piqued? So was mine, and I was fortunate to have the opportunity to speak with Resobox co-owner Takashi Ikezawa to learn more about this unique endeavor.
Can you share with JQ readers Resobox's back story and the origin of your name?
Resobox was a name created from the words "resonate" and "box," and it refers to a space where artists can meet and collaborate to create new and innovative art. It initially referred to a project begun by my partner Fumio Tashiro, a jazz musician who became interested in experimental music and music as art performance. He would collaborate with dancers, painters, and musicians to put together performances. I had a business background as I worked at a talent agency representing Japanese artists in NYC, and I knew Fumio casually. However, we started meeting up monthly to brainstorm, and our discussions always focused on the breadth and depth of Japanese culture and arts. In order for a solid collaboration to take place, you need to have a strong foundation. Since we are both Japanese, we found the culture of our native country to be a foundation substantial enough to build on. Our brainstorming sessions yielded the idea of artists, both Japanese and non-Japanese, coming to our box and resonating off each other to create new Japanese art. This is how Resobox was launched in its gallery form in June of 2011.
Can you give an example of some successful collaborations?
One of the artists who was featured until early January, Mary Burton Wheeler, became involved by taking a Japanese ink painting (sumi-e) class at Resobox. It happened to be taught by Ayakoh Furukawa, the artist we currently have on display, and collaboration began in this class environment. Wheeler learned not just about Japanese painting itself but about Japanese sense and ideas, and she incorporated this into the new pottery she produced as a result. On first glance you wouldn't say that her work is particularly "Japanese," but on closer look there is definitely a Japanese sensibility that she encountered via her collaboration with Ayakoh.
******* JET Alum Artist Beat is a periodic feature organized by Jessica Sattell (Fukuoka-ken, 2007-2008) intending to share the wide scope of creative work that JET alumni are pursuing as artists, designers, and/or craftspeople. She is interested in interviewing and providing exposure for artists and arts professionals, and welcomes links to online portfolios, stores and businesses. Feel free to email Jessica at hello (dot) jessicasattell (at) gmail (dot) com with suggestions.

Joshua Powell (Saitama-ken, 2005-2007) is a Seattle-based book designer and illustrator. He has designed and produced a number of books for Japan-focused (and JET alum run) independent publisher Chin Music Press, including Shiro: Wit, Wisdom and Recipes from a Sushi Pioneer, which was a 2011 Washington State Book Award Finalist and won First Place in the Quality Paperback category at the 2012 New York Book Show. NPR called another title that he designed, Oh! a mystery of mono no aware, "a triumphant kick in the pants for anyone who doubts the future of paper-and-ink books."
Josh graciously took the time to discuss his JET tenure and how his experiences in Japan influence his design sensibilities.
Tell us a little about your background. How did you decide to apply to JET and live in Japan?
From the ages of 9-17 I practiced traditional Japanese martial arts, training under a Japanese teacher who had relocated to my home state of Virginia. His two sons as well as other Japanese sensei would visit and teach at the dojo for extended periods of time.
When I was fifteen I was lucky enough to travel to Japan for a karate competition. I never really sought out Japanese culture. I just kind of fell into marital arts and by virtue of that, Japan became a pretty central part of my childhood and teenage years. The trip I took to Japan lasted two weeks, and after it was over I always had this feeling that I wanted to get back and live there – I wondered what it would be like to have things become more familiar, to feel comfortable there. It was a thought that just stuck in the back of my mind, and then when I found out about the JET Program years later, I didn't think twice about applying.
Were there any experiences while you were on JET that you found particularly meaningful or memorable?
My two years on JET are very important to me – a consistently rewarding and meaningful time. There are many things that contributed to the experience being so great, but it really came down to the people I met and the places I visited while in Japan. I felt extremely lucky with the school I worked at – Omiya High School in Saitama-ken. I had great co-workers, some of whom I considered close friends, and so many enthusiastic and positive students. Outside of work I had some really great friends, other JETs as well as Japanese friends who I mainly met while traveling. There were so many opportunities to get out and explore the country. Unlike many JETs, I only left the country once during my two years. I almost exclusively spent my time off exploring Japan. Coming from the U.S., the ability and ease with which I could explore the country never ceased to amaze me – just hop on a train and you're off on a new adventure.
One of the things that I came away from Japan with was the knowledge that you don't need a lot of things to be happy. You can live in a tiny apartment and have few material possessions (no point in buying a lot of stuff when you aren't staying somewhere permanently), but as long as there are good people in your life and you're able to get out and experience new things, life can be very fulfilling.
As you mention in your interview with One A Day, you're trained in printmaking. Has that influenced your work as a book designer?
Yes. I'm mostly self-taught when it comes to design, so of course I'm building off of the visual language I learned through making art, and particularly printmaking. And of course bookmaking is a form of printmaking – making an edition of ink on paper objects. So naturally, my enthusiasm for the physical book is greatly influenced by my background in printmaking. I've always worked with commercial printers – none of which were in Seattle. So in a way that's very odd, that I'm giving up the actual printing aspect of the whole process to someone else. Nonetheless, since I'm not only doing the design but also handling the production aspect of the process (preparing files, choosing papers, communicating with the printer), I still have a hand in it. If I were to print the books myself or to work closely with a local printer, Read More
By JQ magazine editor Justin Tedaldi (CIR Kobe-shi, 2001-02) for Examiner.com. Visit his Japanese culture page here for related stories.
Japan Society swings into the new year with two nights of its upcoming 15th Contemporary Dance Showcase: Japan + East Asia showcase from Jan. 11-12. This year's program features four North American premieres.
Since the inception of the Performing Arts Program in 1953, Japan Society has introduced more than 600 of Japan's finest performing arts to an extensive American audience. The program also commissions new works to non-Japanese artists, produces national tours, organizes residency programs for American and Japanese artists and develops and distributes educational programs. Originally America's leading platform for the introduction of Japanese choreographers and companies, the Dance Showcase has expanded to include artists and works of international acclaim from the broader East Asian region.
From Tokyo comes the U.S. premiere of post-post-post butoh Misshitsu: Secret Honey Room – Duo Version, created and performed collaboratively by Makotocluv founder Makoto Enda and former Dairakudakan dancer Kumotaro Mukai, following a world premiere at Setagaya Public Theatre/Theatre Tram in Tokyo in August 2012. Formed in 2001, Makotocluv appeared at Japan Society in 2008 and was hailed by the New York Times as "wonderfully fluent in the language of the theater." Misshitsu: Secret Honey Room marks Mukai and Enda's first collaboration in 15 years.
For the complete story, click here.
By JQ magazine editor Justin Tedaldi (CIR Kobe-shi, 2001-02) for Examiner.com. Visit his Japanese culture page here for related stories.
Hurricane Sandy may have wreaked havoc on the Eastern Seaboard, but New York is holding strong in November with a bounty of Japan-related events from MoMA to Madison Square Garden.
Nov. 6
Nausicaä of the Valley of the Wind Box Set
Nausicaä of the Valley of the Wind is an epic fantasy tale written and illustrated by legendary Studio Ghibli director Hayao Miyazaki, creator of My Neighbor Totoro, Spirited Away, Howl's Moving Castle and Ponyo. A modern masterpiece (made into its own classic film adaptation in 1984), the entire series is now available in this deluxe box set containing two hardcover volumes with interior color pages and full-color double-sided poster in a special slipcase.
Nov. 9-11
The American Dream Japanese Network (JaNet) was originally created in 2001 following the 9/11 attacks to cheer up and unite the Japanese community, which lost many of its prominent members working in the World Trade Center. An annual Japanese music and performing arts showcase, this year's three-night event features such diverse acts as Taka Kigawa, Taiko Masala, and Yosakoi Dance Project – 10tecomai, last year's Talent Night winners!
Monday, Nov. 12
Geisha: The Golden Years 1870-1890 Opening Reception
This Long Island City gallery is proud to present an exhibition of 19th century hand-colored photographs of Geisha and Maiko from the Burns Archive. These photographs are the original images used by Dr. Stanley Burns and his daughter Elizabeth to create their noted book, Geisha: A Photographic History 1872-1912. The images in this exhibition showcase the best of Japanese photographs that were made to show the perceived exotic nature of Japan to the West. Several of the great early photographers' studios are represented, including Kusabi Kimbel, Ogawa Kazumasa and Baron von Stillfried.
For the complete story, click here.
******** JET Alum Artist Beat is a new feature organized by Jessica Sattell (Fukuoka-ken, 2007-2008) intending to share the wide scope of creative work that JET alumni are pursuing as artists, designers, and/or craftspeople, either professionally or for personal enjoyment. She is interested in interviewing and providing exposure for artists and arts professionals, and welcomes links to online portfolios, stores and businesses. Feel free to email Jessica at hello (dot) jessicasattell (at) gmail (dot) com with suggestions.
How do artists get their work into world-renowned galleries? How do companies find ways to visually enhance their brand images? How do publishers find illustrators for manuscripts and cover art? The answers are all rooted in the diverse fields of arts marketing and artist representation! LeJarie (Battieste) Noguchi (Aichi-ken, 1995-1998) is an Artist's Representative at ARTas1, a Torrance, California-based company that helps bring the visions of dynamic Japanese visual artists to North America through licensing channels and gallery exhibitions. ARTas1 positions itself as a unique firm in that it represents and promotes exclusively Japanese artists. Their goal is to bridge the Japanese and the worldwide art communities into a shared celebration of creative talent, hence the "1″ in their title.
LeJarie brings her experiences as a reporter, writer, translator, and Japanese media consultant to her position, where she represents over 70 unique artists working in a wide variety of mediums and styles. She graciously took the time to share a little more about her profession as well as the work of one of her favorite up-and-coming artists.
Tell us a little bit about your background. How did you become interested in Japan and choose to participate in the JET Program?
I majored in Japanese Studies at UCLA, and when I first began my studies, I had never heard of the JET Program. Originally, I thought I would just go to Japan and find a job or continue my studies there. But, when I heard about the opportunity to live and work in Japan through JET, I was determined to go. Thankfully, I was accepted. I didn't really have a Plan B, but I do remember asking all of my family members for enough money for a one-way ticket to Tokyo if I didn't get accepted to the JET Program!
How did you become involved with ARTas1?
I saw a job listing there about six years ago and contacted them about the position. At that time I didn't have any direct sales experience and wasn't involved much with Japanese art. But then I happened to see another listing with them about two years ago, contacted them, and they hired me! By then I had a bit more sales experience and more experience with art and media.
What does an Artist's Representative do?
As an Artists' Representative, Read More
JET Alum Artist Beat is a new feature organized by Jessica Sattell (Fukuoka-ken, 2007-2008) intending to share the wide scope of creative work that JET alumni are pursuing as artists, designers, and/or craftspeople, either professionally or for personal enjoyment. She is interested in interviewing and providing exposure for artists of all mediums, and welcomes links to online portfolios or stores.

The beauty (and the greatest strength) of the JET program is that is attracts such a wide variety of dedicated, talented people from all walks of life. We're a wonderfully diverse bunch, and JET allows us to further explore and develop our interests, hobbies, and passions within new communities. Whether you're an alum, a current JET or a prospective JET, we all have stories to tell about how Japan has inspired us, no matter our professional path.
As an aspiring fashion stylist living in Japan during my JET tenure, I saw my own creativity blossom exponentially. My community's many galleries, museums, cafes and shops spoke to Japan's inherent acceptance of a DIY mentality and curiosity about art. While I didn't choose to pursue a path in fashion, I did follow my love of visual art and am crafting a career to help promote the work of artists and creative individuals.
JET Alum Artist Beat aims to profile JETs working as professional artists or who create art for personal enjoyment. There are many JET alums working as artists and in the art world, and many of them wear several different hats! Explore the Art Library here at JETwit to learn more about what some of them are up to, and check out the art category archives for a glimpse of some past projects involving the JET community. There's also the JET Alum Creative Types LinkedIn group, which is open to new members.
Are you an artist, designer or craftsperson? We'd love to hear your story and share your creative work in a profile piece. Contact Jessica at hello.jessicasattell (at) gmail (dot) com to say hello and introduce yourself!