Jul
18

JET Alum Author Beat, LifeAfterJET, Notable JET Alums, Press Release

Comments Off

on JET-alum owned Chin Music Press opens in Seattle's Pike Place Market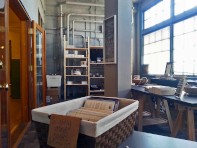 Thanks to JET alum David Jacobson, who works for Chin Music Press, for sharing this press release.  Chin Music Press is a Seattle-based publisher owned and run by Bruce Rutledge (Monbusho English Fellow, Chiba-ken, 1985-87) with a reputation for noteworthy cover art.
Indie Book Publisher Opens Office/Retail Space in Seattle's Pike Place Market
Press Release
July 16, 2014

Local independent book publisher Chin Music Press today opened a new office and retail/exhibit space in Seattle's famed Pike Place Market. The retail space, open from 11am to 5pm Tuesday through Saturday, will feature all Chin Music titles as well as related posters, zines, chapbooks, stationery, broadsides and other artwork.

"It's a great privilege for a small publisher like us to be able to obtain space at Pike Place Market," said Chin Music Press Publisher Bruce Rutledge. "We now have room to give all of our titles the shelf space and attention they deserve. But more importantly, we can add to the literary ecosystem in Seattle. We look forward to connecting with other presses, bookstores, artists and lovers of literature to make our space a vibrant part of the community."

"The Pike Place Market is very pleased to have Chin Music Press join the market community," said Kelly Lindsay, director of programs and marketing for the Pike Place Market Preservation and Development Authority. "We believe the Seattle community, as well as visitors from around the world, will enjoy Chin Music's first retail store and the opportunity to directly engage with featured artists, writers and photographers. Now home to five independent bookstores, the Pike Place Market is a destination for people who love to read. "

Chin Music Press is best known in Seattle for such titles asShiro: Wit, Wisdom and Recipes from a Sushi Pioneer,Yokohama Yankee and A Commonplace Book of Pie. It has won awards and accolades for its books, with one NPR reviewer saying the press provided "a triumphant kick in the pants for anyone who doubts the future of paper-and-ink books." Read More
The Font – A Literary Journal for Language Teachers
Submission Guidelines
The Font – A Literary Journal for Language Teachers welcomes submissions of short stories, articles, essays, anecdotes, poems, cartoons and other forms of creative writing which provide insight, reflection, humour, and
inspiration on the theme of language teaching or learning, at home or abroad. In other words, the theme must be in some way related to language teaching or learning, teaching abroad, or be of interest to those connected to this profession.
The Font welcomes the addition of a Visual Arts Editor in the form of Mr. Gareth Jones. And we are therefore happy to announce that The Font is now also accepting visual arts submissions.
Submissions may be sent to submissions@thefontjournal.com and should;
1. be original
2. be less than 5,000 words in length. (Poetry submissions should have no
more than 3 poems. Please include all poems in one document)
3. have pages numbered and have any subheadings in bold font
4. have a title, the author's name, affiliation, contact details, and word
count at the top of the first page (These details don't necessarily appear
in the journal.)
5. have any original photos or artwork attached as a separate file as well
as in the text
6. be in English and sent by email.
Previously published material will be considered as long as permission has been given by the original publisher.
Submissions are reviewed by members of The Font's Editorial Committee and selected on relevance, and literary merit. Submissions may either be accepted or rejected as they are, or editors may make suggestions and ask
authors to rewrite and resubmit.
We strive to provide several readers for each manuscript in order to offer maximum exposure, but this takes time. We respectfully ask for your patience and forbearance in this matter. If you have not heard from us within three months, feel free to inquire about your manuscript.
The Font acquires first-time world rights. After publication, all rights revert to the author and the work may be reprinted as long as appropriate acknowledgement to The Font is made.
We will consider simultaneous submissions, but request that you inform us immediately if your work is accepted elsewhere.
Next Deadline: January 31st 2014
Publishing Spring Issue: March 2014.
Remember the job listing for  the Part-time Project Director with the US-Japan Bridging Foundation (USJBF) to support JETAA USA growth?  The USJBF has announced that it has selected Laurel Lukaszewski (ALT Kagoshima-ken, 1990-92) for the position for its new initiative "Strengthening the JETAA Network and Connecting Next Generation Leaders."
Shojiki ni itte, it's hard to imagine anyone better suited for the role.  Laurel has maintained a strong connection with Japan and the Japan-US community since here time on the JET Program by previously serving on the Board of Directors for the National Association of Japan-America Societies (NAJAS), as the Executive Director for the Japan-America Society of Washington, D.C, and as a Program Director of the Japan-America Society in Seattle.  She currently lives in Washington, D.C. where she actively participates on the Board of the National Cherry Blossom Festival and JETAADC.  You can see her in this panel discussion with fellow JET alums Jim Gannon (Ehime-ken, 1992-94) and Anthony Bianchi (Aichi-ken, Inuyama-shi, 1988-89) from the 2011 JETAA National Conference in D.C.
Laurel (who is also a sculptor–see her work here) officially started working Tuesday, July 9.  Here is the official announcement from the USJBF:
July 11, 2013

The U.S.-Japan Bridging Foundation (USJBF), is pleased to announce that Laurel Lukaszewski has been hired as Project Director for its new initiative "Strengthening the JETAA Network and Connecting Next Generation Leaders." Funded by the Japan Foundation Center for Global Partnership (CGP), the purpose of the project is to build infrastructure in support of the Japan-Exchange and Teaching Program Alumni Association, United States of America (JETAA USA) and enhance its impact promoting U.S.-Japan relations.

Laurel is an alumna of the JET Programme (Kagoshima-ken, 1990-1992) and has a solid understanding of U.S.-Japan relations, the U.S.-Japan community and how nonprofit and membership organizations are governed and run. After completing the JET Programme and receiving an M.A. in Asian Studies, Laurel embarked on a nine-year career with the Japan-America Societies in Seattle and Washington, D.C.. In 2005, Laurel left her position as ED of the JASW to pursue a career as an artist. She has maintained her ties to the JET Programme and U.S.-Japan community by serving as an active member of the JET Application Review and Interview committees for over thirteen years. Laurel served on the Board of Directors of the National Association of Japan America Societies (NAJAS), and has been on the National Cherry Blossom Festival Board of Directors since 2002. Paige Cottingham-Streater, Executive Director of the U.S.-Japan Bridging Foundation said, "Laurel is a valuable addition to our team and will bring a unique understanding about the JET community and its potential to promote a strong U.S.-Japan relationship."

The U.S.-Japan Bridging Foundation, a 501(c)(3) nonprofit organization, awards scholarships to U.S. undergraduate students to study for one semester or academic year in Japan. The Foundation grows global leaders to help prepare America's young people to assume future leadership roles in business, education, international and public affairs and other professions.

URL:  http://www.bridgingfoundation.org/news/new-project-director-to-facilitate-jetaa-capacity-building
Info courtesy of Heather Tomoyasu (Ibaraki-ken, 2004-06), who currently works for the JCCI NY. Posted by JQ magazine editor Justin Tedaldi (Kobe-shi, 2001-02).
The tragedy and devastation that Hurricane Sandy brought to the New York Tri-State Area has affected us all deeply. The Japanese Chamber of Commerce and Industry of New York, Inc., in cooperation with The Nippon Club, has decided to establish the Hurricane Sandy Relief Fund to aid the victims of the disaster.
Hurricane Sandy forced the cancellation of JCCI's 28th Annual Dinner, originally for October 30th, with 1,000 guests scheduled to be in attendance honoring the 100th Anniversary of Japan's gift of cherry trees to America, JCCI's 80th Anniversary, and awardees Professor Gerald L. Curtis and recording artist Cyndi Lauper. Through Dinner Sponsorship, JCCI was able to contribute a total of $500,000 to the hurricane relief effort: $250,000 to both the Mayor's Fund to Advance New York City (supporting relief in the 5 boroughs) and AmeriCares (supporting relief in New Jersey and Long Island).
JCCI and The Nippon Club are now accepting additional donations through their Hurricane Sandy Relief Fund, for which the receiving organization will be decided at a later time. All donations will be 100% tax-deductible. Checks should be made payable to "J.C.C. Fund" (please note "Hurricane Sandy Relief Fund" on the memo line), and mailed by December 31, 2012 to the attention of Mr. Shigeo Kimura, The Nippon Club, 145 West 57th Street, New York, NY 10019.
Send inquiries to: Japanese Chamber of Commerce and Industry of New York, Inc. (JCCI)  TEL (212) 246-8001 / E-Mail: info[at]jcciny.org / Web: www.jcciny.org.
Via Shannon Jowett, Director of Communications at Japan Society.
The third round of disbursals from Japan Society's Japan Earthquake Relief Fund support projects ranging from mental healthcare and child welfare (especially orphan care), to local economic revitalization and regional entrepreneurship.
With New Grants Towards Economic Revitalization, Mental Healthcare and Child Welfare, Japan Society Earthquake Relief Fund Allocation Reaches $5.6 Million
New York, NY — Japan Society today announced it has earmarked an additional $2.5 million from its Japan Earthquake Relief Fund to seven Japanese, American and international NGOs working on economic revitalization, mental healthcare and child welfare. This latest announcement brings total allocations from the $12.1 million fund to $5.6 million distributed to 13 organizations representing 17 projects. Read More