By Eden Law (Fukushima-ken, 2010-11). After the JET Programme more than fulfilled its promise of "an experience of a lifetime," Eden returned to Sydney, Australia, where he joined the JETAA New South Wales chapter to take advantage of the network and connections available to undertake projects such as an uchiwa design competition for the Sydney Japan Festival. He also maintains the JETAANSW website and social media. Other than that, he's a web designer and a poet, gentlemen and raconteur.
One of the best things about being a member of JETAA is the community, and over the weekend of 15-17 of November, the Oceania community of JETAA got together for our annual antipodean regional conference. For those of you up north who don't know, JETAA Oceania comprises of five Australian chapters (the state chapters of Queensland, New South Wales, Canberra, the uber-chapter of South Australia-Victoria-Tasmania, Western Australia) and three New Zealand chapters (South Island, Auckland and Wellington). Representatives from Sydney's CLAIR office (Tsuyoshi Ito, Hiromi Hakuta and Julien Ansart) attended as observers of the proceedings. This year, JETAA Queensland played host in Brisbane, the northern capital that looks to Asia and is close to the Gold Coast, a favoured destination for young Japanese looking for sun, surf and sand. Appropriately, we had our first lunch meet on Friday at MOS Burger, the famous Japanese fast food chain whose only non-Asian presence internationally is right in Brisbane.
JETAA Oceania was invited to attend the Welcome Back Reception for returning JETs at the Japanese Consul General's home in Brisbane on the Friday night, a chance of course for us to network and hobnob with the cream of Brisbane's Japanese cultural community. And after the reception finished (early, predictably), JETAA kicked on in town for a night out (hint: it'll always involve karaoke—usually lots of obscure Japanese songs sung by that one quiet serious person who turns into a blurry, hip-thrusting maniac).
The first day of the conference began on Saturday, early (for some, too early) at our hotel and Laura Tasharofi, president of JETAA Qld, began proceedings by explaining the theme of this year: Australia-Japan sister-city relationships. As explained by Hakuta-san, of all countries, Japan has the most links in Oceania, with 108 sister city relationships in Australia and 44 in New Zealand. Therefore, the potential for JETAA to get involved is great, and the conference's objective is to find ways to participate and be more prominent in our local communities. To start discussions and provide ideas and examples, two guest speakers, Ross Humphreys and Barry Hancock, were invited who are respected members of the Brisbane community and its influential sister city relationships.
By C-M (Spike) Daeley (Saga-ken, 2008-2011) for JQ magazine. C-M is a poet, rap lyricist, and travel enthusiast currently working as an English professor in Tokyo. For a look at some of his other writing, poetry and lyrics, check out his blog at http://spikedaeley.wordpress.com.
With today's 24-hour global news cycle, it is sometimes difficult to keep even the most severe events in public memory. The Great East Japan Earthquake that struck on March 11, 2011 has not received much recent coverage in global news, but the issues faced by those still rebuilding remain monumental. Fortunately, there has been significant international aid from a number of sources, one of which is the JETAA USA Earthquake Relief Fund. This grant has raised almost USD $90,000 and has been used to provide seed funding to assist grassroots programs in areas severely impacted by the earthquake.
Due to the complex nature of fund allocation, this article will focus mainly on projects and programs directly supported through JETAA funds. However, it is significant to note that the Earthquake Relief Fund was only one of several avenues used to bring aid to the region and that, to date, roughly $500,000 has been raised through JET-affiliated groups and organizations worldwide. Jim Gannon (Ehime-Ken, 1992-94), current executive director at the Japan Center for International Exchange in New York, and Jessyca Livingston (Hokkaido, 2003-06), one of the three JETAA USA Country Representatives serving during the immediate aftermath and current JET Program coordinator at the Consulate-General of Japan in Denver, spoke about some of the initiatives the Earthquake Relief Fund has helped support.
"It is very difficult to give a concise yet comprehensive picture of what the JETAA funds have done," Gannon explained. "The best way to describe it is that they have played a catalytic role in supporting some key projects in the early stage that have been supported by a range of others in more generous fashion once they proved their merits. JETAA cannot take full credit for all of the successes, but it did play an important role in getting things moving." He also noted, "The real heroes are these incredible people from Tohoku who have championed these projects, the inspirational young people who have relocated to Tohoku to help operate them, and those who have been shuttling back and forth from Tokyo and elsewhere to help formulate and drive these initiatives."
After a national discussion and several rounds of voting in each of JETAA USA's 19 chapters, a final decision was made about how the fund should be allocated. "In the end, it was very obvious that chapters found it important to support education-related efforts in those areas most affected," Livingston said.
Updated with media coverage of the visit.
Boston and New York had the honor of hosting Kumamon's North American debut last week! Who is Kumamon you may ask? The rosy-cheeked, sack-shaped bear is the official mascot of Kumamoto Prefecture in Kyushu. Voted the top "Yuru-kyara" (cuddly mascot character) in Japan, he has taken Japan by storm and sold more than $300 million worth of merchandise in 2012 alone.
Kumamon's remarkable success in promoting his rural prefecture across Japan–there is even an exclusive "Kumamon Goods" store in Tokyo's upscale Ginza neighborhood–is being studied in government offices and marketing departments across Japan. In fact, no less than the Wall Street Journal has published no fewer than three articles about the phenomenon.
If you'd like to learn more about Kumamon, including what he does every day, I recommend checking him out online:
Facebook page: https://www.facebook.com/kumamotodiary.en
Home page: http://kumamon-official.jp/
Kumamon accompanied Kumamoto Governor Kabashima during his visit to Boston on Novermber 12-13, which included giving a lecture at Harvard on "The Political Economy of Kumamon: A New Frontier in Japan's Public Administration."
Kumamon spent time with the Boston Red Sox's mascot, Wally the Green Monster, for what was surely an important, high-level diplomatic meeting. The full itinerary of their Boston visit can be found here, here, and here. Media coverage of their visit includes:
The lovable bear and Governor Kabashima made their way down to New York on November 14, where they paid back the compliment with a visit the Wall Street Journal. Later they visited the Consul General's residence, as part of a special reception to promote Kyushu. JET alumni from the New York Chapter of JETAA representing all of the prefectures of Kyushu were invited to the reception. In addition to presentations on Kyushu travel, tourism and shochu, Governor Kabashima introduced Kumamon. Guests dined on Kumamoto oysters and "ekiben" prepared by the chef from Hataka Tonton, and sipped shochu from the region. Kumamon and Governor Kabashima's full New York itinerary can be found here. Media coverage of their visit includes:
Photos of JET alumni at Kyushu Promotion event at Consul General's residence
Governor Kabashima is an interesting person. He was an "at-risk" student who grew up poor in Kumamoto. Against all odds, through hard work and dedication he ended up earning a PhD from Harvard and becoming a political science professor at University of Tokyo. His launch of the Kumamon public relations campaign is one of the great local promotion success stories of recent times.
Kabashima has also gotten a lot done in Kumamoto, including making some real headway in repairing Kumamoto's troubled finances (he started by cutting his own salary), trying to resolve remaining issues related to Minamata disease, and blocking Tokyo's plans to build a huge dam in the prefecture. A very good article about his life can be found here in the Asahi newspaper. The governor introduces himself and his views in two videos, here and here.
From the start, Kumamoto Prefecture and local communities have been dedicated supporters of the JET Program. Year after year, the prefecture has been near the top of the list in hosting the most JETs, hosting around 100 this year. I myself was a Kumamoto JET. I grew to love the prefecture while I lived there, and now consider it to be my "second home."
I encourage everyone to take some time to visit Kumamoto while traveling in Japan. The prefecture boasts some of the best onsen hot springs in the country. Aso-Kuju National Park is one of the natural wonders of the world, with its giant ancient crater that is so large that an entire volcano and six towns exist inside of it (I lived in one of them!). Kumamoto Castle is one of the three finest castles in Japan. Beautiful parks and gardens, beaches and mountains, history and culture, Kumamoto has it all!
If you are a JET alum from Kumamoto, I encourage you to join the LinkedIn Group for Kumamoto JET alumni here. In fact, I encourage all alumni to join their prefecture's LinkedIn Group. You can find yours here. It's a great way to stay connected with other alumni from your prefecture.
I'm glad JET alumni had a chance to welcome Governor Kabashima and Kumamon to the U.S. Congratulations on the great success of their first U.S. tour together!

Via CLAIR-NY (aka Japan Local Government Center):
The newest JLGC Newsletter is has been published and can be viewed here: http://www.jlgc.org/files/newsletter76.pdf
This issue includes articles on Japan Day in Central Park (in which JETAA NY participated significantly) and a report on the JETAA Canada National Conference in Montreal.
JLGC publishes semi-annual newsletters featuring articles on JETAA activity, sister city and sister state relationships, exchange programs, and local government issues in the United States, Canada, and Japan.  The newsletter enables local government officials, JLGC's fellowship program participants, and other interested persons to stay abreast of JLGC activities and research efforts. At the same time, the newsletter provides those outside of the organization with the opportunity to share their ideas and opinions.
Click the following link to subscribe to the JLGC Newsletter:  http://www.jlgc.org/NewsLetterEmailEntry.aspx
Via CLAIR:
Please find below a link to the online version of the JET Streams newsletter. JET Streams is distributed to all JET alumni who request it and have registered an email address with CLAIR.
http://www.jetprogramme.org/e/former/jetstreams12-13.html
Spotlight on:  Xander Peterson (Miyazaki, 2009-12) JET Program Coordinator for San Francisco. Xander became the new coordinator earlier this year.
Why did you apply for the position?
I applied for the position because I truly believe in the purpose of JET, and I want to see the program flourish. The cultural exchange and friendships that I built with my students and community changed my life and hopefully influenced theirs, too. I knew that it wasn't just me who felt this way; nearly everyone who goes on JET is profoundly impacted in some manner.
Did you ever see yourself becoming the Program Coordinator during JET/JET application process?
When I first applied to JET, I didn't see myself as becoming the Program Coordinator. However, after my first year as an ALT, I was in love with the program and began to think of ways that I could support not just the JETs in my area but all JETs across Japan and the program as a whole. At the end of my final year in Japan, I applied to CLAIR but to no avail. A couple of months after I returned to Santa Cruz, the position of JET Program Coordinator (for Northern California / Nevada) opened up. I applied and got the job.
How do you see yourself working with JETAANC?
I see myself as the liaison between the Consulate and JETAANC. I'd like to do whatever I can to build a strong working relationship between the two. One area that I think we can work on is connecting our local JET alums with the local Sister City Associations. Local Sister City Associations are a great place for alumni to share their Japan experiences and adventures with American students who are interested in learning more about Japanese language and culture.
Read More
***************
Via the Japan Center for International Exchange's Facebook page.  A nice post about the work that Jim Gannon (Ehime-ken, 1992-94), Executive Director of the Japan Center for International Exchange (JCIE/USA), has been doing in Tohoku on behalf of his organization.  Jim is also a member of JETAA USA's Board of Advisors and the JETAA USA Disaster Relief Fund Committee:
Former AJET Chair Matthew Cook (Osaka-fu, 2007-12) has been announced as "Shusa" ("Senior Staff") at the Osaka Prefectural Board of Education.  His role will be working with all levels of English Educational Affairs and working as a member of the new English Education Reform Team.
Matt may be the first ever non-Japanese person to hold a senior level full-time position at a Board of Education in Japan*.  (If anyone is aware of other examples, please post in the comment section.)  Among other things, it is also encouraging to see a JET alum with an opportunity to play a substantive role in English education reform in Japan.
Matt has spent the past ten months working for the Osaka Prefectural Board of Education as a the Program Coordinator for their Native English Teacher (NET) Program (somewhat akin to being a JET Program Coordinator at CLAIR) following his completion of five years as a JET ALT in Osaka-fu and serving one year as AJET's national council Chair.
Omedetou, Matt-san!  Ganbatte kudasai and yoroshiku onegaishimasu!
Here's a link to the article about the announcement in the Yomiuri Shimbun (Japanese only):  http://www.yomiuri.co.jp/kyoiku/news/20130522-OYT8T00381.htm  (If anyone readers could provide a short summary in the comment section, by the way, that would be greatly appreciated.)
*Note:  I learned there have been other former JETs and other non-Japanese who worked as advisors and in other roles for the Osaka Prefectural Board of Education.  However, my understanding is that none of them worked at the policy-making level.  Here's a 2003 article from The Guardian that quotes one in particular who seemed to have some good insights into reform and Japanese language education, Huw Olphant:  http://www.guardian.co.uk/education/2003/jan/30/tefl  Huw currently works as Head of Society and English Education for the British Council in Japan and was apparently mentioned in Importing Diversity, a book about the JET Programme published in 2000.
*********
Update 06.01.13     
*********
Thanks to current JET Kevin McCoy for summarizing some of the above Daily Yomiuri article:
このうち、元滋賀県立高英語教諭でハーバード大教育大学院で教育修士号を得た武田浄さん(46)と、府内で外国語指導助手などを約6年間務めた米国籍のマシュー・クックさん(34)の2人を、この日、任期付き職員として採用した。他の5人は、英語に堪能な府教委職員で、従来の担当と兼務する。
Two the seven team members, Takeda Kiyoshi (46), a former English teacher at Shiga Prefectural High School, who received his Master's degree at Harvard University Graduate School, and Matthew Cook (34), an American who worked for approximately 6 years as an ALT for the prefecture, were hired as "shokuin" (staff) with a limited period of appointment. The other 5 members are all staff at the prefecture's Board of Education with exceptional English skills who will also serve their usual "tanto" (staff) positions.
Kevin also found the following report which is a little more specific with regard to titles:
http://www.nnn.co.jp/dainichi/news/130521/20130521032.html
同チームは7人で構成。これまで英語教育に携わってきた職員に加え、ハーバード大教育大学院で教育修士号を取得し、国内の公立中高で教諭経験がある武田浄さん(46)と、バージニア工科大卒で府教委の外国人英語指導員などに就いてきた米国国籍のマシュー・クックさん(34)を、それぞれ参事と主査で任期付き採用した。武田さんの任期は2016年3月末までで、クックさんの任期は2015年3月末まで。
The team is made up of 7 members. In addition to staff who have been involved in English education until now, Kiyoshi Takeda (46) [...] and American national [...] Matthew Cook (34) were each hired as "sanji" and "shusa", respectively. Takeda's appointment is until the end of March 2016, and Cook's appointment will last until the end of March 2015.
Akita Prefecture has been publishing a newsletter for the last few years (which has been posted to JETwit) in an effort to stay connected with the community of foreigners who have lived in Akita.  Now it's a blog, and there's a way for all current and former Akita denizens to contribute. To learn more contact saito-sayori [at] pref.akita.lg.jp. 
Also a reminder you can join the Akita Prefecture JET Alumni group on LinkedIn to connect with other Akita JETs.  And here's the link to see all of the Prectural JET Alumni groups on LinkedIn.
**********************
Akita Global Network Blog
秋田グローバルネットワークブログは、秋田県とゆかりのある外国の方々と継続的なネットワーク関係を維持するために、秋田グローバルネットワークメンバーからの海外情報や、秋田県の旬な情報を共有し発信するブログです!
Akita Global Network aims at maintaining an ongoing relationship between Akita Prefecture and foreign people who have been associated with Akita through international exchange projects, etc. We share information about Akita and foreign countries contributed from Akita Global Network members.
Originally posted to the Pacific Northwest JETAA Facebook group by Sabrina Holliday Carlin:
"For the JET who has everything…$40 at Snapdoodle Toys in Kenmore!""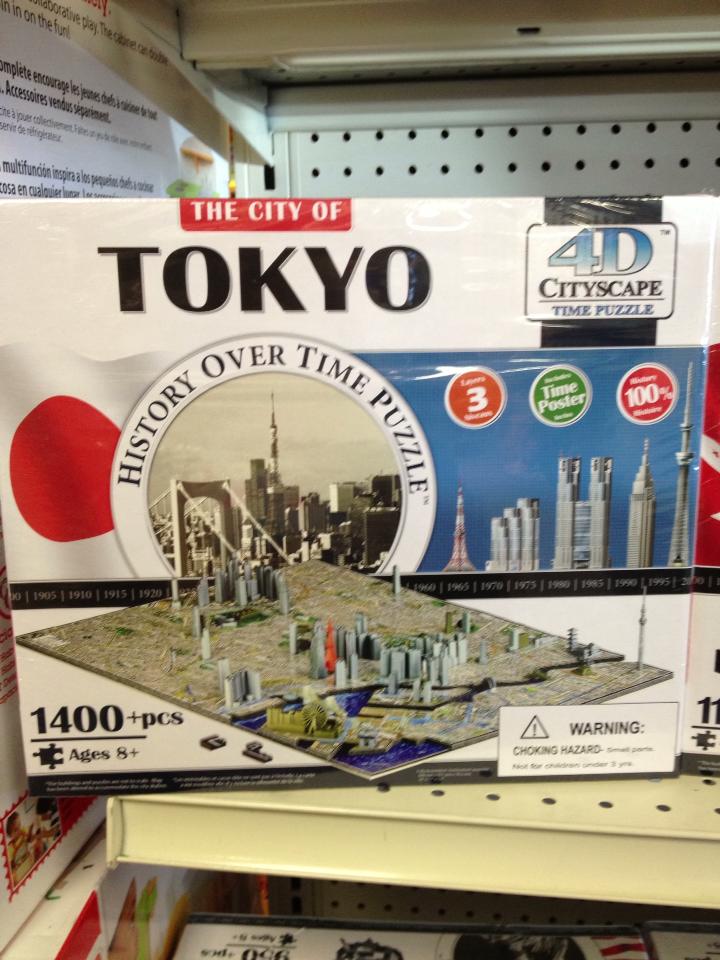 Thanks to Virginia Murray for catching this article and posting it to the JETAA Southeast Facebook group. It seems that Linnea Bradshaw, a fellow JET of Virginia's from 1988, is a Japanese teacher at a high school in Delaware whose class was recently visited by Delaware's Governor Jack Markell. Go JET!
Markell shares travel experiences with Appoquinimink students
Delaware's Governor visited the Level II language class at Appoquinimink High School Tuesday morning to share his experiences in Japan and to take questions from the class he video-chatted with from the foreign country during his trip last year.
Here are some excerpts from the article:
"Governor Jack Markell told students in Linnea Bradshaw's Japanese class Tuesday that speaking multiple languages gives them a leg-up in the job market. Delaware's Governor visited the Level II language class at Appoquinimink High School Tuesday morning to share his experiences in Japan and to take questions from the class he video-chatted with from the foreign country during his trip last year."
………
"Markell wasn't the only one in the room Tuesday who has experienced Japan. Last summer, Bradshaw took 23 students from both Middletown and Appoquinimink High Schools to Japan to immerse them in the culture. Bradshaw said that her highest-level students can speak sentences, and understand, write and read Japanese."
…….
"During his multi-city trip of the country, Markell, his wife, and staff, met with several businesses in the Miyagi area in hopes of building a stronger partnership between Delaware and Miyagi."
Click here to read the full article on the Middletown Transcript's website as well as see a photo of Linnea with the Governor: http://www.middletowntranscript.com/article/20130108/NEWS/130109810/0/SEARCH
Thanks to Akita Prefecture for sending out the latest volume of its Akita Global Network Newsletter:
We've just published the latest Akita Global Network newsletter,vol.6.  You can read here:
http://www.pref.akita.lg.jp/www/genre/0000000000000/1286429964066/index.html
Please share it with your family and friends.  Have a nice holidays!
Written by JETAA USA Board of Advisors member Jessyca Livingston who also serves as the JET Coordinator at the Consulate in Denver:
The Consulate General of Japan and Consul-General Ono recently hosted the 2012 National Day Reception. Rocky Mountain JET Alumni Association Executive Officers and Board Members were among the invitees along with other Japanese Community members, business leaders and government officials (including Denver Mayor Hancock).
Every year, the State of Colorado issues a Proclamation to the Consulate General of Japan in Denver on the occasion of the National Day Reception. This year, marked as "The year of opportunity for enhanced relations, friendship and mutual understanding between Japan and the State of Colorado", acknowledged the success of the JET Program and the many participants sent from Colorado as a key component which continues to strengthen ties between Colorado and Japan.
The number of JETs sent from the Rocky Mountain region remains strong as does the quality of JETs we send as participants. Additionally, many of our JET alums in this region remain involved in supporting and strengthening US-Japan relations in a variety of fields locally, nationally and internationally. This recognition from the State of Colorado is indeed significant to RMJETAA and to the JET Program as a whole.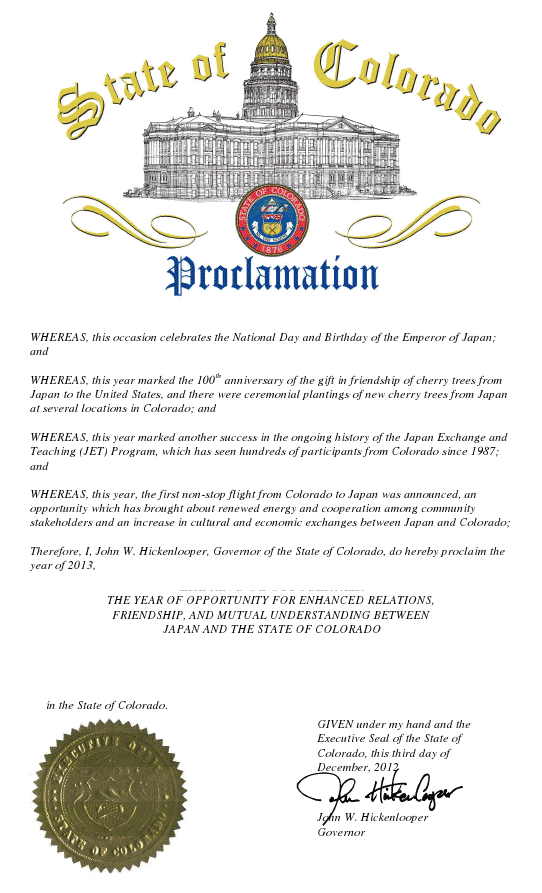 Via CLAIR-NY (aka Japan Local Government Center):
The newest JLGC Newsletter is has been published and can be viewed here: http://www.jlgc.org/pdfs/en/news74.pdf 
The issue includes a feature on the recent JETAA USA Conference in San Francisco as well as well-written and extremely informative report by CLAIR-NY Senior Researcher Matt Gillam following his recent visit to Ishinomaki City, Miyagi titled, "Appearance and Reality:  Recovery and Tohoku."
"Even people who live there can sometimes be amazed at the pace of recovery. Until you talk for a while and realize there are two recoveries going on, the physical and the psychological, and there is a vast difference between what can be seen and what cannot.  This point was driven home for me when I spoke with the principal of an elementary school in Ishinomaki who talked about how many problems the kids are having lately and the increase in theft, bullying, fights, and other manifestations of the stress and trauma that they bring to school from their homes."
JLGC publishes semi-annual newsletters featuring articles on JETAA activity, sister city and sister state relationships, exchange programs, and local government issues in the United States, Canada, and Japan.  The newsletter enables local government officials, JLGC's fellowship program participants, and other interested persons to stay abreast of JLGC activities and research efforts. At the same time, the newsletter provides those outside of the organization with the opportunity to share their ideas and opinions.
Click the following link to subscribe to the JLGC Newsletter:  http://www.jlgc.org/NewsLetterEmailEntry.aspx
Thanks to Vancouver-based JET alum Alison Dacia Brown (Iwate-ken, Rikuzentakata-shi, 2005-08) for posting about this to Facebook.  From a JET perspective, it seems to offer a communications model for Japanese local governments in which perhaps JETs and JET alumni could play a helpful role:
Update:  Here's the Rikuzentakata Facebook Page
Saturday, Nov. 24, 2012
Kyodo
MORIOKA, Iwate Pref. — The coastal city of Rikuzentakata, Iwate Prefecture, devastated by last year's earthquake and tsunami, has gotten global attention thanks to its use of Facebook.
In July, the city set up an official page in both Japanese and English on Facebook, the first municipality to do so among those on the northeast coast that bore the full brunt of the March 2011 catastrophe.
Since then, officials have been updating the page to display and keep the world updated on the reconstruction process, an unusual move for a municipal government. The posts, mostly written in Japanese, include articles on Rikuzentakata from Japan and around the world, advisories on earthquakes and floods, and the mayor's participation at a local festival.
When Rikuzentakata's officials made a fundraising page in English to help preserve the city's famed "miracle pine tree," donations came in from around the world. Read More