By Rashaad Jorden (Yamagata-ken, 2008-10) for JQ magazine. A former head of the JETAA Philadelphia Sub-Chapter, Rashaad is a graduate of Leeds Beckett University with a master's degree in responsible tourism management. For more on his life abroad and enthusiasm for taiko drumming, visit his blog at www.gettingpounded.wordpress.com.
You surely watched NHK while you were living in Japan. Whether you understood the content was another story, of course. But with the right cable provider, you might be able to enjoy Japan in a way that you were unable to during your JET days, thanks to NHK World.
NHK World serves as the organization's international broadcast service and features English-language programming devoted to Japanese news, sports, cuisine and culture. Even if your cable provider doesn't have NHK World, the network streams all of its programming around the clock on its official website, and you can also download their apps to your smartphone or tablet.
What might you see on NHK World? Here are five programs that could tickle your fancy:
Hosted by Ayako Kisa, Sports Japan has profiled not only sports traditionally associated with Japan, such as sumo and kendo—and those not-so-traditionally associated with Japan, like beach soccer and unicycling. Episodes of Sports Japan broadcast highlights from a certain competition in the featured sport while Kisa interviews a journalist or prominent figure in that sport, such as Alexander Bennett (the coach of New Zealand's national kendo team and editor-in-chief of Kendo World) in a recent episode devoted to kendo. The program is a fascinating look into what sports are practiced in Japan and who could emerge as the country's next elite athletes.

Posted by Eden Law, 2010-2011 ALT Fukushima-ken, President of JETAANSW.
As part of the drive to promote tourism to Japan (not to mention combining a long-held passion and dream), ex-JET Julius Pang introduced a Tohoku photography tour to showcase the beauty of Japan in autumn, in an area that sadly has become known for other things in recent years. Americans are especially well-suited to taking advantage of this tour package, considering how strong the US dollar is against the Australian (yes, Julius's Australia-based company, Incredible Photo Tours, welcomes overseas clients), travel will be especially cheap, with accommodation, transport and food taken care of.
Starting from Tokyo, the tour goes to various places throughout Tohoku such as Zao Onsen, Sendai, Hiraizumi, Akita, Bandai, Aizu-Wakamatsu, Nikko, Naruko Gorge, Shirakami Sanchi, Hirosaki, Nyuto Onsen and Lake Towada. With the advantage of the inside knowledge of an ex-JET, and the expertise of a tour guide who has won awards for his photography, it's a great tour package to consider for your next trip to Japan. Julius also has other tours, such as the Japan Classic Autumn tour, that does the classic route of Tokyo, Hakone, Himeji, Kyoto, Hiroshima, Miyajima, Okayama, Takamatsu, Mt Koya and Osaka.
For more information, check out the Tohoku Autumn Tour, or the Classic Autumn Tour at Incredible Photo Tours.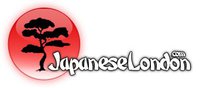 Here's a link to the latest JapaneseLondon.com April Newsletter.  This wonderful site is run by JET alum Vanessa Villalobos.
http://us5.campaign-archive2.com/?u=7bc6ccc938e02760a959b1d91&id=60f2abc5ca&e=d52cd058ae
Australia's 17th Japanese Film Festival is soon embarking on its last city tour in Melbourne, the capital of the southern state of Victoria, after being shown around Australia in the first ever national film festival administered by the Japan Foundation. Eden Law (Fukushima-ken ALT 2010-2011, current JETAA NSW committee member) got to see some of what's on offer during its recent run in Sydney. This one's for you, Melbournites! Don't say we don't do anything for you south of the border.
It has been almost three years since the disaster that devastated the north of Japan. There have since been a handful of films on the event, on the nation and it's people as they resolutely look forward to "revival" and reconstruction. However, few of those films, I suspect, would have dealt quite so starkly and closely on the subject of death quite like "Reunion".
"Reunion" is a dramatization of Itai: Shinsai, Tsunami no Hate ni (遺体―震災、津波の果てに?, "The Bodies at the End of the Earthquake and Tsunami"), a reportage of the events by Kota Ishii in the days immediately following the earthquake and tsunami of March 11. A brief snapshot of the normal, mundane lives around town in the beginning, contrasts sharply the aftermath, showing how unprepared and ill-equipped the small town's public servants were, as bodies kept coming into the temporary morgue set up in the old high school gymnasium, and distraught relatives plead for information and support. Horrified by the disorganization and haphazard treatment of the dead, Aiba (played by Toshiyuki Nishida), a retired funeral home director, volunteers to oversee the proper administration of the morgue. He shows the exhausted and numbed workers how to massage limbs stiffened by rigor mortis until they became pliant again for proper positioning, and how to counsel and deal with the grieving and traumatized people who come to identify the deceased. And slowly, people carry on with their jobs, because there is very little other choice.
This will be the most heart-breaking film you'll ever watch this year. I've never cried at the movies before (if there's anybody watching), but looks like there's the first time for everything. While the subject matter itself is undeniably powerful and emotional, "Reunion" is actually quite simple, a recounting of the events and the personal tragedies of those who survived. Music is used sparingly in this film, the silence heightening the solemnity and noises that included the constant squelching of the mud-logged boots and the sobs of the bereaved, background sounds as described in the book. Director Ryoichi Kimizuka makes sure that the deceased is an all-pervasive presence, as the cast of characters work with them and around them, uncovering their blackened swollen faces, identifying them and saying prayers for their souls. Thanks to Aiba's character, not only are the workers brought around to empathise with the dead, as their names and personal stories are revealed, but the audience also becomes involved. Little wonder then, that at many events where this film has been screened, audiences have been emotionally devastated.
In this film where multiple stories and tragedies play out, the cast work marvellously well together. There are very little histrionics or hysteria, just numbed helplessness, as many at first wander confusedly about before being given direction by Aiba. Performances are muted and restrained, which make the break-down moments even more heart-wrenching, for everyone has their trigger, be it the discovery of a loved one's body while carrying out work, or the tragedy of a young child, unclaimed by any surviving relatives. There are no questions of morality, no "why did this happen to us", soul-searching, condemnation or religious debate to be had that can be adequate. From Aiba's point of view however, the answer is to never forget one's humanity, which can be even more precious than food, in order to survive the unrelenting horror and sorrow of the situation. And that in the end, ultimately provides a glimmer of positivity in this film, as well as in life.
Reunion (Itai: Shinsai, Tsunami no Hate ni) by Ryoichi Kimizuka, released in Japan February 23 2013, starring Toshiyuki Nishida, Naoto Ogata, Ryo Katsuji, Jun Kunimura, Wakana Sakai, Tsuneo Aiba, Kenichi Domon, Yuta Oikawa, Yoshito Shibata, Takae Oshita, Koichi Sato, Shiro Sano, Ikki Sawamura, Mirai Shida, Michitaka Tsutsui, Michio Shimoizumi, Takeshi Yamaguchi, Nobutsugu Matsuda, Yuko Terui, Daisuke Hiraga, Toshiro Yanagiba
Australia's 17th Japanese Film Festival is soon embarking on its last city tour in Melbourne, the capital of the southern state of Victoria, after being shown around Australia in the first ever national film festival administered by the Japan Foundation. Eden Law (Fukushima-ken ALT 2010-2011, current JETAA NSW committee member) got to see some of what's on offer during its recent run in Sydney. This one's for you, Melbournites! Don't say we don't do anything for you south of the border.
At times graphically brutal and sadistic, "Brain Man" moves at a brisk pace, frequently keeping the audience off-balance with unsettling scenes and stylistic ideas that are reminiscent of other films in the genre. An adaptation of the novel "No Otoko" by Urio Shudo, the novel itself won the 2000 Edogawa Rampo Award for newcomers to crime fiction. In it, a series of sadistic murders and explosions pressures the police lead by Detective Chaya (Yosuke Eguchi, who must be channelling every crusty, grouchy detective character ever to exist in film) to find the culprits responsible, and soon enough Ichiro (Toma Ikuta) is apprehended as the prime suspect. However, things are rather decidedly odd about Ichiro, who is more like a robot than a human, going like clockwork to… go, unable to feel pain or emotion. Although in peak physical condition (via an establishing shot as the camera lingers over Toma's skinny yet hard-bodied torso, which is itself inhumanly bereft of fat), he is clearly a special psychiatric case, which is where Dr Washiya (Yasuko Matsuyuki), a brilliant psychiatrist, comes in to help with police investigation. Although like other characters in the film, she herself carries a trauma, that fuels her determination to investigate and uncover the truth about Ichiro, and ultimately the case.
This film calls for a certain suspension of disbelief – probably more than usual, with the number of implausibilities it has. This is not a film that is completely grounded in reality, even given the premise of a serial-bomber-Saw-wannabe and a man-bot. However, that's not to say it's done badly. Director Tomoyuki Takimoto excels at creating a tense, unsettling atmosphere, typically using lots of dark cold colours that's grim and claustrophobic, even in the day scenes. There are unexpected shocks punctuating the film at a brisk pace, creating a sense of dangerous unpredictability for the characters. Takimoto doesn't shy away from being graphic either, what with body parts being ripped, stabbed, shredded or sliced merrily in some form or another, in sadistically creative ways. Some of the characters and baddies are suitably over the top (especially Fumi Nikaido and Rina Ohta as Noriko and Yuria, in deliciously scenery-chewing performances), though are a little obscure in their motivation. But whatever man, they're totes cray-cray – who can understand why they do the things they do.
But that sort of unreality element can work against it, especially when the film, in the form of Dr Washiya, seems to be exploring more serious and unexpectedly philosophical issues: can a person be rehabilitated, or their basic nature changed? In the beginning of the film, Dr Washiya advocates a new form of "narrative" therapy to habilitate hardened criminals, contrary to the accepted methods of the establishment. It's a theme that surfaces once in a while throughout the film, although largely overwhelmed by the more exciting and visceral violence and terror. But during those moments, Matsuyuki (as the doctor) does really well in giving her character the right mix of toughness and vulnerability, and her interaction with a "cured" patient, brings a totally different kind of disturbing creepiness thanks in no small part to Shota Sometani who plays Shimura, the patient in question. But these differences seem out of place in a film that's usually more thrills and spills, in a world where a grizzled no-nonsense detective has long hair and the living coin-operated boy somehow has access to a great hair stylist and chic clothes.
However, as mentioned, "Brain Man" is still done well and is highly enjoyable to watch, especially if you're a fan of the thriller/crime/mystery genre. As Ichiro, Toma Ikuta's highly restrained acting, communicating only through subtle body language and stares, is quite absorbing. And "Brain Man" manages to deliver right to the end, as a final emotional shock is revealed.
PS: Bonus points for the ending credit song: "21st Century Schizoid Man" by King Crimson!
Brain Man (No Otoko) by Tomoyuki Takimoto, released in Japan February 9 2013, starring Toma Ikuta, Yasuko Matsuyuki, Yosuke Iguchi, Fumi Nikaido and Rina Ohta.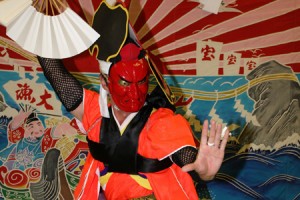 Posted by JETAA Northern California's Mark Frey (Kumamoto, 2002-06):
For those of you on the East Coast of the U.S., there will be rare Kagura dance performances at the end of October and beginning of November. If you are in the vicinity, I highly recommend you go to see it:
http://www.japansociety.org/event/kuromori-kagura-folk-music-dance-from-tohoku. As you may know, Kagura is an extremely old shinto ritual dance that relates the stories of ancient Japanese mythology. The stories are told through a series of dances with colorful masks and costumes. The dance cycles are long and performed in full can last 20+ hours. The cycle often culminates in the Japanese Ur-story of how by means of a wild and raucous dance the gods lured the Sun Goddess Amaterasu out of her cave in order to return sunlight to the universe.The overall atmosphere of Kagura on and off stage is one of alternating solemnity, spectacle, and shared mirth, overall an entertaining and life-affirming ritual experience. The music, which is very percussive and uses repetitive pattens, quickly becomes hypnotic, at times lulling you into a kind of trance.
Posted by Dipika Soni (Ishikawa-ken, 2003-06). Dipika lives in London but is interested in hearing about any Japan-related opportunities across the globe.
———————————————————————————————————————————-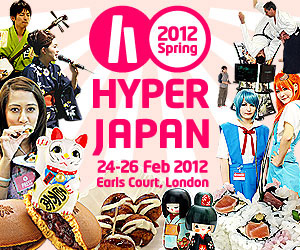 Last year I spoke to former JET Mary Moreton about her experiences in Japan and her current role working for one of the largest Japan-related events in the UK, HYPER JAPAN! After a hugely successful run last summer, HYPER JAPAN is back this week for more culture, cuisine and cool!
Starting tomorrow (Friday 24th February) and running till Sunday 26th, HYPER JAPAN promises to chase away all those winter blues!
Highlights this year include:
Sushi Awards 2012: UK Sushi Roll Championship
Eat-Japan SAKE AWARDS: Top Brewery Taste-Off
Natsuko Aso Live
Olympic Judo Champion Maki Tsukada
Cosplay, Street fashion, UK Kawaii star of the year and much much more!
For more details please check out the official website at http://hyperjapan.co.uk/
Posted by Dipika Soni (Ishikawa-ken, 2003-06). Dipika has recently moved back to London as is currently looking for new work opportunities related to Japan, writing and translation.
——————————————————————————————————————————–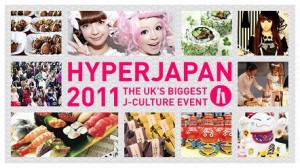 It's not surprising that London has changed a lot during the years I've been away in Japan. Being the "most populous municipality in the European Union", rapid development, modernization and globalization are to be expected. However, it still throws me of guard when my British friends now drop 'katsu-don', 'kirin beer', and 'kawaii' into everyday conversation. I know those words weren't part of my vocabulary before I took off for my life as an ALT!
For a recently returned expat like me, it is a huge comfort to see Japanese culture so widely embraced in my home city.  Which is why I was particularly excited to hear about HYPER JAPAN, a three day event promoting all the different aspects of Japanese culture that make it so appealing to us in the west. Determined to get my 'Japan-fix' to fight off the homesickness, I applied for a volunteer position and was delighted to discover one of the Hyper Japan team, Mary Moreton, was a fellow ex-JET. Not one to miss a chance to share JET stories, Mary kindly agreed to meet me one soggy London afternoon.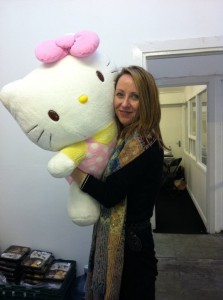 Hi Mary, sorry for dragging you out in this! Could you start by telling me a bit about your time on JET – why you applied, where you were based?
I was a CIR in Aomori City CIR from 2002 – 2005. I studied Classical Japanese Literature at University, which was a really interesting course that I enjoyed a lot, but not necessarily a degree that could lead straight to a clear career path. I wasn't interested in working in say finance in the city like many of my friends, and I had spent time in Japan before (I did a year out in Osaka), so I decided to apply for JET.
How did you find Aomori compared to your experience of living in Osaka? I would imagine it to be quite different!
Yes, it was completely different to my previous experience of living in the city. I remember in my first week, there was another girl from UK who was based at the kencho, and we decided to meet up and explore one day. We walked around for about 10 minutes until we realised there really wasn't much to see! It was totally different from my experiences of urban areas such as Tokyo, Osaka and Kobe.
What did you do after JET?
After returning from JET, my first job was as a PA for the European director of a Japanese electronics company where I was working in a mainly Japanese environment. Even though I had left Japan, during my working day, things weren't too different. Although I felt that my unique point was my Japanese ability, I did not necessarily want to restrict myself to working for Japanese companies. I then went on to work for a British based Insurance broker. I worked in their Japanese department, so I was still using Japanese but not working in a completely Japanese environment as I had been used to. I had always been interested in translation, so in addition to working, I decided to do a part-time MA in translation. In the end I had to quit my job to focus on my dissertation in the last term.
With my MA finished I then decided to do freelance translation and signed up with several Japanese agencies. Not all of them gave regular work, and there were certain areas of translation (technical) that I couldn't do, but after settling into a good relationship with a few coordinators, I managed to find my niche. Through that I did some work for the Sushi Awards, which led to my current position with Cross Media. Once again I am working as the only native English speaker in a Japanese company, but I enjoy it a lot as I get to promote all the things I love about Japanese culture and cuisine, and share it with a whole new audience.
Could you tell us a bit about the background of Hyper Japan?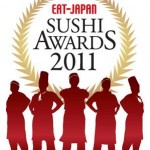 The Eat-Japan Sushi Awards have been around for a few years. Japanese food is a lot more popular now in the UK than when I left in 2002 to go to Japan. Now there are so many places around where you can try Japanese food, and there is a lot more scope to promote it – which is where the idea for the sushi awards came from.
Japanese anime, manga and games have always had a fanbase in the UK and the rest of Europe, and there is a large Japan Expo held in Paris which mainly focuses on these aspects of Japanese culture.
I think most people think that Japan is cool, but not necessarily for just one thing. There are separate events to cater for cosplay, anime, and sushi fans, however there wasn't anything that brought all these together – which what Hyper Japan attempts to do. In the same way that people who live in Japan experience the old and the modern co-existing harmoniously (you could find a Shinto shrine next door to a pachinko parlor), Hyper Japan aims to showcase both the contemporary and classic sides of Japanese culture under one roof.
To read the rest of the interview, click 'Read More'.
Read More
Embassy of Japan in the UK Webmagazine round-up via Dipika Soni (Ishikawa-ken, 2003-06). Dipika has recently moved back to London as is currently looking for new work opportunities related to Japan, translation, or other fields.
——————————————————————————————————————————–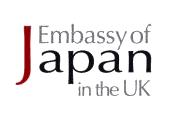 Featured Article:
Spotlight On…. Tim Anderson, Masterchef 2011 Champion
Other articles this month:
IRO IRO – Japan, in Colour
Films at the Embassy: Waterboys
Japan at the Barbican, Summer 2011
HYPER JAPAN 2011: THE UK'S BIGGEST J-CULTURE EVENT
Japan's First Railway: colour woodblock prints from the 1870s
Tohoku University – Back on Course
Charity bazaar held at Ambassador's residence
Memorial Service at Wesminster Abbey
Embassy hosts 15th Summer Reunion for Peace and Friendship
The swords are out at the 2011 Nihongo Cup
Birmingham Royal Ballet triumphs in Japan
Subscribe:
To subscribe to the Embassy of Japan in the UK webmagazine, please email webmagazine@ld.mofa.go.jp with the subject 'subscribe'.
I'm working on a JETwit mapping project and need some volunteers to input some JET-relevant info and examples to see how it works and get a sense of how people will use it.
If interested in helping (it should only take a few minutes), e-mail me at jetwit [at] jetwit.com and I'll send you further instructions.
Yoroshiku!
-Steven

JetWit Fashion Beat is brought to you by Dipika Soni (Ishikawa-ken, 2003-06). Dipika has recently moved back to London as is currently looking for new work opportunities related to Japan, translation, or other fields. She is also the former vocalist for the Japanese hardcore punk band DEGRADE.
——————————————————————————————————————————–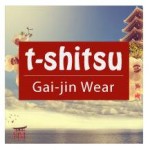 I first posted about T-shitsu and their fantastic designs aimed especially for gai-jin in December last year. Since then the response from members of the JET and JET alum community has been very positive, and the base of returning customers is constantly growing.
This is completely down to the unique omoshiroi designs, high-quality shirts and general high standard of service provided by the T-shitsu team. I can't rave about these shirts enough!
Currently, our friends at T-shitsu.com are half way through revealing their eagerly anticipated Black Collection.
The Black Collection consists of 8 new designs, one of which is revealed every Sunday, May through June, and we have been given an exclusive sneak preview of this week's new design especially for JETWit readers….
Ta da!!!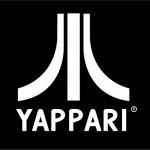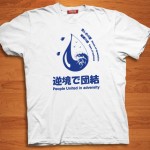 To update you on other recent activities, T-shitsu were very active in wake of the Tohoku eathquake/tsunami disaster in terms of fundraising and encouraging donations. They even designed their own t-shirt to raise money and awareness, called Tohoku Tears, a wonderful design that was distributed through their partner website at Sweatshop Union.
The Tokoku Tears shirt was extremely popular and all shirts sold out in A WEEK! In total the shirt raised an outstanding 300,000 yen. Since then all other designs in the 'rebuild' collection have also sold out, but if there are plans to re-release them we will be sure to let you know.
There will be further new releases on T-shitsu.com once The Black Collection finishes, and present designs will be made available in a wider selection of colours. There will also be further promotions and competitions, all of which will be advertised through the T-shitsu Facebook site. Make sure you sign up for all the latest info, and it's also a great way to contact the designers with your feedback and suggestions for shirts.
Please do post any comments/suggestions about the shirts, in particular any JET-related shirt ideas, and please do inform the T-shitsu team that you heard about them through JETWit if you place any orders. Check back for more updates soon!

Have a suggestion for a future JetWit Fashion Beat post? E-mail dipika [at] jetwit.com.
The Japan Society will be hosting an upcoming concert featuring J-techno pop band  Hikashu & Tomoe Shinohara on May 13.  50% of all ticket sales from this event will go to Japan Society's Earthquake Relief Fund.
Click Here to find out more information about the show.
Posted by Sam Frank, an ALT who taught English in Hiraizumi-Cho, Iwate Prefecture from 2002-2004 and worked in Shirahama-cho, Wakayama Prefecture as a JET from 2004-2006. He currently manages the New York Division of UnRated Magazine and works as a Project Manager/Web Producer at Arrow Root Media.
By
JQ magazine's Justin Tedaldi (CIR Kobe-shi, 2001-02) for Examiner.com. Visit his NY Japanese Culture page here to subscribe for free alerts on newly published stories. 
GANTZ, a new sci-fi film from Japan, is making its international world premiere at 325 U.S. movie theaters (including three in New York City) in an exclusive one-night event on Thursday, Jan. 20. Based on the long-running manga and anime series originally created by Hiroya Oku, GANTZ stars two of Japan's biggest leading actors, Kazunari Ninomiya (Letters from Iwo Jima) and Kenichi Matsuyama (Death Note, Detroit Metal City), who will both participate in an special live interview exclusive to this event.
Presented by NCM Fathom and New People, in association with Dark Horse Comics, GANTZ tells the story of childhood friends Kei Kurono and Masaru Kato, who are accidentally killed while trying to save another man's life. Rather than find themselves in the hereafter, however, they awaken in a strange apartment in which they find a mysterious black orb they come to know as "GANTZ." Along with similar abductees, they are provided with equipment and weaponry and manipulated into playing a kind of game in which they are sent back out to the greater world to do battle with alien beings, all while never quite knowing whether this game is an illusion or their new reality.
Click here for the rest of the article.
By JQ magazine's Justin Tedaldi (CIR Kobe-shi, 2001-02) for Examiner.com. Visit his NY Japanese Culture page here to subscribe for free alerts on newly published stories. 
U.S.-based FUNimation Entertainment and Toei Animation Co., Ltd. have teamed up to present Japan's evergreen animated series Dragon Ball Z at Hulu.com, North America's online leader for streaming TV shows and film in North America.
Yesterday (Jan. 15), FUNimation began streaming the series' first 15 episodes via Hulu, the official Dragon Ball Z website (www.dragonballz.com) in addition to www.dragonballzkai.com, www.funimation.com.
FUNimation will offer its professionally-produced, uncut, English-tracked and English-subtitled adaptations of the massively successful series beginning with the first episode as well as other chapters of the Dragon Ball franchise: Dragon Ball, Dragon Ball GT and Dragon Ball Z Kai.
Click here for the rest of the story.
By Steven Horowitz (Aichi-ken, 1992-94) and Lily Lam (Kagawa-ken, 2004-09)
If you read the previous Japan Fix:  Tampa post, then you know of some quality JET-recommended places in Tampa to get your Japan Fix on.   It turns out, however, there's more to tell and Tampa is even Japanese-ier than previously thought.  You just have to know where to look.  (In our case, we were forced to look because the places listed in the previous Japan Fix:  Tampa post happened to be closed this past Monday thanks to the holidays.)
So read on for Japan Fix:  Tampa (Part 2):
Japanese Food
I Ai Sushi (as in, "I love sushi") is a cozy Japanese restaurant with an izakaya section on their menu tucked away in a shopping mall on 33614 W. Waters Ave. that also features a Marshalls (aka America's "Ito Yokado") and an Albertsons.  Perhaps the Japanese-iest touch of all is their business card which, in true Japanese fashion, includes a crude yet cute map of the mall with an arrow pointing to where the restaurant is located. 
I had the good fortune to go with St. Petersburg native, uber-foodie and fellow alum Lily Lam (Kagawa-ken, 2004-09) who heard about the place from a friend whose mother happens to be Japanese.  (Notably, Lily actually lives and works in San Francisco these days.  We only got in touch when she responded for the JET-Sister City List Project and, in the course of e-mailing, we realized we would both be in the Tampa-St. Pete area for Christmas.)
I Ai Sushi is owned by a Japanese couple who hail from Osaka and opened the restaurant about 3 years ago.  Tasteful Japanese art on the walls is accented with a Hello Kitty clock as well as autographed photos of several Japanese ballplayers who have eaten there. 
We started with a bottle of warm sake.  And perhaps the nicest thing about the sake was that rather than present us with a long list of detailed descriptions of sakes from all over Japan, they just brought us some decent sake.  Somehow I found this lack of choice to be reassuringly natsukashii.  (Remember lunch in your junior high schools?)
From the izakaya menu we ordered gyoza (savory and yummy), kinpira gobo (which had a surprising and tasty kick to it), maguro yama kake (mountain potato with tuna sashimi–not commonly found in most U.S. Japanese restaurants) and, from the specials menu that night, shishamo, which are small, batter-fried and very pregnant fish.  According to Lily, this was a common feature of her school lunches.  Somehow I made it all this time without ever being aware of their existence, due most likely to the fact that I've spent most of my life avoiding fish.  However, given my vow this year to make efforts to expand my palate, I took a couple bites.  Right in the belly.  And you know, it wasn't so bad.  Especially with a little lemon on it.  (Lily noted that in her school lunches, there was no fried batter and no lemon.  Just rubbery pregnant fish.)
These, of course, were just the warmup dishes, the mood setters.  Because in the chilly (by Florida standards) 40 degree evening, we quickly discovered that the menu also featured various forms of nabe including sukiyaki, which we both ordered.  They let us cook it right at our table.  The beef was Japanese-thin and nicely marbled.  The veggies were exactly what they were supposed to be.  And the broth had that sweet-salty flavor that brought back memories of my first sukiyaki experience on a cold day in a friend's unheated home gathered round a kotatsu with school colleagues.
I knew enough to request a couple raw eggs (since American health codes prohibit restaurants from offering raw eggs on their menu).  And we were in business chowing down and exchanging stories of JET days past. 
And for a final Japanese touch, they brought us (un-ordered) a dessert of grapes, hand-whipped cream and choux creme/シュークリームfilled with vanilla ice cream all on a plate.  A very nice finish to the meal.
With our bellies full of washoku and a bit of nihonshu, it was of course time for….
Karaoke
After searching Google Maps and Yelp on our iPhones, it was determined that the best karaoke options would be Korean noreban (i.e., karaoke box)  joints.  Tampa Karaoke was the obvious choice, but one Yelp review mentioned something about gero in one of the rooms.  So first we checked out One Family Korean Restaurant and Karaoke on 7030 West Hillsborough Ave.  It was a bit hard to find at first along the commercial strip, but sure enough there was a Korean market, restaurant and karaoke place all in one warehouse-like looking building.  Unfortunately for us they were all closed.
Tampa Karaoke it would be.  And it was actually not so bad.  Slick, chi-chi, high class and newly renovated are all words I would not use to describe the establishment.  But the young Korean-American guy at the desk was very friendly.  And the price was right at $25 per hour for a room.  It's also worth noting that this is a BYOB place (like Bar Toto in Korea Town in NYC), which is great if you happen to know about it in advance (which we didn't).
We asked if there were Japanese songs in the books and were told that indeed there were.  We eventually found them, however they were organized by song title only which made it a bit hard to search.  That inconvenience, however, was mooted by the fact that we could only find 2 or 3 songs that we actually knew.  And we decided to fault that partly to our own limited J-Pop knowledge and partly to Tampa Karaoke's limited selection.
Getting into specifics, I was able to find "Kampai" (Nagabuchi Tsuyoshi) and "Kimi Ga Iru Dake" (Kome Kome Club).  But no "Ashita Ga Aru" or "Banzai" or any other songs by Ulfuls (aka Japan's answer to Hootie and the Blowfish).  Lily, meanwhile, found "Sakura" (Kobukuro), a well-known sappy graduation song as well as "Life is a Boat" (Rie Fu).  (Though she regretted not finding "Tegami" by Angela Aki.)  Sore demo, we ended on a good note with that Japanese standard, "Take Me Home Country Road" (Jo-n Den-ba).
We realize there is more Japan to explore in the Tampa-St. Pete's area.  But it may just have to wait until next Christmas.  However, given that I'm currently "stuck" in Florida due to the Blizzard of 2010 and can't get a flight back to NYC until Sunday, January 2, I've decided to head east in search of more JET-ventures.  So stay tuned for….
Japan Fix:  Del Ray Beach & Miami!
Tell us where JETs should go in your area to get their Japan Fix. E-mail jetwit [at] jetwit.com.