Via JET alum Carleen Ben.  Posted by Jayme Tsutsuse (Kyoto-fu, 2013-Present), organizer of Cross-Cultural Kansai.  Click here to join the JETwit Jobs Google Group and receive job listings even sooner by email.
---
Position: Admissions Counselor
Posted by: CAPA International Education
Location: Boston, MA
Type: Full-time 
Overview:
CAPA International Education is an established leader in the development and administration of quality international education programs. For 40 years, CAPA has partnered with colleges and universities across the country and around the world, providing a full range of programs and integrated services designed to support all aspects of international education. A strong worldwide network, professional expertise, and demonstrated success in the field make this international education organization the preferred resource for a growing number of US institutions of higher learning. CAPA is recognized for rigorous and quality programs that integrate academic and experiential learning opportunities at our Global City centers and specialized custom programs that are specifically designed to meet an institution's needs.  Read More
Via JET alum Carleen Ben.  Posted by Jayme Tsutsuse (Kyoto-fu, 2013-Present), organizer of Cross-Cultural Kansai.  Click here to join the JETwit Jobs Google Group and receive job listings even sooner by email.
---
Position: Alfa Fellowship Alumni Association (AFAA) Assistant
Posted by: Cultural Vistas
Location: New York, NY
Type: Part-time 
Overview:
Assist the Alfa Fellowship Alumni Association (AFAA) executive board and Alfa Fellowship Program staff in planning, implementing and promoting AFAA activities. Read More
Via JET alum Carleen Ben.  Posted by Jayme Tsutsuse (Kyoto-fu, 2013-Present), organizer of Cross-Cultural Kansai.  Click here to join the JETwit Jobs Google Group and receive job listings even sooner by email.
---
Position: Program Coordinator and Program Coordinator of Academics
Posted by: New York University Study Away Program
Location: Washington D.C.
Type: Full-time 
Overview:
New York University, Washington DC has two open staff positions for our study away program. Both positions are based in Washington DC.
Read More
Via JET alum Carleen Ben.  Posted by Jayme Tsutsuse (Kyoto-fu, 2013-Present), organizer of Cross-Cultural Kansai.  Click here to join the JETwit Jobs Google Group and receive job listings even sooner by email.
---
Position: International Student Advisor
Posted by: Special Programs at Northeastern University
Location: Boston, MA
Type: Full-time 
Overview:
Provide immigration advising and support services to international students in non-immigrant visa classification who are enrolled in "Global Pathways", "American Classroom", USPP at CPS as well as non-degree seeking programs, including J-1 EV, at University. Serve as a primary resource/contact for these special programs at CPS and support ISSI admissions processes related to other Colleges within the university and regional campuses. Read More
WIT Life is a periodic series written by professional Writer/Interpreter/Translator Stacy Smith (Kumamoto-ken CIR, 2000-03).  She starts her day by watching Fujisankei's newscast in Japanese, and here she shares some of the interesting tidbits and trends along with her own observations.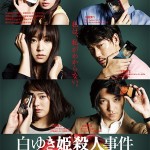 This weekend wrapped up Japan Society's annual film festival Japan Cuts, and all of the films that I caught out of the 28 presented this year were wonderful.  I particularly enjoyed the opening film on the first Friday of the festival, The Snow White Murder Case (白ゆき姫殺人事件).  This movie made its U.S. premiere, and told the story of the murder of a beautiful young office worker.  The prime suspect is her plain co-worker who has disappeared following the murder, and in the online world the case is made for her guilt before the official investigation takes place.  As interviews are carried out with others at the company and the truth is gradually revealed, viewers come to realize how culpable we are in automatically convicting suspects based on hearsay and popular opinion.  This film skillfully highlights just how pernicious social media can be in stringing people up before they have the opportunity to defend themselves.  Although this sounds like a dark story, it also has comic moments that serve to lighten the mood.
Two kid-centered films that I liked more than I expected were Maruyama, the Middle Schooler (中学生円山)  and Hello! Junichi (ハロー!純一), both of which use dance and humor to great effect.  The former focuses on a 14-year old in the height of puberty who uses his active imagination to Read More
Via JET alum Carleen Ben.  Posted by Jayme Tsutsuse (Kyoto-fu, 2013-Present), organizer of Cross-Cultural Kansai.  Click here to join the JETwit Jobs Google Group and receive job listings even sooner by email.
---
Position: Student Services Coordinator
Posted by: Duke University Global Education Office for Undergraduates
Location: Durham, North Carolina
Type: Full-time 
Overview:
The Global Education Office at Duke University is currently accepting applications from qualified candidates for the position Student Services Coordinator with regional responsibilities in the Americas, Spain, Africa, and Turkey. This is a new position that will also take the lead in coordinating GEO's marketing efforts. Successful candidates will have a strong background in both marketing/communications and student advising for study away opportunities. Please refer to the vacancy announcement below. To apply, please send a cover letter, resume or CV, and the names of three references to globaled@duke.edu. We will not contact references without first checking with you. Please use "Student Services Coordinator" in your subject line. In addition, applicants will need to apply through the Duke HR system (http://hr.duke.edu) using the requisition number listed: 400857605. This position is based in Durham, North Carolina. No phone calls.
Read More
————————————————————————————————————
Overview: 
The English Language Institute (ELI) of Kanda University of International Studies (http://kandaeli.com/) has openings for suitably qualified lecturers of English as a foreign language. These lecturer positions are for a two-year period commencing April 2015. There is an option to renew the contract for a further two years, by mutual agreement.
————————————————————————————————————
Overview: 
————————————————————————————————————
Overview: 
————————————————————————————————————
Overview: 
This is a full-time position performing a wide variety of work activities related to B2B Invest-in Japan promotion and export to US promotion, including web marketing including social and SEM, project management, event coordination, etc.
By Julio Perez Jr. (Kyoto-shi, 2011-13) for JQ magazine. A bibliophile, writer, translator, and graduate from Columbia University, Julio is currently working at Ishikawa Prefecture's New York office while seeking opportunities with publications in New York. Follow his enthusiasm for Japan, literature, and board gaming on his blog and Twitter @brittlejules.
This is the story of a poor boy that had the misfortune to fall in love with a rich girl. A classic Gothic tale of romance transplanted and re-imagined in postwar Japan.  If you like your lovers star-crossed and your antiheroes of the rags to riches variety, then you're in for a treat with Minae Mizumura's A True Novel. Winner of the Yomiuri Literature Prize in 2002, A True Novel is a book filled with familiar themes executed in interesting new ways. It is a re-imagining of Emily Brontë's Wuthering Heights in postwar Japan, with parallels among some characters, but different enough to be original and uniquely Japanese.
A True Novel is a unique and engrossing tale that brings together three seemingly unrelated characters who are united not only by a resigned sense of isolation from their surroundings but also united in their encounters and fascination with the book's protagonist, Taro Azuma. The focus of the novel is the story of his tragic youth, a poor boy who falls in love with a rich girl, and his growing awareness that he would always be incompatible with her in the eyes of others. He flees to America, where he claws his way up from the dregs of society and overcomes the obstacles of class and wealth to become one of the richest Japanese men of his time. While we learn about his fascinating life through the three different viewpoints of the characters with their sometimes humanly biased perspectives, the book also gives insight into the complex identities of the uprooted lives of immigrants and refugees both in Japan and in America, as well as how attitudes toward them have changed over time. A True Novel remarkably depicts the sense of isolation that anyone who has lived abroad or moved to a new place experiences. It captures the very human and conflicted desires to simultaneously fit into a society while also desiring to rebel against its impositions.
Mizumura has masterfully brought to life narrators and characters from different generations, countries, and social classes, and provides fascinating insight into their lives during different periods of Japanese history. From the bleak years of Imperial Japan's home front during the Pacific War, and the humbling postwar period, through its modern economic success, and finally to the bubble burst and recent events, Japanese modern history comes alive in an intimate and immediate way that inspires new appreciation and curiosity for the human side of history.
Ashlie O'Neill (Hyogo-Ken, 2013-Present) AJET National Council Director of Alumni Relations. This is a new position to help strengthen the relationship between JETAA/AJET. Please feel free to contact her on her email or  Linkedin profile. Ashlie helps to keep you up up to date with JETAA happenings around the world.

With all the new JETs headed my way very shortly JETAA chapters worldwide have been busy getting their 2014 JETs ready for the experience of a lifetime. Let's see what there is to look forward to after the 2014 JETs say sayonara to their local JETAA chapters.

JETAADC
Screening of documentary Kokoyakyu: High School Baseball- Tuesday, July 22nd
JET Talks officially kicks off its 2014-2015 season with an examination of Japanese high school baseball through a screening of the ground-breaking documentary Kokoyakyu: High School Baseball, followed by a discussion with two of the film's producers.
Sento-duction @ King Spa-Saturday, July 19th
JETAA Chicago will host a "Sento-duction" for the new JETs at King Spa, welcoming them to experience sento with JET alums and learn more about onsen, sento, and Japanese bathing customs.
Annual Edgefield Gathering & Golf outing – Saturday, July 19th!
The 9th Annual golf outing at McMenamins Edgefield. It is said to be a lot of fun for everyone, even those who don't usually golf. In fact, golf is only the excuse to hang out and have fun! Don't want to play golf? That's okay, join everyone for lunch and fun.
Saints Game SeigoPalooza-Tuesday July, 22nd
Join JETAA Minnesota to have fun with their friend, Seigo Masabuchi, for SeigoPalooza at the Saints versus the Sioux Falls Canaries baseball game.
Tailgating will begin from 6 pm.
Ottawa's Natsu Matsuri- Saturday, July 19th
JETAA Ottawa reminisce on the good times at various Summer Matsuri's in Japan. This is the 10th year of Ottawa's very own Natsu Matsuri! Enjoy the fantastic fireworks displays, Japanese food stands, traditional music and dancing.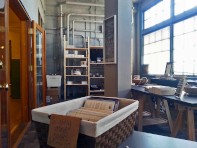 Thanks to JET alum David Jacobson, who works for Chin Music Press, for sharing this press release.  Chin Music Press is a Seattle-based publisher owned and run by Bruce Rutledge (Monbusho English Fellow, Chiba-ken, 1985-87) with a reputation for noteworthy cover art.
Indie Book Publisher Opens Office/Retail Space in Seattle's Pike Place Market
Press Release
July 16, 2014

Local independent book publisher Chin Music Press today opened a new office and retail/exhibit space in Seattle's famed Pike Place Market. The retail space, open from 11am to 5pm Tuesday through Saturday, will feature all Chin Music titles as well as related posters, zines, chapbooks, stationery, broadsides and other artwork.

"It's a great privilege for a small publisher like us to be able to obtain space at Pike Place Market," said Chin Music Press Publisher Bruce Rutledge. "We now have room to give all of our titles the shelf space and attention they deserve. But more importantly, we can add to the literary ecosystem in Seattle. We look forward to connecting with other presses, bookstores, artists and lovers of literature to make our space a vibrant part of the community."

"The Pike Place Market is very pleased to have Chin Music Press join the market community," said Kelly Lindsay, director of programs and marketing for the Pike Place Market Preservation and Development Authority. "We believe the Seattle community, as well as visitors from around the world, will enjoy Chin Music's first retail store and the opportunity to directly engage with featured artists, writers and photographers. Now home to five independent bookstores, the Pike Place Market is a destination for people who love to read. "

Chin Music Press is best known in Seattle for such titles asShiro: Wit, Wisdom and Recipes from a Sushi Pioneer,Yokohama Yankee and A Commonplace Book of Pie. It has won awards and accolades for its books, with one NPR reviewer saying the press provided "a triumphant kick in the pants for anyone who doubts the future of paper-and-ink books." Read More
JETAA DC is proud to present the launch of JET Talks– a speaker series modeled after TED Talks that will feature dynamic and interesting individuals to inspire innovative ideas and conversation on Japan within the DC community.
Upcoming Events: Kokoyakyu Documentary and Q&A - Tuesday, July 22
Play Ball! On July 22, please join JETAADC at the Japan Information and Culture Center (1150 18th St NW #100, Washington, DC 20036) as it presents its first "JET Talk" of the 2014-2015 season: a screening of the award winning documentary Kokoyakyu: High School Baseball, followed by a discussion with two of the film's producers.
Kokoyakyu is the first English-language film to examine high school baseball in Japan, in particular, the annual summer high school baseball tournament. The film follows one team as it seeks to play in the prestigious tournament, and along the way demonstrates why high school baseball has become a national rite of passage for many of Japan's youth.
Following the film, Nick Harling (Mie-ken, 2001-03), JET Talks Co-Chair and creator of the Let's Talk Japan Podcast, will lead a discussion with Kokoyakyu's Producers Alex Shear and Takayo Nagasawa as they discuss the making of the film and the differences between the U.S. and Japan when it comes to the "National Pastime."
Click here to register for Kokoyakyu.
Light refreshments will be served. Identification will be required to consume alcoholic beverages. Admission is free, but you must preregister.
If you have an interesting and dynamic speaker you'd like to hear speak on anything related to Japan, email us at jet.talks@jetaadc.org.