By JQ magazine editor Justin Tedaldi (CIR Kobe–shi, 2001-02). Justin has written about Japanese arts and entertainment for JETAA since 2005. For more of his articles, click here.
With Thanksgiving (and the hopes of sensible eating) now just a memory, we turn to colder weather, falling snow, and the new year to come. Fortunately for Japanese culture fans, December is just as busy as the holiday season itself. Whether you're hosting guests from out of town or looking to squeeze in an event or two in between parties, we've got you covered.
This month's highlights include: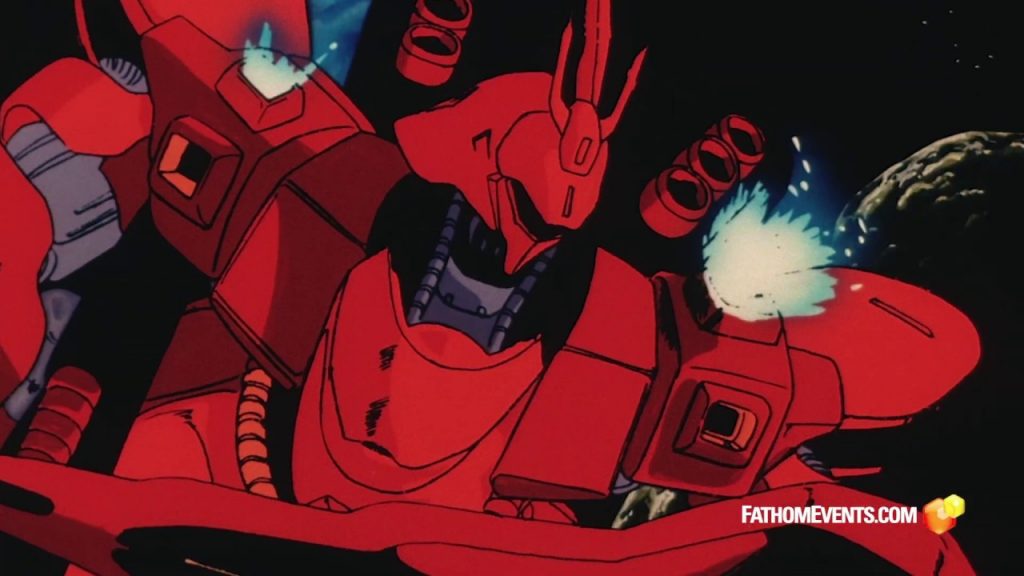 Thursday, Dec. 5, 7:00 p.m.
Gundam 40th Anniversary Celebration: Char's Counterattack
Regal E-Walk 42nd Street 13, 247 West 43nd Street
AMC Empire 25, 234 West 42nd Street
AMC Kips Bay 15, 570 Second Avenue
$17-$20
Amuro and Char, two best mobile suit (robotic weapons) pilots who fought together against Titans after the Zeon's independency war, must face each other in a fateful duel where the Neo Zeon, led by Char, attempts to drop a gigantic meteor and its nuclear weapons to Earth in order to cause Nuclear Winter to wipe out the Earth inhabitants. Gundam fans won't want to miss out on this exclusive one-night-only event, featuring a special interview with franchise creator Yoshiyuki Tomino and a commemorative poster! (Limited quantities, first come, first served only.)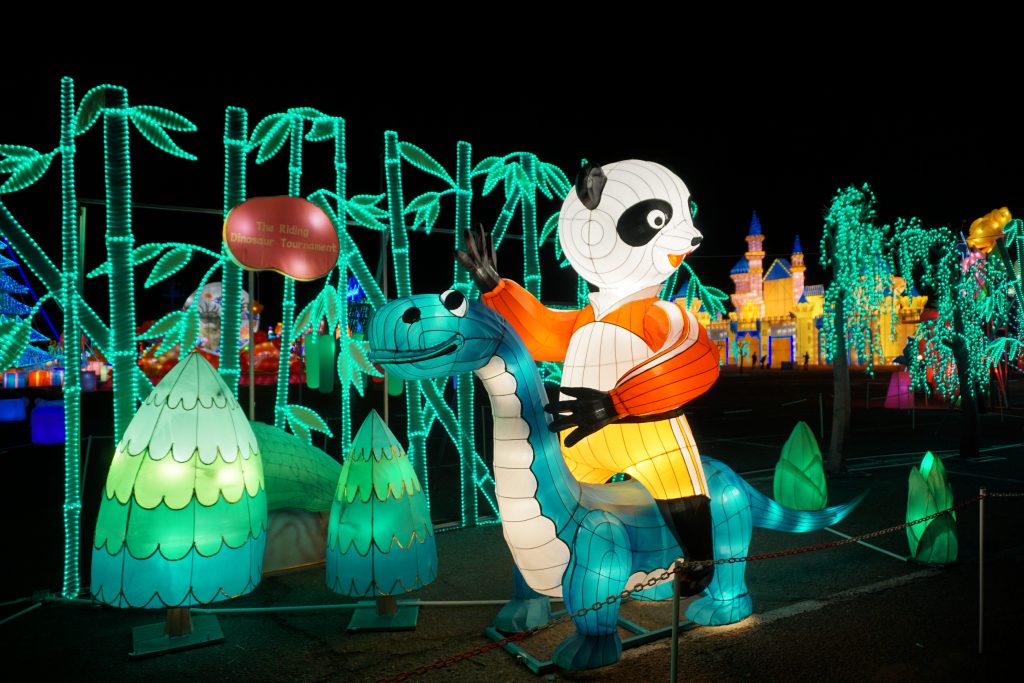 Dec. 6-Jan. 26
Citi Field, 41 Seaver Way
$25-$28 adults, $90 family admission/season pass
Celebrate the holiday season with the largest lantern show ever for New York, with diverse entertainment, food, modern art exhibitions, interactive games, cultural handcrafts, cultural heritage experiences, and live stage performances! This year's festival features over 120 handmade lanterns like the world's tallest Christmas tree lantern, an enormous fairy tale castle, and a 98-foot-long light tunnel. These giant lantern displays are built on-site by artisans, using a variety of materials including silk and porcelain, all illuminated by environmentally friendly LED lights.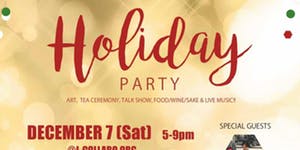 Friday, Dec. 7, 5:00-9:00 p.m.
J-Labo, 300 East Seventh Street (Brooklyn)
$20, $10 kids 12 and under
J-Collabo is an organization that introduces Japanese culture to New Yorkers. They support artists from both Japan and New York, and their annual group exhibition of those artists is one of their biggest events of the year. Come and meet passionate artists, enjoy Japanese foods, sake and more! This year's event features a tea ceremony by Nina Ozeki from Urasenke (5:00-6:00 p.m.); live music performance by Hall & Keenan with Glenn Spivack (7:00-7:30 p.m.); a talk show by Joe Samalin (co-founder of MenChallenging) on "importance of Cross-cultural Understanding" (7:45-8:15 p.m.); and raffle winner announcements (8:15-8:30 p.m.)!
Read More
Thomas Chang has lived and worked in Japan since 2015 and is the publisher of the Survive in Japan blog. Thomas came to Japan as an ALT and eventually became a software engineer in Tokyo. In his spare time, he enjoys exploring Tokyo's many cafes and enjoys drinking a nice cup of coffee early in the weekends.
Japan is one of the most popular destinations, both for tourism and for living. Japan's anime, food, and technology are enjoyed all over the world and it sparks people's interest in the country. Japan is also a good place to live, with convenience stores everywhere and very low crime rates. If you've ever thought about getting a job and living in Japan, now is the perfect time to do so. This article will show you what makes now the best time to look for a job and what kind of jobs are best for foreigners.
Japan's Shrinking Population
One of the biggest reasons why now is the perfect time to move to Japan is the shrinking population. There are far fewer Japanese babies being born today than before the 1970s, resulting in an imbalance of young and old people. In fact, half the population in Japan is over 46 years old. This is causing an economic crisis since there are not enough people working to support the older generation.
In order to fill this gap, Japan has no choice but to open more doors for foreigners to work and live in the country. As a result, there are more and more job openings available to foreigners every year.
Japan's Traditional Work Culture
Japan has a work culture that's different from the rest of the world and it starts from the hiring process. Instead of hiring one by one when needed, most companies follow a process called shuushoku katsudou where they mass hire new graduates every year. The shuushoku katsudou period would be considered one of the most critical times of your life because, in that year, you would have to choose a company that you would work for for the rest of your life.
It sounds crazy but the reason is that switching jobs was often looked down upon by society and it was extremely hard to find a company that would hire somebody that has quit their previous job. In fact, this was so extreme that suicide became the number 1 cause of death in Japan for men ages 20-44.
With times changing and the shrinking population crisis, Japan's work culture is changing little by little. Shuushoku katsudou is still around but working conditions are improving and more people are able to switch jobs, which means that foreigners can also find jobs.
Opportunities for Foreigners in Japan
English Teacher
This is the most well-known method to start working in Japan. With Japan's plans to increase English education, there are more and more English teaching jobs available than before …
Click here to read the full post at surviveinjapan.com
Posted by Sydney Sparrow. Click here to join the JETwit Jobs Google Group and receive job listings even sooner by email
---
Job Title: Temporary JET Program Assistant
Posted by: Consulate General of Japan in Los Angeles
Location: Los Angeles, CA, USA
Contract: Full-Time
Here's a temp job sent directly from the Consulate General of Japan in Los Angeles:
There is an opening for a temp job at the Japanese Consulate in LA. This would be helping with the JET Interviews early next year.
For more information and to apply: https://www.la.us.emb-japan.go.jp/itpr_en/2019_winter_temp.html
Posted by Sydney Sparrow. Click here to join the JETwit Jobs Google Group and receive job listings even sooner by email
---
Job Title: Teaching and Mentoring Internship
Posted by: Ashinaga Africa Initiative
Location: Uganda or Senegal
Contract: Full-Time
Here's a very exciting opportunity passed along to us:
Ashinaga Uganda and Ashinaga Senegal have opened applications for their Teaching and Mentoring Internships for 2020. While the internships are unpaid, round-trip economy class flights, stipends, and housing are provided.
In Uganda and Senegal, we offer internships in two types of camps attended by our Ashinaga Scholars: Study Camp, and Preparation Camp.
Uganda Internship Term Dates 
Preparation Camp: April 27th – June 27th 2020
Study Camp: Cohort 1: July 1st – August 28th 2020
Study Camp: Cohort 2: August 21st – December 9th 2020
For Uganda, the application deadlines are as follows:
Preparation Camp: 14 January 2020
Study Camp-Cohort 1: 28 February 2020
Study Camp-Cohort 2: 15 May 2020
Lusophone: 15 March 2020
Senegal Internship Term Dates
Study Camp (Anglophone): July 1st – December 4th 2020
Study Camp (Francophone): August 5th – December 4th 2020
For Senegal the application deadline is February 28th, 2020.
Application Process: If you are interested, please click below:
Posted by Sydney Sparrow. Click here to join the JETwit Jobs Google Group and receive job listings even sooner by email
---
Job Title: Sales Representative
Posted by: Okaya, Inc.
Location: Lexington, KY, USA
Contract: Full-Time
Here's a job received directly from the company:
Okaya (USA), Inc. (https://www.okaya-usa.com/), the US subsidiary of Okaya Kouki (http://www.okaya.co.jp/en/index.html), one of Japan's oldest trading companies, is currently looking for a promising candidate to join us in as an outside Sales Representative at our Lexington (KY) branch. As you will be working daily with a large number of Japanese customers and coworkers, Candidates with medium to high Japanese proficiency are preferred (JLPT N1/2/3 or equivalent).
While experience working for or with Japanese companies is a plus, Okaya has previously hired JETs upon immediate return to the US and currently employs 3 former JETs (including myself). Any familiarity to with the Japanese automotive industry, logistics, or International Trade is a huge plus. Working for a Japanese trading company is a job quite unlike any other, as you will be responsible for maintaining customer relationships and selling products to and for a wide array of companies across many industries.
Outside sales representatives will be expected to travel significantly in their local area, visiting current and potential customers regularly to build relationships and introduce our wide array of products. Strong self-motivation, flexibility, and a desire to learn new skills to adapt to everchanging market and economic conditions are traits that are highly prized in this field of work. Trading companies provide value to their customers not only through product sales, but also through project management and other value-added activities, so a strong "all-around" candidate will be highly prized. Feel free to let us know about any special skills or experience you may have as they can always prove to be an asset. Read More
Posted by Sydney Sparrow. Click here to join the JETwit Jobs Google Group and receive job listings even sooner by email
---
Job Title: Production Assistants / Fixers / Runner Freelance
Posted by: WeDriveYou
Location: Tokyo and Environs
Contract: Part-Time
Here's a good opportunity if you're looking to work in Japan for the 2020 Tokyo Olympics:
Tokyo 2020 Olympics, Japan – Production Assistants / Fixers / Runner Freelance
WeDriveYou is one of the largest providers of transport and staff solutions for broadcasters including VIP transport services for artists and celebrities and provision of production assistants/fixers during major international sports events.
Recent events include Olympics in Rio, Pyeongchang, London, and Sochi and the FIFA World Cups in Russia, Brazil and South Africa. Our clients are among the leading representatives of their industries.
We are looking for bilingual fixers / drivers to support broadcast media teams in Tokyo. Read More
Posted by Sydney Sparrow. Click here to join the JETwit Jobs Google Group and receive job listings even sooner by email
---
Job Title: Director of Development
Posted by: Sterling Montessori Academy and Charter School
Location: Morrisville, NC, USA
Contract: Full-Time
Here's a job passed along to us:
The Montessori PreK – 8 school is hiring for a Director of Development to help build and implement their fundraising and communications. It is located in Morrisville, NC, has a large international population and would greatly benefit from someone who has experience working with international communities! The hiring salary is $50k.
Details here: https://www.sterlingmontessori.org/employment/
Posted by Sydney Sparrow. Click here to join the JETwit Jobs Google Group and receive job listings even sooner by email
---
Job Title: Report Editor
Posted by: J-Screen K.K.
Location: Daikanyama, Shibuya-ku, Tokyo
Contract: Full-Time
Company Background
J-Screen K.K. assists companies mitigate financial, legal, and criminal risks through the design and implementation of formalized, ethical and comprehensive individual and organizational screening programs.  J-Screen reports focus on publicly available information and public records relating to companies and individuals.
Position: Researcher – Report Editor
This position is responsible for editing English language individual background screening reports and company due diligence reports.
Responsibilities
Editing English language individual background reports and company due diligence reports.
Drafting and editing client emails.
Managing overseas information vendors.
Conducting English language phone verifications with overseas employers and universities as required.
Posted by Sydney Sparrow. Click here to join the JETwit Jobs Google Group and receive job listings even sooner by email
---
Job Title: Language Training Supervisor
Posted by: U.S. Department of State
Location: Arlington, VA, USA
Contract: Full-Time
Here are some openings passed along to us:
The Foreign Service Institute has openings for supervisors in all five instructional divisions in the School of Language Studies.
These positions do not require specific language expertise, but instead SLA and language teaching methods. They are at the GG-12/13 levels, so not contract positions, and this is an advantage.
ee details in the announcement (FSI-2020-13) on USA Jobs:
Posted by Sydney Sparrow. Click here to join the JETwit Jobs Google Group and receive job listings even sooner by email
---
Job Title: English or Spanish Teacher
Posted by: Peace Boat
Location: Global
Contract: Full-Time
Thanks to JET alum, Clayton Morrell (Okinawa-ken) for the following opportunity:
Are you an English or Spanish language teacher with a passion for education, people, and travel?
Peace Boat's GET Programme is excited to announce two volunteer opportunities perfect for you! Peace Boat is an international NGO building a culture of peace by connecting people across borders and creating opportunities for learning, activism and cooperation. Our English and Spanish language teachers serve this mission by equipping students with the tools and motivation to make those connections – all while traveling the world by ship!
The 104th Global Voyage and PB2: 1st Global Voyage (on our new ship, the Zenith) depart Yokohama in April of next year and feature exciting itineraries and amazing guest speakers. For the full lists of ports of call, check out the links below!
Application: bit.ly/GETvolunteer
This is an unpaid volunteer position. Peace Boat covers the cost of room and board on the ship, port fees, visas, and accommodation in Tokyo during the orientation period. Peace Boat conducts three voyages a year, so be sure to check our upcoming voyages as well!  
Posted by Sydney Sparrow. Click here to join the JETwit Jobs Google Group and receive job listings even sooner by email
---
Job Title: Research Associate
Posted by: Universität Hamburg
Location: Hamburg, Germany
Contract: Full-Time
Here's a JET-relevant job passed along to us:
Full-time positions currently comprise 39 hours per week.
As a University of Excellence, Universität Hamburg is one of the strongest research universities in Germany. As a flagship university in the greater Hamburg region, it nurtures innovative, cooperative contacts to partners within and outside academia. It also provides and promotes sustainable education, knowledge, and knowledge exchange locally, nationally, and internationally.
Cluster of Excellence "Understanding Written Artefacts: Material, Interaction and Transmission in Manuscript Cultures" invites applications for a
RESEARCH ASSOCIATE FOR THE PROJECT
"Valuating Handwriting in the Digital Age: A Case Study in Japanese Calligraphy"
– SALARY LEVEL 13 TV-L –
The position in accordance with Section 28 subsection 3 of the Hamburg higher education act (Hamburgisches Hochschulgesetz, HmbHG) commences on 1 February 2019.
This is a fixed-term contract in accordance with Section 2 of the academic fixed-term labor contract act (Wissenschaftszeitvertragsgesetz, WissZeitVG). The term is fixed for a period of three years. The position calls for 75% of standard work hours per week.
Responsibilities:
Duties include academic services in the project named above. Research associates may also pursue independent research and further academic qualifications.
Specific Duties:
Research in the frame of the project C02 "Valuating Handwriting in the Digital Age: A Case Study in Japanese Calligraphy". The position includes the enrolment in the Cluster's graduate school, and requires participation in research colloquia, lecture series and workshops, as well as active engagement in the Cluster's research activities.
Requirements:
A university degree in a relevant field. Fluent Japanese and English, written and spoken. Experience in dealing with classical Japanese sources. Universität Hamburg has been certified. audit familiengerechte hochschule
The University aims to increase the number of women in research and teaching and explicitly encourages qualified women to apply. Equally qualified female applicants will receive preference in accordance with the Hamburg act on gender equality (Hamburgisches Gleichstellungsgesetz, HmbGleiG).
Qualified disabled candidates or applicants with equivalent status receive preference in the application process.
For further information, please contact Prof. Dr. Jörg B. Quenzer (joerg.quenzer@uni-hamburg.de) or consult our website at https://www.written-artefacts.uni-hamburg.de/en.html.
Application Process: Applications (in English) should include a cover letter, a tabular curriculum vitae, and copies of degree certificate(s). Please send applications by 24 November 2019 to: applications.csmc@uni-hamburg.de.
Please do not submit original documents as we are not able to return them. Any documents submitted will be destroyed after the application process has concluded. 
Posted by Sydney Sparrow. Click here to join the JETwit Jobs Google Group and receive job listings even sooner by email
---
Job Title: Tutor
Posted by: Inizian
Location: Remote
Contract: Full-Time
Thanks to JET alum, Lauren Nakasato (Okayama-ken) for passing along the following opportunity:
Work at home in your free time!
Inizian (www.inizian.com) is a company with a mission to connect tutors and students all over the world via online education. We currently run our site with English and Japanese sites and implemented some translations in Mandarin, Cantonese, Korean, Vietnamese and Spanish. Once you become a tutor, you set your available lesson time slots, price your lesson fee and decide the lesson curriculum to help students.
We look for applicants who have prior tutoring experiences in English. Tutors need to be able to teach in the Asian time zone.
Requirements:
Over 18 years old
Have a valid work permit
Currently enrolled in or has completed a program to obtain a bachelor's degree or hold any other equivalent educational background.
Able to spare time for the tutor interview in English (no need to be fluent) and be able to communicate with the Inizian office members in English.
Possess prior tutoring experience in English. 
Application Process: Please go to the below application link to secure your interview schedule with us. If you don't hear from us please feel free to email at contact@inizian.comhttps://www.inizian.com/find_tutors.html
Apply to become a tutor today!  
Posted by Sydney Sparrow. Click here to join the JETwit Jobs Google Group and receive job listings even sooner by email
---
Job Title: Media Support Staff
Posted by: Consulate General of Japan in Nashville
Location: Nashville, TN, USA
Contract: Full-Time
Here's a job sent to us directly from the Consulate General of Japan in Nashville:
The Information and Culture Section of the Consulate-General of Japan in Nashville is seeking one support staff member. This is a temporary (full-time) position that will run until 31 March 2020, with the potential for an extension dependent on budget approval.
The primary responsibilities of this position will be to maintain and update the Consulate's website using the Consulate's content management system, to develop the Consulate's media relations by updating multiple social media accounts, and to assist Consulate staff with planning and coordinating cultural events. Ideal candidate should be adaptable, results-oriented, creative, and knowledgeable of technology applications and software.
Job Duties:
Update and maintain the Consulate's website 
Maintain social media account on Facebook 
Draft email newsletters and social media posts
Occasional drafting and proofreading of documents
Assist Consulate staff with any team projects and/or events Research and data entry
Other duties as required
Posted by Sydney Sparrow. Click here to join the JETwit Jobs Google Group and receive job listings even sooner by email
---
Job Title: Various Positions
Posted by: U.S. Census Bureau
Location: Multiple Locations
Contract: Full-Time, Temporary
Here's a job sent to us directly from the US Census Bureau:
Apply for a 2020 Census job! The U.S. Census Bureau is hiring thousands of people for temporary jobs across the country.
Earn $20-$27 per hour and work flexible hours while helping your community.
Application Process: Learn more and apply online at 2020census.gov/jobs
FOR IMMEDIATE RELEASE
JET memoir explores a heart healed in rural Japan
VANCOUVER, WASHINGTON, Nov. 8, 2019: Sometimes you have to run far, far away to find your way home.

That's what Sarah Coomber learned when she traded out her wrecked young-adult life in Minnesota for a contract teaching English with the Japan Exchange and Teaching Program.

Her debut memoir, The Same Moon (TouchPoint Press, 2019), is the story of a young woman seeking respite in Japan after a painful divorce, hoping to spend a solitary year nursing her wounded heart. Instead, she finds herself drawn more and more deeply into an isolated rural community, where she finds controversial romance, cross-cultural challenges and, over the course of two years, new purpose in life.

It isn't the Japan she was seeking, but it turns out to be the Japan she needs.

Described as "inspiring, a story of grit and humanity" by Readers' Choice, The Same Moon weaves Coomber's personal tests of love, faith and partial assimilation with the experience of being an assistant English teacher in the mid-1990s. The story is informed by Coomber's multiple experiences with Japan, beginning with a home stay at age 16, and including 11 years of koto studies in Yamaguchi and Oregon, and her ongoing relationship with her host family.

Coomber is an award-winning public relations professional and former journalist. Her stories and essays about her experiences in Japan have appeared in The Christian Science Monitor, The Japan Times, The Star Tribune, Cha: An Asian Literary Journal, Memoir Journal and The Font: A Literary Journal for Language Teachers.
For more information, please visit Coomber's website at https://sarahcoomber.com/.
*
From the cover of The Same Moon:

"Sarah Coomber has written an insightful story about her journey to Japan and a journey to find herself. Readers will enjoy an entertaining and honest account of a young woman's self-discovery in a foreign land."

—Laura Kriska, author of The Accidental Office Lady: an American Woman in Corporate Japan and cross-cultural consultant

"With sensitivity and humility, exploring no one's story but her own, Coomber addresses the question of this American hour: how to honor—even cherish—fellow humans regardless of divergent cultural, political or spiritual convictions. The Same Moon injects hope into the current American climate of intolerance."

—Natalie Kusz, award-winning memoirist and author of Road Song

"Sarah captures in great detail many things unique to Japan in nature, daily life and relationships."
—Yukari Sakamoto, author of Food Sake Tokyo, and Tokyo-based chef, sommelier and shōchū adviser