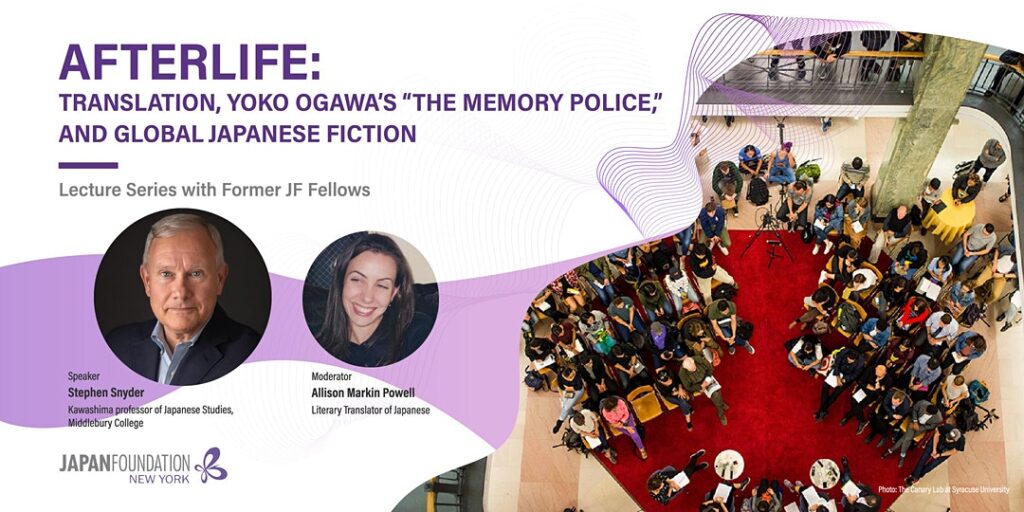 The Japan Foundation, New York is launching an online lecture series "Illuminating Japanese Studies: Lecture Series with Former JF Fellows."
First up is Afterlife: Translation, Yoko Ogawa's The Memory Police, and Global Japanese Fiction, with Dr. Stephen Snyder, translator of the recently published, International Booker Prize-nominated, "The Memory Police." He will discuss the reception of the novel in the English-speaking world, 20 years after the initial publication. The lecture will be on Wed Oct 28 at 6 pm ET and followed by a live Q&A.
The event is free, but please register at the following Eventbrite: https://afterlife-translation-memory-police.eventbrite.com
************
JETwit's JET Alum Movers & Shakers is produced by Ryan Hata (Tottori-ken, 2014-2017), Margie Banin (Kochi-ken, 2005-2007), and Jim Walsh (Fukushima-ken, 2018-2020). Want to be featured next? Submit your information here.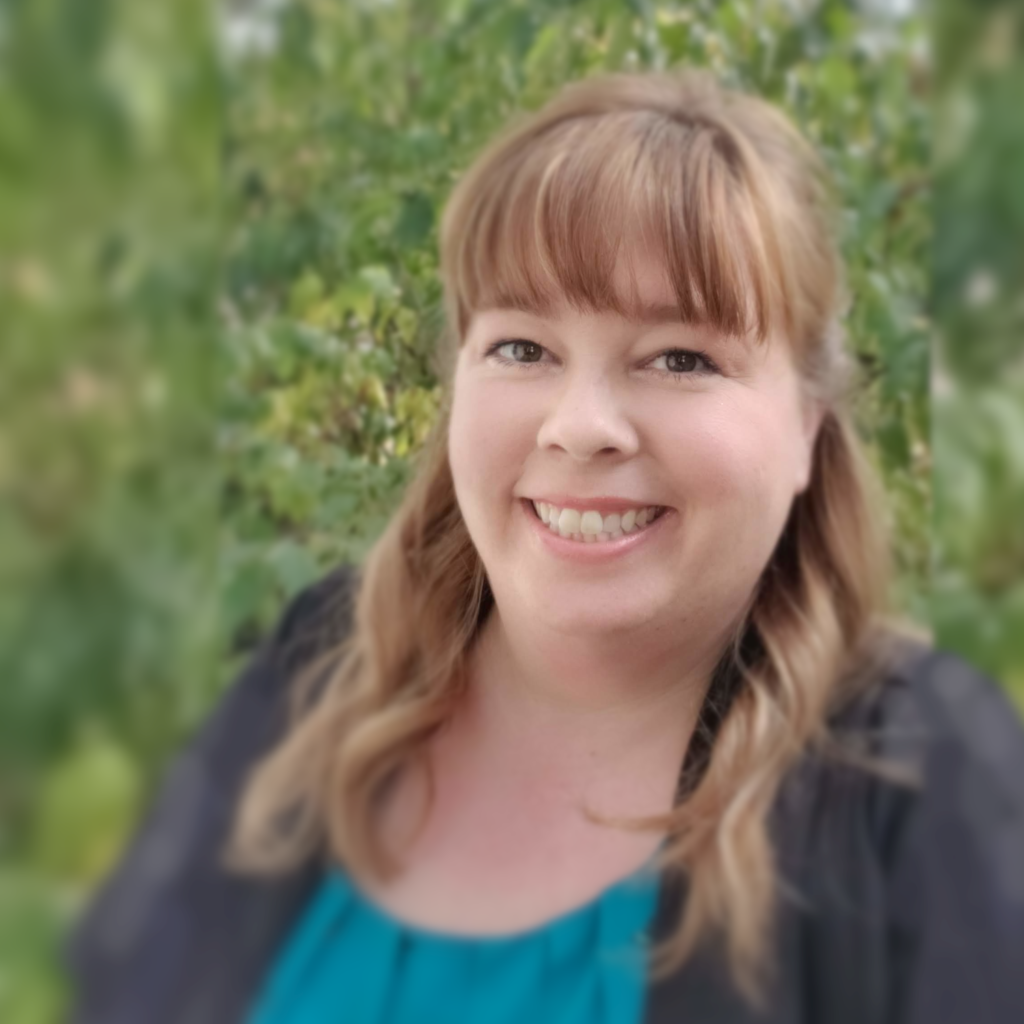 Kat Lovegrove, Ishikawa-ken (2004-2007)
Accomplishment:
Entrepreneur, on the metaphysical side
More Information:
Kat created Ravyn Grove Elemental LLC to craft intention specific tools such as candles, soaps, perfumes, and more people can use in their lives to help them direct and focus their energy on a specific purpose. Kat does it all – from production, design, and marketing; loving the grand adventure that is the creative process. She is also a massage therapist, with a focus on Bowenwork and Pranic Healing.
Public Information:
LinkedIn: www.linkedin.com/in/katlovegrove/
Website: www.RavynGroveElemental.com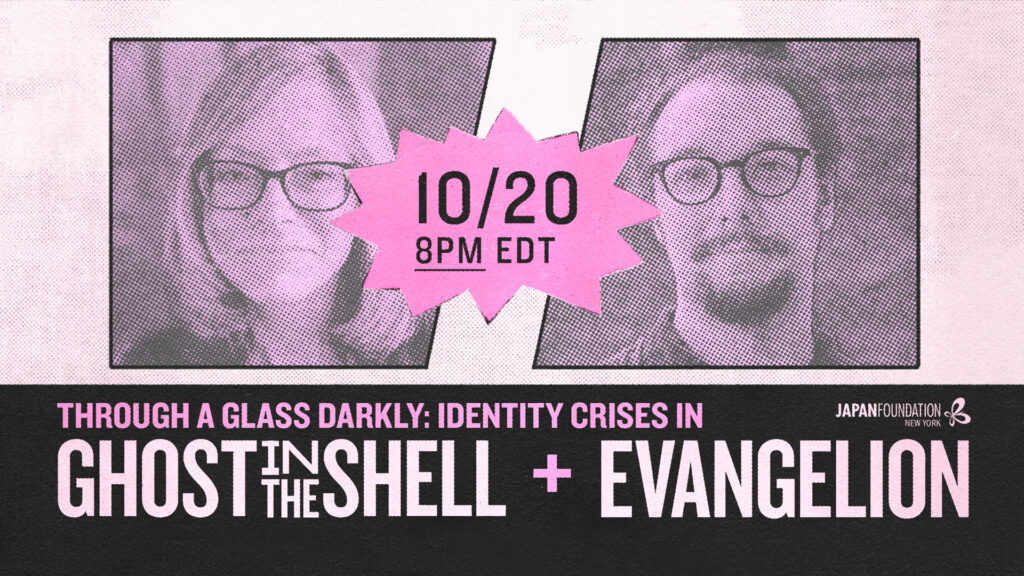 The Japan Foundation, New York launched a monthly online series delving into Japanese pop culture from academic and professional perspectives!
For our second session, we will analyze two of the most iconic animes: Ghost in the Shell and Neon Genesis Evangelion, both of which have been producing new works since their release 25 years ago.
These works are two massive monuments in the anime canon, both emerging as cyberpunk epics in the mid-1990s, each addressing issues of identity and the potential for technological interventions. However, they both manage to do so in different ways and with differently composed subjects. This discussion will address both the interesting similarities, but more compellingly, the particular differences with which Oshii and Anno understood this cyberpunk discourse. Two experts—Dr. Susan Napier and Dr. Stevie Suan—will help us to unravel these complex and fascinating anime works!
The event will be Free, but registration will be required for the event link.
Eventbrite link: https://www.eventbrite.com/e/through-a-glass-darkly-identity-crises-in-ghost-in-the-shell-evangelion-registration-123088824989
Facebook Post: https://www.facebook.com/events/343477666720772/
Twitter Post: https://twitter.com/JF_NewYork/status/1314409962068733953
*********By Makoto Shirai, secretary, Japan-Insights Research Institute (Non-profit organization in Tokyo)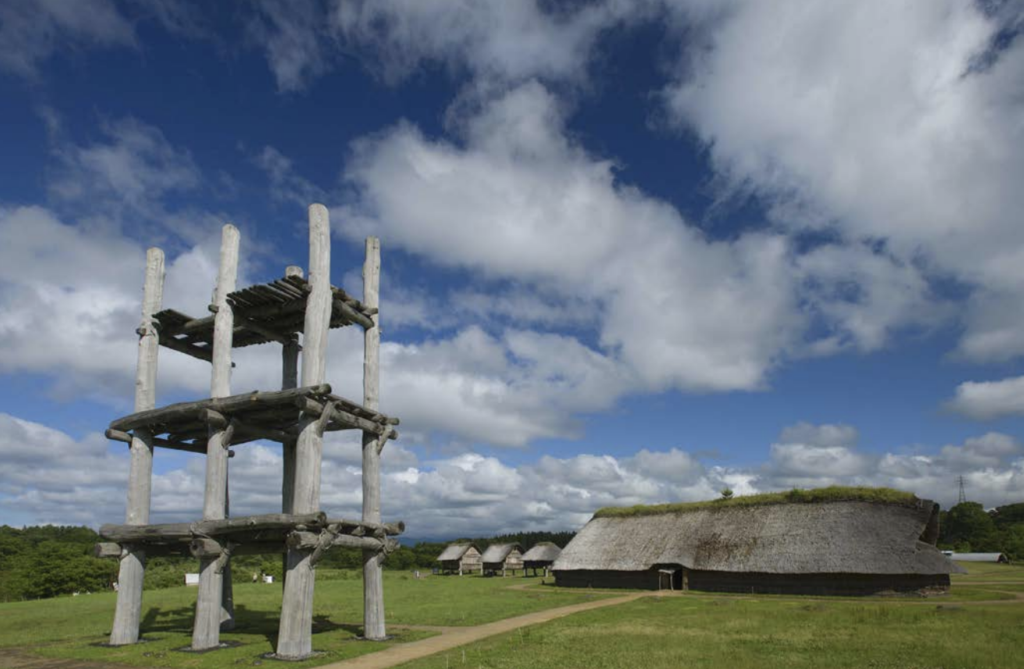 Dear Friends,
Let me introduce an essay from Japan-Insights archives.
The first one is on the ancient history and archeology of Aomori and Niigata prefectures.
https://topics.japan-insights.jp/Public/pdf/japan-insights_jp/topics/JIN_PrehistoryLandscapes.pdf
Please share this expert's experience!
Japan-Insights is a nonprofit open database.
#Japan #Japaneseculture #arceology #Aomori #Niigata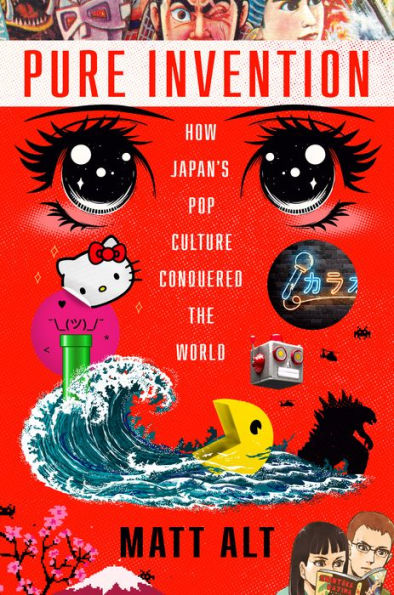 By Rashaad Jorden (Yamagata–ken, 2008-10; Kochi-ken, 2018-2020) for JQ magazine. A former head of JETAA Philadelphia's Sub–Chapter, Rashaad is a graduate of Leeds Beckett University with a master's degree in responsible tourism management. For more on his life abroad and enthusiasm for taiko drumming, visit his blog at www.gettingpounded.wordpress.com.
Nintendo, karaoke, Miyazaki, manga, Pokémon. Those names resonate with so many people all over the world as Japanese pop culture, which has become a significant tool in promoting the country. After all, many people feel like they know Japan through what they've seen on TV, in the movies, etc. They can also enrich and add joy to our lives.
But how did Japanese pop culture become such a dominant force across the globe? Tokyo-based writer, translator and reporter Matt Alt answers that question and more in Pure Invention: How Japan's Pop Culture Conquered the World by illuminating brands and names that have seemingly made Japan an epicenter of coolness.
Of course, seemingly everything in Japan has a long history, so why would various forms of pop culture be any different? Unsurprisingly, chapter one of Pure Invention is devoted to the very first manufactured item to emerge from the ashes of World War II, which was a toy jeep. It's fascinating to read about the backstory of the toy's creator (Matsuzo Kosuge) and creation, as "jeep" was one of the first English words that Japanese kids mastered in the postwar years. Despite this influence, it is the story of a product that, in Alt's words, was largely forgotten. 
Read More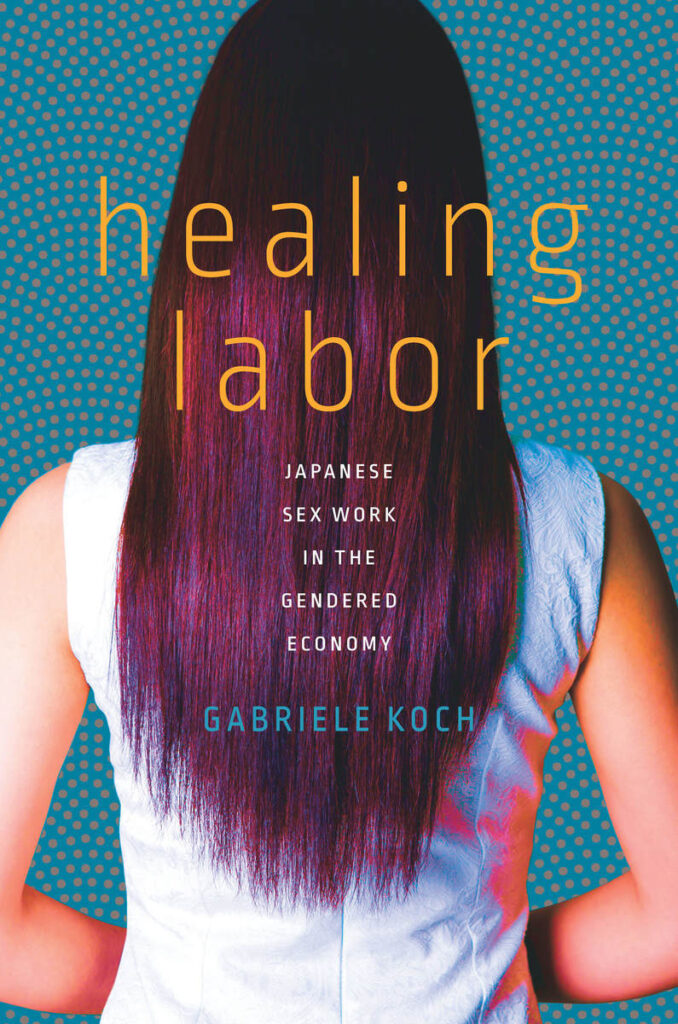 By Rashaad Jorden (Yamagata–ken, 2008-10; Kochi-ken, 2018-2020) for JQ magazine. A former head of JETAA Philadelphia's Sub–Chapter, Rashaad is a graduate of Leeds Beckett University with a master's degree in responsible tourism management. For more on his life abroad and enthusiasm for taiko drumming, visit his blog at www.gettingpounded.wordpress.com.
Modern Japan is a huge market for sex.
That statement probably isn't surprising to those who have spent a night out in certain parts of Tokyo. But this is a reality for people who devote a lot of time to sex work.
Gabriele Koch tackles that statement and more in her examination of Japanese sex workers in Healing Labor: Japanese Sex Work in the Gendered Economy. Koch, an assistant professor of anthropology at Yale-NUS College, conducted 21 months of ethnographic fieldwork in Tokyo from 2008 to 2013 (she also gathered information from additional trips to the metropolis in 2016 and 2017). During her fieldwork, the author explored sites connected to the sex industry as well as diverse groups of people involved in it. Koch would seemingly have had plenty of opportunities to do so: according to research she cited in the book, roughly 22,000 legal sex industry businesses are in operation in Japan.
The information in Healing Labor (a term used to illustrate the view many sex workers have of the reparative aspects of their care since it's ostensibly vital to any success in the male-gendered economy) is largely qualitative, so Koch doesn't heavily rely on statistics. But she does use numbers to illustrate the risks for sex workers at Tokyo deriheru (an escort business in which a sex worker is sent to a hotel, rental room or private residence): mainly, in that instance, the relatively low condom use by male patrons.
Read More
************
JETwit's JET Alum Movers & Shakers is produced by Ryan Hata (Tottori-ken, 2014-2017), Margie Banin (Kochi-ken, 2005-2007), and Jim Walsh (Fukushima-ken, 2018-2020). Want to be featured next? Submit your information here.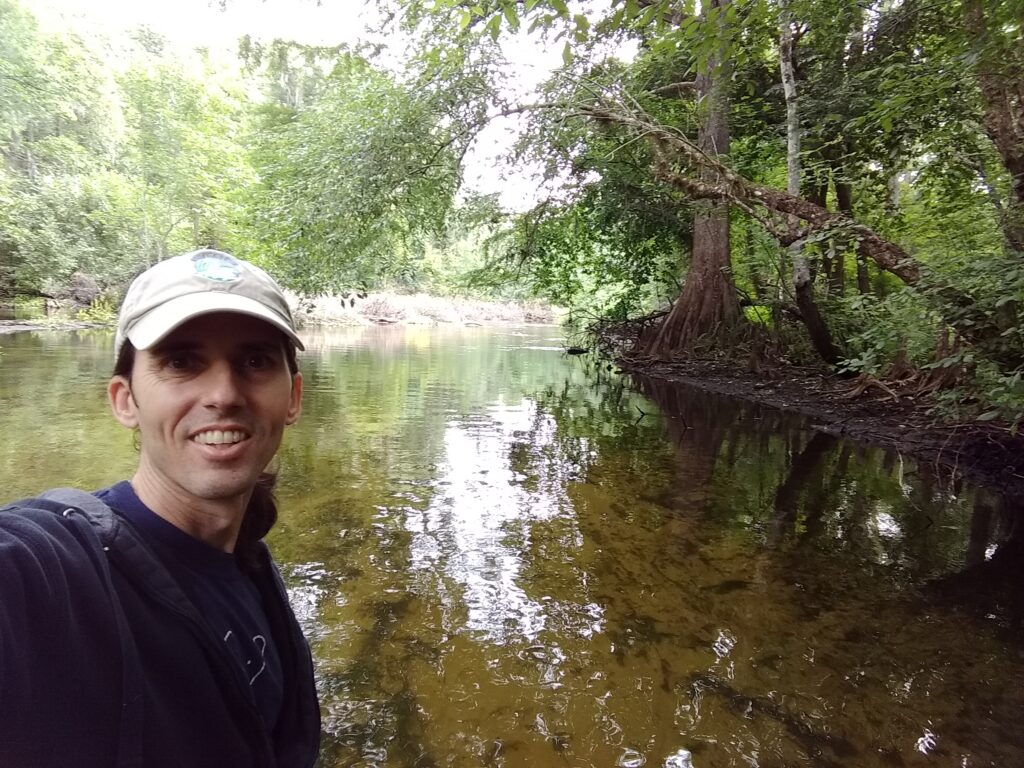 John McGee, Nagano and Kyoto (2004-2005, 2018-2019)
Accomplishment:
Environmental Team connects you to nature through guided adventures, workshops, and speaking engagements.
More Information:
John is one of the rare two-time JET participants. In the gap, he created and managed Tampa Natsumatsuri and won the Foreign Minister's Accomodation from Japan. Now he has started Environmental Team. His 20 year (and growing) career in Environmental Science and his intercultural experience allow him to draw from both cultures' wildreness traditions and offer truly unique experiences in the US and Japan.
Public Information:
Email: Info@eteamsvc.com
Website: EteamSVC.com
Facebook: Facebook.com/eteamoutdoors
Instagram: Instagram.com/eteamsvc
Position: Japanese Market Development Manager
Posted by: Udemy
Location: San Francisco, CA, USA
Contract: Full-Time
Thanks to JET alum, Mark Frey (Kumamoto-ken) for passing along the following job opening.
The Japanese Market Development Manager will be part of Udemy's Business Development team and support market development and expansion in several key areas for the Japanese market.
We're looking for a dynamic and experienced manager to drive and support efforts accelerating the growth and adoption of Udemy in Japan and establish Udemy as the leading online education marketplace where people would come to sharpen their skills to change their lives through learning. You will be involved in key aspects of the Japanese market: partnerships, operations and other areas as needed.  We've experienced tremendous growth over the last few years and this role will be key to scaling our business development and operations moving forward.
Oct
5

Uncategorized

Comments Off

on JETwit's JET Alum Movers & Shakers: Austin Gilkeson, Nagasaki-ken (2004-2006)
************
JETwit's JET Alum Movers & Shakers is produced by Ryan Hata (Tottori-ken, 2014-2017), Margie Banin (Kochi-ken, 2005-2007), and Jim Walsh (Fukushima-ken, 2018-2020). Want to be featured next? Submit your information here.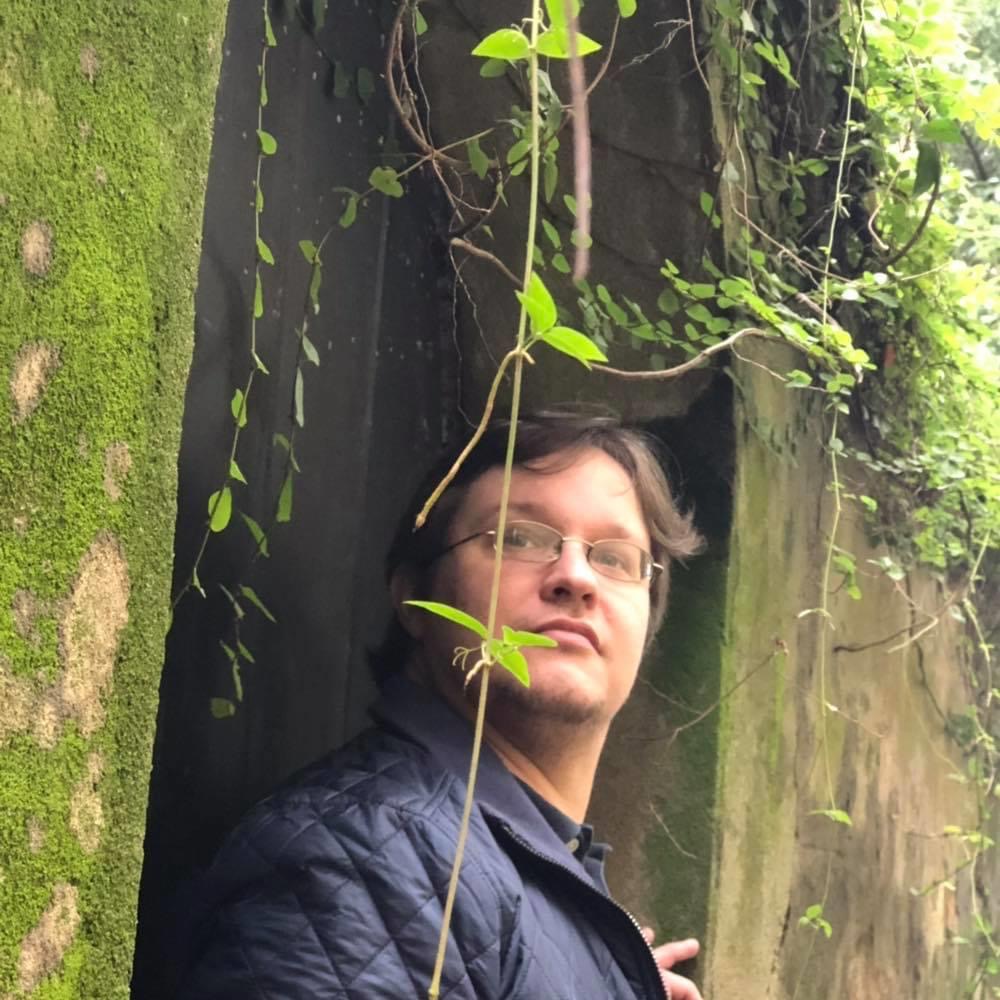 Austin Gilkeson, Nagasaki-ken (2004-2006)
Accomplishment:
A writer of humorous, personal, and critical essays published in "Foreign Policy," "Tin House," "McSweeney's," "Catapult," "The Toast," and other venues.
More Information:
After two years as an ALT on the island of Tsushima, Austin returned to Chicago and began working as the JET Program & MEXT Scholarships Coordinator at the Consulate-General of Japan in Chicago. In his free time, he writes essays and articles, most of which are either about, or in some way inspired by, his time as a JET. He currently lives with his wife and son just outside Chicago. Recently, he wrote about the video game "Ghost of Tsushima" and how it differs from the real island for "Foreign Policy" magazine (https://foreignpolicy.com/2020/08/20/the-half-real-world-of-ghost-of-tsushima/), and his chapter "On Tsushima" appears in Camphor Press' anthology "Inaka: Portraits of Life in Rural Japan" (https://camphorpress.com/books/inaka-portraits-life-rural-japan/).
Public Information:
Website: https://austinhgilkeson.wordpress.com/publications/
Twitter: https://twitter.com/osutein
By Jack McDonough, 2021 prospective JET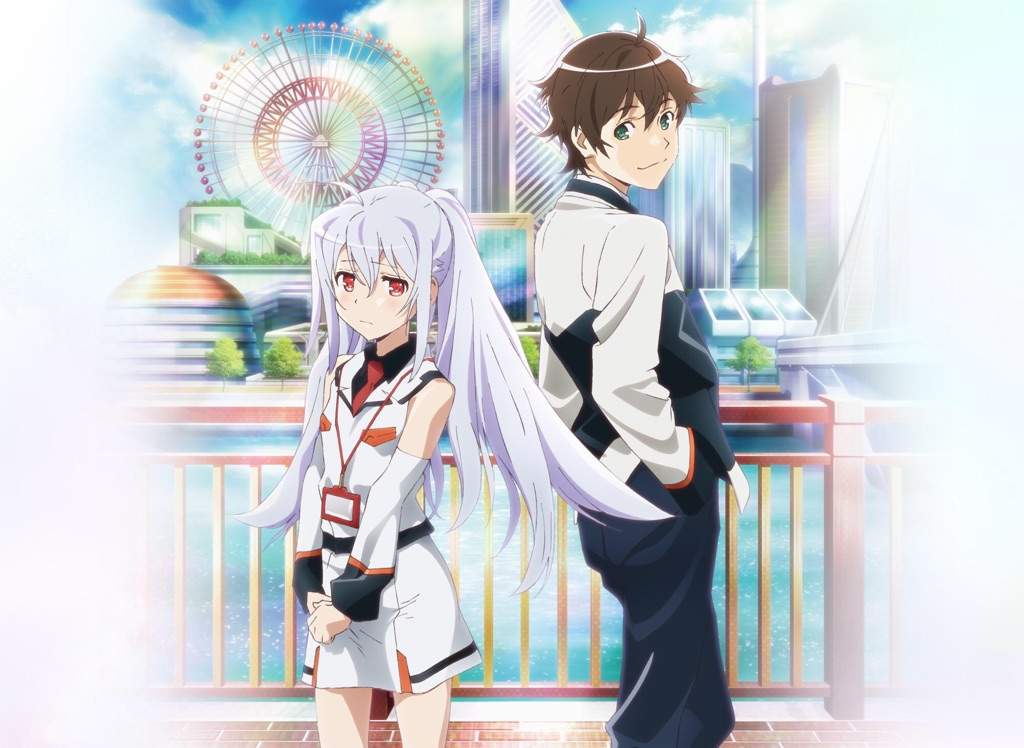 Isla and Tsukasa
While checking JETwit recently, I noticed a post announcing a virtual roundtable asking: "why do we study anime and manga?" I was taken aback at first. I asked myself: "do people study anime and manga academically?" During my time in undergrad, I never heard of anyone studying anything other than the classics and a few select animated works: Maus by Art Spiegelman and Persepolis by Marjane Satrapi come to mind. My interest was piqued. I decided to sign up for the event; it started a mental journey.
The event was hosted by the Japan Foundation. The panelists were Dr. Christopher Bolton, Dr. Wendy Goldberg, Dr. N.C. Christopher Couch, and Dr. Frenchy Lunning. All of the panelists started the discussion by establishing their love of anime and manga while also speaking about their experiences either teaching or working in the industry. The experts explained that they arrived at manga and anime after exploring things like science fiction and American comics. The panel then considered the main question: "why study anime and manga?" This question necessitated a larger discussion on studying pop culture and mass media and the panelists found that the content of pop culture is a reflection of society at large: mass media has messages and the consumers of media are receiving those messages. Dr. Goldberg brought up the fact that the U.S. Army uses video games to recruit young people and Dr. Couch added that art is always created in social and economic conditions that are relevant to both the artist and viewer. After hearing the experts talk about how media is never simply media, I started to ask myself, "why do I enjoy certain anime and manga, and what are those things saying to me and about me?" Those questions are truly difficult to answer and yet fascinating to think about. Come with me on my mental journey, exploring an anime I recently watched and enjoyed.
Plastic Memories by Noataka Hayashi and Yoshiyuki Fujiwara is an anime that came out in 2015.  The plot put simply, with spoilers: boy meets girl, girl is an android, girl has an expiration date, tragic love ensues.  Set in the future, the protagonist Tsukasa joins Terminal Service One, which collects androids, called "giftias," at the end of their lifespans. Tsukasa's partner is the giftia Isla, who is nearing her expiration date . Plastic Memories lets you know upfront that there is no way to avoid the expiration of a giftia, all the while making you root for Tsukasa and Isla's union. The power of the story is that you watch in both elation at the romance between the duo while dreading the fact that Isla's time is only days, then hours, then minutes, then seconds away from being up.
So what is this story saying about the love between the two characters? Their love was worth it, even if it was only days long. What does my enjoyment of this anime say about me, and everyone else who shares that enjoyment? Even though I knew Tsukasa and Isla's relationship was doomed, I believed that they should love each other and face the consequences rather than stay shut off from each other. I think this belief translates to real-world situations: it is better to try and experience than to play it safe. We all ascribe to this belief, in one form or another; otherwise, no one would get married or start a business, etc.
Alfred Tennyson wrote, "'Tis better to have loved and lost than never to have loved at all," and while that sounds cliche, the creators of Plastic Memories took that idea and created an anime based on it. When I finished Plastic Memories, I couldn't articulate why it was so powerful and why it resonated with me so much. I knew the outcome and yet I watched it anyway. I knew that Tsukasa was destined for heartbreak and Isla was going to die; yet I cheered on as they decided to be together, if only for a moment. Would I have ever thought this deeply about Plastic Memories without watching the aforementioned panel? Probably not, but going forward I will try to probe my mind immediately after consuming future anime and manga. I hope you do too; it's much more fun that way.
For those that missed it, here is the link to the panel on YouTube: https://www.youtube.com/watch?v=PBO1BHyjyQ0
Sep
29

Uncategorized

Comments Off

on JETwit's JET Alum Movers & Shakers: Gil Cardon, Hiroshima-ken (2001-2004)
************
JETwit's JET Alum Movers & Shakers is produced by Ryan Hata (Tottori-ken, 2014-2017), Margie Banin (Kochi-ken, 2005-2007), and Jim Walsh (Fukushima-ken, 2018-2020). Want to be featured next? Submit your information here.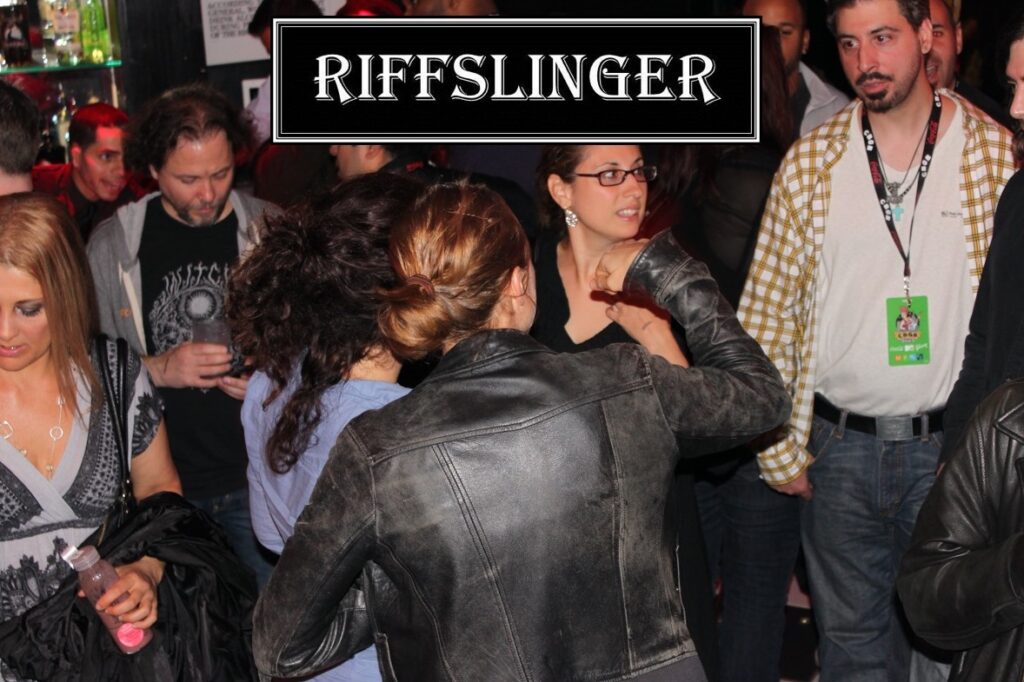 Gil Cardon, Hiroshima-ken (2001-2004)
Accomplishment:
After completing his 3-year adventure with the JET Programme, Gil moved on to live and work in New York City to further explore new opportunities. Building upon his experience in sales, management, and understanding of Japanese culture, he secured a job with the North American headquarters of NTT DOCOMO. Long story short, he learned a lot in a short amount of time, and decided to leave DOCOMO to launch his own business consulting company – RIFFSLINGER.
Soon after the launch, Gil received an invitation to do contract work for the Japan National Tourism Organization, Convention Bureau division. He served as the primary contact for promoting Japan as a premier conventions destination to the North American market.
Gil went on to work on other government contract work, including conducting the research project which established the vehicle license plate commemoration program for the 2020 Tokyo Olympic and Paralympic Games.
Several months after accomplishing the major milestone of producing two live music shows for the CBGB Music & Film Festival in New York, Gil moved to Portland, Oregon to explore new opportunities once again. While in Portland he expanded his repertoire further by doing contract work for nonprofit organizations. He became involved with a local community radio station – KBOO FM – as an event producer, board director, and briefly as station manager.
Gil decided to return to his hometown in California in 2018, where he relaunched operations to serve entrepreneurs and nonprofits in the Central Valley region. With the onset of the pandemic in early 2020, he has been at the forefront of providing specialized support to small businesses and community organizations, and RIFFSLINGER consulting agency was able to mark its 10-year anniversary in May.
More Information:
If you are interested in starting your own business, or expanding/redeveloping your current business operations, please reach out to Gil for more information.
Public Contact Information:
Website: https://www.riffslinger.com
LinkedIn: https://www.linkedin.com/in/gilcardon
Additional Links: https://linktr.ee/riffslinger
Sep
27

Jobs

Comments Off

on Job: Assistant Producer – TV News/FNN (New York, NY, USA)
Position: Assistant Producer
Posted by: TV News/ FNN
Location: New York, NY, USA
Contract: Full-Time
Thanks to JET alum, Diego Velasco (Tokyo-ken) for passing along the following job opening with his organization:
JOB SUMMARY AND WHO WE ARE: The Associate Producer will support producers and editors at Fuji Television's New York office for news coverage in North and South America. This position will be a part of a team in creating pre-recorded or live content for news program FNN News, Japan's largest media conglomerate, Fuji Television Networks. Coverage include but are not limited to the Presidential Elections, the United Nations, NYSE, and sports such as MLB and NBA. Stories will reach national audience in Japan.
ESSENTIAL DUTIES AND RESPONSIBILITIES:
Research, monitor and identify breaking news through US news sources
Identify newsworthy stories suitable for Japanese audience and properly communicate stories.
Perform fact-checking through original sources.
Coordinate and troubleshoot technical and logistical aspects of onsite filming or interviewing
Pitch story ideas for same-day and long-term feature stories
Maintain calendars for various events
Gain knowledge about academic, cultural, political institutions, think tanks, and more.
Network and build positive relationships with sources
Sep
25

Translating/Interpreting, Uncategorized, WIT Life

Comments Off

on WIT Life #346: 「OO活」・「OOハラ」
Professional Writer/Interpreter/Translator Stacy Smith (Kumamoto-ken CIR, 2000-03) presents WIT Life, a periodic series about aspects of Japanese culture such as film, food and language. Stacy starts her day by watching Fujisankei's newscast in Japanese, and here she offers some interesting tidbits and trends along with her own observations.
Since I last wrote, Japan has ushered in new Prime Minister Yoshihide Suga. He served as Chief Cabinet Secretary under PM Abe for a decade (and also served as Minister of Internal Affairs and Communications for a year in his previous administration ). Best of luck to the first new PM of the Reiwa Era!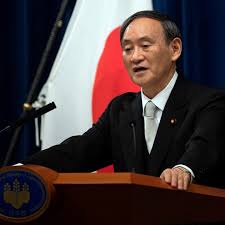 Read More
Sep
25

Jobs

Comments Off

on Job: Law Clerk – Baltimore County Circuit Court (Baltimore, MD, USA)
Position: Law Clerk
Posted by: Baltimore County Circuit Court
Location: Baltimore, MD, USA
Contract: Full-Time
Here's a job passed along to us:
A Baltimore County Circuit Court Judge is looking for a new law clerk immediately. Resumes can be sent to lisa.daley@mdcourts.gov
Sep
24

Jobs

Comments Off

on Job: Japan Program Coordinator – Stanford University (Palo Alto, CA, USA)
Position: Japan Program Coordinator
Posted by: Stanford University
Location: Palo Alto, CA, USA
Contract: Full-Time
Here's a job posting for a Japan Program Coordinator at Stanford University that was passed along to us:
Walter H. Shorenstein Asia Pacific Research Center's (APARC) Japan Program facilitates multidisciplinary, social science-oriented research on contemporary Japan, emphasizing both academic scholarship and policy-relevant research. The program aims to become a central platform for Stanford students and the broader community for understanding and engaging with Japan.
Program activities include the Japan Colloquium Series, conferences to further cutting-edge research and address critical contemporary policy issues, and public seminars. The goal of the Japan Program is to become an eminent platform to foster intellectual exchange among leading scholars, experts, policymakers, professionals, business and civil society leaders, and students.
Working in a dynamic, international environment, the position holder will be expected to work in a timely and efficient manner in consultation with the Japan Program Director and other members at APARC to provide the full range of administrative support for the Japan Program and the Center. Specific responsibilities include:
Assist Program Director with event coordination, organization, and other Japan Program activities
Complete travel arrangements and reimbursements for colloquia speakers, fellows and visiting scholars. Facilitate research-related purchases and travel reimbursements.
Proactively update and administer the Japan Program websites.
Perform on-line and library research for specific program initiatives or APARC faculty.
Assist visiting scholars, fellows and short-term visitors associated with the programs with inquiries related to the Japan Program and/or the Center.
Identify potential grant opportunities for the Japan Program under the directives of the Program Director and researchers. Draft grant applications and prepare necessary reports for grants.
Interact and liaise with multiple constituencies and various campus units, faculty, staff, researchers, students, alumni, government officials and business representatives from both domestic organizations and the Asia Pacific region.
Application Process: Please click here for more information and to apply.