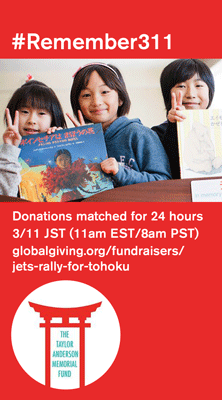 3/11 Update:  FYI, the 24 hour deadline for Global Giving to match donations to the Taylor Anderson Memorial Fund and other 3/11 initiatives has been lifted, and they will continue to match JET contributions until matching funds run out. So JETs/alums can continue to double their donations!
*Link to the Global Giving Matching Page:  http://www.globalgiving.org/leaderboards/japan-matching-2014/ to see how much various groups are raising.
*Link to the JETAA USA Event Page:  https://www.facebook.com/jetaausa
*The link to donate has been added!
Put this on your calendar!  
JETAA USA is supporting the Taylor Anderson Memorial Foundation for a 24 hour donation drive that starts when the clock strikes midnight in Japan on March 11. And GlobalGiving has offered to match these donations.
This is a great opportunity to show our ongoing support for Tohoku by going to the Global Giving website on March 11th to make a donation during the matching grant period.
Online donation drive
Donation website: http://www.globalgiving.org/fundraisers/jets-rally-for-tohoku/
Starts: 12:00 midnight Japan time on 3/11 (11 am EST, March 10; 8 am PST, etc)
Ends: 11:59 p.m. Japan time on 3/11 (10:59 am EST on March 10)
Background
Three years have passed since the Great East Japan Earthquake and Tsunami and the devastation in Tohoku has largely faded from the news. However, so much remains to be done for the survivors and TAMF has been partnering with a number of organizations in Japan to provide relief and help the people of Tohoku build a strong and vibrant future.
Smile Together IshinomakiTAMF has provided funding to the following projects:
Living Dreams: Tohoku Kids Project

Hope for Tomorrow

JET Micro Grants

Taylor Anderson Reading Corners

Taylor Sendai YMCA Scholarships

Exchange Programs
For more information on TAMF, please go to http://www.taylorandersonmemorialfund.org/, their Facebook page at https://www.facebook.com/taylorandersonmemorialfund, or watch the NHK interview with Jeanne and Andy at https://vimeo.com/86637051.
JETAA USA is proud to partner with TAMF to carry on the support JETs and JET alumni have shown for Japan and the people of Tohoku ever since March 2011.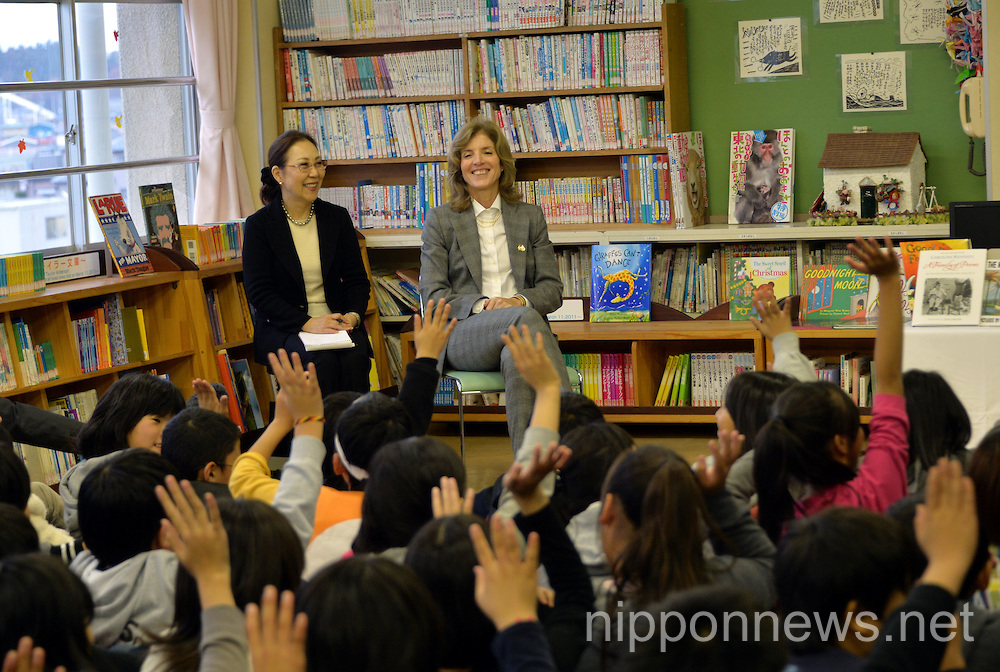 Details:
All donations up to $1,000 per individual donor made to the Taylor Anderson Memorial Fund on March 11th Japan time will be matched by Global Giving through their Japan Match Global Giving program. (Global Giving will charge a 15% facilitation fee to cover their costs, which donors may choose to cover if they wish so that their full donation amount goes to TAMF. See the page for details.)
We are also very happy to see Ambassador Kennedy giving her backing to their mission, as well.  For coverage of her recent trip to Ishinomaki and visit to Mangokuura Elementary School, where Taylor taught, please check out the article at http://ajw.asahi.com/article/0311disaster/recovery/AJ201311250099.
Great article written by a JET alum journalist Patrick St Michel.
Clarify Your Role, Prepare Before a Disaster Strikes
http://www.japantimes.co.jp/community/2014/03/09/issues/clarify-your-role-prepare-before-a-disaster-strikes/#.Ux8Vc2RATDk
When she first arrived in Japan from Ireland in 2008, Sarah Hickey was mostly concerned with adjusting to her new life in Fukushima Prefecture. The Japan Exchange and Teaching (JET) Programme placed her in Iwaki, which is itself a large city, but she found herself near the coast in less metropolitan surroundings.
"There was nothing there, just a supermarket and a school I was teaching at. It was an incredibly beautiful place — but it was tough," she says.
Gradually, Hickey grew accustomed to her corner of Iwaki, where she taught English at several junior and senior high schools. One thing she wasn't ready for were natural disasters, which she says scared her. She also doesn't recall receiving information about what to during a natural disaster at school during JET's Tokyo orientation or when she first arrived in Fukushima. Read More
Posted by blogger and podcaster Jon Dao (Toyama-ken, 2009-12). Click here to join the JETwit Jobs Google Group and receive job listings even sooner by email.
————————————————————————————————————
Position: Office Manager
Type: Full-time
Salary: Remuneration will commensurate with qualifications and experience, and can range from JPY 350,000 to 400,000 per month. There are no other fringe benefits.
Overview:
Under the overall supervision of the UNU-IAS Director and direct supervision of the Director of UNU-IAS Operating Unit Ishikawa/Kanazawa (OUIK), the Office Manager will be responsible for the following duties: Read More
This just in.  Details below. Posted by blogger and podcaster Jon Dao (Toyama-ken, 2009-12). Click here to join the JETwit Jobs Google Group and receive job listings even sooner by email.
————————————————————————————————————
Position: Administrative Assistant
Type: Full-time
Start Date: Immediate
Overview:
Seigakuin Atlanta International School (SAINTS) endeavors to raise internationally minded people who are peace makers. We try to be a front-runner in the educational field in order to adopt the best of Japanese and American cultures. The foundation is Jesus Christ. Seigakuin's motto is "Love God and Serve His People." Our educational motto, "Study with all your mind; Play with all your might; and Pray with all your heart", is the basis of our daily life. Read More
Via Idealist.org. Posted by blogger and podcaster Jon Dao (Toyama-ken, 2009-12). Click here to join the JETwit Jobs Google Group and receive job listings even sooner by email.
————————————————————————————————————
Position: Program Officer
Type: Full-time

Overview:
Asia Society, a prestigious, global, educational, and cultural non-profit seeks a Program Officer to develop and implement policy related public activities in Washington as Asia Society launches a new Asia Society Policy Institute. The PO manages the Society's public events In Washington. The PO also tracks developments related to Asia Society's priority issues and assists in developing and implementing strategies to promote the organization's policy work in Washington. Read More
WIT Life is a periodic series written by professional Writer/Interpreter/Translator Stacy Smith (Kumamoto-ken CIR, 2000-03).  She starts her day by watching Fujisankei's newscast in Japanese, and here she shares some of the interesting tidbits and trends along with her own observations.
Today in Japan (where it is already March 11) marks three years since the earthquake/tsunami hit the Tohoku region.  In a nationally televised news conference to commemorate the anniversary, Prime Minister Abe talked about the children who have lived their whole lives only knowing their home as a disaster-stricken area, saying he wanted to invite as many of them as possible to the 2020 Olympics as a "symbol of reconstruction."  Over the last three years recovery has taken place, though not at a pace as fast as some would like.  The news this morning reported that out of the "reconstruction housing" that is to be built in the affected prefectures of Iwate, Miyagi and Fukushima, only 3% has been completed.  Many of the over 267,000 evacuees are living in temporary housing that has become more permanent than temporary.
In terms of what can be done to help, many speak of the necessity of implementing not only one-time events, but sustainable activities that will serve as a source of both economic and psychological sustenance.  Experts on a recent Japanese political talk show agreed that the goal should not be returning the region to what it once was, some even lamenting oft-used terms such as "reconstruction assistance" and "affected area."  They claim that these ways of thinking are not a basis for moving forward, but looking back.  They encourage those who want to help to focus their efforts on Read More

Here's a link to the latest AJET eConnect News including election results for AJET National Council and Block Representatives:  http://ajet.createsend1.com/t/ViewEmail/t/41D89C9C8F5BDDC3/F3775150656FF295C9C291422E3DE149

And, fyi, here are the current election results:
Congratulations to the newly elected members of the 2014-2015 AJET National Council!
Executive Council
Chair, Sandy Cheng
Vice Chair, Xan Wetherall
Treasurer, Aaron Gilling
CIR Representative
Rochelle Zheng
Block Representatives
Block 1, Pending
Block 2, Matthew Headland
Block 3, Pending
Block 4, Patrick Loyer
Block 5, Derek Gumb
Block 6, Ashlie O'Neill
Block 7, Kevin Chen
Block 8, Casey McGarraugh
Block 9, Dustin Reimar
Block 10, Emily Maitland
Block 11, Tka Tyne
You can see the official resultshere on AJET.net.
By Eden Law (Fukushima-ken, 2010-11) for JQ magazine. Eden lived and worked in the core city of Iwaki on JET, and he is a current committee member of JETAA NSW, based in Sydney, Australia.  
Introduction
It's been three years since the Great East Japan Earthquake of 2011. While the rest of the world, and arguably, the rest of Japan, has moved on, communities all along the east and north coast continue to endure and deal with the continuing legacy and consequences of that event, especially those displaced from the exclusion zone around TEPCO's Daiichi plant.
The JET Programme continues to operate, with the government previously announcing plans to double the number of participants over three years. JETs continue to live and work in Tohoku, including JETs who were there before the earthquake, joined later by those placed after 2011. This article will examine the experiences and viewpoints of JETs who continue to work and live in Tohoku, in particular, those living in Iwaki, Fukushima, a city just past the the southern edge of the nuclear exclusion zone. Three years on, they will relate what they've seen and observed in their neighbourhood and the city. In addition, the viewpoints of two local Japanese residents will also be included, one from a retired member of a suburb in which evacuees have been housed; and a Japanese English teacher and mother of two.
Before the earthquake, Iwaki was one of the biggest rural cities in Fukushima, with a thriving fishing and farming industry, popular with tourists who come for its natural beauty and well-known beaches. A region rich in history from the Nara period (and prehistory, with its own dinosaur and fossil museums), it also has a famous theme park called the Spa Resort Hawaiians (made famous by the 2006 award-winning film Hula Girls) as well as the Aquamarine Fukushima aquarium. A mere 2.5 hours away from Tokyo by express train, it also supports a large JET community, ideal for those wanting to experience a rural pace with easy access to the bright lights of Tokyo. As a JET placement, it was arguably one of the best places to be.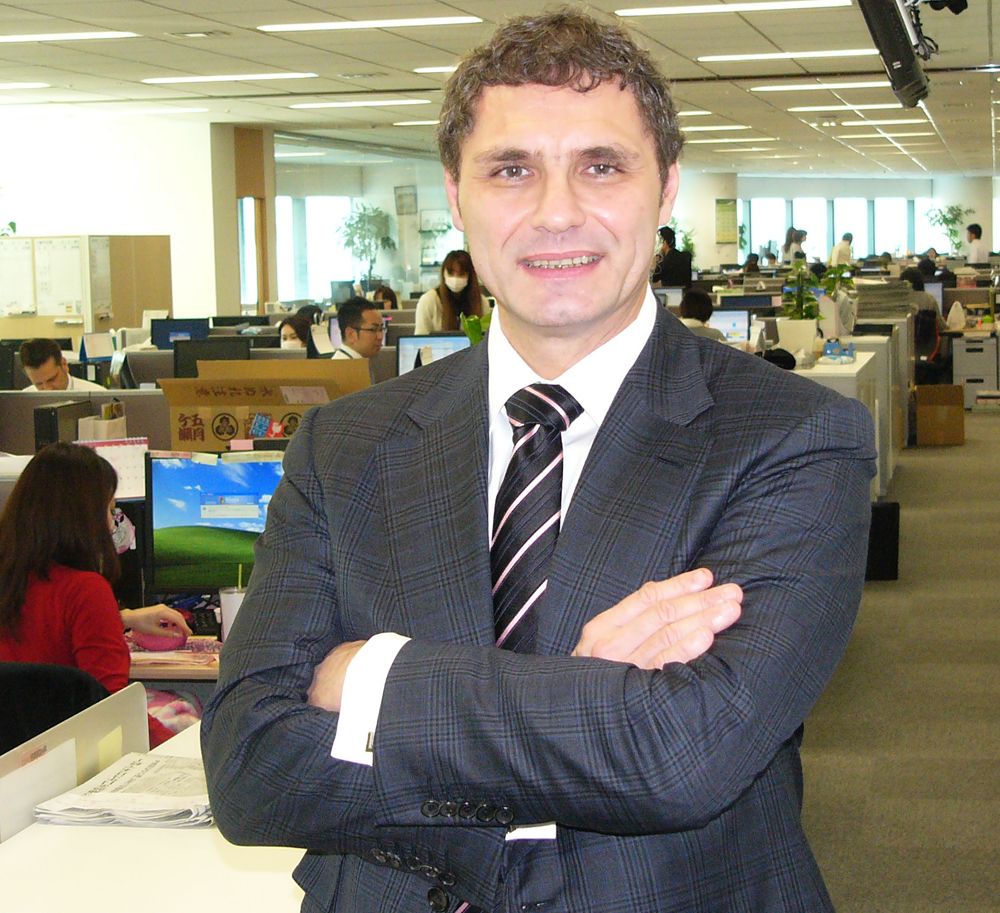 Here's a link to the official post on the CULCON website:  http://culcon.jusfc.gov/news/harry-hill-becomes-chairman-of-u-s-culcon
FEBRUARY 18, 2014
The Japan-U.S. Friendship Commission and the U.S. CULCON Panel are pleased to announce the appointment of a new Chairman, Mr. Harry A. Hill.
Mr. Hill, a native of New York City, has served as President and CEO of Oak Lawn Marketing, a branding and media company that owns Shop Japan, the largest infomercial brand in Japan, since 2006. He brings with him a wealth of experience related to educational and cultural exchange and entrepreneurship, having lived and worked in Japan for nearly thirty years.  Mr. Hill served as a participant on the Japan Exchange and Teaching Programme and its precursor program, the Monbusho English Fellows from 1987-1990 in Gifu Prefecture, where he created a strong network of individuals and government officials who would later help him in building his professional career.   His extensive professional experience includes founding H&R Consultants, a leading lease providing and relocation service in Tokyo and Nagoya.  In addition, Mr. Hill has been actively involved in numerous charitable and non-profit organizations, including the U.S.-Japan Bridging Foundation, where he has been a member of the Tokyo Advisory Committee and long-time sponsor of its scholarship program.  "Mr. Hill will be an asset to the Japan-U.S. Friendship Commission and CULCON, bringing strong leadership experience as a successful entrepreneur, and a deep passion for strengthening the U.S.-Japan relationship through educational and cultural exchange," says Executive Director Paige Cottingham-Streater.  Mr. Hill's expertise on Japan and cross-cultural communication skills will further advance the Commission and CULCON's efforts to invest in Japanese and American studies, people-to-people exchanges and artistic and cultural initiatives.
Mr. Hill succeeds Read More
This isn't for JET alums per se. But if you know anyone who might be interested, it's a great way to help support the future of Japan-US relations. Please note the March 31 application deadline.
Thanks to AJET Chair Kay Makishi for pointing JASC Executive Director Yuuki Shinomiya towards JETwit.
 Posted by blogger and podcaster Jon Dao (Toyama-ken, 2009-12). Click here to join the JETwit Jobs Google Group and receive job listings even sooner by email.
————————————————————————————————————
Overview:
The Japan-America Student Conference (JASC) is currently recruiting student delegates for the 66th Annual Conference, which will be held in the U.S. in August 2014. This student-led exchange program, initiated in 1934 by university students concerned by the breakdown of bilateral relations prior to the Second World War, JASC has evolved into a leadership training program for both Japanese and American students. Read More
Thanks to JETAA UK Chair Sarah Parsons for sharing this info.  A great transition step opportunity for current JETs.  Sarah was recently in Tokyo to speak at the After JET Conference and while there met with people from GLOBIS who made her aware of this program and that scholarships are available for JETs.  Please not the March 12 deadline.  Posted by blogger and podcaster Jon Dao (Toyama-ken, 2009-12). Click here to join the JETwit Jobs Google Group and receive job listings even sooner by email.
————————————————————————————————————
Overview:
GLOBIS University in Tokyo offers a full time and part-time MBA course taught in English with opportunities for internships. This is suitable for JETs wanting to bridge the gap between their time on JET and developing professional experience as well as a transferable qualification. There are scholarships available for fees that JETs are eligible for and also possible funding for living expenses. Read More
Posted by Michelle Lynn Dinh (Shimane-ken, Chibu-mura, 2010–13), editor and writer for RocketNews24. The following article was written by Fran Wrigley, writer and translator for RocketNews24, a Japan-based site dedicated to bringing fun and quirky news from Asia to English speaking audiences.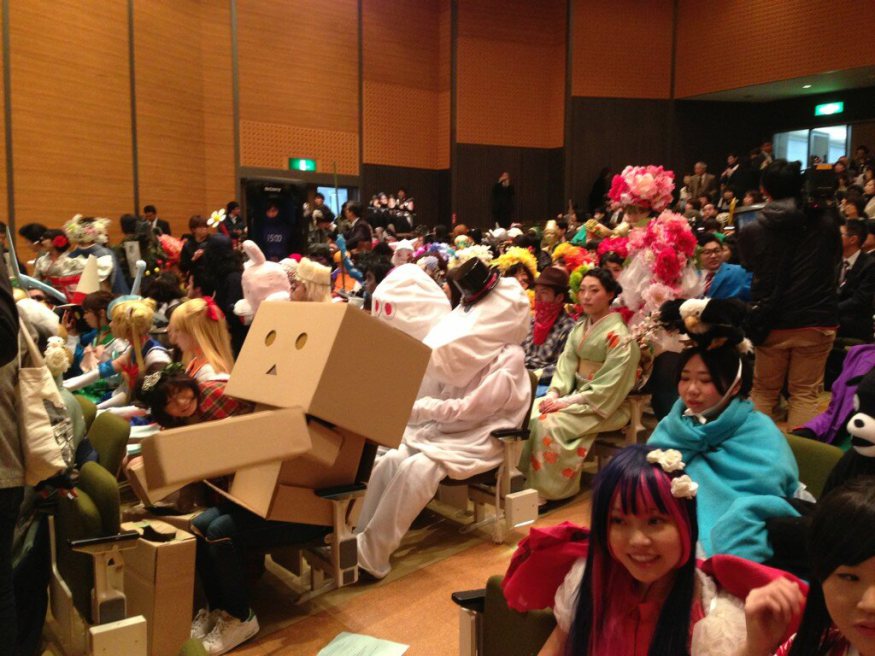 We've seen what can happen when high schools relax the rules for yearbook photos. Today, we bring you the Japanese anything-goes graduation! At the Kanazawa College of Art, graduating students can wear anything they want to the ceremony – and they certainly rise to the challenge.
The students' epic outfits have become such a popular attraction that TV crews even turn up to find and interview the wearers of this year's best costumes. The effort these students have put into their outfits is really something!
Posted by Benjamin Martin, a JET from 2008-2013 in Okinawa, publisher of the blog MoreThingsJapanese.com and author of Revenge of the Akuma Clan

(Tuttle).
This post is an excerpt from the original on my blog, here to help anyone in Japan who might be considering settling down. Like most people, I had no idea what I was getting into but figured the process might not be quite as straight forward as going to a local court and signing some papers… I don't think Kume Island even has a court…
I did what most would do and googled it. The American Embassy site explains the process quite clearly for US citizens. I'm sure most other countries have similar information available for their expats. It gives all the basic information, and I went to my local town hall to confirm. Since I live in such a small community it was rather easy and quick to get everything I need, but unlike large cities the offices are not open 24/7.
The first step for Americans is filling out the Affidavit of Competency to Marry and having it translated (or translate it yourself). On a side note, the legal marriage is called nyuseki (入籍) in Japan. For me this was easy as I followed the example provided on the site above. One thing to watch out for is the part where you write your passport number and issuing local. For me it turned out to be the Department of State and not a city so I had to rewrite the form at the last-minute.
To get the forms notarized you have to make an appointment with the embassy, which are limited and cost $50.  It was a pain (though the staff were very nice) and I had to make a special trip into the mainland to do it. With the added security you'll want to give yourself plenty of time. You can't even get to the gate without your appointment slip so don't forget it. With the form in hand your work is done as far as preparations go.
Getting Married
All you should need at the town (city) hall is your passport and the competency form (notarized English and Japanese translation). Then you can fill out the form and have your partner do the same. If your partner is Japanese they'll need their own forms (such as family register) which they can get at their own local town or city hall. You'll also want to decide if your partner will be changing their honseki (permanent residence) at that time or at a later date. For foreigners you just write your nationality (in Japanese).
One good piece of advice I received and will pass on here is to go a day before you actually marry to have your forms checked over (you can get them in advance). Since the day you marry is often important in Japan, you can avoid having the date of marriage delayed due to a typo and re-entered form. As a foreigner, I filled in my name in Katakana and the rest in Japanese (be careful here, especially if you have a middle name. They originally tried to talk me into writing my middle and family name together, which would mean my wife would have to go by that rather than just Martin!). My significant other filled out the form in Japanese and had to fill out a separate form to take my name. Both forms are straight forward, though there's a section about household work. For those of us who lived alone, it's whatever work we were doing. For my partner it was the primary work of her father and mother. It's something the person in charge can help you answer.
You'll need two witnesses as well (remind them to bring their seals!). If everything is in order they'll announce everything is alright and you'll be legally married. You will also be able to get your notice of marriage certificates sometime after that (I got mine later that day).
All in all it was not a difficult process.. but you'll see that (or read about it in a later post). It helped that we planned ahead and communicated with the town hall.
One thing to note is that when a Japanese person marries a foreigner they are removed from their family register and become a family of one. Until they have a child they are legally their own family (unless you become a Japanese citizen which does not happen automatically). That's a big deal in Japan.
Also, if you're reading this and you happen to be a wedding planner/cake maker/do everything so we don't have to er/ in Japan willing to donate (cough cough) your services… let me know!
P.S. You might note this post is a bit lacking in any info on what happened around the form signing.  Keep an eye on TBS's Motemote99 TV show in Japan to see what really happened.
From JET alum Eli Cohen (Tanegashima, 2009-10).  He currently works at Baruch College (CUNY) in NYC and says they have an immediate opening for a part-time Program Coordinator (Baruch Leadership Academy).  Posted by blogger and podcaster Jon Dao (Toyama-ken, 2009-12). Click here to join the JETwit Jobs Google Group and receive job listings even sooner by email.
————————————————————————————————————
Position: Program Coordinator
Location: NYC

Overview:
The Academy is looking for an enthusiastic and organized Program Coordinator to work closely with the Director in the development and implementation of business operations for the entire program.   The Program Coordinator will be responsible for all Academy communications both the registered and prospective students and parents.  The position requires 20-30 hours of availability per week with an immediate placement. Read More
[Steve's Note:  Some very interesting and JET-relevant job openings with Teach for Japan received directly from the organization. (The listing is in Japanese because a high level of proficiency is required to work there.) Thanks to AJET Chair Kay Makishi for putting TFJ in touch with JETwit.