As part of Sasakawa USA's The Alliance Working in America series and in partnership with the JET Alumni Association of Portland, we invite you to join a special dinner discussion with Bill Clifford (Shizuoka ALT, 1987-89) President and CEO of World Affairs Councils of America, and Doug Smith (Okayama CIR, 1987-89), Business Development Manager, Port of Portland. The discussion will explore how the JET Program experience has contributed to their career and their role in U.S.-Japan relations, and the challenges and opportunities ahead for JET alumni to contribute towards strengthening U.S.-Japan relations in their personal lives and networks.
Notes: Free event, RSVPs kindly required by Monday, February 26 at the following link: https://goo.gl/forms/SdDpmaYwHWrvCvQ42
Looking to step up your pin game? Why not collect these two pins from the Pacific Northwest JETAA chapter!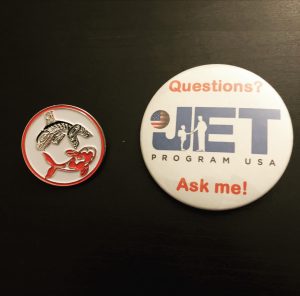 Feel free to contact the current President, Zung Do (president@pnwjetaa.org) or JETAA USA Country Rep, Cheryl Hou (cheryl.hou@jetaausa.com) for more information.
Posted by Sydney Sparrow. Click here to join the JETwit Jobs Google Group and receive job listings even sooner by email.
---
Job Title: On-Site Program Coordinator
Posted by: CISaustralia
Location: Japan
Contract: Full-Time
Here's a chance for JET alumni to manage a 2-4 week program in Japan.
On-site Program Coordinators:
CISaustralia is recruiting for like-minded professionals to join our Customised Faculty-Led Programs team. On-site Program Coordinators (OPCs) help lead programs in countries all over the world, while assisting University staff to design, plan and manage their study tours. Programs vary between 2-4 weeks. All travel, meal and phone costs are covered, as well as receiving a program stipend. Full training and ongoing support provided.
For further details and how to apply, click here.
Posted by Sydney Sparrow. Click here to join the JETwit Jobs Google Group and receive job listings even sooner by email.
---
Opportunity: 2019 Rotary Peace Fellowship
Posted by: Rotary Foundation
Location: Tokyo, Japan (among other locations)

Here's an opportunity for a fully-funded fellowship at International Christian University in Tokyo, Japan (among other locations):
The Rotary Foundation is now accepting applications for the fully-funded Rotary Peace Fellowship. The fellowship provides academic and practical training to prepare scholars for leadership roles in solving today's global challenges.
Up to 100 fellows are selected globally every year to earn either a master's degree or a professional development certificate in peace and conflict studies at one of six Rotary Peace Centers at leading universities in Japan, Australia, England, the United States, Sweden and Thailand.
To learn more about the program, applicants are encouraged to visit the Rotary Peace Centers website. All applications are due 31 May 2018.
If you have any questions about the fellowship, please contact Sarah Cunningham at 1.847.425.5682 or Sarah.Cunningham@rotary.org.
Posted by Sydney Sparrow. Click here to join the JETwit Jobs Google Group and receive job listings even sooner by email.
---
Job Title: Higher Ed Professional Collaboration
Posted by: Cultural Vistas and the U.S.-Japan Bridging Foundation
Location: Japan
Contract: Full-Time
Thanks to JETAADC for passing along this wonderful opportunity:
Here is an opportunity from Cultural Vistas and the U.S.-Japan Bridging Foundation (USJBF) for Higher Ed professionals to help expand academic partnerships with Japan!
The week-long June trip will include visits to Tokyo, Osaka, Okayama and Sendai for meetings with professional counterparts and students to better understand critical factors for successful collaboration, and, ultimately, to spur strategic educational partnerships between the two nations.
Application deadline is March 2nd and link to apply can be found here: Call for Applications.
Posted by Sydney Sparrow. Click here to join the JETwit Jobs Google Group and receive job listings even sooner by email.
---
Job Title: Language Teacher, Interpreters, and Web Reporter
Posted by: Peace Boat
Location: Worldwide
Contract: Full-Time
Here's a fantastic opportunity to volunteer for Peace Boat's 99th Global Voyage sent directly to us from the GET (language program) Coordinator, Sarah Anderson (Gunma-ken):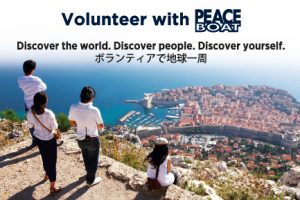 Peace Boat is now seeking dynamic and highly motivated volunteers to join its 99th Global Voyage!
The 99th Voyage departs Yokohama September 1st and returns to Yokohama December 17, 2018. The voyage will circumnavigate the globe and make stops in twenty-three countries, including China, Morocco, Iceland, Peru, and many more!
We are looking for:
Language teachers: English and/or Spanish (18 months experience by the time of application; teaching certifications and language skills highly regarded)
Interpreters: Japanese – English, Japanese – Chinese, Japanese – Korean, Japanese – Spanish, English – Chinese (no experience or training required)
Web Reporter (Applications for the 98th Voyage web reporter will be open soon. Please check the website below for updates!)
Written by freelance Writer/Interpreter/Translator Stacy Smith (Kumamoto-ken CIR, 2000-03), WIT Life is a periodic series about aspects of Japanese culture such as language, film, business, food and politics. Stacy starts her day by watching Fujisankei's newscast in Japanese, and here she shares some interesting tidbits and trends along with her own observations.
After interpreting in Manhattan Criminal Court earlier this week, I stopped for lunch in Chinatown and found myself with some time on my hands afterwards.  I decided to visit the International Center of Photography and was nicely surprised to find the exhibition Then They Came for Me: Incarceration of Japanese Americans during WWII (through May 6), a comprehensive portrayal of this reprehensible period in American history.  It includes works from prominent photographers such as Dorothea Lange and Ansel Adams, letters and other personal mementos, and moving video testimonials from those who were incarcerated or have family members who had been.
From 1942-1946, thousands of Japanese Americans were forcibly relocated to incarceration camps in desert and swamp areas of the Western U.S.  The original term for this had been "internment," but I learned from the exhibition that Japanese American organizations and scholars have developed new terminology in an effort to more accurately reflect the wrongness of what took place. Read More
Posted by Sydney Sparrow. Click here to join the JETwit Jobs Google Group and receive job listings even sooner by email.
---
Job Title: News Reporter/Research Assistant
Posted by: Yomiuri Shimbun
Location: Washington, DC
Contract: Full-Time
Here's a job sent to us directly from the company:
Founded in 1874, The Yomiuri Shimbun is the Japan's largest and most influential national daily newspaper in Japan. We have 28 international bureaus, three of which are in the United States: Washington DC, New York and Los Angeles.
The Yomiuri Shimbun: www.yomiuri.co.jp
The Yomiuri Shimbun Media Data: http://adv.yomiuri.co.jp/m-data/english/index.html
The Japan News (Our English-language daily): www.the-japan-news.com
The Los Angeles Bureau of the Yomiuri Shimbun, Japan's largest national daily newspaper, seeks an English and Spanish speaking reporter/research assistant.
We cover social issues, sports events, national politics, and any major breaking news in the Western and Midwestern states of the U.S. as well as all of Mexico. This job primarily involves gathering news, tracking newswires and assisting Japanese reporters by arranging and conducting interviews, doing research and transcribing interviews. The office can be fast-paced and there are daily deadlines. The position will include opportunities to travel to cover major news, report on sporting events, interview high-ranking government officials, and cover the entertainment industry.
Applicants should be fluent in English and Spanish. Since the newspaper is in Japanese, there are no byline opportunities. Read More
Posted by Sydney Sparrow. Click here to join the JETwit Jobs Google Group and receive job listings even sooner by email.
---
Job Title: Associate Director of Programs
Posted by: The Maureen and Mike Mansfield Foundation
Location: Washington, DC
Contract: Full-Time
The Maureen and Mike Mansfield Foundation, a non-profit organization that promotes understanding and cooperation between Asia and the United States, seeks an Associate Director of Programs in its Washington, D.C. office. Working with the Foundation's President and Vice President, the majority of the Associate Director's responsibilities will be focused on the following programs:
Written by professional Writer/Interpreter/Translator Stacy Smith (Kumamoto-ken CIR, 2000-03), WIT Life is a periodic series about aspects of Japanese culture such as language, film, business, food and politics. Stacy starts her day by watching Fujisankei's newscast in Japanese, and here she shares some interesting tidbits and trends along with her own observations.
Last September, Chelsea received a great addition to its art scene in the form of the Sato Sakura Gallery. This Japan-born museum has two locations (Fukushima/Tokyo) that specialize in 日本画 (Nihon-ga or traditional Japanese painting). This term and concept was created in response to 西洋画 (Seiyou-ga or Western painting), which made its way to Japan during the Meiji Era (1868). Today the idea of Nihon-ga can refer to both purely traditional Japanese painting, as well as new styles of painting that incorporate Western painting methods while remaining faithful to traditional Japanese painting techniques.
The inaugural exhibit at the new Chelsea location has 桜 (sakura or cherry blossoms) as its theme, and showcases 12 different artists and their works. They range from regular-sized paintings to giant folding screens, and my favorites were from self-proclaimed "flower and cherry blossom maniac" Reiji Hiramatsu. In particular, his work "Playful Carps" piece is impressive.  Its bright colors are striking, and I enjoy the playfulness of the fish in a pond with petals filling its surface. I also really like his "Mt. Fuji and Cherry Blossoms," Read More
By Aubrey Keene (Hokkaido, 2004-06) for JQ magazine. Aubrey moved to New Jersey from Kentucky to complete a master's degree in Asian studies from Seton Hall University. This is her first article for JQ.
On Saturday, February 3, the New York Adventure Club offered participants a private tea ceremony demonstration at the Urasenke Chanoyu Center of New York (UCC) in Manhattan. Nearly two dozen participants from the area attended to have their first experience with this iconic Japanese cultural tradition.
Experiences like this are not unique for members of the New York Adventure Club. The group, formed in 2013 by CEO and founder Corey William Schneider, was an effort, he explains, "to get my friends to join me on my random weekend adventures around the city." For more than a year and a half prior, Schneider had been exploring the city on his own as part of what he calls a "mini-early life crisis" that triggered a desire to do more fulfilling activities in his free time. By founding the group on Facebook, Schneider hoped he could get others to join him: he quickly discovered his idea was a hit when over 100 people showed up for the first event. The group now boasts more than 9,000 members, with activities ranging from trapeze classes to tours of Grant's Tomb to tea tastings happening almost every day of the week.
On a chilly Upper East Side afternoon, participants gathered in the lobby of the UCC for an introduction by their chado, or way of tea, master Yoshihiro Terazono, who gave an overview of the 140-year old building. Originally a horse carriage house later refitted as an art studio for Mark Rothko, the UCC purchased the building in 1980 and spent two years transforming the space into a tea ceremony center. It now houses three tatami mat rooms of various sizes where students come and practice throughout the week. Each room opens to an outdoor space of a garden area with a view of the windows three stories above. The aesthetics successfully evoked the image of a tea house in Kyoto, the birthplace of Urasenke.
By JQ magazine editor Justin Tedaldi (CIR Kobe–shi, 2001-02). Justin has written about Japanese arts and entertainment for JETAA since 2005. For more of his articles, click here.
Stay warm this winter with some hot local events, from live showcases that will transport you to another time and place, some new anime screenings, and a sake extravaganza you won't want to miss.
Now through May 6
Children's Museum of Manhattan, 212 West 83rd Street
$14 children/adults, $11 seniors
Experience Tokyo's vibrant culture in a new interactive exhibit! Children will have fun learning about life in present day Japan in this playful, highly immersive environment that transports families to two distinct areas of Tokyo that exist side by side: one serene and exquisite, the other, too cute for words. Kawaii Central is a streetscape inspired by Tokyo's bustling Harajuku district, bursting with color, trendy shops and cuter than cute styles. Kids sing karaoke, smile for the photo booth camera, serve up a seasonal Japanese meal, and design adorable mascots for their families. Plus, learn more about contemporary Japan through special programs for the public, free with admission.
Saturday, Feb. 3, 3:30 p.m.
Private Japanese Tea Ceremony Demonstration @ The Secret Kyoto Garden 
Urasenke Chanoyu Center of New York, 153 East 69th Street
$35 advance, $39 day of event
Experience one of Japan's oldest traditional tea ceremonies in a secret indoor Japanese garden hidden in the Upper East Side—led by a Tea Master of Urasenke! Join New York Adventure Club for a traditional Japanese tea ceremony demonstration in the style of Urasenke, one of the main schools of Japanese tea ceremony. Established in 1967 to promote the rich cultural tea tradition of Urasenke in New York City, the UCC is a private organization that teaches its members how to master this ancient tradition over the course of 10-15 years. This event also offers an opportunity to consume the best quality sweets and matcha green tea from Kyoto, the birthplace of Urasenke.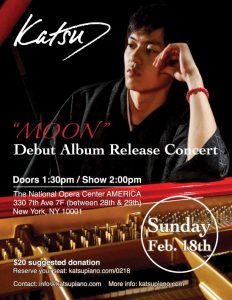 Sunday, Feb. 18, 2:00 p.m.
Katsu: Debut Album Release Concert
National Opera Center – OPERA America, 330 Seventh Avenue
$20 suggested donation
Katsu started to perform in public about a month after he started playing the piano when he was the age of 19 by self-learning. He also started composing originals soon after the beginning of the public performances. After performing several times in Japan, He moved to New York. Then in December 2016, he debuted as a composer and a pianist at the Steinway Hall. Now, he has been performing his original tunes as a solo pianist at multiple venues. His music is described as New Age music, classical, Jazz, romantic piano, and more. This intimate performance will feature selections from his recently released debut album, Moon.
JET Prefecture Round Up is a mosaic of events taking place in the AJET community in Japan. Compiled by Suzanne Bhagan (Tottori Prefecture, 2014- 2015). Suzanne is a writer from Trinidad and Tobago. Check out her blog on meaningful travel.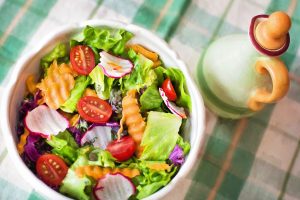 13th Kyoto Vegans Buffet Meetup
When:  February 3
Where:  Kyoto Prefecture
Forget the snow! Join the vegan tribe at Vegans Cafe and make new friends!
When:  February 3
Where:  Tottori Prefecture
Join in the 19th Chizu Inn Yuki Matsu in rural Tottori prefecture.
When:  February 3-4
Where:  Shimane Prefecture
Shimane and Hiroshima AJET welcome you to shred the slopes of Mizuho Highland with them.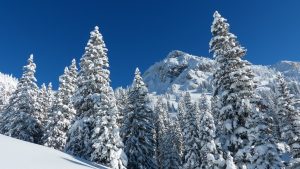 Niigata AJET's Northern Snow Out
When:  February 10
Where:  Niigata Prefecture
Join Niigata AJET at the first annual Kaetsu region snow out.
When:  February 10-13
Where:  Hokkaido Prefecture
Hokkaido AJET invites all JETs to take part in Snowcation, an annual event to encourage JETs from other prefectures to visit the northern island. This year, it coincides with the Sapporo Snow Festival.
When:  February 17
Where:  Okayama Prefecture
Join Okayama AJET in celebrating the prefecture's famous Saidaiji Naked Man Festival.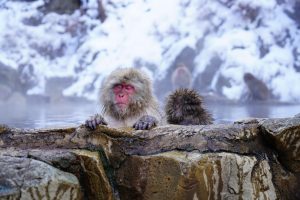 Shizuoka AJET Strawberry Picking and Onsen Trip 2018
When:  February 17
Where:  Shizuoka Prefecture
Join Shizuoka AJET in beating winter with delicious strawberries on the prefecture's famous strawberry road and a hot soak at the onsen.
When:  February 24
Where:  Aomori Prefecture
Aomori AJET invites you to its final event for the school year, a Snowball inspired by Stranger Things.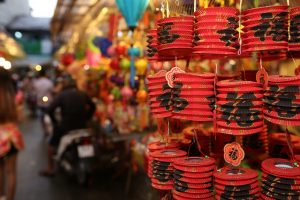 AJET Block 10 & The Nagazasshi Presents: Lantern Festival 2018
When:  February 24
Where:  Nagasaki Prefecture
Join AJET Block 10 to celebrate a festival started by the local Chinese community to celebrate Chinese New Year.
Posted by Sydney Sparrow. Click here to join the JETwit Jobs Google Group and receive job listings even sooner by email.
---
Job Title: EIKEN Speaking Test Examiner
Posted by: EIKEN Foundation of Japan
Location: Fort Lee, NJ USA
Contract: Part-Time
Here's an urgent part-time job opening from Harumi Nakagawa for people who are looking to make some extra cash:
---
Job opening: EIKEN Speaking Test Examiner
緊急募集:英検二次試験1級面接官(日本人)
---
Japanese Children's Society has been organizing the biggest testing site abroad on behalf of EIKEN Japan. About one thousand examinees gather to take this English proficiency exam 3 times a year in the New York area. Those who pass the Written Test will then proceed to the Speaking Test. About 20 examiners are assigned to administer the speaking test at our NY area site each time. The speaking test is held on Sundays, three times a year. We are looking for successful new examiners throughout the year. Native English speakers who are familiar with Japanese culture are highly welcomed. Please register for the future opportunity to work with us.
<Description>
Native English Speaker (for Grade 3, Pre2, 2, Pre1 and 1)

Must be a native English speaker with a B.A. degree or higher.

Japanese Examiner (for Grade 1) 1級日本人面接官

Must be an English-Japanese bilingual speaker who has a certificate that shows a high level English proficiency equivalent to EIKEN Grade 1 or B.A./M.A. degree acquired in native English speaking countries.
Date : 3 times a year (February, July and November) *The next test will be on Sunday, February 18th.
Time : 8:00am-4:00pm
Location: New Jersey *We offer a pick-up bus service from the George Washington Bridge in Manhattan.
Compensation: starting from $240/day
(英語を母国語とする国の大学で学位を取得あるいは英語関連分野で修士以上の学位取得,あるいは英検1級レベルの英語力を証明できる日英バイリンガルの日本人) ★2/18(日)の試験に参加可能な方を急募しております。
Registration
Please send your RESUME in Word or PDF format to EIKEN.nyikuei@gmail.com
Then we'll arrange an interview (A Skype interview is available).
After passing the interview, you will need to take the EIKEN calibration test online.  It will take about 40 minutes to 1 hour for each grade.
Upon successful completion of training, examiners are assigned about a month before each test as needed, depending on the grade(s) they have been trained to administer and the number of examinees.
*Registration as an EIKEN examiner does not guarantee regular assignment to test sites.
JETAA Chapter Beat is a periodic mosaic of events taking place in the JETAA sphere. Compiled by A
JET's Director of Alumni Relations Megan Buhagiar (Ishikawa Prefecture, 2017- Present).
JETAA Ireland       
Japanese Language Meet-ups
JETAA Ireland has resumed their Japanese Language Meet-ups. They are
held once a month on the second Friday of the month, making the next one February 9th. For more details, their Facebook event page can be found here.
2. JETAA New York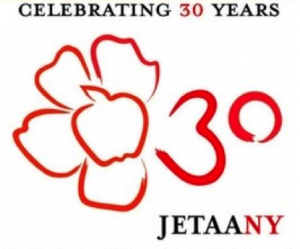 JETAANY Gala
If you only attend one JETAANY event next year, make it this one!
The gala will be an evening of celebration, commemorating the JET Program's 30th anniversary with our own New York spin, honouring local JET alumni, and celebrating the JETAANY community.
This is a black tie optional event that includes dinner, open bar, a sake-barrel opening ceremony and toast, entertainment, speeches, a silent auction, a taiko performance, and other activities. All for only $82*, thanks to generous grants we have secured to offset costs of the event.
Read more about the event (including FAQ) on jetaany.org. This event is open to all alumni, friends, and family (21+), so feel free to invite others, and buy your ticket soon!
*Early-bird pricing available until 1/15 (if tickets remain)!
Questions? Email gala[at]jetaany[dot]org
Want to get involved? Sign up here to volunteer.
 2. JETAA Singapore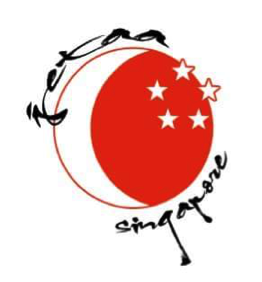 Japanese Cultural Festival
J.CLAIR Singapore is looking for volunteers to share about the JET Programme at the Japanese Cultural Festival.
The details are as below:
~Japanese Cultural Festival (JCF) 2018~
Date: 2/3 (Sat) 10:00~18:00
Venue: University Town in NUS
Organised by: The NUS Japanese Studies Society (JSS)
We would appreciate it if you could lend us your support to CLAIR for this event by indicating your availability in the link below.
https://goo.gl/forms/CAvcrD0hCJsjfzwv2
Feel free to contact JETAA Singapore if you need any clarifications.
 3. JETAA DC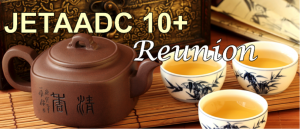 Annual 10+ Reunion Event
The 10+ Reunion is a casual get-together for any JET alumni who departed for the JET Program in 2007 or earlier. Join fellow alumni to re-connect and reminisce about your time in Japan.
Date:      Saturday, February 10
Time:     1:00pm to 3:00pm
Location:        Teaism Penn Quarter (400 8th St NW, Washington, DC 20004)
Price: $10
Attendees have a choice of bento (fried chicken, salmon, or black bean cake) and each meal is accompanied by an exclusive Japanese green tea sampling. +1's are welcome!
Please register and pay in advance by Saturday, February 3. Payments are non-refundable after Tuesday, February 6.
Feel free to contact secretary@jetaadc.org if you have any questions.
Click HERE to register for the 10+ Reunion
Manga Mania at Casual Powerhouse Arts Centre
Details
We invite you to join us for MANGA MANIA, a day filled with free workshops and events that speak to the Manga Hokusai Manga exhibition.
Please note that BOOKINGS are essential due to limited capacity.
***
MANGAZINE | 11am-1pm | 10-16 years
Participants of Mangazine will be introduced to the features of Manga drawing before creating their own zine using the key characteristics of this cartooning and comic based style.
FREE, bookings essential.
Book here: https://goo.gl/t8gCNm
IKEBANA WATERCOLOUR |11am -1pm & 2-4pm | 16 years +
Watch a demonstration of the traditional Japanese flower arranging technique of Ikebana before being lead in an exploration of the resulting creation through the use of watercolour painting. This workshop is suitable for both beginners and advanced students of watercolour techniques and all materials will be supplied.
FREE, bookings essential.
Book here: https://goo.gl/2RJyfR
SUSHI SUPER HEROES | 1.30-3.30pm | 6-9 years
Choose your favourite sushi ingredients from the available menu and then transform into an epic version of popular Japanese cuisine, the sushi roll. The sushi super hero outfit comes complete with mask and cape, ready to be decorated into the most exciting and powerful hero ever seen. This will be an open (drop in) workshop that participants can join and leave as desired.
FREE, bookings essential.
Book here: https://goo.gl/mq2pyz
***
MANGA MANIA FILMS
Film Screening: Crayon Shin Chan: Bravo! Samurai Battle (PG) | 11am
FREE, bookings essential. Book here: https://goo.gl/vvM6SC
Film Screening: Miss Hokusai (Uncl 15+) | 1:30pm
FREE, bookings essential. Book here: https://goo.gl/HkhYje
***
ALSO AVAILABLE:
Liverpool City Library will hold a pop-up Library within Casula Powerhouse Arts Centre that will be entirely devoted to Manga. Come and browse the huge collection of Manga books available for borrowing from the wonderful team at Liverpool City Council Library.
***
Header Image:
Daisuke Igarashi, A person who draws the world, 2015
Ink and watercolor on paper, 36 x 110 cm
© Daisuke Igarashi
When:    February 3rd 2018
Where:   Casula Powerhouse Arts Centre
Tickets:  www.casulapowerhouse.com
6. JETAA WA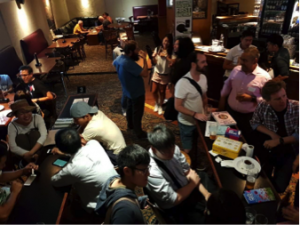 KaiWA
When: Thursday, February 8th.
Location:        43 Below Tavern, 43 Barrack Street, Perth WA, Australia
Time: Starts 17:30
Hello everyone! We hope you're settling into 2018 and keeping up with those New Year's resolutions! Come join us for the next KaiWa on Thursday, February 8th.
KaiWA is a casual Japanese-English conversation-cultural exchange and anyone is welcome to come and practice their Japanese or English.
Entry is a gold coin donation and we'll be open from 5:30pm til 8:30pm at 43 Below, (cnr. Hay and Barrack St, downstairs next to Commonwealth Bank).
Don't forget to subscribe to kaiWA events!
More details can be found here and here.

7. JETAA France
Japancraft – Synergies entre Tradition et Modernité
2 dates:      6 February – 17 February
Expo :         Japancraft − Synergies entre Tradition et Modernité
Place:        Maison de la culture du Japon à Paris – page officielle
Clair Paris présente des objets artisanaux de différentes régions du Japon grâce à la collaboration de 18 collectivités locales du Japon. Ces objets fabriqués avec des techniques ancestrales, y seront présentés, et mis en regard de produits industriels de pointe réalisés avec les mêmes techniques. ENTRÉE-GRATUITE Du mardi 6 février au samedi 17 février 2018 de 12h à 20h (fermé dimanche et lundi) A la Maison de la culture du Japon à Paris 101Bis Quai Branly, 75015 Paris, France
日本の地方に根付いた伝統技術にスポットをあて、それらが現代の生活スタイルに高度に適応している例、異分野先端産業に活かされている例を分かりやすくご紹介します。日本の18自治体から、特色ある工芸品、製品がパリ日本文化会館に集まります。 入場無料 2018年2月6日(火)~2月17日(土) 12時から20時 (日月休館) パリ日本文化会館 (Maison de la culture du Japon) 101Bis Quai Branly, 75015 Paris, France
 Certaines des créations présentées seront ensuite disponibles à la vente. Du mardi 6 février au samedi 17 février de 12h à 20h (fermé dimanche et lundi) The Japan Store ISETAN MITSUKOSHI | 101Bis Quai Branly, 75015 Paris, France http://thejapanstore.mistore.jp/paris/fr/index.html 展示期間中、同建物内のThe Japan Store ISETAN MITSUKOSHIにて一部の展示商品を販売します。 販売期間: 2018年2月6日(火)~2月17日(土) 12:00~20:00 ※日曜、月曜は休業日 Du mardi 20 février au jeudi 1 mars de 12h à 20h (fermé dimanche) Maison Wa | 8, Rue Villedo 75001 Paris France
https://www.facebook.com/maisonwa/ また、展示会終了後、パリ1区の和雑貨セレクトショップにて一部の展示商品を販売します。 販売期間: 2018年2月20日(火)~3月1日(木) 12:00~20:00 ※日曜は休業日 販売場所:Maison Wa | 8, Rue Villedo 75001 Paris France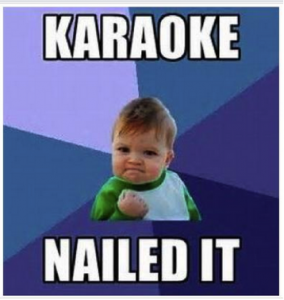 8. JETAA UK
Karaoke/Pub Night with The London Chapter
When:    February 8th
Time:     18:00 – 21:00
Where:   The Glasshouse Stores, 55 Brewer Street, W1F9UJ London, United Kingdom
Details
Following our London AGM/games afternoon last week, we decided to continue our 2018 JETAA London events with a crowd-pleasing classic karaoke night!
We will be gathering at the pub from 6ish (or as soon as our employers untie us from our desks/tools!) and heading to our usual karaoke spot in the manga laundrette!
Bring your friends, alcoholic/non-alcoholic drinks, song list and your best/enthusiastic voices!
Pub: The Glasshouse Stores, 55 Brewer St, Soho, London W1F 9UJ
Karaoke: Adanami Manga Bookstore, 30 Brewer St, Soho, London W1F 0SS
*This event requires registration and payment*
Please head to our eventbrite page to sign up!
Only 14 spaces for karaoke so get in quick!
Head to the Eventbrite page to reserve your spot now:

https://www.eventbrite.co.uk/e/karaokepub-night-with-the-london-chapter-tickets-42570231709
 9. JETAA Ottawa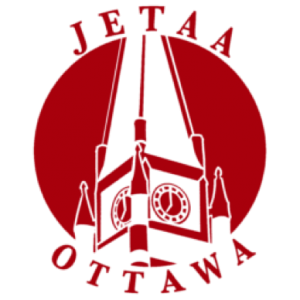 Japanese Potluck Event
Come one, come all, to JETAA Ottawa's first official event for 2018!
This year, we'd like to kick off the mid-winter fun with some delicious eats and delightful company. After the gustatory festivities, we'll also have karaoke and pool set up if you'd like to join in!
Click here to reserve what food/drink you'll bring!
Some ideas include: gyoza, sushi, takoyaki, karaage, tempura, tsukemono, katsu curry, and more! There will be a small kitchen area (no oven) and microwave available for use, as well. But, if you're not particularly skilled in the kitchen, not to fret–you could always bring some chuhais, bottled tea, or Pocky!
Date:         Saturday, February 17th
Time:         6:30pm to 9:30pm
Where:      Central 2 Building Party Room, 360 McLeod St.
To access the entrance, take the elevator to the second                    floor and turn left.
Cost:          Free, but please bring (Japanese-style) food!
10. JETAA Southern California and Arizona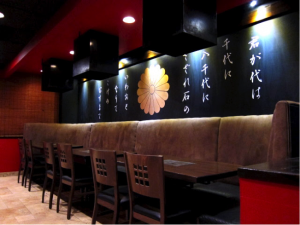 Natsukashii-Kai!
When:        Friday, February 9th
Time:         17:30
Where:      Oreno Yakiniku
Weller Court, 3rd floor, 123 S. Onizuka St., 90012
Happy hour deals: http://www.oreno-yakiniku.com/happyhour/
Natsukashii-Kais are back for 2018 starting this February! Last year, this monthly meetup consistently achieved our primary goal of bringing more JET Alumni out to connect and remember what we loved about Japan! Each time was equally awesome, because we discovered and supported small Japanese, and Japanese-American-run businesses in Little Tokyo through our attendance at fun places, including Wolf and Crane, Suehiro Cafe, GAZEN, 3rd Generation Sake Bar, and more, plus our go-to after party spot: karaoke at Tokyo Beat!
For our inaugural night out, we're celebrating one of the most natsukashii (nostalgic) dining activities: Yakiniku! We will meet at Oreno Yakiniku in Little Tokyo, from 5:30-9:00 to enjoy their unique happy hour deals on drinks and food (see link for details). We can split into two tables for those who dinner elsewhere, so don't worry if you need to arrive late, leave early, or abstain from meat! As always, non-drinkers and friends of JET are absolutely welcome, and if history is any track record: good times are guaranteed!
This event also falls on the last day of L.A. interviews for potential 2018 JET Programme participants. We should avoid inviting any current applicants, so any hard working volunteer greeters, interviewers, and Japanese staff from that event can feel relaxed and welcome to enjoy the night out with us. Maybe you will even see someone from when you interviewed!
If you can't make it, keep an eye out for our next event in March, when we will begin expanding our venues outside Little Tokyo. (Fear not! If you love Little Tokyo, we plan on returning to new and favourite venues from last year, every even-numbered month.)