By JQ magazine editor Justin Tedaldi (CIR Kobe-shi, 2001-02) for Shukan NY Seikatsu. Justin has written about Japanese arts and entertainment for JETAA since 2005. For more of his articles, click here.
Now celebrating its 20th year, the New York International Children's Film Festival returns this month, continuing its mission to cultivate an appreciation for the arts for moviegoers of all ages.
Anime films are a staple of NYICFF, and this year's citywide selections are "Rudolf the Black Cat" (Feb. 25, March 4-5, 19), a modern-day CGI-animated tale of two kitties that celebrates the wonder of discovery; "Panda! Go Panda!" (Feb. 26, March 5, 11, 18), a retro classic from 1972 directed by Isao Takahata and featuring original concepts and character designs by Hayao Miyazaki; and "Ancien and the Magic Tablet" (March 18-19), a fender- and genre-bending film set in the not-too-distant future whose second screening also hosts director Kenji Kamiyama as part of the closing ceremonies.
By far, the most anticipated film is the East Coast premiere of "Your Name" (Feb. 25). Released in Japan last August, it smashed all box office records for the year and is currently the highest-grossing anime film worldwide (beating out Miyazaki's own Oscar-winning "Spirited Away" by over $40 million at press time).
Written and directed by Makoto Shinkai ("5 Centimeters per Second"), "Your Name" tells the story of a young man living in Tokyo and a young woman living in the countryside who suddenly start switching bodies on a regular basis. It has been widely praised for both its animation style and emotional impact.
For more on this year's festival, visit http://nyicff.org. Tickets are available at www.ticketweb.com.
Posted by Sydney Sparrow, an ALT currently living in Toyota City. Click here to join the JETwit Jobs Google Group and receive job listings even sooner by email.
---
Position: Director of Investor Initiatives
Posted by: CDP North America
Location: New York, NY, USA
Contract: Full-time
Here's another job via Idealist:
CDP is a leading international charity founded 16 years ago to address the dangerous threat of climate change. It has since grown to become the world's foremost system for companies and cities to report on carbon emissions, water stewardship, and deforestation. We operate key hubs in London, New York, and Berlin with other representation in the rest of Europe, Brazil, Australia, Japan, India, and China.
CDP North America (CDP NA) is an independent 501(c)3 charity, based in New York, which works in close association with other members of the CDP operation throughout the world. Our office is growing and we are seeking a highly motivated individual with a financial background to assist in managing CDP NA's relationships with investors and signatory entities. The position is based in CDP NA's New York office. CDP administers an annual disclosure process on behalf institutional investors with combined assets in excess of $92 trillion. Disclosing companies provide quantitative and qualitative information about their greenhouse gas emissions, energy efficiency programs, water management, exposure to deforestation and strategic business approach to environmental risk. The Director of Investor Initiatives in North America will report to the CDP NA President and Global Head of Investor Initiatives.
Posted by Sydney Sparrow, an ALT currently living in Toyota City. Click here to join the JETwit Jobs Google Group and receive job listings even sooner by email.
---
Position: Program Coordinator, Takeda Innovators in Science Award
Posted by: New York Academy of Sciences
Location: New York, NY, USA
Contract: Full-time
Here's a job via Idealist:
Posted by Sydney Sparrow, an ALT currently living in Toyota City. Click here to join the JETwit Jobs Google Group and receive job listings even sooner by email.
---
Event: Career Fair – U.S. Positions Using Japanese at Over 30 Companies
Location: New York, NY, USA
Date: March 25, 2017
Thanks to  Katie Yokota from DISCO International, Inc (which organizes job fairs for Japanese-English bilinguals) for the following career fair taking place next month:
JET alumni with at least conversational Japanese language ability are invited to the U.S. Career Forum 2017 on March 25. Companies will be holding information sessions, accepting resumes, and conducting interviews during the one-day event.
Posted by Sydney Sparrow, an ALT currently living in Toyota City. Click here to join the JETwit Jobs Google Group and receive job listings even sooner by email.
---
Position: Chapter Relations and Membership Manager
Posted by: Fulbright Association
Location: Washington D.C., USA
Contract: Full-time
Here is a job via Idealist:
ORGANIZATION
Founded in 1976, the Fulbright Association (FA) is the alumni association of the Fulbright Scholarship Program in the United States. Fulbright Scholars travel to 165 countries to teach, research, and engage in ways that promote peace and understanding. Returning scholars and other alumni join the FA to magnify the impact of the Fulbright experience by advocating for the program to Congress and by offering international educational programs: community outreach, events sponsored by 50 chapters nationwide, a national conference, and "impact" travel. The FA also awards the prestigious Fulbright Prize to world leaders. Previous recipients include Nelson Mandela, Jimmy Carter, Bill and Melinda Gates, and Doctors without Borders.
This year, the FA is focused on expanding advocacy efforts, working with chapters to share the Fulbright experience with communities nationwide, expanding membership with clear messaging and marketing, piloting a networking portal for members, developing an enriched digital presence in social media, and supporting chapters through development grants and other services. Chapter Relations and Membership will play a vital role in the success of the Association, helping to raise the profile of the Fulbright community, to drive membership and engagement, and to ensure the effectiveness of advocacy and educational programs.
POSITION
Reporting to and in partnership with the Executive Director, with a dotted reporting line to the Deputy Director, the Manager will support chapters and members in ways that are contemporary, dynamic, creative and measurable in impact. We welcome applications from dedicated, hard-working and detail-oriented professionals who have worked with dispersed and varied stakeholders, and who believe in the mission of international exchange and understanding. The Manager plays a central role in helping the Association realize a growing vision of chapter engagement focused on community outreach and grassroots advocacy for the Fulbright program. S/he will help drive individual membership growth and satisfaction in outreach and advocacy, as well, providing strong and effective operational management. Read More
Posted by Sydney Sparrow, an ALT currently living in Toyota City. Click here to join the JETwit Jobs Google Group and receive job listings even sooner by email.
---
Thanks to JET alumna Brenda McKinney (Hyogo-ken) for passing this along:
Call for Applications: Youth, Peace and Security Asia and the Pacific Regional Consultation
Calling young people engaged in peacebuilding in the Asia-Pacific Region!
The United Nations is seeking 45 young people (aged 15-29) who are active, enthusiastic and invested in peacebuilding in their country or across the Asia Pacific region, to help reshape the role of youth in peacebuilding in communities, countries, across the region and worldwide for a safer tomorrow.
As part of a series of regional consultations United Nations will organize a consultation for the Asia-Pacific region, to be held in Bangkok, Thailand from 16th–19th of May 2017, which is part of a global effort to bolster action on the United Nations Security Council Resolution 2250 that calls for a greater role for young people in strengthening peace and security. The discussions from all the regional consultations will feed into a report on the positive contribution of young people to peacebuilding. This will be presented to the UN Secretary General and the Member States of the United Nations at the end of 2017. The consultation in Bangkok will comprise of strategic peer to peer discussions among 45 selected young people from the region. There will also be time dedicated to capacity/skills building exchange for the selected participants, and discussions between young people and key stakeholders such as INGOs, academic institutions, donors and UN agencies.
By Mark Flanigan, Nagasaki (2000-04)
As a JET alumnus, I look back fondly on the four years I spent living and teaching in Nagasaki Prefecture. Serving on JET was, quite literally, one of those "life-changing" experiences, as it confirmed my career path in the direction of public service and global education. In the 15 years or so since my time in Nagasaki, I have been lucky to have had international roles in the U.S. government, in higher education, and at a private, Japan-focused non-profit foundation. I was even fortunate enough to return to Japan a second time, to earn my MA in Peace Studies in 2012 through the Rotary Peace Center at International Christian University (ICU) in Tokyo. Later, I served in a variety of roles in Manhattan with JETAANY between 2012-16.
My most recent career stage brought me back into the classroom, albeit in a different role and a new part of Asia for me. I am currently serving as a WorldTeach Fellow volunteer in Chittagong, Bangladesh, at the Asian University for Women (AUW). It has been both a challenging and rewarding transition back into teaching, as I felt a bit rusty in the beginning and took a bit of time to get back in the groove. Also, my main experiences with Asia had been almost entirely focused on Japan, China, and Korea. For me, South Asian history and culture was something I knew very little about up until a couple of years ago. Being here, I realized how comparatively little I knew about the diverse cultures of the Indian subcontinent of Asia. Nonetheless, it has proven to be an extremely rewarding transition, personally as well as professionally.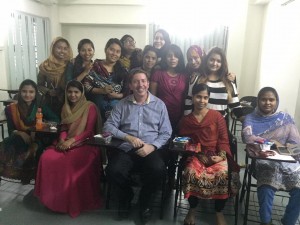 Me with some of my Pathways students in Bangladesh
Through a friend in New York City, I had first learned about AUW back in 2015. She had been a WorldTeach Fellow here a few years before, volunteering and having a really significant educational and cultural experience. The more I heard about her time in Bangladesh, the more I thought it sounded like a great opportunity to get back in the classroom while making a positive contribution to education for women at a significant institution like AUW. While I definitely enjoyed my four years in Manhattan, working as a Program Director with the Japan ICU Foundation (日本国際基督教大学財団), I also felt ready to take on a new challenge. I applied and was happily accepted as a new volunteer with WorldTeach, and assigned to AUW for the 2016-17 academic year.
AUW was founded in 2008 as a regional hub to help educate underprivileged women throughout different regions of Asia and the Middle East. With a liberal arts curriculum that promotes critical thinking and women's empowerment, it is a truly encouraging place for young women who have faced numerous challenges in life due to poverty, gender bias, and sectarian conflict. With 600 students (and over 400 alumnae) from 15 different countries, including Nepal, Bhutan, Myanmar, Vietnam, Cambodia, Sri Lanka, Afghanistan, Pakistan, Syria, Palestine, and others, AUW is an amazingly diverse place. The dynamic environment, small class sizes, and daily interaction of people with many different ideas, perspectives, and cultures makes it an esteemed center of higher education in South Asia.
However, I almost missed my chance to be here. Less than one month before I was due to arrive at AUW, we heard the news of the terrible attack in Dhaka, the capital city of Bangladesh. All I knew was that international residents of the city (and their local friends and colleagues) had been targeted specifically in a vicious terror strike. The attackers, while a definite minority in terms of the general population, were sending a very clear and deadly message. Although the attack did not take place in Chittagong, it was great cause for concern among both WorldTeach and AUW staff, as well as present and future volunteers. At that time, it was not clear whether we would still be able to serve in Bangladesh, or how the program might proceed. Many safety protocols would need to be analyzed and revised before a final decision could be made. In the end we were still given the option to come, which I was definitely happy to hear.
I have now been here for seven months, teaching two different groups of students over the autumn and now spring terms. My classes are part of the Pathways for Promise Program at AUW, which is the recently developed entry point for women who have not had as much formal preparation to succeed in higher education. Many of them have come as former workers from the garment factories of Bangladesh, while others are daughters of Grameen Bank loan recipients, refugees from the persecuted Rohingya community, as well as indigenous minorities from the Chittagong Hill tracts region. In addition to Bangladeshis, Pathways students have come from Afghanistan, Cambodia, and Myanmar. They will take classes for approximately one year in Reading and Writing as well as Listening and Speaking, and also study Math and IT while participating in Community Time and Social Mentoring workshops and events.
A lovely display of Bengali cuisine
If they complete the Pathways Program successfully and meet all the exam requirements, they will advance to the one-year Access Academy and then an additional three years of undergraduate study at AUW. In all, the successful ones will graduate in five years with their bachelor's degree in hand. Against all odds, this is their big chance to earn their college degree. Without the encouragement and funding support to match their own amazing dedication, it would most likely be impossible. It will not be easy for them. Many are far away from home and spend almost all of their time on the small but secure campus. They live in dormitories with 2-5 students per room, eat in the dining hall, and take all their classes together, so there is very little time for privacy or quiet reflection. Nonetheless, they are very eager to learn and make the most of this unique opportunity they have been granted.
It goes without saying that my students inspire me each and every day. Teaching them is really one of the biggest joys of my life here, and in many ways takes me back to my first experience teaching overseas in Japan. Although those two times are separated by about 15 years and many more miles, there are also some interesting parallels between them. Of the many things I have discovered over my time here thus far at AUW, one of the most interesting has been the surprising number of existing connections here between Bangladesh and Japan. As a former JET who later studied at ICU and worked to promote increased U.S.-Japan ties, it's been a really pleasant surprise to find out about and help to build on these great bilateral bonds of friendship.
The first one, I discovered quite by accident. In the early part of the autumn semester, I was walking in the hallway outside of my office when I heard the distinct counts of "ICHI, NI, SAN, SHIIII!!" emanating from the level above. Intrigued, I climbed the staircase up to the next floor and was surprised to discover the gymnasium filled with perfect rows of students. They were in straight lines, balanced in strict stances, with fists alternately chambered by their side and then thrust forward in a crisp motion I instantly recognized. My mind wandered back to our small dojo in Hirado City, Nagasaki, where I spent countless hours drilling in those very same "kihon" movements. I was curious to find out more, so I made arrangements to return and observe a longer class in session.
It was then that I met Ms. Maria Chakraboty, their instructor, a remarkable woman from Bangladesh who has achieved her 5-Dan rank in Shotokan Karate. Maria serves as a real inspiration to her students, as AUW's Associate Director of Physical Education and Karate instructor. Maria grew up in Chittagong, the same city where AUW is based, and faced hardships of her own due to people judging her negatively by her gender. She was strongly discouraged by others in her pursuit of Karate, but through the encouragement of her instructors, she has achieved a remarkable number of accomplishments. For her students, Maria is a living, breathing example of a successful adult woman, who has faced down discrimination and has continued her own personal growth through embracing the Japanese art of Karate. She has been able to impart her wisdom and experience to hundreds of young students through the years. Such is the wonderful environment of a cross-cultural, liberal arts university like AUW.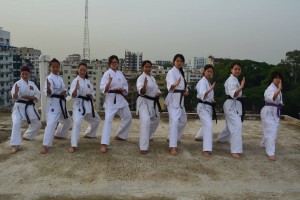 Maria (Center) training with some of her AUW students
In addition to Karate,  there are other tangible bonds of kizuna between AUW and Japan. Attending the University's Club Fair this past autumn, I was happy to learn that AUW students are involved in all kinds of social and academic club activities. Similar to Japan, students here balance their time between formal classes and organized clubs, like Model UN, Animal Welfare, a variety of sports, and other pursuits. Most interestingly to me, I discovered that there is a very active group of students on campus who are involved in the AUW Japan Circle Club! They are extremely genki and know an amazing amount of things regarding Japanese culture. They study Japanese on their own (as it is not taught here), read manga, watch anime, and even make their own kimono and other clothing by hand! Upon meeting them, I shared my experience as a JET alumnus and former ICU graduate student. They asked me to serve as their faculty advisor, to which I most happily agreed!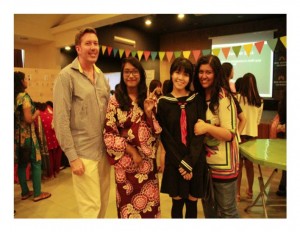 With some of the AUW Japan Circle Club students (and their hand-made clothing)!
I have been very happy to be working with them on various projects here this term. Most specifically, we have planned and organized a Japanese book drive among some of my colleagues and friends in Japan and Hong Kong. Through their kind and generous help, we have now received about seven boxes full of manga, books, magazines, language textbooks, and Japanese-English dictionaries from abroad! All of these were donated to the AUW library, so students can access them freely anytime. As none of our students have been able to visit Japan as of yet, they really love the chance to see any kind of "hon mono" firsthand. One Tokyo friend in particular also sent a variety of delicious Japanese candies, which were a big hit with the students! We are still interested in receiving any other items from Japan, if anyone would like to donate. Additionally, the students performed a number of Japanese songs (in Japanese) and dances for our recent Lunar New Year Festival. We hope to develop exchange partnerships with AUW and universities in Japan, in order to offer study abroad opportunities in both directions. Interestingly, at least one ICU alumna is now studying in Japan, earning her Master's degree at the United Nations University (UNU) in Tokyo!
Lastly, there is a very robust level of support for AUW in Tokyo. As part of the global support network for AUW students, a number of highly-accomplished and very influential donors make up the "Friends of AUW Japan" organization. Among them is Ms. Kathy Matsui,Vice Chair of Goldman Sachs Japan,who has a long and deep connection to AUW. In 2007, she was chosen by the Wall Street Journal newspaper as one of the "10 Women to Watch in Asia" for her work on the "Womenomics" theme, and serves as a board member of the AUW Support Foundation. Ms. Matsui and her husband, Mr. Jesper Koll, have been major donors to AUW since its inception, and they continue to look for ways to promote exchange between AUW and Japanese universities and companies. In addition, First Lady Akie Abe serves as an official Patron of AUW and has been actively involved with a number of fundraising efforts on behalf of the university in Tokyo over the past few years. Lastly, AUW has enjoyed very generous support through the past several years from a number of Japanese companies like HITACHI, MITSUI & CO., TOSHIBA CORPORATION, and UNIQLO.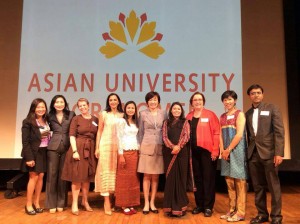 First Lady Akie Abe (center) and Ms. Kathy Matsui (second from right)
In conclusion, I would say my time here in Bangladesh has been a wonderful journey thus far. In many ways, it's a completely new (and sometimes bumpy) experience for me, living in South Asia and in a developing, Muslim-majority country for the first time. Culturally, it's much different than what I was used to, but that's been a good opportunity to broaden my own horizons and question my preconceived notions about life as well. My students in the Pathways for Promise Program specifically, and AUW students in general, have taught me so much and really inspired me through their own energy, resilience, and desire to learn. As a nice coincidence, this latest chapter in my career also brings me back to teaching and to Japan in many ways. I am happy to have so many "natsukashii" moments here, to help teach these remarkable young women, and also to be in a position to try and advance the relationships between people in Bangladesh and Japan. In some ways, it's the most unexpected yet personally satisfying addition to my time here at AUW. I'm happy to make the most of all these fortuitous connections during my time here in Bangladesh and beyond.
=================================================================================
Mark Flanigan is currently a WorldTeach Fellow volunteer in Chittagong, Bangladesh, at the Asian University for Women (AUW). Mark served as an ALT in Nagasaki Prefecture from 2000-4, and later studied for his MA in Peace Studies as a Rotary Peace Fellow at the International Christian University (ICU) in Tokyo from 2010-12. After graduating from ICU in 2012, he spent four years working for the Japan ICU Foundation in NYC. He has also held leadership roles in the JET Alumni Associations of both New York and Washington, DC. He can be reached at markinmitaka(at)gmail.com
Posted by Sydney Sparrow, an ALT currently living in Toyota City. Click here to join the JETwit Jobs Google Group and receive job listings even sooner by email.
---
Position: Senior Manager of Engagement
Posted by: Innovations in Healthcare
Location: Durham, NC
Contract: Full-time
Thanks to JETAA North Carolina Subchapter Rep Kyle Munn, who works for Duke herself, for sharing this opportunity.
Innovations in Healthcare is a global network that amplifies the work of leading healthcare innovators – currently 74 and growing – who are driving significant improvements in cost, quality, and/or access to health services for vulnerable populations around the world. A core partner in the Social Entrepreneurship Accelerator at Duke (SEAD), Innovations in Healthcare avails numerous types of support to innovators to help bring their tested products and services to scale.
Innovations in Healthcare is currently hiring for a Senior Manager of Engagement to manage the selection and relationships with healthcare innovators in the Innovations in Healthcare network. International experience is a big plus.
This position is a critical role for the Engagement Team and is best held by someone who understands the fundamentals of social innovation (e.g., impact measurement, systems thinking, cross-sector approaches) and is passionate about the role that social innovation is playing globally in health systems transformation.
Learn more about the position and other opportunities at Innovations in Healthcare: https://www.innovationsinhealthcare.org/careers/
By Rashaad Jorden (Yamagata-ken, 2008-10) for JQ magazine. A former head of the JETAA Philadelphia Sub-Chapter, Rashaad is a graduate of Leeds Beckett University with a master's degree in responsible tourism management. For more on his life abroad and enthusiasm for taiko drumming, visit his blog at www.gettingpounded.wordpress.com.
On January 30 of this year, you may have noticed a certain bespectacled figure serving as the Google Doodle: Fred Korematsu. Possibly unknown to many of you (In fact, I didn't know the name until several days prior to his being honored by Google), Korematsu was nonetheless an important civil rights figure of the 20th century and has gotten the recognition he deserves as in recent years, with Fred Korematsu Day being celebrated in several states. Now, younger readers are offered an informative look at his fight for justice.
Co-written by Laura Atkins and Stan Yogi, Fred Korematsu Speaks Up documents the journey of the man who fought against the forced relocation of Japanese Americans to prison camps during World War II. The book provides details about Korematsu and his battle, but also about social movements and other groups that have suffered enormous discrimination, such as African Americans and Chinese Americans.
Much of Korematsu's life story is told in poem-like stanzas, starting with an incident as a young man in which he was refused a haircut at a barbershop because of his race. Atkins and Yogi then take readers through significant moments in his life, from the personal (such as how Korematsu came to be known as "Fred") to monumental events for the Japanese American community (like the bombing of Pearl Harbor and President Franklin D. Roosevelt signing an executive order authorizing the military's removal of people of Japanese descent from their homes on the West Coast).
********************
Hello fellow JET alums!  My name is Stephanie Hupp, and I was an ALT in Akita Prefecture from 2011-2015.  I worked in a wonderful little town called Yurihonjo.  I don't miss the brutal winters but I do miss living and working in Japan!
However, I have decided to come back to school to get my masters in Communication, specifically in Intercultural Communication. Based on my many years in Japan, I am writing about life for American ALTs in Japan and some of the potentially negative experiences they might have faced (or maybe they experienced none!).  I am specifically looking at microaggressions and how they might relate to job satisfaction and satisfaction with co-workers.  A microaggression is defied as "brief and commonplace daily verbal, behavioral, or environmental indignities, whether intentional or unintentional, that communicate hostile, derogatory, or negative racial slights and insults toward people of color."  While this definition regards people of color, I am investigating to see if these same experiences happen with Americans as more and more Americans work abroad.  A common one many of you might have heard is the compliment "You are good at using chopsticks!"  or maybe a restaurant or bar was seemingly nervous because of a potential language barrier.
Unfortunately, my study is only open to American JETs (sorry my UK/Aussie/Kiwi JETs!).  I have compiled a short survey (it should take about 20 minutes to complete) as well as a section at the end where you can put an e-mail if you wish to be contacted for an interview.  Any help I can get is greatly appreciated, and if you know someone that would like to participate please pass them this message!  The link is mobile friendly.  You can take the survey here.  I hope the results of this survey will help JETs have a better understanding of their experiences, as well as potentially help future JETs fully prepare for life and work abroad.
http://uark.qualtrics.com/SE/?SID=SV_57PuZEMiukOKlal
All the best in your endeavors!
Stephanie Hupp
University of Arkansas Department of Communication
Public Speaking Instructor and TA
Posted by Sydney Sparrow, an ALT currently living in Toyota City. Click here to join the JETwit Jobs Google Group and receive job listings even sooner by email.
---
Position: Program Assistant for Teachers of Critical Languages Program
Posted by: American Councils
Location: Washington D.C., USA
Contract: Full-time, Temporary
Here's a job via Idealist:
The Teacher Program staff at American Councils is responsible for implementing the Teachers of Critical Languages Program, an international exchange program that recruits and places English as a Foreign Language (EFL) teachers from China, Egypt, and Morocco within American K-12 schools where they teach their native language and culture for one academic year. The program is funded by the U.S. Department of State and its implementation includes but is not limited to recruitment, selection, placement, participant training and support, and alumni relations.
The Program Assistant for Teachers of Critical Languages Program will have an opportunity to work with a diverse group of teachers from China, Egypt, and Morocco and learn about implementing an exchange program. The Program Assistant reports to the Senior Program Manager. He/she will work with teacher programs team members to help with tasks associated with participant's selection and notification, in-person and online workshops and alumni relations. Occasional travel maybe required.
The position is full-time, temporary- expected to last 6-8 months from start date. Some weeknights and weekend hours will be required. Read More
Posted by Sydney Sparrow, an ALT currently living in Toyota City. Click here to join the JETwit Jobs Google Group and receive job listings even sooner by email.
---
Position: Chief Development Officer
Posted by: Japan Society
Location: New York, NY, USA
Contract: Full-time
Here's a job via Idealist:
Japan Society seeks an innovative and hands-on Chief Development Officer to lead and expand Development efforts, including: securing major gifts, maintaining productive relationships with Board members, and overseeing all fundraising efforts directed toward individuals, foundations, members, corporations and other potential funding sources. The CDO will work closely with the President of Japan Society, the Vice President of Finance and Administration, and the Board of Directors, as well as Program Directors, to fulfill ambitious fundraising goals, which include a combined annual goal of $7 million.
The main areas of responsibilities include:
Posted by Sydney Sparrow, an ALT currently living in Toyota City. Click here to join the JETwit Jobs Google Group and receive job listings even sooner by email.
---
Position: Branch Office Administrator
Posted by: Edward Jones
Location: Redmond, WA, USA
Contract: Full-time
Here's a job via PNWJETAA:
Chiaki Hirate, AAMS®, a Financial Advisor at Edward Jones in Redmond is looking for a Branch Office Administrator. English is a must and familiarity with Japanese is a plus! Check out the job description and flyer. If you have any questions, please email Ms. Hirate at Chiaki.Hirate@edwardjones.com
Job Description
Are you an organized individual capable of self-managing your time?  Does it excite you to provide a high level of service in a team environment?  Would others describe you as someone with strong communication skills both verbal and written with an ability to build strong relationships?  If so, continue reading about how you can play an important role in helping clients and the success of your branch team.
Our Branch Office Administrators (BOA) play an important role in serving our clients and successfully operating our branch offices in partnership with Financial Advisors.  BOAs work independently to organize and manage a wide range of administrative and client support activities.  Successful BOAs possess strong written and verbal communication skills, build strong relationships with their clients and are motivated by the opportunity to make a difference in our clients' lives. Read More
Posted by Sydney Sparrow, an ALT currently living in Toyota City. Click here to join the JETwit Jobs Google Group and receive job listings even sooner by email.
---
Position: Executive Assistant
Posted by: Pokémon Company International
Location: Bellevue, WA
Contract: Full-time
Here's a job via JETAASC:
Love Pokémon & fluent in Japanese? Apply for this Executive Assistant position with the Pokémon Company ASAP! See attachment for details. If you're interested in discussing this opportunity, please contact Synda McCormick Reischl from Stellar Rocks recruiting company directly (do not apply online via Pokémon's website):
Posted by Sydney Sparrow, an ALT currently living in Toyota City. Click here to join the JETwit Jobs Google Group and receive job listings even sooner by email.
---
Position: News Producer
Posted by: Tokyo Broadcasting System
Location: Washington, DC, USA
Contract: Full-time
Thanks to Elliot Waldman who works at Tokyo Broadcasting System for the following job opening at his company:
Tokyo Broadcasting System has an immediate opening for a news producer in our Washington, DC bureau, covering a wide range of issues including US politics, foreign policy, economics, and general-interest stories. This full-time position involves working closely with correspondents from Japan to assist in all aspects of the reporting process. The ideal applicant is a strong communicator with a positive attitude and flexible mentality. This position involves some late-night and weekend work, as well as occasional travel on short notice. 2-3 years of relevant experience is preferred, but not required.
You should have:
A degree in journalism, communications, international relations, East Asian studies, political science, or other relevant fields.

Strong English communication skills and the ability to quickly digest a lot of information.

Ability to work under deadline pressure.

Working proficiency in 

Japanese

language.

Familiarity with topics related to US foreign policy and domestic politics, East Asian regional affairs, and general current events.