JET alumna Sarah Coomber (Yamaguchi, 1994-1996) wrote The Same Moon about her adventures after moving to Japan! Sarah will read a short passage from her book and then we will take questions from the audience. You do not need to have read the book to enjoy this event. We hope you'll join us. Two copies of Sarah's book will be given away via random draw to those attending live.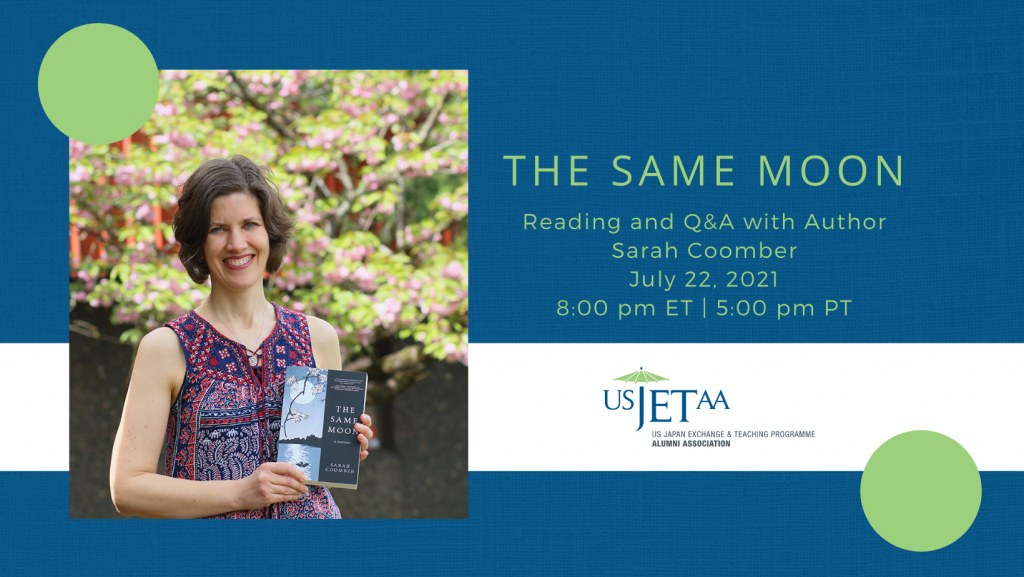 Date: July 22, 2021
Time: 8 PM ET / 5 PM PT
Join: REGISTER
About The Same Moon
Recently wed—and quickly divorced—twenty-four-year-old Sarah Coomber escapes the disappointments of her Minnesota life for a job teaching English in Japan. Her plan is to use the year to reflect, heal and figure out what to do with her wrecked life while enjoying the culture of the country where she had previously spent a life-changing summer that included a romance with a young baseball player.
About the Author
Ever since she turned seventeen, Sarah Coomber has held two homes in her heart: Minnesota, where she grew up, and Yamaguchi, where she spent a summer with the Maeda family, who welcomed her like a third daughter and introduced her to what became an on-again, off-again Japanese life.
That life has included teaching English in Yamaguchi on the Japan Exchange and Teaching Program (1994-96); teaching Japanese language and dance to children at an immersion camp in Minnesota; and studying the koto—Japanese zither—in Yamaguchi and Portland, Oregon, where she achieved her level four Seiha School certification.
Sarah has worked as a public relations professional, reporter, science writer and college English teacher, and her stories and essays on Japan have appeared in the Christian Science Monitor, the Japan Times, the Star Tribune, Cha: An Asian Literary Journal, Memoir Journal, the Font: A Literary Journal for Language Teachers and elsewhere.
She now works as a communications/writing consultant and coach, and teaches Holy Yoga, exploring the nexus of yoga and the Christian faith. She lives … and tries to remember to breathe deeply … with her family in Minnesota. More about here at https://sarahcoomber.com/.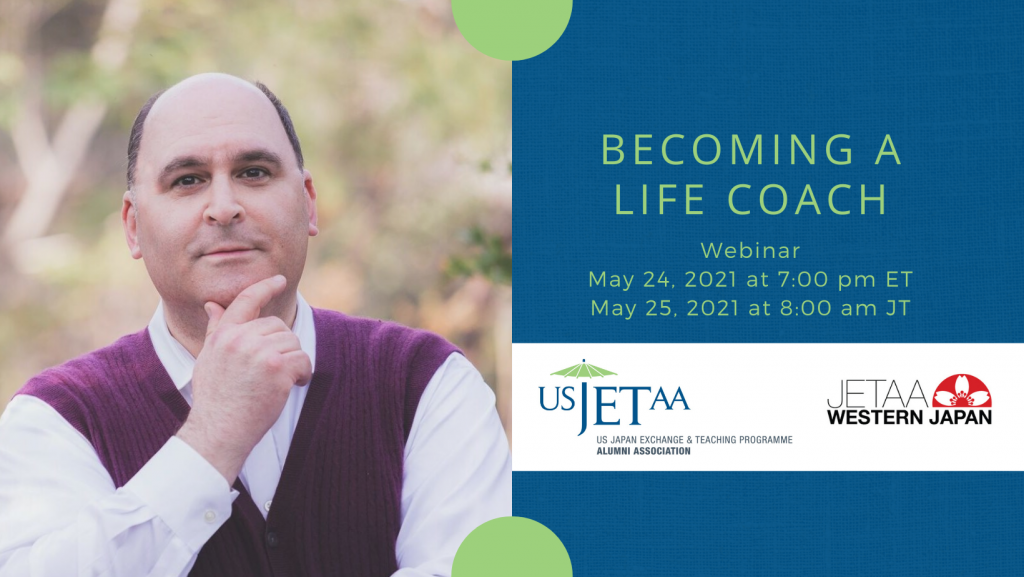 Join the U.S. JET Programme Alumni Association (USJETAA) and JETAA Western Japan for this upcoming event.
Becoming a Life Coach
May 24, 2021 at 4 pm PT / 7 pm ET
Japan Time: May 25th at 8 am
Register: https://us02web.zoom.us/meeting/register/tZ0rcu-spjMvG9E9FEycUK1GkZWy5-SLd6U
Facebook event: https://www.facebook.com/events/24691713708797
Life coach? That's a profession? Really?!? I've never heard of it! Perhaps you've heard of a life coach but aren't quite sure exactly what it entails. Or maybe this is truly your first time. Join USJETAA and JET alum Jeff Singal who will kick off this event with a brief background on his journey from being a JET in Mie (1995-1997) to how he learned about life coaching as a profession and why and how he decided to enter this profession. We'll cover how to become a life coach and what a life coach does, and much, much more. This event is brought to you by USJETAA and JETAA Western Japan.
The webinar is partially supported by CLAIR and the Japan Foundation CGP.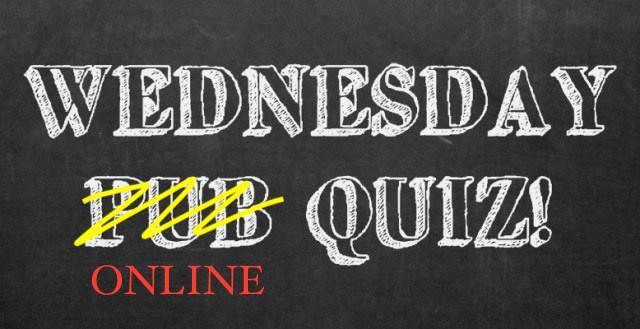 Posted by Tom Baker (Chiba, 1989-91)

Before the pandemic, Tokyo was famous for its nightlife — and a small but fun part of that was a thriving English-language pub quiz scene. Some of those quizzes are now taking place online via Zoom. One of them is a long-running charity fundraiser for TELL, a mental-health nonprofit that offers counseling, in person or by phone, to people dealing with depression, anxiety or other issues. TELL is best-known for its free, anonymous Lifeline (03-5774-0992). It also offers other services that you can read about at the TELL website.
The next two quizzes are set for April 7 and May 12. Both start at 8 p.m. Japan Time. Players generally participate in teams, but don't be afraid to show up solo — the host will be happy to add you to an existing team. You can find all the details on these quizzes, and other upcoming events, at https://telljp.com/outreach/events/.
Mark your calendar, and get ready for a fun evening out — on a screen.
Posted by Tom Baker (Chiba 1989-91)
The 15th annual Japan Writers Conference will be held in October this year. The organizers are now looking for writers, editors and publishers to give presentations on the art, craft and business of writing. If you are a writer, now is a good time to think about taking part.

The conference is a free event, held in English. It covers publishable writing of all types: poetry, fiction, journalism, memoir, translation and more.

Past presenters have included best-selling thriller author Barry Eisler, Edgar-winning mystery novelist Naomi Hirahara and "Slumdog Millionaire" creator Vikas Swarup. There have also been presentations by many JET writers over the years, including poets Warren Decker and Michael Frazier, novelists Percival Constantine and Benjamin Martin, journalists Elaine Lies and Tom Baker, textbook author Todd Jay Leonard, and writing renaissance woman Suzanne Kamata. This year's event will be cohosted by JET alum and novelist Charles Kowalski, together with nonfiction writer Joan Bailey.

Here are the official details:

::::::::::::::::::::::::::::::::::::::::::::::::::::::::::::::::

The 2021 Japan Writers Conference will be at Tokai University, Shonan Campus in Hiratsuka, Kanagawa, on Saturday, October 16th and Sunday, October 17th, 2020. Hiratsuka is on Sagami Bay, not far from Odawara. As in the past, the conference will be free and open to all who wish to attend. Please mark your calendars and plan to join in. As the COVID-19 pandemic is still with us, there is a possibility we'll have to move online again this year, or it may be a hybrid, with some sessions held live, some online.

All published writers, translators, editors, agents and publishers are welcome to submit presentation proposals for the 2021 Japan Writers Conference. The deadline for your proposal is Tuesday, June 1, 2021.

Please send your proposals via this page on the JWC website: http://japanwritersconference.org/submit-proposal/

We especially encourage proposals from new submitters. One of our strengths has been variety, and the best way to foster variety is to have new presenters each year.

When planning your JWC proposal, keep your audience in mind. Your listeners will be writers and others (translators, editors, publishers, and agents) concerned with creating publishable writing. While teaching, literary studies and private self-expression are all worthy activities, they are not the focus of this conference.

Standard conference sessions are fifty minutes long, but if you have something longer in mind, please let us know and we will accommodate if possible.

To submit a proposal for a conference presentation, send the following information, using the form here to submit: http://japanwritersconference.org/submit-proposal/

1. Your name (or names)
2. Title of presentation (20 words or less)
3. Type of presentation (short lecture with Q&A, craft workshop, panel discussion, reading with Q&A, etc.)
4. Genre (Fiction, Poetry, Nonfiction, Translation, Instructional, Career)
5. Short summary (50 words or less)
6. Abstract (150 words or less)
7. Personal and professional biography (50 words or less. Mention your publications, as this will be part of the Conference program)
8. Your publications (Need not be complete, but give names of journals and genre for short pieces; title, publisher and date for books; venues and dates for plays, and so on)
9. Are you available on both days?
10. Any special needs?
11. Contact information (email address, telephone number) These remain confidential. Please include everyone who will be part of the presentation.

If you are unable to use the website form, or
have questions concerning your idea or the conference in general, you may use this email address: japanwritersconference@gmail.com
Professional Writer/Interpreter/Translator Stacy Smith (Kumamoto-ken CIR, 2000-03) presents WIT Life, a periodic series about aspects of Japanese culture such as film, food and language. Stacy starts her day by watching Fujisankei's newscast in Japanese, and here she offers some interesting tidbits and trends along with her own observations.
As we get deeper into fall, I hope everyone has been enjoying the cooler temps, かぼちゃ (kabocha or pumpkin), and 紅葉 (kouyou or autumn foliage). I went hiking upstate two weeks ago and the leaves were just starting to turn pretty colors, so I'm hoping when I go again this weekend they will be in their full glory.
In sad news, last Sunday's Times featured a story on the horrific attack on Japanese pianist Tadataka Unno. I first heard about what happened on the Japanese news, and since then many publications have covered it. A groundswell of support followed this tragedy, and a GoFundMe campaign to help Unno and his family has since raised more than $255,000.
Finally, there are couple of great webinars coming up for all you Japanophiles. Tonight at 8 pm Columbia's Center on Japanese Business and Economy will discuss the transition from Abenomics to Suganomics. Tomorrow at 6 pm Japan Foundation will sponsor a Q&A with Stephen Snyder, known for translating The Memory Police by Yoko Ogawa (excellent read!), nominated for this year's International Booker Prize. For all the Noh fans out there, Noh Society will be continuing its monthly webinar series this Saturday at 8 pm with a session focusing on the play Izutsu, based on the classic literary work The Tales of Ise. In addition, the 21st Century Japan Politics and Society Initiative at Indiana University has a bunch of interesting events coming up. You can directly sign up for next month's webinar, but for next year's events you have to sign up to the mailing list to receive further information. Happy viewing!
Read More
Posted by Tom Baker
Warren Decker and Michael Frazier are two JET poets living in Japan who will each be hosting a workshop at the Oct. 10-11 Japan Writers Conference. This year's conference is being held online, so you don't need to be in Japan to attend. For details, see http://japanwritersconference.org. Official descriptions of the workshops appear below.
Warren Decker
Pterodactylic Pentagrameter: Working with Rhyme and Meter
Craft Workshop
Poetry
In this workshop we will focus on poetry that incorporates rhyme and meter. As a participant, please bring 2-10 lines of rhymed and metered poetry for us to discuss. Please also be ready to share your unique techniques for finding the right meter and rhymes for your poetic lines.
Paradoxically, the confines of rhyme and meter can often serve to open unexpected creative doors. One who sets out to write about "fractals" may find "pterodactyls" swooping into their poem. Maintaining a regular pattern of stressed and unstressed beats might lead a poet—after many hours at the keyboard—feeling as though a supernatural rhythmic force is guiding them to choose the perfect words and in the perfect order.
In this workshop, while looking at specific examples of rhyme and meter as exhibited in the participants' samples, we will collectively attempt to recall the wonderful technical terminology describing syllabic meter (for example: "iambic pentameter," and "dactylic tetrameter"), but also consider looser and more intuitive accentual poetic rhythms.
Furthermore, we will discuss the incredible variation contained within the seemingly simple concept of "rhyme," focusing on concrete examples to understand how and why certain rhymes work.
Warren Decker has published poetry, fiction and non-fiction in The Best American Poetry 2018, NOON, The Font, Frogpond, Modern Haiku, Acorn, The New Ohio Review, THINK, Sou'wester, Fifth Wednesday, and several other online and print journals. He also performs his poetry online and in front of live audiences in Osaka.
Michael Frazier
I AM MY FAMILY (a persona workshop)
Craft Workshop
Poetry
This is a poetry workshop (open to writers of all genres) who are interested in writing about and through their family. We will use the persona form—writing in the voice of family members—to interrogate ourselves. Some poets we'll look at include Natalie Diaz, Paul Tran, and Julian Randall.
No one can move forward without looking back at where they've come from. This is the principle that guides this workshop. Persona poetry is poetry in the voice of someone, or thing, other than ourselves: shiba inu, wild iris, Sailor Moon, Kanye West, or even your bed. We will use the persona to focus on and interrogate our own families and make meaning out of the relationships that have formed us. In order to embody the voices of our family (biological or chosen) we must practice radical empathy. While a persona is in the voice of someone else, my hope is that in the poems we will write, we will turn inwards and learn something new about ourselves. We will look at writers who wield the persona and voices of their family with urgency like Paul Tran, Yalie Kamara, Hiwot Adilow, K-Ming Chang, Natalie Diaz, and Eduardo C. Corral.
Michael Frazier is a poet in Kanazawa. He graduated from NYU, where he was the 2017 poet commencement speaker & co-champion of CUPSI. He's performed at venues including Nuyorican Poets Café & Lincoln Center. On staff at The Adroit Journal, his poems appear in COUNTERCLOCK, Construction, Visible Poetry Project, among others.
Posted by Tom Baker

Many JETs are writers before coming to Japan, while others find that Japan give them something to write about. And many JET writers get involved in the Japan Writers Conference, which this year is being held online, Oct. 10-11.

One of this year's featured writers is novelist and JET alum Charles Kowalski, who will describe how to give your story a compelling villain.

Here's the official description of Charles' presentation: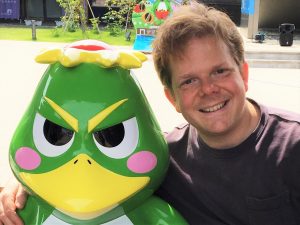 Masterminds, Minions, and Monsters: Creating 3D Villains
(Craft Workshop)

Create compelling villains that readers will love to hate! This workshop will introduce three main villain motivations (the "3 D's") and show how these form seven archetypes, plus six effective recruiting tools for henchmen (FLAMES), the top five justifications for villainy, and how to defeat the villain for a satisfying ending.

"A story is only as good as the villain." – Clive Barker

Bad guys make good stories, and this workshop will focus on creating compelling villains that readers will love to hate.

Here are the questions to be asked and answered in this workshop.

What makes a compelling villain? How can the BOOM technique help create a villain with a believable backstory?

How do the three main motivations of villains intersect to form seven villain archetypes? What are the common personality characteristics of each?

What are the six tools used by master villains to recruit followers? What are the top five justifications for villainy?

What are the five main patterns of villain defeat and their common variations?

Come find out!

Charles Kowalski is the award-winning author of contemporary thrillers MIND VIRUS and THE DEVIL'S SON, and the Japan-themed historical fantasy SIMON GREY AND THE MARCH OF A HUNDRED GHOSTS. When not writing, he teaches at Tokai University.
Posted by Tom Baker
Many JETs are writers before coming to Japan, while others find that Japan give them something to write about. If you're thinking about furthering your writing career by getting an MFA, then you might want to listen to what JET alums Percival Constantine and Warren Decker have to say about.

The two will be part of a panel discussion at the 14th annual Japan Writers Conference, titled "The MFA: The Good, The Bad, and The Expensive."

Due to the pandemic, this year's Japan Writers Conference is being held online, meaning there is no travel involved. Here's the official description of Percy and Warren's event:

The MFA: The Good, The Bad, and The Expensive

John Gribble, Kristina Butke, Percival Constantine, Alec McAulay, Warren Decker
Panel Discussion

Should I get an MFA or other graduate-level degree in writing?
Aren't they expensive? Are they difficult? Are they any good? What sort of program should I look at? What kind of benefits should I expect to receive? These questions and others will be addressed in this session.
Masters of Fine Arts in Creative Writing and other advanced degrees with a writing emphasis have become a viable option for those seeking to improve their writing skills and advance themselves professionally. Some programs are full- or part-time on a university campus, some are on-line, some are hybrids, blending elements of both. The panelists, all with advanced writing degrees, will each talk about the programs they attended, their own experiences and answer your questions.

John Gribble is a noted gasbag. He rarely knows what he is talking about, but he states his ignorant opinions with great vigor. He has spent far too much of his life in school and other institutions. He is also a poet, co-organizer of the Japan Writers Conference and the Tokyo Writers Workshop, and earned his MFA at Warren Wilson College in Asheville, North Carolina.

Kristina Elyse Butke is an American writer, editor, and teacher who indulges in cosplay, art, and all things otaku. She has a BA in English Literature from Capital University and an MFA in Writing Popular Fiction from Seton Hill University. A former college English teacher, playwright, and composer, she now writes fantasy and horror. Her work has been published by ExFic, First Class Literary, and Synaeresis Magazine, among others. She's also worked the convention circuit, presenting panels on writing fanfiction and genre fiction at events such as Ohayocon, Matsuricon, and Colossalcon. In terms of editing, one of her latest projects included subtitle edits for Pied Piper Inc.'s release of the anime Skip Beat!, and she currently edits and contributes to Speculative Chic.

Kristina lives in Kumamoto prefecture in Japan, where she works in multiple high schools as an assistant language teacher. When she isn't working on all the things, she travels to shrines, hunts for Kumamon, and spends more money than she should at the JUMP shop.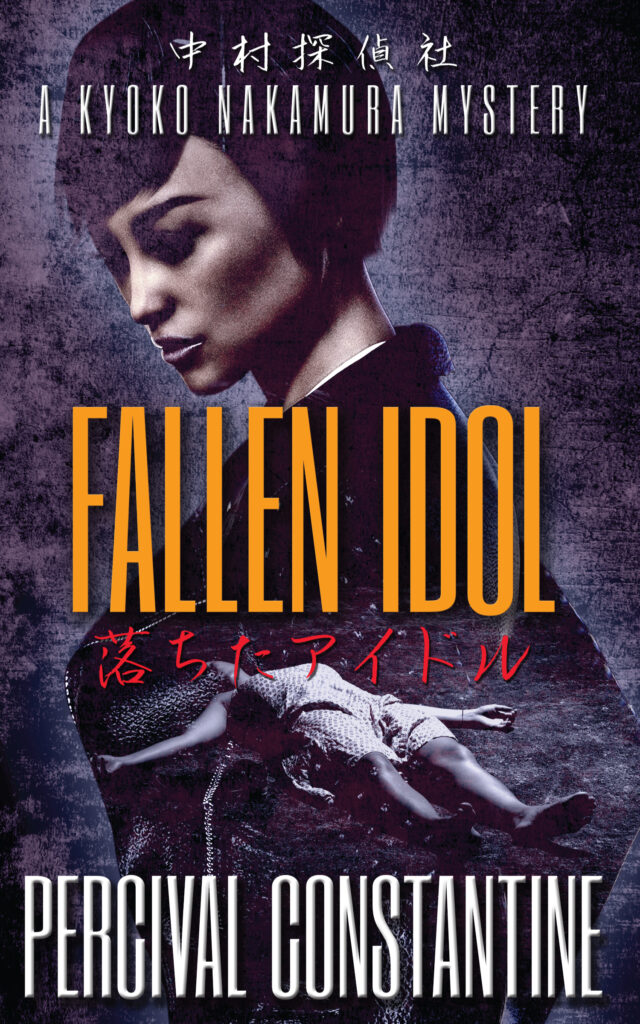 Raised on a consistent diet of superhero comics, action movies, and video games, Percival Constantine wanted to grow up and write the type of fiction he consumed. Now as a prolific author of pulp fiction, he's written around thirty books across various genres. He's also the host two podcasts—Japan On Film and Superhero Cinephiles. When he's not working on projects, he somehow finds time to teach classes in literature, film, and English. Born and raised in Chicago, he's now based in Kagoshima, Japan.

Alec McAulay is an award-winning writer and director. Originally from Glasgow, Scotland, he has lived in Japan since 1989. He teaches Creative Writing at Yokohama National University. Alec has an MA Screenwriting (Distinction), and a PhD (Screenwriting) from the Faculty of Media & Communication, Bournemouth University. His children's novel Robot Santa (unpublished) is about a 'hafu' Scottish-Japanese girl who builds a robot Santa to save Christmas.

Warren Decker is a teacher and writer based in Izumi, Japan. He has published poetry, fiction, and nonfiction in The Best American Poetry 2018, The New Ohio Review, Modern Haiku, Sou'wester, and other journals. His first book of poetry The Long Side of the Midnight Sun is available from Isobar Press. He has an MFA in creative writing from the online program at the University of Texas, El Paso.

Written by professional Writer/Interpreter/Translator Stacy Smith (Kumamoto-ken CIR, 2000-03), WIT Life is a periodic series about aspects of Japanese culture such as film, food and language. Stacy starts her day by watching Fujisankei's newscast in Japanese, and here she shares some interesting tidbits and trends along with her own observations.
Hope everyone is doing well in quarantine and looking forward to early summer. It seems like we're getting closer to having some restrictions lifted here in NY. Over in Japan, the number of cases remains low and PM Abe just lifted the state of emergency for Tokyo and the other four prefectures that were still under it. However, it seems like his time in office might be cut short due to several significant blunders.
It's been a heartbreaking week in non-Corona related domestic news, and I've been using podcasts and webinars to keep my mind off the awfulness. I'm especially fond of Asia Society programming, and tonight at 6:30 you can check out "Tattered Fans and Talismans." It's streaming on the organization's Facebook page, but if you aren't able to catch it live they offer access to events post-recording.
And in other exciting news, mark your calendars for the inaugural Casa Con! This all digital convention focusing on gaming, content creation and cosplay will be held on Discord from June 12-14. If the fact that I'll be participating in a panel discussion on Saturday the 13th at 5 p.m. is not enough motivation for you to attend, registration is free! You can connect with the event over social media at #casacon and @thecasacon.
Posted by Tom Baker
The annual Japan Writers Conference is seeking writers, editors and translators to give presentations at this year's event, to be held in October in Kanagawa Prefecture. Through the years, many JETs and JET alumni writers, including freelancers, have spoken at or attended this event. This year, former JET Charles Kowalski will be cohosting the conference at his university.
The organizers are aware that the coronavirus has added uncertainty to everyone's plans this year, but they intend to go ahead with the event if it is safe to do so in the autumn. However, they are also contemplating online options, so it might become possible to attend remotely. Here's the official announcement: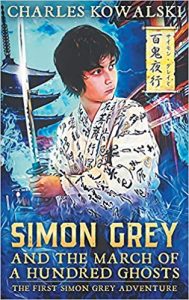 Each year, English-language writers from many fields gather at the Japan Writers Conference to share ideas and experiences on the art, craft and business of writing. In 2020, the 14th annual Japan Writer's conference will be held on Oct. 10-11 at the Shonan campus of Tokai University in Hiratsuka, Kanagawa Prefecture. Award-winning novelist and JET alum Charles Kowalski, a popular speaker at past conferences, will cohost this year's event with food and travel writer Joan Bailey.
"The Japan Writers Conference is something special," said poet John Gribble, a co-organizer of the event. "It is open to all, beginner to pro. It is also an annual collection of rigorous, authoritative lectures, workshops, and discussion groups. Anyone with a concern for the written and published word would benefit from coming."
The conference is now accepting proposals for presentations. All published writers, as well as translators, editors, agents and publishers, are welcome to submit proposals.
Last year's JWC presenters included astrophysicst Elizabeth Tasker on writing about science, novelist Evan Fallenberg on writing about sex, and screenwriter Steven Wolfson on structuring plots. Authors Holly Thompson and Mariko Nagai held a workshop on revising young adult fiction.
"This has been a year of isolation for everyone," Kowalski noted. "But for English-language writers in Japan, that's familiar territory, and it's often the most fertile soil for the seeds of inspiration to take root. I hope that, come autumn, we'll all be able to poke our heads above ground again and share a rich harvest of ideas."
Writers and others interested in giving presentations, or simply attending the 2020 conference, can find details, including proposal guidelines and a submission form, at http://www.japanwritersconference.org. The deadline for proposals is June 1.
Run entirely by volunteers, the Japan Writers Conference is a free event open to all. Inquiries should be sent to japanwritersconference@gmail.com
By JQ magazine editor Justin Tedaldi (CIR Kobe–shi, 2001-02). Justin has written about Japanese arts and entertainment for JETAA since 2005. For more of his articles, click here.
Stay warm this winter with some hot local events, from live showcases that will transport you to another time and place, some new anime screenings, and a rock showcase you won't want to miss.
This month's highlights include: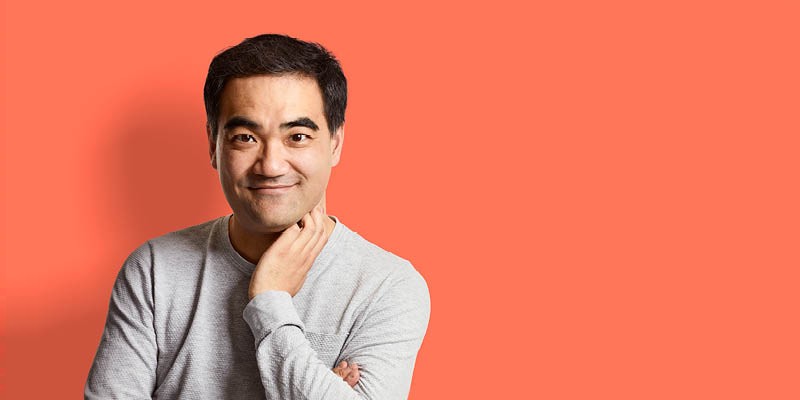 Thursday, March 5, 8:00 p.m.
Dai Fujikura: Composer Portrait
Miller Theatre, 2960 Broadway
$7-$30
The works of Osaka-born Dai Fujikura are performed with regularity by conductors such as Gustavo Dudamel and by some of the most acclaimed orchestras and ensembles in the world. As one of the leading voices of his generation, his signature "high octane instrumental writing" (The Guardian) will be exhibited in this Portrait featuring International Contemporary Ensemble, longtime champions of Fujikura. A selection of recent chamber works provide a glimpse into his unique soundworld, including Minina—inspired by the birth of his daughter—and abandoned time, written for electric guitar and ensemble.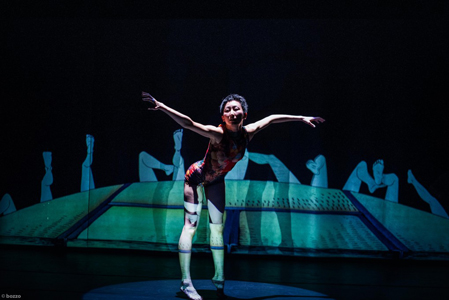 March 6-7, 7:30 p.m.
Japan Society, 333 Easy 47th Street
$32, $25 members
Isolation, contagion and instability: Fruits borne out of rust, conceived of and directed by internationally known Japanese visual artist Tabaimo, uses drawings, video installations and live music to probe these unsettling themes that lurk beneath daily existence. Her intricate animations transform the stage into a wood floor apartment, a large birdcage that traps the dancer with a dove, and a line of tatami mats that swallows the dancer whole. Tabaimo's collaborator, award-winning choreographer Maki Morishita, mischievously blends the subtle movements of the dancer's fingers and toes with the dynamic drive of her limbs and torso, enhancing Tabaimo's peculiar and introspective world. The March 6 performance is followed by a MetLife Meet-the-Artists Reception. The March 7 performance is followed by an Artist Q&A.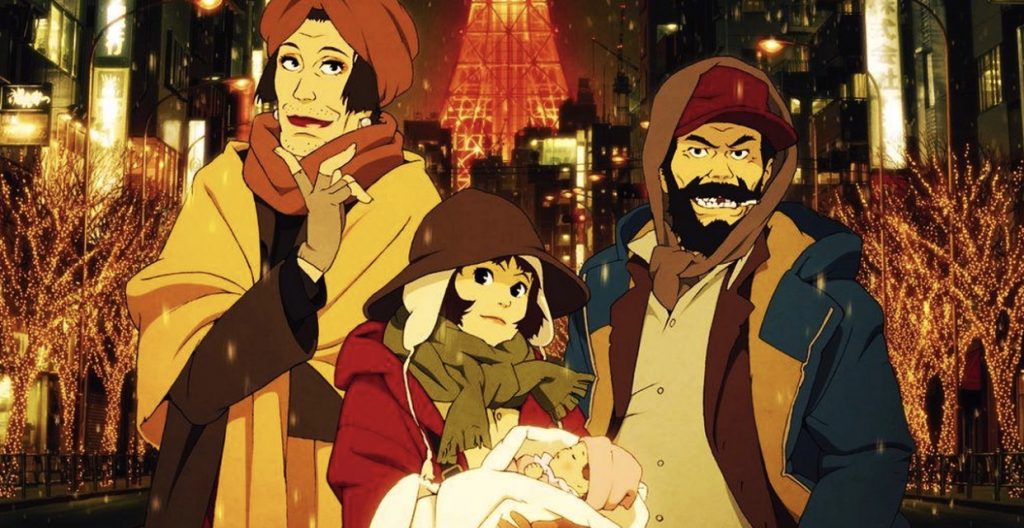 March 9 & 11, 7:00 p.m.
Regal E-Walk 42nd Street 13, 247 West 43nd Street
AMC Empire 25, 234 West 42nd Street
AMC Kips Bay 15, 570 Second Avenue
$14-$20
Tokyo Godfathers, the acclaimed holiday classic from master director Satoshi Kon (Paprika, Perfect Blue), returns to theaters in a brand-new restoration. In modern-day Tokyo, three homeless people's lives are changed forever when they discover a baby girl at a garbage dump on Christmas Eve. As the New Year fast approaches, these three forgotten members of society band together to solve the mystery of the abandoned child and the fate of her parents. Along the way, encounters with seemingly unrelated events and people force them to confront their own haunted pasts, as they learn to face their future, together. Co-written by Keiko Nobumoto (Cowboy Bebop) and featuring a whimsical score by Keiichi Suzuki, Tokyo Godfathers is a masterpiece by turns heartfelt, hilarious and highly original, a tale of hope and redemption in the face of seemingly insurmountable odds. The March 9 screening is presented in Japanese with English subtitles, with the March 11 screening presented in English.
Read More
Written by professional Writer/Interpreter/Translator Stacy Smith (Kumamoto-ken CIR, 2000-03), WIT Life is a periodic series about aspects of Japanese culture such as film, food and language. Stacy starts her day by watching Fujisankei's newscast in Japanese, and here she shares some interesting tidbits and trends along with her own observations.
Recently I had the chance to check out the newest exhibition at the Sato Sakura Gallery, Curious Beasts. As the name indicates, this collection of paintings is of animal portraits ranging from cats and tigers to dogs and birds. The works are from the artists Fumika Koda and Yuji Musashihara, and being a cat lover I was partial to Koda's paintings as they mostly feature felines. In particular, I liked her painting Beautiful Spring Day (春うらら, haru urara), which shows a cat caught under falling cherry blossoms (花吹雪, hanafubuki).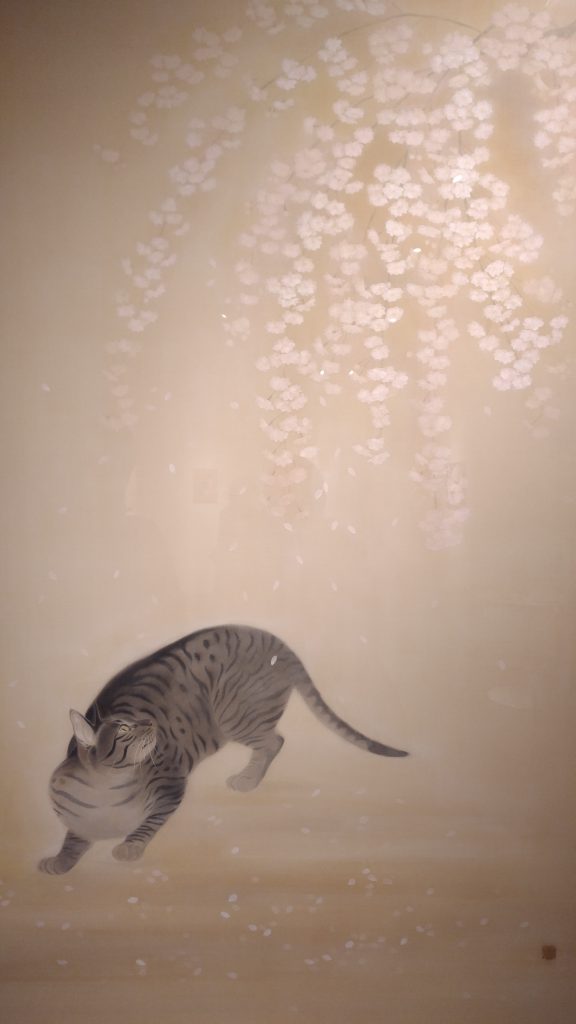 Read More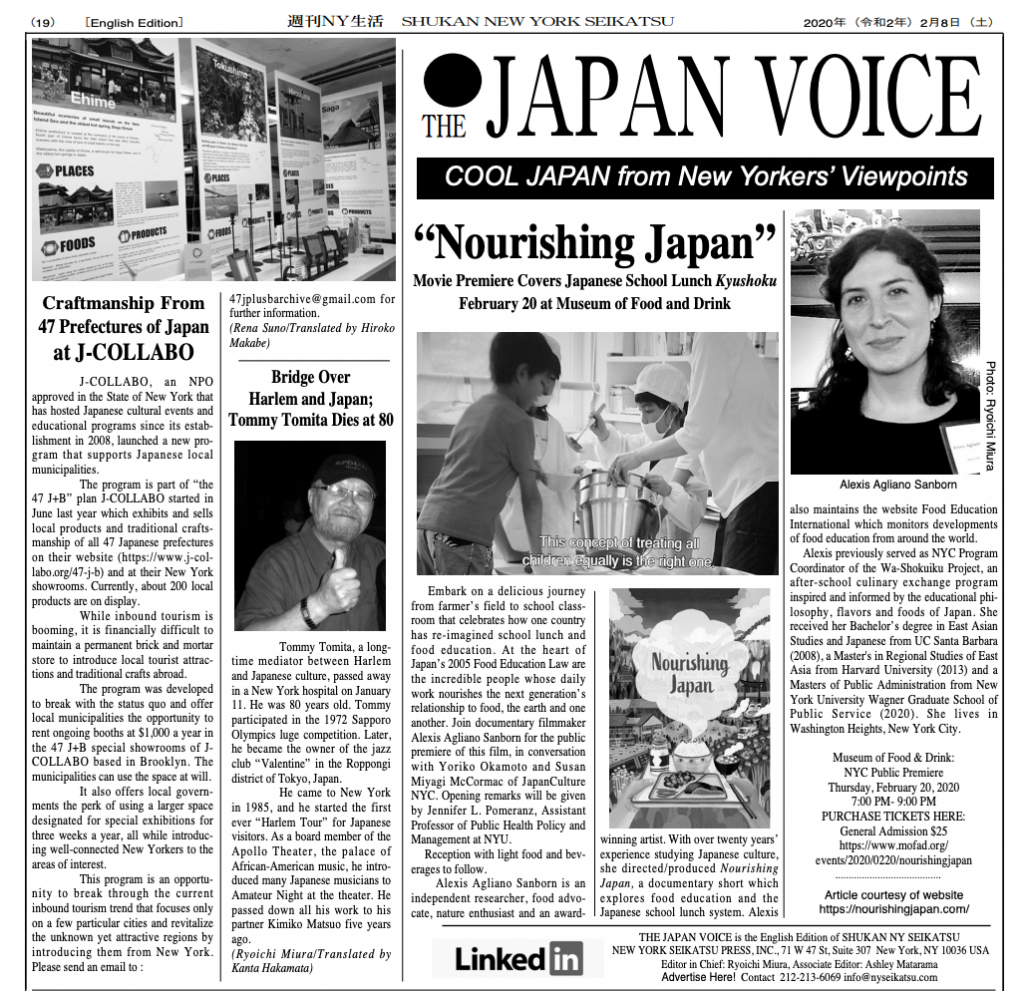 From the February 8 edition of Shukan NY Seikatsu. Join Alexis Thursday, February 20, 7:00 p.m.- 9:00 p.m. at the Museum of Food & Drink (MOFAD), 62 Bayard Street in Brooklyn. General admission $25; purchase tickets here. For more information, visit https://nourishingjapan.com.
Embark on a delicious journey from farmer's field to school classroom that celebrates how one country has re-imagined school lunch and food education. At the heart of Japan's 2005 Food Education Law are the incredible people whose daily work nourishes the next generation's relationship to food, the earth and one another. Join documentary filmmaker Alexis Agliano Sanborn for the public premiere of Nourishing Japan in conversation with Yoriko Okamoto and Susan Miyagi McCormac of JapanCulture•NYC.
Opening remarks will be given by Jennifer L. Pomeranz, Assistant Professor of Public Health Policy and Management at NYU. Reception with light food and beverages to follow. Alexis Agliano Sanborn is an independent researcher, food advocate, nature enthusiast and an award winning artist. With over twenty years' experience studying Japanese culture, she directed/produced Nourishing Japan, a documentary short which explores food education and the Japanese school lunch system. Alexis also maintains the website Food Education International which monitors developments of food education from around the world.
Alexis previously served as NYC Program Coordinator of the Wa-Shokuiku Project, an after-school culinary exchange program inspired and informed by the educational philosophy, flavors and foods of Japan. She received her Bachelor's degree in East Asian Studies and Japanese from UC Santa Barbara (2008), a Master's in Regional Studies of East Asia from Harvard University (2013) and a Masters of Public Administration from New York University Wagner Graduate School of Public Service (2020). She lives in Washington Heights, New York City.
By JQ magazine editor Justin Tedaldi (CIR Kobe-shi, 2001-02) for Shukan NY Seikatsu. Justin has written about Japanese arts and entertainment for JETAA since 2005. For more of his articles, click here.
Beginning Feb. 29, La MaMa Experimental Theatre Clubwill stage the U.S. premiere of "One Green Bottle" from writer/director/star Hideki Noda, artistic director of the Tokyo Metropolitan Theatre.
"'One Green Bottle'" is a slapstick comedy about a family of three that collapses in the span of one evening," explains Noda. An absurdist gender-bending farce that illustrates our current selfie society's relationship with consumerism and modern technology through one night in the life of a disordered family on the road to ruin, the play stars Noda (playing Boo, the mother of the family) with Lilo Baur (Bo, the father) and Glyn Pritchard (daughter Pickle). The English translation is adapted by Will Sharpe and features music based on Japanese noh and kabuki traditions, performed by Genichiro Tanaka.
"In today's internet society, the information we receive is actually becoming more and more catered towards what we like, as opposed to the general perception that the world is saturated with too much information," says Noda. "The more we receive this customized information and get into what we like, the more we are becoming like a 'society of narcissists.' That is why I would like to have as many diverse audiences as possible come to see my play."
The show originally premiered in London in 2018, where it was called "enjoyably zany" by "The Telegraph." Noda's critically acclaimed production of "The Bee" was presented in 2012 by Japan Society as part of the Under the Radar Festival.
"One Green Bottle" runs from Feb. 29 through March 8 at the Ellen Stewart Theatre, La MaMa Experimental Theatre Club, 66 East Fourth Street. For tickets, visit www.lamama.org or call (212) 352-3101.
By JQ magazine editor Justin Tedaldi (CIR Kobe–shi, 2001-02). Justin has written about Japanese arts and entertainment for JETAA since 2005. For more of his articles, click here.
Start the new year right by heading down to your local concert venue, cinema, or arts center for some fantastic new year's fare. Whether you enjoy movies, travel, or orchestral performances classic video games, treat yourself and catch a break from the cold.
This month's highlights include: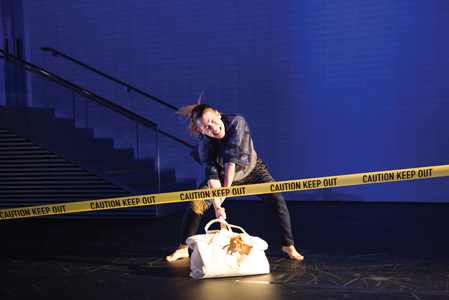 Jan. 10-12, 14
The Unknown Dancer in the Neighborhood
Japan Society, 333 East 47th Street
$35, $30 members
Back by popular demand after his North American debut of Girl X in 2017 at Japan Society, Suguru Yamamoto, one of Japan's hottest young playwright-directors and founder of theater company HANCHU-YUEI, returns with his latest one-man dance theater piece. The Unknown Dancer in the Neighborhood features Yamamoto's signature directing style, in which characters' thoughts are conveyed through projected words, alluding to the millennial generation's preferred mode of communication—texting. Through movement, photography and colorful lighting, Yamamoto reveals the indifference and tenderness of a metropolis where the lives of complete strangers continuously interact and coalesce.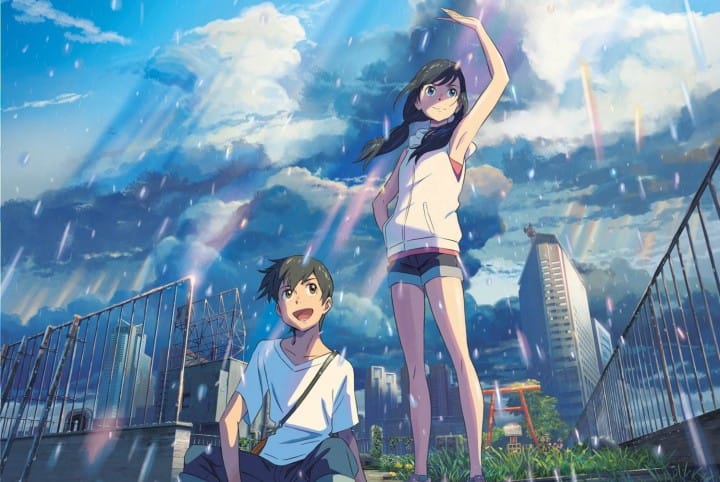 Opens Wednesday, Jan. 15
Various locations and prices
Catch the highly-anticipated new film from director Makoto Shinkai and producer Genki Kawamura, the creative team behind the critically-acclaimed, global smash hit Your Name! The summer of his high school freshman year, Hodaka runs away from his remote island home to Tokyo, and quickly finds himself pushed to his financial and personal limits. The weather is unusually gloomy and rainy every day, as if to suggest his future. He lives his days in isolation, but finally finds work as a writer for a mysterious occult magazine. Then one day, Hodaka meets Hina on a busy street corner. This bright and strong-willed girl possesses a strange and wonderful ability: the power to stop the rain and clear the sky. But what happens when controlling the weather leads to unforeseen problems for the pair and Japan itself?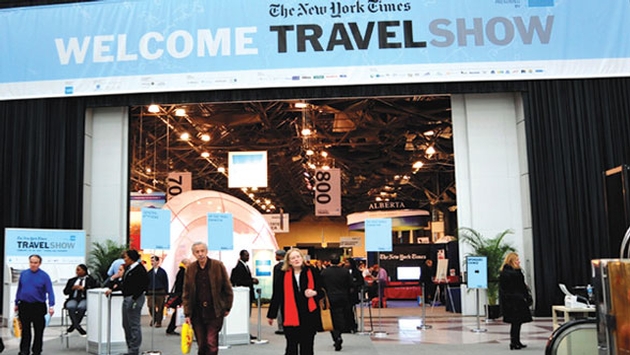 Jan. 24-26
The New York Times Travel Show
Jacob K. Javits Center, 655 West 34th Street
$20-$25
Calling all travel professionals: Set your wanderlust free! Now celebrating its 17th year, this annual event features over 35,000 travel professionals, with over 740 exhibitor booths representing more than 170 destinations. Get the latest information you need for planning your next global destination with dozens of destination-specific seminars, and focused niche topics from cruises to family travel, exclusive trade-only exhibition hours, and an industry reception.
Want to stay in the loop on future events? Follow Justin on Facebook and Twitter.