Jul
23

Article/Journalism, Books, JQ Magazine, Photography, Reviews

Comments Off

on JQ Magazine: Book Review — New from Tuttle (Summer 2018)
By Rashaad Jorden (Yamagata-ken, 2008-10) for JQ magazine. A former head of the JETAA Philadelphia Sub–Chapter, Rashaad is a graduate of Leeds Beckett University with a master's degree in responsible tourism management. For more on his life abroad and enthusiasm for taiko drumming, visit his blog at www.gettingpounded.wordpress.com.
Tuttle Publishing has recently released two books: one showcases the capital of Japan at its hippest and most colorful, while the other is dedicated to the traditional splendor of its castles.
"Capital of cool" sounds like an appropriate phrase to describe the host of the next Olympics. Rob Goss's largely pictorial tribute to Tokyo certainly succeeds in making potential visitors to the capital salivate.
Subtitled Tokyo's Most Famous Sights from Asakusa to Harajuku, Goss's work doesn't intend to be the typical travel guide containing useful recommendations about transportation and accommodation. Most importantly for readers, Goss provides extensive information (much of it historical) about Tokyo's most popular tourists areas. Of course, the fun of a Tokyo trip isn't just limited to Shibuya, Ginza, Harajuku, and the rest Goss includes segments devoted to common day trip excursion sites like Kamakura, Nikko and Yokohama.
While the photographs are obviously the first thing that jumps out at readers—indeed, Ross scores at portraying Tokyo as a youthful, vibrant city—the images are definitely not the only useful tool for prospective visitors. Several maps appear in the book, displaying places of interest that even seasoned travelers may not be aware of.
Castles are lot more than opulent fortresses to gaze at—these palaces represent an integral facet of Japanese feudal and military history.
That's the biggest takeaway readers will get from Jennifer Mitchelhill's Samurai Castles. Her work (complemented by photographs from David Green) provides a comprehensive introduction to two dozen of Japan's most prominent castles. History buffs are treated to more aforementioned locales as the author then lists Japan's 100 most important castles.
However, before seeking out what venerable fortresses might be in an off-the-beaten prefecture, the author expounds on their rich history (whose use was first recorded in an eighth-century work entitled Nihon Shoki). Architecture aficionados will appreciate the chapter dedicated to such structures, and if you're motivated to visit one of Japan's more prestigious castles, you'll have some idea what you're looking at, since Mitchelhill supplies meticulous information about each castle, as well as practical tips for prospective visitors.
For more information, visit www.tuttlepublishing.com.
For more JQ magazine book reviews, click here.
Written by freelance Writer/Interpreter/Translator Stacy Smith (Kumamoto-ken CIR, 2000-03), WIT Life is a periodic series about aspects of Japanese culture such as language, film, business, food and politics. Stacy starts her day by watching Fujisankei's newscast in Japanese, and here she shares some interesting tidbits and trends along with her own observations.
After interpreting in Manhattan Criminal Court earlier this week, I stopped for lunch in Chinatown and found myself with some time on my hands afterwards.  I decided to visit the International Center of Photography and was nicely surprised to find the exhibition Then They Came for Me: Incarceration of Japanese Americans during WWII (through May 6), a comprehensive portrayal of this reprehensible period in American history.  It includes works from prominent photographers such as Dorothea Lange and Ansel Adams, letters and other personal mementos, and moving video testimonials from those who were incarcerated or have family members who had been.
From 1942-1946, thousands of Japanese Americans were forcibly relocated to incarceration camps in desert and swamp areas of the Western U.S.  The original term for this had been "internment," but I learned from the exhibition that Japanese American organizations and scholars have developed new terminology in an effort to more accurately reflect the wrongness of what took place. Read More
A request for help with this project from JET alum Ryan McDonald (Fukushima-ken):
This is the 4th year we are trying to produce the "This Is Fukushima" calendar that we send to world leaders, media, and royalty. We've received thank you notes from President Jimmy Carter, Prime Minister Stephen Harper, and even Her Majesty Queen Elizabeth.
We take donations and use the money to produce the calendar and then pay for most of the shipping, although for the past 3 calendars the people creating out went out of pocket over $1,000 each.
Here is a link to the current calendar in PDF form to see the style. Feel free to download it and print it out if you'd like. The actual calendars are professionally printed and look great.
This link is a write up (in Japanese) about myself and the other people producing it.
If you have any large photos of Fukushima please email us by October 31st this year. We prefer interesting places unique to Fukushima and not generic nature shots. We want people to say, "wow, I'd like to go see that."
Photo criteria:
– must have been shot in Fukushima-ken. It doesn't matter when (so yes, pre-2011 pics are fine).
– minimum 300dpi resolution (4000×3000 px) (or very close to it, but 72 dpi usually won't work)
– horizontal format is preferred
Photos can be submitted via email to: ThisIsFukushima@gmail.com
Thanks in advance for your support!
—————————–
今日本語で :
愛する福島県の住民と以前住んでいた方へのメッセージ:
2016年の「This is Fukushima」カレンダーのために只今写真募集中!
写真の提出期限は10月31日までです。
募集する写真の基準:
〓 福島県内で撮られた写真。今年撮られた写真に限らず、もちろん2011年前に 撮られた写真でも構いません
〓 解像度の必要最小限は300dpi (4000x3000px)
〓 横向きの写真が望ましい
写真をメールで提出してください: ThisIsFukushima@gmail.com
よろしくお願いします!

Posted by Eden Law, 2010-2011 ALT Fukushima-ken, President of JETAANSW.
As part of the drive to promote tourism to Japan (not to mention combining a long-held passion and dream), ex-JET Julius Pang introduced a Tohoku photography tour to showcase the beauty of Japan in autumn, in an area that sadly has become known for other things in recent years. Americans are especially well-suited to taking advantage of this tour package, considering how strong the US dollar is against the Australian (yes, Julius's Australia-based company, Incredible Photo Tours, welcomes overseas clients), travel will be especially cheap, with accommodation, transport and food taken care of.
Starting from Tokyo, the tour goes to various places throughout Tohoku such as Zao Onsen, Sendai, Hiraizumi, Akita, Bandai, Aizu-Wakamatsu, Nikko, Naruko Gorge, Shirakami Sanchi, Hirosaki, Nyuto Onsen and Lake Towada. With the advantage of the inside knowledge of an ex-JET, and the expertise of a tour guide who has won awards for his photography, it's a great tour package to consider for your next trip to Japan. Julius also has other tours, such as the Japan Classic Autumn tour, that does the classic route of Tokyo, Hakone, Himeji, Kyoto, Hiroshima, Miyajima, Okayama, Takamatsu, Mt Koya and Osaka.
For more information, check out the Tohoku Autumn Tour, or the Classic Autumn Tour at Incredible Photo Tours.
Thanks to Ryan McDonald (Fukushima-ken, 2002-05) for sharing the below.  Another great example of Return On JET-vestment:
Last year, I and two other ex-JETs, created a calendar called This Is Fukushima. We paid for it ourselves and took donations from other ALTs in Fukushima. We made 2,500 copies and sent them around the world to the media, government officials, and even royalty. The goal was to show that Fukushima is more than a reactor. There is no Fukushima disaster, but there was a disaster in Fukushima. Too many people hear the word Fukushima and think it's only a nuclear reactor.
This year the theme will be people and interesting places. We already have a few people in mind that have and are continuing to help Fukushima. We are also going to have more photos of some of our unique festivals. We want to print 4,000 this time and have a larger version with one month per page.
There's no question as to whether or not we can do it. We did already and can do it again. The only question is can we raise enough money to make it bigger and better. Any money raised over the goal will go to printing more calendars.
If you would like to donate, please go to GoFundMe.com
You can also look at some photos of Fukushima at http://www.ThisIsFukushima.org
Ryan McDonald (USA)- (Fukushima-ken, 2002-05)
Paul Sprigg (CA)– (Fukushima-ken, 2005–10)
Henare Akurangi (NZ) – (Fukushima-ken, 2007–11)
Posted by Benjamin Martin, a JET from 2008-2013 in Okinawa, publisher of the blog MoreThingsJapanese.com and author of the award-winning YA fantasy series Samurai Awakening (Tuttle).
The Ha-ri- races are a yearly event on Kume Island. This year they took place on June 12 at three locations around the island.  This year I stuck to the Maja area where locals and students gathered together for a day of races and fun in the water.
While the races are the primary attraction, there is also generally a ball-toss game for the nursery school children and a tug-of-war.  There are numerous races from both locals and school participants.  At the Maja area, students from the local Nakazato Junior High, Misaki and Nakazato elementary schools, and students from Kumeshima High School all joined together in mixed and separate races.
This year I broke out my gopro to give you a closer look at participating in the Ha-ri- races.  Thanks to a few friends and students who wore the camera along the way.  Of course with plenty of water a few bucket wars broke out among the high school students, and not all of the boats made it back without a little extra water.  Check out the video and pictures below, then come join us next year for this great event.
For more photos and video from this special event visit MoreThingsJapanese.com
Let's Talk Japan is a monthly, interview format podcast covering a wide range of Japan-related topics.  Host Nick Harling (Mie-ken, 2001-03) lived in Japan from 2001 until 2005, including two great years as a JET Program participant in Mie-Ken.  He practices law in Washington, D.C., and lives with his wife who patiently listens to him talk about Japan . . . a lot.

In this episode, Nick speaks with JET Program alumni Chelsea Reidy and Elayna Snyder about their upcoming 900-mile bicycle tour of Shikoku's famous 88 temple pilgrimage.  
Listen to hear them describe their creative "Temple by Temple Project," which they are funding through Kickstarter, and how they plan to share their adventure with others.

To learn more, check out their website, www.bigricefield.com, and the Temple by Temple Project on Kickstarter. 
Enjoy!
Nick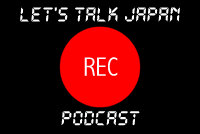 Posted by Benjamin Martin, a JET from 2008-2013 in Okinawa, publisher of the blog MoreThingsJapanese.com and author of the award-winning YA fantasy series Samurai Awakening (Tuttle).
Since the end of the rainy season early this year, the weather on Kume Island has been full of clear sunny days.  While it makes for great sight-seeing and beach-going, it has been a hard year for farmers, with little or no rain to sustain critical crops.  For the first time in 15 years, the island locals returned to their roots, asking for the help of the Chinbei, the name of the high priestess from the old Ryukyu Kingdom to come and pray for rain.
This rare ceremony began early on August 11th.  The Chinbei and other priestesses (noro) met at Chinbei Dunchi on Kume Island.  There, a sacred rock was encircled by rope to signify the presence of a kami.  After offerings of rice, fruit, and sake, the noro poured water onto the rock while the Chinbei and other local representatives prayed.  The Chinbei poured sake from a small cup, repeating the process until she felt the kami was satisfied.
Afterward, all the attendees were asked to participate in a tug-o-war competition outside the grounds.  In addition to the physical offerings of sake, rice, and fruit, the offering of effort and strength signified by the competition was in offering to local kami. While competing, locals were sprayed and doused with water, and afterward danced in the simulated rain.
From Chinbei Dunchi, the priestesses and local leaders made offerings at two other shrines in the area.  These shrines date back hundreds of years.  One was a natural rock formation where a kami is thought to reside.  The other was hidden away near the airport grounds where a concrete structure enclosed the sacred home of another kami.  At both sites, offerings of rice, sake, fruit and prayers were put forth.
Immediately after the prayers ended, it began to rain.  A tornado was even spotted, though it did not touch down.  The farmers and local representatives happily returned to Chinebei-dun, the parched ground sated with the first short downpour in a very long time.
For more photos from this special event visit MoreThingsJapanese.com
Posted by Benjamin Martin, a 5th year JET on Kume Island in Okinawa, publisher of the blog MoreThingsJapanese.com and author of the award-winning YA fantasy series Samurai Awakening (Tuttle).
Kinjo Town surrounds the Shuri Castle area in Okinawa.  While Shuri is impressive in its own right, there is much to see outside the Castle grounds.   During this past Golden Week, I took a trip to the Okinawan Mainland, and a friend was kind enough to show me a few out-of-the-way spots.  Through Kinjo Town runs the 'Ishidatami' or Rock Road,  a walkway paved in history and adorned with interesting and beautiful flowers along the way.  Follow along for a taste of Kinjo Town.
On the way to to our start, we passed one of Shuri Castle's side gates.  The area is full of steep roads and interesting places.
We also stopped at a nearby soba shop for lunch before beginning our walk.  This Shisa is a traditional statue on Okinawan homes used to protect against evil spirits and bad luck.
The place we ate was very busy so we sat outside in an almost garden-like area where I found this purple flower.
For Lunch, I had soki soba, or noodles in broth topped with rib meat.  It is another traditional Okinawan food.
Right at the start of our walk, we found these Hanging Heliconias.  Conveniently there was a nearby sign that labeled the flowers along the route in English and Japanese.
This is the first of two springs we saw along the route.  These were used for drinking and washing by the people of Kinjo Town.  Spots like these were marked by small tiles with maps of the area.
These white and pink flowers were labeled as Sokei-Nozen, and hung above a wall.
Here is an old style gate with clay tiles of the same kind of construction seen at the Udun Palace.

The second spring was below the road level and had a pool in which crabs lived.  In the second photo you can see where the water flows out at times.
About half-way along the path, right before a rather steep slope (or just after if you go the other way) there is a small rest house with tatami mats where you can take a load off.
Here's a map of the area in Japanese with the various sites around Shuri marked.  Check out part 2 for the walk north through the grounds along the rock road to the pond above Shuri. This article was originally posted on More Things Japanese.
Posted by Benjamin Martin, a 5th year JET on Kume Island in Okinawa, publisher of the blog MoreThingsJapanese.com and author of the YA fantasy series Samurai Awakening (Tuttle).
Himeji Castle in Hyogo Prefecture is hailed as the most fabulous of Japan's many castles. It is definitely the largest. I had the opportunity to visit Himeji for a half-day at the start of March in 2013. Himeji Castle is a UNESCO World Hertiage site.
Restoration
Over the past several years, the main keep of Himeji Castle has been covered by a giant scaffolding that is essentially a building that encircles the high roof. The internal structure has been reinforced to prevent earthquake damage, while the plaster and roofing tiles have been replaced or reworked for water and fire proofing.
The last major restoration of the castle was completed in 1964.  This new reconstruction is similar to the first. When I visited the restoration work was nearly complete. I had the opportunity to travel to the top of the scaffolding and view the roof from the outside, a view that will disappear in 2014 as the scaffolding is disassembled and the main keep re-opened.  Despite the construction work, I found the grounds beautiful and interesting.  Though the inner keep is not accessible, much of the rest of the grounds were, including the West Bailey.  It was a great way to spend a few hours strolling through the castle grounds and trying to snap a few photos.
Throughout the grounds there are multilingual plaques describing many aspects of the history and culture of the castle including its reconstruction and maintenance.  Many crests of past lords who reigned at the castle, many worked into the roofing tiles.  In the Egret's Eye View, I was even able to observe a live demonstration of the tiling work.  I've always found Japanese style tile roofs to be interesting, so it was great to see how they and the walls were actually put together.

[youtube http://www.youtube.com/watch?v=UgmYcnGV5yI&w=450&h=253]
Himeji Castle is located in Hyo prefecture at 68 hon-machi, Himeji, Hyogo.  Hours of operation are 9 am to 4 pm (September through April) and 9 am to 5 pm (May to August).  Closed December 29 and 30.  The Egrets Eye closes a bit earlier.
For more pictures from Himeji Castle please checkout my post at www.MoreThingsJapanese.com
Posted by Benjamin Martin, a 5th year JET on Kume Island in Okinawa, publisher of the blog MoreThingsJapanese.com and author of the YA fantasy series Samurai Awakening (Tuttle).
January 26th marked the beginning of the 2013 Kumejima Sakura Festival.  Sakura (Cherry Blossoms) are an important symbol marking the change of seasons in Japan.  As the weather begins to warm, cherry trees sprout beautiful flowers in a range of colors from white to red.   Since Okinawa is so far south, cherry blossoms begin to arrive in January.  They work their way north through April.  During this time, people flock to areas with cherry trees to picnic, drive, and see the beautiful flowers and wildlife.You might have noticed the new header, a compilation of 3 shots taken of a Mejiro (Japanese white-eye) in cherry trees I caught the Friday before the festival along the Ara Forest path.
The Festival
As part of the sakura season, many locals often have festivals to support tourism, create entertainment for locals, and to simply celebrate the beautiful surroundings.  This year the Kumejima Sakura Festival took place on January 26th, a day of sun and generally great weather (I got sunburned in January.  It was also a little windy.)
On Kume Island, the festival takes place at Daruma Mountain Park in the western/central part of the island.  The festival was set up in a clearing surrounded by cherry trees.  After an opening ceremony, new cherry trees were planted for the future.  Arrayed around the clearing were many tents with local restaurants serving specialty foods.  This year, the restaurants competed in a competition to see which one had brought the most popular item.
There were several live performances from local groups including Nankuru Sanshin and the "Super Bridal Band," as well as karate demonstrations and other entertainment.  The band I play with (Super Bridal Band started up a few years ago to play at my boss's wedding, I joined a bit after moving here) just after the opening ceremony.   There's a compilation video below of our set.
[youtube http://www.youtube.com/watch?v=0TKk6ANZoSs&w=350&h=197]
After we finished our set, I quickly jumped over to the 89.7 FM Kumejima radio booth to do my weekly Haisai English! show live from the event.  It was a lot of fun despite a few technical snafus from going on location.
For more on Sakura and this year's Festival, visit MoreThingsJapanese.com
NEW JETAA Chicago "Daily Life In Japan" 2013 Calendars!
Exclusive this year, JETAA Chicago is showcasing the amazing photos submitted by the community for our charity event, "Daily Life in Japan – Photos for Soma," in a 12-month wall calendar. Every image is a celebration of Japan's natural beauty and rich culture. Share your love of Japan with friends and family while supporting a great cause; all proceeds benefit the Soma City Tsunami Orphan Scholarship Fund.
Here's the link to purchase a calendar:  https://www.paypal.com/cgi-bin/webscr?cmd=_s-xclick&hosted_button_id=SLGJQUHFXYPU6
Posted by Benjamin Martin, a 5th year JET in Okinawa, publisher of the blog MoreThingsJapanese.com and author of the YA fantasy novel Samurai Awakening (Tuttle).
On November 20, 2012 The Emperor of Japan Akihito and Empress Michiko visited Kumejima as part of a four-day visit to Okinawa.  Preparations were long in the making, but it was still extraordinary to see the spectacle of a visit lasting less than 5 hours.  Luckily, I was asked to help photograph on behalf of Kumejima Town and was able to stand with television and newspaper camera people in designated media areas.
The Emperor and his wife arrived around 10:30 JST on a plane from Okinawa-honto.  Since Kume Island has only a small airport, they used a JAL Express plane instead of the usual flying fortress.   There they greeted a group of students and dignitaries and then drove to the Deep Sea Water Research Institute to tour its grounds.  One of the major reasons for the visit is the proposed OTEC power plant.  Along the way Kumejima Townspeople greeted the Emperor by waving Japanese flags (a rarity in Okinawa), shouting "Thank you for coming" and "banzai!"  After the tour, the motorcade arrived at the Town Hall just before 13:00 to rest and talk with Mayor Taira.  There they discussed Kumejima's many natural resources such as Kuruma-ebi, Umi-budo, and Deep Sea Water while eating lunch.  They talked so much they didn't have time to finish!
For more on the Emperor's visit and plenty of pictures visit More Thing Japanese!
Posted by Benjamin Martin, a 5th year JET in Okinawa, publisher of the blog MoreThingsJapanese.com and author of the YA fantasy novel Samurai Awakening (Tuttle).
Churaumi Aquarium (美ら海 beautiful ocean aquarium) is one of the premiere tourist attractions in Okinawa prefecture.  The large aquarium is located within the even larger and interesting Ocean Expo Park on the Motobu Peninsula.  Boasting one of the worlds largest indoor tanks, the stars of the complex are three whale sharks housed with many other fish of varying sizes.
Though I've lived in Okinawa for over five years, I had my first opportunity to visit Churaumi only this past weekend.  The aquarium is very easy to find since there are easy-to-read signs pointing the way on major streets from Naha.  For a scenic route, take route 58 north and follow the signs.  For a quicker trip try the expressway (its a toll road).
The surprising thing about the Ocean Expo park is the sheer size of it.  We went in November which was after the peak season so we had little trouble with traffic or even finding a parking space.  Other friends noted that they've had problems with that during the summer months. We met the first designated parking lot quite far from the actual aquarium, though there are many attractions along the way, and a tram car you can hire for 200yen/day.  If you're going during non-peak seasons, just drive up to the closest parking lot!
The whole complex is cunningly designed for the efficient flow of attendees. From the entry there are wide walkways, pavilions,  stairs, fountains, and play areas that allow people to move at their own pace without blocking others' way.  Once you make it past various information booths, restaurants, and flowering sea life you'll find escalators that will take you down to the entrance of the aquarium itself.
…Read more on Churami Aquarium at MoreThingsJapanese.com
[youtube http://www.youtube.com/watch?v=TRGDpNCFRrw&w=400&h=225]
The 2012 Kitadaito Festival was a two-day event in September marking an important time of community inclusion and tradition. The second day of the Festival was on the 23rd and, as in years past, featured sumo competitions as a traditional Japanese offering to the kami and ancestors of the village. If you haven't already, be sure to check out my post on day one. Below is a video showing excerpts from the day, with more information and photos farther down. Enjoy!
Sumo Competitions
The second day began in the morning on Sunday around 9:00. Villagers gathered again before the Daito-gu shrine. There, a Shinto priest led a ceremony blessing both the sumo ground and the people. New babies were also brought before the shrine by their parents so that the adults could ask for safe and prosperous lives for their children.
After the ceremonies were complete, the villagers settled in to watch Edo and Okinawan Sumo competitions. Although Kitadaito is in Okinawan Prefecture, it was originally settled by people from Hachijo Island, which means the traditions of the island are a unique mix of mainland Japan and Okinawa. At the Daitogusai festival, both types of sumo take place. Pre-school through junior high students take part in edo style sumo.
… Read the rest and see more photos on MoreThingsJapanese.com!.