May
29

Japan Local, Photography, Travel/Tourism

Comments Off

on Kinjo Town Road
Posted by Benjamin Martin, a 5th year JET on Kume Island in Okinawa, publisher of the blog MoreThingsJapanese.com and author of the award-winning YA fantasy series Samurai Awakening (Tuttle).
Kinjo Town surrounds the Shuri Castle area in Okinawa.  While Shuri is impressive in its own right, there is much to see outside the Castle grounds.   During this past Golden Week, I took a trip to the Okinawan Mainland, and a friend was kind enough to show me a few out-of-the-way spots.  Through Kinjo Town runs the 'Ishidatami' or Rock Road,  a walkway paved in history and adorned with interesting and beautiful flowers along the way.  Follow along for a taste of Kinjo Town.
On the way to to our start, we passed one of Shuri Castle's side gates.  The area is full of steep roads and interesting places.
We also stopped at a nearby soba shop for lunch before beginning our walk.  This Shisa is a traditional statue on Okinawan homes used to protect against evil spirits and bad luck.
The place we ate was very busy so we sat outside in an almost garden-like area where I found this purple flower.
For Lunch, I had soki soba, or noodles in broth topped with rib meat.  It is another traditional Okinawan food.
Right at the start of our walk, we found these Hanging Heliconias.  Conveniently there was a nearby sign that labeled the flowers along the route in English and Japanese.
This is the first of two springs we saw along the route.  These were used for drinking and washing by the people of Kinjo Town.  Spots like these were marked by small tiles with maps of the area.
These white and pink flowers were labeled as Sokei-Nozen, and hung above a wall.
Here is an old style gate with clay tiles of the same kind of construction seen at the Udun Palace.

The second spring was below the road level and had a pool in which crabs lived.  In the second photo you can see where the water flows out at times.
About half-way along the path, right before a rather steep slope (or just after if you go the other way) there is a small rest house with tatami mats where you can take a load off.
Here's a map of the area in Japanese with the various sites around Shuri marked.  Check out part 2 for the walk north through the grounds along the rock road to the pond above Shuri. This article was originally posted on More Things Japanese.
May
18

Article/Journalism, Earthquake Tsunami, JETAA Chapters

Comments Off

on JETAABC Newsletter: An Interview with Photohoku
By Wanda Yee (Fukui-ken, 2001-07) for JETAABC Newsletter. Wanda is the Social Media Coordinator at JETAABritish Columbia.
What is Photohoku and how (and why) did you become involved with this project?
Photohoku is a family photo-album building project for those affected by the events of March 11th. It's a portmanteau blending of the words Photo and Tohoku. It was officially started on September 11th of 2011 by myself (Brian Scott Peterson) and our co-founder, Yuko Yoshikawa. We became involved in the project having collaborated on another Tokyo-based project called Tokyo Kids Photo.
Basically we go to the earthquake and tsunami affected areas of Tohoku, armed with instant cameras and instant film and find families who lost all their photos in the disaster and make new photos for them. We put those photos in a new family album for them and present that newly started album to the families. If the families don't have a camera, we also give them a retired digital camera we've collected as donations from our friends and families. Finally, on subsequent trips, we print the photos from the cameras with have given and add those photos to the albums as well so they can continue them. Basically help them start their photographic lives over.
How did Photohoku evolve from being just an idea to becoming a full-on reality? Read More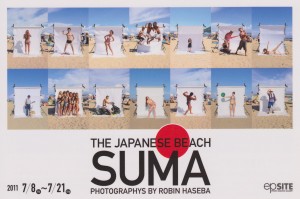 Posted by Tom Baker (Chiba-ken, 1989-91), coauthor of The Sushi Lover's Cookbook and Tokyo Chic and contributor to Time Out Tokyo and Time Out Shortlist Tokyo. He blogs as "Tokyo Tom Baker."
Did you ever go to the beach during your time in Japan? In particular, did you ever visit Suma beach in Kobe? Photographer Robin Haseba has an exhibition of portraits of Suma beach-goers currently running in Shinjuku, Tokyo, that may bring back some memories.
When I visited the show on its opening day, I briefly met Haseba and later sent him some questions by e-mail for an article on my blog. You can read my comments on Haseba's work, and see some examples of it, here.