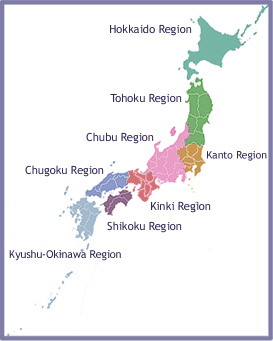 Update 11/10/10: Had a nice email exchange with Carlo Capua (Niigata-ken, 2000-02) who is on the Board of Directors for Sister Cities International, a global network of 2000+ cities who do exchanges with each other at different levels – teacher, humanitarian, governmental, elected official, etc.  According to Carlo, SCI is in almost 200 countries around the world.
Update 11/7/10: It turns out there's a list on the CLAIR website of all of the cities/towns and sister cities: http://www.clair.or.jp/cgi-bin/simai/e/05.cgi?n=U.S.A. (Though it doesn't indicate whether there are JETs in the locale.)  Thanks to JETAA USA Country Rep Jessyca Wilcox for letting us know about this.)
Update 11/5/10: Thanks for all the responses so far.  Keep'em coming!
Welcome to the JET-Sister City List Project!
The Goal: To create a list of Japanese cities (and prefectures) where JETs lived that have a sister city relationship with another country.
How can you help? Email jetwit@jetwit.com with your name, prefecture, city/town and years on JET as well as any sister city relationships that your town had.  If you already see your city listed, email your name anyway so we can include you as well.
The Result: JetWit will add to the below list as responses are received.
The Purpose: To lay some groundwork that may help Japanese cities/prefectures that hosted JETs increase their "return on investment" from their initial investment.
(Note #1: There actually is a Japanese government publication that lists every Japanese sister city relationship.  However, it does not list any correlation with JETs.)
With all of the above in mind, please email your responses to jetwit@jetwit.com.  Yoroshiku onegaishimasu!
1.  Hokkaidō
Hokkaidō
Chitose-shi + Anchorage, Alaska – Sara (Salzer) Niwa (Hokkaido, Chitose-shi, 1999-2002)
Iwamizama City + Pocatello, Idaho; Canby, Oregon; Acheng, China – Caroline Cronshaw (Hokkaido, 2006-09)  (Caroline adds that Iwamizawa sends several students to Pocatello each year, and Pocatello returns the favor by sending several of its students to Iwamizawa. There is a tower-shaped monument in front of Iwamizawa City Hall that symbolizes the friendship between Pocatello and Iwamizawa.)
Sapporo-shi + Portland, Oregon – Liz Sheffield (Hokkaido-ken, Sapporo-shi, 1993-95) (Liz adds, "I originally went to Sapporo for two weeks when I was in high school as part of a Sister City exchange delegation from Portland. Then six years later, I was placed in Sapporo as an AET. Thanks to my return to Sapporo , I was able to build an even stronger relationship with the Shibuyas, my host family from my original visit to Sapporo . Now, fifteen years after the JET Program, I am still in regular contact with the Shibuyas."
2.  Tōhoku
Aomori Prefecture + Maine – Zack Bass (CIR Aomori-ken, Aomori-shi, 2006-Present) (Zack adds, "I've had the wonderful opportunity to be highly involved with promoting and coordinating our prefecture's continuing relationship with our sister state of Maine in the USA. We have many exchange programs between schools and municipalities within Aomori Prefecture and local towns and schools in Maine that continue to this day. We are very proud of our strong exchange with Maine, and many of our JETs throughout the prefecture have invested much time and hard work in strengthening our ties. Recently, we have been working towards expanding the Maine & Aomori relationship even further by exploring fisheries, energy, and business exchange opportunities in addition to our long tradition of cultural and educational exchange.  I hope to get more of our JETs to contribute more about their local municipal based exchange programs in the next few weeks.Thank you for doing this!")
Hachinohe City +  Federal Way, Washington; Lanzhou, China

Beth Bryant (Aomori-ken, Hachinohe-shi 1993-94; Misawa-shi 1994-96)
Natalie Kruckenberg (Aomori-ken, Hachinohe-shi 2010- present) – Natalie adds:
Federal Way Exchange: When the Hachinohe International Exchanges and City Promotions Association (formed in September, 1990) met to discuss possible locations for a sister city, Tacoma of Pierce County was presented. Tacoma has a friendly relationship and had been exchanging with the Hachinohe Chamber of Commerce, the most recent exchange being in 1992. The Hachinohe Chamber of Commerce contacted the Mayor of Tacoma who introduced Hachinohe to a neighboring city, the City of Federal Way. After exchanges betwen the two cities, on August 1st, 1993, the Sister City agreement was signed. Since then the official visits and youth exchanges between Federal Way and Hachinohe have continued every year.

Lanzhou Exchange: The International exchanges with Lanzhou including Hachinohe Gas Cor. technical cooperations, yourth exchanges and inspectorates began back in 1983 when the 4th Hachinohe delegation traveled to Lanzhou. In April 1998, Hachinohe and Lanzhou signed a sister city agreement. Since then the official visits and youth exchanges between Federal Way and Hachinohe have continued every year.
Misawa City + Wenatchee, Washington

Beth Bryant (Aomori-ken, Hachinohe-shi 1993-94; Misawa-shi 1994-96)

Mutsu City + Port Angeles, Washington

Amy Miller (Aomori-ken, Mutsu-shi, 2006-11) Amy adds:  "Mutsu City and Port Angeles City have been sister cities for 15 years. Every year a group of select Junior High School students from Mutsu City visit Port Angeles City in January as Junior Ambassadors. They put on a "Japanese Culture Fair" at the middle school in Port Angeles to teach American students about Japanese culture. The high school students from Tanabu High School English class also visit Port Angeles every year. A mixed delegation of middle school, high school, and adults visits Mutsu once every two years."

Tsugaru-shi + Bath, Maine

Mike Moses (CIR Aomori-ken, 2010 – present) Mike adds:  "The friendship between Tsugaru and Bath, Maine has a long history. In 1889, the 'Cheseborough,' a ship built in Bath, Maine, tragically crashed off the coast of Shariki (now Tsugaru City). The people of Shariki nursed the surviving sailors back to health, and a friendship between the two cities has continued since. Since 1990, Bath and Tsugaru have coordinated a sister-city exchange program, in which delegations are sent every year to experience each other's rich culture and history. Also, the Cheseborough Cup, an international swimming competition, is held in Tsugaru every year. The goal of the race is to eventually swim the 10,200 km distance between Bath and Shariki. We hope to continue and expand upon the current sister city relationship."

Tsuruta Town + Hood River, Oregon

Emma Sayers (CIR Aomori-ken, Tsuruta-cho, 2010-Current) – Emma adds:  "Tsuruta has had a sister city agreement with Hood River, Oregon, USA since 1977. The mayor of Tsuruta at that time (and at present), Mayor Nakano, had wished to bring internationalisation to Tsuruta by joining it with a similar city in the USA. Exchange visits between their respective residents, junior high school students and high school students take place every year. Tsuruta also employs a sister city English teacher from Hood River to visit local kindergartens and primary schools alongside the JET Programme CIR. It's an extremely well-cultivated sister city relationship, and I'm honoured to be able to help out with the events and visits! Good luck with the JET-Sister City List Project, it's a great idea and I hope this helps a little. I've not been in Tsuruta long but I love it, and I think the sister city agreement has a lot to do with that as everyone here has been so welcoming.
Iwate Prefecture
Esashi City + Shepparton, Australia; Reutte/Breitenwang, Austria

Therese Stephens (Iwate-ken, Esashi-shi, 1996-99)

Kitakami-shi + Concord, California; Shibata-shi, Miyagi-ken, Japan; Sanmenxia, Henan Province, China

Margie Wiggins (Iwate-ken, Kitakami-shi, 2010-Present)
Margie adds:  "I have worked a little with the Rotary Club in town and know they sometimes send representatives (typically businessmen) to Concord, California to visit and learn more about the city; however, I am not sure what relationship, if any, has been built and fostered with our other two sister cities. The Rotary is also active in sponsoring a Rotary Youth International Exchange of Short-Term, which consists of two groups of ten high school students (from both Iwate-ken and Miyagi-ken) visiting Texas and Oklahoma (I apologize I cannot remember the exact cities) in March every year.  American students from these cities then travel here in June and July respectively."

Miyagi Prefecture + Delaware

Shichigahama-machi + Plymouth, Massachusetts – Doug Durgee (CIR Miyagi-ken, 2006-07) (Doug adds that they alternate sending kids on a short one or two week trip every year and used to also send kids on a one-year exchange program, though the funding for the one-year exchange program may have dried up in the past couple years.)
Sendai-shi + Riverside, CA; Rennes, France; Acapulco, Mexico; Minsk, Belarus; and Gwangju, S. Korea; Dallas, TX is also listed as a friendship city. – Nata Nam (Miyagi-ken, Sendai-shi, 2007-09) (Nata also shared a link to a nice article about collaboration on a symposium between Tohoku University and University of California-Riverside:  http://newsroom.ucr.edu/news_item.html?action=page&id=2481 Thanks also to Dough Durgee for additional sister city info.)
Tome-shi + Southlake, Texas; Vernon, British Columbia – Jennifer Wang (Miyagi-ken, 2008-09) (Jennifer adds that Southlake, TX is her hometown, and she actually became interested in JET through the Sister Cities exchange program. Every year, Tome and Southlake send student ambassadors to the other's city. They switch off each year for adults from the Tome International Friendship Association and Southlake Sister Cities. She said she doesn't know as much about the program with Vernon, but when she was there, a large adult delegation from Vernon visited.)
Akita Prefecture

Kisakata-machi + Anacortes, Washington – Brett Rawson (Akita-ken, Nikaho-shi, Kisakata-machi, 2007-09)
Noshiro-shi + Wrangell, Alaska – Stephanie Boegeman (ALT Akita-ken Noshiro-shi 2006-2009); Andrew McCarthy (Akita-ken, Noshiro-shi, Futatsui-machi, 2005-08) (Andrew notes that the actual town he lived in, Futatsui-machi, merged with Noshiro in 2006, though it does not appear to have a separate sister city of its own.)
Yamagata Prefecture + Colorado

Kahoku Town + Canyon City, Colorado – Alex Stevenson (Yamagata-ken, Kahoku-machi, 2000-03)
Yamagata City +  Boulder, Colorado – Jessica (Oppenheim) Moy (CIR Yamagata-ken, Yamagata-shi, 2003-06)  (Jessica adds, "While in high school, I participated on two sister state/prefecture trips to Yamagata, Japan and loved it. After graduating from Colorado State University, I ended up returning to Yamagata City as a CIR on the JET program. My big project at the end of my stay was holding a Bolder-Boulder race in Yamagata. Boulder and Yamagata have many sister city exchanges not only with government, citizen, and student exchanges, but also with rotary.")
Fukushima Prefecture

3.  Kantō
Ibaraki
Tsukuba-shi + Irvine, California

Beth Yamamuro (Tochigi-ken, Ashikaga-shi, 1987-1989)  Beth adds:  "While living in Irvine, California I helped the local sister cities organization as well as the city officers in their exchanges with their sister city of Tsukuba, Ibaraki-ken. It was kind of funny how the visitors from Tsukuba would always try to hide the fact that they would also be visiting another California sister city, Milpitas. It was like they were having a secret affair."
Tochigi
Ashikaga-shi + Springfield, Illinois

Beth Yamamuro (Tochigi-ken, Ashikaga-shi, 1987-1989)  Beth adds:  "Ashikaga has a continuing sister city relationship with Springfield, Illinois, thanks largely to the efforts of my predecessor, Monbusho English Fellow Linda Benoit (the last MEF year before JET was initiated). I just re-visited my town after 23 years and was unable to meet one of my favorite Japanese teachers because she was chaperoning a delegation to Springfield."
Gunma
Saitama + Ohio, USA (Thanks to Michelle Elliott for the info.)
Koshigaya City + Campbelltown, NSW, Australia – Michelle Elliott (Saitama-ken, 1999-2002)
Chiba + Wisconsin

Chiba City + Houston, Texas – Lisa Hannabach (Chiba-ken, Chiba-shi, 1990-91, Yachiyo-shi, 1992-95)
Ichikawa-shi + Gardena California – Lisa Hannabach (Chiba-ken, Chiba-shi, 1990-91, Yachiyo-shi, 1992-95) (Lisa was a private ALT in Ichikawa from 1995-2000.)
Ichihara City + Mobile, Alabama– Ryan Hart (Chiba-ken, Ichihara-shi)

"Ichihara shares a sister city relationship with Mobile, Alabama. There were a total of 8 teachers in Ichihara when I lived there. 7 of them where through the JET Program. 1 of them was hired directly through the sister city relationship with Mobile. So technically, we didn't have a JET from Mobile, but we did have a teacher that was essentially a JET each year."

Narashino-shi + Tuscaloosa, Alabama – [JET? ___________]
Narita City + Naestved (Denmark) since 2003; Xianyang-city (China) since 1988; San Bruno, California; Jeongeup-city (South Korea); Jung-Gu of Incheon-city (South Korea)since 1998

Celine Castex (Chiba-ken, Narita-shi, 2006-11)  (FYI, Celine is currently the Volunteer Self-Support Group Leader for the French-speaking community of JET.)
Yachiyo-shi + Tyler, Texas – Lisa Hannabach (Chiba-ken, Chiba-shi, 1990-91, Yachiyo-shi, 1992-95)
Tokyo
Kanagawa
Yokohama-shi + Vancouver, British Columbia; San Diego, California – Ilonka Osvald (Yokohama-shi, 1996-98) (Ilonka adds, "Vancouver and Yokohama have been sister cities for a long time, and there were quite a few JETS in my year who were placed due to the sister city connection (mainly Vancouver and San Diego)."
4.  Chūbu
Niigata
Toyama
Ishikawa
Kanazawa City + Buffalo, New York; Jeonju, Korea; Nancy, France; Ghent, Belgium; Irkutsk, Russia; Porto Alegre, Brazil; Suzhou, China – Sophie Bocklandt (Belgian CIR Ishikawa-ken, Kanazawa-shi, 2006-11)
Fukui
Fukui City + New Brunswick, NJ

Beata Wilk (Fukui-ken, Fukui-shi/Harue-cho, 2004-08)
Being from NJ I found out as soon as I arrived in Fukui about the sister city between my state and Fukui Prefecture. Fukui-ken usually recieved a number of NJ JETs every year– I believe at the request of the Fukui BOE but I can't be sure of that. What I do know about the relationship for sure is that:

From the mid-1800s local governments in Fukui, Japan sent students to New Brunswick to learn English and study at Rutgers College. Fukui City sent their student in 18671. These historic ties and exchanges continued for over a century and led to formal agreements being signed with New Brunswick and Fukui in 1982.

As for the New Brunswick, NJ- Fukui-shi relationshsip, to the best of my knowledge this Rutgers University exchange still continues.

Fukui City also has a high school exchange. It is rather competitive and the exchange between NJ and Fukui only happens once every 2 or 3 years. (In the other years there is an exchange between Fukui and a sister city in China). High school students can apply for the program and if chosen, they get to go to a high school in NJ for about two months (if I remember correctly). The exchange is to New Providence High School (New Providence, NJ) and one more NJ high school (unfortunantly I do not remember the other school). They students stay with host families while in NJ and there is always an orientation for the high school students to prepare them for NJ. The Fukui BOE asks some NJ JETs to help in the orientation. We attended about 4 or 5 sessions, in the first few we made presentations about New Jersey geography, places of interest, food, etc. Then in groups we told the Japanese students about high school life in New Jersey and answered their questions. In later sessions, the Japanese students presented about Fukui Prefecture. We gave them an audience to practice on but also helped them expand, edit, and tweak their presentations so that they would be better addressed to NJ High School students.

Side note:

Since then New Brunswick has also established 3 other sister city ties, one more with Japan.

Fukui also has sister city ties with a few other cities, but I believe they are all in other countries. I know the Fukui International Activities Plaza (FIA) has all the information displayed- unfortunantly I do not remember much of it besides NJ relationships.
Yamanashi + Iowa:  The sister-state relationship is detailed in the book "Sweet Corn and Sushi," the story of Iowan farmers who donated 35 hogs to livestock farmers in Yamanashi after a typhoon devastated the area, according to a Japan Times article:  http://search.japantimes.co.jp/cgi-bin/nn20100408a3.html (Thanks to Renee Tress (Yamanashi-ken, 2006-09) for the info and link.)
Nagano
Nagano-shi + Clearwater, FL – Ravi Kumar (CIR Nagano-ken, Nagano-shi, 1998-2001) (Ravi adds, "It was a fairly active relationship. We arranged for 3 english teachers every year from Clearwater to come to live and work in middle schools in Nagano City. We had Japanese teachers of English go to Clearwater during their summer months to improve and learn English. During the summer, we also had a student exchange where 12 students from Nagano would visit Clearwater and 12 students from clearwater would visit Nagano.)
Gifu
Gifu City + Cincinnati, Ohio

Kathy Crutcher (Gifu-ken, Hozomi-cho (now Mizuho-shi), 2000-01)  Kathy adds that her hometown is Cincinnati, which is why she was placed near Gifu City.

Ikeda-cho + Mililani, Hawaii – Dylan Gen Fujitani (Gifu-ken, Ikeda-cho, 2005-07)  (Dylan indicated that he's not clear if the relationship is between towns or just between schools.  But still nice to know about.)
Takayama City + Denver, Colorado – Anna Thompson (Gifu-ken, Takayama-shi, 2002-04)  (

Editor's note

:  I visited Takayama several times.  It's up in the mountains and beautiful.  I remember one of my principals explaining to me that back in the days before everyone honeymooned in Hawaii, Takayama was a popular honeymoon destination.)
Shizuoka
Kakegawa-shi + Eugene, Oregon – Andrew Osanka (Shizuoka-ken, Kakegawa-shi and Mori-machi, 1991-94)
Aichi
Kariya-shi + Missassauga, Ontario – Steven Horowitz (Aichi-ken, 1992-94)
Toyohashi-shi + Toledo, OH – Justin Moy (Aichi-ken, Toyohashi-shi, 2008-10) (Justin notes that as of 2010-11, there will be no more prefectural JETs in eastern Aichi)
Toyokawa-shi + Cupertino, California – [JET? __________]
Toyota City + Detroit, Michigan – [JET? _______] [Editor's note:  Toyota is next to Kariya, and as I recall they hired ALTs directly and not through the JET Program or a private company such as Interac (which didn't even exist back when I was there.)]
5.  Kansai
Mie
Shiga
Nagahama-shi + Augsburg, Germany & Verona, Italy (Thanks to James Low (Shiga-ken, Nagahama-shi, 2009-11) for the info.)
Kyoto
Kameoka-shi + Stillwater, Oklahoma [JET ______?] (Thanks to Stillwater, OK native Brad Rickelman (Saitama-ken, Hatogaya-shi, 1995-96) for the info.)
Kyoto-shi + Oklahoma City, Oklahoma – (Thanks to Eric Hawkinson (Kyoto-fu, 2005-10) for the info.)
Miyazu-shi + Del Ray Beach, Florida; Nelson, New Zealand – Eric Hawkinson (Kyoto-fu, 2005-10)  (Eric, fyi, is the creator of the ALT website resource TeamTeachers.com.)
Osaka
Izumi City + Bloomington, Minnesota – Kate Maruyama (Osaka-fu, Izumi-shi, 2005-08) (FYI, Kate grew up and went to college in Minnesota.)
Ibaraki City + Minneapolis, Minnesota – [Any JETs?_______] (Thanks to Kare Maruyama for sharing the info.)
Osaka City + Chicago, Illinois – Roland Kelts (Osaka-shi, 1998-99)
Hyōgo Prefecture + Seattle, Washington – [JET? __________]
Himeji City + Phoenix, Arizona – [JET? __________]
Nishimiya City + Spokane,  Washington – Anna Amen (Hyogo-ken, Nishimiya-shi, 2007-08)
Nishiwaki-shi + Renton, Washington – Mitchell Kimura (Hyogo-ken, Nishiwaki-shi, 1995-97) (Mitchell notes that Nishiwaki-shi is the "belly-button" of Japan. :-)
Kobe + Philadelphia (Thanks to James Low (Shiga-ken, Nagahama-shi, 2009-11) for the info.)
Nara
Wakayama
6.  Chūgoku
Tottori
Nichinan-cho + Scotts Valley, California

Clara Solomon (Tottori-ken, Nichinan-cho, 1999-2001) (Clara said, however, that she thinks the sister city program may not still exist due to funding cuts.)

Yurihama-cho (formerly Hawai-cho) + Hawaii County, Hawaii (

Editor's note:

This is the first example of a county having a sister city relationship that I've come across.)

Mark Fujishige (Tottori-ken, Yurihama-cho, 2008-11)
Michelle Otake (Tottori-ken, Yurihama-cho, 1995-98)
Matt Ackerman (CIR Tottori-ken, Yurihama-cho, Current as of 2010)
Michelle adds:
"I was the first permanent JET ALT stationed in that town originally/formerly called Hawai-cho, Tottori-ken from 1995 to 1998. At that time Mayor Masanao Inoue, a big advocate of fostering international relationships and "opening" up the town to the world which included participating in the JET Program, asked me to help them build a sister city friendship with my home state Hawaii. To sum up a long story of mostly disappointing phone calls and letters, good fortune finally came to me when I contacted Mr. Rudy Legaspi, who was the Executive Assistant to the Mayor of the County of Hawaii. Mr. Legaspi expressed great enthusiasm and support in establishing sister city ties with Hawai-cho. In 1996 Ms. Yukiko (Kametani) Yamasaki, a local Hawai-cho Town Office employee and liaison for Mayor Inoue's Office, and I flew over to the city of Hilo, Hawaii and formerly met up with the County of Hawaii officials, including Mr. Legaspi and Mayor Stephen K. Yamashiro, to set up the initial groundwork for the sister city friendship. On October 16, 1996, Mayor Inoue of Hawai-cho, Tottori-ken and Mayor Yamashiro of the County of Hawaii, Hawaii officially cemented a sister city friendship."

"Due to mostly economic reasons, many towns and villages across Tottori prefecture and the rest of Japan from 2001 to 2005 were swallowed up, readministered, and renamed in municipal mergers. In 2005 Hawai-cho along with Togo-cho and Tomari-son became Yurihama-cho. And the sister city friendship between Yurihama-cho and Hawaii County is still very much alive and well."
Matt adds:
"Prior to 2004, one of the towns that was merged into what is now Yurihama-cho was known as Hawai-cho. In order to take advantage of this name, the chamber of commerce started to promote the town as "The Hawai of Japan" in the 90's. In 1995, the town got its first ALT from Hawaii(in America), Michele Otake. It's my understanding that she did most of the legwork in searching for and getting in contact with a suitable sister city."

"With the exception of Honolulu, local government in the state of Hawaii is all organized on the county level, so I assume that's why we have this relationship with a county rather than a particular city. Also, my guess is they were probably going for the matching name as well."

"Since establishing this relationship, our town has enjoyed regular visits of government and chamber of commerce officials both to and from Hawaii. We have also welcomed a group of musicians and dancers from Hawaii to perform in the hula festival we hold every year. In addition, we have been conducting a school exchange/home stay program for middle school students since 1998, The town has been utilizing a CIR to help coordinate all of these activities since about 2000 or 2001."
Shimane
Fujiyoshida-shi + Colorado Springs, CO (Thanks to Jessyca Livingston (Shimane-ken, Fujiyoshida-shi) for the info.)

According to Jessyca on 08.06.12:  "Colorado Springs, CO and Fujiyoshida-shi, Shimane-ken just celebrated their 50th anniversary this past weekend. A group of Rocky Mountain JET Alums were present to both participate and offer translation services for the 150 delegates that were here for the celebration. It was really wonderful to connect with so many alums- especially the ones from Colorado Springs that had been "posted" to Fujiyoshida on JET. It was a great feeling to be able to give back in that capacity!"
Okayama
Kurashiki-shi + Kansas City, MO (Thanks to Kansas City native William Nealy (Oita-ken, Oita-shi, 1994-97) for the info.)
Hiroshima
Fukuyama-shi + Maui, Hawaii; Hamilton, Ontario; Pohang City, Korea; Tacloban City, Philippines; Kazanlak, Bulgaria – Shaula Evans (CIR Hiroshima-ken, Fukuyama-shi, 1992-94)
Yamaguchi
7.  Shikoku
Tokushima
Miyoshi-shi + The Dalles, Oregon & Tukwila, Washington – Smitha Pradhi (Tokushima-ken, 2005-07); Andrew Kim (Tokushima-ken, Miyoshi-shi, 2005-08) (Smitha explains that the towns of Ikeda-cho and Ikawa-cho had long-running sister-city relationships with these two U.S. towns respectively, and then merged with a few other towns to become Miyoshi-shi during a 2006 gappei).  (Andrew adds, "I was a 3-year JET and now head the committee in Tukwila, WA. The Miyoshi-Tukwila Sister City relationship currently focuses on a cultural exchange between Junior High School students but has expanded to High School students and Adults. At this time, Tukwila hosts Miyoshi citizens every other Autumn while Miyoshi hosts Tukwila every other Spring. We have established this exchange since November 19, 1979."
Tokushima-shi + Saginaw, Michigan; Leira, Portugal; Dangong City, China – Olivia Nillson (Tokushima-ken, Tokushima-shi, 2006-09) (Olivia adds, "Every year, students from Tokushima would travel to Saginaw, and vice versa. While I was there, we had a choral group from Saginaw visit and give concerts in the city.")
Kagawa
Takamatsu-shi + St. Petersburg, Florida – Lily Lam (Kagawa-ken, Takamatsu-shi, 2004-09); Dave Wilson (Kagawa-ken, Kotohira-cho, 2008-10) (Lily adds, "Every year, St. Pete sends over someone to teach as an ALT at one of the local Takamatsu high schools. Delegations of students from Takamatsu also get sent to visit St. Pete every once in a while, and vice versa (see press release). I was completely unaware of the sister city relationship between St. Pete and Takamatsu, until I arrived in Takamatsu and found a disproportionately large number of people who actually knew where St. Petersburg was."
Ehime
Matsuyama City + Sacramento, California; Freiberg, Germany – Stewart Andrew Curry (Ehime-ken, Matsuyama-shi, 1987-89 – when the acronym was "AET" rather than "ALT)
Kōchi
Motoyama-cho + Urausu-cho, Hokkaido, Japan – Margie Banin (Kochi-ken, Motoyama-cho, 2005-07) (Margie, fyi, is an "Expat Coach" and is also in the process of setting up a company to lead tours to Shikoku!  Margie adds, "Yes, Motoyama's sister city is Japanese! Apparently there is a link because Motoyama families emigrated up there at some point – not sure when, not sure how many, but enough to have a strong connection – and both cities want to keep the ties strong. The junior highs do field trips annually, one year MJH goes north, the next UJH comes south. Also, the yakuba have an employee exchange, where each year a Motoyama employee goes to Urausu and an Urausu employee comes to Motoyama in exchange. Urausu has a booth at Motoyama's festival in the fall. And so on & so forth. Those are the main activities that I recall. The relationship is very much alive, strong & well.")
8.  Kyūshū
Fukuoka
Fukuoka-shi + Atlanta, Georgia + Oakland, California + Honolulu, Hawaii

Brian Hersey (Fukuoka-ken, Fukuoka-shi, 1994-96)
Sharon Tatro (Fukuoka-ken, Fukuoka-shi, 2002-07 – Sharon is a Co-President of JETAA Southern California)
Taea Takagi (Fukuoka-ken, Nogata-shi, 2006-08 – and a Hawaii native)
Kelsey Soma Turek (Fukuoka-ken, Fukuoka-shi, 2005-07 and current President of JETAA Hawaii) (Kelsey notes that the sister city relationship is why Fukuoka has a lot of Hawaii JETs.)
(Mark Frey (Kumamoto-ken, 2002-06) who is an active member of JETAA Northern California, reports that he's currently involved in developing a partnership between the Oakland-Fukuoka Sister City Association (OFSCA) and JETAA Northern California.)
Mark Juloya (Fukoka-ken, Kaho-machi, 2004-07) (Mark is currently serving as the Treasurer for JETAA Southern California.)
Saga
Nagasaki
Nagasaki City + St. Paul's, Minnesota – [Any JETs?_____] – (Thanks to Kate Maruyama for sharing the information.)
Sasebo City + Albequerque, New Mexico – Kate Meyer (Nagasaki-ken, 2006-10) (Kate notes that there is a large number of JETs in Nagasaki-ken who are from Minnesota.)
Kumamoto + Montana, USA (Thanks to Mark Frey (Kumamoto-ken, 2002-06) for the info.)  (Kathy Laubach adds, "To the best of my knowledge, Montana [state] and Kumamoto Prefecture share a "sister" relationship and perhaps this is worth mentioning so as not to have people assume the relationships are only between Kumamoto and Billings and Helena in Montana.")
Kumamoto City + San Antonio, Texas; Billings, Montana; Helena, Montana; Heidelberg, Germany; Guilin, China; Bristol, United Kingdom; Ulsan, South Korea – Mark Frey (Kumamoto-ken, Kumamoto-shi, 2002-06), Angela Riu Gordon (Kumamoto-ken, Kumamoto-shi, 2004-06); Kathy Laubach (CIR Kumamoto-ken, Kumamoto-shi, 2003-06)
Ōita
Miyazaki
Kagoshima
Amami City (formerly Naze City) + Nacogdoches, Texas – Barbara "Chieko" Rothengass (Kagoshima-ken, Naze-shi, 2003-06) (Barbara is the chapter president for JETAA Texoma and notes that McMichael Middle School does a student exchange with Amami-shi.)
Okinawa
Ishigaki City + Kauai County, Hawaii; Suao City, Taiwan – Troy Nakamura (CIR Okinawa-ken, Ishigaki-shi, 2005-07)