By JQ magazine editor Justin Tedaldi (CIR Kobe-shi, 2001-02). Justin has written about Japanese arts and entertainment for JETAA since 2005. For more of his articles, click here.
Spring has sprung in the Big Apple, and that means one thing: a new season of sounds, colors, and spectacular performing arts to match the blossoming sakura trees throughout the city.
This month's highlights include: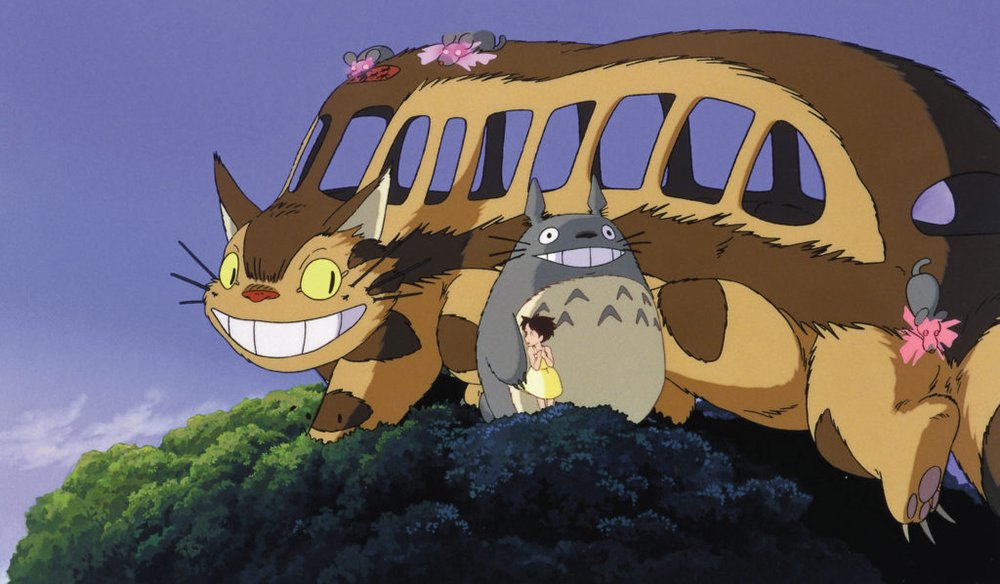 March 25-29
My Neighbor Totoro 35th Anniversary
Various locations
$15-$20
The inaugural selection of Ghibli Fest 2023, this classic tale from Academy Award-winning director Hayao Miyazaki serves up magic and adventure for the whole family. When Satsuki and her sister Mei move with their father to a new home in the countryside, they find country life is not as simple as it seems. They soon discover that the house and nearby woods are full of strange and delightful creatures, including a gigantic but gentle forest spirit called Totoro, who can only be seen by children. Totoro and his friends introduce the girls to a series of adventures, including a ride aboard the extraordinary Cat Bus, in this all-ages animated masterpiece featuring the voices of Tim Daly, Lea Salonga, and real-life sisters Dakota and Elle Fanning, in early roles. Presented in both English-language and Japanese subtitled versions (March 28 only).
Thursday, April 6, 7:30 p.m.
Masayo Ishigure, Koto, Bass Koto, and Shamisen
Weill Recital Hall at Carnegie Hall, 881 7th Avenue
$40-$50
Masayo Ishigure Koto and Shamisen Recital commemorates the 30th anniversary of the veteran koto and shamisen performer's professional career in the U.S.! Program selections include: "Sakura/The Moon over the Deserted Castle" A masterpiece representing Japan composed by Tadao Sawai. "Ginga (Galaxy)" by Tadao Sawai, using Okinawan melody, is performed on koto and shamisen. "(untitled) " composed by Zac Zinger for koto, piano, and shakuhachi, each instrument partially improvises like often heard in Jazz music. "Gin-yu-ka (Minstrel Song)", a powerful ensemble of six koto players composed by Hikaru Sawai "Chizuru/ Whereabouts of the Wind" by Hideaki Matsumoto, a relatively new Koto and piano piece. "Flying like a Bird", composed by Tadao Sawai, will be the last piece of the recital. The piece, using all the techniques the composer could think of at that time, is one of the milestone of 20th century Koto music, and definitely worth listening to. The history of Japanese music can be seen in this program, which can be enjoyed by a wide range of audiences.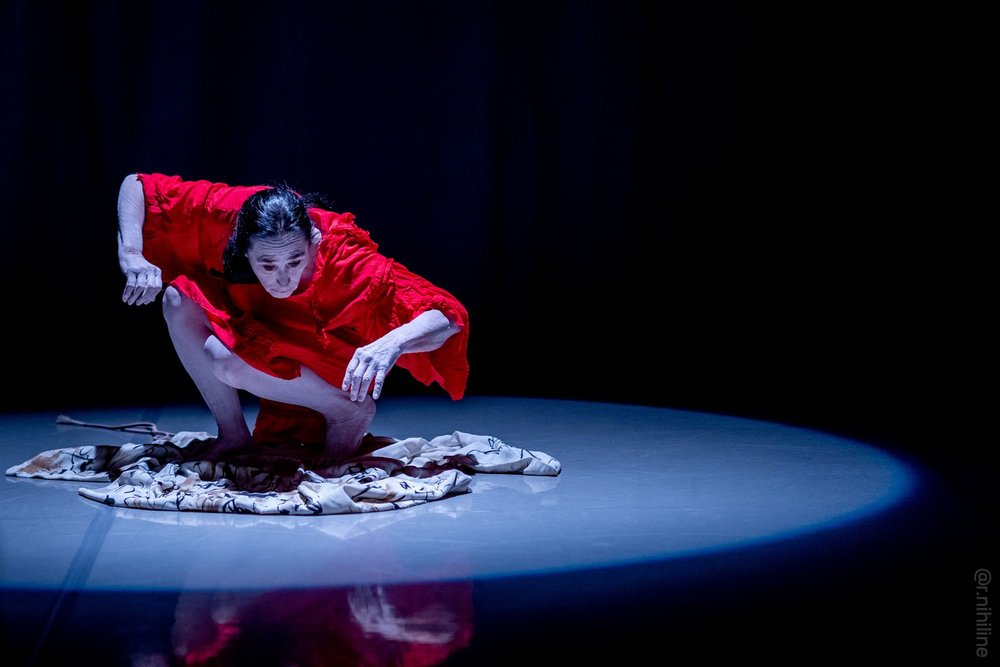 April 6-8, 8:00 p.m.
Joan Laage/Kogut Butoh: Rivers Running Red
Triskelion Arts, 106 Calyer Street (Brooklyn)
$20
Rivers Running Red is a homage to the female body and menstruation. The piece is inspired by an article exposing the practice in certain traditional societies of sending women off to the mountains to remain in huts and, all too often not surviving the harsh conditions. This practice is fueled by the belief that women are unclean while menstruating. It is also a reflection on this monthly cycle being celebrated as a sacred passage in other cultures. Vangeline Theater will open the show with an excerpt of The Slowest Wave. The Slowest Wave investigates through the use of scalp EEG how brain waves during Butoh dancing compare to those emitted during other conscious or unconscious motor behaviors, such as speaking or meditating. Moreover, the study will elucidate the functional neural networks of the dancers and the neural synchrony within and between them. This project is meant to foster connections and understanding between dancers, artists, scientists, engineers, and audiences from around the world.
Read More
DOUBLE TROUBLE (aka whoops I forgot to post last week…)
Last week on the Krewe of Japan Podcast…
The Krewe (shonen) jumps into the world of manga! Nigel, Jennifer, & Doug provide an intro to manga for those unfamiliar with it, notable characteristics, and why you should consider picking up a volume and read. Afterwards, they sit down with Danica Davidson, author of 17 books & frequent manga journalist for Otaku USA & other major publications, to discuss her career path, the manga industry, & things you may not have known regarding the manga scene!
This week…
Strap in for a wild ride as the Krewe talks Japanese theme parks! Nigel, Jennifer, & Doug all share their own experiences and favorite parks around the country. Then, Chris Nilghe of TDR Explorer joins us to talk all things theme parks! Tokyo Disney vs. Universal Studios Japan… who wins? Chris shares his top tips & tricks, along with some great insider knowledge for planning any theme park-based trip in Japan!
The Krewe of Japan Podcast is a weekly episodic podcast sponsored by the Japan Society of New Orleans. Check them out every Friday afternoon around noon CST on Apple, Google, Spotify, Amazon, and Stitcher. Want to share your experiences with the Krewe? Or perhaps you have ideas for episodes, feedback, comments, or questions? Let the Krewe know by e-mail at kreweofjapanpodcast@gmail.com or on social media (Twitter: @kreweofjapan, Instagram: @kreweofjapanpodcast, Facebook: Krewe of Japan Podcast Page, & the Krewe of Japan Youtube Channel). Until next time, enjoy!
By JQ magazine editor Justin Tedaldi (CIR Kobe-shi, 2001-02). Justin has written about Japanese arts and entertainment for JETAA since 2005. For more of his articles, click here.
Stay warm this winter with some hot local events, from live showcases that will transport you to another time and place, some new anime screenings, and a theatrical performance you won't want to miss.
This month's highlights include:
Now playing
Various locations/prices
The number one movie in the world! From visionary filmmakers James Cameron (Avatar) and Robert Rodriguez (Sin City) comes Alita: Battle Angel, an epic adventure of hope and empowerment based on the acclaimed manga series by Yukito Kishiro. When Alita (Rosa Salazar) awakens with no memory of who she is in a future world she does not recognize, she is taken in by Ido (Christoph Waltz), a compassionate doctor who realizes that somewhere in this abandoned cyborg shell is the heart and soul of a young woman with an extraordinary past. As Alita learns to navigate her new life and the treacherous streets of Iron City, she discovers a clue to her past through unique fighting abilities that those in power will stop at nothing to control.
Tuesday, Feb. 19
$19.99 MSRP
After decades out of print, the hilarious manga classic that launched the career of Rumiko Takahashi (Ranma ½, Inuyasha) returns in all-new deluxe English editions! Beautiful space alien princess Lum invades Earth on her UFO, and unlucky Ataru Moroboshi's world gets turned upside down! Will Lum become Earth's electrifying new leader? Or will Ataru somehow miraculously save Earth from space alien onslaught? In a high-stakes game of tag, Ataru must touch Lum's horns in ten days—or aliens will take over the earth! As it turns out, the game of tag is only the beginning of Ataru's troubles, as he continues to attract strange encounters with otherworldly beings like beautiful snow spirit Oyuki and the sexy crow goblin Princess Kurama!
Friday, Feb. 22, 7:00 p.m.
Saint Vitus, 1120 Manhattan Avenue (Brooklyn)
$20-$70
Fluent in Japanese, this ex-Cacophony/Megadeth axeman's overwhelming love of Japanese music and the Japanese language found him moving to Tokyo in 2003. It is there where his career took off in very unexpected ways. Currently he is a constant fixture on Japanese television (appearing on hundreds of network programs of all types, and as the face of long running campaigns for Fanta/Coca Cola, Sumitomo Bank, Suntory etc.), as well as appearing in major motion pictures. He is also the author of two hardcover books in Japanese detailing his unusual views on the current Japanese music scene, as well as two best-selling manga-related books, which are both in their eighth editions now. Catch Friedman as he supports his latest release, One Bad M.F. Live!!, with his band featuring Kiyoshi (bass), Jordan Ziff (guitar), and Chargeeee (drums). Featuring support by Immortal Guardian.
Feb. 28-March 2, 7:30 p.m.
Hachioji Kuruma Ningyo Puppet Theater
Japan Society, 333 East 47th Street
$40, $33 Japan Society members
Koryu Nishikawa, the fifth grand master of Hachioji Kuruma Ningyo Puppet Theater, returns to NYC (and marking the first bunraku performance at Japan Society in a decade) with four female-focused stories from classic literature: Kuzunoha, about a mother's undying love for her child; Date Musume Koi Higanoko, which depicts a woman's heroic sacrifice for her lover; Tsuri On'na, a comical piece about "fishing" for a wife; and Yugao, a new work from Nishikawa based on a story from The Tale of Genji, in which the jealous spirit of one of Genji's lovers possesses a young woman he's courting. Kuruma ningyo, literally meaning "puppets on wheels," refers to the company's unique technique in which the puppeteer sits atop a three-wheeled dolly, adding an element of dynamism and power to each character. Don't miss this rare chance to see a full-scale production with chanters and shamisen players. Performed in Japanese with English titles. A pre-performance lecture begins one hour prior to the start of the performance. The Feb. 28 performance is followed by a MetLife Meet-the-Artists Reception.
Want to stay in the loop on future events? Follow Justin on Facebook and Twitter.
By JQ magazine editor Justin Tedaldi (CIR Kobe-shi, 2001-02). Justin has written about Japanese arts and entertainment for JETAA since 2005. For more of his articles, click here.
With Thanksgiving (and the hopes of sensible eating) now just a memory, we turn to colder weather, falling snow, and the new year to come. Fortunately for Japanese culture fans, December is just as busy as the holiday season itself. Whether you're hosting guests from out of town or looking to squeeze in an event or two in between parties, we've got you covered.
This month's highlights include:
Now through Jan. 1
Radio City Christmas Spectacular
Radio City Music Hall, 1260 Sixth Avenue
From $41
Featuring an all-new finale number (with costumes to match), the seasonal tradition of this legendary New York show, now in its 86th edition, features the Rockettes, ensemble dancers, and Santa himself, for a show guaranteed to delight all ages! Among the more than 50 dancers for this year's performance is Tokyo native Arisa Odaka, who performed with Ken Watanabe in the Lincoln Center Theater production of The King and I in 2015.
Now through Feb. 10
Mickey: The True Original Exhibition
$38
Featuring exclusive works from Keichi Tanaami (SPIRAL) and Tetsuya Nomura (Kingdom Hearts), Mickey: The True Original Exhibition celebrates 90 years of Mickey Mouse's influence on art and pop culture. This immersive, one-of-a-kind experience is inspired by Mickey's status as a "true original" and his consistent impact on the arts and creativity in all its forms. Guests will have the chance to explore the 16,000 square-foot exhibition featuring both historic and contemporary work from renowned artists.
Friday, Dec. 7, 7:00 p.m.
Japan Society, 333 East 47th Street
$14, $11 seniors/students, $5 members
While rummaging through trash heaps on Christmas Eve, three homeless companions—a middle-aged alcoholic, a transgender ex-drag queen and a hot-tempered teen runaway—stumble upon an abandoned newborn. Determined to find the child's mother, the trio search Tokyo's sprawling streets, buildings and back alleys, helped along by a series of coincidental encounters that gradually reveal the truth of their traumatic pasts. Imbued with deep empathy for its down-and-out yet lively characters, this atypical holiday comedy by celebrated animation director Satoshi Kon (Perfect Blue, Paprika) highlights the redemptive power of love and family (chosen or otherwise) amidst life on the fringes of society. Presented in Japanese with English subtitles.
By JQ magazine editor Justin Tedaldi (CIR Kobe-shi, 2001-02) for Shukan NY Seikatsu. Justin has written about Japanese arts and entertainment for JETAA since 2005. For more of his articles, click here.
In recent years, New York has hosted concerts ranging from Japanese rock to symphonic game music at world-renowned venues like Madison Square Garden and Carnegie Hall. Still, the chances of a full-blown anime concert featuring a variety of the original theme song vocalists seemed remote at best.
Until now. Coming to the historic Hammerstein Ballroom on November 16-17 and running concurrently with the second annual Anime NYC convention at the Jacob Javits Center, the Anisong World Matsuri concert event will make its New York debut after acclaimed performances in Los Angeles, Washington, D.C., and Shanghai.
The show will be open to anime fans and music lovers worldwide, with no Anime NYC admission required to attend. Special VIP ticket options allow fans to meet the performers at Anime NYC where multiple on-stage Q&As and autograph sessions will be held with the concert's artists.
According to a press release, Anisong World Matsuri brings together the most popular Japanese singers whose songs span the most popular contemporary anime. High-profile acts include Hironobu Kageyama, the voice behind "Dragon Ball Z"'s "Cha-La Head-Cha-La"; Hiroshi Kitadani ("We Are!" from "One Piece"); TRUE ("Mobile Suit Gundam: Iron-Blooded Orphans"); and Luna Haruna ("Sword Art Online," "Fate/Zero," "Monogatari").
Closing the event is Morning Musume, one of the biggest Japanese girl groups of all time. Celebrating their 20th anniversary this year, they will appear with their current 12-member lineup to mark the final overseas performance of Haruna Iikubo, who will graduate from the group in December at Tokyo's Nippon Budokan.
"It's our second time performing in New York. This time we will perform at Anisong World Matsuri with the legendary artist Hironobu Kageyama," the group announced in a special message video posted online. "We are looking forward to it so much!"
For more information and tickets, visit www.anisongmatsuri.com and www.animenyc.com.
By Rashaad Jorden (Yamagata–ken, 2008-10) for JQ magazine. A former head of the JETAA Philadelphia Sub–Chapter, Rashaad is a graduate of Leeds Beckett University with a master's degree in responsible tourism management. For more on his life abroad and enthusiasm for taiko drumming, visit his blog at www.gettingpounded.wordpress.com.
Work often gets in the way of fun times. But if you incorporate some creativity into your life, that doesn't have to be the case.
Enter the world of Midori Nagumo, the protagonist of the comedy manga CITY. In this first volume (which began serialization in Japan in September 2016) from creator Keiichi Arawi (Nichijou), Nagumo is a very broke college student whose landlady is constantly hounding her for money. Her roommate Niikura refuses to lend her money when she realizes what Nagumo's true intention is.
Nagumo has to resort to other avenues to raise money, such as stealing a clay figure with the aim of selling it. But she clumsily drops the object, rendering it shattered. Crazily enough, immediately afterwards she's offered a job at a restaurant (where the incident happens).
Our protagonist accepts the job but still has issues. It doesn't help that her landlady has a police officer help "move" (or steal) all of her stuff so she wouldn't escape (as the stolen items are actually collateral). In the middle of the volume, Nagumo reflects on her life, telling herself that if she could continue to have lots of happy moments, she'd be unbelievably thrilled with her life.
By JQ magazine editor Justin Tedaldi (CIR Kobe-shi, 2001-02). Justin has written about Japanese arts and entertainment for JETAA since 2005. For more of his articles, click here.
Start 2017 off right by heading down to your local concert hall, cinema, or arts center for some fantastic new year's fare. Whether you enjoy movies, travel, or orchestral performances classic video games, treat yourself and catch a break from the cold.
This month's highlights include:
Now playing through Jan. 5
IFC Center, 323 Sixth Avenue
$15 
New 4K restoration! Rarely seen outside of Japan, Ocean Waves is a subtle, poignant and wonderfully detailed story of adolescence and teenage isolation. Taku and his best friend Yutaka are headed back to school for what looks like another uneventful year. But they soon find their friendship tested by the arrival of Rikako, a beautiful new transfer student from Tokyo whose attitude vacillates wildly from flirty and flippant to melancholic. When Taku joins Rikako on a trip to Tokyo, the school erupts with rumors, and the three friends are forced to come to terms with their changing relationships. As the first Studio Ghibli film directed by someone other than studio founders Hayao Miyazaki and Isao Takahata, these new screenings of Ocean Waves are paired with Ghiblies: Episode 2, a unique 25-minute short film from Studio Ghibli, featuring several comedic vignettes of studio staff as they go about their day. Utilizing new animation techniques and software that would then be deployed on the production of My Neighbors the Yamadas, Ghiblies: Episode 2 made its North American debut in December 2016. Presented in Japanese with English subtitles.
January 5 & 9, 7:00 p.m.
Princess Mononoke: 20th Anniversary
AMC Empire 25, 234 West 42nd Street
$15.99
A two-night event! Princess Mononoke, the classic animated film from groundbreaking writer/director Hayao Miyazaki and the legendary Studio Ghibli, returns to movie theaters in celebration of the beloved historical fantasy's 20th anniversary and director Miyazaki's birthday. The first Studio Ghibli film to receive an uncut U.S. theatrical release, Princess Mononoke returns to cinemas subtitled on Jan. 5 at 7:00 p.m. and English-dubbed on Jan. 9 at 7:00 p.m. The celebration will include a special bonus screening of the music video directed by Hayao Miyazaki, Chage and Aska's "On Your Mark"!
Jan. 5-9
The Public: Martinson Hall, 425 Lafayette Street
$25, $20 members
Part of the 2017 Under the Radar Festival! Tokyo, 1937: An American silent film about a Japanese immigrant is introduced by a celebrated narrator whose existence is being threatened by the impending arrival of the talkies. Ten years later, he will survive under U.S. occupation as a street performer, desperately attempting to finish this story. Admiration and resistance, dreams and survival, Club Diamond is a modern take on the immigration tale. Its creators are Nikki Appino, an award-winning filmmaker, Saori Tsukada, who has been described as a "charismatic mover" (Backstage) and a "startlingly precise dancer" (The New York Times), and has been developed in collaboration with violinist Tim Fain.
By Julio Perez Jr. (Kyoto-shi, 2011-13) for JQ magazine. A bibliophile, writer, translator, and graduate from Columbia University, Julio currently keeps the lights on by working at JTB USA while writing freelance in New York. Follow his enthusiasm for Japan, literature, and comic books on his blog and Twitter @brittlejules.
Everyone has felt out of place at some point in their lives. People who choose to live abroad sometimes make that their everyday. In Tonoharu, cartoonist and JET alum Lars Martinson (Fukuoka-ken, 2003-2006; Kyoto-fu, 2011-2016) illustrates a story exploring themes of human relationships through the experience of an English teacher in Japan on a journey of self-discovery. Told in three parts, the final volume was released in November and represents many years of work for Martinson that began to see fruition when he received the Xeric Grant for Comic Book Self-Publishers in 2007.
Tonoharu is a tale of several non-Japanese teachers of English living in the titular rural town outside of Fukuoka City, mostly from the viewpoint of a young American named Dan Wells. Wells feels out of place in Japan, but claims to have felt the same way back home without having the excuse of being a foreigner. The reader climbs in the back seat for an intimate road trip with him through his pursuit of purpose and success in his job and social life, privy to all manner of encounters from intimacy in the bedroom to traditional parades with locally made floats. In just one year, Wells encounters unique challenges in his work, frustrations with seemingly unrequited romantic interest for another American, confusion and alarm at the mysterious activities of other foreigners in Tonoharu, and worst of all, the inability to replace light bulbs in his apartment!
Tonoharu is full of quiet moments that when described may come off as unimpressive, but they are always captivating and powerful in the way the words and imagery captures the moodiness of imperfect exchanges between people that are not usually seen in glossier fiction. This quality is enhanced by a lack of narration—the framing story of Dan's successor (also named Dan) features his narration, but in the main story the characters only express themselves by speaking to one another. Often the things they don't say, their expressions and their body language, and the things they choose to say while alone, speak just as powerfully as the introspective autobiographical style of narrative-driven graphic novels such as Persepolis.
Via JETAA Ottawa. Posted by Gemma Villanueva (Fukushima 2008-11), the editor for the JETAA Ottawa Newsletter.
Download your digital copy of the JETAA Ottawa Newsletter now!
What's inside this issue?
PM ABE'S VISIT | WELCOME BACK, NEW RETURNERS! | CHEF HAMANA Q&A | JET ALUMNUS MICHAEL MAHER KING OF SMILE KIDS JAPAN  | ONSENS: SOLIDIFYING FRIENDSHIPS IN STRANGE PLACES | AND MORE!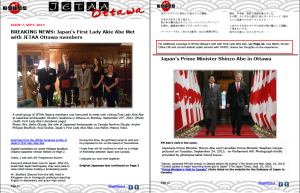 Happy reading!
News agency Kyodo News has recently been publishing monthly articles written by JET alumni who were appointed in rural areas of Japan, as part of promotion for the JET Programme. Below is the English version of the column from January 2013. Posted by Celine Castex (Chiba-ken, 2006-11), currently programme coordinator at CLAIR Tokyo.
***********
Khalid Birdsong (Osaka-fu, 2003-05) attended Howard University, in Washington D.C. from 1993-1997. He graduated with a Bachelor's Degree in Graphic Design. He is currently an Art teacher at a private school in Palo Alto, CA for grades Kindergarten through 4th. He is also a freelance cartoonist and webcomic artist. His comic about living in Japan can be found at www.friedchickenandsushi.com .

I couldn't speak their language!
I moved to Japan in the summer of 2003 to work as an Assistant Language Teacher (ALT) in Junior High School for the JET Programme. I was placed in a small town called Shimamoto near the mountains in-between the cities of Osaka and Kyoto. I ended up living there for two years. Two years full of wonderful experiences and pleasant surprises. As an African-American man from Atlanta, Georgia, living in Japan also had its challenges! One of the most difficult was learning the Japanese language.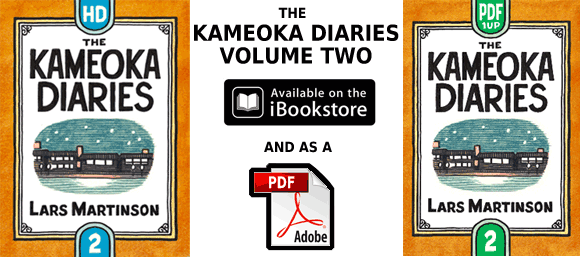 *************
Lars Martinson (Fukuoka-ken 2003-2006), author of the graphic novels Tonoharu: Part Two andTonoharu:  Part 1, has  just published the Kameoka Diaries Volume 2. This is a follow-up to Kameoka Diaries Volume 1, Lars' insightful and entertaining (especially to any JETs) e-comic about his return to teaching English, this time in Kameoka, Kyoto.
Notably, you can purchase a copy for $0.99 for iPhone/iPad/iPodTouch or pay $1 for a PDF version for Mac/PC/Android/whatever.
More info here and below:  http://larsmartinson.com/kameokadiaries2-now-available/
In Lars' words:
When I submitted my first e-comics to Apple, ( The Kameoka Diaries: Volume One and Young Men of a Certain Mind ) it took one month for them to get approved, so I'm surprised & delighted it only took two days this time. But hey, I'm not going to look a gift horse in the mouth!

I'll write more about the new volume of The Kameoka Diaries soon; I just wanted to get this announcement blog entry out right-away.

So please check it out. And if you enjoy it, please consider writing a review on iBooks, and/or telling your friends, and/or tweeting about it, and/or "liking" it on Facebook. Thanks a bunch!
JETwit Note:  I just downloaded a copy onto my iPhone as soon as I saw the announcement.  Volume 1 was great, even on an iPhone screen.  
SCBWI-Tokyo Publicity Assistant Suzanne Kamata (Tokushima 1988-90) shares the following:
Sunday August 19, 2012
SCBWI Tokyo Illustration Day with John Shelley:
Breathing Life Into Your Pictures
Power up your pictures! Give your illustrations vitality and zest! This SCBWI Tokyo Illustration Day featuring illustrator John Shelley will focus on techniques that children's illustrators use to create resonance in their work and will explore how visual psychology works to convey mood, emotion, and movement. The Action and Emotion Illustration Assignment to be completed in advance of the workshop provides an opportunity for illustrators to develop their craft through open critiques at the event.

Time:  Sunday, August 19, 2012, 9:00 am-5:00 pm
Place:  Tokyo Women's Plaza, Audiovisual Room, A & B
5-53-67 Jingumae, Shibuya-ku, Tokyo (by the Children's Castle and United Nations University). For a map see www.scbwi.jp/map.htm Read More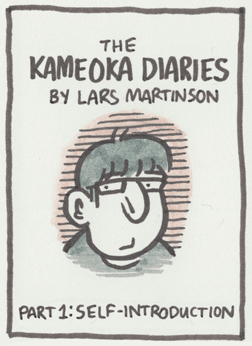 *************
Lars Martinson (Fukuoka-ken 2003-2006), author of the graphic novels Tonoharu: Part Two andTonoharu:  Part 1, has  just announced the "Kameoka Diaries", Lars' e-comic about his return to teaching English, this time in Kameoka, Kyoto, is now available on iTunes.
More info here and below:  http://larsmartinson.com/my-first-two-e-comics-now-available/
The Kameoka Diaries: Volume One [ Direct iBookstore Link ]
The Kameoka Diaries: Volume One is a humorous (?) account of my experiences living and working in Central Japan, told over eight chapters. It includes an exclusive chapter not available anywhere else!
JETwit Note:  I just downloaded a copy onto my iPhone. 250 pages for only $0.99, and I always love Lars' work.  Plus, it's my first time using iBook which it turns out is pretty nifty. :-)

Congratulations to Aaron Porter (ALT Kyoto-fu, Yawata-shi, 1998-2001), who is the 2012 winner of New York's "Japan Day @Central Park" poster contest!
From the JapanDayNYC.org website:
"Japan Day – Cherry Blossom Art Contest"
Contest Results
WINNER
To commemorate the 100th anniversary of Japan's gift of cherry trees to the New York City, Japan Day invited visual artists to submit artwork that featured the beautiful of both cherry trees and Central Park.
Thanks to all of your support, the art contest received total of 45 submissions. All Jurors will agree that, there were a number of impressive entries that made the selection process a challenge.  In fact, the Judges also awarded 5 honorable mentions, in addition to choosing a winner.
We are delighted that we can now reveal the winner of the Japan Day Cherry Blossom Art Contest — Aaron Porter and his art work!
【Japan Day 2012 Official Poster Visual using Mr. Porter's Art Work】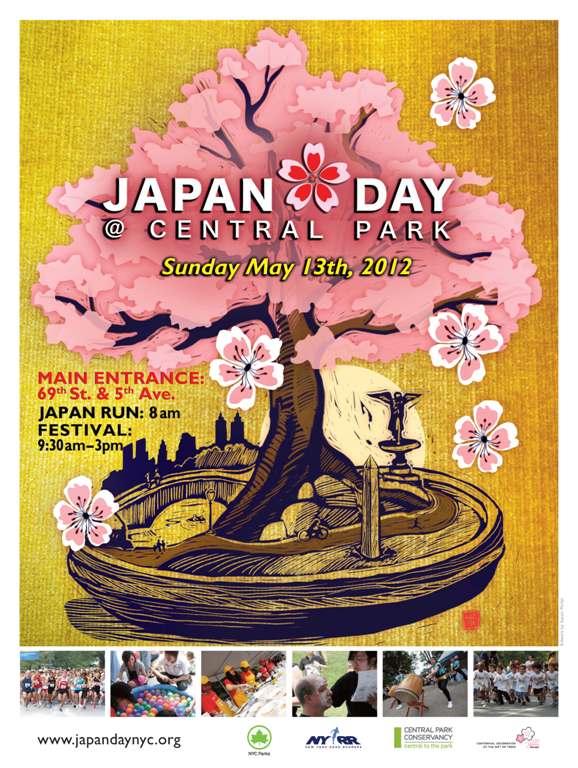 From Aaron's profile on the Japan Day NYC website: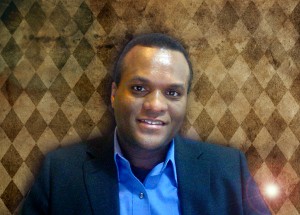 Aaron is originally from Chicago and received a Bachelor's Degree in Scientific Illustration from Northern Illinois University. He began his career as a newspaper artist in South Florida in 1988 in a pre-digital world. Aaron first worked for the Sun-Sentinel in Fort Lauderdale, then the Miami Herald. While in South Florida, Aaron earned a MFA in painting at the University of Miami.
Shortly after finishing his course work, he was accepted into the Japan Exchange and Teaching Program the summer of 1998. He taught English in four junior high schools in Yawata City (Kyoto Prefecture) and still to this day considers it the most exciting three years of his life. While in Japan, he spent his spare time getting to know Japanese culture and painting. His paintings during this period were most often about Japanese culture. During his time in Japan, he had a painting exhibition at the Kyoto International Center in Kyoto Station as well as a number of other small shows in coffee houses and wherever he could get his work shown.
Aaron returned to the States the summer of 2001 and began his new career in newspapers at The Journal News in White Plains, New York. Presently, Aaron is a part-time digital art instructor at the Bronx Community College as well as a freelance graphic artist and illustrator.
Aaron is married to a Japanese woman from Fukuoka whom he met in New York City after he returned from Japan. They live in Up State New York, visit NYC often and travel to Japan each year to visit her family. Much to his wife's disappointment he speaks very little Japanese.
****************
Thanks to Lindsay Tsuji for this write-up and thanks to Nadine Bukhman for the photos.
A chilly Toronto's eve didn't stop friends and fans of one artistically inclined JET alum from dropping by the Goodfellas Gallery in Toronto to celebrate the launch of his new book Life After the B.O.E. JETAA Toronto's David Namisato (Aomori-ken CIR, 2002-04) was the cause of some serious hurrah on February 8.
Most JETs are no stranger to David's comics. Started back in 2005, they chronicle the ins and outs of what life is like as a foreigner on the JET Programme. The enkais, the onsens, the team teaching…it's all in there. Read More