Aug
9

Books, Cartoon/Illustration, Humor, Japan Local, JET Alum Author Beat, Language Study, Notable JET Alums, Writers

Comments Off

on JET alum Lars Martinson publishes "Kameoka Diaries Volume 2" e-comic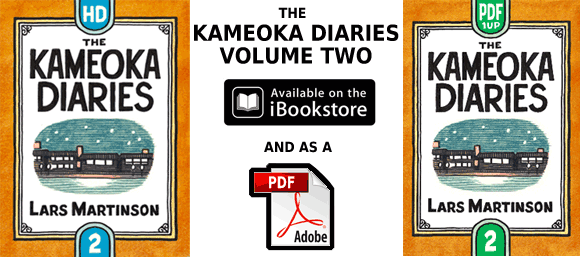 *************
Lars Martinson (Fukuoka-ken 2003-2006), author of the graphic novels Tonoharu: Part Two andTonoharu:  Part 1, has  just published the Kameoka Diaries Volume 2. This is a follow-up to Kameoka Diaries Volume 1, Lars' insightful and entertaining (especially to any JETs) e-comic about his return to teaching English, this time in Kameoka, Kyoto.
Notably, you can purchase a copy for $0.99 for iPhone/iPad/iPodTouch or pay $1 for a PDF version for Mac/PC/Android/whatever.
More info here and below:  http://larsmartinson.com/kameokadiaries2-now-available/
In Lars' words:
When I submitted my first e-comics to Apple, ( The Kameoka Diaries: Volume One and Young Men of a Certain Mind ) it took one month for them to get approved, so I'm surprised & delighted it only took two days this time. But hey, I'm not going to look a gift horse in the mouth!

I'll write more about the new volume of The Kameoka Diaries soon; I just wanted to get this announcement blog entry out right-away.

So please check it out. And if you enjoy it, please consider writing a review on iBooks, and/or telling your friends, and/or tweeting about it, and/or "liking" it on Facebook. Thanks a bunch!
JETwit Note:  I just downloaded a copy onto my iPhone as soon as I saw the announcement.  Volume 1 was great, even on an iPhone screen.