Posted by Tom Baker
---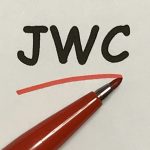 The 12th annual Japan Writer's Conference will be held this year in Hokkaido, a new location for the event. The organizers are now seeking writers to give presentations on the weekend of Oct. 13-14 at Otaru University of Commerce in Otaru, Hokkaido. If you are a writer and would like to participate, contact details appear at the bottom of this post.
Each year, the Japan Writers Conference attracts English-language writers in a variety of genres and fields to share ideas on the art, craft and business of writing. And each year, a significant number of past and present JETs take part. These have included anthologist Suzanne Kamata, textbook author Todd Jay Leonard, travel writer Victoria Vlisides, short story writer Claire Dawn-Marie Gittens, novelists Benjamin Martin, Percival Constantine and Holly Thompson (the last of whom came to Japan in connection with the pre-JET MEF program), and journalists Elaine Lies and Tom Baker (the latter of whom wrote this post).
Past presenters have also included Australian poet David Gibley, "Slumdog Millionaire" novelist Vikas Swarup, "Cash Crash Jubilee" novelist Eli K.P. William, young-adult author Margi Preus, horror author Thersa Matsuura, and memoirist Leza Lowitz. The 2017 edition of "The Best American Mystery Stories," edited by John Sandford, features a story by Karen McGee, who hosted the 2017 event in Tokyo. The host of this year's event will be travel writer and textbook author Shawn Clankie.
Representatives of literary journals such as The Font and Cha have participated in past years, as have representatives of publishers including Fine Line Press and Isobar Press.
Run entirely by volunteers, the Japan Writers Conference is a free event open to all. Details on this year's event can be found at http://www.japanwritersconference.org.
Writers interested in making a presentation at the 2018 conference are asked to contact organizer John Gribble at gribblej@gol.com. The deadline for presentation proposals is June 1.
Apr
1

Events, Film, Food & Drink, JQ Magazine, Music

Comments Off

on JQ Magazine: Nippon in New York — Sake + Rakugo, Ryuichi Sakamoto, Sakura Matsuri
By JQ magazine editor Justin Tedaldi (CIR Kobe–shi, 2001-02). Justin has written about Japanese arts and entertainment for JETAA since 2005. For more of his articles, click here.
Spring has sprung in the Big Apple, and that means one thing: a new season of sounds, colors, and spectacular performing arts to match the blossoming sakura trees throughout the city.
This month's highlights include:
Thursday, April 5, 6:30 p.m. and 8:00 p.m.
Rakugo Event: Tozaburo Yanagiya III
Brooklyn Kura, 68 34th Street (Industry City)
Free
This special set of performances is held at the first Japanese sake brewery in New York State. Born in Tokyo, Yanagiya Tozaburo became a disciple of master Rakugo performer Yanagiya Gontaro III in 1999. He was promoted to the master Shin'uchi rank, in which he himself is certified to train disciples, in 2014. Ever since, he has performed all over Japan and appeared in the ShotenRakugo show and other television programs. During his first visit to North America this spring, he has performed at the University of Toronto, LaGuardia Community College, Hunter College, New York University, and Brooklyn Kitchen. Tozaburo was awarded the Agency for Cultural Affairs' Arts Festival Newcomer Award in 2016. Tozaburo will share sake-inspired stories (while patrons can enjoy the real thing on the premises) along with a traditional story, "The Zoo."
Tozaburo is also appearing at J-COLLABO's Spring Festival in Park Slope on Saturday, April 7, at 3:00 p.m. For more information, click here.
April 12-28
Kazuo Miyagawa: Japan's Greatest Cinematographer
The Museum of Modern Art, (April 12-29)
Japan Society, (April 13-28)
$13/$10 seniors and students, $9 Japan Society members
In celebration of the 110th anniversary of his birth, Japan Society presents an 11-film retrospective surveying the work of Kazuo Miyagawa (1908-1999), the most influential cinematographer of postwar Japanese cinema. Working intimately with directors like Yasujiro Ozu, Akira Kurosawa, Kenji Mizoguchi and Kon Ichikawa on some of their most important films, Miyagawa pushed Japanese cinema to its highest artistic peaks through his lyrical, innovative and technically flawless camerawork. This career-spanning selection displays his great versatility, including major masterpieces and rarely shown titles, screening in 35mm and new digital restorations. Co-organizer The Museum of Modern Art will host repeat screenings and additional Miyagawa retrospective titles from April 12-29. Preceding the retrospective, new 4K restorations of Mizoguchi's A Story From Chikamatsu and Sansho the Bailiff, both shot by Miyagawa, will run at Film Forum from April 6-12.
April 22-23, 25
E-Walk 42nd Street 13, 247 West 42nd Street / Empire 25, 234 West 42nd Street
$12.50 all ages
Part of Studio Ghibli Fest 2018! From the legendary Studio Ghibli, creators of My Neighbor Totoro and the Academy Award-winning Spirited Away, comes a charming and magical adventure that will delight the entire family. Haru is walking home after a dreary day of school when she spies a cat with a small gift box in its mouth crossing a busy street, and she jumps in front of traffic to save the cat from an oncoming truck. To her amazement, the cat gets up on its hind legs, brushes itself off, and thanks her very politely. But things take an even stranger turn when later than night, the King of Cats shows up at her doorstep in a feline motorcade. He showers Haru with gifts, and decrees that she shall marry the Prince and come live in the Kingdom of Cats!
April 25-27
Cinépolis Chelsea (4/25-26), 260 West 23rd Street
Regal Cinemas Battery Park Stadium (4/27), 102 North End Avenue
$23
From his start pioneering synth pop music with Yellow Magic Orchestra, in the late '70s to winning an Oscar for his score for The Last Emperor in 1988, Ryuichi Sakamoto quickly established himself as one of the most original and intuitive composers of his generation. But, never content to rest on his laurels, Sakamoto's life journey eventually led him to find musical inspiration in the unlikeliest of places: the Fukushima nuclear disaster and a personal battle with cancer, both of which gave way to a late-life shift in his artistic process. With Coda, director Stephen Nomura Schible (a co-producer on Lost in Translation) crafts a portrait of the artist as an ageless man, one who can turn the worst news into the most refined and purposeful moment of productivity in an already storied career. Shot over five years, this graceful music documentary is an elegantly observed examination of the creative process, following as Sakamoto builds from nothing the album he must assume will be his swan song. Premiere Screening features a Q&A with subject Sakamoto and Nomura Schible.
April 28-29, 10:00 a.m.-6:00 p.m.
Brooklyn Botanic Garden, 990 Washington Avenue
$30 adults, $25 senior and students, free for BBG members and children under 12
Billed as a dynamic two days of traditional and contemporary Japanese culture inspired by BBG's famous collection of flowering cherry trees, organizers will once again welcome tens of thousands of visitors to its massive 52 acres, home to over 12,000 kinds of plants (and, for that weekend, nearly as many cosplayers). Enjoy food and drink, events and activities for all ages while taking in live performances from New York troupe Dancejapan with Sachiyo Ito, the BBG Parasol Society Fashion Show, NYC's own J-pop meets jazz favorite J-MUSIC Ensemble, and the Matsuri live debuts of DJ Sashimi and Tokyo-based rock duo Bo-Peep.
Want to stay in the loop on future events? Follow Justin on Facebook and Twitter.
JET Prefecture Round Up is a mosaic of events taking place in the AJET community in Japan. Compiled by Suzanne Bhagan (Tottori Prefecture alumni).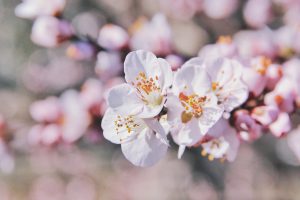 Cherry Blossom Viewing & Potluck Party
When:  April 1
Where:  Shizuoka Prefecture
Enjoy Shizuoka Matsuri under the cherry blossoms. Entrance is free but please bring some nibbles or drinks to share.
The Ultimate Hanami and After Party of 2018
When:  April 7
Where:  Tokyo
Celebrate spring with JETs and ALTs in Japan. The event's totally free, with free snacks and drinks (while they last!). There's also an after-party once the sun sets.
When:  April 14
Where:  Okinawa Prefecture
Calling all OkiJETs! April is just around the corner and you know what that means: it's Gumball Rally time!! It's a super cool island-wide event similar to a scavenger hunt where you complete tasks for points.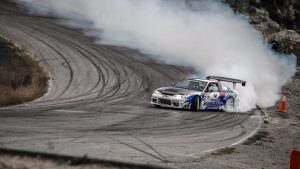 When:  April 14
Where:  Miyazaki Prefecture
This is one of Miyazaki AJET's biggest events of the year, similar to the TV show. This year, the challenges and clues will be based on Harry Potter!
Regional JET and ALT Gathering
When:  April 20
Where:  Tokyo
Experience a night of elegance and receive special VIP treatment at one of the most acclaimed establishments in all of Tokyo! JETs, alumni, ALTs, or anyone who joins this page will be included as a VIP. Entrance fee is 2500 yen (3500 yen at the door).
When: April 21
Where: Aomori Prefecture
This year is the 100th anniversary of the Hirosaki Cherry Blossom Festival and Aomori AJET's Hanami will coincide with its opening day.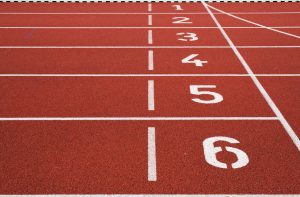 AJET Tokyo Scavenger Hunt 2018
When: April 21
This will be the 5th Block 4 Tokyo Scavenger Hunt! For this event, you and your team will complete a variety of different missions around the city of Tokyo!
When:  April 21
Where:  Kumamoto Prefecture
Once again, it's music and party time on the side of the world's largest caldera brought to you by Kuma AJET.  For those of you leaving Japan this summer, it's a great last chance to see friends. Cost is 1000 yen.
Written by professional Writer/Interpreter/Translator Stacy Smith (Kumamoto-ken CIR, 2000-03), WIT Life is a periodic series about aspects of Japanese culture such as film, food and language.  Stacy starts her day by watching Fujisankei's newscast in Japanese, and here she shares some interesting tidbits and trends along with her own observations.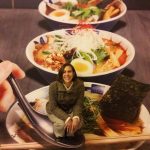 Japan Week 2018 is taking place through the weekend at Grand Central's Vanderbilt Hall, and this year's theme is 3D Trick Art.  Sponsored by the Japan National Tourism Organization (JNTO), the event strives to create an Instagrammable, interactive experience for visitors.  In addition to the regular array of booths from travel agencies, various regions in Japan and Japanese food and drink purveyors, there are several large backdrops into which you can insert yourself for the ultimate selfie.  My favorite was the bowl of ramen into which you can become one of the ingredients, and others include becoming a topping for sushi, helping to carry the mikoshi at a matsuri and shuttling around a sumo wrestler in a rickshaw (Fujifilm is even on hand to help you print out these funny shots after you take them!). Read More
Written by professional Writer/Interpreter/Translator Stacy Smith (Kumamoto-ken CIR, 2000-03), WIT Life is a periodic series about aspects of Japanese culture such as language, film, business, food and politics. Stacy starts her day by watching Fujisankei's newscast in Japanese, and here she shares some interesting tidbits and trends along with her own observations.
Last September, Chelsea received a great addition to its art scene in the form of the Sato Sakura Gallery. This Japan-born museum has two locations (Fukushima/Tokyo) that specialize in 日本画 (Nihon-ga or traditional Japanese painting). This term and concept was created in response to 西洋画 (Seiyou-ga or Western painting), which made its way to Japan during the Meiji Era (1868). Today the idea of Nihon-ga can refer to both purely traditional Japanese painting, as well as new styles of painting that incorporate Western painting methods while remaining faithful to traditional Japanese painting techniques.
The inaugural exhibit at the new Chelsea location has 桜 (sakura or cherry blossoms) as its theme, and showcases 12 different artists and their works. They range from regular-sized paintings to giant folding screens, and my favorites were from self-proclaimed "flower and cherry blossom maniac" Reiji Hiramatsu. In particular, his work "Playful Carps" piece is impressive.  Its bright colors are striking, and I enjoy the playfulness of the fish in a pond with petals filling its surface. I also really like his "Mt. Fuji and Cherry Blossoms," Read More
By Aubrey Keene (Hokkaido, 2004-06) for JQ magazine. Aubrey moved to New Jersey from Kentucky to complete a master's degree in Asian studies from Seton Hall University. This is her first article for JQ.
On Saturday, February 3, the New York Adventure Club offered participants a private tea ceremony demonstration at the Urasenke Chanoyu Center of New York (UCC) in Manhattan. Nearly two dozen participants from the area attended to have their first experience with this iconic Japanese cultural tradition.
Experiences like this are not unique for members of the New York Adventure Club. The group, formed in 2013 by CEO and founder Corey William Schneider, was an effort, he explains, "to get my friends to join me on my random weekend adventures around the city." For more than a year and a half prior, Schneider had been exploring the city on his own as part of what he calls a "mini-early life crisis" that triggered a desire to do more fulfilling activities in his free time. By founding the group on Facebook, Schneider hoped he could get others to join him: he quickly discovered his idea was a hit when over 100 people showed up for the first event. The group now boasts more than 9,000 members, with activities ranging from trapeze classes to tours of Grant's Tomb to tea tastings happening almost every day of the week.
On a chilly Upper East Side afternoon, participants gathered in the lobby of the UCC for an introduction by their chado, or way of tea, master Yoshihiro Terazono, who gave an overview of the 140-year old building. Originally a horse carriage house later refitted as an art studio for Mark Rothko, the UCC purchased the building in 1980 and spent two years transforming the space into a tea ceremony center. It now houses three tatami mat rooms of various sizes where students come and practice throughout the week. Each room opens to an outdoor space of a garden area with a view of the windows three stories above. The aesthetics successfully evoked the image of a tea house in Kyoto, the birthplace of Urasenke.
By JQ magazine editor Justin Tedaldi (CIR Kobe–shi, 2001-02). Justin has written about Japanese arts and entertainment for JETAA since 2005. For more of his articles, click here.
Stay warm this winter with some hot local events, from live showcases that will transport you to another time and place, some new anime screenings, and a sake extravaganza you won't want to miss.
Now through May 6
Children's Museum of Manhattan, 212 West 83rd Street
$14 children/adults, $11 seniors
Experience Tokyo's vibrant culture in a new interactive exhibit! Children will have fun learning about life in present day Japan in this playful, highly immersive environment that transports families to two distinct areas of Tokyo that exist side by side: one serene and exquisite, the other, too cute for words. Kawaii Central is a streetscape inspired by Tokyo's bustling Harajuku district, bursting with color, trendy shops and cuter than cute styles. Kids sing karaoke, smile for the photo booth camera, serve up a seasonal Japanese meal, and design adorable mascots for their families. Plus, learn more about contemporary Japan through special programs for the public, free with admission.
Saturday, Feb. 3, 3:30 p.m.
Private Japanese Tea Ceremony Demonstration @ The Secret Kyoto Garden 
Urasenke Chanoyu Center of New York, 153 East 69th Street
$35 advance, $39 day of event
Experience one of Japan's oldest traditional tea ceremonies in a secret indoor Japanese garden hidden in the Upper East Side—led by a Tea Master of Urasenke! Join New York Adventure Club for a traditional Japanese tea ceremony demonstration in the style of Urasenke, one of the main schools of Japanese tea ceremony. Established in 1967 to promote the rich cultural tea tradition of Urasenke in New York City, the UCC is a private organization that teaches its members how to master this ancient tradition over the course of 10-15 years. This event also offers an opportunity to consume the best quality sweets and matcha green tea from Kyoto, the birthplace of Urasenke.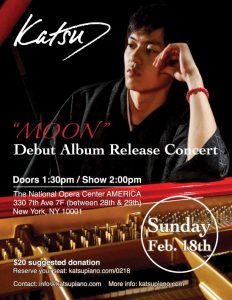 Sunday, Feb. 18, 2:00 p.m.
Katsu: Debut Album Release Concert
National Opera Center – OPERA America, 330 Seventh Avenue
$20 suggested donation
Katsu started to perform in public about a month after he started playing the piano when he was the age of 19 by self-learning. He also started composing originals soon after the beginning of the public performances. After performing several times in Japan, He moved to New York. Then in December 2016, he debuted as a composer and a pianist at the Steinway Hall. Now, he has been performing his original tunes as a solo pianist at multiple venues. His music is described as New Age music, classical, Jazz, romantic piano, and more. This intimate performance will feature selections from his recently released debut album, Moon.
March 25-26, 28
E-Walk 42nd Street 13, 247 West 42nd Street / Empire 25, 234 West 42nd Street
$12.50 all ages
For the kickoff of Studio Ghibli Fest 2018,  From the legendary Studio Ghibli, creators of Spirited Away and My Neighbor Totoro, and Academy Award-winning director Hayao Miyazaki, comes a heartwarming family adventure. When Sosuke, a young boy who lives on a clifftop overlooking the sea, rescues a stranded goldfish named Ponyo, he discovers more than he bargained for. Ponyo is a curious, energetic young creature who yearns to be human, but even as she causes chaos around the house, her father, a powerful sorcerer, schemes to return Ponyo to the sea. Miyazaki's breathtaking, imaginative world is brought to life with an all-star cast, featuring (on the March 25 and March 28 English-language screenings) the voices of Cate Blanchett, Matt Damon, Lily Tomlin, Liam Neeson, and more.
Monday, March 26, 7:30 p.m.
Japan Society, 333 East 47th Street
$15, $10 Japan Society members, seniors and students
This program is the 13th installment of Japan Society's annual Play Reading Series, which introduces topical plays from up-and-coming playwrights in Japan to artists and audiences in the U.S. Written by Hideto Iwai, the winner of the prestigious Kishida Kunio Award for Drama, Manhood follows the twisted turns in the lives of four men as their boyish posse faces the harsh realities of adulthood and old age. Sarah Hughes, a New York local and emerging theater director, leads her gender swapped cast in this off-kilter depiction of Japanese "bro culture." Playwright Iwai joins in a post-performance Q&A with the audience and director.
Friday, March 30, 6:30 p.m.
The Nippon Club, 145 West 57th Street
$10 (materials included), RSVP at jpcourse@jfny.org
Are you planning a trip to Japan in the near future? If so, this workshop is for you! Please join us for our Travel Japanese workshop and learn Japanese vocabulary and basic expressions essential for travel in Japan! Japanese customs and useful travel information will also be introduced. In this workshop, you will be able to order food at a restaurant using simple terms, communicate with a store attendant while doing shopping, tell your destination to a taxi driver or station agent and ask for information, and more!
Want to stay in the loop on future events? Follow Justin on Facebook and Twitter.
Posted by Sydney Sparrow. Click here to join the JETwit Jobs Google Group and receive job listings even sooner by email.
---
Event Title: San Francisco Career Forum 2018
Date: February 17th and 18th, 2018
Location: San Francisco, CA, USA
Contract: Full-Time
Thanks to Kanako Soejima whose company organizes career forums around the globe, for the following information on the next forum.
JET alumni with at least conversational Japanese language ability are invited to the upcoming San Francisco Career Forum 2018. Attendees will have the opportunity to learn more about participating companies, submit resumes, interview, and even receive offers of employment during the two-day event.
—– San Francisco Career Forum 2018 —–
February 17th and 18th, 2018 (Saturday and Sunday)
Register and begin applying to companies here: https://careerforum.net/en/event/sf/
Participating companies include: Apple, IBM Japan, Ltd., Rakuten, Mercari, Inc., Mitsui Banking Corporation and more.
Financial incentive for people with a background in IT/Engineering
Up to $350 travel scholarship available for qualified participants
Panel Discussions with experienced professionals from Cybozu, Inc., Fujisoft America, Inc, SOURCENEXT INC., StreamSets, Inc. and more
Career Forums are for anyone who: has at least conversational Japanese and English abilities and is looking for a full-time or internship position.
If you have any questions, please feel free to contact Kanako Soejima, at k.soejima@discointer.com.
We hope to see you in San Francisco!
By JQ magazine editor Justin Tedaldi (CIR Kobe-shi, 2001-02) for Shukan NY Seikatsu. Justin has written about Japanese arts and entertainment for JETAA since 2005. For more of his articles, click here.
Since forming in 1987, the Japan Exchange and Teaching Programme (JET) has become one of the world's largest international exchange programs, with nearly 65,000 people from 65 countries selected to promote English language learning and teaching in Japan. To commemorate its first three decades, the JET Alumni Association of New York (JETAANY) is hosting an equally ambitious event.
"The main purpose of the JETAANY Gala is to celebrate 30 years of the JET Programme and all we hope it will become," said JETAANY events chair Andy Shartzer. "JET has helped the grassroots community abroad, and our alumni chapters explore how we can continue its message. Our goal is also to establish JETAANY as a greater presence in the U.S.-Japan community."
The sold-out gala, which will be held at Brooklyn's Dumbo Loft on February 3rd, will feature multiple generations of JET participants and community members with ties to Japan, along with a taiko performance, an awards ceremony, and a prize drawing. Donations are from local companies and organizations including publisher Vertical, Inc., Kaoru Watanabe Taiko Center, and the venerable Japan Society of New York.
"Since its inception 30 years ago, the JET Programme has been a unique and outstanding facilitator of grassroots exchange between the U.S. and Japan," said JETAANY president Wendy Ikemoto. "As one of the largest and most active alumni chapters in the U.S., we're honored by the overwhelming response received."
According to Shartzer, JETAANY plans to host similar events in the future, and is delighted to form new partnerships. For sponsorship and donation proposals, email Wendy at president@jetaany.org. For more information on JETAANY, visit http://jetaany.org.
By Lyle Sylvander (Yokohama–shi, 2001-02) for JQ magazine. Lyle has completed a master's program at the School of International and Public Affairs at Columbia University and has been writing for the JET Alumni Association of New York since 2004. He is also the goalkeeper for FC Japan, a New York City–based soccer team.
From Jan. 11-14, director Satoshi Miyagi and his company Shizuoka Performing Arts Center (SPAC) returned to Japan Society of New York with their sold-out production of Mugen Noh Othello. As with their previous Madea (seen at Japan Society in 2011), Miyagi and company adapt a classic play from the Western canon and infuse it with the stylistic conventions of noh. Specifically, Miyagi and his playwright Sukehiro Hirakawa re-tell the story from the viewpoint of Desdemona's ghost, a traditional in the mugen (supernatural) style of noh. This style typically involves otherworldly beings, including gods, spirits and ghosts. Time is often depicted as passing in a non-linear fashion, and action may switch between two or more timeframes from moment to moment, including flashbacks.
Noh theatre is considered to be the highest art form among the five classical Japanese forms of theatre: noh, kabuki, bunraku, butoh and kyogen. The art form requires highly trained actors and musicians (Mugen Noh Othello featured a percussion ensemble of six). The actors usually wear masks to signify the characters' gender, age and social ranking, and by wearing masks the actors may portray youngsters, old men, female, or even nonhuman characters such as demons or animals. Noh also contains a uniquely structured stage with the hashigakari, a narrow bridge that is used for entering. Since Japan Society's theater contains a more conventional stage (albeit without proscenium), the hashigakari has been approximated. All actors enter through it, as if entering from another space into the new shared theatrical space with the audience. Throughout the performance, the actors chant in unison, further accentuating the otherworldly atmosphere.
By JQ magazine editor Justin Tedaldi (CIR Kobe–shi, 2001-02). Justin has written about Japanese arts and entertainment for JETAA since 2005. For more of his articles, click here.
Start 2018 off right by heading down to your local concert hall, cinema, or arts center for some fantastic new year's fare. Whether you enjoy movies, travel, or orchestral performances classic video games, treat yourself and catch a break from the cold.
This month's highlights include:
Jan. 1-11
IFC Center, 323 Sixth Avenue
$15 adults, $11 children
In collaboration with GKIDS, IFC Center is pleased to present the return of this smash-hit retrospective of Japan's famed Studio Ghibli animation house. Don't miss your chance to see some of the greatest films of all time on the big screen! Titles include the favorites Spirited Away, Nausicaä and My Neighbor Totoro—with select screenings on 35mm prints! All films shown prior to 6 p.m. will be screened in the English-language version; evening shows will be subtitled in English. For a list of all films and dates, click here.
Jan. 11-14
Japan Society, 333 East 47th Street
$35, $30 Japan Society members
Following a sold-out run of Medea in 2011, Satoshi Miyagi and his company SPAC return to New York with another literary masterpiece, Othello. Miyagi re-tells Shakespeare's famed tragedy through noh theater's most distinct storytelling structure, mugen noh, or a play that features a spirit. Told from the perspective of Othello's wife Desdemona, who returns as a ghost after her death, Miyagi's production is replete with stunning masks and costumes as well as powerful live music and chanting. Performed in Japanese with English titles. The Friday, Jan. 12 performance is followed by an artist Q&A.
Saturday, Jan. 13, 2:00 p.m. and 8:00 p.m.
Distant Worlds: Music from Final Fantasy
Carnegie Hall (Stern Auditorium/Perelman Stage), 881 Seventh Avenue
$28-$120
Distant Worlds brings its concert production to one of the world's most famous orchestral venues. With composer Nobuo Uematsu in attendance, the Distant Worlds Philharmonic Orchestra and the Dessoff Choirs under the direction of Grammy Award-winner Arnie Roth celebrate the 30th anniversary of Final Fantasy. These special performances feature exclusive HD video presentations from Square Enix alongside classic scores and new premieres.
Written by professional Writer/Interpreter/Translator Stacy Smith (Kumamoto-ken CIR, 2000-03), WIT Life is a periodic series about aspects of Japanese culture such as film, food and language.  Stacy starts her day by watching Fujisankei's newscast in Japanese, and here she shares some interesting tidbits and trends along with her own observations.
Last week I had the opportunity to see some amazing works from legendary avant garde Japanese poet, dramatist, writer, film director, and photographer Shuji Terayama. I hadn't heard of him before, but many critics view him as one of the most productive and provocative creative artists to come out of Japan. He has also been cited as an influence on various Japanese filmmakers from the 1970s onward. The three films screened were Americans, who are you (アメリカ人あなたは), Laura (ローラ) and The Trial (審判).
A special treat was that Laura included the restaging of Terayama's 1974 film performance with the original actor, Henrikku Morisaki, who was in attendance. This short film feature female strippers who are berating the audience, when all of a sudden a spectator (Morisaki) enters the film. We saw scenes of him as a young man in this role, being stripped and assaulted by the women. At the end of the film he emerged from behind the screen, this time naked and holding his torn clothes. In an interview post-screening, Morisaki told stories about his work with Terayama over the course of almost 17 years. He described Read More
By JQ magazine editor Justin Tedaldi (CIR Kobe-shi, 2001-02). Justin has written about Japanese arts and entertainment for JETAA since 2005. For more of his articles, click here.
From the silver screen to the stage to J-pop, November is just as colorful as the autumn leaves drifting through the air. Add these live events to the mix and you've got an irresistibly epic rundown.
This month's highlights include:
Now through Dec. 16
Yayoi Kusama: Festival of Life and Infinity Nets
David Zwirner Galleries, 525 and 533 West 19th Street and 34 East 69th Street
Free
Yayoi Kusama's work has transcended some of the most important art movements of the second half of the twentieth century, including Pop Art and Minimalism. The exhibitions will feature sixty-six paintings from her iconic My Eternal Soul series, new large-scale flower sculptures, a polka-dotted environment, and two Infinity Mirror Rooms in the Chelsea locations, and a selection of new Infinity Nets paintings uptown. The celebrated Infinity Mirror Rooms invite the viewer to experience a sense of infinity through the play of reflections between the circular shapes of light and the surrounding mirrors. The Infinity Net paintings on view at the gallery's uptown location are the latest works in a series begun in New York in the 1950s, when Abstract Expressionism was still the dominant style. These canvases embodied a radical departure, featuring minutely painted nets across monochrome backgrounds.
Nov. 3-5
Japan Society, 333 East 47th Street
$95, $75 Japan Society members, seniors and students (Nov. 4-5 only)
Part of Japan Society's NOH-NOW series, celebrating its 110th anniversary! Hiroshi Sugimoto, acclaimed visual artist and traditional Japanese arts connoisseur, offers his most recent noh piece. In this new play, the ghost of revered 16th century tea master Sen-no-Rikyu appears to tell the story of his tragic death by forced suicide. Opening a door onto medieval Japan, the program begins with a tea ceremony by Sen So'oku, direct descendent of Sen-no-Rikyu, and features Japan's top noh actors and musicians. Performed in Japanese with English titles.
Nov. 16-Dec. 3
SoHo Playhouse, 15 Vandam Street
$30
Universally funny and yet so very Japanese. Katsura Sunshine makes his highly-anticipated off-Broadway debut! As the world's first bilingual rakugo-ka (a traditional Japanese comic storyteller), he is an international ambassador of this 400-year tradition. Fresh off 10 smash-hit performances in London's West End, he will have a series of performances bringing his unique yet authentic rakugo to Off Broadway—in Japanese and English!
Nov. 17-19
Jacob K. Javits Convention Center, 655 West 34th Street
$35-$60; VIP passes also available
"Anime and manga have taken the world by storm. While New York City is the largest city in America, no focused event championing Japanese pop culture calls it home and with a population of eight million there's a massive demand here," says Peter Tatara, LeftField Media's vice president of anime events. "Anime NYC will be a celebration of this community of fans and a platform for publishers and studios from both sides of the Pacific to be in front of the eyes of attendees, trendsetters, and people who aren't yet familiar with the worlds of anime and manga. We're looking forward to a vibrant, dedicated celebration of everything in Japan that's nerdy and cool, in the media capital of the world!"
In this inaugural three-day celebration of Japanese animation powered by Crunchyroll, attendees will be able to view exclusive anime screenings and meet major guests courtesy of international animation and manga publishers; play the latest in Japanese gaming technology; chow down on Japanese delicacies and fusion cuisine; rock out to musical guests direct from Tokyo; and more! An estimated 20,000 fans are expected to attend, with special guests featuring the English-language cast of Sailor Moon Crystal for a panel screening; the U.S. premieres of the films Gundam Thunderbolt: Bandit Flower and Fullmetal Alchemist, and the NY Ramen Summit, featuring a discussion between famed ramen chefs from around the city.
By JQ magazine editor Justin Tedaldi (CIR Kobe-shi, 2001-02) for Shukan NY Seikatsu. Justin has written about Japanese arts and entertainment for JETAA since 2005. For more of his articles, click here.
New York Comic Con returned to the Jacob Javits Center October 5-8, selling a record-breaking 200,000 tickets (an 11% increase from last year) and featuring appearances from some of the contemporary manga world's most renowned creators, including guest artists Akira Himekawa (The Legend of Zelda) and Hiro Mashima (Fairy Tail).
"New York Comic Con is always a great place to meet fans in person and talk about what titles they enjoy most," said Tomo Tran, marketing director for New York-based Vertical, Inc., which publishes Japanese comics and novels in English. "We aim to bring titles that are not just mainstream in Japan, but that we feel can be impactful here in the U.S."
Some of Vertical's new fare was unveiled at a special panel, introducing the series Pop Team Epic, a comic-strip style parody of manga and pop culture, and the slapstick comedy The Delinquent Housewife!, both coming next year. In addition, Kodansha Comics celebrated its storied sci-fi library with a Q&A of the creators of a forthcoming Ghost in the Shell graphic novel, a new deluxe reissue of Battle Angel Alita, and a 35th anniversary boxed set of the classic "Akira," which began life in print years before its release as a massively influential anime film.
As for memorable moments? "A female fan approached me and asked about volume seven of a backlisted title, Twin Spica, that we no longer printed," Tran said. "I told her I would follow up about it, and fortunately we had a few copies at the office. When I gave her the copy at the con the next day, she was so happy with tears in her eyes, since this was one of her favorite series."
Justin has written about Japanese arts and entertainment since 2005. For more of his stories, visit http://jetaany.org/magazine.
Posted by Sydney Sparrow. Click here to join the JETwit Jobs Google Group and receive job listings even sooner by email.
---
Event: Transitions: Opportunities Forum & Networking Expo
Organized by: Pacific Northwest JET Alumni Association (PNWJETAA)
Location: Kirkland, WA, USA
Time and Date: Saturday, October 21, 2017 (9:00 AM – 4:30 PM)
Thanks to PNWJETAA for the passing along this event:
Please join us for Transitions: Opportunities Forum & Networking Expo is the annual career and networking event organized by the Pacific Northwest JET Alumni Association (PNWJETAA), co-sponsored by Northwest University and The Council of Local Authorities for International Relations (CLAIR) and generous support from the Sasakawa Peace Foundation USA and USJETAA.
Originally aimed at recently returned or relocated JET Program participants, Transitions has since evolved into a more comprehensive event, seeking to meet the ever-changing needs of our community, who may not only be seeking employment but are also interested in new opportunities to advance their skills through continued education and greater community involvement.  Whether you are a new returnee or you've been back for a few years, it's our goal to help you explore your options and plan your next steps, regardless of the path you choose to pursue! Read More