Written by professional Writer/Interpreter/Translator Stacy Smith (Kumamoto-ken CIR, 2000-03), WIT Life is a periodic series about aspects of Japanese culture such as language, film, business, food and politics. Stacy starts her day by watching Fujisankei's newscast in Japanese, and here she shares some interesting tidbits and trends along with her own observations.
Last September, Chelsea received a great addition to its art scene in the form of the Sato Sakura Gallery. This Japan-born museum has two locations (Fukushima/Tokyo) that specialize in 日本画 (Nihon-ga or traditional Japanese painting). This term and concept was created in response to 西洋画 (Seiyou-ga or Western painting), which made its way to Japan during the Meiji Era (1868). Today the idea of Nihon-ga can refer to both purely traditional Japanese painting, as well as new styles of painting that incorporate Western painting methods while remaining faithful to traditional Japanese painting techniques.
The inaugural exhibit at the new Chelsea location has 桜 (sakura or cherry blossoms) as its theme, and showcases 12 different artists and their works. They range from regular-sized paintings to giant folding screens, and my favorites were from self-proclaimed "flower and cherry blossom maniac" Reiji Hiramatsu. In particular, his work "Playful Carps" piece is impressive.  Its bright colors are striking, and I enjoy the playfulness of the fish in a pond with petals filling its surface. I also really like his "Mt. Fuji and Cherry Blossoms," Read More
By Aubrey Keene (Hokkaido, 2004-06) for JQ magazine. Aubrey moved to New Jersey from Kentucky to complete a master's degree in Asian studies from Seton Hall University. This is her first article for JQ.
On Saturday, February 3, the New York Adventure Club offered participants a private tea ceremony demonstration at the Urasenke Chanoyu Center of New York (UCC) in Manhattan. Nearly two dozen participants from the area attended to have their first experience with this iconic Japanese cultural tradition.
Experiences like this are not unique for members of the New York Adventure Club. The group, formed in 2013 by CEO and founder Corey William Schneider, was an effort, he explains, "to get my friends to join me on my random weekend adventures around the city." For more than a year and a half prior, Schneider had been exploring the city on his own as part of what he calls a "mini-early life crisis" that triggered a desire to do more fulfilling activities in his free time. By founding the group on Facebook, Schneider hoped he could get others to join him: he quickly discovered his idea was a hit when over 100 people showed up for the first event. The group now boasts more than 9,000 members, with activities ranging from trapeze classes to tours of Grant's Tomb to tea tastings happening almost every day of the week.
On a chilly Upper East Side afternoon, participants gathered in the lobby of the UCC for an introduction by their chado, or way of tea, master Yoshihiro Terazono, who gave an overview of the 140-year old building. Originally a horse carriage house later refitted as an art studio for Mark Rothko, the UCC purchased the building in 1980 and spent two years transforming the space into a tea ceremony center. It now houses three tatami mat rooms of various sizes where students come and practice throughout the week. Each room opens to an outdoor space of a garden area with a view of the windows three stories above. The aesthetics successfully evoked the image of a tea house in Kyoto, the birthplace of Urasenke.
Feb
3

Art, Article/Journalism, Events, Film, JQ Magazine, Music

Comments Off

on JQ Magazine: Nippon in New York – Hello from Japan, Private Tea Ceremony, Katsu Album Release Concert
By JQ magazine editor Justin Tedaldi (CIR Kobe–shi, 2001-02). Justin has written about Japanese arts and entertainment for JETAA since 2005. For more of his articles, click here.
Stay warm this winter with some hot local events, from live showcases that will transport you to another time and place, some new anime screenings, and a sake extravaganza you won't want to miss.
Now through May 6
Children's Museum of Manhattan, 212 West 83rd Street
$14 children/adults, $11 seniors
Experience Tokyo's vibrant culture in a new interactive exhibit! Children will have fun learning about life in present day Japan in this playful, highly immersive environment that transports families to two distinct areas of Tokyo that exist side by side: one serene and exquisite, the other, too cute for words. Kawaii Central is a streetscape inspired by Tokyo's bustling Harajuku district, bursting with color, trendy shops and cuter than cute styles. Kids sing karaoke, smile for the photo booth camera, serve up a seasonal Japanese meal, and design adorable mascots for their families. Plus, learn more about contemporary Japan through special programs for the public, free with admission.
Saturday, Feb. 3, 3:30 p.m.
Private Japanese Tea Ceremony Demonstration @ The Secret Kyoto Garden 
Urasenke Chanoyu Center of New York, 153 East 69th Street
$35 advance, $39 day of event
Experience one of Japan's oldest traditional tea ceremonies in a secret indoor Japanese garden hidden in the Upper East Side—led by a Tea Master of Urasenke! Join New York Adventure Club for a traditional Japanese tea ceremony demonstration in the style of Urasenke, one of the main schools of Japanese tea ceremony. Established in 1967 to promote the rich cultural tea tradition of Urasenke in New York City, the UCC is a private organization that teaches its members how to master this ancient tradition over the course of 10-15 years. This event also offers an opportunity to consume the best quality sweets and matcha green tea from Kyoto, the birthplace of Urasenke.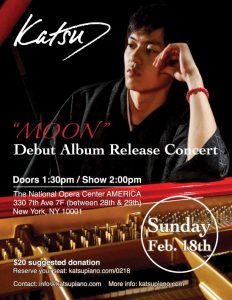 Sunday, Feb. 18, 2:00 p.m.
Katsu: Debut Album Release Concert
National Opera Center – OPERA America, 330 Seventh Avenue
$20 suggested donation
Katsu started to perform in public about a month after he started playing the piano when he was the age of 19 by self-learning. He also started composing originals soon after the beginning of the public performances. After performing several times in Japan, He moved to New York. Then in December 2016, he debuted as a composer and a pianist at the Steinway Hall. Now, he has been performing his original tunes as a solo pianist at multiple venues. His music is described as New Age music, classical, Jazz, romantic piano, and more. This intimate performance will feature selections from his recently released debut album, Moon.
Posted by Sydney Sparrow. Click here to join the JETwit Jobs Google Group and receive job listings even sooner by email.
---
Event Title: San Francisco Career Forum 2018
Date: February 17th and 18th, 2018
Location: San Francisco, CA, USA
Contract: Full-Time
Thanks to Kanako Soejima whose company organizes career forums around the globe, for the following information on the next forum.
JET alumni with at least conversational Japanese language ability are invited to the upcoming San Francisco Career Forum 2018. Attendees will have the opportunity to learn more about participating companies, submit resumes, interview, and even receive offers of employment during the two-day event.
—– San Francisco Career Forum 2018 —–
February 17th and 18th, 2018 (Saturday and Sunday)
Register and begin applying to companies here: https://careerforum.net/en/event/sf/
Participating companies include: Apple, IBM Japan, Ltd., Rakuten, Mercari, Inc., Mitsui Banking Corporation and more.
Financial incentive for people with a background in IT/Engineering
Up to $350 travel scholarship available for qualified participants
Panel Discussions with experienced professionals from Cybozu, Inc., Fujisoft America, Inc, SOURCENEXT INC., StreamSets, Inc. and more
Career Forums are for anyone who: has at least conversational Japanese and English abilities and is looking for a full-time or internship position.
If you have any questions, please feel free to contact Kanako Soejima, at k.soejima@discointer.com.
We hope to see you in San Francisco!
By JQ magazine editor Justin Tedaldi (CIR Kobe-shi, 2001-02) for Shukan NY Seikatsu. Justin has written about Japanese arts and entertainment for JETAA since 2005. For more of his articles, click here.
Since forming in 1987, the Japan Exchange and Teaching Programme (JET) has become one of the world's largest international exchange programs, with nearly 65,000 people from 65 countries selected to promote English language learning and teaching in Japan. To commemorate its first three decades, the JET Alumni Association of New York (JETAANY) is hosting an equally ambitious event.
"The main purpose of the JETAANY Gala is to celebrate 30 years of the JET Programme and all we hope it will become," said JETAANY events chair Andy Shartzer. "JET has helped the grassroots community abroad, and our alumni chapters explore how we can continue its message. Our goal is also to establish JETAANY as a greater presence in the U.S.-Japan community."
The sold-out gala, which will be held at Brooklyn's Dumbo Loft on February 3rd, will feature multiple generations of JET participants and community members with ties to Japan, along with a taiko performance, an awards ceremony, and a prize drawing. Donations are from local companies and organizations including publisher Vertical, Inc., Kaoru Watanabe Taiko Center, and the venerable Japan Society of New York.
"Since its inception 30 years ago, the JET Programme has been a unique and outstanding facilitator of grassroots exchange between the U.S. and Japan," said JETAANY president Wendy Ikemoto. "As one of the largest and most active alumni chapters in the U.S., we're honored by the overwhelming response received."
According to Shartzer, JETAANY plans to host similar events in the future, and is delighted to form new partnerships. For sponsorship and donation proposals, email Wendy at president@jetaany.org. For more information on JETAANY, visit http://jetaany.org.
By Lyle Sylvander (Yokohama–shi, 2001-02) for JQ magazine. Lyle has completed a master's program at the School of International and Public Affairs at Columbia University and has been writing for the JET Alumni Association of New York since 2004. He is also the goalkeeper for FC Japan, a New York City–based soccer team.
From Jan. 11-14, director Satoshi Miyagi and his company Shizuoka Performing Arts Center (SPAC) returned to Japan Society of New York with their sold-out production of Mugen Noh Othello. As with their previous Madea (seen at Japan Society in 2011), Miyagi and company adapt a classic play from the Western canon and infuse it with the stylistic conventions of noh. Specifically, Miyagi and his playwright Sukehiro Hirakawa re-tell the story from the viewpoint of Desdemona's ghost, a traditional in the mugen (supernatural) style of noh. This style typically involves otherworldly beings, including gods, spirits and ghosts. Time is often depicted as passing in a non-linear fashion, and action may switch between two or more timeframes from moment to moment, including flashbacks.
Noh theatre is considered to be the highest art form among the five classical Japanese forms of theatre: noh, kabuki, bunraku, butoh and kyogen. The art form requires highly trained actors and musicians (Mugen Noh Othello featured a percussion ensemble of six). The actors usually wear masks to signify the characters' gender, age and social ranking, and by wearing masks the actors may portray youngsters, old men, female, or even nonhuman characters such as demons or animals. Noh also contains a uniquely structured stage with the hashigakari, a narrow bridge that is used for entering. Since Japan Society's theater contains a more conventional stage (albeit without proscenium), the hashigakari has been approximated. All actors enter through it, as if entering from another space into the new shared theatrical space with the audience. Throughout the performance, the actors chant in unison, further accentuating the otherworldly atmosphere.
By JQ magazine editor Justin Tedaldi (CIR Kobe–shi, 2001-02). Justin has written about Japanese arts and entertainment for JETAA since 2005. For more of his articles, click here.
Start 2018 off right by heading down to your local concert hall, cinema, or arts center for some fantastic new year's fare. Whether you enjoy movies, travel, or orchestral performances classic video games, treat yourself and catch a break from the cold.
This month's highlights include:
Jan. 1-11
IFC Center, 323 Sixth Avenue
$15 adults, $11 children
In collaboration with GKIDS, IFC Center is pleased to present the return of this smash-hit retrospective of Japan's famed Studio Ghibli animation house. Don't miss your chance to see some of the greatest films of all time on the big screen! Titles include the favorites Spirited Away, Nausicaä and My Neighbor Totoro—with select screenings on 35mm prints! All films shown prior to 6 p.m. will be screened in the English-language version; evening shows will be subtitled in English. For a list of all films and dates, click here.
Jan. 11-14
Japan Society, 333 East 47th Street
$35, $30 Japan Society members
Following a sold-out run of Medea in 2011, Satoshi Miyagi and his company SPAC return to New York with another literary masterpiece, Othello. Miyagi re-tells Shakespeare's famed tragedy through noh theater's most distinct storytelling structure, mugen noh, or a play that features a spirit. Told from the perspective of Othello's wife Desdemona, who returns as a ghost after her death, Miyagi's production is replete with stunning masks and costumes as well as powerful live music and chanting. Performed in Japanese with English titles. The Friday, Jan. 12 performance is followed by an artist Q&A.
Saturday, Jan. 13, 2:00 p.m. and 8:00 p.m.
Distant Worlds: Music from Final Fantasy
Carnegie Hall (Stern Auditorium/Perelman Stage), 881 Seventh Avenue
$28-$120
Distant Worlds brings its concert production to one of the world's most famous orchestral venues. With composer Nobuo Uematsu in attendance, the Distant Worlds Philharmonic Orchestra and the Dessoff Choirs under the direction of Grammy Award-winner Arnie Roth celebrate the 30th anniversary of Final Fantasy. These special performances feature exclusive HD video presentations from Square Enix alongside classic scores and new premieres.
Written by professional Writer/Interpreter/Translator Stacy Smith (Kumamoto-ken CIR, 2000-03), WIT Life is a periodic series about aspects of Japanese culture such as film, food and language.  Stacy starts her day by watching Fujisankei's newscast in Japanese, and here she shares some interesting tidbits and trends along with her own observations.
Last week I had the opportunity to see some amazing works from legendary avant garde Japanese poet, dramatist, writer, film director, and photographer Shuji Terayama. I hadn't heard of him before, but many critics view him as one of the most productive and provocative creative artists to come out of Japan. He has also been cited as an influence on various Japanese filmmakers from the 1970s onward. The three films screened were Americans, who are you (アメリカ人あなたは), Laura (ローラ) and The Trial (審判).
A special treat was that Laura included the restaging of Terayama's 1974 film performance with the original actor, Henrikku Morisaki, who was in attendance. This short film feature female strippers who are berating the audience, when all of a sudden a spectator (Morisaki) enters the film. We saw scenes of him as a young man in this role, being stripped and assaulted by the women. At the end of the film he emerged from behind the screen, this time naked and holding his torn clothes. In an interview post-screening, Morisaki told stories about his work with Terayama over the course of almost 17 years. He described Read More
By JQ magazine editor Justin Tedaldi (CIR Kobe-shi, 2001-02). Justin has written about Japanese arts and entertainment for JETAA since 2005. For more of his articles, click here.
From the silver screen to the stage to J-pop, November is just as colorful as the autumn leaves drifting through the air. Add these live events to the mix and you've got an irresistibly epic rundown.
This month's highlights include:
Now through Dec. 16
Yayoi Kusama: Festival of Life and Infinity Nets
David Zwirner Galleries, 525 and 533 West 19th Street and 34 East 69th Street
Free
Yayoi Kusama's work has transcended some of the most important art movements of the second half of the twentieth century, including Pop Art and Minimalism. The exhibitions will feature sixty-six paintings from her iconic My Eternal Soul series, new large-scale flower sculptures, a polka-dotted environment, and two Infinity Mirror Rooms in the Chelsea locations, and a selection of new Infinity Nets paintings uptown. The celebrated Infinity Mirror Rooms invite the viewer to experience a sense of infinity through the play of reflections between the circular shapes of light and the surrounding mirrors. The Infinity Net paintings on view at the gallery's uptown location are the latest works in a series begun in New York in the 1950s, when Abstract Expressionism was still the dominant style. These canvases embodied a radical departure, featuring minutely painted nets across monochrome backgrounds.
Nov. 3-5
Japan Society, 333 East 47th Street
$95, $75 Japan Society members, seniors and students (Nov. 4-5 only)
Part of Japan Society's NOH-NOW series, celebrating its 110th anniversary! Hiroshi Sugimoto, acclaimed visual artist and traditional Japanese arts connoisseur, offers his most recent noh piece. In this new play, the ghost of revered 16th century tea master Sen-no-Rikyu appears to tell the story of his tragic death by forced suicide. Opening a door onto medieval Japan, the program begins with a tea ceremony by Sen So'oku, direct descendent of Sen-no-Rikyu, and features Japan's top noh actors and musicians. Performed in Japanese with English titles.
Nov. 16-Dec. 3
SoHo Playhouse, 15 Vandam Street
$30
Universally funny and yet so very Japanese. Katsura Sunshine makes his highly-anticipated off-Broadway debut! As the world's first bilingual rakugo-ka (a traditional Japanese comic storyteller), he is an international ambassador of this 400-year tradition. Fresh off 10 smash-hit performances in London's West End, he will have a series of performances bringing his unique yet authentic rakugo to Off Broadway—in Japanese and English!
Nov. 17-19
Jacob K. Javits Convention Center, 655 West 34th Street
$35-$60; VIP passes also available
"Anime and manga have taken the world by storm. While New York City is the largest city in America, no focused event championing Japanese pop culture calls it home and with a population of eight million there's a massive demand here," says Peter Tatara, LeftField Media's vice president of anime events. "Anime NYC will be a celebration of this community of fans and a platform for publishers and studios from both sides of the Pacific to be in front of the eyes of attendees, trendsetters, and people who aren't yet familiar with the worlds of anime and manga. We're looking forward to a vibrant, dedicated celebration of everything in Japan that's nerdy and cool, in the media capital of the world!"
In this inaugural three-day celebration of Japanese animation powered by Crunchyroll, attendees will be able to view exclusive anime screenings and meet major guests courtesy of international animation and manga publishers; play the latest in Japanese gaming technology; chow down on Japanese delicacies and fusion cuisine; rock out to musical guests direct from Tokyo; and more! An estimated 20,000 fans are expected to attend, with special guests featuring the English-language cast of Sailor Moon Crystal for a panel screening; the U.S. premieres of the films Gundam Thunderbolt: Bandit Flower and Fullmetal Alchemist, and the NY Ramen Summit, featuring a discussion between famed ramen chefs from around the city.
By JQ magazine editor Justin Tedaldi (CIR Kobe-shi, 2001-02) for Shukan NY Seikatsu. Justin has written about Japanese arts and entertainment for JETAA since 2005. For more of his articles, click here.
New York Comic Con returned to the Jacob Javits Center October 5-8, selling a record-breaking 200,000 tickets (an 11% increase from last year) and featuring appearances from some of the contemporary manga world's most renowned creators, including guest artists Akira Himekawa (The Legend of Zelda) and Hiro Mashima (Fairy Tail).
"New York Comic Con is always a great place to meet fans in person and talk about what titles they enjoy most," said Tomo Tran, marketing director for New York-based Vertical, Inc., which publishes Japanese comics and novels in English. "We aim to bring titles that are not just mainstream in Japan, but that we feel can be impactful here in the U.S."
Some of Vertical's new fare was unveiled at a special panel, introducing the series Pop Team Epic, a comic-strip style parody of manga and pop culture, and the slapstick comedy The Delinquent Housewife!, both coming next year. In addition, Kodansha Comics celebrated its storied sci-fi library with a Q&A of the creators of a forthcoming Ghost in the Shell graphic novel, a new deluxe reissue of Battle Angel Alita, and a 35th anniversary boxed set of the classic "Akira," which began life in print years before its release as a massively influential anime film.
As for memorable moments? "A female fan approached me and asked about volume seven of a backlisted title, Twin Spica, that we no longer printed," Tran said. "I told her I would follow up about it, and fortunately we had a few copies at the office. When I gave her the copy at the con the next day, she was so happy with tears in her eyes, since this was one of her favorite series."
Justin has written about Japanese arts and entertainment since 2005. For more of his stories, visit http://jetaany.org/magazine.
Posted by Sydney Sparrow. Click here to join the JETwit Jobs Google Group and receive job listings even sooner by email.
---
Event: Transitions: Opportunities Forum & Networking Expo
Organized by: Pacific Northwest JET Alumni Association (PNWJETAA)
Location: Kirkland, WA, USA
Time and Date: Saturday, October 21, 2017 (9:00 AM – 4:30 PM)
Thanks to PNWJETAA for the passing along this event:
Please join us for Transitions: Opportunities Forum & Networking Expo is the annual career and networking event organized by the Pacific Northwest JET Alumni Association (PNWJETAA), co-sponsored by Northwest University and The Council of Local Authorities for International Relations (CLAIR) and generous support from the Sasakawa Peace Foundation USA and USJETAA.
Originally aimed at recently returned or relocated JET Program participants, Transitions has since evolved into a more comprehensive event, seeking to meet the ever-changing needs of our community, who may not only be seeking employment but are also interested in new opportunities to advance their skills through continued education and greater community involvement.  Whether you are a new returnee or you've been back for a few years, it's our goal to help you explore your options and plan your next steps, regardless of the path you choose to pursue! Read More
By Suzanne Bhagan (Tottori-ken, 2014-2015)
Suzanne is a freelance writer originally from Trinidad and Tobago. You can connect with her on LinkedIn or on her blog.
Hey, everyone! There's another national holiday this week (Health and Sports Day) so who's ready for some hiking, kiritanpo, kayaking, parades, beef, and screaming? Read on to find out more!
When: 7-9 October
Where: Odate, Akita Prefecture
Enjoy live performances and kiritanpo (rice grilled stick and specialty of Akita prefecture) at this unique festival.
29th Yufuin Eat Beef and Scream Tournament
When: 9 October
Where: Yufuin, Oita Prefecture
I scream, you scream, we all scream for beef (literally)! Head to Mount Yufu for this unusual event that combines beef eating and screaming into a stratovolcano.
When: 9 October
Where: Ogaki, Gifu Prefecture
Help carry the mikoshi and be part of one of Ogaki's biggest events for the year!
When: 14 October
Where: Kyoto, Kyoto Prefecture
Celebrate Halloween early by hitting the street with Kyoto's very own yokai parade.
When: 14 October
Where: Lake Biwa, Shiga Prefecture
Pack a bento and come kayak Japan's largest freshwater lake with a professional instructor!
When: 15 October
Where: Miyoshi, Tokushima Prefecture
Strap on those hiking boots to climb Shikoku's third tallest peak.
By JQ magazine editor Justin Tedaldi (CIR Kobe–shi, 2001-02). Justin has written about Japanese arts and entertainment for JETAA since 2005. For more of his articles, click here.
The Japan-centric events of the month ahead promise to be as rich and full as autumn itself—brisk and colorful, with a dash of unpredictability.
This month's highlights include:
Thursday, Oct. 5, 6:30 p.m.
Hiro Mashima: The Magical World of Fairy Tail
Japan Society, 333 East 47th Street
$30, $25 Japan Society members, seniors and students
Award-winning manga artist Hiro Mashima, known for his bestselling series Fairy Tail, comes to Japan Society for a special talk in conjunction with New York Comic Con. The epic fantasy series, which has sold over 60 million copies worldwide, follows the rambunctious wizard's guild Fairy Tail through adventures in a stunning variety of settings, with a mind-boggling array of colorful characters. Mashima, also renowned for his long-running series Rave Master, joins us to discuss the works that have captured the imaginations of fans around the world. Moderated by Ben Applegate, director of the Kodansha Comics publishing team at Penguin Random House, and interpreted by Misaki Kido, marketing director at Kodansha Advanced Media. One lucky guest will win a surprise gift from Mashima-sensei at the event! Followed by a reception.
Oct. 5-8
Jacob K. Javits Convention Center, 655 West 34th Street
Limited tickets available
With a record attendance of more than 170,000 visitors last year, the East Coast's biggest gathering for fans of comics, film, anime and manga, New York Comic Con returns with its biggest roster of Hollywood talent to date, and features exclusive screenings, gaming, cosplay photo ops, interactive booths by manga publishers including Vertical Comics and Kodansha Comics , and special guest appearances by manga artists Hiro Mashima (Fairy Tail) and Akira Himekawa (The Legend of Zelda)!
Friday, Oct. 6, 7:00 p.m.
Japan Society, 333 East 47th Street
$13, $10 seniors and students, $5 Japan Society members
Screening in 35mm! An ace fighter pilot and ex-member of the Italian Air Force during WWI is mysteriously cursed with a pig's face. Disillusioned with humanity, he adopts the name Porco Rosso ("Crimson Pig") and spends his time near the Adriatic Sea, drinking at a local bar and fighting off air pirates for cash. Famous for his unsurpassable flying skills, Porco draws the envy and antagonism of an American pilot who plots to take him down with the help of the fascist Italian police. This sixth film by Hayao Miyazaki is among the master animator's most personal and underrated, highlighting his deep love for aviation and pacifist worldview within an action-adventure story perfect for adults and children alike.
Premieres Friday, Oct. 13
Metrograph, 7 Ludlow Street
$15
In her new documentary, Lana Wilson (After Tiller) takes us deep inside the life of another extreme altruist, Ittetsu Nemoto, a punk-rocker-turned-Buddhist priest who has worked small miracles in suicide prevention in his native Japan. Now facing the new challenge of fatherhood, as well as rapidly escalating health problems of his own, Nemoto must answer a crucial question—can he justify risking his own life to help others carry on with theirs? With astonishing access and artistry, The Departure captures one man's wrenching decision between self-preservation and selflessness. Select screenings on Oct. 13 and 14 feature a special Q&A with the director.
Oct. 13-14, 7:30 p.m.
Japan Society, 333 East 47th Street
$35, $30 Japan Society members
Aesthetics of the past, present, East and West meld together in Italian director/choreographer Luca Veggetti's Left–Right–Left, which explores the point of intersection between Japan's 14th-century noh tradition and today's efforts in dance. With leading Japanese butoh and contemporary dancers, esteemed noh musicians and a child noh actor reciting text from noh plays Okina and Hagoromo, this production offers a lens into the microcosm of humanity. Performed in English. The Oct. 13 performance is followed by a MetLife Meet–the–Artists Reception. The Oct. 14 performance is followed by an artist Q&A.
Oct. 13-14, 8:00 p.m.
92nd Street Y (Buttenwieser Hall), 1395 Lexington Avenue
$15-$29
Tap dancer Kazu Kumagai, known for his "powerful athletic technique combined with a riveting clarity" (2016 Bessie Outstanding Performer Award) channels his exceptional rhythmic artistry into the intensity of HEAR/HERE. The program includes a live jazz quartet and guest tappers, including legends Ted Louis Levy and Brenda Bufalino (2016 Bessie Award for Lifetime Achievement). This Dig Dance show is Kazu's return to 92Y after a sell-out performance last season.
Wednesday, Oct. 18, 7:00 p.m.
The Nippon Club, 145 West 57th Street
$250, $200 members
A one-of-a-kind cultural experience! See Japanese Ozashiki culture in person with Geisha (Geiko and Maiko) from Nara, Japan. They will entertain visitors with their arts such as music, dance, conversations and traditional games while you enjoy Japanese food and sake. For RSVP and more info, call (212) 581-2223, or email info@nipponclub.org, attn: Mita, Uchikawa.
Friday, Oct. 20, 8:00 p.m.
The Legend of Zelda: Symphony of the Goddesses
United Palace Theater, 4140 Broadway  
$28.13-$120
Back by popular demand and presented by Jason Michael Paul Productions, The Legend of Zelda: Symphony of the Goddesses returns to New York with breathtakingly new visuals and music exploring additional chapters from the Zelda franchise as well as the beautifully orchestrated two-act symphony recounting the classic storylines from some of the most popular video games in history. Take up your wooden sword and shield as a live orchestra and the Montclair State University Vocal Accord brings to life the masterpieces of legendary Nintendo composer and sound director Koji Kondo.
Oct. 20-Nov. 17 (first rotation); Nov. 21-Jan. 7 (second rotation)
Hiroshi Sugimoto: Gates of Paradise
Japan Society, 333 East 47th Street
Single visit: $12/$10 students and seniors; both rotations: $20/$16 students and seniors;
free for Japan Society members; free admission on Fridays from 6:00 p.m.-9:00 p.m. 
This fall, explore one of the earliest, and largely unknown, encounters between Japan and the West in the 16th century, as seen through the eyes of artist Hiroshi Sugimoto. In celebration of Japan Society's 110th anniversary, Hiroshi Sugimoto: Gates of Paradise charts the story of four Japanese boys, who were swept up in the tide of religion, commerce and politics during the first Global Age and sent to the princely and papal courts of Europe. Journey in their footsteps through Sugimoto's new monumental photographs of the sites they visited, and navigate the germination of cultural exchange between East and West with classical masterpieces of visually hybrid (nanban) art from Japanese and American collections. Join guests for the Escape East @333 happy hours on Oct. 20 and Nov. 10 at 6:00 p.m.
Saturday, Oct. 21, 2:00 p.m.
Tatsuya Miyanishi: Tyrannosaurus series
1073 Sixth Avenue
Acclaimed Japanese children's author and illustrator Tatsuya Miyanishi will visit the U.S. for the first time this month! His Tyrannosaurus series consists of 12 titles and has sold more than 3 million copies in Japan, China, Korea, Taiwan, and France. There are four titles available in English so far from Museyon. Bring your kids to a nearby Kinokuniya Book Store (other cities including Edgewater, NJ are listed in the photo here) between October 21st and 29th for a presentation and book signing! Miyanishi is an entertaining presenter who will draw, read from his books, and discuss his work. A book signing will follow each presentation.
Saturday, Oct. 21, 7:00 p.m.
The Food Porn Party featuring Tampopo
AMC Empire 25, 234 West 42nd Street
$95, $125 VIP (use code "RESOBOX" for 10% off tickets)
Taste what you see on the screen! The Food Film Festival specializes in creating multisensory food and film experiences. At their events, guests watch films about food and simultaneously taste the exact dishes they see on the screen…right in their seats! Hosting their "Food Porn" Party featuring the cult classic film, Tampopo. Following the film, they are inviting everyone to join their Japanese Noodle Fest! Directed by Jûzô Itami, the tale of an enigmatic band of ramen ronin who guide the widow of a noodle shop owner on her quest for the perfect recipe, Tampopo serves up a savory broth of culinary adventure seasoned with offbeat comedy sketches and the erotic exploits of a gastronome gangster. Sweet, sexy, surreal, and mouthwatering, Tampopo remains one of the most delectable examples of food on film. Following the movie, there will be a Japanese noodle feast featuring ramen and more ramen, decadent dishes, cocktails, craft beer and more! Additional Food Film Festival events include James Beard: America's First Foodie (Oct. 19), Hometown Heros: The Legend of the Chopped Cheese (Oct. 20), and For the Love of Brunch (Oct. 22). For a complete listing, click here.
Friday, Oct. 27, 11:30 a.m.-9:30 p.m.
NYC Event Spaces, 4 West 43rd Street
$35-$75
Chopsticks NY magazine presents its very first Sake and Food event, "Eat Up! Drink Up! Japan" on Oct. 27. During the event, we will divide Japan into six regional blocks and offer craft sake from each block and matching food made with the regional delicacies. Participants can appreciate sake from nationwide Japan and feel the sense of "terroir" in Japan. 18 dishes from nationwide, 3 from each block, will be served during the event. Every dish is crafted to be paired with regional sake. There will be at least one vegetarian dish in each block. Over 30 brands of sake, at least five brands for each region, will be served along with the dishes above. This event is 21 and over.
Saturday, Oct. 28, 6:30 p.m.
Ages of Enchantment: JPA Cultural Repertoires 2017
Symphony Space (Peter Jay Sharp Theater), 2537 Broadway
$30; $25 members; $18 seniors, students and children; $40 day of show
JPA returns for its first show in two years! This year's performance consists of three categories: 1) Kimono show, 2) traditional Japanese dances, and 3) Japanese folk performing arts (from three regions). During the kimono show, five major kimono types will be shown with different craftsmanship with live models. The details of handcrafted fabric weaving, coloring, and decorating techniques will be explained, so when the audiences actually see the real kimono display, it can promote better learning experiences. After the kimono show, five pieces of traditional Japanese dance will be shown as the second section. The first piece is titled as the "Duet," which is a rare parallel performance of Japanese traditional dance and Western ballet. The piece will display the differences between the two dance movements and the body uses by the dancers, so the audiences will be able to see the unique characteristics of Japanese dance much easier. The body use will be explained in the context of the cultural characteristics as well.
Oct. 29-Nov. 1
Various locations
$12.50-$13.50
Hayao Miyazaki's Academy Award-winning masterpiece Spirited Away was the biggest box office hit of all time in Japan and helped redefine the possibilities of animation for American audiences and a generation of new filmmakers. Chihiro thinks she is on another boring trip with her parents. But when they stop at a village that is not all that it seems, her parents undergo a mysterious transformation, and Chihiro is whisked into a world of fantastic spirits, shape-shifting dragons and a witch who never wants to see her leave. She must call on the courage she never knew she had to free herself and return her family to the outside world.
Combining Japanese mythology with Alice in Wonderland-type whimsy, Spirited Away cemented Miyazaki's reputation as an icon of animation and storytelling. The English-dubbed cast includes the vocal talents of Daveigh Chase, Jason Marsden, Suzanne Pleshette, David Ogden Stiers, Susan Egan, Tara Strong and more! Dubbed in English on Oct. 29 and November 1 and subtitled on Oct. 30, this special three–day event will also feature GKIDS Mini–Fest, an ongoing festival of the best animated shorts from around the world.
Want to stay in the loop on future events? Follow Justin on Facebook and Twitter.
By Suzanne Bhagan (Tottori Prefecture, 2014-2015)
Suzanne is a freelance writer originally from Trinidad and Tobago. You can connect with her on LinkedIn or on her blog.
Put away that cool biz. October is here! Before you snuggle under that kotatsu, here are some events to get you nice and toasty!
When: 8 October
Where: Otsu, Shiga Prefecture
Get ready to work it. Shiga AJET invites volunteers to flex those muscles to pull festival floats at the famous Otsu Matsuri.
When: 7 October
Where: Kyoto, Kyoto Prefecture
This fall, Block 6 kicks off their welcome undoukai/picnic in the park for all Block 6 JETs, new and old.
When: 8 October
Where: Hita, Oita Prefecture
Oita AJET welcomes all JETs and friends to hop on a pleasure boat, drink, eat, and relax on Hita's Mikuma river.
When: 7 October
Where: Nagaoka, Kochi Prefecture
It's time for HAJET's annual rafting trip down south. Grab a paddle pronto!
By Stacy Smith (Kumamoto-ken CIR, 2000-03) for JQ magazine. Stacy is a New York City–based provider of top quality Japanese interpreting, translating and writing/editing services. Starting from her initial encounter with Japan in her teens, she has built up a consummate understanding of the country's language and culture, enabling her to seamlessly traverse between Japan and the U.S. and serve as a bridge between the two. For more information, visit www.stacysmith.webs.com. As a writer, Stacy also shares tidbits and trends with her own observations in the periodic series WIT Life.
Having spent three years on JET in Kumamoto, home of nationwide sensation Kumamon who didn't yet exist when I was there, I must honestly say that I approach bear characters with slight trepidation. However, I was delightfully surprised to love every minute of my encounter with Kuma-Kuma Chan, the bear who stars in the eponymous children's book series written and illustrated by Kazue Takahashi. Her warm watercolors and relatable stories are guaranteed to entertain readers of all ages, and the latest English-language addition to this series, Kuma-Kuma Chan's Travels, is every bit as enjoyable as its two predecessors.
The previous two books, Kuma-Kuma Chan, the Little Bear (previously reviewed in JQ here) and Kuma-Kuma Chan's Home, looked at a day in the life of Kuma-Kuma Chan on his own and when a friend comes to visit. Kuma–Kuma Chan's Travels is a bit more expansive, introducing readers to his world when he takes trips. I love the details at the beginning sharing what he brings with him on his journeys, along with accompanying illustrations such as a Thermos containing hot coffee. We later see him on top of a mountain drinking said coffee while watching the sunrise. These trips take place inside his head, but the descriptive text and beautiful pictures make you feel like you are with him everywhere he goes.
The series as a whole features a strong element of kawaii, or cuteness, which contributes to its Japaneseness. Also, there is an intangible sensibility to the stories that make them feel a bit different than traditional Western children's books. In the inaugural Kuma–Kuma Chan, the Little Bear, we learn about his daily routine, which includes aspects such as eating a big salad for breakfast with lettuce from his garden and personal grooming like trimming his nails and hair. I particularly liked the scene which shows him during the winter, rolling around to catch the sunlight as the day progresses with the kerosene heater nearby. For many JET alumni, I'm sure this scene will be reminiscent of days spent in school offices where this was the sole source of heat.
For readers seeking a creature of a different nature, the Tyrannosaurus children's books written and illustrated by Tatsuya Miyanishi is another series worth checking out. It currently features 13 titles, four of which have been published in the U.S. For those who would like to learn about these books and meet the acclaimed author, he will be at the New York and New Jersey locations of Books Kinokuniya at 2 p.m. on October 21 and 22, respectively. On both days, Miyanishi will be reading from and discussing his works, as well as signing books for those with purchased copies. For more dates in Texas, Washington and California, click here.
Kuma-Kuma Chan's Travels is available October 1. For more information, click here.
For more JQ magazine book reviews, click here.