By JQ magazine editor Justin Tedaldi (CIR Kobe-shi, 2001-02). Justin has written about Japanese arts and entertainment for JETAA since 2005. For more of his articles, click here.
Spring has sprung in the Big Apple, and that means one thing: a new season of sounds, colors, and spectacular performing arts to match the blossoming sakura trees throughout the city.
This month's highlights include: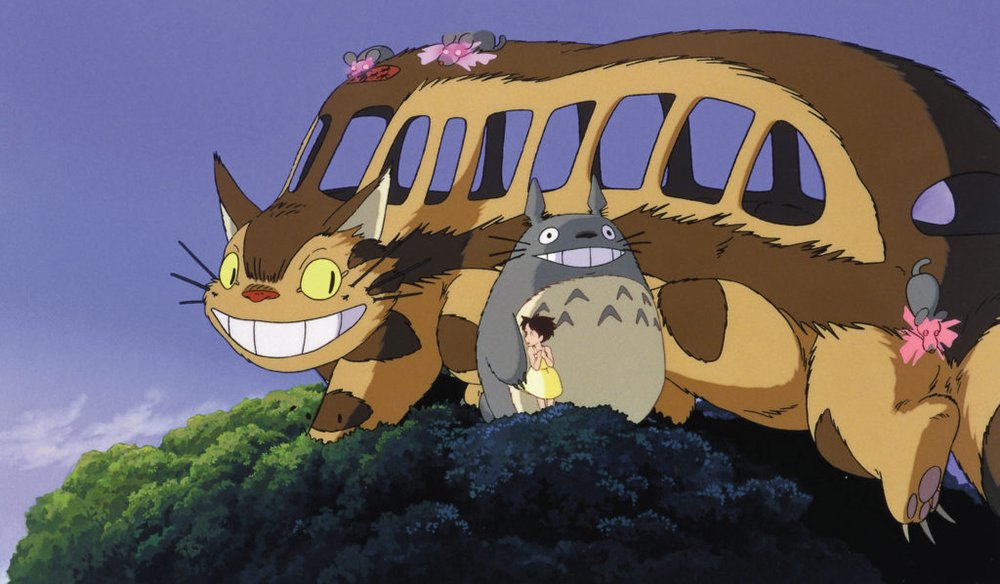 March 25-29
My Neighbor Totoro 35th Anniversary
Various locations
$15-$20
The inaugural selection of Ghibli Fest 2023, this classic tale from Academy Award-winning director Hayao Miyazaki serves up magic and adventure for the whole family. When Satsuki and her sister Mei move with their father to a new home in the countryside, they find country life is not as simple as it seems. They soon discover that the house and nearby woods are full of strange and delightful creatures, including a gigantic but gentle forest spirit called Totoro, who can only be seen by children. Totoro and his friends introduce the girls to a series of adventures, including a ride aboard the extraordinary Cat Bus, in this all-ages animated masterpiece featuring the voices of Tim Daly, Lea Salonga, and real-life sisters Dakota and Elle Fanning, in early roles. Presented in both English-language and Japanese subtitled versions (March 28 only).
Thursday, April 6, 7:30 p.m.
Masayo Ishigure, Koto, Bass Koto, and Shamisen
Weill Recital Hall at Carnegie Hall, 881 7th Avenue
$40-$50
Masayo Ishigure Koto and Shamisen Recital commemorates the 30th anniversary of the veteran koto and shamisen performer's professional career in the U.S.! Program selections include: "Sakura/The Moon over the Deserted Castle" A masterpiece representing Japan composed by Tadao Sawai. "Ginga (Galaxy)" by Tadao Sawai, using Okinawan melody, is performed on koto and shamisen. "(untitled) " composed by Zac Zinger for koto, piano, and shakuhachi, each instrument partially improvises like often heard in Jazz music. "Gin-yu-ka (Minstrel Song)", a powerful ensemble of six koto players composed by Hikaru Sawai "Chizuru/ Whereabouts of the Wind" by Hideaki Matsumoto, a relatively new Koto and piano piece. "Flying like a Bird", composed by Tadao Sawai, will be the last piece of the recital. The piece, using all the techniques the composer could think of at that time, is one of the milestone of 20th century Koto music, and definitely worth listening to. The history of Japanese music can be seen in this program, which can be enjoyed by a wide range of audiences.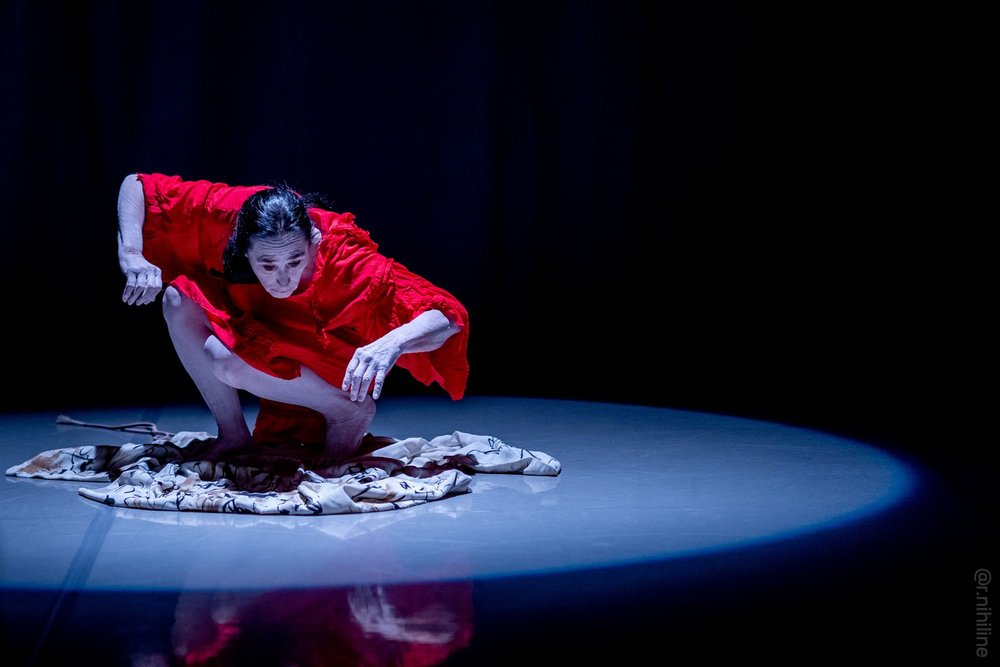 April 6-8, 8:00 p.m.
Joan Laage/Kogut Butoh: Rivers Running Red
Triskelion Arts, 106 Calyer Street (Brooklyn)
$20
Rivers Running Red is a homage to the female body and menstruation. The piece is inspired by an article exposing the practice in certain traditional societies of sending women off to the mountains to remain in huts and, all too often not surviving the harsh conditions. This practice is fueled by the belief that women are unclean while menstruating. It is also a reflection on this monthly cycle being celebrated as a sacred passage in other cultures. Vangeline Theater will open the show with an excerpt of The Slowest Wave. The Slowest Wave investigates through the use of scalp EEG how brain waves during Butoh dancing compare to those emitted during other conscious or unconscious motor behaviors, such as speaking or meditating. Moreover, the study will elucidate the functional neural networks of the dancers and the neural synchrony within and between them. This project is meant to foster connections and understanding between dancers, artists, scientists, engineers, and audiences from around the world.
Read More
Posted by Tom Baker (Chiba, 1989-91)
The Japan Writers Conference, a free annual event for English-language writers of all types, is looking for published writers to give presentations on the art and/or business of writing. Many JWC presenters in past years have been JETS. You can read about some of them in the JETwit archives.

If you have insights, wisdom or techniques to share, send them a proposal by June 1. Here's the official announcement: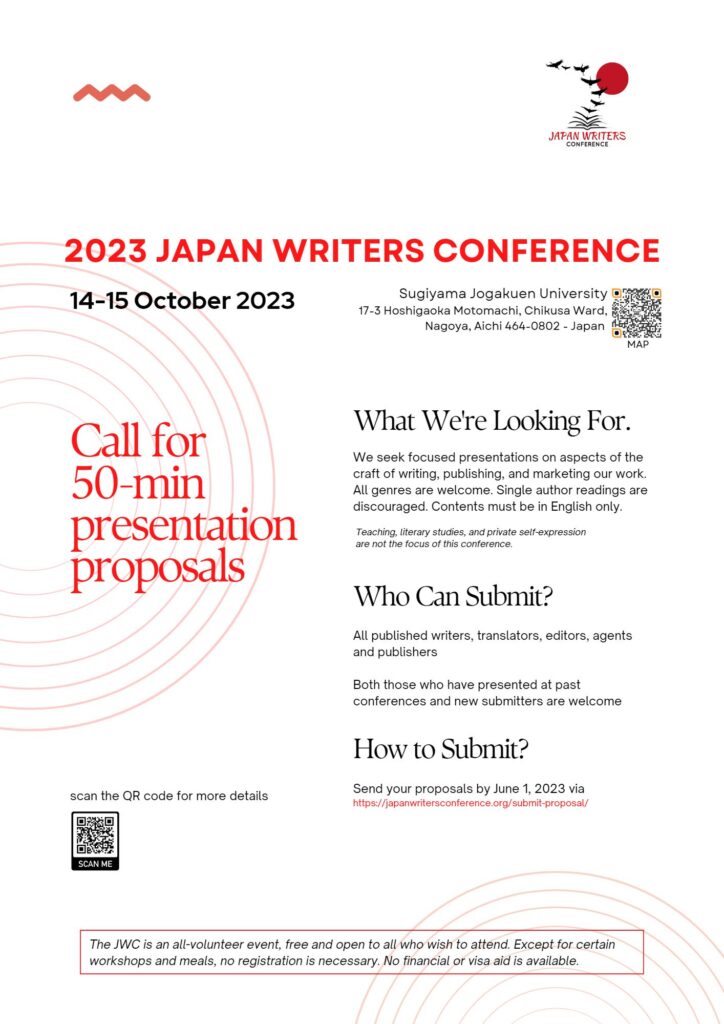 By JQ magazine editor Justin Tedaldi (CIR Kobe-shi, 2001-02). Justin has written about Japanese arts and entertainment for JETAA since 2005. For more of his articles, click here.
With Thanksgiving (and the hopes of sensible eating) now just a memory, we turn to colder weather, falling snow, and the new year to come. Fortunately for Japanese culture fans, December is just as busy as the holiday season itself. Whether you're hosting guests from out of town or looking to squeeze in an event or two in between parties, we've got you covered.
This month's highlights include:
Now through Jan. 8
Various locations
$12.00-$50.00
The annual Winter Lantern Festival is back to transform your neighborhood into an immersive world of light Journey to the East with friends and family at SIUH Community Park in Staten Island to explore the wonders of over 1,000 Chinese lanterns; all handmade by artisans. Queens County Farm welcomes visitors an unforgettable radiant oasis with friends and family as we Illuminate the Farm. Located at Nassau County Museum of Art in Long Island, Winter Lantern Festival's Drive Thru Adventure in Roslyn will dazzle your friends and family as you roll through acres of luminance! Finally, night the light this holiday season! The Winter Lantern Festival at Smithtown Historical Society in Suffolk County will feature lanterns and displays ranging from mushrooms and flowers to farm animals to dinosaurs; all handmade by artisans with decades of dedication to their craft. Be ready for photo-ops with friends and family as this will be an unforgettable experience!
Dec. 1-3, 7:30 p.m.
Kotei (The Emperor) | Makura Jido (Chrusanthemum Boy)
Japan Society, 333 East 47th Street
$95, $76 members (performance + soirée); $72, $58 members (performance only)
Prominent members from the Kita Noh School, including Akiyo Tomoeda, Living National Treasure designated by the Japanese government, perform two works from noh theater's classical repertoire: Kotei (The Emperor) on Dec. 1 and 3, and Makura Jido (Chrysanthemum Boy) on Dec. 2—two pieces meant to be a prayer to hasten the end of the pandemic and celebrate health and longevity. Set in the Tang Dynasty in China, Kotei tells the story of the deity Shoki, who rescues the ailing Empress Yang Guifei and pledges his allegiance to Emperor Xuanzong. Also set in China, Makura Jido is about a boy who has joyfully lived for 700 years by drinking an immortal elixir from the dew of a chrysanthemum leaf. The boy reveals that the dew has created a pool in the valley, which has become the headspring for medicinal water. Performed in Japanese with English supertitles. A ticketed soirée follows the Dec. 1 performance. An artist Q&A follows the Dec. 2 performance.
Dec. 2-11, various times
Yoshimitsu Morita Retrospective
Film at Lincoln Center, 70 Lincoln Center Plaza #4
$10-$65
Across a 30-plus-year career, Yoshimitsu Morita (1950–2011) amassed one of the most fascinatingly idiosyncratic and prolific bodies of work in modern Japanese cinema. From his irreverently comic 1981 Something Like It to his 1983 breakout black comedy, The Family Game (presented in an all-new 4K remaster), to forays into melodrama (And Then, 1985), the hard-boiled film (Deaths in Tokimeki, 1984), the pink film/roman porno (Top Stripper, 1982), horror (The Black House, 1999), and romantic drama (Haru, 1996), Morita's work is marked by an incomparable sensitivity to the peaks and valleys of the inner landscape of Japanese society, a penchant for subtle injections of surreality to highlight the absurdity of certain aspects of Japanese life, an omnipresent sense of irony, and a boldly iconoclastic approach to visual composition. Presented in Japanese with English subtitles. Select screenings feature an introduction by producer Kazuko Misawa and composer Michiru Oshima.
Read More
Posted by Tom Baker

When the 2022 Japan Writers Conference took place at Tokai University last month, hosted by novelist and JET alum Charles Kowalski, it was the first time for the event to be held in person since before the pandemic. Even so, there were still a few online sessions. Some of the sessions were recorded for posterity. (And you, dear reader, are posterity.)

Below, you can watch screenwriter and UCLA Prof. Steven Wolfson describe some of the elements of a successful screenplay. And that's just the tip of the iceberg. You can see many more at the JWC YouTube channel.
Posted by Tom Baker

The sixth annual European Literature Festival in Tokyo will take place Nov. 22-27. It is a multilingual event featuring talks by scholars and writers from Japan and the European Union. Sessions to be presented in English include an appearance at the Aoyama Book Center by Irish poet Paula Meehan and and online discussion with Dutch thinker Rutger Bregman.
For full details, visit https://eulitfest.jp/year2022/en/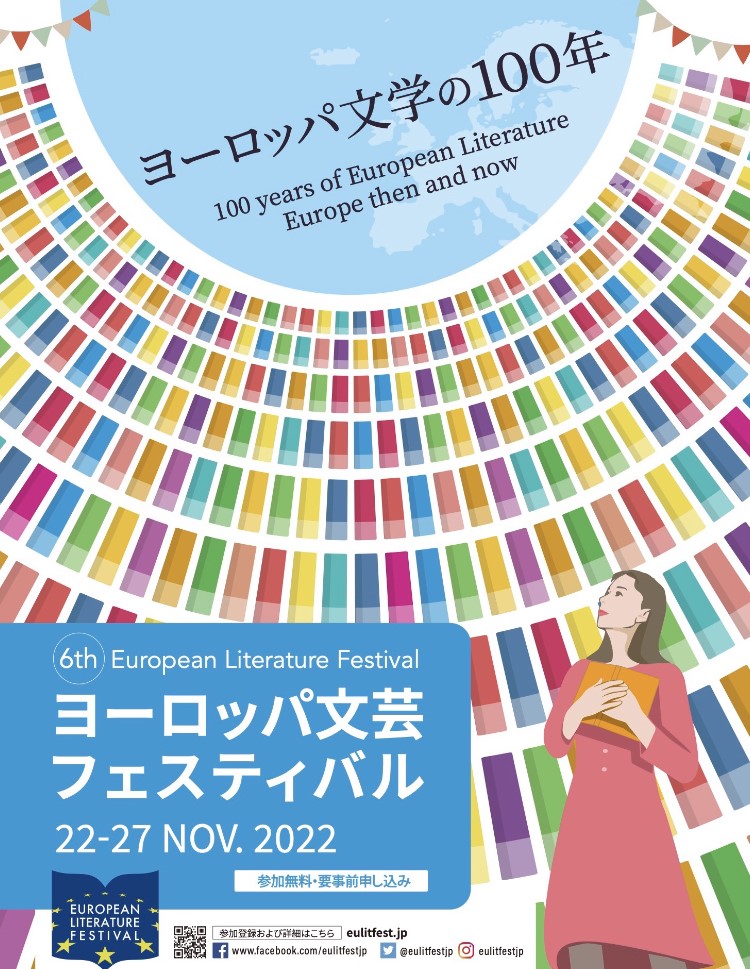 By JQ magazine editor Justin Tedaldi (CIR Kobe-shi, 2001-02). Justin has written about Japanese arts and entertainment for JETAA since 2005. For more of his articles, click here.
The Japan-centric events of the month ahead promise to be as rich and full as autumn itself—brisk and colorful, with a dash of unpredictability.
This month's highlights include:
Oct. 30-31, Nov. 1-2
Various locations/prices
The final film selected for this year's Studio Ghibli Fest! Winner of the Academy Award for Best Animated Feature, Hayao Miyazaki's wondrous fantasy adventure is a dazzling masterpiece from one of the most celebrated filmmakers in the history of animation. Chihiro's family is moving to a new house, but when they stop on the way to explore an abandoned village, her parents undergo a mysterious transformation and Chihiro is whisked into a world of fantastical spirits ruled over by the sorceress Yubaba. Overflowing with imaginative creatures and thrilling storytelling, Spirited Away became a beloved hit worldwide, and is one the most critically acclaimed films of all time. The October 30 and November 1 screenings are dubbed in English, and the October 31 and November 2 screenings are presented in Japanese with English subtitles.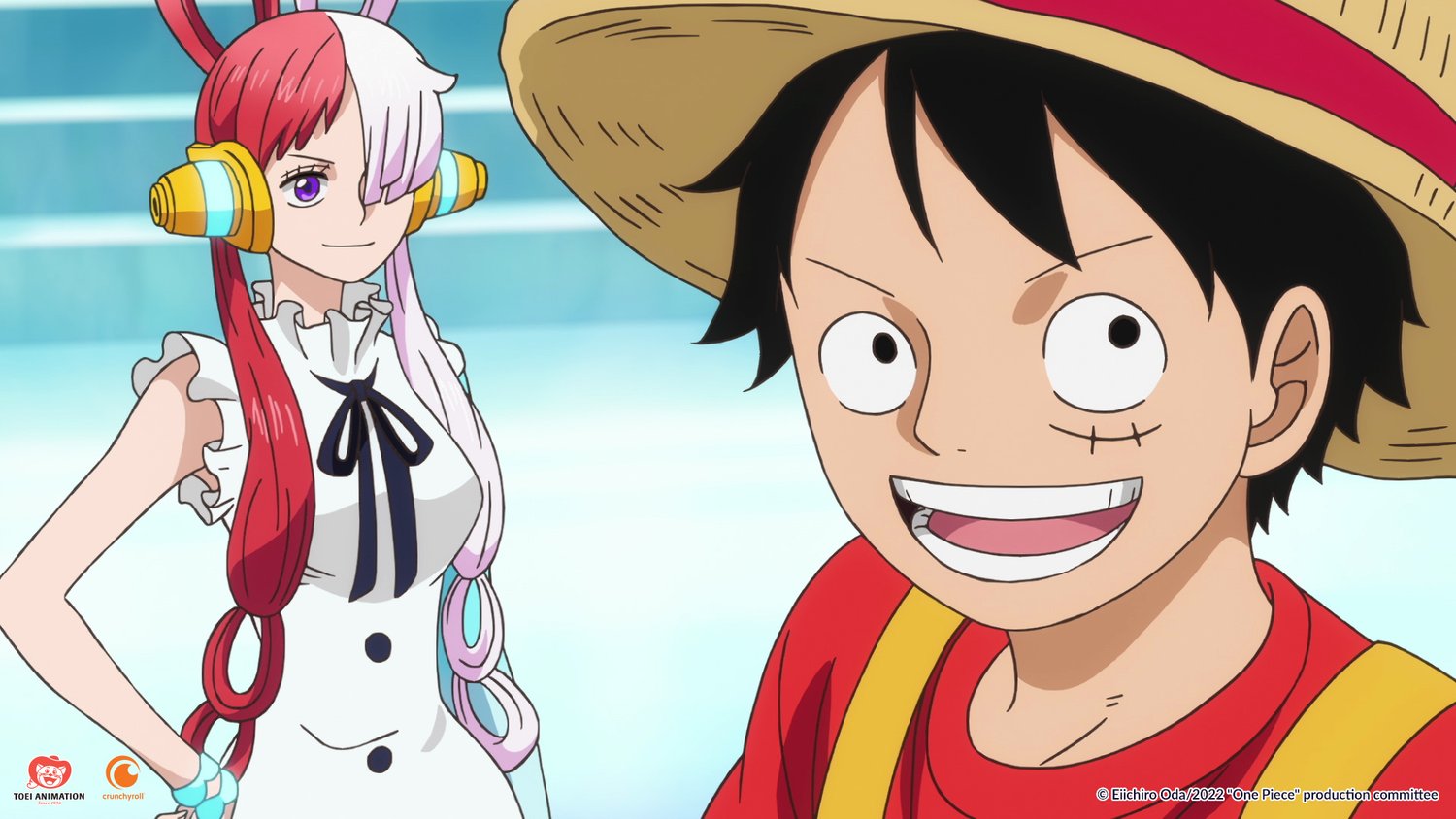 Opens Nov. 3
One Piece Film: Red
Various locations; for Village East by Angelika Screenings, click here
$8-$16
The spotlight shines on the 15th feature film of Eiichiro Oda's enduring manga and anime smash, which is a massive box office hit (already in the top 10 highest grossing films released in Japan since its debut last August)! Luffy and his crew are about to attend an eagerly awaited music festival. The most popular singer in the world, Uta, will take the stage for the first time. The one who is none other than the daughter of the legendary pirate Shanks Le Roux will reveal the exceptional power of her voice which could well change the world… Presented in both Japanese with English subtitles and English dubbed options.
Thursday, Nov. 10, 6:30 p.m.
Behind-the-Scenes of My Neighbour Totoro
Japan Society, 333 East 47th Street
$20, $16 members
Puppet artist extraordinaire Basil Twist sits down to talk about his creative role in Joe Hisaishi and the Royal Shakespeare Company's staging of the beloved Studio Ghibli animated feature film My Neighbour Totoro in collaboration with Improbable and Nippon TV. Twist is known for surprising audiences with his infinite creativity, from 88 magical Japanese screen doors (Dogugaeshi) and dancing fabrics in an onstage water tank (Symphonie Fantastique) to a gigantic rock creature in his most recent work (Book of Mountains & Seas). In this event, Twist will share backstage images and describe the process of creating real-life versions of the film's fantastical creatures for the live staging of Totoro at London's Barbican this fall. A special 35mm presentation of the original film will be screened at Japan Society on Friday, Nov. 4 at 7:00 p.m.; click here for tickets.
Read More
Posted by Tom Baker
JET alum and prolific author and editor of fiction and nonfiction Suzanne Kamata will host a panel discussion on how the pandemic has changed the writing life and the publishing world at this year's Japan Writers Conference. The conference, which is free, will take place in Hiratsuka, Kanagawa Prefecture, on Oct. 15-16, but participants must sign up by Oct. 8.
Here's the official description of her panel's presentation:
Suzanne Kamata
Clara Kiyoko Kumagai, Kristin Osani, Clarissa Goenawan, Sara Fujimura
Pivot: Writing for a Post-Pandemic World
Panel Discussion
Fiction

How do you keep going when the world, the publishing landscape, and YOU have had major paradigm shifts since 2020? Multi-published authors Sara Fujimura, Clarissa Goenawan, Suzanne Kamata, Clara Kiyoko Kumagai, and Kristin Osani discuss the limitations and growth opportunities that come with this new post-pandemic reality.

Are you waiting for the publishing world to "go back to normal?" The bad news: It's not. Supply chain woes, soaring material costs, editorial burnout, and continued unrest in the world have made traditional publishing harder to break into and even harder to sustain a career. Savvy authors pivot. Five multi-published, award-winning, globally-minded authors give a state-of-the-industry report from their region of the world. They identify specific challenges they've had in the last two years, including launching new books during a pandemic (One out of 10 stars. Highly DON'T recommend!). They also offer tips and techniques on how to keep your writing career rolling when it seems the world is constantly conspiring against you.

American Suzanne Kamata has lived in Shikoku for over 30 years. During the pandemic, she published an award-winning middle grade novel, Pop Flies, Robo-pets and Other Disasters; The Baseball Widow, a novel for adults, and Waiting, her poetry debut. She is an associate professor at Naruto University of Education.

Clarissa Goenawan (she/her) is an Indonesian-born Singaporean writer and translator. Her award-winning short stories have appeared in literary magazines and anthologies in Singapore, Australia, Japan, Indonesia, Italy, the UK, and the US. Rainbirds, her debut novel, has been published in eleven different languages. Her second novel, The Perfect World of Miwako Sumida, came out in 2020. Watersong is her third novel.

Kristin Osani (she/her) is a queer fantasy writer who lives in Kyoto, where she works as a freelance Japanese-to-English video game translator when she's not wordsmithing, working on nerdy cross-stitching, or cuddling her two cats (three if you include her husband). She has translated games like The Kids We Were, Voice of Cards, and Triangle Strategy. Her original fiction has appeared in FlashPoint SF, the Arcanist, and Ghost Orchid Press's Beyond the Veil: Supernatural Tales of Queer Love anthology.

Clara Kumagai is from Ireland, Canada and Japan. Her fiction and nonfiction has appeared in publications such as The Stinging Fly, The Irish Times, Banshee, Room, Cicada, and The Kyoto Journal, among others. Her children's story, A Girl Named Indigo, was translated and published in Japanese with the title Indigo wo sagashite (Shogakukan, 2020). Her young adult novel, Catfish Rolling, is forthcoming in 2023. She currently lives and works in Tokyo.

Sara Fujimura is a hybrid author of four award-winning young adult books: Tanabata Wish, Breathe, Every Reason We Shouldn't (Tor Teen), and Faking Reality (Tor Teen). She is represented by Ann Rose of the Prospect Agency. Every Reason We Shouldn't was named an NPR Best Book of 2020. www.sarafujimura.com

By JQ magazine editor Justin Tedaldi (CIR Kobe-shi, 2001-02). Justin has written about Japanese arts and entertainment for JETAA since 2005. For more of his articles, click here.
As the summer winds fade into fall colors, the weeks ahead are shaping up with these exciting events, ready to be enjoyed all through Halloween.
This month's highlights include:
Sept. 25-28
Various locations/prices
The penultimate pick for this year's Studio Ghibli Fest is an Academy Award-nominated fantasy adventure for the whole family from acclaimed director Hayao Miyazaki (Spirited Away). Sophie, a quiet girl working in a hat shop, finds her life thrown into turmoil when she is literally swept off her feet by a handsome but mysterious wizard named Howl. The vain and vengeful Witch of the Waste, jealous of their friendship, puts a curse on Sophie and turns her into a 90-year-old woman. On a quest to break the spell, Sophie climbs aboard Howl's magnificent moving castle and into a new life of wonder and adventure. The Sept. 25, 27 and 28th screenings are dubbed in English, and the Sept. 26 screening is presented in Japanese with English subtitles.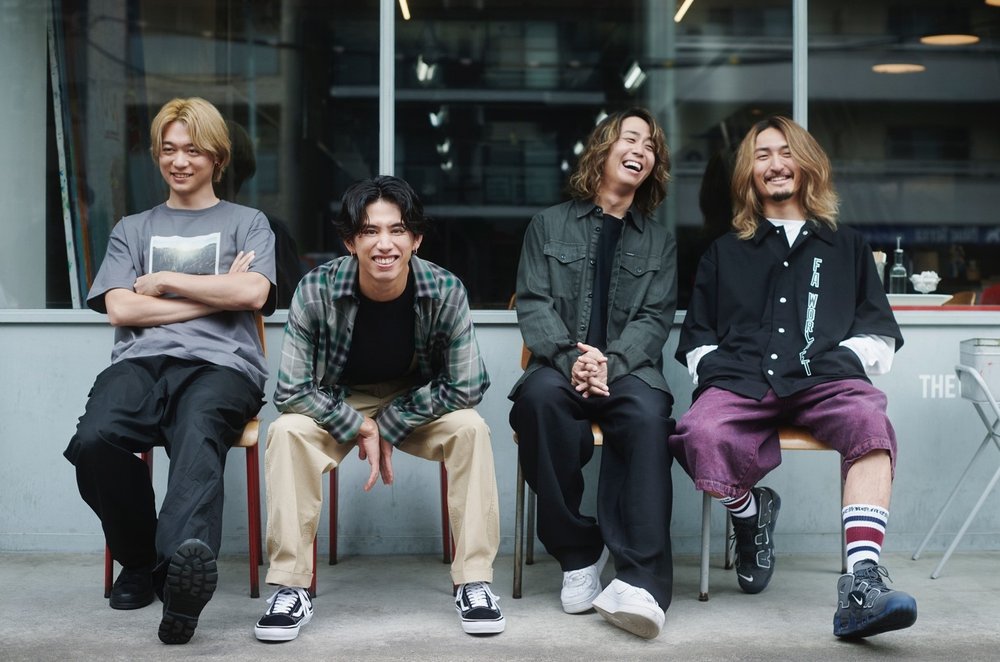 Friday, Sept. 30, 7:30 p.m.
Hammerstein Ballroom at Manhattan Center, 311 West 34th Street
$60-$132.50
Beloved at home in Japan and worldwide, Fueled By Ramen band ONE OK ROCK have released their anxiously awaited new full-length album, Luxury Disease (stream it HERE). Featuring the lead single "Save Yourself" (see the Tanu Muino-directed video on the band's YouTube channel), additional album highlights include "Let Me Let You Go," and "Vandalize," which will serve as the ending theme for SEGA's upcoming game Sonic Frontiers, releasing on November 8. Produced by Rob Cavallo (Linkin Park, My Chemical Romance), Luxury Diseasefinds ONE OK ROCK embarking on a North American headline tour which will see the group returning to stages in the U.S. and Canada for the first time in over three years.
Saturday, Oct. 8, 7:30 p.m.
Le Poisson Rouge, 158 Bleecker Street
$30-$100
Celebrating his 20th year in the music industry, MIYAVI embarks on a 20-city tour across the U.S. and Canada. In this intimate venue, the samurai guitarist known for his unconventional style of guitar playing—performing not with a pick, but with his fingers in a method dubbed "slap style"— plans to perform fan-favorite tracks, material from last year's Imaginary LP, and new music he will be debuting live for the first time!
Read More
Posted by Tom Baker
JET alum and acclaimed poet Michael Frazier, whose work has appeared in the anthology Umoja, will hold a workshop at this year's Japan Writers Conference.
Here's the official description of his presentation:
Michael Frazier
O Death, Where is Your Sting?: A Poetics of Hope!
Craft Workshop
Poetry

Turn on the news and it is inevitable to see a news broadcast about someone dying. By a virus, a health condition, a natural disaster, or a twisted mind with a weapon. This generative workshop is a poetics on death and grappling with the fear death induces by unmasking the demon and realizing our hope.

This is a generative workshop for those interested in writing about and through the reality of being ephemeral beings in a world that is posed against our fragile lives. We will read poems anticipating, about, and responding to death. Some poets may include Danez Smith, Safia Elhillo, Li Young Lee, Max Ritvo, Mary Oliver, and others. We will read anti-eulogies, psalms, palindromes, and other poems that resist the inevitable. We will understand how they write around and through the concept of dying, with particular interest in how hope is the hinge of their poetry. We will write our own poems that face our fears.

Michael Frazier is a poet and high school teacher living in Kanazawa, Japan. Pushcart Prize and Best New Poets nominated, his poems appear in Poetry Daily, The Offing, RHINO, Tinderbox, Tokyo Poetry Journal, and elsewhere.
Posted by Tom Baker
JET alum Jillian Marshall, author of "Japanthem," will delve into the nature of memoir in a presentation at the Japan Writers Conference.
Here's the official description of her presentation: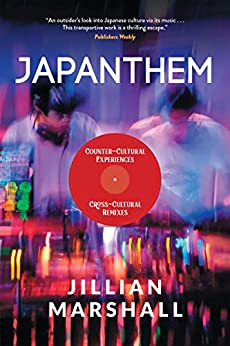 Jillian Marshall
Reimagining Memoir: Storytelling as Analytical Inquiry
Short Lecture with Q&A online
Nonfiction

What lies between the traditional boundaries of non-fiction genres? This presentation examines the analytical possibilities of memoir and storytelling. Bookended by presentation and discussion, we will read a chapter from my new book as a case-study in analytical memoir, learning about Japanese music culture in the process.

This hybrid presentation and group reading introduces new approaches to memoir devised during my time in (and departure from) academia. Following with a brief lecture questioning the limits of non-fiction genre — what does the slippage between memoir and ethnography reveal? — we'll examine analytical memoir by reading a chapter of my new book, Japanthem: Counter-Cultural Experiences, Cross-Cultural Remixes. Originally written as part of my doctoral thesis in Japanese ethnomusicology, the selected chapter and Japanthem on whole posit memoir and storytelling as colloquial sites of anthropological inquiry (in this case, getting subtly bullied by my Buddhist dance teacher in Akita Prefecture). With the Q and A that follows, I ultimately hope to inspire new possibilities in non-fiction writing and bridge not just the intellectual rigor of academia with the public sphere, but cultural (mis)understandings between Japan, the US, and beyond in the process.

Jillian Marshall, PhD, is a writer, educator, and musician who champions public intellectualism. Her first book, Japanthem: Counter-Cultural Experiences, Cross-Cultural Remixes, debuted in April with Three Rooms Press. Jillian's other writings have been published by the Sasakawa Peace Foundation, Cornell University Press, and Music Television.
Posted by Tom Baker
JET alum and author Coffee Quills will speak about newly emerging forms of publishing in a presentation at the Japan Writers Conference.
Here's the official description of their presentation: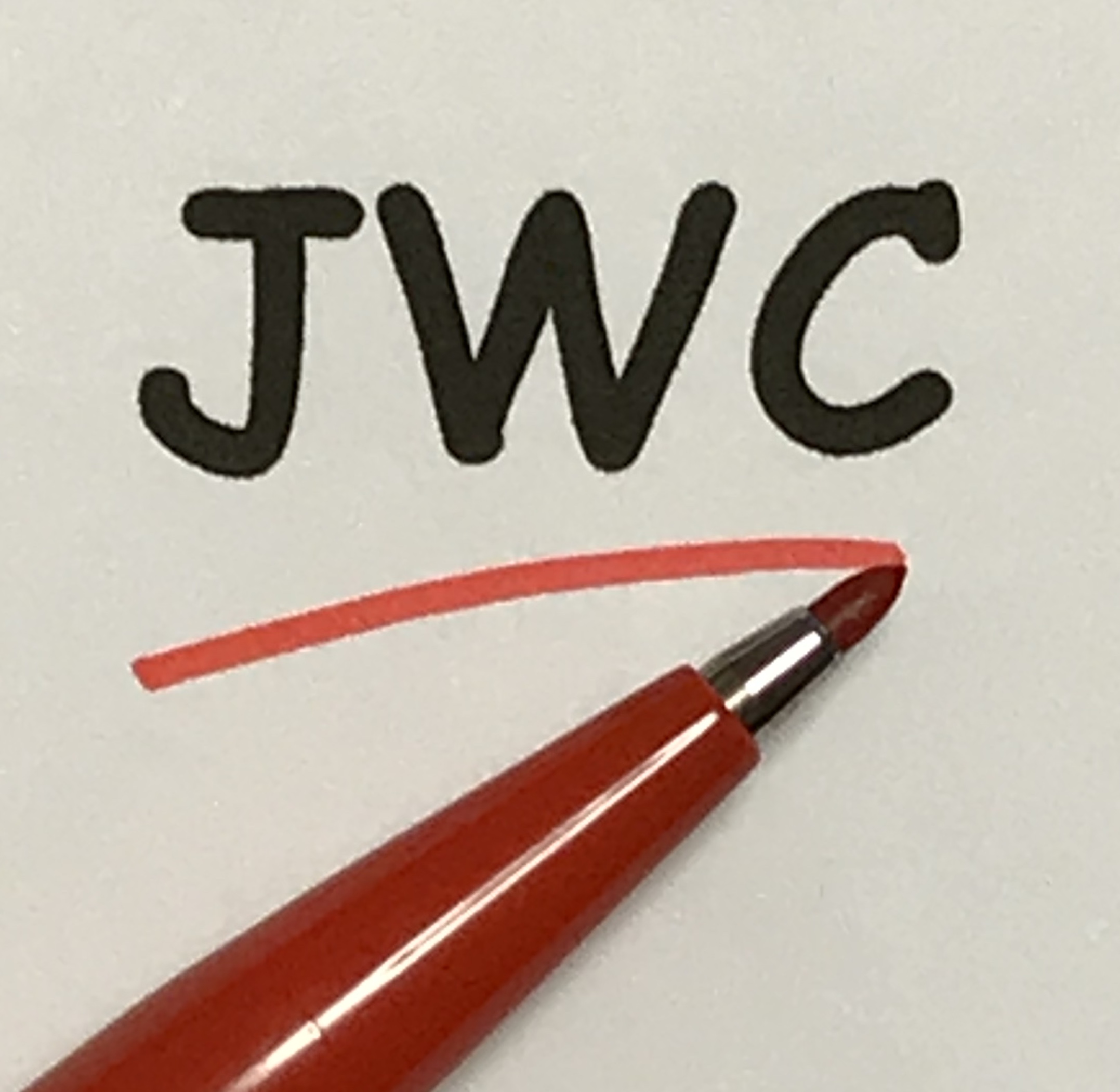 Coffee Quills
Spinning Web Fiction for Fun & Profit
Short Lecture with Q&A
Fiction, Other Genre
Game Writing

Quick discussion of what authors and writers want, going into the pros that web fiction can offer and the pitfalls that are hidden among the opportunities, and showing writers and authors that – in addition to traditional publishing and indie publishing – web fiction can be a 3rd option in their writing career.

Wander deeper into the realms of internet writing and find places where writers can explore the opportunities web fiction offers through serializations (in which a story can be uploaded chapter by chapter even as it is being written) such as Kindle Vella and Radish, or interactive writing with Choice of Games and Tales, in addition to the benefits that free places such as Wattpad, HoneyFeed, and Royal Road offer.

Coffee Quills, of Tokyo, is an embodiment of their slogan Many QuillsMany Genres. They are a game developer with 4thewords, stream daily writing sprints on Twitch, and have indie published three books: Blasted Research, Digital Lights, Spells, Snow, & Sky. They exist on coffee and seafood.
Posted by Tom Baker
Sarah Coomber (Yamaguchi, 1994-1996) is the author of "Under the Same Moon," a memoir in which she describes moving to Japan in search of a reset in life. One month from now, she will share some of her memoir writing tips in a presentation at the Japan Writers Conference.

Most of this year's conference will be held in person at the Shonan Campus of Tokai University in Hiratsuka, Kanagawa Prefecture, but some sessions, including Sarah's, will take place online via Zoom. (Join the conference mailing list to get the Zoom codes.) Her talk is set to begin at 10 a.m. on Oct. 16 (Japan time). Here's the official description: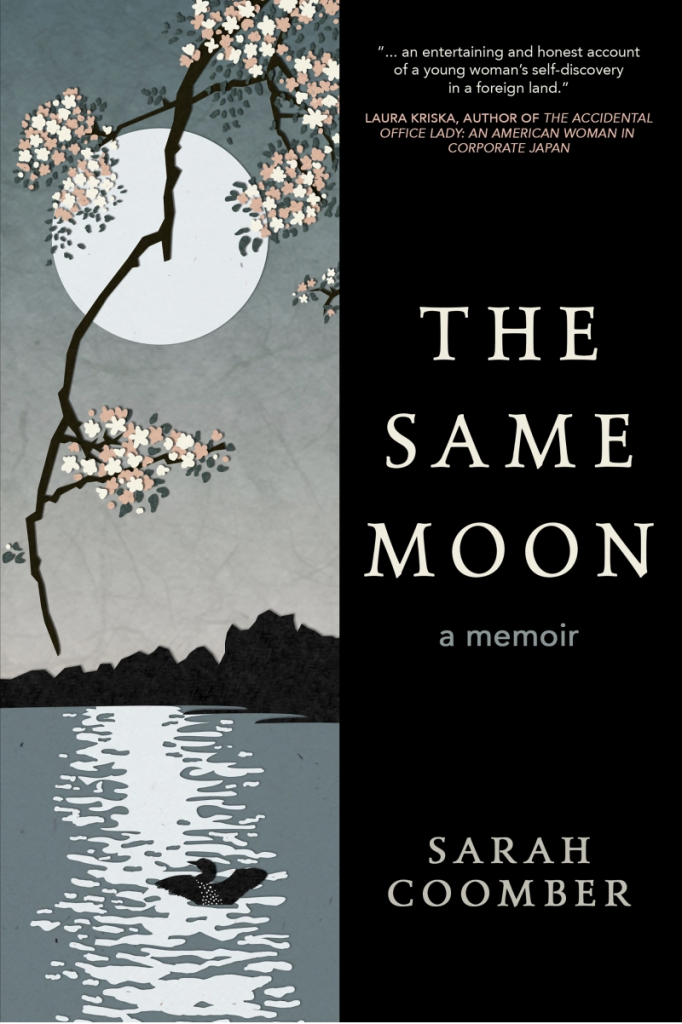 Sarah Coomber
Moment by Moment: Demystifying the Writing of a First Memoir
Craft Workshop online
Nonfiction, Other Genre
Memoir

Telling your story in memoir form can be daunting—you have a lifetime's worth of experiences to draw from. Where to begin?

Moment by moment.

In this craft workshop, I will share several strategies to help you on your way.

Memoirs, like life, progress moment by moment. The most important thing is not whether your particular story is full of excitement, tragedy or coincidence. What matters is what you bring to the moments in your story—how you view, interpret, reflect on and react to them.

Infusing moments with meaning will help you uncover your larger story. This can occur with sensory explorations, analogies, linked memories, about-ness and more.

I will share what I wish I'd known before writing my first memoir and will coach you through several of my favorite moment-developing strategies.

Attendees are encouraged to bring a scene or observation to explore.

Sarah Coomber is the author of The Same Moon (Camphor Press, 2020), a memoir about two years she spent regrouping in rural Japan after wrecking her Minnesota life. She has worked in public relations and journalism, coaches writing, has degrees in creative writing and journalism, and achieved level four certification in the Seiha School of koto.
Posted by Tom Baker (Chiba, 1989-91)
As many in the JET community know, there is a thriving English-language pub quiz scene in Tokyo. Now a couple of my friends are trying to spread the excitement to Gunma Prefecture, too.
The first of what will hopefully be series of Takasaki Pub Quizzes will kick off at 7:30 p.m. on Tuesday, Sept. 13, at a bar called Pitch, a five-minute walk from Takasaki Station.
If you'd like to know more, visit this Facebook page or contact pitchquiz@gmail.com.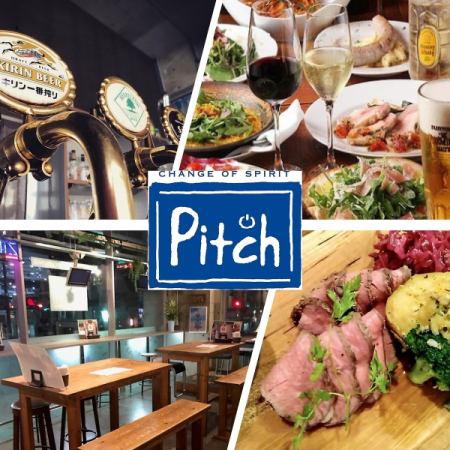 By JQ magazine editor Justin Tedaldi (CIR Kobe-shi, 2001-02). Justin has written about Japanese arts and entertainment for JETAA since 2005. For more of his articles, click here.
In the dog days of summer, it's best to escape the heat in a place that's cozy and cool. For those into both cutting-edge and classic anime, this month offers a diverse trio of theatrical premieres—all in the comfort of indoor air conditioning.
This month's highlights include:
Opens Aug. 12
For Village East by Angelika screenings, click here
From visionary director Masaaki Yuasa (Mind Game, Ride Your Wave), hailed by IndieWire as "one of the most creatively unbridled minds in all of modern animation," comes a revisionist rock opera about a 14th-century superstar whose dance moves take Japan by storm. Born to an esteemed family, Inu-oh is afflicted with an ancient curse that has left him on the margins of society. When he meets the blind musician Tomona, a young biwa priest haunted by his past, Inu-oh discovers a captivating ability to dance. The pair quickly become business partners and inseparable friends as crowds flock to their electric, larger-than-life concerts. But when those in power threaten to break up the band, Inu-oh and Tomona must dance and sing to uncover the truth behind their creative gifts. Featuring character creation by Taiyo Matsumoto (Tekkonkinkreet, "Ping Pong the Animation") and awe-inspiring vocals by Avu-chan (Queen Bee) and Mirai Moriyama, Inu-oh is a glam-rock ode to the power of music and a forceful statement on artistic freedom from one of animation's singular talents. All screenings are presented in Japanese with English subtitles.
Read More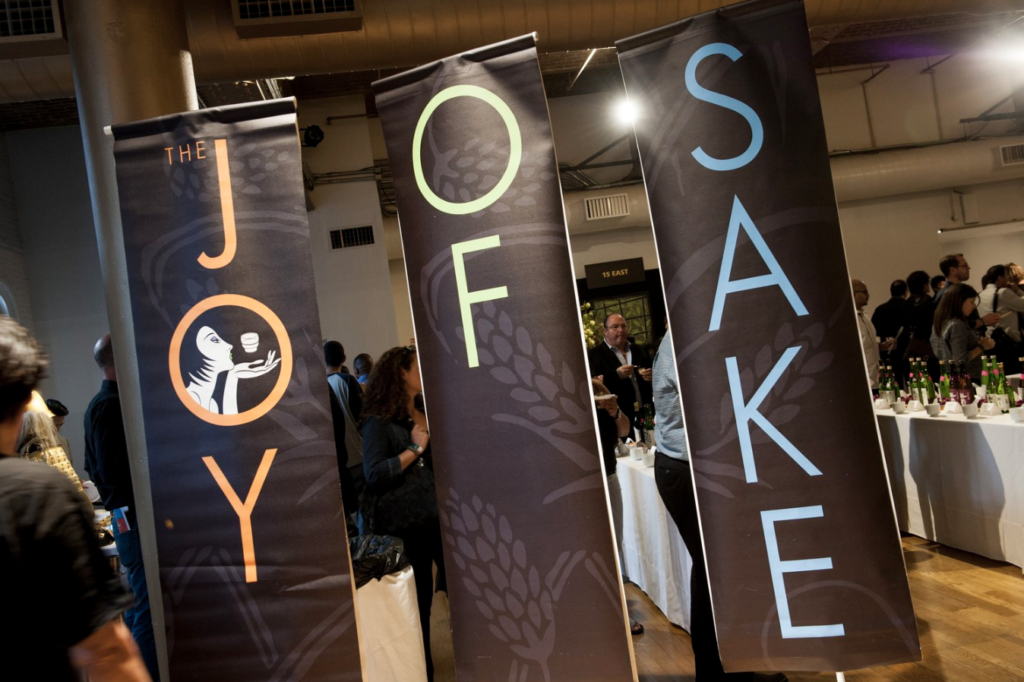 By JQ magazine editor Justin Tedaldi (CIR Kobe–shi, 2001-02). Justin has written about Japanese arts and entertainment for JETAA since 2005. For more of his articles, click here.
A beverage that can be paired with foods as diverse as sushi, chocolate and even pizza, American sake lovers are eagerly awaiting the return of The Joy of Sake, the world's largest sake tasting outside Japan, which returns to New York's Metropolitan Pavilion in Chelsea on August 4 with the biggest sake celebration in the city's history.
After a hiatus due to the pandemic, this year's event will feature a record 576 competition-level sakes (up from 513 in 2019) and top restaurants serving sake-inspired appetizers.
Now in its 21st year, The Joy of Sake celebrates the ancient art of sake-brewing. It features hundreds of premium daiginjo, ginjo and junmai labels from every sake-brewing region in Japan, including over 300 sakes not available in the U.S. "After such a challenging time for everyone," said Joy of Sake founder Chris Pearce, "we wanted to bring this celebration back better than ever and support both the sake makers and New York's resilient restaurant scene."
Read more at JQ magazine.