Dec
1

Art, Article/Journalism, Cartoon/Illustration, Events, Film, JQ Magazine, Music

Comments Off

on JQ Magazine: Nippon in New York — Radio City Christmas, Mickey Mouse @ 90, Miyazaki Doc
By JQ magazine editor Justin Tedaldi (CIR Kobe-shi, 2001-02). Justin has written about Japanese arts and entertainment for JETAA since 2005. For more of his articles, click here.
With Thanksgiving (and the hopes of sensible eating) now just a memory, we turn to colder weather, falling snow, and the new year to come. Fortunately for Japanese culture fans, December is just as busy as the holiday season itself. Whether you're hosting guests from out of town or looking to squeeze in an event or two in between parties, we've got you covered.
This month's highlights include:
Now through Jan. 1
Radio City Christmas Spectacular
Radio City Music Hall, 1260 Sixth Avenue
From $41
Featuring an all-new finale number (with costumes to match), the seasonal tradition of this legendary New York show, now in its 86th edition, features the Rockettes, ensemble dancers, and Santa himself, for a show guaranteed to delight all ages! Among the more than 50 dancers for this year's performance is Tokyo native Arisa Odaka, who performed with Ken Watanabe in the Lincoln Center Theater production of The King and I in 2015.
Now through Feb. 10
Mickey: The True Original Exhibition
$38
Featuring exclusive works from Keichi Tanaami (SPIRAL) and Tetsuya Nomura (Kingdom Hearts), Mickey: The True Original Exhibition celebrates 90 years of Mickey Mouse's influence on art and pop culture. This immersive, one-of-a-kind experience is inspired by Mickey's status as a "true original" and his consistent impact on the arts and creativity in all its forms. Guests will have the chance to explore the 16,000 square-foot exhibition featuring both historic and contemporary work from renowned artists.
Friday, Dec. 7, 7:00 p.m.
Japan Society, 333 East 47th Street
$14, $11 seniors/students, $5 members
While rummaging through trash heaps on Christmas Eve, three homeless companions—a middle-aged alcoholic, a transgender ex-drag queen and a hot-tempered teen runaway—stumble upon an abandoned newborn. Determined to find the child's mother, the trio search Tokyo's sprawling streets, buildings and back alleys, helped along by a series of coincidental encounters that gradually reveal the truth of their traumatic pasts. Imbued with deep empathy for its down-and-out yet lively characters, this atypical holiday comedy by celebrated animation director Satoshi Kon (Perfect Blue, Paprika) highlights the redemptive power of love and family (chosen or otherwise) amidst life on the fringes of society. Presented in Japanese with English subtitles.
Chapter Beats November, 2018
JETAA Chapter Beat is a periodic mosaic of events taking place in the JETAA sphere. Compiled by AJET's Director of Alumni Relations Megan Buhagiar (Ishikawa Prefecture, 2017- Present)
JETAA Rocky Mountain
Colorado & Wyoming Japanese Speech Contest
Where: First Baptist Church of Denver
1373 Grant St.
Denver, CO 80203When:  Saturday, November 10 @ 9:30 AM – 3 PM
Co-sponsored by the Consulate-General of Japan in Denver and the Japan America Society of Colorado, the annual Colorado/Wyoming Japanese language speech contest in coming up on November 10th and JETAA Rocky Mountain has been asked to have a few JETs come and talk about the JET Program. We need two JETs for the morning to set up a table and talk about how awesome their JET experience was. Around noon, the afternoon shift will begin and all four JETs will be treated to free Bento boxes courtesy of the Colorado Japanese Language Education Association (CJLEA). The Afternoon JETs will staff our table AND give a 15 minute talk and Q&A.

Bring anything you like from your JET experience. Letters from students, and of course photos, really help get people excited about the JET program when they see all the amazing things we get to do and connections we made with our local communities back in Japan.

And of course, JET Alumni are welcome to attend and socialize. The members of CJLEA have been incredibly supportive of the JET program and JETAARM. They are Japanese language teachers after all!
JETAA NY
JETAA NY Fall Photo Walk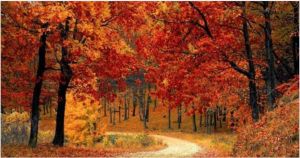 DATE:       Saturday, November 3rd
TIME:        12:00 – 14:00 EDT
PLACE:    Central Park
5 Av to Central Park W, 59 St to 110 St,
New York, New York 10022
Details
Join us for a casual stroll through Central Park while taking some beautiful pictures of the fall colors. Bring your camera / smartphone / Polaroid and let's capture the signs of the season. Afterwards, we can show off our new pictures over coffee/tea/snacks.
More details including meeting location to come!
Questions? Contact Andy at community[at]community[dot]org
JETAA NY / Carnegie Mellon University – Heinz College
Carnegie Mellon University is a strategic partner of JETAA and are offering opportunities for JET Alumni to learn more about the master's programs offered at Carnegie Mellon University's Heinz College of Information Systems and Public Policy. 
Their partnership guarantees a 30% minimum scholarship award when JETAA alumni enroll in one of their master's programs.
Prospective graduate students from a wide spectrum of majors and backgrounds will be interested in learning more about our highly ranked master's degree programs in Information Systems & Management, Public Policy & Management, and Arts & Entertainment Industry Management.
Please find more information about their Fall Visitation Weekend below:
Our Fall Visitation Weekend will take place on Friday, November 9th and Saturday, November 10th. Attendees will meet faculty, administrators, and current students to learn about our curriculum, career development, internship opportunities, scholarships, the city of Pittsburgh, and much more. Your students and alumni are eligible for up to a $250.00 travel stipend to attend.  Follow this link to Register.
We will be hosting Online Information Sessions throughout the fall semester.  Learn about our master's programs without leaving your desk!  Each session includes a presentation by the admissions team and features the program director and/or current students. For the upcoming schedule of live events, or to view a recorded session, CLICK HERE
Members of the Heinz College attend conferences, graduate school fairs and other events around the country. We hope you can meet us on the road! Check our Travel Schedule
JETAA Ottawa
Sign-up for Networking & Welcome Back Reception on November 14
Sign-up for invitations to Networking & Welcome Back Reception co-hosted with the Embassy of Japan is now available! Please click the button below to signal your interest and reserve a slot on the invite list.

The annual Networking & Welcome Back Reception is on November 14. Co-hosted by the Ambassador of Japan to Canada and JETAA Ottawa, this evening event includes welcoming back the newly returned JETs in style, an excellent networking opportunity, and great Japanese food.

If those interested, there is also a career fair with Japanese companies in Canada planned for prior to the reception itself.

Date: Wednesday, October 14

A limited number of invitations will be made available to JET alumni on a first come, first served basis.

We are working to give as many JET alumni the chance to participate in this event as we can, but we cannot confirm that all members who fill out the form at the link will get an invitation. We appreciate your interest and understanding.
JETAA SC
Nihongo Dake Dinner (NDD)
Save the Date! November 10th will be another great opportunity to catch up with alumni while also brushing up on those Japanese skills. Don't worry if you're Japanese isn't perfect because all levels are welcome! Come as you are and enjoy some good food. More details about location will be coming in future newsletters and on our FB page.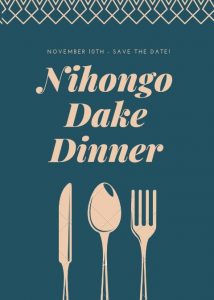 JETAA Cape Town
Japanese Film Festival, Cape Town
DATE:        2nd – 4th November
VENUE:     V&A Nouveau
PRICE:      Free
The Japanese Film Festival is one of the oldest foreign film festivals in South Africa and has been continuing every year since 1994. Free screenings at V&A Nouveau 2 – 4 November, check it out!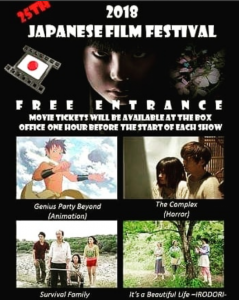 JETAA UK
JLPT Bootcamp Retreat
| | |
| --- | --- |
| Date | 16th November 2018 – 18th November 2018 |
| Time | Friday evening, All day saturday, and return to Edinburgh on Sunday afternoon |
| Price | £300 |
An weekend of Japanese lessons, meals, games, films and fun at Gorton House (a short drive from Edinburgh)
The weekend aims to be immersive – i.e. we'll be conversing in Japanese as much as possible, even whilst eating and socialising! However, the emphasis is on fun for ALL LEVELS, so don't let the immersive aspect scare you! This will be about practising the skills you have in a relaxed atmosphere outside lessons, should you want to.
This retreat is run by JETAA members and and supported by JETAA funds to keep the cost as low as possible for attendees.
More information and register your interest at : https://nihongoscotland.com/index.php/jlpt-bootcamp-language-retreat/
JETAA Prairies
JETAA Prairies Japan Trivia and Networking Night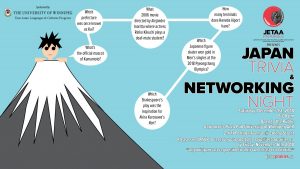 Date:          Saturday, December 1st
Time:                   18:00 – 22:00 UTC
Venue:       Garbonzo's Pizza Pub
471 Portage Avenue, Unit 2,
Winnipeg, Manitoba R3B 2E3
Do you like trivia? Are you knowledgeable about Japan? Do you want to test your knowledge in a fun environment? Are you a Japanese national who loves trivia? Are you a current university student who is thinking of applying for the JET Programme?
This event is OPEN TO ALL who are interested in Japanese culture (and not just JET alumni). We will ask questions from a variety of topics including (but not limited to) Japanese history, pop culture, sports, news, geography, and film. Questions will be answered in a team/table format. Don't worry if you don't have a team: we will create the teams.
To reserve your spot(s), please send your rsvp (name and number of guests) to rsvp@jetaaprairies.ca by Friday, November 16th, 2018.
JETAA ABC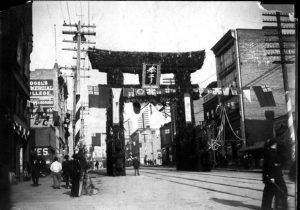 DATE:        Saturday, November 17th
TIME:         14:00 – 20:00 PST
VENUE:     A-maze-ing Laughter
Morton Park, 1800 Morton Ave,
Vancouver, BC V6G加拿大, Vancouver
Please RSVP with the following Link by November 14th, 2018
(https://drive.google.com/open?id=1Ts_7OBkoK33jJ0nO9TUu2-6D1yAl5PuuHmka1wgZrNI)
Come out and join us for an epic downtown-wide scavenger hunt! The JETAABC Amazing Race 2018 will be a video/photo scavenger hunt where participants compete in teams of 2 to 4. Friends of JET alumni are welcome to join!
The theme of our Amazing Race will involve Japanese culture and its history in downtown Vancouver: since the beginning to the present day.
On the day of, you will receive A Hit List of Tasks for which the locations and methods will range widely but can primarily be performed within downtown. For each completed task, teams will be awarded points of varying degrees – depending on difficulty of the task. The teams with the highest points at the end wins! The race itself will run from 2:30pm to 5:30pm. We will be meeting at the A-Maze-ing Laughter Statues near Stanley Park at 2:00 for to start the race at 2:30pm sharp!
From 6:00pm to 8:00pm, an after-party will be held and all participants are encouraged to come. We will be showcasing the goods of our photo hunt as well as announcing the winners of our competition over food and drinks. If you cannot make it for the Race itself, we highly recommend that you join us for the after-party!
More details of the event to come!
If you have any questions or concerns, please contact Ian Fan at ian@jetaabc.ca.
National AJET
ATTENTION JET ALUMNI
An exciting opportunity for bilingual Japanese speakers to make extra income has been shared with National Ajet. Please see details below.
JeenieTM is a mobile app that connects travellers on demand via video/audio with LIVE linguists who can help them with language and cultural issues (think "Uber" for languages). Linguists can sign up at absolutely no cost and then decide how much, how often and where they would like to work. It all takes place in cashless transactions, worldwide, 24/7, via smartphone. More information is at www.Jeenie.com.
We have significant opportunities for Japanese speakers to earn extra income right now, and we think JET alumni would be ideal candidates for providing services on our platform. They can work on their own schedule from home (or almost anywhere) and get paid for their valuable language skills. We would be delighted to welcome them to our community of Language Jeenies!
By JQ magazine editor Justin Tedaldi (CIR Kobe-shi, 2001-02). Justin has written about Japanese arts and entertainment for JETAA since 2005. For more of his articles, click here.
From the silver screen to the stage to J-pop, November is just as colorful as the autumn leaves drifting through the air. Add these live events to the mix and you've got an irresistibly epic rundown.
This month's highlights include:
Nov. 3, 5
Dragon Ball Z: Saiyan Double Feature
Regal E-Walk 42nd Street 13, 247 West 43nd Street
AMC Empire 25, 234 West 42nd Street
$12.50
Catch these two DBZ films back-to-back for the first time in U.S. theaters—fully remastered! In Bardock: The Father of Goku, a low-class Saiyan soldier unexpectedly inherits the ability to see into the future. Haunted by visions of his own end as well as the destruction of his entire planet, Bardock sets off on a nightmarish race with fate to advert the impending disaster. Then, in Fusion Reborn, an industrial disaster in Other World unleashes the monstrous Janemba, a beast who grows stronger with each passing minute. While Goku and Vegeta fight for Other World's survival, Goten and Trunks confront a ghoulish army of the undead back on Earth, where only an unprecedented act of teamwork can save the universe! Presented in English.
Saturday, Nov. 10, 7:30 p.m.
Akiko Yano + Seiho: Unusual Pairings
Japan Society, 333 East 47th Street
$38, $30 members
Beloved pianist/singer-songwriter Akiko Yano returns to Japan Society for a U.S. premiere collaboration with rising Osaka-based electronic sound artist/DJ and ikebana enthusiast Seiho. This one-of-a-kind concert mixes the singular stylings of Yano's piano and singing with Seiho's thumping, atmospheric beats, and flower arranging! Join us on this moody trip into the soundscapes of these two formidable artists as their music melds, merges and even takes shape in floral form.
Sunday, Nov. 11, 7:30 p.m.
Joe Hisaishi and David Lang: Music Future Vol. 5
Zankel Hall, 881 Seventh Avenue
$59-$99
Music Future is a concert series started in 2014 by Studio Ghibli film composer, conductor, and pianist Joe Hisaishi. Intended to introduce the latest in contemporary classical music, Music Future includes works from composers Arnold Schoenberg, John Adams, David Lang, Philip Glass, and Bryce Dessner performed by the Future Orchestra. In addition, Hisaishi presents a newly composed work each year. This year, David Lang will join Music Future at Carnegie Hall to present his latest work, Increase.
Written by professional Writer/Interpreter/Translator Stacy Smith (Kumamoto-ken CIR, 2000-03), WIT Life is a periodic series about aspects of Japanese culture such as film, food and language.  Stacy starts her day by watching Fujisankei's Japanese news, and here she shares some interesting tidbits and trends along with her own observations.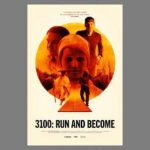 This week the Museum of the Moving Image (MoMI) hosted the premiere of the 2018 documentary 3100: Run and Become from director Sanjay Rawal. It showcases the Self-Transcendence 3100 Mile Race which takes place in Queens every summer. This elite competition requires participants to run this unbelievable distance within 52 days, which means averaging at least 60 miles per day. Competitors come from all over the world, and some have run it as many as 14 times. Rawal also intersperses stories of other amazing distance challenges, such as a member of the Navaho Nation running 110 miles across the desert in memory of his father's struggles when young, the Gaolo-San Bushmen running in pursuit of their prey and as part of their lifestyle, and the Tendai-shu monks of Mt. Hiei in Japan who carry out a practice of walking to attain enlightenment.
Spiritual training via walking is called 回峰行 (kaihōgyō), and the monks on Mt. Hiei carry out a version that takes place over 1000 days during a seven-year retreat period, called 千日回峰行 (sennichi kaihōgyō). During this time, the monk must remove himself from all family ties and other worldly distractions. Since this tradition began in 1885, only 50 plus monks have finished this quest, most in their 30s and the oldest in his 60s. The film tells the story of the monk Gyoman-san who is midway through his journey, and examines his mental state as he attempts to accomplish this major feat. He describes a point where you no longer Read More
By JQ magazine editor Justin Tedaldi (CIR Kobe-shi, 2001-02) for Shukan NY Seikatsu. Justin has written about Japanese arts and entertainment for JETAA since 2005. For more of his articles, click here.
In recent years, New York has hosted concerts ranging from Japanese rock to symphonic game music at world-renowned venues like Madison Square Garden and Carnegie Hall. Still, the chances of a full-blown anime concert featuring a variety of the original theme song vocalists seemed remote at best.
Until now. Coming to the historic Hammerstein Ballroom on November 16-17 and running concurrently with the second annual Anime NYC convention at the Jacob Javits Center, the Anisong World Matsuri concert event will make its New York debut after acclaimed performances in Los Angeles, Washington, D.C., and Shanghai.
The show will be open to anime fans and music lovers worldwide, with no Anime NYC admission required to attend. Special VIP ticket options allow fans to meet the performers at Anime NYC where multiple on-stage Q&As and autograph sessions will be held with the concert's artists.
According to a press release, Anisong World Matsuri brings together the most popular Japanese singers whose songs span the most popular contemporary anime. High-profile acts include Hironobu Kageyama, the voice behind "Dragon Ball Z"'s "Cha-La Head-Cha-La"; Hiroshi Kitadani ("We Are!" from "One Piece"); TRUE ("Mobile Suit Gundam: Iron-Blooded Orphans"); and Luna Haruna ("Sword Art Online," "Fate/Zero," "Monogatari").
Closing the event is Morning Musume, one of the biggest Japanese girl groups of all time. Celebrating their 20th anniversary this year, they will appear with their current 12-member lineup to mark the final overseas performance of Haruna Iikubo, who will graduate from the group in December at Tokyo's Nippon Budokan.
"It's our second time performing in New York. This time we will perform at Anisong World Matsuri with the legendary artist Hironobu Kageyama," the group announced in a special message video posted online. "We are looking forward to it so much!"
For more information and tickets, visit www.anisongmatsuri.com and www.animenyc.com.
By JQ magazine editor Justin Tedaldi (CIR Kobe-shi, 2001-02). Justin has written about Japanese arts and entertainment for JETAA since 2005. For more of his articles, click here.
The Japan-centric events of the month ahead promise to be as rich and full as autumn itself—brisk and colorful, with a dash of unpredictability.
This month's highlights include:
Oct. 4-7
Jacob K. Javits Convention Center, 655 West 34th Street
$50 (for Thursday, Oct. 4)
Breaking attendance records each year, the East Coast's biggest gathering for fans of comics, film, anime and manga returns with its biggest roster of Hollywood talent to date, featuring exclusive screenings, gaming, cosplay photo ops, and more! Enjoy interactive panels on Oct. 4-6 from publishers Vertical Comics and Kodansha Comics, and check them out at booth #2109 to pick up con-exclusive merch and pre-release titles like APOSIMZ, Battle Angel Alita and The Ghost in the Shell: Global Neural Network. Special guests this year include Masako Nozawa (discussing the upcoming film Dragon Ball Super: Broly at the Hulu Theater at Madison Square Garden Oct. 5), Toshihiro Kawamoto (Cowboy Bebop) and Akira Himekawa (The Legend of Zelda)!
Friday, Oct. 5, 7:30 p.m.
Hidejiro Honjoh x ICE: Shamisen Evolution
Japan Society, 333 East 47th Street
$38, $30 members
Listen to Hidejiro Honjoh, young shamisen prodigy and disciple of Hidetaro Honjoh, create this traditional instrument's 21st-century voice in an evening featuring living composers from the U.S. and Japan. Joined by members of the most sought-after contemporary music group International Contemporary Ensemble (ICE), Hidejiro delivers three world premieres composed by Grammy-nominee Vijay Iyer, Nathan Davis and Yu Kuwabara. The program also includes pieces by Yuji Takahashi and Dai Fujikura, along with the U.S. premiere of the full score of Scott Johnson's Up and Back for shamisen, electric guitar, cello and piano. Followed by a MetLife Meet-the-Artists Reception.
Oct. 24-28
Locations and prices vary
Taste what you see on the screen! The Food Film Festival specializes in creating multisensory food and film experiences. At their events, guests watch films about food and simultaneously taste the exact dishes they see on the screen…right in their seats! This year's events include the world premiere of Anthony Bourdain Parts Unknown / Lower East Side (Oct. 24), and Chikarashi: Sustainable, Chef-Driven Poke Bowl (Oct. 26), about the Manhattan-based contemporary sea-to-table eatery inspired by Japanese and Hawaiian cuisine. For a complete listing, click here.
Posted by Tom Baker
The Japan Writers Conference, a free annual event that invariably attracts at least a few JETs, will be held at Otaru University of Commerce on Oct. 13 and 14. One of the JETs giving presentations this year will be Suzanne Kamata, who will be giving two of the 36 presentations scheduled for the big weekend. One of them was described in a previous JETwit post. Here's the official description of the other:
"The Truth about Writing Contests"
Short lecture with Q & A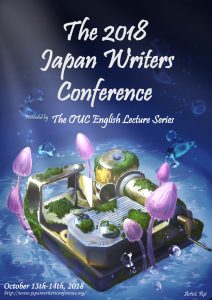 I will describe various kinds of writing contests, the pros and cons of entering said contests, and give advice on how to improve an entrant's chances of winning.
There are many contests for writers. Some may think that it's not worth the time or the cost of the entrance fees. After all, many contests get hundreds of submissions, and judging is often somewhat subjective – every reader has different likes and dislikes. However, thanks to winning or placing in writing competitions, I have received plane tickets to Paris, Sydney, and Columbia, South Carolina (from my home in Japan). I've also been awarded cash, medals, trophies, and plaques and shiny prize stickers for my books, not to mention bragging rights and prestige. A contest win can also be an excuse for a burst of publicity. Contests may lead to recognition, getting an agent or publisher, and book sales. So how do you decide which contests to enter? How do you win? In this session I will share my expertise as a frequent contest entrant, sometime winner, and occasional judge.
Suzanne Kamata has won many awards for her writing including a grant from SCBWI for her forthcoming novel tentatively titled Indigo Girl (GemmaMedia 2018), a grant from the Sustainable Arts Foundation for her as-yet-unpublished mother/daughter travel memoir Squeaky Wheels, the Paris Book Festival Grand Prize for Gadget Girl: The Art of Being Invisible (GemmaMedia 2013), and an IPPY Silver Medal for her most recently published novel The Mermaids of Lake Michigan (Wyatt-Mackenzie Publishing 2017).
Posted by Tom Baker
The Japan Writers Conference, a free annual event that invariably attracts at least a few JETs, will be held at Otaru University of Commerce on Oct. 13 and 14. One of the JETs giving presentations this year will be Tom Baker (who wrote this post, along with a recent Japan News article previewing the event). Here's the official description of his presentation: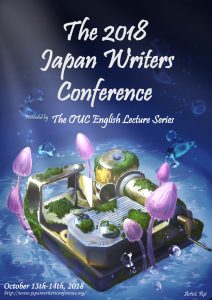 Anatomy of a Book Review
Short lecture with Q&A
"Anatomy of a Book Review" will explain how a book review is structured and what elements it should include. The key is to not merely indulge in one's own reaction to a book, but to focus on being an informative and trustworthy guide for other readers.
A book review is like a book in miniature. It must grab the reader's attention at the beginning, hold their interest through the middle, and leave them feeling satisfied to have spent their time on it by the end. But what goes into each of those parts and how do you put them together?
"Anatomy of a Book Review" will pin several reviews to the dissecting table to look at what parts they include and what function those parts serve. Vital organs include a catchy lead, facts about the author, and at least a sketch of the context in which the book appears.
Reviews of fiction and nonfiction will be compared. For any type of book, reviewers of course want to express their opinions. This presentation will focus on doing so in a way that fulfills the reviewer's mission to be a concretely helpful guide for other readers.
Tom Baker has written and published about 300 book reviews over the past 20 years. He edited the Books page of The Daily Yomiuri, which is now The Japan News, where he edits the Bound to Please column. He was the ACCJ Journal's book columnist for two years.
Posted by Tom Baker
The Japan Writers Conference, a free annual event that invariably attracts at least a few JETs, will be held at Otaru University of Commerce on Oct. 13 and 14. One of the JETs giving presentations this year will be poet and novelist Holly Thompson, who first came to Japan in connection with the pre-JET MEF program. She will present "Half the Story: Writing for the Picture Book Market." Here's the official description of her presentation:
Short Lecture, Exercises and Q&A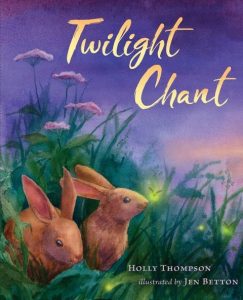 Picture book writing is a particular art. Writers of picture book manuscripts must write for page turns and create opportunities for the illustrator—writing just enough to offer possibilities. This session introduces the craft of writing picture books for current English-language picture book markets.
Writing is only half the story in picture books–images and text interact to tell the story together. So how do we write text without saying too much? Where in our writing should we step aside for the illustrator? And how do we compress stories for the strict count of 32 pages? How can we skill up to craft manuscripts that appeal to editors and art directors for their illustration possibility? This session will explore the anatomy of the picture book as it pertains to writers and offer guidelines for crafting fresh, marketable picture book manuscripts. We'll examine sample picture books—fiction, nonfiction, poetry—and try some interactive exercises. We will address the current English-language picture book markets and share the gaps, openings and opportunities for writers to get a foot in the door.
Holly Thompson is author of the picture books Twilight Chant; One Wave at a Time, The Wakame Gatherers: verse novels Falling into the Dragon's Mouth, Orchards, The Language Inside; and the novel Ash. She writes poetry, fiction and nonfiction, is SCBWI Japan Regional Advisor, and teaches at Yokohama City University.
Posted by Tom Baker
The Japan Writers Conference, a free annual event that invariably attracts at least a few JETs, will be held at Otaru University of Commerce on Oct. 13 and 14. One of the JETs giving presentations this year will be Suzanne Kamata, whose story "Monchan" appears in the "The Best Asian Short Stories 2017" anthology. Suzanne will be giving two presentations. Here's the official description of one of them: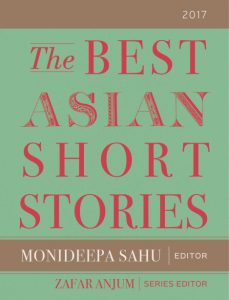 Panel discussion w/ Q & A
Kitaab Publisher Zafar Anjum and contributor Suzanne Kamata will discuss The Best Asian Short Stories 2017 anthology. Anjum will also talk about other anthologies in the works and publishing opportunities for Japan-based writers and translators in Singapore.
Zafar Anjum, who heads the independent Singapore publishing house Kitaab International, and contributor Suzanne Kamata, will introduce The Best Asian Short Stories 2017 anthology. In addition to the anthology series, Kitaab has published novels, short story collections and stories for children. Anjum will also discuss his vision for Kitaab and publishing opportunities for Japan-based writers and translators. There will be a question and answer period.
Zafar Anjum is a writer, publisher, and filmmaker who lives and works in Singapore. His books include Kafka in Ayodhya and Other Short Stories (Kitaab International, 2015), Iqbal: The Life of a Poet Philosopher and Politician (Random House India, 2014), and The Singapore Decalogue (Red Wheelbarrow, 2012). He is the founder-editor of Kitaab, an online journal and publishing company that promotes Asian writing in English.
Suzanne Kamata is the author or editor of ten published books including, most recently Screaming Divas (Simon Pulse, 2014), The Mermaids of Lake Michigan (Wyatt-Mackenzie Publishing, 2017) and A Girls' Guide to the Islands (Gemma Open Door, 2017). Her story "Mon-chan" was selected for inclusion in The Best Asian Short Stories 2017 anthology. She is an Associate Professor at Naruto College of Education.
Written by professional Writer/Interpreter/Translator Stacy Smith (Kumamoto-ken CIR, 2000-03), WIT Life is a periodic series about aspects of Japanese culture such as film, food and language.  Stacy starts her day by watching Fujisankei's newscast in Japanese, and here she shares some interesting tidbits and trends along with her own observations.
Being an avid tennis fan, I was thrilled when my clients asked me if I wanted to join them at the U.S. Open women's semifinals last night.  I was especially excited because not only would I get to see Serena during her "Don't call it a comeback" tour, but I would get to see Japanese rising tennis superstar Naomi Osaka play live for the first time.  Naomi set a personal record by reaching her first Grand Slam quarterfinal here, and she and Kei Nishikori together made history by becoming the first Japanese duo to reach the semifinals of the same Grand Slam tournament.  The last time Japanese players advanced into the later rounds simultaneously was back in 1996, when Shuzo Matsuoka and Kimiko Date reached their respective quarterfinals at Wimbledon (Shuzo incidentally was Kei's coach in Japan when he was 12).
Coincidentally enough, Naomi Osaka (大坂なおみ) was born in the same city as her last name (大阪) to a Japanese mother and a Haitian father.  When she was 3, they moved to the U.S. with her and her older sister Mari, a
lso a tennis player, but for the sake of their tennis careers their father made the savvy decision that they would represent Japan.  It's refreshing that despite not being fluent in Japanese and not being purely Japanese, she has a huge backing in Japan.  At the match last night, a Haitian group was sitting behind us and enthusiastically calling out her name at regular intervals.  We ended up chatting and one guy explained that Haitian fans want to claim her as their own, and that they get frustrated when she is described as only "Japanese" as opposed to "Haitian-Japanese."
She and opponent Sloane Stephens slugged it out with their amazingly powerful ground strokes, some rallies going as long as 18 points.  In her post-match comments, when asked why she was able to continuously hold serve despite Sloane's 13 break chances, Naomi said, Read More
By JQ magazine editor Justin Tedaldi (CIR Kobe-shi, 2001-02). Justin has written about Japanese arts and entertainment for JETAA since 2005. For more of his articles, click here.
As the summer winds fade into fall colors, the weeks ahead are shaping up with these exciting events, ready to be enjoyed after Labor Day.
This month's highlights include:
Now through Sept. 6
Metrograph, 7 Ludlow Street
$15
More than any single feature film, Katsuhiro Otomo (Memories, Steamboy)'s adaptation of his own manga series is the one that introduced the glories of Japanese anime to an international audience. In 2019, thirty-one years after the Japanese government nuked Tokyo as damage control for an experiment involving using ESP on children, biker Kaneda rides one of the most iconic motorcycles in cinema into the unknown, on a mission to save his friend Tetsuo from a vast and far-reaching conspiracy. A feast of imagistic imagination, climaxing in an unforgettable battle royale in the Tokyo Olympiad. Presented in Japanese with English subtitles.
Thursday, Sept. 5, 8:00 p.m.
PlayStation Theater, 1515 Broadway
$45
SCANDAL is one of Japan's most popular rock bands, epitomizing the J-rock aesthetic. The four-piece unit adeptly blends pop, rock and alternative music sensibilities with hip and contemporary fashion sensibilities and unstoppable girl star power. The band is presently in the midst of a world tour in support of its eighth record, HONEY, which was released in February and peaked at Number Three on the Japanese Oricon weekly sales charts and extended the band's streak of being the only girl group to consecutively have each of their albums place the Oricon Top Five. The album features ten tracks including a rendition of the band's 10th anniversary single, "Take Me Out."
Sept. 6 & 10
Perfect Blue: 20th anniversary
AMC Empire 25, 234 West 42nd Street
AMC Kips Bay 15, 570 Second Avenue
Regal Union Square 14, 850 Broadway
$12.50
Perfect Blue, the groundbreaking and rarely screened first film from the legendary late director Satoshi Kon (Tokyo Godfathers, Paprika), returns to theaters for its 20th anniversary in a brand-new digital transfer. Rising pop star Mima has quit singing to pursue a career as an actress and model, but her fans aren't ready to see her go. Encouraged by her managers, Mima takes on a recurring role on a popular TV show, when suddenly her handlers and collaborators begin turning up murdered. Harboring feelings of guilt and haunted by visions of her former self, Mima's reality and fantasy meld into a frenzied paranoia. As her stalker closes in, in person and online, the threat he poses is more real than even Mima knows, in this iconic psychological thriller that has frequently been hailed as one of the most important animated films of all time. The September 6th screenings are presented in Japanese with English subtitles and the September 10th screenings are dubbed in English.
By JQ magazine editor Justin Tedaldi (CIR Kobe-shi, 2001-02) for Shukan NY Seikatsu. Justin has written about Japanese arts and entertainment for JETAA since 2005. For more of his articles, click here.
When Americans into J-rock think about all-female acts, it's easy to flash back to the early '90s when acts like Shonen Knife and Cibo Matto first made their mark on the U.S. scene.
Looking for something modern? Check out SCANDAL from Japan, a four-piece unit that blends pop, rock and alternative music sensibilities with contemporary fashion smarts. With their eighth album HONEY (released in February on Epic Records), the group is gearing up for their first North American tour in three years, which includes two shows in Mexico, kicking off September 5th at New York's PlayStation Theater, with additional dates that month in San Francisco, Anaheim, Monterrey, Mexico City and Dallas.
Originally formed in 2006 in Osaka and taking their name from a shop sign that hung near the studio where they practiced, SCANDAL from Japan consists of Haruna (lead vocals/rhythm guitar), Mami (lead guitar/backing vocals), Tomomi (bass/lead vocals) and Rina (drums/keyboards/guitar/backing vocals), who shared a love rock bands and artists ranging from Green Day, Foo Fighters and Paramore to the pop styling of Taylor Swift and Pink. Their own music has appeared in TV and anime series, and the band has its own original fashion brand – Feedback! – that is produced and designed by all of the members.
For the new album, Haruna explains, "We focused this album around what we individually like to do as well as what we like to do as a group. We wanted to make music that represents all of us and also songs and subjects told from the standpoint of a girls' band.  We also wanted to go all-in for the 10 -year anniversary of our debut. HONEY pays homage to that and also shows has we have continued to evolve as a group."
For more information and tickets, visit www.scandal-4.com or the band's Facebook page at /scandalofficial.
By JQ magazine editor Justin Tedaldi (CIR Kobe-shi, 2001-02). Justin has written about Japanese arts and entertainment for JETAA since 2005. For more of his articles, click here.
In the dog days of summer, it's best to escape the heat in a place that's cozy and cool. For those into Japan-related cultural events, this month offers a diverse selection of film premieres and live music—all in the comfort of indoor air conditioning.
This month's highlights include:
Aug. 4, 6
E-Walk 42nd Street 13, 247 West 42nd Street
Empire 25, 234 West 42nd Street
$12.50
Sailor Moon, the beloved Guardian of Love and Justice, returns to the big screen for a special theatrical event! In the series, Usagi Tsukino is a clumsy but kindhearted teenage girl who transforms into the powerful Sailor Moon. Meeting allies along the way who share similar fates, Usagi and her team of planetary Sailor Guardians fight to protect the universe from forces of evil and total annihilation! The classic anime's third movie, Sailor Moon SuperS is presented along with the never-before seen in theaters short, "Ami's First Love." All features are presented uncut and true to the original Japanese version, with English dubbed (Aug. 4) and subtitled (Aug 6) screenings available. 
Aug. 11-12
Manhattan Center, 311 West 34th Street
$25.50-$33.00
PLAY NYC is New York City's first and only dedicated games convention. The weekend will feature three floors of playable games for all consoles, PC, virtual reality and mobile devices from studios large and small and developers old and new. Games will include indie projects with some larger triple A titles. Get access to some of the biggest games coming later this year and discover many you've never even heard of. PLAY NYC celebrates every facet of gaming in a way that only the Big Apple can by uniting players, developers and industry pros at a games event like no other.
Aug. 12-13, 15
E-Walk 42nd Street 13, 247 West 42nd Street
Empire 25, 234 West 42nd Street
$12.50
In this special 30th anniversary screening, Studio Ghibli's Grave of the Fireflies has been universally hailed as an artistic and emotional tour de force. As the Empire of the Sun crumbles upon itself and a rain of firebombs falls upon Japan, the final death march of a nation is echoed in millions of smaller tragedies. This is the story of Seita and his younger sister Setsuko, two children forced to fend for themselves in the aftermath of fires that swept entire cities from the face of the earth. Their struggle is a tribute to the human spirit. Directed by Academy Award-nominated Isao Takahata and presented in its digitally remastered and restored format, Grave of the Fireflies is one of the rare films that truly deserves to be called a masterpiece. English dubbed (Aug. 12, 15) and subtitled (Aug. 13) showings are both available for this engagement.  Read More
By Katharine Olla for JQ magazine. A Friend of JET, Katharine taught as an ALT in a public elementary school in Gunma Prefecture from 2015-16. She currently works at Japan Society in New York.
It's summer in the city, and that means another year of JAPAN CUTS, North America's largest festival of contemporary Japanese cinema. From July 19-29, Japan Society will screen 30 films ranging from dramas and comedies to documentaries, anime, and experimental works. The festival will also feature special guest appearances by directors, documentary filmmakers, and actors, including the legendary actress Kirin Kiki, who will receive the CUT ABOVE Award for Outstanding Performance in Film.
It was difficult to choose just three to review, so I decided to watch films with strong female leads (because that's one of the categories that Netflix tells me I like).
What if I just ran away and lived in the woods? is a question some of us ask after a morning commute on New York public transit. Get your fix by immersing yourself in the surreal, visually-striking world of Kushina, What Will You Be.
Anthropologist Soko (Yayoi Inamoto) and her assistant Keita (Suguru Onuma) trek through the forest to locate and study an elusive group said to be in the mountains. What they find is a women-only colony led by matriarch Onikuma (Miyuki Ono). Onikuma's family consists of her daughter Kagu (Tomona Hirota) and granddaughter Kushina (Ikumi Satake), whose secret pastime is listening to her cassette player. After the outside world intrudes, how will this closed community react? And what is Kushina listening to on her Walkman?
This is Moët Hayami's debut feature film, and it's a labor of love: as its writer, director, art director, costume designer, and editor, with this level of care she's managed to curate every detail of this film to create a truly singular world within a world. It's hard to shake off after the credits roll.
Featuring an intro and Q&A with writer/director Moët Hayami and actress Tomona Hirota, Kushina, What Will You Be screens Wednesday, July 25 at 6:30 p.m. (international premiere).