Thanks to Ryan McDonald (Fukushima-ken, 2002-05) for sharing the below.  Another great example of Return On JET-vestment:
Last year, I and two other ex-JETs, created a calendar called This Is Fukushima. We paid for it ourselves and took donations from other ALTs in Fukushima. We made 2,500 copies and sent them around the world to the media, government officials, and even royalty. The goal was to show that Fukushima is more than a reactor. There is no Fukushima disaster, but there was a disaster in Fukushima. Too many people hear the word Fukushima and think it's only a nuclear reactor.
This year the theme will be people and interesting places. We already have a few people in mind that have and are continuing to help Fukushima. We are also going to have more photos of some of our unique festivals. We want to print 4,000 this time and have a larger version with one month per page.
There's no question as to whether or not we can do it. We did already and can do it again. The only question is can we raise enough money to make it bigger and better. Any money raised over the goal will go to printing more calendars.
If you would like to donate, please go to GoFundMe.com
You can also look at some photos of Fukushima at http://www.ThisIsFukushima.org
Ryan McDonald (USA)- (Fukushima-ken, 2002-05)
Paul Sprigg (CA)– (Fukushima-ken, 2005–10)
Henare Akurangi (NZ) – (Fukushima-ken, 2007–11)
Jim Gannon (Ehime-ken, 1992-94), Executive Director of the Japan Center for International Exchange (JCIE/USA) and a member of the JETAA USA Disaster Relief Fund Committee, was recently in Tohoku for work and shared the following update regarding one of the projects that JETAA USA helped fund:
Jim says he met with Kodomo no Empowerment Iwate (click here for their Facebook page) and also had a chance to talk with two representatives of the Rikuzentakata Board of Education and learned:
The BOE and many people in the prefecture see the Manabi-no-heya project we supported as a crucial element of the town's recovery, and the Ministry of Education has selected it as a model project for introduction around the country.
They currently have 206 students enrolled in Rikuzentakata alone, and have expanded to Kamaishi, Ofunato, Miyako, and other affected cities, adjusting the program to fit local circumstances.
The big news they were happy about was that one of the students from the tutoring program was just ranked #1 out of 600 on the Rikuzentakata high school entrance exams.
The Ministry of Education and private source have provided funding for the project that is many multiples of JETAA USA's, but the organizers and the city officials all credit JETAA-USA as providing the seed money to help get this off the ground.
Here's a news video about the project (in Japanese – if someone wants to post a summary in some form that would be great, btw):

Photo #1:  From Kodomo no Empowerment's gathering of their Rikuzentakata program managers (senior tutors), on Saturday. They got together to discuss how to improve the program, discuss student management issues, etc. The fact that they were sacrificing an entire Saturday for this shows just how committed they are. The person standing is Iwate Prefectural University Professor Katsuhiko Yamamoto, who heads Kodomo no Empowerment.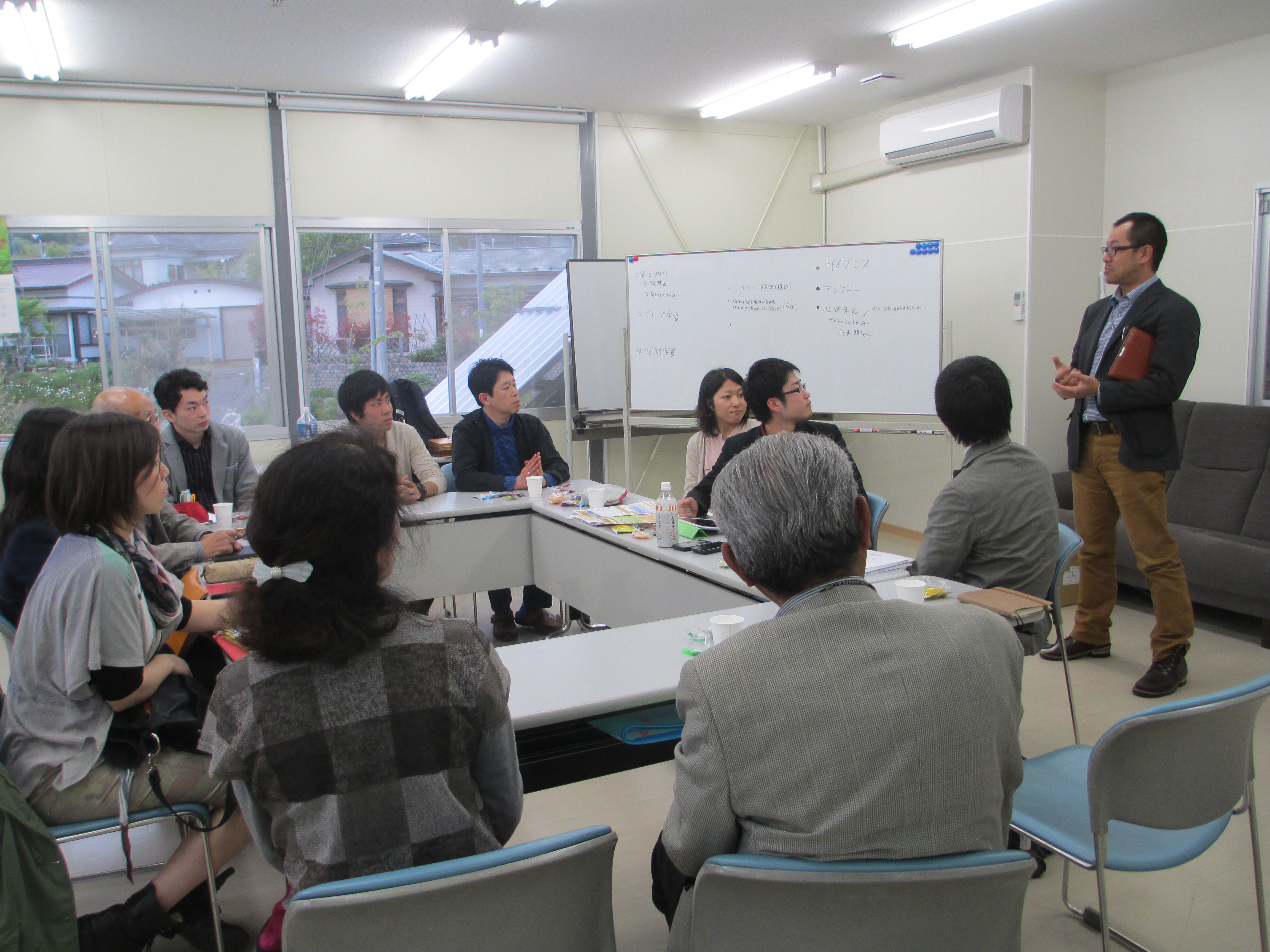 Photo #2:  A student named Masako who was a student in the Otsuchi program, which is held in a temporary housing unit. She is showing off her desk where she had been studying English. She just enrolled in Nagoya College of Foreign Languages, an extraordinary triumph for a student from a small town like this. She seems to be taking some time to volunteer now with a development NGO in the Philippines in order to give back and also to brush up her English.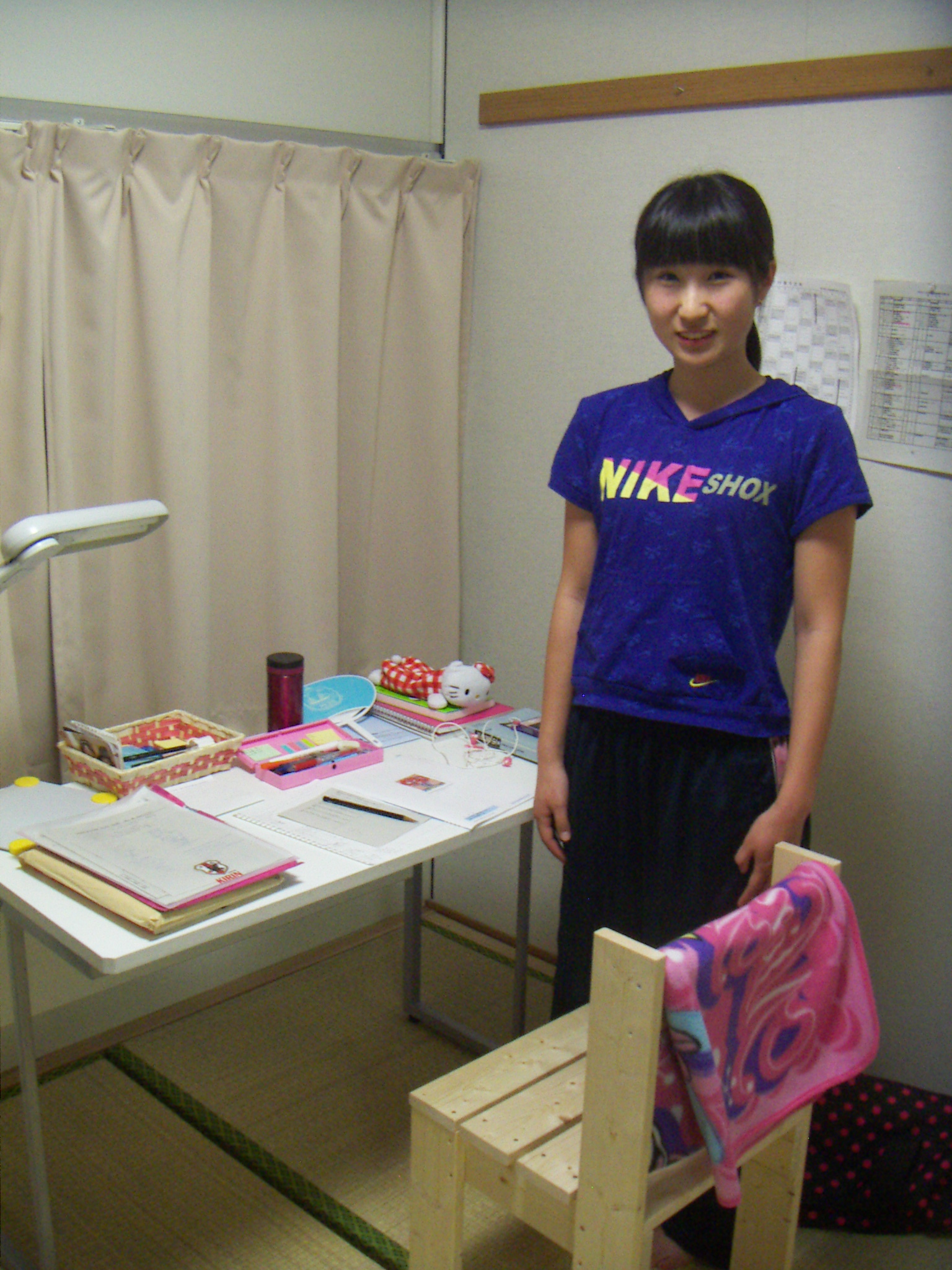 ***************
Via the Japan Center for International Exchange's Facebook page.  A nice post about the work that Jim Gannon (Ehime-ken, 1992-94), Executive Director of the Japan Center for International Exchange (JCIE/USA), has been doing in Tohoku on behalf of his organization.  Jim is also a member of JETAA USA's Board of Advisors and the JETAA USA Disaster Relief Fund Committee:
JCIE/USA's Jim Gannon was in Tohoku last week, where he met with grantee AidTAKATA, an NGO that operates Radio FM Rikuzentakata to bring local news, music, and informational programs to people living in this hard-hit area. The station is the only source of local information for many residents in temporary housing, and it is working to strengthen community ties.
During his visit, the station featured a program with a lawyer who provides advice on the legal issues people in the disaster zone have to cope with (rebuilding regulations, insurance settlements, land titles, etc.). They also briefly interviewed Gannon during the program and took the opportunity to express their gratitude to all of the donors to the JCIE fund.
While on air, a small earthquake struck and the announcer immediately provided information on the epicenter and strength and to reassure listeners.
A new effort started by Miyagi JET alum Canon Purdy:
Welcome to Save Miyagi, a non profit, unincorporated charity organization dedicated to helping Miyagi and Minamisanriku rebuild after the devastating earthquake and tsunami of March 11th, 2011.
Canon Purdy and her family founded this organization after Canon was stranded without contact in the town of Minamisanriku, where she had taught English for two years before.
SaveMiyagi successfully donated to the Minamisanriku Board of Education in August (check blog for details). Our next project is sending Paper Cranes to Northern Japan to support their recovery process.
Please check out the video below or the page above, and consider getting involved.
Info courtesy of Heather Tomoyasu (Ibaraki-ken, 2004-06), who currently works for the JCCI NY. Posted by JQ magazine editor Justin Tedaldi (Kobe-shi, 2001-02).
The tragedy and devastation that Hurricane Sandy brought to the New York Tri-State Area has affected us all deeply. The Japanese Chamber of Commerce and Industry of New York, Inc., in cooperation with The Nippon Club, has decided to establish the Hurricane Sandy Relief Fund to aid the victims of the disaster.
Hurricane Sandy forced the cancellation of JCCI's 28th Annual Dinner, originally for October 30th, with 1,000 guests scheduled to be in attendance honoring the 100th Anniversary of Japan's gift of cherry trees to America, JCCI's 80th Anniversary, and awardees Professor Gerald L. Curtis and recording artist Cyndi Lauper. Through Dinner Sponsorship, JCCI was able to contribute a total of $500,000 to the hurricane relief effort: $250,000 to both the Mayor's Fund to Advance New York City (supporting relief in the 5 boroughs) and AmeriCares (supporting relief in New Jersey and Long Island).
JCCI and The Nippon Club are now accepting additional donations through their Hurricane Sandy Relief Fund, for which the receiving organization will be decided at a later time. All donations will be 100% tax-deductible. Checks should be made payable to "J.C.C. Fund" (please note "Hurricane Sandy Relief Fund" on the memo line), and mailed by December 31, 2012 to the attention of Mr. Shigeo Kimura, The Nippon Club, 145 West 57th Street, New York, NY 10019.
Send inquiries to: Japanese Chamber of Commerce and Industry of New York, Inc. (JCCI)  TEL (212) 246-8001 / E-Mail: info[at]jcciny.org / Web: www.jcciny.org.
Via the Japan Local Government Center blog:
The Rocky Mountain JETAA chapter has been busy with two recent events helping out their various Colorado sister cities.
Fujiyoshida, in Yamanashi-ken, and Colorado Springs just celebrated their 50th anniversary in early August, so RMJETAA mobilized their Colorado Springs and Denver JET alumni to participate in the festivities in Colorado Springs and be available to assist with translating, interpreting, and other duties for the 70 visitors from Japan. One main place they helped out was the family event held at America the Beautiful Park on August 4th. Because many JET alumni from Colorado Springs were placed in Fujiyoshida as ALTs and CIRs, the celebration was a great chance for friends and acquaintances on both sides to get together again and reminisce about old times spent together in Japan. As part of the celebration, Mayor Horiuchi of Fujiyoshida and the students presented a check to Colorado Springs for $11,415, raised by the citizens of Fujiyoshida to help their sister city recover from the recent devastating wildfires there.  Although Fujiyoshida now directly contracts with Colorado Springs for private CIRs it was wonderful that they could still draw on the resources of their former ties to the JET Program.
Click JLGC link for the full blog post in English.
クリックJLGC リンク 日本語 ブログ.
************
JET Alum Mark Flanigan (Nagasaki-ken, 2000-04) volunteered for earthquake relief efforts in Ishinomaki following 3/11, as a way to give back to the country he has lived in twice now. As a Rotary Peace Fellow at the International Christian University (ICU) in Tokyo, Mark jumped at the opportunity to volunteer in Tohoku after the devastating earthquake struck Japan. He joined a group of international student volunteers, including graduate and undergraduate students of many nationalities, in helping to clean up a small fishing village in Oshika-hanto.  Now a graduate of ICU, Mark continues his efforts for ongoing Tohoku relief as a Program Director with the Japan ICU Foundation in New York City.
On Friday, September 14, the Japan ICU Foundation (JICUF) will hold a special Fundraising Dinner and Silent Auction in Washington, DC. The event will begin at 6:00 pm at the Old Ambassador's Residence, adjacent to the Embassy of Japan on Massachusetts Avenue. Special guests will include the new (and first-ever female) ICU President Junko Hibiya, Dean of International Affairs Shaun Malarney and Mr. Kakutaro Kitashiro, the Chair of ICU's board of trustees.
This Fundraising Dinner and Silent Auction will continue JICUF's ongoing support for a variety of recovery efforts in the wake of the tragic March 11th, 2011 earthquake and tsunami, with the proceeds from the evening to go towards supporting ICU's continuing earthquake relief projects in Tohoku. It follows on JICUF's March Sake Tasting Fundraiser at the Penn Club in New York City, which raised nearly $10,000 to support these efforts. Since the devastating March 11, 2011 earthquake, tsunami and subsequent nuclear accident, JICUF has worked with ICU in Tokyo on key aspects of the ongoing response.
If you would like to attend the fundraiser event on September 14, you can go here for more information:  http://jicuf.org/newsevents/fundraising-dinner-in-washington-dc-on-friday-september-14/
Members of the JET Alumni community are welcome and encouraged to join! Special discounts are available for Students, Young Professionals and the Media.
To RSVP for this event, please contact the JICUF at information@jicuf.org.
***************
JET Alum Cycling for Tohoku
For more information, contact Roy Moneyhun at roy@tohokuforward.org. The web address is www.tohokuforward.org. The Facebook page is Tohoku Forward.
We all know what happened in northeast Japan on March 11, 2011. The devastation remained front page news for weeks following the Tohoku earthquake and tsunami. Now—more than a year later—news of Tohoku must be actively sought out by anyone wanting to know what is going on up there. Tohoku has been relegated to the back burner of the international news cycle.
As the drama in Tohoku unfolded during the spring months of 2011, the world's media understandably focused on the devastation, the death toll, and the threat of nuclear radiation escaping the Fukushima Nuclear Power Plant. A less generally reported catastrophe during the early weeks and months following the disaster was the creation of a new wave of orphans in Tohoku. If this crisis was overlooked during the initial period of the tsunami, it has now become close to invisible. Agencies such as Smile Kids Japan and Living Dreams toil in near-obscurity to address the crisis with little attention and limited funds.
Enter Tohoku Forward, the one-man project of JET alumnus Roy Moneyhun (Mie-ken, 1996-98) of Jacksonville Beach, Florida, USA. With Tohoku Forward, Moneyhun hopes to reach thousands of potential donors around the world, most of whom can be found in the JET alumni community.
Many orphans of the Tohoku disaster are babies, meaning that they will need support for at least another fifteen to eighteen years. Read More
The new issue of the official JETAANC magazine, Pacific Bridge, is now available. Read it online here.
In this issue you will:
-Learn about local efforts to support the recovery of the Tohoku region.
-Hear about how new JETs are settling into the Tohoku area.
-Read about recent events in the JETAANC chapter.
And much more!
*********** Via Eyes 4 Fukushima 
For T-Shirt orders (international and w/in Japan), please visit http://e4f.fujet.net/shoppingcart/
All procceds will go towards Fukushima charities which are actively promoting rebuilding efforts after the March 11th earthquake, tsunami and power plant disaster.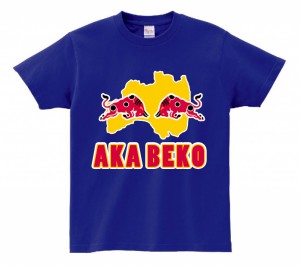 Fukushima JETs recently launched a local initiative – Eyes for Fukushima (E4F). Quick blurb from their website: It aims to promote grass roots internationalization in Fukushima Prefecture with devotion to improving the lives of people affected by the March 2011 Earthquake and Tsunami Disaster through events and fundraising. Eyes for Fukushima seeks to foster ties between Japanese citizens and JET participants at the person-to-person level.
*********** Via JETAA Ottawa
By Ala Ji (Kyoto-fu, 2001-02) for the JETAA Ottawa Newsletter.
On May 24, JETAA Ottawa hosted a charity concert featuring two local bands to help raise money for children affected by the 2011 Great East Japan Earthquake and Tsunami.
While Japan recovers gradually a year after the catastrophe, many children are still struggling with the aftermath and trying to regain a sense of stability in their lives. To help them move past the tragedy and build a brighter future, JETAA Ottawa continues to put in its best effort. With a team of dedicated JET alumni and their supporting family and friends, the charity concert helped raise money for Smile Kids Japan and the Tohoku Kids Project.
The concert was held in the picturesque town of Wakefield, surrounded by Gatineau hills and lakes just 30 minutes outside of Ottawa. The Black Sheep Inn, a well-known local hub with open arms to all musicians and music lovers, generously donated this venue free for the concert. When dusk broke, a yellow school bus full of enthusiastic concert-goers pulled up to this live-music joint of an otherwise tranquil town. These guests consisted of JET alumni, friends and family, Embassy of Japan staff, and followers of the talented musicians who volunteered to provide music for the night.
Darryl Wharton-Rigby (Fukushima-ken, Kawamata-cho, 2005-07) has set up a Kickstarter fund to support his documentary project about Fukushima, "Don Doko Don: The Yamakiya Taiko Drum Club Project."  Darryl was also organized a project earlier this year, together with former JETAA DC President Michelle Spezzacatena (Fukushima-ken, Kawamata-cho, 2002-05) that brought the Kawamata taiko group to D.C. for the Cherry Blossom Festival.
Here's a little info about the project from the Kickstarter page:
"Don Doko Don: The Yamakiya Taiko Club Story follows an award winning Japanese Taiko Drum Troop – comprised entirely of kids, teens and 20-year-olds – living in Yamakiya, a small town near the failed Fukushima nuclear power plant.  The group is forced to flee their homes and beloved mountain community after the earthquake, tsunami, and nuclear disaster wreaked devastation on them.
「どんどこどん」:この映画は、数々の受賞歴のある和太鼓の団体である、山木屋太鼓クラブのドキュメンタリー映画です。山木屋太鼓クラブは山木屋市内の、10歳以下の子供や10代の学生そして20歳の青年から構成されています。メンバーたちは地震・津波そして福島原発事故の影響で、今現在もなお実家や親しんだ地元から避難を余儀なくされている状況にあります。
Living as refugees and scattered around the countryside outside and within the radiation zone, the brave Taiko troop struggles to stay together and practice; trying to keep alive the spirit of their community – and the hope of returning home one day. And then, after facing daily adversity and at their lowest point, they get invited to Washington D.C. to be the honored performer in D.C.'s 100th Cherry Blossom Festival; headlining a climatic performance at the Kennedy Center!
それぞれの地域で避難生活を送っているにも関わらず、いつか実家のある地元故郷に帰ることを願い、山木屋太鼓クラブは離れ離れにならないように共に集まり太鼓クラブの精神を盛り上げて一生懸命活動しています。逆境に立ち向かう中、山木屋太鼓クラブはワシントンD.C.の桜祭百周年記念の演奏者として招待され、ケネディーセンターでは最高の演奏を行いました。"
JETAA Northern California's Pacific Bridge recently interviewed Ryan Kimura (Shizuoka-ken, 2004-06) who currently serves as the Director of Programs and Community Affairs at the Japanese Cultural and Community Center of Northern California (JCCCNC).
How did you wind up in this position after JET?
After JET, I opened up a small purikura [Japanese photo booth] business, Pika Pika (www.pikapikasf.com), in Japantown's Japan Center Kinokuniya Building. I owned, operated, and grew this business for five years before hearing about an opening at the JCCCNC for a Programs Director position. When I was a student at UC Berkeley, I interned at the JCCCNC and formed many strong relationships with the staff there, including Executive Director Paul Osaki. Additionally, managing a Japantown business and staffing a number of Japantown non-profits really motivated me into playing a larger role in the community. I decided to call Paul up, interviewed, and have been serving at the JCCCNC since May of 2011.
Seeing as we have recently passed the first anniversary of the 3/11 earthquake. I know the JCCCNC has been doing so much to support Tohoku and bring awareness to the community. Can you talk about that?
Immediately after news of the earthquake reached state-side, volunteers from all over the Japanese American community staffed an all-day, all-night telethon on NBC in the Bay Area, where we raised over 400,000 dollars. All of this money was soon after transferred to the JCCCNC-led Northern Japan Earthquake Relief Fund. Additionally, we took our efforts online and put up a Causes.com page for the fund. Our page has since received donations from over 25,000 people.
Speaking on the scale of the Japantown community, the JCCCNC has hosted numerous fundraisers for the cause. The 2011 Cherry Blossom Festival, which occurred about a month after the earthquake, had many of our staff and volunteers selling merchandise to generate money. Donation cans were located at every festival booth, and, throughout the year, many Japantown merchants used those same cans in their stores. The JCCCNC has also received money from smaller community charity events, including a lemonade stand run by kids, taiko concerts, and cultural performances.
On the February leading up to the first year anniversary, the JCCCNC flew in six Tohoku students who were studying to enter the hospitality industry at the Sendai YMCA. These students' lives were devastated by the earthquake—they lost property, loved ones, and so much more. Some of them had not even gotten over the shock. Through the relief fund, we were able to pay for their tuition, show them around famous San Francisco hotels to enlighten them about hospitality in the West, and saturate them with American culture through homestays and preschool volunteer programs. We wanted to show donors how their money was being used, and because of the community's generous spirit, these six students have the chance to realize their futures—to arise from tragedy and push forward.
CLAIR NY has published and posted to its website a report that attempts to capture some of the efforts of the JET alumni community to support Japan post-3/11.  It is worth noting that it's difficult to capture all of the wide-ranging efforts of the JET alumni community (over 55,000 and growing every year), and there are likely many efforts that have simply not been reported or captured in other ways.  That said, this report still provides a really great overview and some good details.
English version:  http://www.jlgc.org/TopicList.aspx?topicCategoryID=6&topicID=49&languageTypeID=1&controlType=Display
Japanese version:  http://www.jlgc.org/TopicList.aspx?topicCategoryID=24&topicID=263&languageTypeID=2&controlType=Display
Via jetaaottawa.ca
JETAA Ottawa will be hosting a charity concert at the Black Sheep Inn on May 24th, 2012 to help raise money for Smile Kids Japan, and the Tohoku Kids Project.
JET Alumnus Jordan Patrick (Aichi-ken, 2009-11) will open the show with his mix of indie and modern folk music. Headlining the event will be the Hornettes who will keep the energy peaked and revive classic Motown, soul and funk sounds that will leave you sweaty and satisfied. The Hornettes formed in Ottawa in 2010, and since then have developed a loyal following of music lovers drawn to their ability to keep the dance floor moving. The band consists of two female front women, Anna and Irina, backed by a hot horn section and the classic trio of guitar, drums and bass.
A shuttle bus will be provided from the corner of York Street and Dalhousie Street at 6:30 p.m. to the Black Sheep Inn, and will return once the concert ends.
Tickets for the show and space on shuttle service are limited!
RSVP: events[at]jetaaottawa[dot]ca
Event: Smile Kids Japan Charity Concert
Date: Thursday, May 24th, 2012
Time: starting at 7:30pm (doors open at 7:00pm)
Location: Black Sheep Inn, 753 Riverside Drive, Wakefield, Quebec
Admission: $15.00 minimum donation (cash or pre-paid donations through JETAA Ottawa or Global Giving only) *bring a printed receipt of all pre-paid donations
Shuttle: $5.00 (cash/pre-purchased tickets only) – leaving at 6:30pm from the corner of York/Dalhousie St.
Hope to see you there!