By Rashaad Jorden (Yamagata-ken, 2008-10; Kochi-ken, 2018-present) for JQ magazine. A former head of JETAA Philadelphia's Sub-Chapter, Rashaad is a graduate of Leeds Beckett University with a master's degree in responsible tourism management. For more on his life abroad and enthusiasm for taiko drumming, visit his blog at www.gettingpounded.wordpress.com.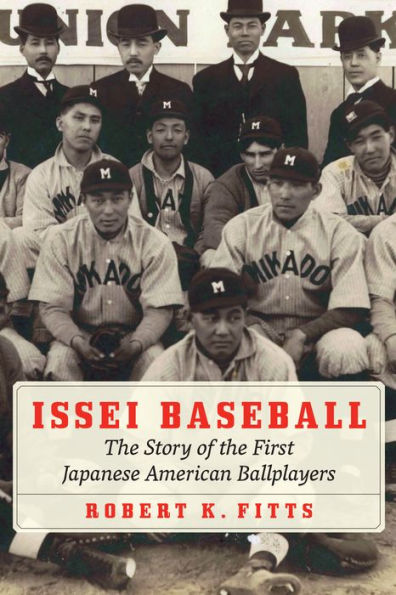 The first professional baseball game involving a team of Japanese players took place in Frankfort, Kansas.
Yes, you read that correctly. That fact—and many other interesting tidbits—appear in Mashi author Robert K. Fitts' new book Issei Baseball: The Story of the First Japanese American Ballplayers, which chronicles the birth of Japanese American baseball as well as several key figures in its growth. Those figures color the early chapters, as Fitts doesn't jump right into the tours embarked upon by Japanese American teams.
We're treated to the stories of pioneers such as Harry Saisho, the creator of a club named the Japanese Base Ball Association (which canvassed the Midwest in 1911), Tozan Masko, the co-founder of the Mikado team (the world's first Japanese-run professional club), and Isoo Abe, the manager Waseda University's baseball club and organizer of its U.S. tour in 1905.
Speaking of the famous Tokyo university, Fitts devotes most of the book's fifth and sixth chapters to that cross-country jaunt.
Read More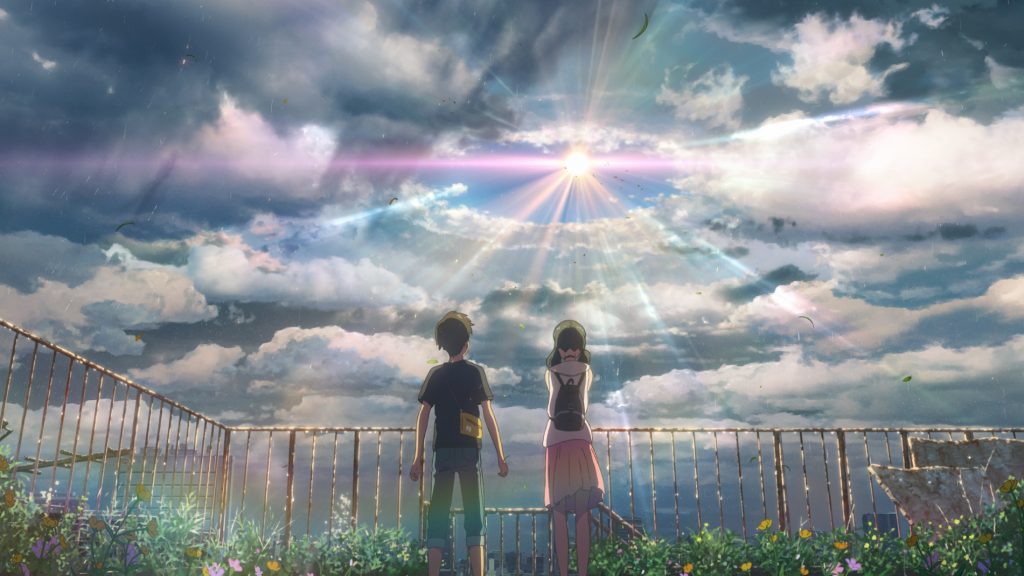 By A.A. Sanborn (Shimane-ken, 2009-11) for JQ magazine.
Sun Amid the Clouds
*Warning: This review contains spoilers
"Don't interfere with the weather too much," warns a fortune teller early on: "Messing with nature always has a cost." As the title suggests, weather is the focus for writer/director Makoto Shinkai's newest feature film Weathering with You. It's a tough act to follow after 2016's Your Name, Shinkai's previous work and the most commercially successful anime film of the last decade. Nevertheless, despite similarities in plot (adolescent romance, natural phenomena, and a sci-fi twist) the film offers a refreshing story which transports and delights.
We follow the friendship of Hodaka, a runaway from a remote island, and Hina, a girl with mysterious powers that temporarily conjure sunny skies. Hodaka is intent to find freedom in the big city, while Hina is just trying to get by. The number of scenes alone where characters resort to eating cheap instant ramen is an indicator that life is not going quite as planned. Still, adventure can be found just around the corner.
Soon after meeting, Hina and Hodaka start a business using Hina's sun-producing powers. Their services are marketed to Tokyoites for weddings and outdoor events otherwise ruined by a rainy day. The sunny vignettes are one of the most charming aspects of the film, connecting it to a broader sense of space and community. Tokyo is no longer an anonymous megalopolis, but a city formed of friendships and relations.
Read More
By Rashaad Jorden (Yamagata–ken, 2008-10; Kochi-ken, 2018-present) for JQ magazine. A former head of JETAA Philadelphia's Sub–Chapter, Rashaad is a graduate of Leeds Beckett University with a master's degree in responsible tourism management. For more on his life abroad and enthusiasm for taiko drumming, visit his blog at www.gettingpounded.wordpress.com.
In the 1930s, major leaguers including Babe Ruth and Lou Gehrig went on tours of Japan, dazzling throngs of new fans while dropping nary a match (Gehrig's group visited the country in 1931 while the Bambino arrived three years later). Those visits by all-star teams were widely credited for generating Japanese enthusiasm for baseball, which in turn helped launch professional baseball in Japan. But many (if not most) baseball fans are unaware the first American professional baseball players to tour Japan were not major leaguers.
A recently expanded book from the Nisei Baseball Research Project delves into a group of Negro Leaguers who sparked the growth of Japanese professional baseball. Gentle Black Giants: A History of Negro Leaguers in Japan explores the tours taken by the Philadelphia Royal Giants that contributed to the development of baseball in the country. Co-authored by Kazuo Sayama and Bill Staples, Jr. (the former is a Japanese baseball historian, the latter is a baseball researcher), Gentle Black Giants was first published in 1986, which coincided with the 50th anniversary of the birth of Japanese pro baseball.
At first glance, it's apparent that Gentle Black Giants resembles a victorious baseball squad as numerous contributors pitched in to create an extensive resource about the link between the Negro Leagues and Japan. While the cover suggests a collaboration between Sayama and Staples (Sayama penned the original version of the book in Japanese while Staples took charge of the English translation), several editors and authors collaborated to create this new edition.
By JQ magazine editor Justin Tedaldi (CIR Kobe-shi, 2001-02) for Shukan NY Seikatsu. Justin has written about Japanese arts and entertainment for JETAA since 2005. For more of his articles, click here.
On March 29-30, "Pretty Guardian Sailor Moon the Super Live" premiered with three sold-out performances at the PlayStation Theater. This dazzling musical adaptation of the megahit anime and manga franchise, which has generated $5 billion in merchandise sales to date, featured a talented all-female cast (including for the male roles) performing in Japanese.
"At its core, 'Pretty Guardian Sailor Moon' is about strong girlfriends banding together to fight for what they believe in…they are the ultimate example of 'girl power,'" said show producer Takaharu Uera. This universal theme was reflected in the wide diversity of the audience, who were overjoyed to see their heroines come to life.
Innovatively directed and choreographed by TAKAHIRO (Madonna's Sticky & Sweet Tour) with book by Akiko Kodama (Takarazuka Revue Company) and music by HYADAIN (pop groups Momoiro Clover Z and AKB48), these performances also marked the first time a 2.5D musical, a genre based on popular contemporary Japanese properties like manga, anime and video games, was performed on a New York stage.
First published by creator Naoko Takeuchi in 1991, the manga is now localized in more than 14 countries and released as an anime in more than 50 countries around the world, according to Naho Yamada, general manager of Kodansha USA Publishing, which ran a packed pop-up store at the theater displaying the newest volume of the "Sailor Moon Eternal Edition" collection and other exclusive goods that had thousands of fans eagerly lining up before and after the shows.
"We are happy that fans of all ages have the opportunity to experience 'Sailor Moon' in new ways, and that it continues to be a worldwide phenomenon," said Yamada.
For more information, visit http://sailormoon-official.com/stage/superlive/us.
By JQ magazine editor Justin Tedaldi (CIR Kobe-shi, 2001-02). Justin has written about Japanese arts and entertainment for JETAA since 2005, and is eagerly awaiting the 30th anniversary edition of All Purpose Cultural Cat Girl Nuku Nuku. For more of his articles, click here.
In the summer of 1988, the "World News" page in the debut issue of Nintendo Power magazine reported: "Ninjas and Kung-Fu Masters are no longer heros [sic] to Japanese players since they are now being replaced by warriors and sorcerers who bravely confront dragons with their swords and shields."
With this mind-blowing description, my eight-year-old self was introduced to the world of Dragon Quest.
With over 71 million copies sold, this landmark video game series published by Enix (now Square Enix) is still going strong, with eleven main titles and thirty overall, securing a legacy that spans at least three generations. While role-playing games like Dungeons & Dragons and Ultima existed long before game consoles invaded our homes, DQ was the one that rewrote the book and kept adding chapters that everyone from Final Fantasy to Pokémon copied from, long after its initial release in Japan in 1986 (and in the U.S. as Dragon Warrior in 1989).
Ironically, those other series are probably better known in the West, likely because for years Dragon Warrior lacked the "star power" associated with one man whose fame in Japan easily rivaled any game: Akira Toriyama. As the creator/illustrator/genius behind the back-to-back manga smashes Dr. Slump and Dragon Ball, Toriyama was coaxed by his trend-savvy editor to lend his talents to a new sword-and-sorcery title, marking a profound transformation (and future synergy) between the manga and gaming worlds. After DQ, nothing would ever be the same.
By Alexis Agliano Sanborn (Shimane-ken, 2009-11) for JQ magazine. Alexis is a graduate of Harvard University's Regional Studies-East Asia (RSEA) program, and currently works as a program coordinator at the U.S.-Asia Law Institute of NYU School of Law. Additionally, she is an artist and independent filmmaker, currently working on a documentary about food education in Japan entitled Nourishing Japan.
Tuttle's latest cookbook, Japanese Cooking with Manga, captures the ethos of creating food which suits the place you live. This quirky read was written by the Gourmand Gohan team comprised of Spaniards Alexis Aldeguer and Ilaria Mauro and Japanese-living-in-Barcelona "Maiko-san," highlighting the universal love of Japanese food and its adaptations around the globe.
Created to be part comic book and part recipe book, this is a cookbook that you "read," filled with colorful and humorous visual explorations of preparing Japanese food. Drawn in an artistic style more reminiscent of Tintin than Totoro, the trio guides us through visuals of chopped ingredients and simmering pots culminating in the completed meal. In truth, it would be difficult to consult the book while cooking (there's something to be said for a more traditional layout); it's more coffee table or bedside reading. Nevertheless, readers, especially those with an appreciation for comics, will likely enjoy this book.
In addition to recipes and narrative, the writers take care to provide background information, context and history to the world of Japanese cuisine—such as the importance of seasonal ingredients, the history of sushi, or how to identify fresh fish.  For anyone embarking and revisiting the world of washoku, these principles are good reminders of the foundation to the cuisine and culture.
By Stacy Smith (Kumamoto-ken CIR, 2000-03) for JQ magazine. Stacy is a professional Japanese writer/interpreter/translator. She starts her day by watching Fujisankei's newscast in Japanese, and shares some of the interesting tidbits and trends together with her own observations in the periodic series WITLife.
I've always been an admirer from afar of Yayoi Kusama's polka dotted and pumpkin themed artwork, but I have never waited hours in line to see it, as many New Yorkers did when her mirrored "Infinity Room" made it to the city last year. This lack of intimate knowledge regarding her work might be why I found the new film Kusama: Infinity about this amazing 89-year-old artist to be so revelatory. Clocking in at just 78 minutes, this documentary from director Heather Lenz is deceptively compact. Within its swift running time, viewers will be regaled with how Kusama overcame impossible odds to become the top-selling female artist in the world.
Born into a dysfunctional family in Matsumoto City in northern Nagano Prefecture, Kusama grew up during World War II. Her father was unfaithful and her mother's reaction to this was to become angry and violent, even destroying Kusama's artwork which she began creating at age 10 (The film suggests that this trauma is behind the maniacal energy that Kusama channels into her creations). Interestingly enough, her mother agreed to let her attend art school on the condition that she attend finishing school as well, but Kusama never set foot in the latter.
I had known that she spent time in New York, but the story of how she got here was fascinating. Kusama respected Georgia O'Keefe, and sent her a letter along with some of her works. After receiving a reply, in 1958 Kusama came to New York on a wing and a prayer. Before she left Japan she burned most of her early works, promising to make better ones in the future. During her time here she met legendary artists like Andy Warhol and Donald Judd, the former of whom she was distraught to later find had stolen her work. Kusama got caught up in the spirit of the 1960s counterculture and was involved in many "happenings," such as body painting festivals and anti-war demonstrations. She even crashed the Venice Biennale exhibition in 1966 with an installation of 1,500 mirror balls on the lawn outside the pavilion, clad in a red leotard amongst them. Despite the double punch of sexism and racism that Kusama faced, she managed to make a name for herself.
By Andy Shartzer (Shizuoka-ken, 2014-16) for JQ magazine. Andy graduated from the University of Virginia with a degree in chemical engineering, and currently works for JETRO New York. He is also the Community Development Chair for JETAA New York.
The best part about world travel is the chance to step outside of our comfort zones and sometimes monotonous day-to-day routines to gain new and different perspectives of the world. Oh, and eat lots of amazing food, right? Not just that? Okay. Sorry, that was my stomach talking there.
In all seriousness, the chance to interact and learn from locals is an opportunity travelers should make the most of. But what if you haven't brushed up on all the rules, customs, and etiquette of the country you're visiting? And what if that country is Japan? And what if you're boarding the plane now? Eesh. Well, instead of binging on reruns of Marvel movies, Amy Chavez has you covered with her new book, "Amy's Guide to Best Behavior in Japan: Do It Right and Be Polite!" Chavez, a 25-year resident of Japan and tourist adviser who lives on Shiraishi Island (population: 600) in the Seto Inland Sea, provides a quick, easy-to-read overview of how to fully enjoy your experience in Japan and best incorporate the complexities of Japanese customs and etiquette into your homestay, study abroad, or quick jaunt to Japan. With some strong support from the educational "Amy Cat" (illustrated by Jun Hazuki), this 144-page book is the perfect reading material for your 15-hour flight.
For JETs and others who have lived and worked in Japan, many of these rules and customs might seem very familiar to you and would only serve as a refresher. Yet Chavez does an excellent job of providing a clear summary of many aspects of Japanese culture — not easy to do in 144 pages. For example, this author never quite learned the proper protocol for praying at Buddhist temples and Shinto shrines, so the guidelines provided in this book (with pictures!) were very helpful. Even if you have spent a year or more as a resident in Japan, Chavez includes enough topics to ensure you learn a new thing or two — like a whole section on how to use Japanese squat toilets (Ooooh, you face the wall…who would've thought!).
By Rashaad Jorden (Yamagata-ken, 2008-10) for JQ magazine. A former head of the JETAA Philadelphia Sub–Chapter, Rashaad is a graduate of Leeds Beckett University with a master's degree in responsible tourism management. For more on his life abroad and enthusiasm for taiko drumming, visit his blog at www.gettingpounded.wordpress.com.
Tuttle Publishing has recently released two books: one showcases the capital of Japan at its hippest and most colorful, while the other is dedicated to the traditional splendor of its castles.
"Capital of cool" sounds like an appropriate phrase to describe the host of the next Olympics. Rob Goss's largely pictorial tribute to Tokyo certainly succeeds in making potential visitors to the capital salivate.
Subtitled Tokyo's Most Famous Sights from Asakusa to Harajuku, Goss's work doesn't intend to be the typical travel guide containing useful recommendations about transportation and accommodation. Most importantly for readers, Goss provides extensive information (much of it historical) about Tokyo's most popular tourists areas. Of course, the fun of a Tokyo trip isn't just limited to Shibuya, Ginza, Harajuku, and the rest Goss includes segments devoted to common day trip excursion sites like Kamakura, Nikko and Yokohama.
While the photographs are obviously the first thing that jumps out at readers—indeed, Ross scores at portraying Tokyo as a youthful, vibrant city—the images are definitely not the only useful tool for prospective visitors. Several maps appear in the book, displaying places of interest that even seasoned travelers may not be aware of.
Castles are lot more than opulent fortresses to gaze at—these palaces represent an integral facet of Japanese feudal and military history.
That's the biggest takeaway readers will get from Jennifer Mitchelhill's Samurai Castles. Her work (complemented by photographs from David Green) provides a comprehensive introduction to two dozen of Japan's most prominent castles. History buffs are treated to more aforementioned locales as the author then lists Japan's 100 most important castles.
However, before seeking out what venerable fortresses might be in an off-the-beaten prefecture, the author expounds on their rich history (whose use was first recorded in an eighth-century work entitled Nihon Shoki). Architecture aficionados will appreciate the chapter dedicated to such structures, and if you're motivated to visit one of Japan's more prestigious castles, you'll have some idea what you're looking at, since Mitchelhill supplies meticulous information about each castle, as well as practical tips for prospective visitors.
For more information, visit www.tuttlepublishing.com.
For more JQ magazine book reviews, click here.
By Rashaad Jorden (Yamagata-ken, 2008-10) for JQ magazine. A former head of the JETAA Philadelphia Sub–Chapter, Rashaad is a graduate of Leeds Beckett University with a master's degree in responsible tourism management. For more on his life abroad and enthusiasm for taiko drumming, visit his blog at www.gettingpounded.wordpress.com.
If you wrote about your year (or more) in Japan, what would you say? What stories would you tell?
Welcome to the world of Tracy Franz. An English teacher at a university in Kumamoto, she welcomes readers to her "year of dirt and water."
My Year of Dirt and Water (the books takes its title from a line when Tracy asks herself what she hopes to accomplish while trying to recycle those two objects) is a journal-like journey of Tracy's world. Her JET alumnus husband Koun Garrett Franz (Kumamoto-ken, 1999-01) is spending a year training as a monk in a Buddhist monastery, so Tracy must navigate the complexities of Japanese life feeling like an outsider (she mentions at one point she always feels a distance that prevents her from feeling at ease in the country).
As the book is a diary containing an entry for each day, the content runs the gamut from the mundane to the only-in-Japan moments (such as Tracy's pottery teacher incredulously responding to the author's being unaware of her husband's blood type) to her observations of life in the country (Tracy concludes, to the surprise of no one, that Kyoto is a bit crowded during Golden Week and possibly not the most comfortable destination for those accustomed to the Alaskan countryside) to the creepy (like an eerie night at an onsen with a university colleague).
Of course, a journal may not be an enthralling read for some (My Year of Dirt and Water is divided into four sections each named after a season of the year while the book's chapters each bear the name of a specific month). Remarkably, a decent portion of the book takes place in the United States, where Tracy spends much of the summer visiting her husband's family, which has a mother-in-law battling illness.
By Katharine Olla for JQ magazine. A Friend of JET, Katharine taught as an ALT in a public elementary school in Gunma Prefecture from 2015-16. She currently works at Japan Society in New York.
It's summer in the city, and that means another year of JAPAN CUTS, North America's largest festival of contemporary Japanese cinema. From July 19-29, Japan Society will screen 30 films ranging from dramas and comedies to documentaries, anime, and experimental works. The festival will also feature special guest appearances by directors, documentary filmmakers, and actors, including the legendary actress Kirin Kiki, who will receive the CUT ABOVE Award for Outstanding Performance in Film.
It was difficult to choose just three to review, so I decided to watch films with strong female leads (because that's one of the categories that Netflix tells me I like).
What if I just ran away and lived in the woods? is a question some of us ask after a morning commute on New York public transit. Get your fix by immersing yourself in the surreal, visually-striking world of Kushina, What Will You Be.
Anthropologist Soko (Yayoi Inamoto) and her assistant Keita (Suguru Onuma) trek through the forest to locate and study an elusive group said to be in the mountains. What they find is a women-only colony led by matriarch Onikuma (Miyuki Ono). Onikuma's family consists of her daughter Kagu (Tomona Hirota) and granddaughter Kushina (Ikumi Satake), whose secret pastime is listening to her cassette player. After the outside world intrudes, how will this closed community react? And what is Kushina listening to on her Walkman?
This is Moët Hayami's debut feature film, and it's a labor of love: as its writer, director, art director, costume designer, and editor, with this level of care she's managed to curate every detail of this film to create a truly singular world within a world. It's hard to shake off after the credits roll.
Featuring an intro and Q&A with writer/director Moët Hayami and actress Tomona Hirota, Kushina, What Will You Be screens Wednesday, July 25 at 6:30 p.m. (international premiere).
By Andy Shartzer (Shizuoka-ken, 2014-16) for JQ magazine. Andy graduated from the University of Virginia with a degree in chemical engineering, and currently works for JETRO New York. He is also the Community Development Chair for JETAA New York.
Isle of Dogs is director Wes Anderson's first animated film since 2009's Fantastic Mr. Fox. While it has received mostly positive reviews (with some reservations), it's still interesting to see Anderson hone his storytelling skills using a colorful and vibrant world created with stop motion animation. The story opens with a prologue titled "Before the Age of Obedience" that supposedly explains how cats became more prominent in Japan. Fast forwarding to "Japan 20 Years in the Future," the movie cuts to fictional Megasaki City, its residents, and Mayor Kobayashi (Kunichi Nomura), an authoritarian who declares that all dogs must be banished to nearby Trash Island because of the outbreak of dog flu and snout fever. The first dog that arrives on Trash Island is Spots (Liev Schreiber), the personal guard dog of Atari Kobayashi (Koyu Rankin), the ward and orphaned nephew of the mayor.
Atari soon takes matters into his own hands and flies a propeller plane to Trash Island to find Spots. He unfortunately crash lands on the island (in the meantime getting a piece of the plane stuck in his head, ouch) but is rescued by a pack of five dogs: Chief (Bryan Cranston), Boss (Bill Murray), Rex (Edward Norton), Duke (Jeff Goldblum), and King (Bob Balaban). The dogs—except for Chief, who was a former stray—agree to help Atari find Spots and accompany him on his journey to another part of Trash Island.
Though reluctant at first, Chief decides to join Atari and the other dogs after getting some extra persuasion from Nutmeg (Scarlett Johansson), a female purebred dog. Back in Megasaki City, Mayor Kobayashi orders the extermination of all dogs on Trash Island. Tracy Walker (Greta Gerwig), an American exchange student, gets involved and investigates further.
A couple fun Easter eggs in the film include: Ken Watanabe (The Last Samurai, Inception) as a head surgeon, Yojiro Noda (lead singer of RADWIMPS) as a news anchor, and Yoko Ono (artist, singer, peace activist) as a medical assistant named…Yoko Ono.
By Rashaad Jorden (Yamagata–ken, 2008-10) for JQ magazine. A former head of the JETAA Philadelphia Sub–Chapter, Rashaad is a graduate of Leeds Beckett University with a master's degree in responsible tourism management. For more on his life abroad and enthusiasm for taiko drumming, visit his blog at www.gettingpounded.wordpress.com.
Exploring local wonders with loved ones can conjure up magical memories—and an enormous sense of satisfaction upon overcoming numerous obstacles.
JET alumna Suzanne Kamata (Tokushima-ken, 1988-90) lived through such experiences, which are recounted in her nonfiction debut, A Girls' Guide to the Islands. Such a title would indicate a guidebook for female travelers. But a scan of its second paragraph reveals the book is a first person travelogue of the author and her daughter Lilia's exploration of their corner of Japan. Despite spending most of her life in the countryside, Kamata (author of Gadget Girl and The Beautiful One Has Come) has not just visited some nearby landmarks; she figures playing tourist in several locations would serve as good mother-daughter bonding experiences.
This treats the reader to a journey of art exploration. Lilia loves art and she wants to make a career out of it. Kamata also shares an affinity for art, which makes them perfect travel partners. A Girls' Guide to the Islands is enhanced by the author's illumination of the art she sees—such as Yayoi Kusama's My Eternal Soul, which is painted in vivid colors that are considered unsettling in Japan (the artist's iconic pumpkin sculpture in the island town of Naoshima also graces the book's cover)—as well as the works that enthrall her daughter. Fortunately for them (and possibly surprising to some), foreign art from renowned artists was easy to locate in the rural museums they visited. Kamata and Lilia find one of Monet's most famous paintings and Andy Warhol's Flowers in Naoshima, as well as other works from other non-Japanese artists.
By Lyle Sylvander (Yokohama–shi, 2001-02) for JQ magazine. Lyle has completed a master's program at the School of International and Public Affairs at Columbia University and has been writing for the JET Alumni Association of New York since 2004. He is also the goalkeeper for FC Japan, a New York City–based soccer team.
Mary and the Witch's Flower, the debut feature film from Studio Ponoc, an anime outfit founded by Studio Ghibli veterans Hiromasa Yonebayashi and Yoshiaki Nishimura after Ghibli closed its doors in 2015, starts in medias res, with a violent firestorm engulfing the screen. A small girl with bright red hair escapes the maelstrom by flying away on a broomstick, pursued by dolphin-squid-fighter-jet hybrids. She plunges down through the clouds and crashes into a field, where her stolen cargo of glowing blue flowers scatters, instantly transforming the landscape as trees burst out of the earth to towering heights in the blink of an eye. Who she is, where she is, and why she needs to escape isn't revealed until the final act.
Director Yonebayashi delivers a film packed with many of the attributes that characterizes Studio Ghibli at its best. In this story (based on The Little Broomstick, a 1971 children's novel by popular British author Mary Stewart, a young female protagonist journeys through a fantastical world, battling witches on a magical quest. As in the best films of Hayao Miyazaki, the hand-drawn animation (a novelty in the CGI-dominated marketplace) depicts a European fairy tale setting while retaining a unique Japanese otherworldliness. This family-friendly film recalls such Miyazaki masterworks as Howl's Moving Castle, Spirited Away and Kiki's Delivery Service. Unlike those films, however, Mary and the Witch's Flower falls short of being a masterpiece.
The animators invoke worlds upon worlds here: the green woods and mist-filled forests of England rendered in swooning evocative watercolors, and the show-stopping Endor, a psychedelic space from out of a dream or drug trip, packed with strange objects, unexplainable phenomena, students floating by in soap bubbles, fountains morphing into human form, grotesque creatures loping out of the shrubbery, only to disappear just as quickly. Endor is dazzling in an off-putting way (similar to some of the "worlds" presented in Ari Folman's The Congress, where animated avatars engulf their originals). The action sequences are intricate and thrilling.
By Rashaad Jorden (Yamagata–ken, 2008-10) for JQ magazine. A former head of the JETAA Philadelphia Sub–Chapter, Rashaad is a graduate of Leeds Beckett University with a master's degree in responsible tourism management. For more on his life abroad and enthusiasm for taiko drumming, visit his blog at www.gettingpounded.wordpress.com.
Tuttle Publishing has released another selection of Japan-related books, and the following quartet includes works that touch on Japanese etiquette, language study, Okinawan history, and picturesque Kyoto.
Japan: A Guide to Traditions, Customs and Etiquette
While studying Japanese, I learned the term shikata, which is translated as the "way of doing things." However, as the late lecturer and writer Boyé Lafayette de Mente thoroughly documents, kata represents a lot more than a translation of "form": It is a concept present in just about every aspect of Japanese society, whether it be the business world, poetry, or sumo. In essence, kata guides the country's etiquette.
In Japan, the process of accomplishing a goal is just as significant, if not more significant, than the actual result—a notable contrast to the West. De Mente defines kata as the "way things are supposed to be done," and he educates readers on how the concept has shaped Japan throughout its history and the present.
The author also touches on other cultural differences between Westerners and Japanese (such as communication styles) and people reading the book will probably nod their heads in agreement as they read certain passages, such as "Foreigners can live a lifetime in Japan and not fully understand how the Japanese system works the way it does" and why Japanese often express amazement at foreigners who can utter the simplest Japanese phrase. Japan: A Guide to Traditions, Customs and Etiquette is really an exploration of the Japanese psyche.
If nothing else, you'll be amazing at how different Japan seems from the West.
Beginning Japanese Kanji: Language Practice Pad
Those seeking an introduction to kanji, or just a way to brush up on them, should turn to William Matsuzaki's work. The pad is an excellent tool for busy people: The 334 kanji it presents lends itself to a simple, one kanji-a-day memorization for those aiming to study at a relaxed pace. Furthermore, each page contains terms utilizing the featured kanji and tips on how to write its strokes.
The kanji appearing in the pad is really nothing out of the ordinary, as you'll see them in many (if not most) materials geared toward relatively novice Japanese learners. Adding to the book's appeal, the inclusion of spaces to write the kanji (as well as sample sentences featuring the characters) is most useful for those looking to bolster their knowledge of the language.