Feb
11

Article/Journalism, Events, Food & Drink, Japan Local, JQ Magazine

Comments Off

on JQ Magazine: New York Adventure Club Offers Urasenke Tea Ceremony
By Aubrey Keene (Hokkaido, 2004-06) for JQ magazine. Aubrey moved to New Jersey from Kentucky to complete a master's degree in Asian studies from Seton Hall University. This is her first article for JQ.
On Saturday, February 3, the New York Adventure Club offered participants a private tea ceremony demonstration at the Urasenke Chanoyu Center of New York (UCC) in Manhattan. Nearly two dozen participants from the area attended to have their first experience with this iconic Japanese cultural tradition.
Experiences like this are not unique for members of the New York Adventure Club. The group, formed in 2013 by CEO and founder Corey William Schneider, was an effort, he explains, "to get my friends to join me on my random weekend adventures around the city." For more than a year and a half prior, Schneider had been exploring the city on his own as part of what he calls a "mini-early life crisis" that triggered a desire to do more fulfilling activities in his free time. By founding the group on Facebook, Schneider hoped he could get others to join him: he quickly discovered his idea was a hit when over 100 people showed up for the first event. The group now boasts more than 9,000 members, with activities ranging from trapeze classes to tours of Grant's Tomb to tea tastings happening almost every day of the week.
On a chilly Upper East Side afternoon, participants gathered in the lobby of the UCC for an introduction by their chado, or way of tea, master Yoshihiro Terazono, who gave an overview of the 140-year old building. Originally a horse carriage house later refitted as an art studio for Mark Rothko, the UCC purchased the building in 1980 and spent two years transforming the space into a tea ceremony center. It now houses three tatami mat rooms of various sizes where students come and practice throughout the week. Each room opens to an outdoor space of a garden area with a view of the windows three stories above. The aesthetics successfully evoked the image of a tea house in Kyoto, the birthplace of Urasenke.
Mel T (Aomori-ken, 2007-2012) is a Canadian living and working in Towada City, Aomori. For more information about events, sightseeing, restaurants, etc. in Towada City, and around Aomori Prefecture & Japan, visit her blog at http://towada-city.blogspot.com.
Every August, fireworks masters from across Japan compete in an impressive music and pyrotechnics show at the All-Japan National Fireworks Competition (Omagari Fireworks) along the Omono River in Daisen City, Akita Prefecture. This year marks the 90th anniversary of the event. Click HERE to read MORE.
Mel T (Aomori-ken, 2007-2012) is a Canadian living and working in Towada City, Aomori. For more information about events, sightseeing, restaurants, etc. in Towada City, and around Aomori Prefecture & Japan, visit her blog at http://towada-city.blogspot.com.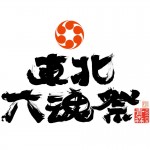 The Tohoku Rokkon ("Six Souls") Festival is a two-day event where you can see six major Tohoku area summer festivals (one from each prefecture) all in one place!
It was created to encourage the revival of the Tohoku area after the Great East Japan Earthquake & Tsunami of 2011. This year marks the sixth and final year of the event. It will be held in Aomori City from June 25-26, 2016.
Mel T (Aomori-ken, 2007-2012) is a Canadian living and working in Towada City, Aomori. For more information about events, sightseeing, restaurants, etc. in Towada City, and around Aomori Prefecture & Japan, visit her blog at http://towada-city.blogspot.com.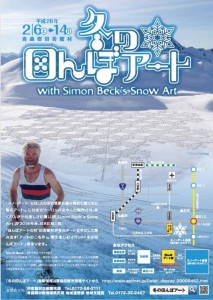 Inakadate Village (Aomori Prefecture), the pioneer of rice field art, will be holding a Winter Rice Field Art event this February 2016 in collaboration with internationally renowned snow artist Simon Beck, who creates geometrical artworks by walking across/around fields of snow in snow shoes.  He has traveled all over the world creating snow art works, but this will be his first work in Japan.
A request for help with this project from JET alum Ryan McDonald (Fukushima-ken):
This is the 4th year we are trying to produce the "This Is Fukushima" calendar that we send to world leaders, media, and royalty. We've received thank you notes from President Jimmy Carter, Prime Minister Stephen Harper, and even Her Majesty Queen Elizabeth.
We take donations and use the money to produce the calendar and then pay for most of the shipping, although for the past 3 calendars the people creating out went out of pocket over $1,000 each.
Here is a link to the current calendar in PDF form to see the style. Feel free to download it and print it out if you'd like. The actual calendars are professionally printed and look great.
This link is a write up (in Japanese) about myself and the other people producing it.
If you have any large photos of Fukushima please email us by October 31st this year. We prefer interesting places unique to Fukushima and not generic nature shots. We want people to say, "wow, I'd like to go see that."
Photo criteria:
– must have been shot in Fukushima-ken. It doesn't matter when (so yes, pre-2011 pics are fine).
– minimum 300dpi resolution (4000×3000 px) (or very close to it, but 72 dpi usually won't work)
– horizontal format is preferred
Photos can be submitted via email to: ThisIsFukushima@gmail.com
Thanks in advance for your support!
—————————–
今日本語で :
愛する福島県の住民と以前住んでいた方へのメッセージ:
2016年の「This is Fukushima」カレンダーのために只今写真募集中!
写真の提出期限は10月31日までです。
募集する写真の基準:
〓 福島県内で撮られた写真。今年撮られた写真に限らず、もちろん2011年前に 撮られた写真でも構いません
〓 解像度の必要最小限は300dpi (4000x3000px)
〓 横向きの写真が望ましい
写真をメールで提出してください: ThisIsFukushima@gmail.com
よろしくお願いします!
Mel T (Aomori-ken, 2007-2012) is a Canadian living and working in Towada City, Aomori. For more information about events, sightseeing, restaurants, etc. in Towada City, and around Aomori Prefecture & Japan, visit her blog at http://towada-city.blogspot.com.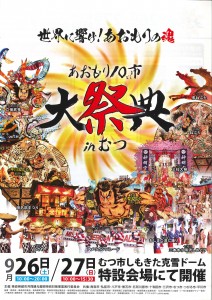 Miss out on the Aomori Summer Festivals and don't want to wait a whole year for your next chance to see them?
Check out the Aomori 10 City Festival in Mutsu from September 26-27th, 2015!
The Aomori 10 City Festival showcases major festivals, food, products and more from 10 cities around Aomori Prefecture: Aomori City, Hirosaki City, Hachinohe City, Kuroishi City, Goshogawara City, Towada City, Misawa City, Mutsu City, Tsugaru City, and Hirakawa City.
The must-see attraction is the Saturday night festival parade featuring Nebuta/Neputa floats, nagashi odori, etc., but you can also enjoy stage performances, appearances by mascot characters, delicious local foods and more at the event.
Mel T (Aomori-ken, 2007-2012) is a Canadian living and working in Towada City, Aomori. For more information about events, sightseeing, restaurants, etc. in Towada City, and around Aomori Prefecture & Japan, visit her blog at http://towada-city.blogspot.com.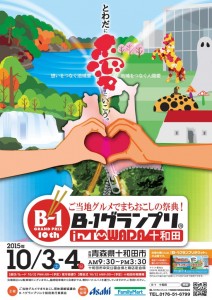 Interested in trying out local "soul foods" from all over Japan?
Then the 10th B-1 Grand Prix in Towada is the event for you!
From October 3rd-4th, 2015, sixty-two groups from across Japan will gather in Towada (Aomori Prefecture) to promote their respective cities and local "soul foods". Enjoy soba, udon, ramen, rice bowls, curry, fried foods, grilled meats, and various other dishes originating from Hokkaido to Kyushuu and vote for your favourite group. At the end of the second day, the most popular group–as selected by attendees–will be awarded the Gold Grand Prix Prize (symbolized by giant golden chopsticks :P).
Often misunderstood as standing for "B-grade" ("B級" B-kyuu in Japanese), the "B" in "B-1" actually stands for "brand." The goal of the B-1 Grand Prix is to revitalize cities and towns through the promotion of their respective local brands. Apart from serving delicious food, participating groups also try to demonstrate their own unique brand of hospitality through performances, etc. This is why attendees of the B-1 Grand Prix are encouraged to vote for their favourite group and not just the best dish.
So if you want to get a taste of many different cities from around Japan, come to Towada for the B-1 Grand Prix.
十和田に愛に行こう!Towada ni ai ni ikou! Come to love Towada!
Official Website (Japanese): http://b-1towada.com/
Click HERE to learn MORE (English)

Posted by Eden Law, 2010-2011 ALT Fukushima-ken, President of JETAANSW.
As part of the drive to promote tourism to Japan (not to mention combining a long-held passion and dream), ex-JET Julius Pang introduced a Tohoku photography tour to showcase the beauty of Japan in autumn, in an area that sadly has become known for other things in recent years. Americans are especially well-suited to taking advantage of this tour package, considering how strong the US dollar is against the Australian (yes, Julius's Australia-based company, Incredible Photo Tours, welcomes overseas clients), travel will be especially cheap, with accommodation, transport and food taken care of.
Starting from Tokyo, the tour goes to various places throughout Tohoku such as Zao Onsen, Sendai, Hiraizumi, Akita, Bandai, Aizu-Wakamatsu, Nikko, Naruko Gorge, Shirakami Sanchi, Hirosaki, Nyuto Onsen and Lake Towada. With the advantage of the inside knowledge of an ex-JET, and the expertise of a tour guide who has won awards for his photography, it's a great tour package to consider for your next trip to Japan. Julius also has other tours, such as the Japan Classic Autumn tour, that does the classic route of Tokyo, Hakone, Himeji, Kyoto, Hiroshima, Miyajima, Okayama, Takamatsu, Mt Koya and Osaka.
For more information, check out the Tohoku Autumn Tour, or the Classic Autumn Tour at Incredible Photo Tours.
Mel T (Aomori-ken, 2007-2012) is a Canadian living and working in Towada City, Aomori. For more information about events, sightseeing, restaurants, etc. in Towada City, and around Aomori Prefecture & Japan, visit her blog at http://towada-city.blogspot.com.
Inakadate Village (Aomori Prefecture) has a long history relating to rice. The site of an ancient rice field dating back to the mid-Yayoi Period (300 B.C.~300 A.D.), the Tareyanagi Iseki was discovered in Inakadate in 1981. This was a significant find as until its discovery, it had been believed that rice fields were not cultivated in Tohoku during the Yayoi Period. The Tareyanagi Iseki was designated a National Historic Site on April 11, 2000.
To celebrate and promote its history of rice production, Inakadate began offering rice planting experience tours. In order to make the experience more interesting, they decided to use different coloured rices to draw a picture of Mt. Iwaki with the words 弥生の里いなかだて (Yayoi no sato Inakadate) meaning "Yayoi Village Inakadate." This was the humble beginning of rice field art–although at the time it was not referred to as "art" but simply as "rice characters" (稲文字 ine moji).
Since its beginnings as "rice characters," the drastic improvement in technological and artistic levels have made Inakadate's rice art an increasingly popular site for both domestic and international tourists. It has proved so popular that in 2012, a second rice field art site was started at the Michi no Eki (Roadside Station) Inakadate "Yayoi no Sato."
The theme for 2015's rice field art is "Gone with the Wind" for the main site and "Star Wars" for the second site (Michi no Eki Inakadate "Yayoi no Sato").
Mel T (Aomori-ken, 2007-2012) is a Canadian living and working in Towada City, Aomori. For more information about events, sightseeing, restaurants, etc. in Towada City, and around Aomori Prefecture & Japan, visit her blog at http://towada-city.blogspot.com.
It is a hot and muggy August night, but the air is filled with energy and a sense of anticipation. Then the sounds of flutes, drums, and chanting shouts erupt as people dressed in happi coats, yukata and all manner of costume fill the street, and enormous glowing figures emerge from between the darkened buildings.
There are many festivals across Aomori Prefecture and all of Japan during the summer, but Aomori's three biggest and most famous summer festivals are Hirosaki Neputa, Aomori Nebuta, and Goshogawara Tachineputa.
All three feature impressive night parades of neputa/nebuta–large lantern floats with images and themes drawn from Chinese or Japanese literature, history, or religion–pulled by large groups of people often dressed in special costumes and accompanied by music from flutes, drums, and hand cymbals. The groups pulling the floats also use special shouts (different for each festival) to keep both the participants and spectators energized.
Thanks to Tori Koyama (ALT Tokushima-ken, 2011-13, CIR Kagawa-ken, 2013-Present) for sharing this opportunity:
Want to travel Shikoku?
The Shikoku Transport and Tourism Bureau is sponsoring up to 20 foreign nationals who currently reside in Japan to design a tour of their choice, and use social media and online outlets to promote themselves and Shikoku; those that reach the widest audience could receive a cash prize! This is an excellent chance for budding travel-bloggers to get funding and explore Shikoku while honing writing skills.
The deadline is May 18 to apply; there will be a mandatory meeting on Saturday, May 24, in Takamatsu to kick things off. Any foreign national living in Japan is welcome to apply; limited Japanese ability is not a problem.
If you have any questions before applying, feel free to contact Tori Koyama (Tokushima 2011-13) at dt0102@pref.kagawa.lg.jp .
Specifics about the application can be found by clicking HERE.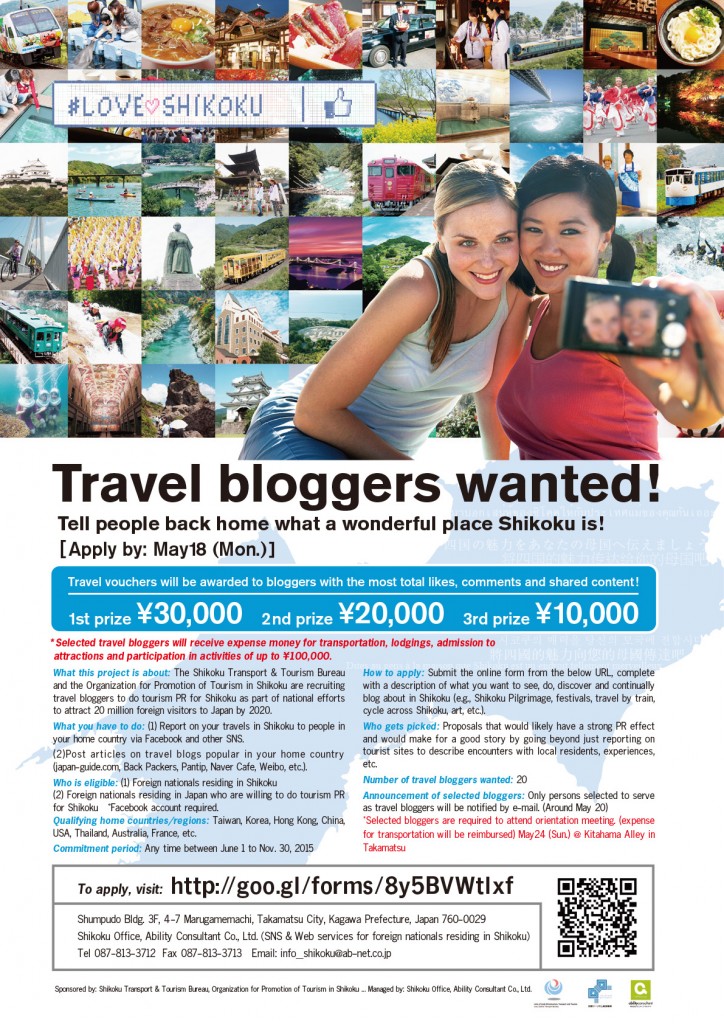 By Alexis Agliano Sanborn (Shimane-ken, 2009-11) for JQ magazine. Alexis is a graduate of Harvard University's Regional Studies-East Asia (RSEA) program, and currently works as an executive associate at Asia Society in New York City.
It's no surprise that, in an age where Cats of Istagram reign over our feed with a lofty air, Japan Society in New York's new art exhibition Life of Cats: Selections from the Hiraki Ukiyo-e Collection is garnering serious buzz. Presenting 86 drawings, paintings, woodblock prints and decorative objects dating from the 17th to the early 20th century, this latest showcase taps into cat fancying for the digital age.
Without a doubt, Life of Cats is a work of heart: it's made by people who love cats, for cat lovers. Chief among the cat fanciers at Japan Society is Miwako Tezuka, Japan Society Gallery director and curator of the exhibition. To put this display together, she studied over 6,000 prints from Hiraki Ukiyo-e Collection, as well as private American collections. Publications like Forbes, The Guardian and The New York Times have already sung this exhibition's praises, and why not? Love 'em or hate 'em, you can't deny that cats are in a category all their own—straddling the intersection of elegant, comical and vicious. And you get to see all their many guises in this dynamic display, which is already drawing substantial crowds.
Believe it or not, this type of exhibition already has precedence back in Japan. Cats have never been hotter, no matter what side of the Pacific you reside. In 2006, the Hiraki Foundation led the way for this new type of cat-themed exhibition in Tokyo, which has now become a national trend in its own right. As quoted from The Guardian, Tezuka said, "People are really crazy about cats in Japan….We thought a New York version of this exhibition would be a great way to introduce Japanese art to a wider audience." Indeed, looking at the repertoire of recent Japan Society exhibits, they certainly have been hard at work drawing new types of crowds—not simply geared toward the art historian or otaku, exhibitions run the gamut from Japanese Art Deco to interactive digital art, reeling in hipsters and techies alike.
****************************
Interesting article about the Osaka Prefecture Board of Education's English education initiative and further discussion of the "Super English Teachers" (SETs).  Former AJET Chair Matthew Cook (Osaka-fu, 2007-12) is not quoted but is very involved in the initiative.  Matt is also the founder of the Kansai JET Alumni group. 
http://www.japantimes.co.jp/community/2014/07/27/issues/osaka-bets-big-on-toefl-to-boost-english-levels/#.U9ZGAPldUrf
In the perennial debate about English-language education in Japan, there is widespread agreement that the system is archaic and change is needed. The consensus stops there.
Everyone concerned has a panacea: more (or less) assistant language teachers, more teacher training, more technology, more of a focus on language production, less testing, better testing, smaller class sizes, eviscerating and overhauling the curriculum, greater use of English in class. The remedies are as numerous as the debate is old. But in a consensus-bound country such as Japan, change, if and when it comes, is usually incremental — and perhaps then, even obsolete.
No one could accuse Toru Nakahara, the superintendent of education for Osaka Prefecture, of kowtowing to the status quo. He is responsible for pushing through a raft of initiatives, chief among them the introduction of TOEFL (the Test of English as a Foreign Language) at top-performing high schools, which will be taught by an elite group of teachers earning approximately ¥8 million a year. (Disclosure: I teach part-time at one of these schools.) From the board of education's perspective, this is radical. But is it also just a formulaic riff on the "teach to the test" approach? Read More
By JQ magazine editor Justin Tedaldi (CIR Kobe-shi, 2001-02) for Examiner.com. Visit his Japanese culture page here for related stories.
After an unusually chilly spring, it's finally starting to feel like summer. Enjoy some seasonal events this month that celebrate the best of both fine art and pop art.
This month's highlights include:
Wednesday, May 28, 10:00 p.m.
The Bowery Electric, 327 Bowery
$5
An all-female quartet that delivers riff-heavy, post-punk anthems, Each of the Hard Nips came to live in New York at different times, from different parts of Japan. And, as conspired by the ever-dexterous hand of fate, they were to cross paths and become fast friends. They quickly formed a cult-like bond whose rituals all included drinking a lot of alcohol and uncontrollably running their mouths. The wine flowed like Kool-Aid and, somehow, they found themselves buying into the delusion that they were capable of forming a kick-ass rock band. Witness the next chapter in their story, with support from Shakes and the Johnnys.
Thursday, May 29, 7:30 p.m.
Ghost in the Shell: Arise – Borders: 1 & 2
AMC Loews Village 7, 66 Third Avenue
$10
In the first two parts of this highly anticipated prequel series of the anime sensation Ghost in the Shell, it's the year after the fourth World War and cyborg/hacker Motoko Kusanagi finds herself wrapped up in the investigation of a devastating bombing. But she's not the only one looking for answers—as she delves deeper into the mystery of who is behind the attack, a specialized team unlike any before begins to take shape.
June 6-8
Garden State Convention Center, 50 Atrium Drive, Somerset, NJ
$45-$60
The largest independently organized anime convention in the New York/New Jersey metropolitan area. AnimeNEXT features Japanese creators of anime and manga, voice actors, musical acts, artists, vendors and exhibits, events, panels, workshops, and gaming. This year's musical guest is Tokyo's Luna Haruna, who made her major debut in 2012 with the song "Soraha Takaku Kazeha Utau," the ending theme song for the second season of anime series Fate/Zero. Her latest single, "Snowdrop," was featured as the ending theme song the second season of Monogatari. Don't miss her first-ever performance on the East Coast!
For the complete story, click here.
Originally posted on the JETAA USA website:
Donated Books from Ambassador Kennedy Translated into Japanese
Following Ambassador Kennedy's donation last November of 110 books to the Taylor Anderson Reading Corner at Mangokuura Elementary School in Ishinomaki, the volunteer group that reads to the students there, Soyokaze no Ohanashi (The Gentle Breeze Talks), joined together with the Miyagi International Association (MIA) and current JETs in the prefecture to translate nine of these books into Japanese. The books chosen cover various topics such as the lives of children in the US and other countries around the world, science, and wildlife, and are simple enough to be accessible to younger students.
Ms. Kyoko Sasaki, from Soyokaze, reportedly first reached out to Mr. Andre Perez to ask for his support for the project. Andre, who is currently a Coordinator for International Relations with Miyagi Prefecture and MIA, took on the planning of the event, coordinating details between MIA and Ms. Sasaki. Once these were settled, he reached out to Miyagi JETs through his position as a Prefecture Advisor and tapped into the Miyagi AJET(MAJET) network through Ms. Tanya Zolotareva, another CIR and a MAJET officer. The various groups collaborated, with each taking responsibility for different steps of the process of selecting books, translating them, and affixing the translations. The whole undertaking reportedly went quite smoothly, thanks to MIA's previous experience with translating books, the eight JETs and roughly 10 other people who volunteered their time and talent, and Mr. Perez's connections to both MAJET and MIA.
The project was also profiled on Miyagi Prefecture's Facebook page (https://www.facebook.com/visitmiyagi) and in the Asahi Shimbun and Kahoku Shimbun.
The books will now be available to students at Mangokuura E.S. to look at any time and they will be able to work on their understanding of the English texts by referring to the new Japanese translations. Having prepared translations at hand will also make it easier for the volunteers who read to the children.
As Ms. Sasaki, who is also a friend of the Andersons, having known Taylor, said in talking with one of the local newspapers that reported on the story, "This is a way to express our thanks to Taylor's family. We want to show them that we are continuing Taylor's legacy by carrying on her work."