Mar
25

Art, Article/Journalism, Japan Local, JQ Magazine

Comments Off

on JQ Magazine: 'Life of Cats' Showcases Frisky Furballs at Japan Society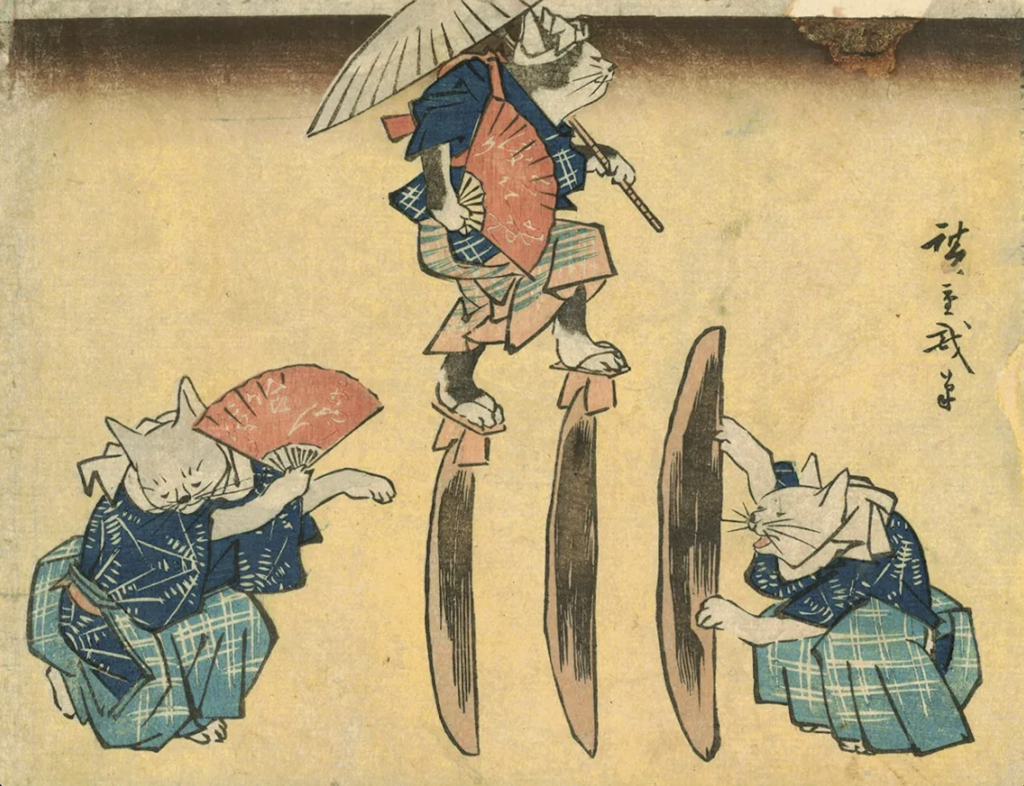 By A.A. Sanborn (Shimane-ken, 2009-11) for JQ magazine. A.A. is a graduate of Harvard University's Regional Studies-East Asia (RSEA) program, and currently works as an executive associate at Asia Society in New York City.
It's no surprise that, in an age where Cats of Istagram reign over our feed with a lofty air, Japan Society in New York's new art exhibition Life of Cats: Selections from the Hiraki Ukiyo-e Collection is garnering serious buzz. Presenting 86 drawings, paintings, woodblock prints and decorative objects dating from the 17th to the early 20th century, this latest showcase taps into cat fancying for the digital age.
Without a doubt, Life of Cats is a work of heart: it's made by people who love cats, for cat lovers. Chief among the cat fanciers at Japan Society is Miwako Tezuka, Japan Society Gallery director and curator of the exhibition. To put this display together, she studied over 6,000 prints from Hiraki Ukiyo-e Collection, as well as private American collections. Publications like Forbes, The Guardian and The New York Times have already sung this exhibition's praises, and why not? Love 'em or hate 'em, you can't deny that cats are in a category all their own—straddling the intersection of elegant, comical and vicious. And you get to see all their many guises in this dynamic display, which is already drawing substantial crowds.
Believe it or not, this type of exhibition already has precedence back in Japan. Cats have never been hotter, no matter what side of the Pacific you reside. In 2006, the Hiraki Foundation led the way for this new type of cat-themed exhibition in Tokyo, which has now become a national trend in its own right. As quoted from The Guardian, Tezuka said, "People are really crazy about cats in Japan….We thought a New York version of this exhibition would be a great way to introduce Japanese art to a wider audience." Indeed, looking at the repertoire of recent Japan Society exhibits, they certainly have been hard at work drawing new types of crowds—not simply geared toward the art historian or otaku, exhibitions run the gamut from Japanese Art Deco to interactive digital art, reeling in hipsters and techies alike.
This exhibition is certainly not just cute and fluffy (though there is a lot of that). The practicality to cat culture is a key theme. After all, their original "job" as domesticated animals was keeping vermin at bay, a trait we are usually reminded of when our furry pals happen to drag in a mouse or lizard as a token of affection. Yet, in olden times, protecting foodstuffs, paper, parchment and leather from rodent infestation was an important task. According to Tezuka from the Guardian article, "Cats have played a functional role in many cultures throughout history….Dogs are very loyal, and seem to almost understand human ethics in a way. Cats are different. We all know they can be pretty evil, but they were crucial to human survival." This functionality purposed their immigration to Japan, when they were supposedly thought to have been introduced in tandem with Buddhism in the sixth century as a way to protect precious sutras.
In a recent lecture at Japan Society on March 13 entitled Feline Fantasies: Cats in the Floating World, Sarah E. Thompson, Assistant Curator for Japanese Prints and the Museum of Fine Arts, Boston, explained the various guises that cats have taken in art throughout the century. Cats became prized and beloved pets, originally of the aristocracy, and were featured in traditional "bird and flower" paintings. "Often, cats are looking, rather mischievously, at the birds in those paintings," she laughed. However, cats gradually became pets of the merchant class as well. Kept on leashes, they were often depicted being lovingly adored by beautiful women (and sometimes men, too).
But these pictures weren't just selfies with pets: "Here, too, cats have been purposefully added by the artist," Thompson said. "It being Japan, a country which bases so much on their artistic tradition on seasonal literary motifs, cats gained an iconic meaning in art and poetry. Their spring courtship patterns became motifs in poetry. As art and poetry developed, the inclusion of cats with people often came to allude to a sexual, relaxed, or romantic posture of humans."
Humans and cats inevitably lead to comedy, and there any many pieces that will bring a smile or smirk. Given their expressive personality, movements and manners, cats became the perfect stand-in as humans, Thompson said. Throughout the Edo period (1603-1868), there were various censors for representing certain individuals (actors, for example) or families in art or advertisements. "By anthropomorphizing and caricaturing cats, artists were able to work around these bans. The result is an amazingly creative and humorous display. We see cats as nobles, kabuki actors, geisha and more," Thompson said. Also of note is the inclusion of cats in children's art. The exhibit features highly detailed and gorgeous prints of cats going about their everyday business just as humans might. This bathhouse print offers a nice example of the visual delight these types of works afforded. The legendary Utagawa Kuniyoshi (1797-1861) famously depicted cats, and several of his works, both the restrained and bold varieties, are featured in his exhibition. (His depiction of cats as the 53 stations to the Tokkaido Road is amazingly humorous, and this picture alone is worth a lecture.)
Lastly, whether cute or comical, there is the atmosphere of the supernatural that only cats can bring. We see demon cats (or humans transformed into cats) dominating the scene with their leering smile or haunting silhouette. We see the nekomata, or monster cats, lurking in the mountain or potentially at your doorstep. "One sure way to recognize nekomata in prints are by their two-pronged tail, or dancing cats with towels on their head!" Thompson explained. (She admitted that she does not know the reason behind those head towels. Just one of those things.) Highlighted in the collection is one of the most famous stories of the nekomata: the possessed Cat Stone at the Okazaki stop along the Tokkaido Road. The prints roar—or meow—to life! And indeed, along your own journey through the world of cats, the exhibition designers have cozily and strikingly arranged your journey to the fanciful, fearful and playful world of cats.
Life of Cats runs through June 7 at Japan Society in New York. For information, click here.