Jun
10

Article/Journalism, Events, Food & Drink, JQ Magazine

Comments Off

on JQ Magazine: From Enkais to International Sake Judge: My Wonderful World of Nihonshu
By Chris Johnson (Oita-ken, 1992-95) for JQ magazine. An SSI-certified sake sommelier based in New York City, Chris is also known as the Sake Ninja and serves on the board of directors of The Joy of Sake.
It is day two of my tenure as an AET in Kusu-machi in Oita Prefecture. After organizing my desk, I spent the morning greeting the mayor, the head of the board of education, my section boss, my subsection boss and my co-workers at the yakuba. Day turned to evening and I already learned my tenth word of the day: enkai. Party, banquet, reception, dinner, but as most JETs will recognize…this means sake. As a new member of an office or school we are kohai to everyone, which happens to mean a lot of sake.
I had enkais with the board of education, the financial department, the surveying department, the events department, the communications department (basically, all of the departments!). I had them with the English teachers, with the seven different junior high school teachers' groups, the volleyball team, the baseball team (as the first foreigner from the U.S. to live in town, I was a little popular)…
With all that sake sipping, did I instantly grow to love sake? Not exactly. We always had a very good locally brewed sake, but it was almost always warm and I never quite sipped it to really understand it; it was more like a placeholder between a beer kanpai and the slow transition to whiskey and karaoke.
Three years later at my farewell party I was presented with an 1800 ml bottle of Yatsushika Junmai Daiginjo sake from a famous producer in Oita. Exactly. "What is a Junmai Daiginjo?," I thought, "and how can I fit this in my already overstuffed luggage? It's just sake." All these thoughts happened while on stage receiving this wonderful yet misunderstood gift. I decided then and there to share it with everyone: less luggage, less sake and everybody happy. Win-win. Kanpai and…what?!? Why have I not had this amazing beverage before? I need this in my life.
By JQ magazine editor Justin Tedaldi (CIR Kobe-shi, 2001-02) for Shukan NY Seikatsu. Justin has written about Japanese arts and entertainment for JETAA since 2005. For more of his articles, click here.
Returning to New York in June for its 15th annual celebration, The Joy of Sake hosts the world's largest sake tasting outside Japan, with a record 513 competition-level sakes and 19 top restaurants serving the best in traditional and contemporary Asian cuisine.
While statistics show that sake is losing ground to beer in Japan, it continues to make inroads in the U.S., especially among drink-savvy New Yorkers.
"The best showcase of this in the U.S. is The Joy of Sake," said Joy of Sake board member Chris Johnson (Oita-ken, 1992-95), an experienced sommelier and restauranteur whose time in Japan began in the early '90s as a participant of the Japan Exchange and Teaching (JET) Programme. Also known as the Sake Ninja, Johnson adds, "As a JET alum, having the opportunity to work with the national beverage of Japan is an honor and truly important."
A beverage that can be paired with foods as diverse as sushi, chocolate and even pizza, sake lovers will also be able to sample exclusive appetizers at the event from some of New York's most distinguished eateries, including Morimoto, Sakagura and Momofuku Ssäm Bar, enhancing the appreciation of the luster that fine sakes add to a meal.
A brewer's technique and commitment help determine a great sake, and over 200 sakes not available in the U.S. are featured in this year's lineup, including more than 100 gold award winners from the 2019 U.S. National Sake Appraisal.
"It's safe to say," said Joy of Sake founder Chris Pearce, "that New York has never seen a sake event like this."
Experience The Joy of Sake Friday, June 21 from 6:30 p.m. to 9:30 p.m. at Metropolitan Pavilion, 125 West 18th Street. For more information and tickets, visit www.joyofsake.com.
By Alexis Agliano Sanborn (Shimane-ken, 2009-11) for JQ magazine. Alexis is a graduate of Harvard University's Regional Studies-East Asia (RSEA) program, and currently works as a program coordinator at the U.S.-Asia Law Institute of NYU School of Law. Additionally, she is an artist and independent filmmaker, currently working on a documentary about food education in Japan entitled Nourishing Japan.
Tuttle's latest cookbook, Japanese Cooking with Manga, captures the ethos of creating food which suits the place you live. This quirky read was written by the Gourmand Gohan team comprised of Spaniards Alexis Aldeguer and Ilaria Mauro and Japanese-living-in-Barcelona "Maiko-san," highlighting the universal love of Japanese food and its adaptations around the globe.
Created to be part comic book and part recipe book, this is a cookbook that you "read," filled with colorful and humorous visual explorations of preparing Japanese food. Drawn in an artistic style more reminiscent of Tintin than Totoro, the trio guides us through visuals of chopped ingredients and simmering pots culminating in the completed meal. In truth, it would be difficult to consult the book while cooking (there's something to be said for a more traditional layout); it's more coffee table or bedside reading. Nevertheless, readers, especially those with an appreciation for comics, will likely enjoy this book.
In addition to recipes and narrative, the writers take care to provide background information, context and history to the world of Japanese cuisine—such as the importance of seasonal ingredients, the history of sushi, or how to identify fresh fish.  For anyone embarking and revisiting the world of washoku, these principles are good reminders of the foundation to the cuisine and culture.
By JQ magazine editor Justin Tedaldi (CIR Kobe-shi, 2001-02). Justin has written about Japanese arts and entertainment for JETAA since 2005. For more of his articles, click here.
The Japan-centric events of the month ahead promise to be as rich and full as autumn itself—brisk and colorful, with a dash of unpredictability.
This month's highlights include:
Oct. 4-7
Jacob K. Javits Convention Center, 655 West 34th Street
$50 (for Thursday, Oct. 4)
Breaking attendance records each year, the East Coast's biggest gathering for fans of comics, film, anime and manga returns with its biggest roster of Hollywood talent to date, featuring exclusive screenings, gaming, cosplay photo ops, and more! Enjoy interactive panels on Oct. 4-6 from publishers Vertical Comics and Kodansha Comics, and check them out at booth #2109 to pick up con-exclusive merch and pre-release titles like APOSIMZ, Battle Angel Alita and The Ghost in the Shell: Global Neural Network. Special guests this year include Masako Nozawa (discussing the upcoming film Dragon Ball Super: Broly at the Hulu Theater at Madison Square Garden Oct. 5), Toshihiro Kawamoto (Cowboy Bebop) and Akira Himekawa (The Legend of Zelda)!
Friday, Oct. 5, 7:30 p.m.
Hidejiro Honjoh x ICE: Shamisen Evolution
Japan Society, 333 East 47th Street
$38, $30 members
Listen to Hidejiro Honjoh, young shamisen prodigy and disciple of Hidetaro Honjoh, create this traditional instrument's 21st-century voice in an evening featuring living composers from the U.S. and Japan. Joined by members of the most sought-after contemporary music group International Contemporary Ensemble (ICE), Hidejiro delivers three world premieres composed by Grammy-nominee Vijay Iyer, Nathan Davis and Yu Kuwabara. The program also includes pieces by Yuji Takahashi and Dai Fujikura, along with the U.S. premiere of the full score of Scott Johnson's Up and Back for shamisen, electric guitar, cello and piano. Followed by a MetLife Meet-the-Artists Reception.
Oct. 24-28
Locations and prices vary
Taste what you see on the screen! The Food Film Festival specializes in creating multisensory food and film experiences. At their events, guests watch films about food and simultaneously taste the exact dishes they see on the screen…right in their seats! This year's events include the world premiere of Anthony Bourdain Parts Unknown / Lower East Side (Oct. 24), and Chikarashi: Sustainable, Chef-Driven Poke Bowl (Oct. 26), about the Manhattan-based contemporary sea-to-table eatery inspired by Japanese and Hawaiian cuisine. For a complete listing, click here.
By JQ magazine editor Justin Tedaldi (CIR Kobe–shi, 2001-02). Justin has written about Japanese arts and entertainment for JETAA since 2005. For more of his articles, click here.
As spring continues and the weather continues to warm, New Yorkers can enjoy activities all over the city both indoors and out.
This month's highlights include:
Sunday, May 6, 11:00 a.m.
Children's Day Festival: Kodomo no Hi
Japan Society, 333 East 47th Street
$18, $10 Japan Society members, children ages 2 and under free
Hang the koinobori (carp streamers) and don your kabuto (samurai helmet): Children's Day is on its way! Come join us for Japan's national holiday where all children are stars and their happiness is celebrated. Enjoy a performance of Peach Boy (Momotaro) featuring storytelling, music, dance, taiko drumming and lots of audience participation. Continue the adventure with other authentic Kodomo no Hi activities!
Sunday, May 6, 8:00 p.m.
Sony Hall, 235 West 46th Street
$34.50, $74.50 VIP
Keiko Matsui's music speaks to the hearts and souls of fans around the world, transcending borders and building bridges among people who share a common appreciation of honest artistry and cultural exchange. Journey to the Heart, her 27th recording as a leader, marks the 30th anniversary since her recording debut and is her boldest statement yet. On Journey to the Heart, Matsui more than delivers what she has come to be loved for breathtakingly beautiful transcendent melodies that transport the listener. A master storyteller, she crafts passionate and emotive songs with lush harmonies and global rhythms to create timeless musical anthems.
Tuesday, May 8, 6:30 p.m.
Cool Tokyo: Harajuku, Akihabara and Beyond
Japan Society, 333 East 47th Street
$14, $11 Japan Society members, seniors and students
From street fashion to street food, kawaii to cosplay, Tokyo is the epicenter of Japan's latest trends. With so much to explore in this vibrant, fast-paced city, it can be hard to know where to start. At this talk, Sebastian Masuda, visual artist and founder of Harajuku shop 6%DokiDoki, and Abby Denson, comic book artist and author of Cool Tokyo Guide: Adventures in the City of Kawaii Fashion, Train Sushi and Godzilla, help to navigate Tokyo's vending machines, subway etiquette, hidden treasures, and much more. Followed by a book signing reception.
By JQ magazine editor Justin Tedaldi (CIR Kobe–shi, 2001-02). Justin has written about Japanese arts and entertainment for JETAA since 2005. For more of his articles, click here.
Spring has sprung in the Big Apple, and that means one thing: a new season of sounds, colors, and spectacular performing arts to match the blossoming sakura trees throughout the city.
This month's highlights include:
Thursday, April 5, 6:30 p.m. and 8:00 p.m.
Rakugo Event: Tozaburo Yanagiya III
Brooklyn Kura, 68 34th Street (Industry City)
Free
This special set of performances is held at the first Japanese sake brewery in New York State. Born in Tokyo, Yanagiya Tozaburo became a disciple of master Rakugo performer Yanagiya Gontaro III in 1999. He was promoted to the master Shin'uchi rank, in which he himself is certified to train disciples, in 2014. Ever since, he has performed all over Japan and appeared in the ShotenRakugo show and other television programs. During his first visit to North America this spring, he has performed at the University of Toronto, LaGuardia Community College, Hunter College, New York University, and Brooklyn Kitchen. Tozaburo was awarded the Agency for Cultural Affairs' Arts Festival Newcomer Award in 2016. Tozaburo will share sake-inspired stories (while patrons can enjoy the real thing on the premises) along with a traditional story, "The Zoo."
Tozaburo is also appearing at J-COLLABO's Spring Festival in Park Slope on Saturday, April 7, at 3:00 p.m. For more information, click here.
April 12-28
Kazuo Miyagawa: Japan's Greatest Cinematographer
The Museum of Modern Art, (April 12-29)
Japan Society, (April 13-28)
$13/$10 seniors and students, $9 Japan Society members
In celebration of the 110th anniversary of his birth, Japan Society presents an 11-film retrospective surveying the work of Kazuo Miyagawa (1908-1999), the most influential cinematographer of postwar Japanese cinema. Working intimately with directors like Yasujiro Ozu, Akira Kurosawa, Kenji Mizoguchi and Kon Ichikawa on some of their most important films, Miyagawa pushed Japanese cinema to its highest artistic peaks through his lyrical, innovative and technically flawless camerawork. This career-spanning selection displays his great versatility, including major masterpieces and rarely shown titles, screening in 35mm and new digital restorations. Co-organizer The Museum of Modern Art will host repeat screenings and additional Miyagawa retrospective titles from April 12-29. Preceding the retrospective, new 4K restorations of Mizoguchi's A Story From Chikamatsu and Sansho the Bailiff, both shot by Miyagawa, will run at Film Forum from April 6-12.
April 22-23, 25
E-Walk 42nd Street 13, 247 West 42nd Street / Empire 25, 234 West 42nd Street
$12.50 all ages
Part of Studio Ghibli Fest 2018! From the legendary Studio Ghibli, creators of My Neighbor Totoro and the Academy Award-winning Spirited Away, comes a charming and magical adventure that will delight the entire family. Haru is walking home after a dreary day of school when she spies a cat with a small gift box in its mouth crossing a busy street, and she jumps in front of traffic to save the cat from an oncoming truck. To her amazement, the cat gets up on its hind legs, brushes itself off, and thanks her very politely. But things take an even stranger turn when later than night, the King of Cats shows up at her doorstep in a feline motorcade. He showers Haru with gifts, and decrees that she shall marry the Prince and come live in the Kingdom of Cats!
April 25-27
Cinépolis Chelsea (4/25-26), 260 West 23rd Street
Regal Cinemas Battery Park Stadium (4/27), 102 North End Avenue
$23
From his start pioneering synth pop music with Yellow Magic Orchestra, in the late '70s to winning an Oscar for his score for The Last Emperor in 1988, Ryuichi Sakamoto quickly established himself as one of the most original and intuitive composers of his generation. But, never content to rest on his laurels, Sakamoto's life journey eventually led him to find musical inspiration in the unlikeliest of places: the Fukushima nuclear disaster and a personal battle with cancer, both of which gave way to a late-life shift in his artistic process. With Coda, director Stephen Nomura Schible (a co-producer on Lost in Translation) crafts a portrait of the artist as an ageless man, one who can turn the worst news into the most refined and purposeful moment of productivity in an already storied career. Shot over five years, this graceful music documentary is an elegantly observed examination of the creative process, following as Sakamoto builds from nothing the album he must assume will be his swan song. Premiere Screening features a Q&A with subject Sakamoto and Nomura Schible.
April 28-29, 10:00 a.m.-6:00 p.m.
Brooklyn Botanic Garden, 990 Washington Avenue
$30 adults, $25 senior and students, free for BBG members and children under 12
Billed as a dynamic two days of traditional and contemporary Japanese culture inspired by BBG's famous collection of flowering cherry trees, organizers will once again welcome tens of thousands of visitors to its massive 52 acres, home to over 12,000 kinds of plants (and, for that weekend, nearly as many cosplayers). Enjoy food and drink, events and activities for all ages while taking in live performances from New York troupe Dancejapan with Sachiyo Ito, the BBG Parasol Society Fashion Show, NYC's own J-pop meets jazz favorite J-MUSIC Ensemble, and the Matsuri live debuts of DJ Sashimi and Tokyo-based rock duo Bo-Peep.
Want to stay in the loop on future events? Follow Justin on Facebook and Twitter.
Written by professional Writer/Interpreter/Translator Stacy Smith (Kumamoto-ken CIR, 2000-03), WIT Life is a periodic series about aspects of Japanese culture such as film, food and language.  Stacy starts her day by watching Fujisankei's newscast in Japanese, and here she shares some interesting tidbits and trends along with her own observations.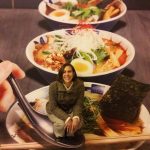 Japan Week 2018 is taking place through the weekend at Grand Central's Vanderbilt Hall, and this year's theme is 3D Trick Art.  Sponsored by the Japan National Tourism Organization (JNTO), the event strives to create an Instagrammable, interactive experience for visitors.  In addition to the regular array of booths from travel agencies, various regions in Japan and Japanese food and drink purveyors, there are several large backdrops into which you can insert yourself for the ultimate selfie.  My favorite was the bowl of ramen into which you can become one of the ingredients, and others include becoming a topping for sushi, helping to carry the mikoshi at a matsuri and shuttling around a sumo wrestler in a rickshaw (Fujifilm is even on hand to help you print out these funny shots after you take them!). Read More
By Aubrey Keene (Hokkaido, 2004-06) for JQ magazine. Aubrey moved to New Jersey from Kentucky to complete a master's degree in Asian studies from Seton Hall University. This is her first article for JQ.
On Saturday, February 3, the New York Adventure Club offered participants a private tea ceremony demonstration at the Urasenke Chanoyu Center of New York (UCC) in Manhattan. Nearly two dozen participants from the area attended to have their first experience with this iconic Japanese cultural tradition.
Experiences like this are not unique for members of the New York Adventure Club. The group, formed in 2013 by CEO and founder Corey William Schneider, was an effort, he explains, "to get my friends to join me on my random weekend adventures around the city." For more than a year and a half prior, Schneider had been exploring the city on his own as part of what he calls a "mini-early life crisis" that triggered a desire to do more fulfilling activities in his free time. By founding the group on Facebook, Schneider hoped he could get others to join him: he quickly discovered his idea was a hit when over 100 people showed up for the first event. The group now boasts more than 9,000 members, with activities ranging from trapeze classes to tours of Grant's Tomb to tea tastings happening almost every day of the week.
On a chilly Upper East Side afternoon, participants gathered in the lobby of the UCC for an introduction by their chado, or way of tea, master Yoshihiro Terazono, who gave an overview of the 140-year old building. Originally a horse carriage house later refitted as an art studio for Mark Rothko, the UCC purchased the building in 1980 and spent two years transforming the space into a tea ceremony center. It now houses three tatami mat rooms of various sizes where students come and practice throughout the week. Each room opens to an outdoor space of a garden area with a view of the windows three stories above. The aesthetics successfully evoked the image of a tea house in Kyoto, the birthplace of Urasenke.
By JQ magazine editor Justin Tedaldi (CIR Kobe-shi, 2001-02). Justin has written about Japanese arts and entertainment for JETAA since 2005. For more of his articles, click here.
From the silver screen to the stage to J-pop, November is just as colorful as the autumn leaves drifting through the air. Add these live events to the mix and you've got an irresistibly epic rundown.
This month's highlights include:
Now through Dec. 16
Yayoi Kusama: Festival of Life and Infinity Nets
David Zwirner Galleries, 525 and 533 West 19th Street and 34 East 69th Street
Free
Yayoi Kusama's work has transcended some of the most important art movements of the second half of the twentieth century, including Pop Art and Minimalism. The exhibitions will feature sixty-six paintings from her iconic My Eternal Soul series, new large-scale flower sculptures, a polka-dotted environment, and two Infinity Mirror Rooms in the Chelsea locations, and a selection of new Infinity Nets paintings uptown. The celebrated Infinity Mirror Rooms invite the viewer to experience a sense of infinity through the play of reflections between the circular shapes of light and the surrounding mirrors. The Infinity Net paintings on view at the gallery's uptown location are the latest works in a series begun in New York in the 1950s, when Abstract Expressionism was still the dominant style. These canvases embodied a radical departure, featuring minutely painted nets across monochrome backgrounds.
Nov. 3-5
Japan Society, 333 East 47th Street
$95, $75 Japan Society members, seniors and students (Nov. 4-5 only)
Part of Japan Society's NOH-NOW series, celebrating its 110th anniversary! Hiroshi Sugimoto, acclaimed visual artist and traditional Japanese arts connoisseur, offers his most recent noh piece. In this new play, the ghost of revered 16th century tea master Sen-no-Rikyu appears to tell the story of his tragic death by forced suicide. Opening a door onto medieval Japan, the program begins with a tea ceremony by Sen So'oku, direct descendent of Sen-no-Rikyu, and features Japan's top noh actors and musicians. Performed in Japanese with English titles.
Nov. 16-Dec. 3
SoHo Playhouse, 15 Vandam Street
$30
Universally funny and yet so very Japanese. Katsura Sunshine makes his highly-anticipated off-Broadway debut! As the world's first bilingual rakugo-ka (a traditional Japanese comic storyteller), he is an international ambassador of this 400-year tradition. Fresh off 10 smash-hit performances in London's West End, he will have a series of performances bringing his unique yet authentic rakugo to Off Broadway—in Japanese and English!
Nov. 17-19
Jacob K. Javits Convention Center, 655 West 34th Street
$35-$60; VIP passes also available
"Anime and manga have taken the world by storm. While New York City is the largest city in America, no focused event championing Japanese pop culture calls it home and with a population of eight million there's a massive demand here," says Peter Tatara, LeftField Media's vice president of anime events. "Anime NYC will be a celebration of this community of fans and a platform for publishers and studios from both sides of the Pacific to be in front of the eyes of attendees, trendsetters, and people who aren't yet familiar with the worlds of anime and manga. We're looking forward to a vibrant, dedicated celebration of everything in Japan that's nerdy and cool, in the media capital of the world!"
In this inaugural three-day celebration of Japanese animation powered by Crunchyroll, attendees will be able to view exclusive anime screenings and meet major guests courtesy of international animation and manga publishers; play the latest in Japanese gaming technology; chow down on Japanese delicacies and fusion cuisine; rock out to musical guests direct from Tokyo; and more! An estimated 20,000 fans are expected to attend, with special guests featuring the English-language cast of Sailor Moon Crystal for a panel screening; the U.S. premieres of the films Gundam Thunderbolt: Bandit Flower and Fullmetal Alchemist, and the NY Ramen Summit, featuring a discussion between famed ramen chefs from around the city.
By JQ magazine editor Justin Tedaldi (CIR Kobe–shi, 2001-02). Justin has written about Japanese arts and entertainment for JETAA since 2005. For more of his articles, click here.
As the summer winds fade into fall colors, the weeks ahead are shaping up with these exciting events, ready to be enjoyed after Labor Day.
This month's highlights include:
Friday, Sept. 8, 6:45 p.m.
The Nippon Club, 145 West 57th Street
$70, $60 members
The Nippon Club will present "Sake Social 2017″, featuring a sake tasting with 14 different "Kuramoto" (sake brewers) from Japan, on 9/8 (Fri). From Fukui to Yamaguchi, each Kuramoto will bring 2 types of Sake to the event, so you can enjoy 28 types of Sake and Chef Yasuoka's tasty appetizers. For RSVP and more info, call Mita-san at (212) 581-2223 or email info@nipponclub.org.
Friday, Sept. 8, 8:00 p.m.
Lot 45, 411 Troutman Street (Brooklyn)
$20 advance, $30 at the door
Collision is a cross-cultural event that aims to expose Japan's underground music and culture to cities across the globe by curating lineups of Japanese and local artists (seven acts in all). With the 2020 Tokyo Summer Olympics on the horizon, organizers hope to introduce Japan's unique subcultures to the millennials of the U.S. and contribute to the attraction and brand of the country, while supporting local creatives and businesses.
Sept. 13, 15-16, 7:30 p.m.
Japan Society, 333 East 47th Street
$55, $45 Japan Society members
A frustrated samurai. An unwieldy herd of pigs. A mysterious murder. A woman's dying wish. Four surreal stories from Japanese author Natsume Soseki's (1867-1916) Ten Nights of Dream come to life in Four Nights of Dream (2008), a contemporary chamber opera that traverses the subconscious through colorful melodies and piercing emotions. For this new production, New York vocalists and Tokyo instrumentalists come together to perform within a spellbinding and ever-morphing set. Performed in English.
By JQ magazine editor Justin Tedaldi (CIR Kobe-shi, 2001-02) for Shukan NY Seikatsu. Justin has written about Japanese arts and entertainment for JETAA since 2005. For more of his articles, click here.
Autumn in New York is the season for delectable dishes, and this month has two unmissable events on the calendar.
First comes the annual LUCKYRICE New York Feast at Mandarin Oriental on September 22. Founded by Danielle Chang in 2010, this eagerly awaited event will once again showcase the city's most enticing Asian food experiences, along with avant-garde spots, fine dining establishments and local superstar mom and pop shops. Tradition becomes progressive in this mash-up of culinary cuisines, with drinks provided by Asahi Beer and Suntory Whisky (for even more LUCKYRICE, check out their EPIC-urean Asian Feast hosted by BD Wong at Capitale on October 14).
Turning the spotlight to sake, returning for its 12th annual celebration in New York City is The Joy of Sake. The world's largest sake tasting event outside of Japan comes to Metropolitan Pavilion in Chelsea on September 27, featuring a record 400 premium labels from every part of Japan and sake appetizers from 16 of New York's finest restaurants, including Momofuku, Sakagura and SushiSamba.
While current statistics show that sake is losing ground to beer in Japan, it continues to make inroads in the U.S., especially among drink-savvy New Yorkers.
"In the last 10 years the amount of sake imported into New York has doubled as more and more people discover how good the premium labels can be," says event organizer Chris Pearce. "The Joy of Sake is a celebration of the pleasures of the sake cup—and it's also one of the best annual food and beverage events in New York."
For more information and tickets, visit www.luckyrice.com and www.joyofsake.com.
Tom Baker (Chiba, 1989-91) is writing a 47-part series of posts on his Tokyo Tom Baker blog, in which he samples and comments on curries representing each of Japan's 47 prefectures. Those covered so far include Kumamoto Prefecture horse meat curry and Gunma Prefecture silk mill curry. Here's an excerpt from his 17th installment, about two spicy curries from Fukushima Prefecture.
Fukushima Prefecture has a long history of recovering from geological disasters. Some of those disasters can be remembered through local curries.
One such curry commemorates the July 15, 1888, eruption of Mt. Bandai, a volcano near the center of the prefecture. The mountain had been a smooth, Fuji-like cone before it suddenly exploded due to a buildup of underground steam. The blast – which went largely sideways rather than up, similar to the explosion of Mt. St. Helens in the United States a century later – left behind an irregularly shaped mountain with four separate peaks. According to the Japan Meteorological Agency, the explosion could be heard from a distance of 50 to 100 kilometers, an avalanche of debris buried five towns and 11 villages, and ash fell from the sky along the coast of the Pacific Ocean, about 90 kilometers away. At least 461 people died.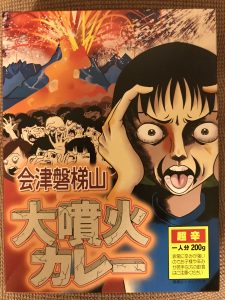 Did I say there's a curry that commemorates this event? Perhaps I should have said there's a curry that cashes in on it. The design on the box of "Mt. Bandai Great Eruption Curry" is not exactly reverent. But I bought it in a souvenir shop at the foot of the still-active volcano. The people who live and work in such an area are entitled to a bit of gallows humor, especially more than a century later.
The back of the box includes warnings that children, pregnant women, and those with weak stomachs or high blood pressure should eat this lava-like curry with caution, if at all. So naturally, I was expecting something super-hot…
To read the full post, including a comment on radiation, go here.
By JQ magazine editor Justin Tedaldi (CIR Kobe–shi, 2001-02) for Examiner.com. Visit his Japanese culture page here for related stories.
Spring has sprung in the Big Apple, and that means one thing: a new season of sounds, colors, and spectacular performing arts to match the blossoming sakura trees throughout the city.
This month's highlights include:
Now playing
Landmark Sunshine Cinema, 143 East Houston Street
$14.50
Written and directed by Makoto Shinkai (5 Centimeters Per Second, Children Who Chase Lost Voices), the highest-grossing internationally released anime film in history finally comes to America! The day the stars fell, two lives changed forever. High schoolers Mitsuha and Taki are complete strangers living separate lives. But one night, they suddenly switch places. Mitsuha wakes up in Taki's body, and he in hers. This bizarre occurrence continues to happen randomly, and the two must adjust their lives around each other. Yet, somehow, it works. They build a connection and communicate by leaving notes, messages, and more importantly, an imprint. When a dazzling comet lights up the night's sky, something shifts, and they seek each other out wanting something more—a chance to finally meet.
Sunday, April 9, 8:00 p.m.
B.B. King Blues Club and Grill, 237 West 42nd Street
$29.50 advance, $35 day of show
A courageous, spiritually-driven and consummate artist who transcends boundaries, Keiko Matsui has worked alongside the best, including Miles Davis, Stevie Wonder, Hugh Masakela, and Bob James. Her unique melting pot of musical influences have garnered her a devout international following, as she tours relentlessly and seeks to make a genuine connection with her audience. "This music energizes me and I am overwhelmed with emotion when I listen to it. I hope people will allow themselves to go inside the music and become a part of my journey," says the Tokyo native. In the words of Duke Ellington, Keiko Matsui is "beyond category."
Friday, April 21, 7:30 p.m. and 9:30 p.m.
Club Bonafide, 212 East 52nd Street
$20
Orange Pekoe is a band composed of vocalist Tomoko Nagashima and guitarist Kazuma Fujimoto. Formed in 1998, they started creating original songs and have developed a unique sound sublimating various types of music such as jazz, Latin, Brazilian and soul. Since then, Orange Pekoe has been acclaimed as a one-of-a-kind uniquely artistic band.. Their performance style varies from a duo to a band, sometimes playing alongside a 16-member big band-style orchestra, which they received renown as one of the most unique and talented artists in Japan.
LM (CIR Ishikawa-ken, Anamizu, 2009-11) is the editor of The Ishikawa JET Kitchen: Cooking in Japan Without a Fight. Ze works in international student exchange; writes I'll Make It Myself!, a blog about food culture in Japan and the US; curates The Rice Cooker Chronicles, a series of essays by JETs and JET alumni on the theme of cooking/eating and being alone in Japan; and admins The JET Alumni Culinary Group on LinkedIn.
Channel your inner katsudon fatale with this recipe, plus a review of hit anime Yuri!!! on Ice.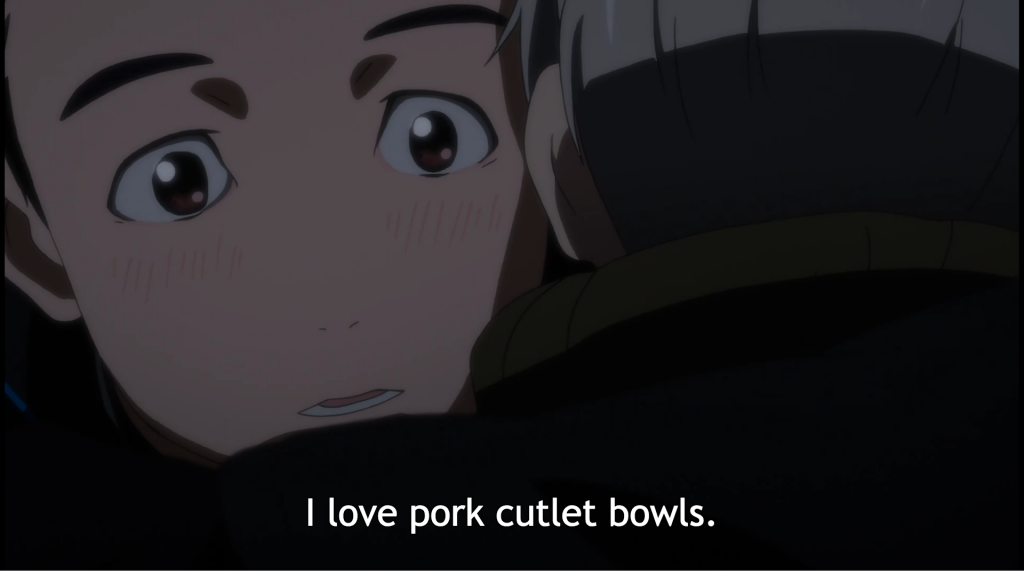 WIT Life is a periodic series written by professional Writer/Interpreter/Translator Stacy Smith (Kumamoto-ken CIR, 2000-03). She starts her day by watching Fujisankei's newscast in Japanese, and here she shares some of the interesting tidbits and trends along with her own obs
ervations.
Last night I had the opportunity to interpret for Chef Kiyomi Mikuni at an event at Japan Society entitled "Umami and Other Japanese Culinary Secrets." Mikuni is an entertaining speaker whose wide-ranging presentation covered everything from how important it is to develop taste buds at a young age to working with Japanese children on 食育 (shokuiku, or dietary education). Mikuni runs the gourmet French restaurant Hotel de Mikuni in Tokyo, but his culinary journey started in a fishing village in Hokkaido. Growing up he would go out with his fisherman father, and enjoy the fruits of the sea bestowed upon them. At 15 he went to Sapporo to work as a chef at a hotel there before moving to Tokyo's Imperial Hotel. At 20 he was sent to Geneva to be the chef at the Japanese Embassy, where he Read More