I'd heard about this great idea from AJET Chair Kay Makishi a little while ago, and now it's up and running!  A really innovative way to show another form of Return On JET-vestment:
JET Community Service Tracker 2013-2014
https://docs.google.com/forms/d/1QzQif7qeluJBzfnCgQuseZ4FVJlnMETaN65mEBYh6cA/viewform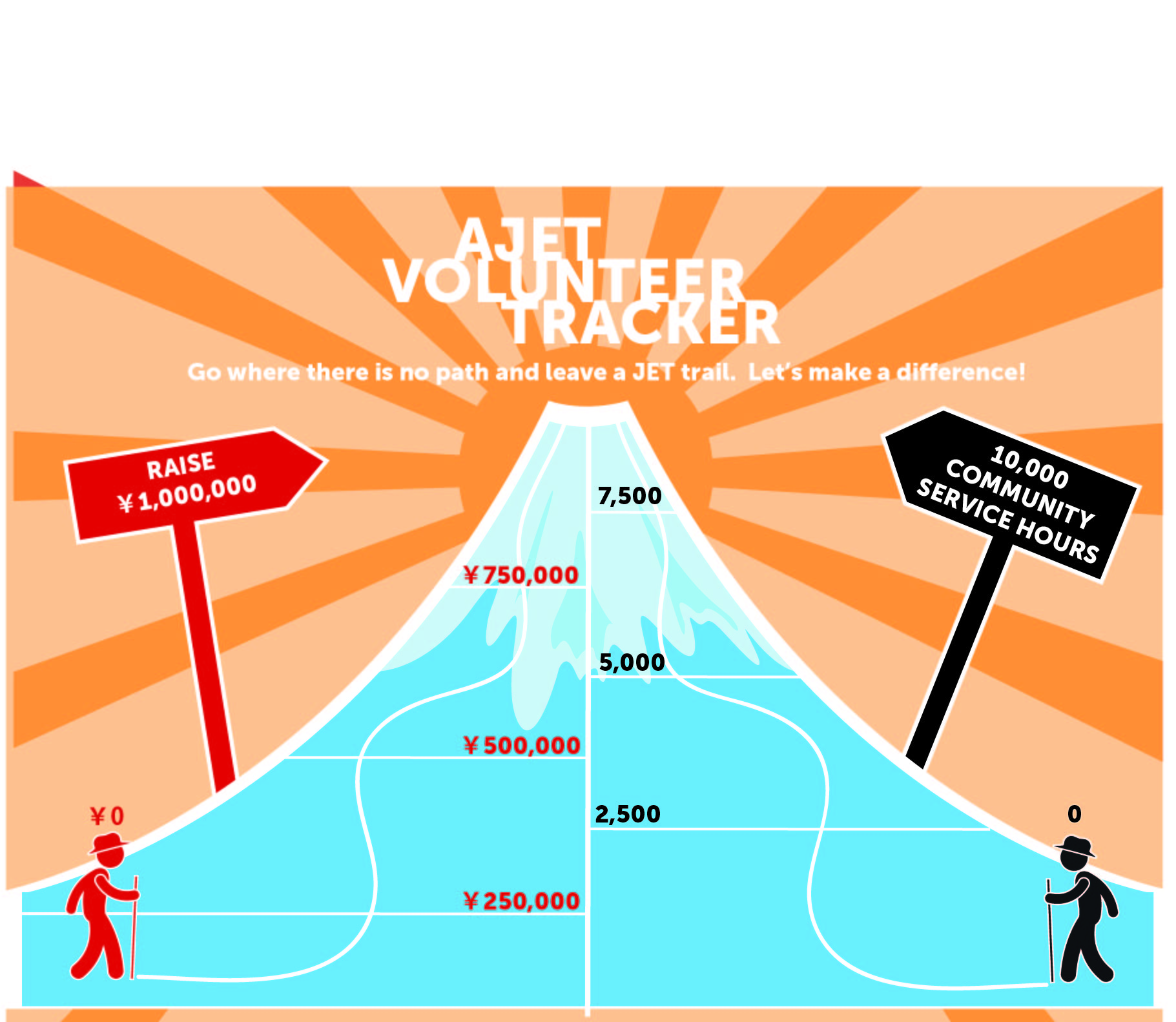 This year, National AJET has set some very ambitious goals for JET community involvement: 1,000,000 yen raised for charity, and 10,000 volunteer hours of community service. For any volunteer event, charity event, or fundraising campaign, large or small, please fill out this form. Whether you raised 100,000 yen, or 1,000, we'd love to hear about it. Whether 100 people volunteered for 10 hours, or two people volunteered for one hour, we want to hear about it!
JET Community Service Tracker:
AJET proudly introduces JET Community Service Tracker! This form is designed to collect data on volunteer hours served and charity money raised by JETs around Japan. You can enter figures for the entire JET-year: August 1, 2013 through July 31, 2014. The information allows AJET to share the positive impact JETs make in their communities with the Japanese Ministries that support JET and with the Japanese public, and help other groups increase the success of their own volunteer and charity efforts.
Race to the Top Challenge:
AJET also proudly presents the Race to the Top Challenge. This challenge will run for six months, from November 1, 2013 through April 31, 2014. Fill out the JET Community Service Tracker and win up to 60,000 yen to support your next volunteer or charity event!
How to Win:
That's easy! Just be the most caring, dedicated, AJET Chapter you can be! Then, log all of the awesome things you do in the JET Community Service Tracker from November through April. For any questions regarding how to record your community service (what counts/what doesn't) please contact exec@ajet.net
The Prizes:
One prize of 30,000 yen will go to the prefecture with the largest number of community service hours. A second prize of 30,000 yen will go to the prefecture with the largest amount of charity money raised. The winners will be determined on a percentage basis in order to account for the differences in JET population from prefecture to prefecture.
Who is Eligible to Win?
Any official AJET Prefectural Chapter is eligible to win one or both of these categories for a total of up to 60,000 yen. The winning prefecture(s) will be announced in the May issue of Connect Magazine.
Disclaimer:
The AJET National Council reserves the right to revoke prize money in the case of misconduct including but not limited to inaccurate recording, intentional lying, and unethical actions as determined by the Council. This contest is sponsored by the AJET National Council, a volunteer organisation of current JET participants elected and appointed by current JET Programme participants to represent the JET community nation-wide.
Posted by Albert David Valderrama (Ibaraki-ken, 2010-present), JET Programme ALT/PA, co-founder and National Co-Representative of API AJET, and Editor of @API.
_______________________________
Issue #003 of the Asian Pacific Islander AJET special interest group's webzine, "@API", is out now! Click the image below to read the full issue.
What is "@API"?
"@API" is a web-based magazine put together by contributors and members of the Asian Pacific Islander Association for Japan Exchange and Teaching (API AJET).
Asian Pacific Islander AJET (API AJET) was created during the summer of 2012 following many talks about the specific issues the API community faces.
This special interest group (SIG) aims to create a supportive environment for all APIs living in Japan. We also hope to increase awareness about API issues and incite dialogue among curious JETs and non-JETs. Furthermore, API AJET hopes to act as a tangible resource for anyone interested in understanding an API's unique perspective (as a foreigner) in Japan.
The group is open to all. Join to share, discuss, and learn about the API experience. Membership is free!
For more information go to our website at api.ajet.net, email us at api[at]ajet.net, or find API AJET on Facebook and Google+.
Posted by  Celine Castex (Chiba-ken, 2006-11), currently programme coordinator at CLAIR Tokyo.
The Public Relations Office of the Government of Japan published an article on the JET Programme in their monthly publication that aims to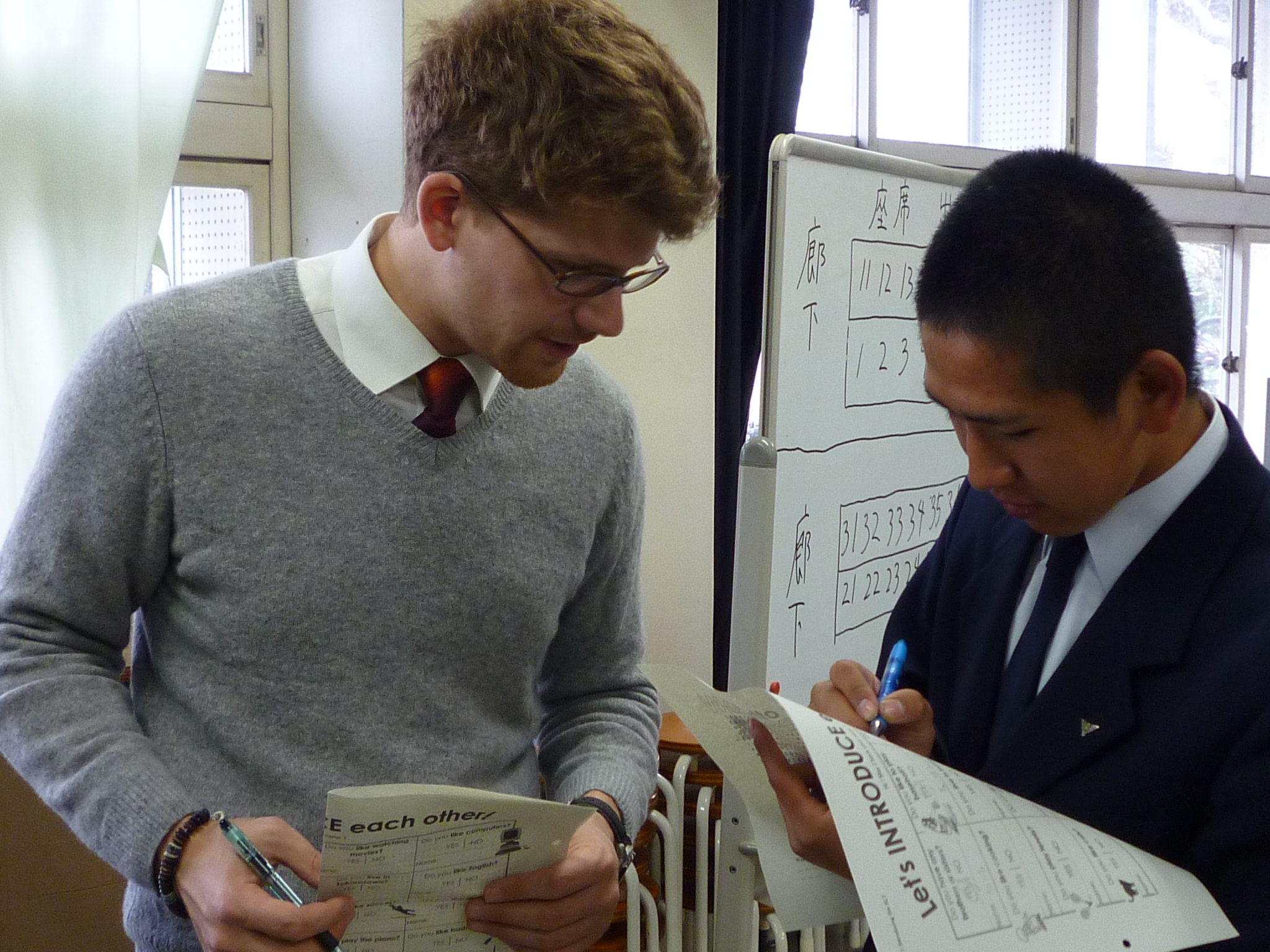 promote a better understanding of Japan in the world. They interviewed Bryan Darr (Saitama-ken, Tokorozawa-shi, 2008-13), current JET participant in Tokorozawa Shogyo High School in Saitama Prefecture. Bryan's contributions to the JET community include being the Education and Professional Development Coordinator for National AJET in 2011-12, a regular speaker at Saitama Skill Development Conferences and an active member of Peer Support Group (PSG), a listening and referral service administered by AJET.
Click here to see the article "Young Pioneers of the JET Age."
Here's the May 2013 issue of AJET Connect Magazine:
(Download PDF) http://ajetnet.s3.amazonaws.com/connect/2013_May_Connect.pdf

FYI, Editor Jim Kemp and his team at AJET Connect Magazine have been putting together some really good content along with appealing layout.  In this issue, I particularly recommend Amelia Hagen's "29 Things I've Learned While Travelling On JET."  But there are also articles on surfing in Japan, the evolution of the kyushoku, and the Tokyo Yamathon among other strong writing about "local" Japan.
Here's the April 2013 issue of AJET Connect Magazine:  (Download PDF) http://ajetnet.s3.amazonaws.com/connect/2013_April_Connect.pdf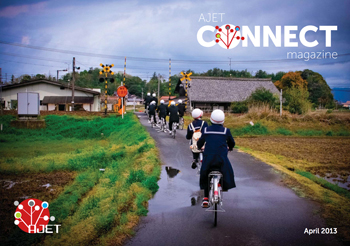 From The Wide Island View, the JET Program Webzine of Hiroshima Prefecture:
Hello and welcome to the new monthly newsletter from the Wide Island View! These emails will keep you updated on what's happening on the website and hopefully give you some inspiration for your next article.
New Articles
If you haven't been to the WIV in a while, there are plenty of new articles for you to check out!
Ben Folds Five: Dan Wilson, the WIV resident music reviewer, debuts his new concert column with a review of Ben Folds Five's recent Hiroshima performance.
Hiroshima AJET: Cathy Hodgson tells us about her experience learning to snowboard with the Hiroshima AJET crew. Keep your eye on the WIV to hear about all of the upcoming AJET events and trips.
Winter Blues: Winter may becoming to a close, but Japan's spring is notoriously chilly so check out the How to Beat the Winter Blues article for some tips to help you stay warm.
Have something you'd like to add to these articles? Don't feel shy about commenting!
Story Ideas
This list is by no means comprehensive, so if you come up with a story idea on your own, please send us an email. We've been able to add a ton of new articles recently, which has been fantastic. Please keep 'em coming!
Seasonal
Hanami season is just around the corner and we want you to help us make this year's parties the best yet. Have any secret hanami spots? Any recipes or suggestions for the perfect hanami snacks and drinks? We want to know!
Been to any good events lately? Perhaps the Naked Man festival in Okayama or the local one in Mihara? What about one of the many Hiroshima oyster festivals? Tell us about your experience with an article or photo journal.
Food
Calling all sake connoisseurs – please share your expertise! This article could be a review of different sake from Hiroshima or around Japan, or an insider's look at how sake is made. Saijo offers tours of many local breweries, so that may be a good place to start!
Are you a whiz with your microwave oven? Have you mastered the art of cooking things other than rice in your rice cooker? Share your knowledge and recipes! And, as always, any recipes (seasonal or not, Japanese or not) are always welcome.
Sports
The new soccer season is coming up fast and we'd like to learn more about our very own champions, Sanfrece Hiroshima! Who are the players to watch this year? What are the chances that we'll win the championship for the second year in a row?
If you're a baseball expert (or would like an excuse to become one) we'd love for you write about baseball in Japan. How are the Carp looking this year? What are your predictions for the playoffs? Opening day is only a few weeks away, so help us get ready to play ball!
Culture

Want to learn more about otaku culture? What about gyaru fashion? Help explain these interesting subsets of Japanese youth culture.
Language Study
In the past, the WIV regularly featured articles about Japanese proverbs and study tips. This column was incredibly helpful so we'd like to bring it back. If you're interested in sharing your knowledge of Nihongo, please let us know!
Other
As always, we're constantly looking for reviews of just about anything – movies, restaurants, products, books, festivals, you name it.
Videographers, illustrators, photographers, we want to hear from you too!
Now that we've gotten the business part out of the way, we at the Wide Island View want to take a moment to say a big thank you to all of you for working so hard to get this website back on its feet. None of this would be possible without all of your help and support!
The school year will soon come to a close, so we'd like to suggest a new (school) year resolution for all of you: keep writing! We know that it can feel overwhelming to commit to extra work, but think about it this way – if every single one of you wrote just one article within the next few months, we'd be set for the rest of the year. One article per month would make you a superstar. More than that? Amazing! We love you! Well, we love all of you regardless, but you get the idea. We all have the chance to contribute to one of the best online resources for JETs in the entire country, and it would be a shame to let this opportunity go to waste.
Thank you again for your support of the Wide Island View, and we look forward to hearing from you soon!

I just noticed that AJET has created a very helpful Education & Professional Development page on its site.  See below.
AJET Education and Professional Development supports AJET Members as education professionals. Whether you have many years of experience and are planning on continuing a career in education after JET, or have never heard of ESL, we're here to help throughout your entire tenure in Japan.
Education News & Events
Educations news makes it easy to stay on top of the latest headlines and special offers from AJET.
If you have anything you would like to see added to our Education and Professional Development pages, comments or questions, please send an email to the Education and Professional development coordinator here.

A request from James Kemp (Ehime-ken, 2nd year), AJET Online Publications Manager and Editor for AJET Connect Magazine:
Are you a former JET? Then AJET Connect Magazine wants to hear from you! We've got a short five question survey we'd love for you to answer ahead of next month's After JET Conference in Yokohama. The best answers will be printed in AJET Connect Magazine and distributed at the Conference, so if you fancy having your voice heard and helping hundreds of current JETs, please do get involved!
The survey can be found at http://www.surveymonkey.com/s/YL3HCNX
If you've any questions, don't hesitate to get in touch.

A request from AJET for JET alumni to participate in a survey:
"Every spring and fall, we run surveys on JET Programme aspects in order to create reports to present to CLAIR and the three ministries who cooperate to run the JET Programme. Our Spring 2013 Surveys are officially live and are open until Sunday, January 27th. This time, there is one specifically for JET alumni. We'd appreciate it if you could take a moment of your time to fill it out by this coming Sunday, January 27. Thank you!"
The JET Alumni Experience: This survey will ask questions about the reappointment process and the retention of JET Programme participants. Your responses will help us assess which aspects of JET Programme participants' lives were satisfactory and which areas are in need of improvement within the context of the JET Programme. We hope to explore responses within the reappointment and retention section to suggest improvements for the reappointment process.
http://www.surveymonkey.com/s/jetalumnisurvey
Thanks to Appiah Boakye, AJET Block 9 Representative, for posting this on the Tottori JET Facebook group:
Get involved!!! Election season for the next AJET National Council is here!
Applicants should be current JETs who are reliable, have excellent time management skills, and are re-contracting for the 2013-2014 JET year. Elections for the 2013-2014 AJET National Council will be held online from February 15-March 1, 2013.
Elected positions available include Executive Officers (Chair, Vice Chair, and Treasurer), CIR Representative, and Block Representatives. There are also an additional four appointed positions, including Translating and Interpreting Coordinator, Online Publications Editor, Website Coordinator, and Head of Visual Media. Those wishing to run for an elected position should contact the current holder of your desired position and submit a platform to election@ajet.net by February 8, 2013. Candidates for appointed positions must submit their materials by March 11, 2013.
Contact information for the current National Council and information about positions can be found on our website on the following pages:
AJET National Council:  http://ajet.net/national-council/
AJET Block Representatives:  http://ajet.net/ajet-blocks/
Additional details about platform submission, election rules, and general advice for applicants can be found on our website at:  http://ajet.net/ajet-elections/ .
If you have any additional questions, please send an email to the election committee at election@ajet.net .
From The Wide Island View, the JET Program Webzine of Hiroshima Prefecture:
Have you wondered what happens to JETs after they are, well, JETs?  Jackie hunted down ex-JET Greg Beck to ask him what life holds after five years in Japan and how to make the most of the experience.  Read all about it at Where Are They Now? JET Alum Greg Beck.
Now the weather has cooled down, are you looking to get some exercise?  What about an excuse to catch up with friends?  Or a chance to travel Japan?  If any of those ideas motivate you, read Maire's article, Kure Shipheads Touch Rugby Team – Don't let the ship sail without you!
We hope you are enjoying the cooler temperatures.  Make the most of the lovely weather to travel and socialise – check out old articles for lots of inspiration!  Remember we update the site every two weeks and we have a forum up and running.  Enjoy!
Charly & Emily
From The Wide Island View, the JET Program Webzine of Hiroshima Prefecture:
Greetings!
Hello everyone and welcome to the first Wide Island View email for 2012!
After a long hiatus, WIV is back in action!  We have an enthusiastic new team and we are all very excited about bringing you lots of interesting stories over the year.  Apologies if today's email seems a little large – we promise to update you more regularly in the future!
How are the new jobs going?  How are you coping with the summer heat?  In the interest of helping you feel better in the intensity of Japanese summer, we have had a summer focus on many of our articles this August.
First up, for those of you that struggle to eat in this heat, or are not sure what you can eat in this new country full of kanji, Emily has written you an article on eating, Eating to Keep Cool and Energized During Japanese Summer (or, Centuries of Advice on How Not to Become a Melted Slug).  Thanks to Emily's article I have discovered tasty tofu soumen.  I hope you discover something new too!
Should you want to escape the heat, check out Charly's article on Jinseki-kougen.  This is the first in an inaka series that will focus on parts of the prefectures that are off the tourist trail.  If escaping to the cool mountains sounds like something you would enjoy, readWelcome to Jinseki-kougen.  Or just let the pictures persuade you.
If Jinseki is too far away, or you have checked out Jinseki and can't wait for some more inaka, try Akiota-cho for size.  Before she left, Harriet kindly spilled all the secrets Read More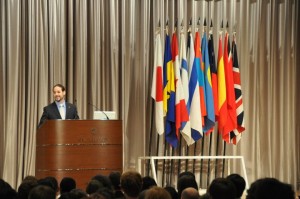 Originally posted to the AJET website on May 25, 2012:
AJET Chairman, Matthew Cook: My Final Message as Chair
CLICK HERE to read the full message on the AJET website.
A few select quotes:
"This year saw AJET re-branded to clearly show the world what AJET does: Connects people linked to the JET Programme; participants, ministries, alumni, our countries, and the world. That started a chain reaction of more close interaction from all of those parties."
"This year, you saw the AJET website revamped and redesigned so that you could more easily navigate it. We saw facebook groups created for regions across Japan, to allow JETs to connect with other JETs locally and share what they found relevant to their experiences. We saw AJET make a presence in the twitter universe and speak to the public, as well as multiple instances of coverage in the media."
"AJET got involved with JET Alumni and members of our council even attended the JETAA International Conference, to make sure current JETs were represented. AJET engaged Embassies and started close relationships with U.S. and Canadian governments, which we're hoping will result in more and more opportunities for JETs."
CLICK HERE to see a list of Matt and the AJET Council's accomplishments.

AJET has launched its new iConnect app!  In its own words:
This app was made to make your life in Japan easier and less stressful, whether you're a JET Programme participant or just an English speaking foreign national living in Japan!

You'll be reaching for your iPad, iPhone, or iPod touch all the time, knowing that this convenient app has all the information you'll need for useful resource information, ways to Connect to AJET for their magazine, news and peer support, as well as a variety of handy Japanese language tools and phrases that you'll need on-the-go! You'll also appreciate the retina graphics on iPhone, iPod Touch and the new iPad!
More info here:  http://ajet.net/ios-app/
Check out this month's edition of AJET Connect! The current edition features stories about what JETs have been doing to make a difference since the 3.11 Tohoku Earthquake and Tsunami, travel experiences of various JETs and this month's Life After JET section  focuses on a JET alum from California, Sylbeth Kennedy, who joined the US Foreign Service.
Visit the AJET website or view/ download the pdf HERE.