Jul
18

Art, Article/Journalism, Celebrity, Events, Film, JQ Magazine, Reviews

Comments Off

on JQ Magazine: Film Review — JAPAN CUTS 2018 at Japan Society
By Katharine Olla for JQ magazine. A Friend of JET, Katharine taught as an ALT in a public elementary school in Gunma Prefecture from 2015-16. She currently works at Japan Society in New York.
It's summer in the city, and that means another year of JAPAN CUTS, North America's largest festival of contemporary Japanese cinema. From July 19-29, Japan Society will screen 30 films ranging from dramas and comedies to documentaries, anime, and experimental works. The festival will also feature special guest appearances by directors, documentary filmmakers, and actors, including the legendary actress Kirin Kiki, who will receive the CUT ABOVE Award for Outstanding Performance in Film.
It was difficult to choose just three to review, so I decided to watch films with strong female leads (because that's one of the categories that Netflix tells me I like).
What if I just ran away and lived in the woods? is a question some of us ask after a morning commute on New York public transit. Get your fix by immersing yourself in the surreal, visually-striking world of Kushina, What Will You Be.
Anthropologist Soko (Yayoi Inamoto) and her assistant Keita (Suguru Onuma) trek through the forest to locate and study an elusive group said to be in the mountains. What they find is a women-only colony led by matriarch Onikuma (Miyuki Ono). Onikuma's family consists of her daughter Kagu (Tomona Hirota) and granddaughter Kushina (Ikumi Satake), whose secret pastime is listening to her cassette player. After the outside world intrudes, how will this closed community react? And what is Kushina listening to on her Walkman?
This is Moët Hayami's debut feature film, and it's a labor of love: as its writer, director, art director, costume designer, and editor, with this level of care she's managed to curate every detail of this film to create a truly singular world within a world. It's hard to shake off after the credits roll.
Featuring an intro and Q&A with writer/director Moët Hayami and actress Tomona Hirota, Kushina, What Will You Be screens Wednesday, July 25 at 6:30 p.m. (international premiere).
By JQ magazine editor Justin Tedaldi (CIR Kobe-shi, 2001-02). For more of his articles, click here.
On Jan. 12-13, Yoshiki of the band X Japan—the nation's number one rock group, which has sold out the 55,000 seat Tokyo Dome a record 18 times and has moved more than 30 million singles and albums since forming in the 1980s—fulfilled a lifelong dream by debuting, and also selling out, two consecutive nights at Carnegie Hall in New York City with his Yoshiki Classical Special performance.
Backed by the Tokyo Philharmonic Orchestra conducted by Yuga Cohler with arrangements by Shelly Berg, the nearly three-hour concert brought an arena vibe to the traditional concert hall setting. Featuring a mix of X Japan classics, new material, and pitch perfect renditions from the book of Beethoven and Tchaikovsky, Yoshiki brought the tunes to life at the piano, and additional turns from guest vocalists Katie Fitzgerald and Ashley Knight provided bright spots of witty banter (unlike other Japanese superstars poised for American fame, Yoshiki's English is fluent).
The production team pushed the limits of imagination for Carnegie Hall, with lighting so intense that Yoshiki himself had to ask his crew mid-song to reposition of one of the rigs. Videos and still images (courtesy of last year's internationally released documentary We Are X) were amply beamed overhead throughout the show, giving the audience the full scope of Yoshiki's lifelong artistic journey.
In the final stretch following the X Japan epic "Art of Life," an instrumental version of "Endless Rain" spotlighted a colossal mirror ball that bathed the hall in brilliant, swirling light, as those in the front rows unexpectedly belted out its bilingual chorus to the delight of longtime fans.
While X Japan supporters might have to wait a bit longer to witness another full band performance in New York (they last headlined Madison Square Garden in 2014), Yoshiki Classical Special easily lived up to its name, making another dream come true for both performer and audience.
For additional photos and videos of the concert, visit Yoshiki's homepage at www.yoshiki.net.
By JQ magazine editor Justin Tedaldi (CIR Kobe-shi, 2001-02) for Shukan NY Seikatsu. Justin has written about Japanese arts and entertainment for JETAA since 2005. For more of his articles, click here.
While riding the bullet train through Japan in 1989, the New York filmmaker Martin Scorsese was reading "Silence," the award-winning 1966 Japanese historical novel by Shusaku Endo abut a Jesuit missionary's persecution in 17th century Japan at a time when Christianity was practiced in secret following a national prohibition that lasted well into the mid-19th century.
Drawing from some of Endo's personal experiences as a Japanese Catholic (as well as the director's own religious upbringing as an altar boy in Little Italy), the film stars Andrew Garfield, Adam Driver, Liam Neeson, Issei Ogata, and Tadanobu Asano. The film has drawn comparisons to Scorsese's own 1988 film "The Last Temptation of Christ" with its themes of faith and perseverance, and has endured a decades-in-the-making journey to the big screen.
In a 2011 interview with "Deadline," Scorsese said ahead of filming, "'Silence' is just something that I'm drawn to in that way. It's been an obsession, it has to be done…it's a strong, wonderful true story, a thriller in a way, but it deals with those questions."
Released on Dec. 26, reviews have been glowing (reflecting an 87% Certified Fresh rating on Rotten Tomatoes at press time), with the site calling it a "thoughtful, emotionally resonant look at spirituality and human nature that stands among the director's finest works."
"Silence" is now playing at select theaters in Manhattan, Brooklyn and New Jersey. For more information, visit www.silencemovie.com.
By JQ magazine editor Justin Tedaldi (CIR Kobe-shi, 2001-02) for Shukan NY Seikatsu. Justin has written about Japanese arts and entertainment for JETAA since 2005. For more of his articles, click here.
The most influential rock band in Japanese history, X Japan has sold 30 million albums, performed a record 18 shows at Tokyo Dome, and even headlined Madison Square Garden in 2014. Led by their flamboyant drummer/pianist Yoshiki, the band rewrote the rules for both sound and style in the late '80s and early '90s, giving birth to the visual kei genre in the process.
After a series of struggles and rebirth, 2016 promises to be X's biggest year yet on the global stage. The band is months away from releasing their first studio album in 20 years, and with October 21 comes the theatrical premiere of "We Are X," a new award-winning documentary of the group from American director Stephen Kijak, best known for 2010's "Stones in Exile."
The film had its first-ever screening at Sundance in January, and Yoshiki himself appeared in New York last month for a special invitation-only screening of the film at the Crosby Street Hotel in Soho, where he participated in a Q&A with the director, played grand piano, and greeted some very lucky fans.
While X Japan has no current plans to tour America, fans hoping to see Yoshiki on stage won't have to wait too long: Yoshiki Classical with the Tokyo Philharmonic Orchestra makes its Carnegie Hall debut January 12 and 13. Tickets are available now. For more information on cities and premiere dates for the film, visit www.wearexfilm.com.
Justin has written about Japanese arts and entertainment since 2005. For more of his stories, visit http://jetaany.org/magazine.
By JQ magazine editor Justin Tedaldi (CIR Kobe-shi, 2001-02). Justin has written about Japanese arts and entertainment for JETAA since 2005. For more of his articles, click here.
In the dog days of summer, it's best to escape the heat in a place that's cozy and cool. For those into Japanese cultural events, this month offers a diverse selection of film premieres and live music—all in the comfort of indoor air conditioning.
This month's highlights include:
Various dates from Aug. 3
Village East Cinema, 181-189 Second Avenue
$10, $15
This month, Village East Cinema presents four more films from the legendary Studio Ghibli and Academy Award-winning director Hayao Miyazaki! Here's your chance to enjoy some Japan's greatest and most influential animated films on the big screen. The morning screenings are English dubbed versions, while the evening screenings are in Japanese with English subtitles. This month's selections include Japan's all-time box office champ Spirited Away (Aug. 3-4), Howl's Moving Castle (Aug. 10-11), Tales from Earthsea (Aug. 17-18), and From Up on Poppy Hill (Aug. 31-Sept. 1).
Tuesday, Aug. 9, 2016
Asa Akira, Dirty Thirty
$12.99 Kindle, $13.64 paperback
The world knows her as a porn star…but it's her way with words that will touch you again and again. As she contemplates turning thirty years old while still being in the adult film trade, Asa Akira delves into her past, present, and future, exploring the events that brought her to where she is now and the surprising and insightful plans she has for her future. Asa's perceptive, funny, and straightforward writings on love, sex, death, marriage and celebrity come together in this surprising book of essays that will have you laughing hysterically one minute and deep in reverent thought the next. Personally revealing as well as universal, Dirty Thirty marks the coming of age of a new literary star.
Aug. 12-17
Flamboyán Theater at The Clemente, 107 Suffolk Street
$13-$18
OZmate, a musical theater company based in Takarazuka, proudly presents The Legend of Oni with an all-female cast as part of the New York International Fringe Festival (FringeNYC)! The Legend of Oni is a musical about two Oni, ogres in Japan, in the pre-samurai Heian period. Lose yourself in the beautiful Japanese days of old with wonderful kimono costumes under the direction of Naoko Tsujii. OZmate also appears earlier this month as part of J-Summit New York at the Bowery Electric (327 Bowery) on Sunday, Aug. 7, with additional performances by Truthseekers, LUST, Lulla LayLa, Tamuro Rie, Naoki, Megumi, Shino Frances, Takaro Nishimura, and Emi Matsushita. Doors open at 5:30 p.m.; tickets are $15 advance, $18 at the door (includes one drink).
By JQ magazine editor Justin Tedaldi (CIR Kobe-shi, 2001-02). Visit his Examiner.com Japanese culture page here for related stories.
After you've seen the outdoor fireworks, enjoy some summer events in the cool indoors, whether it's catching one of the dozens films premiering at Japan Society's annual festival, or enjoying anything from traditional theater to the latest pop sensation.
This month's highlights include: 
Various dates beginning July 6
Village East Cinema, 181-189 Second Avenue
$10, $15 
This month, Village East Cinema presents four films from the legendary Studio Ghibli and Academy Award-winning director Hayao Miyazaki! Every Wednesday and Thursday from July 6 through July 28 offers a chance to enjoy some Japan's greatest and most influential animated films on the big screen. The morning screenings are English dubbed versions, while the evening screenings are in Japanese with English subtitles. July's selections include Castle in the Sky, My Neighbor Totoro, Kiki's Delivery Service, and Princess Mononoke.
July 13-17
Rose Theater, Broadway at West 60th Street, 5F
$30-$125 
In the enigmatic Japanese dramas of Noh, ancient stories from classical Japanese literature and oral traditions come to life in a sublime, ritualized blend of poetry, music, drama, and dance. The divide between the natural and supernatural is bridged as spirits and humans interact in a world rife with symbolism. The nearly 700-year-old dramatic form—known to many for its highly stylized masks and elegantly simple set featuring a single pine tree—is one of the world's oldest continuously performed genres of performance art and was recently designated an "Intangible Cultural Heritage" by UNESCO. Kiyokazu Kanze—the 26th Grand Master of the Kanze School and a descendent of the founder of Noh—brings the profound lyricism and aesthetic elegance of this ancient dramatic art form to New York as part of this year's Lincoln Center Festival. A special lecture and demonstration by Kiyokazu Kanze will be held July 12 at Japan Society; click here for more info and tickets.
July 14-24
Japan Society, 333 East 47th Street
$10-$20 (single screenings)
North America's largest festival of new Japanese film returns for its 10th anniversary edition, offering eleven days of impossible-to-see-anywhere-else screenings of the best new movies made in and around Japan with special guest filmmakers and stars, post-screening Q&As, parties, giveaways and much more. With special guests such as Lily Franky, Atsuko Maeda and Sion Sono, this year's festival guest list is the largest in history, and includes directors, stars, producers and more. Make sure to also check out this year's expanded DOCUMENTARY FOCUS and EXPERIMENTAL SPOTLIGHT sections. Venture out of the mainstream to discover new work by some of Japan's most vital and interesting nonfiction and avant-garde practitioners. The experimental lineup is dedicated to animation, offering vibrant short-form alternatives to the ubiquitous anime for which Japan is so famous.
By Vlad Baranenko (Saitama-ken, 2000-02) for JQ magazine. Vlad is an avid photographer.
On March 1, Carnegie Hall's Stern Auditorium hosted Grand Japan Theater (also billed as An Evening of Japanese Traditional Theatre), which presented New York City with a spectacular rare performance of kyogen, noh and kabuki—all in one night. After kicking off their international tour in Tokyo and Osaka, then traveling halfway across the globe to introduce the first ever kabuki/noh performance to the royal family of Fujairah in the United Arab Emirates, the troupe finally arrived in the U.S. for one special night.
A sold-out crowd of over 2,800 witnessed some of the biggest names in traditional Japanese theater, including the noh otsuzumi artist Kamei Tadao, who in 2002 was designated as a Living National Treasure; the internationally renowned kabuki and television actor Ichikawa Ebizo XI, who began his career at just six years old and has evolved into one of the most versatile traditional actors today; and many more with direct roots to these beautiful centuries-old art forms.
The backdrop for all of the evening's performances featured three sets of traditional Japanese screens adorned with illustrations of bamboo that blended perfectly into the background despite the enormity of the hall. The night's program began with the kyogen piece Sanbaso. (Kyogen, an art form that almost always accompanies a noh performance and acts as a short, often comical "intermission piece" for the audience, has traditionally been based on a Shinto religious rite that prays for peace, fertility and prosperity across the land.)
By Lyle Sylvander (Yokohama-shi, 2001-02) for JQ magazine. Lyle has completed a master's program at the School of International and Public Affairs at Columbia University and has been writing for the JET Alumni Association of New York since 2004. He is also the goalkeeper for FC Japan, a New York City-based soccer team.
On Jan. 25, George Takei participated in a talk at Japan Society in New York. Best known for playing the role of Sulu on the original Star Trek and its movie incarnations, Takei has embarked on a second career as a social rights activist. Takei's childhood in a pair United States internment camps for people of Japanese descent during World War II provided the focus for the conversation (entitled From Barbed Wire to Broadway), which was moderated by Kermit Roosevelt, a constitutional law scholar at the University of Pennsylvania (and great-great grandson of President Theodore Roosevelt). Takei is also concurrently appearing on Broadway in a musical inspired by his internment experiences called Allegiance (book by Marc Acito, Jay Kuo and Lorenzo Thione; music and lyrics by Jay Kuo). The show, also starring Lea Salonga and Telly Leung, is playing at the Longacre Theatre through February 14.
There is no doubt that Takei's childhood experiences formalized his worldview and search for justice. He spoke at length of his memories of being forced out of his Los Angeles home at the age of five and relocated to the Rohwer War Relocation Center for Internment in Arkansas, and later, the Tule Lake War Relocation Center in central California. Takei also put his personal experiences within a historical and political context: After the bombing of Pearl Harbor, anti-Japanese paranoia made all U.S. citizens of Japanese heritage suspect. Due process of law was completely suspended as Japanese Americans were forcibly removed from their homes without charge or evidence. Once in the internment camps, the prisoners had to forswear loyalty to the Emperor of Japan and pledge allegiance to the United States.
By JQ magazine editor Justin Tedaldi (CIR Kobe-shi, 2001-02) for Examiner.com. Visit his Japanese culture page here for related stories.
Start 2016 off right by heading down to Japan Society for some fantastic new year's fare. This month's events celebrate the power of theater, with productions that examine international relations between East and West, celebrating a century of growing diversity but also spotlighting a stormy past. Treat yourself and catch a break from the cold.
This month's highlight:
Monday, Jan. 25, 6:30 p.m.
George Takei: From Barbed Wire to Broadway
Japan Society, 333 East 47th Street
SOLD OUT. Limited tickets may be released; please call the box office on January 19 at (212) 715-1258 to check availability.
"Too few people know about that dark chapter of American history," film and television star, pop culture icon and social media powerhouse George Takei (Star Trek, Heroes) told The Daily Show's Jon Stewart in 2014, "when American citizens of Japanese ancestry were summarily rounded up with no charges, no trial no due process—the core pillar of our justice system—and put in barbed wire prison camps simply because we happened to look like the people that bombed Pearl Harbor." In George Takei: From Barbed Wire to Broadway, Takei shares memories from the troubling chapter of American history when some 120,000 innocent Japanese-Americans were forcibly relocated from their homes.
For the complete story, click here.
************
What do people do after JET? Here's one great example.
On November 16, JETAA DC held the latest in their JET Talks series with a talk by JET alum George Rose (Fukushima-ken, 1989-91), former interpreter for Hideki Irabu and current Director of Pacific Rim Operations for the New York Yankees, not to mention former JETAA NY President.
Here's a video of the talk. (Thanks to JETAA DC Vice-President Joy Young for passing this on!) Many great anecdotes including one about interpreting for Hideki Matsui on the Regis and Kathy Show. Plus, did you know that George played a role in helping the Yankees sign Masahiro Tanaka? Watch and enjoy!
By JQ magazine editor Justin Tedaldi (CIR Kobe-shi, 2001-02) for Examiner.com. Visit his Japanese culture page here for related stories.
The Japan-centric events of the month ahead promise to be as rich and full as autumn itself—brisk and colorful, with a dash of unpredictability.
This month's highlights include:
Oct. 8-11
Jacob K. Javits Convention Center, 655 West 34th Street
Limited tickets available
The East Coast's biggest gathering for fans of comics, film, anime and manga, New York Comic Con returns with its biggest roster of Hollywood talent to date, including the first-ever appearance outside of Japan of Naruto creator Masashi Kishimoto, on hand for an exclusive Q&A panel (Oct. 8, 5:30 p.m.) as well as the North American theatrical debut (Oct. 10, 11:30 a.m. at Hammerstein Ballroom) of Boruto: Naruto the Movie! In addition, Kishimoto will also make live appearances at Apple Store SoHo (Oct. 7, 7:00 p.m.), Kinokuniya Book Store (Oct. 9, 8:30 p.m.) and Barnes and Noble Tribeca (Oct. 10, 3:30 p.m.). Don't miss this chance to meet one of Japan's most popular contemporary manga artists!
Oct. 9-Jan. 10
For a New World to Come: Experiments in Japanese Art and Photography, 1968-1979 Japan Society Gallery, 333 East 47th Street
$12 students and seniors, $10, Japan Society members. Free on Friday nights, 6:00-9:00 p.m. 
In the wake of the social and political upheaval of the late 1960s, Japanese artists and photographers began crafting a new visual language for an age of uncertainty. Their embrace of camera-based experiments would alter the cultural landscape and lay the foundations for contemporary art in Japan. For a New World to Come is the first comprehensive exhibition to spotlight this radical break with the past. With some 200 works by such luminaries as Ishiuchi Miyako, Daidō Moriyama, Jirō Takamatsu, and Shōmei Tōmatsu, the exhibition charts the stunning diversity of photographic practices during this pivotal era, from conceptual series situated squarely within global artistic currents, to visually arresting meditations on time, place, and self.
Oct. 10, 12, 13, 17, 19, 21
Village East Cinema, 181-189 2nd Ave.
$15
See the next generation of Naruto on the big screen! With Naruto as the Seventh Hokage, Hidden Leaf Village is planning to host the Chunin Exams to train new shinobi. Among the entrants are Sasuke's daughter, Sarada, who adores Naruto, Mitsuki, an exceptionally talented yet mysterious shinobi, and Boruto, Naruto's son who shows great potential, but despises his father. Sasuke, who's been on a mission in another dimension, appears before Naruto to warn of a strange impending danger he has sensed. An inconceivable foe lies in wait as Sasuke, the Five Kage, and Boruto charge into another dimension!Presented in Japanese with English subtitles.
For the complete story, click here.
***************
Bruce Feiler (Tochigi-ken, 1989-90), author of Learning to Bow  as well as several books on religion including Walking the Bible, Abraham and Where God Was Born along with other popular books including The Council of Dads, and, most recently, The Secrets of Happy Family, can now add CNN commentator to his resume. He has been providing religion-related perspectives in live conversations with Anderson Cooper, Wolf Blitzer and others.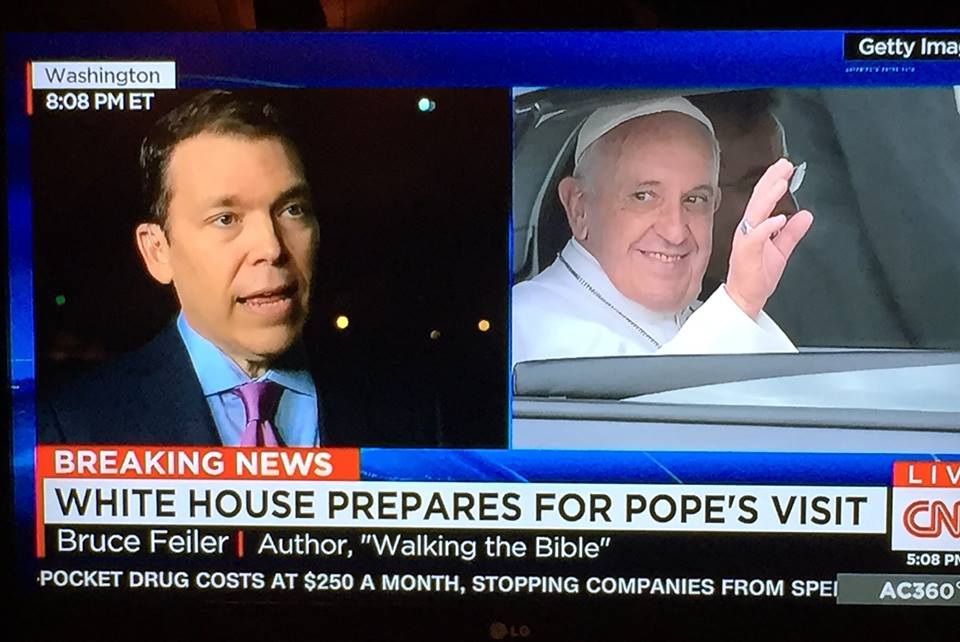 ****************************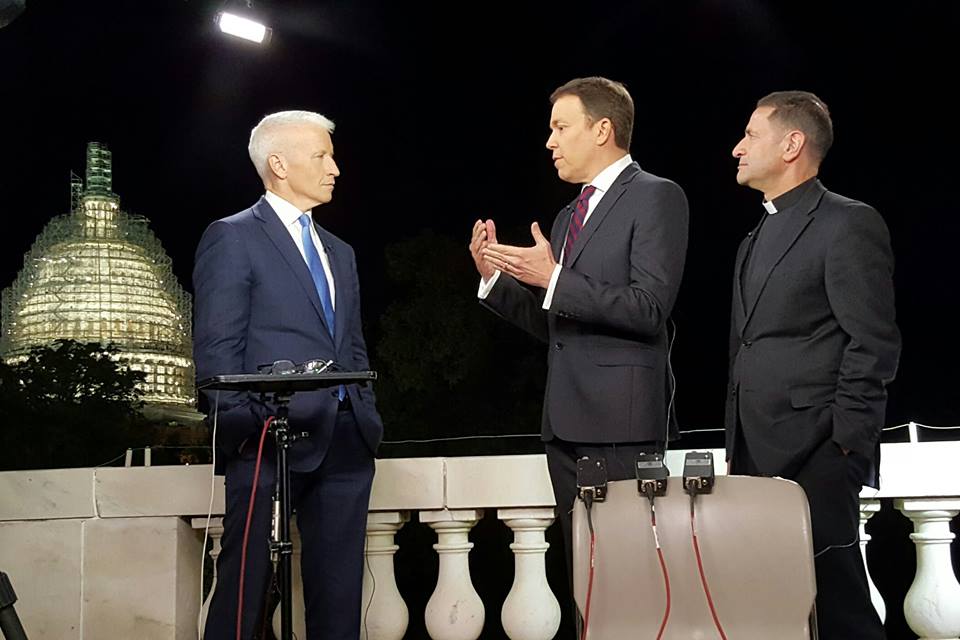 To read prior JETwit posts about Bruce Feiler, please click here. 
For more regular updates, follow Bruce on Facebook:  www.facebook.com/brucefeilerauthor.
And Twitter:  www.twitter.com/brucefeiler.
By Alexis Agliano Sanborn (Shimane-ken, 2009-11) for JQ magazine. Alexis is a graduate student of Harvard University's Regional Studies—East Asia (RSEA) program, and currently works as an executive assistant at Asia Society in New York City.
Starting Point: 1979-1996, translated by Beth Cary and Frederik L. Schodt, is quite unlike its sequel, Turning Point: 1997-2008 (read JQ's review here). Technical rather than creative, Starting Point shares renowned director Hayao Miyazaki's recollections of his early days as an animator. The essays and interviews follow anime through production development, touching on the intricacies of character design, layout, and story adaptation. For those who enjoy the process and precision behind an art, Starting Point is a rare glimpse into an often-times enigmatic industry.
The first half of the work features essays on Miyazaki's long hours in the studio, culture, and nature of Japan's animation industry in the 1960s and 1970s. As Miyazaki notes, even then, anime was tied to media mix marketing. You didn't just have manga; you had manga, then an anime, toys, merchandise, and spin-offs all fueling off each other. Says Miyazaki in a 1982 interview: "The world of anime makes its business out of themes like departing for new horizons or love, while pretending not to be conscious of [the] commercial reality." In hindsight, these remarks prove ironic; the auteur's Studio Ghibli having similarly succumbed to commercialization.
It isn't just media mix that remains the same today: professional frustrations were high and work-life balance poor. Miyazaki, over the course of several essays, recounts the life of a young professional. He states: "When young, nearly all of us want to be taken seriously, as soon as possible….In fact, many of those who have not yet taken the plunge into the professional world…tend to speak endlessly about techniques, or concentrate on gaining as much knowledge as possible….In reality, however, once you enter this industry, the techniques required can be mastered very quickly."
JQ magazine editor/Japanese Culture Examiner Justin Tedaldi (CIR Kobe-shi, 2001-02) was recently interviewed by Alex York of Fujisankei (FCI) News for commentary on X Japan's debut performance at Madison Square Garden on Oct. 11.
The spectacular three-hour show (see JQ's review of the concert here) was X Japan's first and only American concert in four years, and the first to retain the band's signature full stage production outside of Japan.  Check out the video here or click on the image for Justin's comments, and read his exclusive interview with X Japan's leader Yoshiki here.
Direct link: http://www.youtube.com/watch?v=yWptyvtYCXM#t=43
By JQ magazine editor Justin Tedaldi (CIR Kobe-shi, 2001-02) for Examiner.com. Visit his Japanese culture page here for related stories.
For Yoshiki Hayashi, this Saturday (Oct. 11) will go down in J-rock history, as one of the biggest bands in Asia makes their debut at Madison Square Garden. Formed over 30 years ago, X Japan first gained notoriety in the mid-'80s by ushering in the visual kei movement, a style that continues to evolve through other Japanese megastars like L'Arc~en~Ciel (who headlined the World's Most Famous Arena themselves in 2012).
At the center of it all is X Japan's founding member, Yoshiki. An equally talented songwriter, heavy metal drummer and classical pianist, he is both the heart and soul of X Japan, and, having lived in Los Angeles for two decades, the ideal mouthpiece for the band's American tours, which started with a bang in 2010 at Lollapalooza and included a sold-out gig at New York's now-defunct Roseland Ballroom.
In this exclusive, expansive interview, I spoke with Yoshiki about how the group's original hopes to play the Garden in 2008 were dashed by personal health and management troubles, his favorite, anime, manga and X Japan songs, and his experience working with legends like Stan Lee, KISS, and the Emperor of Japan.
How did this concert for Madison Square Garden come together? I know there were plans to do this in 2008; can you talk about this history?
Our band reunited around the year 2008. We did our reunion concert in Tokyo Dome, three days or so, I think. At that time, we were also thinking of performing [shows] outside of Japan, and Madison Square Garden was one or two of [the ideas]. But for some reason they didn't happen, so since then, that venue was always in our minds. A few years ago, we decided to try schedule Madison Square Garden. I think we were kind of confirmed last year.
It's a long road.
Yes. Well, considering that X Japan was not doing anything—I mean, the band broke up around the end of 1997, so when we reunited we had almost 10 years of a break. We started doing a bunch of arena shows, and then we started touring the world when we went to 16 countries or so. Considering this, the [last] six or seven years have been tours [laughs].
Are there plans for X Japan to play any other concerts for the remainder of the year?
Not now. We just announced our shows in Japan, this place called Yokohama Arena, so we [performed] there Sept. 30 and Oct. 1. It's kind of like a prelude to Madison Square Garden and a kickoff to [that] show, about 10 days before that. As of now, Madison Square Garden is the only American show, but [depending] on how it goes, we may start another world tour. We're just talking about it right this moment.
For the complete story, click here.