Posted by Tom Baker
This job listing come from Brendan Craine, a managing editor at Export Japan, a small translation and content production company in Nihonbashi, Tokyo. The job involves the production of expository text for Japan's various tourist sites under the auspices of the Japan Tourism Agency. Applicants must complete certain trials by April 10. They can receive the trial material by emailing their credentials to writing@export-japan.co.jp with the subject line: "JTA Signage Revision Project 2020 – Inquiry about Freelance Work [first and last name]."
The following is the description provided by Craine, lightly edited:
**********************************
Information about the project (in Japanese) can be found here.
This project has been ongoing since May 2018. Last year alone, we produced over 500 pieces of text for 24 different localities. These texts ranged in topic and medium, from museum panels about national parks to online text about castle ruins, and had our writers traveling to well-known sites in Kyoto and Nikko as well as seldom-traveled islands like Oki and Ogasawara.
The project will continue in this coming year, and we are looking for writers and copyeditors to assist in the text production process.
Position: Writer or Copyeditor
Term: Ongoing between May 2020 and January 2021
Duties: (see trials for in-depth explanation)
Writer: Preliminary research on assigned location, accompanied coverage of local site, production of text and revision in response to editor feedback
Copyeditor: Preliminary research on assigned location, editing of drafted text
Compensation:
Writer: ¥18,000 per 250-word piece of text
Copyeditor: ¥5,000 per 250-word piece of text
(Participants are assigned 15 texts on average)
[Candidates with Japanese language proficiency equivalent to JLPT N2 or better are highly preferred.]
Because writing signage text is markedly different than writing for journalistic or academic publications, the JTA has mandated that writers and copyeditors must be vetted with trials. In order to be considered for either position, you will need to submit its associated trial. (Applications for both positions are also accepted, provided both trials are submitted.) Trials will be accepted until April the 10th.
Although writers residing in Japan are desirable, transportation to/from Japan can be provided for a strong candidate living overseas. Any lodging and transportation costs associated with coverage will be provided. The copyediting work can be performed entirely from overseas.
If you have any clarifying questions/other inquiries, please feel free to respond and ask.
This position is open to any qualified candidate, and referrals are welcome.
In that case, please have your colleagues email their credentials to writing@export-japan.co.jp with the subject line:
"JTA Signage Revision Project 2020 – Inquiry about Freelance Work [first and last name]"
Dec
31

Art, Article/Journalism, Events, Film, JQ Magazine, Music, Travel/Tourism

Comments Off

on JQ Magazine: Nippon in New York — 'Modest Heroes,' 'Dragon Ball Z Super: Broly,' 'A Silent Voice'
By JQ magazine editor Justin Tedaldi (CIR Kobe-shi, 2001-02). Justin has written about Japanese arts and entertainment for JETAA since 2005. For more of his articles, click here.
Start the new year right by heading down to your local concert venue, cinema, or arts center for some fantastic new year's fare. Whether you enjoy movies, travel, or orchestral performances classic video games, treat yourself and catch a break from the cold.
This month's highlights include:
Jan. 4-5, 7:30 p.m.
Contemporary Dance Festival: Japan + East Asia
Japan Society, 333 East 47th Street
$30, $25 Japan Society members
Formerly known as the Contemporary Dance Showcase, this year's festival continues with three revelatory and robust works from three countries. From Japan, Mitsutake Kasai performs butoh master Akira Kasai's legendary piece Pollen Revolution. Hailed as "energetic and altogether wonderfully human" two decades ago, Sr. Kasai choreographs a revival of this eclectic dance for his son. From Taiwan, choreographed by emerging star Kuan-Hsiang Liu, Kids is a tribute to death and the choreographer's mother. Performed to voice recordings of Liu with his mother during her fight against cancer, this modern-day grief ritual is full of idiosyncratic motion and moments of serenity. From Korea, Silver Knife by Goblin Party delves into conflicting portrayals of female identity through the eloquently crafted movements of four women. The Friday, Jan. 4 performance is followed by a MetLife Meet-the-Artists Reception.
Jan. 10, 12
Modest Heroes: Ponoc Short Films Theatre, Volume 1
Regal E-Walk 42nd Street 13, 247 West 43nd Street
AMC Empire 25, 234 West 42nd Street
AMC Kips Bay 15, 570 Second Avenue
$10
Studio Ponoc, the new animation studio founded by two-time Academy Award-nominee Yoshiaki Nishimura (The Tale of The Princess Kaguya, When Marnie Was There) and featuring many artists from the venerable Studio Ghibli, made an immediate splash with their acclaimed debut film Mary and The Witch's Flower last year. The studio returns this year with Modest Heroes, an ambitious anthology of three thrilling tales created by some of the greatest talents working in Japanese animation today. The Jan. 12 screenings will be presented in English.
Sunday, Jan. 13, 6:00-9:00 p.m.
Black Cat LES, 172 Rivington Street
No cover
Every first Sunday of each month, Black Cat LES hosts the J-MUSIC Pocket Band's VGM+ Jazz Jam Sessions, which showcases live collective performances of legendary tunes from Pokémon, Zelda, Sonic, Mario, anime, J-pop, and everything in between! In celebration of the latest release of another storied Nintendo franchise, the group (led by Grammy Award-nominated composer Patrick Bartley Jr.) will dedicate the first theme of the new year to Super Smash Bros. This one-of-a-kind performance will include music from every game in the series—something you won't want to miss! For more info, click here or contact info@jmusicband.com.
By Andy Shartzer (Shizuoka-ken, 2014-16) for JQ magazine. Andy graduated from the University of Virginia with a degree in chemical engineering, and currently works for JETRO New York. He is also the Community Development Chair for JETAA New York.
The best part about world travel is the chance to step outside of our comfort zones and sometimes monotonous day-to-day routines to gain new and different perspectives of the world. Oh, and eat lots of amazing food, right? Not just that? Okay. Sorry, that was my stomach talking there.
In all seriousness, the chance to interact and learn from locals is an opportunity travelers should make the most of. But what if you haven't brushed up on all the rules, customs, and etiquette of the country you're visiting? And what if that country is Japan? And what if you're boarding the plane now? Eesh. Well, instead of binging on reruns of Marvel movies, Amy Chavez has you covered with her new book, "Amy's Guide to Best Behavior in Japan: Do It Right and Be Polite!" Chavez, a 25-year resident of Japan and tourist adviser who lives on Shiraishi Island (population: 600) in the Seto Inland Sea, provides a quick, easy-to-read overview of how to fully enjoy your experience in Japan and best incorporate the complexities of Japanese customs and etiquette into your homestay, study abroad, or quick jaunt to Japan. With some strong support from the educational "Amy Cat" (illustrated by Jun Hazuki), this 144-page book is the perfect reading material for your 15-hour flight.
For JETs and others who have lived and worked in Japan, many of these rules and customs might seem very familiar to you and would only serve as a refresher. Yet Chavez does an excellent job of providing a clear summary of many aspects of Japanese culture — not easy to do in 144 pages. For example, this author never quite learned the proper protocol for praying at Buddhist temples and Shinto shrines, so the guidelines provided in this book (with pictures!) were very helpful. Even if you have spent a year or more as a resident in Japan, Chavez includes enough topics to ensure you learn a new thing or two — like a whole section on how to use Japanese squat toilets (Ooooh, you face the wall…who would've thought!).
By Rashaad Jorden (Yamagata–ken, 2008-10) for JQ magazine. A former head of the JETAA Philadelphia Sub–Chapter, Rashaad is a graduate of Leeds Beckett University with a master's degree in responsible tourism management. For more on his life abroad and enthusiasm for taiko drumming, visit his blog at www.gettingpounded.wordpress.com.
Tuttle Publishing has released another selection of Japan-related books, and the following quartet includes works that touch on Japanese etiquette, language study, Okinawan history, and picturesque Kyoto.
Japan: A Guide to Traditions, Customs and Etiquette
While studying Japanese, I learned the term shikata, which is translated as the "way of doing things." However, as the late lecturer and writer Boyé Lafayette de Mente thoroughly documents, kata represents a lot more than a translation of "form": It is a concept present in just about every aspect of Japanese society, whether it be the business world, poetry, or sumo. In essence, kata guides the country's etiquette.
In Japan, the process of accomplishing a goal is just as significant, if not more significant, than the actual result—a notable contrast to the West. De Mente defines kata as the "way things are supposed to be done," and he educates readers on how the concept has shaped Japan throughout its history and the present.
The author also touches on other cultural differences between Westerners and Japanese (such as communication styles) and people reading the book will probably nod their heads in agreement as they read certain passages, such as "Foreigners can live a lifetime in Japan and not fully understand how the Japanese system works the way it does" and why Japanese often express amazement at foreigners who can utter the simplest Japanese phrase. Japan: A Guide to Traditions, Customs and Etiquette is really an exploration of the Japanese psyche.
If nothing else, you'll be amazing at how different Japan seems from the West.
Beginning Japanese Kanji: Language Practice Pad
Those seeking an introduction to kanji, or just a way to brush up on them, should turn to William Matsuzaki's work. The pad is an excellent tool for busy people: The 334 kanji it presents lends itself to a simple, one kanji-a-day memorization for those aiming to study at a relaxed pace. Furthermore, each page contains terms utilizing the featured kanji and tips on how to write its strokes.
The kanji appearing in the pad is really nothing out of the ordinary, as you'll see them in many (if not most) materials geared toward relatively novice Japanese learners. Adding to the book's appeal, the inclusion of spaces to write the kanji (as well as sample sentences featuring the characters) is most useful for those looking to bolster their knowledge of the language.
Written by professional Writer/Interpreter/Translator Stacy Smith (Kumamoto-ken CIR, 2000-03), WIT Life is a periodic series about aspects of Japanese culture such as film, food and language.  Stacy starts her day by watching Fujisankei's newscast in Japanese, and here she shares some interesting tidbits and trends along with her own observations.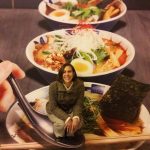 Japan Week 2018 is taking place through the weekend at Grand Central's Vanderbilt Hall, and this year's theme is 3D Trick Art.  Sponsored by the Japan National Tourism Organization (JNTO), the event strives to create an Instagrammable, interactive experience for visitors.  In addition to the regular array of booths from travel agencies, various regions in Japan and Japanese food and drink purveyors, there are several large backdrops into which you can insert yourself for the ultimate selfie.  My favorite was the bowl of ramen into which you can become one of the ingredients, and others include becoming a topping for sushi, helping to carry the mikoshi at a matsuri and shuttling around a sumo wrestler in a rickshaw (Fujifilm is even on hand to help you print out these funny shots after you take them!). Read More
By Rashaad Jorden (Yamagata–ken, 2008-10) for JQ magazine. A former head of the JETAA Philadelphia Sub–Chapter, Rashaad is a graduate of Leeds Beckett University with a master's degree in responsible tourism management. For more on his life abroad and enthusiasm for taiko drumming, visit his blog at www.gettingpounded.wordpress.com.
Tuttle Publishing has released a selection of four books touching on subjects such as otaku culture, language/cultural tips for travelers, Japanese history, and inspiration for prospective visitors to Japan.
Tokyo Geek's Guide: Manga, Anime, Gaming, Cosplay, Toys, Idols & More – The Ultimate Guide to Japan's Otaku Culture
Many people have probably developed an interest in Japan through a deep affection for anime and manga (among other things). And with Tokyo being the obvious center of Japanese pop culture, this guide created by Gianni Simone serves as the perfect tool for otaku freaks to find heaven.
Tokyo Geek's Guide basically resembles a travel guide as it contains tidbits about where to explore otaku culture (such as bookshops, stores, events and even eateries—anime-themed ones are abundant in Tokyo). But you don't have to be planning a trip to the capital to benefit from the book, though. Simone includes plenty of information pertaining to the history of manga, anime and video games in Japan.
Japanese for Travelers Phrasebook & Dictionary
At first glance, Scott Rutherford's creation seems like a carbon copy of any other resource geared toward helping travelers avoid or limit communication miscues. And certainly, the book lists the standard customary helpful phrases for visitors to Japan trying to navigate the local hotels, airports, restaurants, etc.
But Japanese for Travelers provides plenty of useful advice about conducting good Japanese etiquette (e.g., what to do when invited to someone's house) and culture (the section devoted to Japanese naming culture is interesting). Although the guide doesn't intend to be the most thorough tool for language learners, it does include an English-Japanese glossary and numerous grammatical tips. And perhaps most importantly in this technologically reliant time, Rutherford dedicates a chapter to advising readers about how not to get tripped up by technology in Japan.
A Brief History of Japan: Samurai, Shogun and Zen: The Extraordinary Story of the Land of the Rising Sun
To many, the title of Jonathan Clements's work would seem to be an absolute impossibility. Indeed, he uses that word in the preface to describe his task in telling a story that spans "millions of years." But Clements settles on "specific moments of transformation" in eleven chapters that address periods of Japanese history ranging from the legend behind Japan's formation to the "lost decades" that saw the country face a dwindling population and struggling economy.
While the information Clements provides at some points may be overwhelming, A Brief History of Japan does come to life through the collection of images appearing in the middle of the book (such as depictions of prominent figures and photos of landmarks).
Many, if not most, travel guides will feature an endless parade of "what to do and see" recommendations, and Rob Goss's work is no different in a sense. But unlike some editions of Lonely Planet and Fodor's, it's clear when opening up Japan: Traveler's Companion for the first time that the book will be anything but dry.
The subtitle appearing on its cover is "Japan's most famous sights from Okinawa to Hokkaido," but the inclusion of popular tourist destinations isn't the reason to pick up the book. Amazingly beautiful colorful photos of the country's most famous places will leave you speechless, and Goss includes helpful information for potential visitors about facets of Japanese life such as matsuri, cutting edge technology, and tradition.
For more information, visit www.tuttlepublishing.com.
For more JQ magazine book reviews, click here.
Written by professional Writer/Interpreter/Translator Stacy Smith (Kumamoto-ken CIR, 2000-03), WIT Life is a periodic series about aspects of Japanese culture such as film, food and language.  Stacy starts her day by watching Fujisankei's newscast in Japanese, and here she shares some interesting tidbits and trends along with her own observations.
This year marks the 150th anniversary of Frank Lloyd Wright's birth, and celebrations are taking place around the country and world.  I recently had the chance to go to MoMA's Frank Lloyd Wright at 150: Unpacking the Archive (ending October 1 so run to check it out if you haven't already!).  This incredibly comprehensive exhibit looks at Wright's career from 12 different perspectives, each of which has its own section.   There are around 450 works that he made from the 1890s through the 1950s on display, and each section has a video narrated by a scholar in the respective field.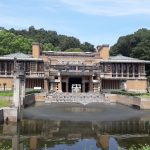 I was particular interested in the section discussing the second version of the Imperial Hotel (帝国ホテル), designed by Wright and built from 1919–1923).  It survived the Great Tokyo Earthquake that September, but eventually slipped into decay over time and in 1967 it was decided to demolish the hotel and replace it with a high-rise building.  The structure was mostly destroyed, but the iconic central lobby wing and reflecting pool were disassembled and rebuilt at Meiji-mura in Nagoya, which I was lucky enough to visit during a recent business trip.
This is an amazing theme park with a variety of architecture mostly from the Meiji Era (1868-1912), and Read More
By Rashaad Jorden (Yamagata–ken, 2008-10) for JQ magazine. A former head of the JETAA Philadelphia Sub–Chapter, Rashaad is a graduate of Leeds Beckett University with a master's degree in responsible tourism management. For more on his life abroad and enthusiasm for taiko drumming, visit his blog at www.gettingpounded.wordpress.com.
Summer is almost here. With the kids out of school, it's the perfect time to explore new places and travel as a family. But where should you go?
Those thinking about Canada should seek out Jody Robbins' 25 Places in Canada Every Family Should Visit for ideas. Robbins, a JET alum (Tottori-ken, 1994-97) and arguably one of Canada's most prominent travel writers, profiles locations going counterclockwise from Victoria to Yukon, from the famous (Toronto, Vancouver) to the relatively unknown (Parksville-Qualicum Beach, Avalon Peninsula).
As the book is geared towards parents, Robbins devotes plenty of space to sharing advice about how they can entertain their young ones. In addition to expounding on the requisite what to do and see activities for each destination, Robbins just as importantly lists family-friendly options for dining ("Kids will love the wood-fired bambino pizza" at Pizzeria Prima Strada in Victoria) and lodging (a highlight of the Fairmount Chateau Laurier in Ottawa is the Art Deco-style pool, which "children love parading down to in their child-size bathrobes").
25 Places features a diverse mix of urban and nature-filled destinations (like Outaouauis), so readers will get a great sense of Canada's varied landscapes, as well as some surprises (beaches on the Prairies? Yes, they exist) and more importantly, how to arrive prepared for them. While it's obvious that Robbins would include information about how to get around certain places, she excels when extensively detailing how to make your camping trip a safe and wonderful experience: An entire chapter is devoted to providing readers advice about tackling and overcoming the challenges that awaits (as well as tips about what to pack and eat). Camping novices would do well to heed this helpful advice.
By Therese Stephen (Iwate-ken, 1996-99) for JQ magazine.
What many people don't know is that the City of Brotherly Love is in love with Japan, and has been since the 1876 Centennial Exhibition in Philadelphia, when the Japanese Pavilion became one of the most popular exhibits of that historic World's Fair.
When you think of Philadelphia, you probably think of cheesesteaks, the Liberty Bell, Independence Hall or the Rocky steps at the Philadelphia Museum of Art. What you might not realize is that Philly has many ways for Japanese, and the Japanese-at-heart, to get their Japan fix for a lot less than a roundtrip ticket to Tokyo. So, whether you're planning a quick weekend getaway or day trip this summer, or if you're a returning Philly JET looking at your hometown with a new post-JET perspective, read on for Philly's best Japan picks.
Let's start with those famous Rocky steps. It's cheesy and we know it, but everyone who visits Philly has to replay that famous Rocky Balboa moment. So once you've run to the top of the steps and done your obligatory fists-in-the-air-pose, head on into the Philadelphia Museum of Art (PMA) and find your way to the East Asian Galleries.
One of the most endearing and exciting things about the PMA are its period rooms. While there are plenty of rooms displaying objects on pedestals or paintings on walls, a few steps through a doorway connecting two galleries will suddenly put you in the middle of an Indian temple or the hall of a Chinese palace. Wander a little further and you'll find Sunkaraku Tea House, the highlight of the Japanese collection in the East Asian Galleries.
Jody Robbins, a Tottori ALT from 1994-1997, has just written her first book! Published in May, 2016. 25 Places in Canada Every Family Should Visit is the ultimate guide to family travel in the Great White North. This year Canada celebrates its 150th year. From coast to coast, north to south, the country will be aflutter with events and celebrations, making 2017 the best time to discover Canada with your family.
Families have different travel needs, and Robbins gives the scoop on affordable hotels, worth-it attractions and nature hideaways, in addition to piquing the interest of young travellers with quirky, kid-friendly facts. Catering to families such as her own, she's pulled together 25 of Canada's best family-friendly destinations and compiled in-depth profiles for each, providing more than a few ideas to keep even the most active of families busy.
She also offers loads of how-to advice to make family travel a more pleasant experience. Robbins reveals how creativity and managing expectations go a long way to rekindling romance, offers practical advice on how to see the world for less and dishes on how to survive long road trips.
You can support this alumnus by ordering her book online (it makes a great gift!) or sharing the word with your friends.
And please visit Jody's blog Travels with Baggage for lifestyle tips and inspiration.
By Mark Flanigan, Nagasaki (2000-04)
As a JET alumnus, I look back fondly on the four years I spent living and teaching in Nagasaki Prefecture. Serving on JET was, quite literally, one of those "life-changing" experiences, as it confirmed my career path in the direction of public service and global education. In the 15 years or so since my time in Nagasaki, I have been lucky to have had international roles in the U.S. government, in higher education, and at a private, Japan-focused non-profit foundation. I was even fortunate enough to return to Japan a second time, to earn my MA in Peace Studies in 2012 through the Rotary Peace Center at International Christian University (ICU) in Tokyo. Later, I served in a variety of roles in Manhattan with JETAANY between 2012-16.
My most recent career stage brought me back into the classroom, albeit in a different role and a new part of Asia for me. I am currently serving as a WorldTeach Fellow volunteer in Chittagong, Bangladesh, at the Asian University for Women (AUW). It has been both a challenging and rewarding transition back into teaching, as I felt a bit rusty in the beginning and took a bit of time to get back in the groove. Also, my main experiences with Asia had been almost entirely focused on Japan, China, and Korea. For me, South Asian history and culture was something I knew very little about up until a couple of years ago. Being here, I realized how comparatively little I knew about the diverse cultures of the Indian subcontinent of Asia. Nonetheless, it has proven to be an extremely rewarding transition, personally as well as professionally.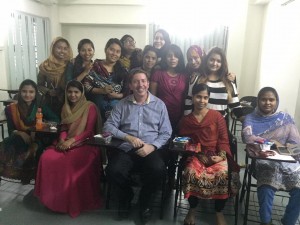 Me with some of my Pathways students in Bangladesh
Through a friend in New York City, I had first learned about AUW back in 2015. She had been a WorldTeach Fellow here a few years before, volunteering and having a really significant educational and cultural experience. The more I heard about her time in Bangladesh, the more I thought it sounded like a great opportunity to get back in the classroom while making a positive contribution to education for women at a significant institution like AUW. While I definitely enjoyed my four years in Manhattan, working as a Program Director with the Japan ICU Foundation (日本国際基督教大学財団), I also felt ready to take on a new challenge. I applied and was happily accepted as a new volunteer with WorldTeach, and assigned to AUW for the 2016-17 academic year.
AUW was founded in 2008 as a regional hub to help educate underprivileged women throughout different regions of Asia and the Middle East. With a liberal arts curriculum that promotes critical thinking and women's empowerment, it is a truly encouraging place for young women who have faced numerous challenges in life due to poverty, gender bias, and sectarian conflict. With 600 students (and over 400 alumnae) from 15 different countries, including Nepal, Bhutan, Myanmar, Vietnam, Cambodia, Sri Lanka, Afghanistan, Pakistan, Syria, Palestine, and others, AUW is an amazingly diverse place. The dynamic environment, small class sizes, and daily interaction of people with many different ideas, perspectives, and cultures makes it an esteemed center of higher education in South Asia.
However, I almost missed my chance to be here. Less than one month before I was due to arrive at AUW, we heard the news of the terrible attack in Dhaka, the capital city of Bangladesh. All I knew was that international residents of the city (and their local friends and colleagues) had been targeted specifically in a vicious terror strike. The attackers, while a definite minority in terms of the general population, were sending a very clear and deadly message. Although the attack did not take place in Chittagong, it was great cause for concern among both WorldTeach and AUW staff, as well as present and future volunteers. At that time, it was not clear whether we would still be able to serve in Bangladesh, or how the program might proceed. Many safety protocols would need to be analyzed and revised before a final decision could be made. In the end we were still given the option to come, which I was definitely happy to hear.
I have now been here for seven months, teaching two different groups of students over the autumn and now spring terms. My classes are part of the Pathways for Promise Program at AUW, which is the recently developed entry point for women who have not had as much formal preparation to succeed in higher education. Many of them have come as former workers from the garment factories of Bangladesh, while others are daughters of Grameen Bank loan recipients, refugees from the persecuted Rohingya community, as well as indigenous minorities from the Chittagong Hill tracts region. In addition to Bangladeshis, Pathways students have come from Afghanistan, Cambodia, and Myanmar. They will take classes for approximately one year in Reading and Writing as well as Listening and Speaking, and also study Math and IT while participating in Community Time and Social Mentoring workshops and events.
A lovely display of Bengali cuisine
If they complete the Pathways Program successfully and meet all the exam requirements, they will advance to the one-year Access Academy and then an additional three years of undergraduate study at AUW. In all, the successful ones will graduate in five years with their bachelor's degree in hand. Against all odds, this is their big chance to earn their college degree. Without the encouragement and funding support to match their own amazing dedication, it would most likely be impossible. It will not be easy for them. Many are far away from home and spend almost all of their time on the small but secure campus. They live in dormitories with 2-5 students per room, eat in the dining hall, and take all their classes together, so there is very little time for privacy or quiet reflection. Nonetheless, they are very eager to learn and make the most of this unique opportunity they have been granted.
It goes without saying that my students inspire me each and every day. Teaching them is really one of the biggest joys of my life here, and in many ways takes me back to my first experience teaching overseas in Japan. Although those two times are separated by about 15 years and many more miles, there are also some interesting parallels between them. Of the many things I have discovered over my time here thus far at AUW, one of the most interesting has been the surprising number of existing connections here between Bangladesh and Japan. As a former JET who later studied at ICU and worked to promote increased U.S.-Japan ties, it's been a really pleasant surprise to find out about and help to build on these great bilateral bonds of friendship.
The first one, I discovered quite by accident. In the early part of the autumn semester, I was walking in the hallway outside of my office when I heard the distinct counts of "ICHI, NI, SAN, SHIIII!!" emanating from the level above. Intrigued, I climbed the staircase up to the next floor and was surprised to discover the gymnasium filled with perfect rows of students. They were in straight lines, balanced in strict stances, with fists alternately chambered by their side and then thrust forward in a crisp motion I instantly recognized. My mind wandered back to our small dojo in Hirado City, Nagasaki, where I spent countless hours drilling in those very same "kihon" movements. I was curious to find out more, so I made arrangements to return and observe a longer class in session.
It was then that I met Ms. Maria Chakraboty, their instructor, a remarkable woman from Bangladesh who has achieved her 5-Dan rank in Shotokan Karate. Maria serves as a real inspiration to her students, as AUW's Associate Director of Physical Education and Karate instructor. Maria grew up in Chittagong, the same city where AUW is based, and faced hardships of her own due to people judging her negatively by her gender. She was strongly discouraged by others in her pursuit of Karate, but through the encouragement of her instructors, she has achieved a remarkable number of accomplishments. For her students, Maria is a living, breathing example of a successful adult woman, who has faced down discrimination and has continued her own personal growth through embracing the Japanese art of Karate. She has been able to impart her wisdom and experience to hundreds of young students through the years. Such is the wonderful environment of a cross-cultural, liberal arts university like AUW.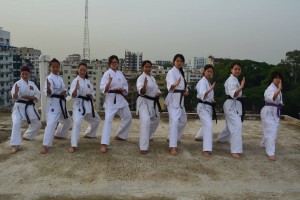 Maria (Center) training with some of her AUW students
In addition to Karate,  there are other tangible bonds of kizuna between AUW and Japan. Attending the University's Club Fair this past autumn, I was happy to learn that AUW students are involved in all kinds of social and academic club activities. Similar to Japan, students here balance their time between formal classes and organized clubs, like Model UN, Animal Welfare, a variety of sports, and other pursuits. Most interestingly to me, I discovered that there is a very active group of students on campus who are involved in the AUW Japan Circle Club! They are extremely genki and know an amazing amount of things regarding Japanese culture. They study Japanese on their own (as it is not taught here), read manga, watch anime, and even make their own kimono and other clothing by hand! Upon meeting them, I shared my experience as a JET alumnus and former ICU graduate student. They asked me to serve as their faculty advisor, to which I most happily agreed!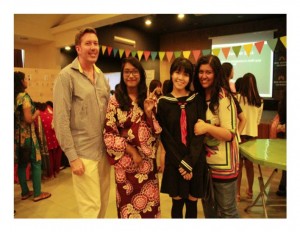 With some of the AUW Japan Circle Club students (and their hand-made clothing)!
I have been very happy to be working with them on various projects here this term. Most specifically, we have planned and organized a Japanese book drive among some of my colleagues and friends in Japan and Hong Kong. Through their kind and generous help, we have now received about seven boxes full of manga, books, magazines, language textbooks, and Japanese-English dictionaries from abroad! All of these were donated to the AUW library, so students can access them freely anytime. As none of our students have been able to visit Japan as of yet, they really love the chance to see any kind of "hon mono" firsthand. One Tokyo friend in particular also sent a variety of delicious Japanese candies, which were a big hit with the students! We are still interested in receiving any other items from Japan, if anyone would like to donate. Additionally, the students performed a number of Japanese songs (in Japanese) and dances for our recent Lunar New Year Festival. We hope to develop exchange partnerships with AUW and universities in Japan, in order to offer study abroad opportunities in both directions. Interestingly, at least one AUW alumna is now studying in Japan, earning her Master's degree at the United Nations University (UNU) in Tokyo!
Lastly, there is a very robust level of support for AUW in Tokyo. As part of the global support network for AUW students, a number of highly-accomplished and very influential donors make up the "Friends of AUW Japan" organization. Among them is Ms. Kathy Matsui,Vice Chair of Goldman Sachs Japan,who has a long and deep connection to AUW. In 2007, she was chosen by the Wall Street Journal newspaper as one of the "10 Women to Watch in Asia" for her work on the "Womenomics" theme, and serves as a board member of the AUW Support Foundation. Ms. Matsui and her husband, Mr. Jesper Koll, have been major donors to AUW since its inception, and they continue to look for ways to promote exchange between AUW and Japanese universities and companies. In addition, First Lady Akie Abe serves as an official Patron of AUW and has been actively involved with a number of fundraising efforts on behalf of the university in Tokyo over the past few years. Lastly, AUW has enjoyed very generous support through the past several years from a number of Japanese companies like HITACHI, MITSUI & CO., TOSHIBA CORPORATION, and UNIQLO.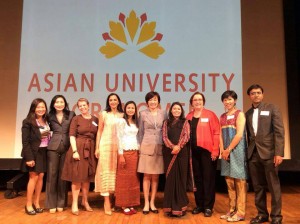 First Lady Akie Abe (center) and Ms. Kathy Matsui (second from right)
In conclusion, I would say my time here in Bangladesh has been a wonderful journey thus far. In many ways, it's a completely new (and sometimes bumpy) experience for me, living in South Asia and in a developing, Muslim-majority country for the first time. Culturally, it's much different than what I was used to, but that's been a good opportunity to broaden my own horizons and question my preconceived notions about life as well. My students in the Pathways for Promise Program specifically, and AUW students in general, have taught me so much and really inspired me through their own energy, resilience, and desire to learn. As a nice coincidence, this latest chapter in my career also brings me back to teaching and to Japan in many ways. I am happy to have so many "natsukashii" moments here, to help teach these remarkable young women, and also to be in a position to try and advance the relationships between people in Bangladesh and Japan. In some ways, it's the most unexpected yet personally satisfying addition to my time here at AUW. I'm happy to make the most of all these fortuitous connections during my time here in Bangladesh and beyond.
=================================================================================
Mark Flanigan is currently a WorldTeach Fellow volunteer in Chittagong, Bangladesh, at the Asian University for Women (AUW). Mark served as an ALT in Nagasaki Prefecture from 2000-4, and later studied for his MA in Peace Studies as a Rotary Peace Fellow at the International Christian University (ICU) in Tokyo from 2010-12. After graduating from ICU in 2012, he spent four years working for the Japan ICU Foundation in NYC. He has also held leadership roles in the JET Alumni Associations of both New York and Washington, DC. He can be reached at markinmitaka(at)gmail.com
By JQ magazine editor Justin Tedaldi (CIR Kobe-shi, 2001-02). Justin has written about Japanese arts and entertainment for JETAA since 2005. For more of his articles, click here.
Start 2017 off right by heading down to your local concert hall, cinema, or arts center for some fantastic new year's fare. Whether you enjoy movies, travel, or orchestral performances classic video games, treat yourself and catch a break from the cold.
This month's highlights include:
Now playing through Jan. 5
IFC Center, 323 Sixth Avenue
$15 
New 4K restoration! Rarely seen outside of Japan, Ocean Waves is a subtle, poignant and wonderfully detailed story of adolescence and teenage isolation. Taku and his best friend Yutaka are headed back to school for what looks like another uneventful year. But they soon find their friendship tested by the arrival of Rikako, a beautiful new transfer student from Tokyo whose attitude vacillates wildly from flirty and flippant to melancholic. When Taku joins Rikako on a trip to Tokyo, the school erupts with rumors, and the three friends are forced to come to terms with their changing relationships. As the first Studio Ghibli film directed by someone other than studio founders Hayao Miyazaki and Isao Takahata, these new screenings of Ocean Waves are paired with Ghiblies: Episode 2, a unique 25-minute short film from Studio Ghibli, featuring several comedic vignettes of studio staff as they go about their day. Utilizing new animation techniques and software that would then be deployed on the production of My Neighbors the Yamadas, Ghiblies: Episode 2 made its North American debut in December 2016. Presented in Japanese with English subtitles.
January 5 & 9, 7:00 p.m.
Princess Mononoke: 20th Anniversary
AMC Empire 25, 234 West 42nd Street
$15.99
A two-night event! Princess Mononoke, the classic animated film from groundbreaking writer/director Hayao Miyazaki and the legendary Studio Ghibli, returns to movie theaters in celebration of the beloved historical fantasy's 20th anniversary and director Miyazaki's birthday. The first Studio Ghibli film to receive an uncut U.S. theatrical release, Princess Mononoke returns to cinemas subtitled on Jan. 5 at 7:00 p.m. and English-dubbed on Jan. 9 at 7:00 p.m. The celebration will include a special bonus screening of the music video directed by Hayao Miyazaki, Chage and Aska's "On Your Mark"!
Jan. 5-9
The Public: Martinson Hall, 425 Lafayette Street
$25, $20 members
Part of the 2017 Under the Radar Festival! Tokyo, 1937: An American silent film about a Japanese immigrant is introduced by a celebrated narrator whose existence is being threatened by the impending arrival of the talkies. Ten years later, he will survive under U.S. occupation as a street performer, desperately attempting to finish this story. Admiration and resistance, dreams and survival, Club Diamond is a modern take on the immigration tale. Its creators are Nikki Appino, an award-winning filmmaker, Saori Tsukada, who has been described as a "charismatic mover" (Backstage) and a "startlingly precise dancer" (The New York Times), and has been developed in collaboration with violinist Tim Fain.
By Rashaad Jorden (Yamagata-ken, 2008-10) for JQ magazine. A former head of the JETAA Philadelphia Sub-Chapter, Rashaad is a graduate of Leeds Beckett University with a master's degree in responsible tourism management. For more on his life abroad and enthusiasm for taiko drumming, visit his blog at www.gettingpounded.wordpress.com.
You may remember being treated to "What I did during my summer vacation" tales in elementary school. Well, Christine Mari Inzer spent a memorable summer vacation visiting family in Japan and she documents those travels in a largely visual journey entitled Diary of a Tokyo Teen.
Originally published independently in 2014, this updated, expanded edition is in gorgeous full color and includes over 20 new comics and photos in a large-size format (7.5" x 10") — all at a very affordable price.
The spirited daughter of a Japanese mother and American father, Inzer describes herself as being half at home in the United States and half at home in Japan, and summarizes her travels through a collection of photos, illustrations (all self-drawn), and anecdotes. Geared toward young adults (the author is currently a student at the University of Richmond), Inzer details the ups and downs of travel while humorously detailing some moments of aggravation, such as her frustration with the shyness of Japanese boys.
Author/advocate Suzanne Kamata's (Tokushima, '88-'90) unpublished memoir Squeaky Wheels: Travels with my Daughter by Plane, Train, Boat, Tuk-tuk, Metro and Wheelchair has been named a finalist for the initial  Half the World Global Literati Award.
Sponsored by Half the World Holdings, a woman-focused investment platform, this award intends to recognize an original story, screenplay, memoir, or novel featuring one or more female protagonists as the central character, and offering "a fresh perspective on the challenges and joys of women's lives."
According to research by Nicola Griffith, most major literary prizes over the past fifteen years have been awarded to works that did not have a woman at the heart of the story. This award will attempt to balance the equation. An international panel will determine the winner of the $US50,000 prize, however, anyone can vote for the People's Choice Award until July 23. Here's a link.
Here is a brief synopsis of Squeaky Wheels:
My thirteen-year-old daughter Lilia can't walk, but she wants to travel the world. Born fourteen weeks premature, Lilia is deaf and affected by cerebral palsy. Her primary language is Japanese Sign Language, and she uses a wheelchair to get around. At the Tokushima School for the Deaf, Tokushima, Japan, which she has attended in one capacity or another since she was about two years old, she is on the special ed track, which doesn't include English and social studies. Even so, she is wildly curious about other countries and interested in learning her mother's native tongue. When she told me that she wanted to go to Paris, I vowed to find a way even though I didn't have a full-time job. In SQUEAKY WHEELS, I write about my effort to open up the world at large to my daughter as her own world seems to be shrinking. As she becomes heavier and less portable in this country short of wheelchair ramps, her accessibility has decreased. However, we attempt to confront and overcome at least some of the challenges of traveling with a wheelchair. Among other things, I write about our mother-daughter trips to the art island of Naoshima in Japan's inland sea where we sleep in a museum; to Paris – including our arguments about what to pack and what to wear, Lilia's response to the art and food and sights of the city, accessibility to the Eiffel Tower; and to the United States where we explore the caves of Tennessee and the monuments of Washington, DC. At the same time, I struggle to overcome my fears for the future and revise my hopes and dreams for my daughter
Mel T (Aomori-ken, 2007-2012) is a Canadian living and working in Towada City, Aomori. For more information about events, sightseeing, restaurants, etc. in Towada City, and around Aomori Prefecture & Japan, visit her blog at http://towada-city.blogspot.com.
Every August, fireworks masters from across Japan compete in an impressive music and pyrotechnics show at the All-Japan National Fireworks Competition (Omagari Fireworks) along the Omono River in Daisen City, Akita Prefecture. This year marks the 90th anniversary of the event. Click HERE to read MORE.