Aug
30

Art, Translating/Interpreting, Travel/Tourism, Uncategorized, WIT Life

Comments Off

on WIT Life #373: Discovering Isamu Noguchi in Philly
Writer/Interpreter/Translator Stacy Smith (Kumamoto-ken CIR, 2000-03) presents WIT Life, a periodic series about aspects of Japanese culture such as art, film, food and language. Stacy starts her day by watching Fujisankei's newscast in Japanese, and here she offers some interesting tidbits and trends along with her own observations.
I've been on the road for the majority of this month interpreting for the Department of State's International Visitor Leadership Program. I'm traveling with a six-person group from Japan here in the U.S. to study technology transfer and commercialization of biotechnology. Our three-week journey is an East Coast tour that has taken us from Washington D.C. to Boston and Philadelphia, followed by our current final stop of Orlando (where we were almost derailed by Hurricane Idalia!).
During our time in Philly, I was delighted to discover a previously unknown Isamu Noguchi sculpture. Philly has a robust public art program, including a wide variety of murals all throughout the city. This Noguchi work called A Bolt of Lightening refers to Benjamin Franklin's famous experiment flying a kite in an electrical storm. It rises above what seemed to be a construction site so at first I thought it was some sort of crane, but upon closer look it revealed itself to be a stainless steel structure supported by cables.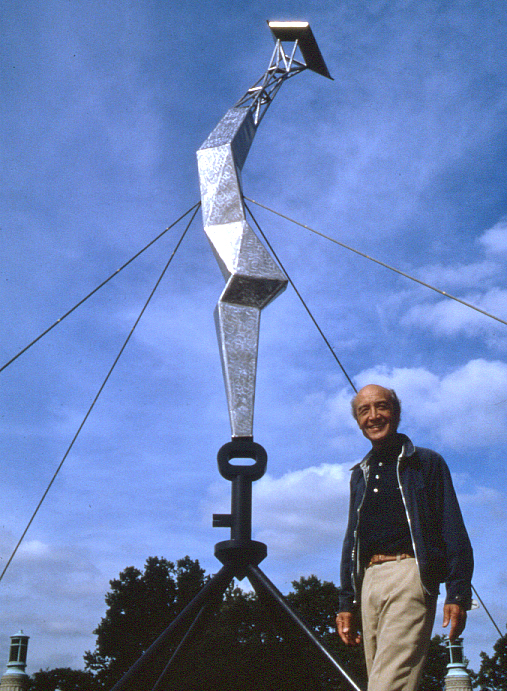 This sculpture is located at the base of the Benjamin Franklin Bridge, and it weighs 58 tons. It refers to the famous experiment in which Franklin flew a kite in an electrical storm, and was originally conceived in 1933. When the Philadelphia Museum of Art (of Rocky fame!) had a retrospective exhibition of Noguchi's work in 1979, his design drawings caught the attention of the park art association and the sculpture received new attention. It was installed in 1984, and Noguchi himself chose to place it in Monument Plaza at the base of the Benjamin Franklin Bridge.
And if you haven't had a chance to visit, make sure to check out New York's own Noguchi Museum in Long Island City. This Friday is September's Free First Friday, the first Friday of every month when museum admission is free (reservations are recommended and can be made two weeks in advance). It's one of my favorite spots in the city, and the stunning outdoor sculpture garden is a place of peace and contemplation.