By Eden Law (Fukushima-ken, 2010-11). After the JET Programme more than fulfilled its promise of "an experience of a lifetime," Eden returned to Sydney, Australia, where he joined the JETAA New South Wales chapter to take advantage of the network and connections available to undertake projects such as an uchiwa design competition for the Sydney Japan Festival. He also maintains the JETAANSW website and social media. Other than that, he's a web designer and a poet, gentlemen and raconteur.
One of the best things about being a member of JETAA is the community, and over the weekend of 15-17 of November, the Oceania community of JETAA got together for our annual antipodean regional conference. For those of you up north who don't know, JETAA Oceania comprises of five Australian chapters (the state chapters of Queensland, New South Wales, Canberra, the uber-chapter of South Australia-Victoria-Tasmania, Western Australia) and three New Zealand chapters (South Island, Auckland and Wellington). Representatives from Sydney's CLAIR office (Tsuyoshi Ito, Hiromi Hakuta and Julien Ansart) attended as observers of the proceedings. This year, JETAA Queensland played host in Brisbane, the northern capital that looks to Asia and is close to the Gold Coast, a favoured destination for young Japanese looking for sun, surf and sand. Appropriately, we had our first lunch meet on Friday at MOS Burger, the famous Japanese fast food chain whose only non-Asian presence internationally is right in Brisbane.
JETAA Oceania was invited to attend the Welcome Back Reception for returning JETs at the Japanese Consul General's home in Brisbane on the Friday night, a chance of course for us to network and hobnob with the cream of Brisbane's Japanese cultural community. And after the reception finished (early, predictably), JETAA kicked on in town for a night out (hint: it'll always involve karaoke—usually lots of obscure Japanese songs sung by that one quiet serious person who turns into a blurry, hip-thrusting maniac).
The first day of the conference began on Saturday, early (for some, too early) at our hotel and Laura Tasharofi, president of JETAA Qld, began proceedings by explaining the theme of this year: Australia-Japan sister-city relationships. As explained by Hakuta-san, of all countries, Japan has the most links in Oceania, with 108 sister city relationships in Australia and 44 in New Zealand. Therefore, the potential for JETAA to get involved is great, and the conference's objective is to find ways to participate and be more prominent in our local communities. To start discussions and provide ideas and examples, two guest speakers, Ross Humphreys and Barry Hancock, were invited who are respected members of the Brisbane community and its influential sister city relationships.
Thanks to JETAA Singapore's Nathalie Ng for sharing this update, originally written by Shane Wong:
JETAA Singapore had a simple but fun welcome back reception for recent returnees of the JET Programme on 26 Oct 2013 at the Minds Café Funan Centre. Opened to all members and friends, the event was also attended by staff of the Embassy of Japan in Singapore and CLAIR Singapore.
After a brief round of introduction, smaller groups were formed where the chatter continued over games, free-flow drinks and snacks. It was a good time for members to reminiscence their time on the JET Programme with the recent returnees sharing their experiences working and living in Japan.
Congratulations on successfully completing your stint on the Programme, and welcome home!
And thank you, Akita, Aomori, Miyagi, Shimane, and Tottori for hosting and sharing your cultures with our JETs. We hope, as always, that this would be the beginning of closer ties between Japan and Singapore.
By Yeu-Li Huang (Yamanashi-ken, 2007-2010) for JQ magazine. Yeu-Li is the current chapter secretary of the JET Alumni Association of the Southeast (JETAASE).
MINNEAPOLIS, Minn. – The JET Alumni Association of Minnesota (JETAAMN) hosted this year's USA National Conference from Sept. 26-29 with assistance from the Ministry of Foreign Affairs (MOFA) and the Council of Local Authorities for International Relations (CLAIR). Attendees included delegates from all 19 JETAA USA chapters, as well as representatives from CLAIR, MOFA, and the Consulate General of Japan at Chicago.
Each national conference spotlights particular challenges facing the JETAA community. This year was no different, as critical topics included continuation of the JETAA national initiatives, common issues facing JETAA chapters, membership outreach, and collaboration between JETAA chapters and other Japan-related organizations.
Thursday, Sept. 26
The conference got underway with an evening reception at the restaurant Crave, featuring former Vice President of the United States Walter Mondale as a special guest. A native Minnesotan, Mondale was also the U.S. ambassador to Japan from 1993-96. In his speech, Mr. Mondale praised the work that the JET Program has done in building personal relationships between Japan and the U.S., and called for "JETers" to continue fostering those ties.
Thanks to JETAA Singapore's Eugene Neubronner (Hiroshima-ken, 2010-12) for sharing this great update:
"This is Eugene Neubronner from the JETAA Singapore Chapter committee. We recently had our own Natsu Matsuri and we've finally gotten around to posting up pics and a writeup.  Would love it if you guys could feature it and link to it as we're always looking for more people to come on down who are ex- and interested JETs!"
Natsu Matsuri 2013
Back in August, Singaporeans, Japanese and everyone else came together to enjoy one of Japan's favorite events during summer, the Natsu Matsuri. While it is unfortunate that Singapore has a very controlled use of fireworks and firecrackers, that didn't mean we couldn't have any fun. JETAA Singapore members were out in force as well, with our own booth to drum up interest in the JET Programme.
JETAA Singapore's booth was a collective grab bag of games and information on the JET Programme, and saw a surprisingly strong interest that threatened to overwhelm our members and committee staff on hand. Many clamored for the Japanese games we had – including a haiku contest, match-the-word and more – but others were also interested to find out more about the JET Programme, something our ex-JET members were more than happy to talk about. Here's to hoping more people apply and discover the joys of living and teaching in Japan!
Held at the Japanese Primary School in Singapore's Changi, the annual event sees thousands of people attending – many dressed in their own yukata. The 2013 Natsu Matsuri was the 26th to be organized by The Japanese Association of Singapore. It features dozens of stalls hawking traditional Natsu Matsuri food, games and a massive stage for performances throughout the evening culminating in a Bon Odori dance everyone's invited to join in on.
If you happen to be living in Singapore and is an ex-JET (Singaporean or otherwise) who's somehow not on our list, do reach out to us! We'd love to get to know more of you. JETAA Singapore holds regular events and meet-ups. Do email us at secretaryjetaasingapore [at] gmail [dot] com.
お疲れさまでした〜
Click here for the full post and to see more photos from the event: http://jetaasg.wordpress.com/2013/10/18/natsu-matsuri-2013/
Posted by Eden Law of JETAA New South Wales:

To help promote the Japan Festival 2013 happening in Sydney on December 14, we folks at the JETAA New South Wales chapter have hit upon the idea of running an uchiwa design competition. As the Japan Festival takes place at the height of the Australian summer, an uchiwa seemed a logical choice as one of the cultural icons of Japan. Competitors are invited to submit a design that will decorate a thousand uchiwa, or traditional Japanese rigid fans, which will be handed out to help visitors to the festival stay cool and look cool. Some additional prizes may also be announced at a later date.
It's been an idea that's been percolating for a while, which we've able to realise thanks to the support and funding of the Sydney Japanese consulate. Part of the planning required sorting out our funding and locating a printer in Japan – anyone who's ever been in Japan during summer would have noticed the masses of these uchiwa printed in their thousands by companies to promote and advertise everything from business services, new products to idol concerts and movies. If successful, we hope to run it next year again, and hope that it will become our unique stamp on the festival.
The competition site can be viewed at www.jetaansw.org/uchiwa-comp-page/, and runs until November 3rd 2013. Winner will be announced on our website, Facebook group (as well as the festival page) and Twitter.
Via JETAA UK. Posted by Kim 'Kay'  Monroe (Miyazaki-shi, 1995 -97). Click here to join the JETwit Jobs Google Group and receive job listings even sooner by email.
————————————————————————————————————
USING JAPANESE SKILLS IN TODAY'S BUSINESS WORLD

The JET Alumni Association and Robert Walters take great pleasure in inviting you to the first in a series of Japan-UK career seminars to assist you in translating your commercial experience from Japan to the UK.

The seminar will be presented by a range of Japanese and British business leaders including entrepreneurs, finance, consumer, trading and government professionals.

DATE: Tuesday 12th November

TIME: 6:30 – 8:30pm

AUDIENCE: JET Returnees, Japanese and multinational professionals working in Japan-related roles

FORMAT: Presentations and panel discussion followed by drinks and networking

LOCATION: Robert Walters London, 11 Slingsby Place, St Martin's Courtyard, London WC2E 9AB

RSVP: Spaces are limited so please register your interest by emailing: careers@jetaa.org.uk

Thank you

Sarah Parsons

JETAA UK Careers and Networking Coordinator
Don't miss out on any emails from JETAA UK – add
events@jetaa.org.uk
to your address book or safe list. You are registered on the JETAA UK website with the email address stevenwaseda@jetwit.com. To unsubscribe, login to your account at
www.jetaa.org.uk
, click on "My Profile" and update the "Receive JETAA mailshots" field.
Originally posted by Eden Law to the JETAA Oceania FB group:
Recently the JETAA Canberra chapter in Australia unveiled a new-look site as well as starting up a Facebook group, joining the rest of the JETAA Oceania chapters online. While it may have been a long time in coming, the JETAA Oceania chapters had a long-term strategic plan to increase their presence and outreach through the use of social media, formulated in the 2011 regional conference on the topic.
For an Antipodean (i.e. Down Under) point of view, you might like to look at what the southern JETAA chapters have been up to:
As we head into fall, JETAA New York's JQ magazine continues to provide content with an ever-expanding array of articles, interviews and features (see our recent stories here). We're now looking for new writers, including recent returnees and JET vets, from all JETAA chapters worldwide for posting stories via our host at the global JET alumni resource site JETwit.com. (Scribes are also encouraged to join the JET Alumni Writers group on LinkedIn.)
Below are story ideas grouped by JET participants and alumni (JET World) and those more on Japanese culture (Japan World). And if you're a JET or JETWit contributor from anywhere in the world with a story idea of your own, let us know!
Click "Read More" below for our fall 2013 ideas pitch package, and contact JQ editor Justin Tedaldi (magazine [at] jetaany [dot] org) to sign up for stories.
Now, JQ is looking for additional help behind the scenes! Our editor (celebrating his fifth anniversary at the helm in November) is seeking a capable assistant to help with the posting, social media sharing and story assigning across all JETAA chapters. If you're a wiz with WordPress, Facebook and Twitter, and enjoy all forms of Japanese arts, events and media, reach out to Justin. Thanks and yoroshiku!

Thanks to former AJET Chair Matthew Cook (Osaka-fu, 2007-12) for sharing the good news.  Great to see the JET alumni community expanding!
For more info about Kansai JET Alumni, see below:
Via the JETAA New South Wales (Australia) website:  http://www.jetaansw.org/jets-recognised-in-award/
The work and support by members and participants of the JET Programme and JETAA chapters for the revitalisation of Tohoku after the 2011 earthquake, was formally recognised in an award presentation at the 2013 CLAIR Sister Cities Forum.
Presented by Alderman William (Bill) Willson, President of Sister Cities Australia, the award was received by Ben Trumbell, president of the NSW chapter of JETAA. It was given in the presence of Ms Yoko Kimura, Chairperson of the Board of Directors of CLAIR (Council of Local Authorities for International Relations) and Dr Masahiro Kohara, Consul-General of Japan in Sydney.
"The award was presented to me as the closest president representative of JETAA. In my acceptance speech I outlined the importance of the JET Programme and the number of participants and members of JETAA, along with our objectives and a summary of our activities," Ben said. "Australia has been fantastic in their response to the events in Tohoku. The Victorian JETAA chapter for example did fantastic work with the Big Bento Lunch initiative which raised more than $15,000 across our chapters." The NSW chapter's achievements should also be noted for raising awareness, starting with an exhibition of Fukushima school children's letters at the 2011 Sydney Japan Festival, which lead to the visit of Councillor Alan de Surf of a junior high school in the city of Iwaki, Fukushima.
The 2013 CLAIR Sister Cities Forum marked the 50th Anniversary of the sister city relationship between Lismore, NSW and Yamato Takada in Nara, Japan. This was the first ever sister city relationship between Australia and Japan and was instrumental in initiating the close post-war relationship that exists between the two countries today, thanks to the efforts of Father Paul Glynn who began the first efforts in forging this link.
The subject of sister cities will continued to be explored by JETAA in the annual JETAA conference to be held later this year in Brisbane. Ben states that he hopes to share ideas and case studies including the Lismore-Yamato Takada story at the conference, as well as looking forward to sharing the award with the other chapters and presenting the certificate to the Australian country representative.
What's going on with JETAA chapters in the US?  Below is the latest Quarterly Report from the JETAA USA Country Representatives:
Dear JETAA USA Chapter Officers,
Our Q1 CR quarterly report for 2013-2014 is now available here (and also posted below). Please note this report may seem a bit dated as it covers April-June of this year. The Q1 report includes updates on the CR elections, the JETAA USA Institutional Capacity Project, the 2013 National Conference, the 2014 Regional Conference, and tech updates. You can read previous CR reports here on jetaausa.com.
Thanks!
Christina
****************************** *****

Here's a link to the latest JETAA DC Newsletter post.  (It used to be a PDF newsletter, but now it's set up as a blog post.  Very nice!)
http://jetaadc.org/august-jetaadc-news/
In This Edition of JETAA DC News: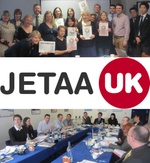 Via the extremely wonderful JETAA UK website:
JETAA UK is keen to find new ways to help returning JETs with their job search if/when they return to the UK. One popular idea is to set up a mentoring scheme to link returning JETs with other ex-JETs that have already established their careers in the UK.
We are looking for mentors from various working sectors with (in principle) five years work experience post-JET. This is a chance for you to build your leadership skills while giving back to the JET community. Please, please get involved, and pass this on to other ex-JET friends that might be interested.
For possible mentors:
You can sign up to the scheme here:
***Please note your personal information will not be used for any purpose other than the administration of the Mentor Program.***
For returning JETs:
We have a separate sign up sheet for you here:
The deadline for mentor sign-ups is August 30th, 2013. We plan to assign mentors and mentees within two weeks of that date.
*****Also from the JETAA UK website**********
JETAA UK wants to support JETs with their post-JET careers and provide nationwide professional networking opportunities and JET connect events for its members. In order to do this, we want to know what professional and regional areas you would be interested in and whether you would be willing to help out in any way.
Please fill in this quick questionnaire to help us help you!
https://docs.google.com/forms/d/1-Noev_dsw9Q-NeDAcxQPIOJgf_3QsVTUTP02idrQLmc/viewform
Contact Sarah Parsons, National Careers and Networking Coordinator for more info. on careers@jetaa.org.uk.
Posted by Eden Law to the JETAA New South Wales (formerly JETAA Sydney) Facebook group:
So, at long last, we've redesigned our website, and it comes with a brand-spanking new URL: www.jetaansw.org (it was www.sydneyjetaa.org before). There will be a lot of cross-promotion and sharing of information between our Facebook Group and our website, including some content that's exclusive only to either.
We'd love to hear what you think and suggestions about what you'd like to see in the future. Thanks!

Remember the job listing for  the Part-time Project Director with the US-Japan Bridging Foundation (USJBF) to support JETAA USA growth?  The USJBF has announced that it has selected Laurel Lukaszewski (ALT Kagoshima-ken, 1990-92) for the position for its new initiative "Strengthening the JETAA Network and Connecting Next Generation Leaders."
Shojiki ni itte, it's hard to imagine anyone better suited for the role.  Laurel has maintained a strong connection with Japan and the Japan-US community since here time on the JET Program by previously serving on the Board of Directors for the National Association of Japan-America Societies (NAJAS), as the Executive Director for the Japan-America Society of Washington, D.C, and as a Program Director of the Japan-America Society in Seattle.  She currently lives in Washington, D.C. where she actively participates on the Board of the National Cherry Blossom Festival and JETAADC.  You can see her in this panel discussion with fellow JET alums Jim Gannon (Ehime-ken, 1992-94) and Anthony Bianchi (Aichi-ken, Inuyama-shi, 1988-89) from the 2011 JETAA National Conference in D.C.
Laurel (who is also a sculptor–see her work here) officially started working Tuesday, July 9.  Here is the official announcement from the USJBF:
July 11, 2013

The U.S.-Japan Bridging Foundation (USJBF), is pleased to announce that Laurel Lukaszewski has been hired as Project Director for its new initiative "Strengthening the JETAA Network and Connecting Next Generation Leaders." Funded by the Japan Foundation Center for Global Partnership (CGP), the purpose of the project is to build infrastructure in support of the Japan-Exchange and Teaching Program Alumni Association, United States of America (JETAA USA) and enhance its impact promoting U.S.-Japan relations.

Laurel is an alumna of the JET Programme (Kagoshima-ken, 1990-1992) and has a solid understanding of U.S.-Japan relations, the U.S.-Japan community and how nonprofit and membership organizations are governed and run. After completing the JET Programme and receiving an M.A. in Asian Studies, Laurel embarked on a nine-year career with the Japan-America Societies in Seattle and Washington, D.C.. In 2005, Laurel left her position as ED of the JASW to pursue a career as an artist. She has maintained her ties to the JET Programme and U.S.-Japan community by serving as an active member of the JET Application Review and Interview committees for over thirteen years. Laurel served on the Board of Directors of the National Association of Japan America Societies (NAJAS), and has been on the National Cherry Blossom Festival Board of Directors since 2002. Paige Cottingham-Streater, Executive Director of the U.S.-Japan Bridging Foundation said, "Laurel is a valuable addition to our team and will bring a unique understanding about the JET community and its potential to promote a strong U.S.-Japan relationship."

The U.S.-Japan Bridging Foundation, a 501(c)(3) nonprofit organization, awards scholarships to U.S. undergraduate students to study for one semester or academic year in Japan. The Foundation grows global leaders to help prepare America's young people to assume future leadership roles in business, education, international and public affairs and other professions.

URL:  http://www.bridgingfoundation.org/news/new-project-director-to-facilitate-jetaa-capacity-building