WIT Life is a periodic series written by professional Writer/Interpreter/Translator Stacy Smith (Kumamoto-ken CIR, 2000-03). She starts her day by watching Fujisankei's newscast in Japanese, and here she shares some of the interesting tidbits and trends together with her own observations.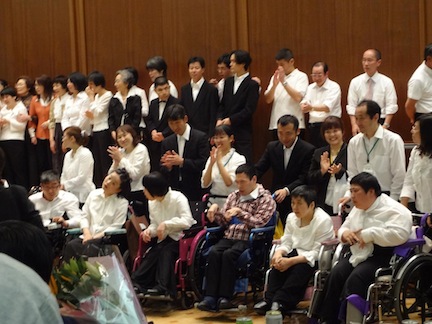 Last night I saw a concert at Carnegie Hall given by the Hearts and Eyes Choir ( ゆきわりそう合唱団 or Yukiwariso gasshoudan).  This choir was established in 1990 by founder Hiroyo Ubayama, who was on hand to offer her greetings to the audience.  It is composed of members with physical and mental disabilities, and the origin of its name is because the choir "shares its dreams and expresses its joy with its hearts and eyes."  They travel the world performing with the motto "we will all be sisters and brothers."  This was their second time on stage at Carnegie Hall, following their debut performance back in 2000.
They were joined by local choral groups as well as featured singers, and the pieces chosen were Rhapsody for Orchestra, Four Seasons of Old Home and Beethoven's Symphony No. 9 in D Minor.  Happy Doll founder Nozomi Terao was the MC, and during intermission collections Read More
By Kirsten Phillips (Niigata-ken, 2005-2008) for JQ magazine. Kirsten is a native New Yorker and currently works as a teacher for the New York Board of Education.
Sakura matsuri season is upon us. For JET returnees, this time of year hearkens back to picnics with friends or students. Copious amounts of alcohol under the pink shower of blossoms and maneuvering through crowded lines of vendors celebrating the coming of spring. Sakura season also brings out the finest Japanese talent in New York and no event worth mentioning would be whole without the beating heart of COBU.
You haven't been following COBU around like a bloodhound? Shame on you. Don't even know what a COBU is? Double shame on you. Fortunately, oneesan is here to clue you in.
Spearheaded by artist and visionary Yako Miyamoto, COBU is more of a statement in taiko than a collaboration. We are heard. We are seen. We are felt. We are here. A handful of iron women play tirelessly in perfect sync. A little humor, an appropriate smattering of sexy and a metric ton of showmanship make COBU a delight for audiences across the tri-state area.
This year's Branch Brook Park performance in New Jersey was a staggering hit by COBU, showcasing the talent of their following, or deshi. Upstage, COBU performing members Micro Fukuyama and Haruna Hisada kept time and loudly cheered on the fledgling members as they demonstrated some of COBU'S trademark choreography and pulsing patterns. If you have ever witnessed a COBU show before, it's easy to become dazzled by the performing members, but this showcase invited audiences to the notion that, hey, they can be a part of this rhythm, too.
Just learned about a talented JET alum musician via the Pacific Northwest JETAA Facebook group–boogie woogie and blues piano player Arthur Migliazza.  Have a look and a listen:
By JQ magazine editor Justin Tedaldi (CIR Kobe-shi, 2001-02) for Examiner.com. Visit his Japanese culture page here for related stories.
Tucked between Oscar and cherry blossom season, March offers an unmissable array of concerts, performances and film premieres, along with a special gathering to mark the two-year anniversary of the Tohoku earthquake and tsunami.
This month's highlights include:
Sunday, March 3, 6:45 p.m.
Exploring the Road of Shamisen – Koto Workshop and Concert
Still Mind Zendo, 37 West 17th Street
$15 advance, $18 at the door
For reservations, email contact[at]marcreation.com or call 917-400-9362
In the latest workshop of the Spring Traditional Japanese Musical Instrument Series, shamisen specialist Yoko Reikano Kimura will demonstrate the vast 400 years of shamisen repertoire and explore the infinite possibilities of the instrument. Shamisen was brought to Japan through the Silk Road and since then it was popularized among samurai to ordinary citizens. But in today's cosmopolitan age, new shamisen music continues to thrive.
March 6-9
The Bach Variations: Bach and Mendelssohn
Avery Fisher Hall, 10 Lincoln Center Plaza
$41-$123
In its first-ever Bach Festival, a kaleidoscopic three-week celebration of the depth and breadth the man the New York Times named the greatest composer of all time, Kobe-born conductor and harpsichordist Masaaki Suzuki leads five vocalists along with his own Bach Colleguim Japan and Yale Schola Cantorum with his own unique approach, combining his perspective with the virtuosity of the New York Philharmonic. On the program are Bach's "Motet No. 1: Singet dem Herrn" and "Magnificat," along with Mendelssohn's :Magnificat in D Major" and "Christus."
March 9-June 9
Edo Pop: The Graphic Impact of Japanese Prints
Japan Society, 333 East 47th Street
$12 general admission, $10 students and seniors, Japan Society members and children under 16 free
Edo Pop playfully juxtaposes classic ukiyo-e prints from such masters as Katsushika Hokusai and Utagawa Hiroshige with contemporary works inspired by these artists and their works. Delve into alluring worlds created by the power of Edo period and contemporary popular culture in which change is the only constant. Organized by the Minneapolis Institute of Arts, with the contemporary art selections curated for the New York presentation by Miwako Tezuka, Ph.D., Director, Japan Society Gallery.
For the complete story, click here.
By JQ magazine editor Justin Tedaldi (CIR Kobe-shi, 2001-02) for Examiner.com. Visit his Japanese culture page here for related stories.
Japan Society swings into the new year with two nights of its upcoming 15th Contemporary Dance Showcase: Japan + East Asia showcase from Jan. 11-12. This year's program features four North American premieres.
Since the inception of the Performing Arts Program in 1953, Japan Society has introduced more than 600 of Japan's finest performing arts to an extensive American audience. The program also commissions new works to non-Japanese artists, produces national tours, organizes residency programs for American and Japanese artists and develops and distributes educational programs. Originally America's leading platform for the introduction of Japanese choreographers and companies, the Dance Showcase has expanded to include artists and works of international acclaim from the broader East Asian region.
From Tokyo comes the U.S. premiere of post-post-post butoh Misshitsu: Secret Honey Room – Duo Version, created and performed collaboratively by Makotocluv founder Makoto Enda and former Dairakudakan dancer Kumotaro Mukai, following a world premiere at Setagaya Public Theatre/Theatre Tram in Tokyo in August 2012. Formed in 2001, Makotocluv appeared at Japan Society in 2008 and was hailed by the New York Times as "wonderfully fluent in the language of the theater." Misshitsu: Secret Honey Room marks Mukai and Enda's first collaboration in 15 years.
For the complete story, click here.
By Preston Hatfield (Yamanashi-ken, 2009-10) for JQ magazine. Preston moved from San Francisco to New York City in January 2012 and is now accepting submissions from people who want to be his friend. Abduct him from his house in the middle of the night, or find him on Facebook and ask about his JET blog in which he details his exploits and misadventures in that crazy Land of the Rising Sun we all love.
If life is one ongoing adventure and each day is its own side quest, then on several days ago the already labyrinthine halls beneath Madison Square Garden were not those of a theater but a dungeon, and the spirited host of attendees was nothing short of raiders in pursuit of plunder. Their coveted treasure on this magical evening was The Legend of Zelda: Symphony of the Goddesses from Jason Michael Paul Productions. Wielding the baton like her own personal Master Sword (or, as was the case at the onset of the Wind Waker movement, an actual replica of the Wind Waker), conductor Eimear Noone led the Orchestra of St. Luke's into an epic musical campaign that toured across Hyrule and the 16 games in Zelda's renowned platform, which is currently celebrating 25 years since its American debut on the original 8-bit Nintendo Entertainment System.
The evening commenced with a rousing overture in the form of "The Legend of Zelda Medley" before embarking a four-part movement that began with the crowd favorite Ocarina of Time, and concluded with A Link to the Past, the game where many of the now iconic Zelda themes first premiered. Each movement in this symphonic journey—this tour de Triforce, if you will—began at the beginning of each game and proceeded to tell the familiar tales of heroism and mystic wonder, transitioning almost fairylike from one key moment to the next, as large screens over the orchestra showed in-game footage for context and intermittently focused on soloists and the choir.
The visuals repeatedly drew boisterous approval from an audience that was all too willing to voice their appreciation, which included tunic-wearing fans with swords and shields, some dressed in gala finery, and a few who were, appropriately enough, an interesting mash-up of the two. If ever there was a video game that welcomed, and indeed, demanded audience participation, Zelda presents a strong case.  Creative lead and show emcee Jeron Moore revealed in a recent YouTube interview that Zelda is one of those franchises where the main character, Link, has no voice, which lends more ownership of his heroics to the player who is, in essence, linked into the game world through the character he or she is directing. Not only that, the absence of spoken dialogue in the game makes the role of music in Zelda games all the more important.
It must be said that this concert transcends a mere performance of video game music, even music as highbrow and technically intricate as Zelda is. Each movement was arranged and fitted together in such a way that the music itself became a wordless narrative for a story, the flow of which was not unlike playing a Zelda game: now adventuresome and whimsical, now dark and dire, now uplifting and celebratory. The Zelda scores, which are an irreplaceable cornerstone and testament to composer Koji Kondo's musical genius, evoke deep feelings of nostalgia and personal memories from anyone who has played the games. I, for one, remember staying at a friend's house and gaming until dawn trying to finally beat A Link to the Past. Sitting in my seat, I was suddenly in third grade again and had just sunk that last arrow into Ganon's big stupid head, and all was right with the world. Looking around at various points in the show, it was apparent that other people were reliving similar moments. Such is the profound effect that great music, great games, and great stories have on us, and their worth should never be undervalued.
Although not all the greatest hits from every game could be included in this modest two-hour performance replete with not two but three encores, the audience's thirst was slaked, and their expectations for the show seemed to be outright exceeded. This was a concert in which its quality was greater than the sum of its parts. Yes, the musicians performed masterfully, each handling their respective instruments with the same deft skill as Link using his boomerang and grappling hook, and yes, the game footage was engaging and synched with the music to elevate the audience's enjoyment, but there was also so much attention paid to the nuance, so much consideration given to the fans, that the show became a kind of homage to both the franchise's legacy and to every avid gamer whose collective fealty raised Zelda into one of the highest echelons of video game lore.
Symphony of the Goddesses has been touring across North America for the past year, and has succeeded brilliantly in fusing gaming culture with high art. The good news is you need not know the first thing about the games or symphonic music to enjoy yourself. The show is amazing in its own right, and your attendance at their upcoming performances is highly recommended. Come prepared to enjoy yourself and let Mr. Moore and Ms. Noone provide all the background information you might need. As someone whose father used to refer to my SNES as the "idiot machine," it is very heartwarming and vindictively satisfying to see video games increasingly receive due credit for their artistic, educational, and innovative merits. Zelda, for all its puzzles, unique boss fights, and other challenges, is one of our perennial favorites.
For JQ editor Justin Tedaldi's July 2012 interview with executive producer Jason Michael Paul on the tour, click here.
By Preston Hatfield (Yamanashi-ken, 2009-10) for JQ magazine. Preston moved from San Francisco to New York City in January 2012 and is now accepting submissions from people who want to be his friend. Abduct him from his house in the middle of the night, or find him on Facebook and ask about his JET blog in which he details his exploits and misadventures in that crazy Land of the Rising Sun we all love.
Multinational pop rockers Monkey Majik are teaming up with shamisen heroes the Yoshida Brothers, the duo known for their traditional sound and pluck, for a three-date North American tour that kicks off Nov. 14 at Manhattan's Marlin Room at Webster Hall, followed by the Mod Club in Toronto Nov. 18 and the National Arts Centre in Ottawa Nov. 20.
Monkey Majik was founded by Maynard Plant (Aomori-ken, 1997-2000), a native of Ottawa, Canada, while he was teaching English in Sendai on the JET Program. Known for a having a fun and versatile style of music, the band first earned mainstream attention in 2006 for their singles "Fly" and "Around the World," and have since collaborated with other Japanese groups like SEAMO, m-flo, Bennie K, and the Yoshida Brothers.
In this exclusive JQ interview, the versatile vocalist and guitarist discusses the band's origins, his own relationship with music, and his sense of home and community in Sendai, which is still recovering from the devastation caused by the 3/11 earthquake and tsunami.
Which came first: the love of music or Japanese culture, and how has the one influenced and supported the other since you came to Japan?
I probably first took interest in Japan when I was about 10 years old or so when I visited Expo 86 in Vancouver, Canada. My interest in music also started at an early age. Most of my family is musical, so it always came natural. Certainly since arriving in Japan about 15 years ago, my musical interests have changed. The Japanese music scene is incredibly diverse and different from the Western scene. The sound is very unique and [it] has had a deep effect on our music.
It's funny, many ALTs in Japan feel like rock stars, but you actually became a rock star. What was it like going from small time notoriety and fame at your school, to becoming famous on a national level for your musicianship?
It didn't happen overnight, so I suppose I never took notice. It's a lot like learning Japanese—you don't just wake up fluent one day. Success is born out of hard work and commitment. Regardless of where you live, the same elements come into play.
How did the current band members come together? Were you friends before you started collaborating professionally? How have each of you influenced Monkey Majik's sound, style, and group dynamic?
I put the current band together after most of the original members quit in 2000. I first called my younger brother Blaise, and within a couple of months we found Tax (Kikuchi Takuya). It was around 2005 that our original bassist Misao Urushizaka quit. We then recruited Dick (Hideki Mori). It's difficult to say if the friendship came before membership, but one thing is certain now: we wouldn't be doing this if we hadn't become best friends. We have a lot of respect for each other and all [band] decisions are made together.
Courtesy of JETAA Northern California's Mark Frey (Kumamoto-ken, 2002-06):
In a new article by JET alum Roland Kelts (Osaka-shi, 1998-99) on Pete Townshend in The New Yorker, Kelts references his book Japanamerica—of which  Townshend said "I love that book!" to JQ magazine editor Justin Tedaldi  at an NYC signing yesterday for his new memoir Who I Am—at the end of the article and offers some thoughts contrasting the experience of artists in the U.K. and Japan after World War II.
I first met Pete Townshend fifteen years ago in a modest London hotel suite. I was there with my friend Larry David Smith to interview Townshend for Smith's book, "The Minstrel's Dilemma." We were already seated inside when I looked out the first-floor window and saw Townshend pulling into the parking lot.
He arrived alone, sans entourage or fanfare, driving himself in a gray Mercedes station wagon. Minutes later, the knob on the suite door rattled and shook. I stood, thinking that it might be a member of the hotel staff and wondering if I should turn the knob from our side. There was a pause, then more rattling, then the door swung open and Townshend burst through, eyes wide with exertion. He had apparently been trying to pull when he should have pushed.
We were scheduled to meet for two hours, but Townshend was unstoppable, regaling us not with stories of rock debauchery, but a stream of complex, sometimes half-formed ideas about popular culture, history, and human psychology. We were told not to ask him about his failing marriage; he immediately addressed it, confessing to a jolt of sadness while shaving that morning. "Don't mention Keith Moon," wrote his personal assistant via fax. "I never properly mourned for Keith," he soon said, unprompted, and through tears.
For the complete story, click here.
By JQ magazine editor Justin Tedaldi (CIR Kobe-shi, 2001-02) for Examiner.com. Visit his Japanese culture page here for related stories.
"You're not going to stand there the whole time, are you?" a thirtysomething asks me in Japanese from behind the photo pit barrier.
I tell her that I wouldn't be much of a rock photographer if I stood still the whole time.
"Good," she says, her face all business. "Because we lined up for this from yesterday morning. So please try to keep your head down, because it's in my way."
Her friend presses a slip of paper into my hand. "Give this to someone with the band—they know me," she purrs. On it is a name written in katakana followed by a phone number. The reverse reads the name of a nearby hotel.
Welcome to the Best Buy Theater in Manhattan, which drew a sold out Sunday crowd of over 2,000 on Sept. 30 for the New York concert debut of B'z, Japan's all-time biggest band. Since 1988, Tak Matsumoto and Koshi Inaba have sold over 80 million records, and hold an untouchable record for consecutive number one singles in their native land (46 and counting). A colossal achievement in music, to be sure, but how would the rockers be received on this, their first-ever coast to coast North American tour?
For the complete story, click here.
For Justin's September 2012 interview with Tak and Koshi, click here.
By JQ magazine editor Justin Tedaldi (CIR Kobe-shi, 2001-02) for Examiner.com. Visit his Japanese culture page here for related stories.
The most successful group in Japanese history, B'z have sold 80 million records since their 1988 debut, and also have released a staggering 46 consecutive number one singles. Comprised of Grammy-winning guitarist Tak Matsumoto and ace vocalist Koshi Inaba, the rock duo has flirted with American success in the past, launching three of their Live-Gym West Coast tours in the last decade.
Now, B'z is ready for a full-scale American invasion, launching their first-ever national tour beginning in San Francisco Sept. 17 and hitting New York's Best Buy Theater Sept. 30. At the same time, the band is promoting its debut English-language digital EP entitled B'z, which features five of the stadium act's biggest hits made for a whole new audience.
In this exclusive interview, I caught up with Tak and Koshi on why the band waited until now to do a coast-to-coast tour, their experience working with other rock luminaries like Aerosmith and Linkin Park, and the plans in motion for the band's 25th anniversary next year.
Let's start with the basics. How did the band get its name?
Tak: I don't remember exactly. We probably thought we needed to have a simple name that was easy to memorize.
Koshi: We wanted a short name—like a code. At first, it was AZ, which came from an A to Z kind of meaning, but we didn't like how it was pronounced. Then we changed it to B to Z, and liked how it sounded.
Why has B'z decided to finally play New York now?
Tak: I don't know exactly why it took so long, but I've been waiting to perform there. I'm really looking forward to it.
Koshi: When we started performing in the U.S., most of our dates were on the West Coast. We weren't familiar enough with New York to have a show there.
Tell us about the other musicians you're performing with on this tour.
Tak: Takanobu Masuda is on keyboards. He's my old friend, and has been performing with B'z for 20 years. Shane Gaalaas is on drums. He's played with Michael Schenker, Yngwie Malmsteen and many others. He also has his own band, Cosmosquad. Barry Sparks is on bass. He also played with Michael and Yngwie, along with Ted Nugent, UFO and the Scorpions as well. Yoshinobu Ohga is on guitar. He was on our last tour of the U.S. I'm supported by his perfect harmony.
Koshi: Ohga joined last year. Everyone else has been touring with B'z for a long time, and they're all great.
What can we look forward to at these shows?
Tak: We are going to the East Coast for the first time, but this tour is going to be the fourth tour in the U.S. for B'z. I always love to play in the U.S., and I felt we should release English songs for the American audiences. The show will be a mix of both Japanese and English.
Koshi: We're looking forward to the U.S. audience hearing our new English songs. You might sweat a lot at our show, but you'll enjoy it!
Is this new EP part of a plan to release a full English-language album in the future?
Tak: I hope so.
For the complete interview, click here.
By JQ magazine editor Justin Tedaldi (CIR Kobe-shi, 2001-02) for Examiner.com. Visit his Japanese culture page here for related stories.
After you've rested up from Labor Day weekend, enjoy the sights, sounds and tastes of Japan with a whole month's worth of events, activities and products from musicians to authors to restaurants. It's all happening here as we welcome another autumn in New York.
Tuesday, Sept. 4, 6:00 p.m.-8:00 p.m.
Oze no Yukidoke from Ryujin Shuzo Sake tasting
Sakaya
324 East 9th Street
Hailing from Gunma prefecture, Oze-no-Yukidoke is a well-refined sake that is widely considered to be one of the finest sakes available. Join Mr. Hideki Horikoshi, the head sake brewer of Ryujin Shuzo, for his his handmade signature sake, Oze no Yukidoke Junmai Daiginjo, as well as Ohkarakuchi Junmai. Purchasers will receive a lacquered sake cup as a free gift!
Sunday, Sept. 9, 1:00 p.m.
Cultural Resource – Contemporay Music by Japanese Composers/Musicians
Scandinavia House
58 Park Avenue
"The influences of ethnicity on the musical idioms of contemporary composers" is the research subject of Akiko Asai, Visiting Scholar at New York University. This concert is held as a part of her research project and a wrap-up of her research term at NYU and features Japanese composers and their works. The audience will be able to not only meet these artists' creativities but also listen to the result of their research through the identical sound of accordion. Tomomi Ota, who will play their pieces, is a one of the promising performers who can show the audience different perspectives vividly.
For the complete story, click here.
WIT Life is a periodic series written by professional Writer/Interpreter/Translator Stacy Smith (Kumamoto-ken CIR, 2000-03). She starts her day by watching Fujisankei's newscast in Japanese, and here she shares some of the interesting tidbits and trends together with her own observations.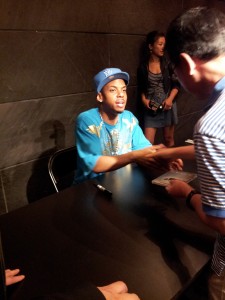 I never thought I would say this, but last night I was captivated by the strains of enka.  However this was not your typical enka, it was this style of Japanese music performed by none other than Pittsburgh-born singer Jero.  This 30-year old celebrity in Japan learned enka thanks to his maternal Japanese grandmother.  As early as five he began singing ballads to entertain her, and from this young age he had a dream of becoming an enka singer.  He has achieved this success in spades, debuting with his hit single 「海雪」 (Umiyuki, or Ocean Snow) four years ago.  He went on to create numerous other hits, including an original one dedicated to his mother who raised him on her own.
The event I attended took place at Japan Society and was entitled "Let's Enka! with Jero."  It began with an interview where Jero shared how his childhood dream had became a reality, including how at one point he contemplated Read More
The Challenger Akihabara Deep—going where no otaku has gone before: The AKB48 Trench
By Rick Ambrosio (Ibaraki-ken, 2006-08) for JQ magazine. Rick manages the JET Alumni Association of New York (JETAANY)'s Twitter page and is the creator of the JETwit column Tadaima!
So, Documentary of AKB48 to Be Continued.
Starting out, I knew very little about this group. (In fact, I am writing this first paragraph before I watch this documentary.) So what do I know? I know it's a troupe of pretty girls singing in unison to the joy of fans all over Japan. I know there are a lot of them. And they have songs. That's…well, that's really it. In the universe of girl groups, the only others that really come to mind are the Spice Girls and Girls' Generation, and I only know the latter because my girlfriend really liked the jeans they wore in a video.
Before we start, you should know that getting a DVD like this is rare. The only place to pick this up is at http://store.newpeopleworld.com. No Amazon, no  Right Stuf. So when handed a review copy of this disc, I knew this was something special, but I also knew I had it wrong. A hard-to-find documentary? My hopes where over the moon. I was curious what the director and his team would discover about this group. Who secretly hates whom? Which one has substance abuse problems? Surely some scandal  would come to light.
For starters, this documentary assumes you know a little bit about the group beforehand. This really is set up as more of a "behind the scenes, get to know the girls" film than it is a structured presentation of their work. It allows you to get closer to the idols as people (or at least what is deemed appropriate, sadly) and see who these dancers are as they attempt to garner attention from an audience that ultimately decides their fate. The product here is really American Idol meets Japanese Pop Star, with the same emotional performances, reactions and judging of the American show mixed with the contemporary idol mania that has swept over Tokyo, Akihabara to be specific. It's genius, really. This documentary takes some of the more popular girls and puts them under the lens and attempts to find out what they really want out of this and, please, could you prance around in a short skirt while we ask?
Via jetaaottawa.ca
JETAA Ottawa will be hosting a charity concert at the Black Sheep Inn on May 24th, 2012 to help raise money for Smile Kids Japan, and the Tohoku Kids Project.
JET Alumnus Jordan Patrick (Aichi-ken, 2009-11) will open the show with his mix of indie and modern folk music. Headlining the event will be the Hornettes who will keep the energy peaked and revive classic Motown, soul and funk sounds that will leave you sweaty and satisfied. The Hornettes formed in Ottawa in 2010, and since then have developed a loyal following of music lovers drawn to their ability to keep the dance floor moving. The band consists of two female front women, Anna and Irina, backed by a hot horn section and the classic trio of guitar, drums and bass.
A shuttle bus will be provided from the corner of York Street and Dalhousie Street at 6:30 p.m. to the Black Sheep Inn, and will return once the concert ends.
Tickets for the show and space on shuttle service are limited!
RSVP: events[at]jetaaottawa[dot]ca
Event: Smile Kids Japan Charity Concert
Date: Thursday, May 24th, 2012
Time: starting at 7:30pm (doors open at 7:00pm)
Location: Black Sheep Inn, 753 Riverside Drive, Wakefield, Quebec
Admission: $15.00 minimum donation (cash or pre-paid donations through JETAA Ottawa or Global Giving only) *bring a printed receipt of all pre-paid donations
Shuttle: $5.00 (cash/pre-purchased tickets only) – leaving at 6:30pm from the corner of York/Dalhousie St.
Hope to see you there!
By JQ magazine editor Justin Tedaldi (CIR Kobe-shi, 2001-02). Visit his Examiner.com page here for related stories.
As the sakura (cherry trees) blossom in the Big Apple, so does the sheer amount of Japanese talent in music and performing arts coming to Manhattan this month. Here are some highlights guaranteed to appeal to audiophiles of all stripes.
April 6-14, 8:30 p.m.
'Floating Point Waves'
A performance experience of dance, real-time video, live electronic music, kinetic sculptures and meditative stillness, Floating Point Waves unveils the relationship between the human body and natural elements. This HERE Artist Residency Program (HARP) production plays for 8 performances
Conceived and designed by Ximena Garnica (a Colombia-born graduate of the Akira Kasai Tenshikan Dance Institute in Tokyo) and Shige Moriya (a Japanese-born video and installation artist) in collaboration with Jeremy D. Slater and Solomon Weisbard, Floating Point Waves stars Garnica in a place where movement, water, and light respond to one another as an organic causal chain unfolds, echoing that of our own natural world. Startling performance and exquisite design reverberate through the space, framing a landscape where beauty coexists with darkness.
April 10, 8:00 and 10:30 p.m.
Hiromi
Nearly a decade after her Telarc debut album Another Mind (which won the Recording Industry Association of Japan's Jazz Album of the Year Award), global superstar pianist Hiromi Uehara has been enchanting New York audiences ever since, with high profile appearances at the Blue Note Jazz Club, Highline Ballroom and Carnegie Hall. At 33 and with nearly a decade of tremendous accolades to her name, the Hamamatsu native stands at the threshold of limitless possibility.