By JQ magazine editor Justin Tedaldi (CIR Kobe-shi, 2001-02) for Examiner.com. Visit his Japanese culture page here for related stories.
With Thanksgiving weekend (and the hopes of eating right) now just a memory, we turn to colder weather, falling snow, and the new year to come. Fortunately for Japanese culture fans, December is just as busy as the holiday season itself. Whether you're hosting guests from out of town or looking to squeeze in an event or two in between parties, we've got you covered.
This month's highlights include:
Now through Saturday, Dec. 21
Yayoi Kusama: I Who Have Arrived in Heaven
David Zwirner Gallery, 525 West 19th Street
Free
In case you missed last year's retrospectiveat the Whitney featuring the artist's mega-buzzed about Fireflies on the Water, this current exhibition by Yayoi Kusama features 27 new large-scale paintings and The Souls of Millions of Light Years Away, a new mirrored infinity room made especially for this exhibition and the United States debut of another infinity room, which was recently on view in Tokyo at the Mori Art Museum. Also exhibited is the artist's video installation, entitled Manhattan Suicide Addict, that draws its title from her first semi-autobiographical novel published in 1978.
Wednesday, Dec. 4, 8:00 p.m.
Three's Keys feat. Taka Kigawa
Klavierhaus Recital Hall, 211 West 58th Street
$15
As part of its third annual festival entitled Timbre Tantrum, Composers Concordance("Enterprising new music organization" -New York Times) presents this all-piano production featuring Taka Kigawa ("Extraordinary pianist" -New York Times), Inna Faliks ("Signature blend of grace and raw power" -Lucid Culture) and Carlton Holmes ("Inventive" -Jazziz). Each pianist will present a 20-minute solo set of their own contemporary repertoire, including music by Shchedrin, Zhurbin, Ellington, Palkowski, Monk, and Alexander. The grand finale serves up a triple-piano suite composed by Dan Cooper, Sean Hickey, Debra Kaye, Milica Paranosic, and Gene Pritsker performed on Klavierhaus' antique instruments, including a 19th century Pleyel.The concert will be followed by a brief reception.
Thursday, Dec. 5, 8:00 p.m.
Town Hall, 123 West 43rd Street
$49.50-$89.50
A violinist since the age of four, contemporary classical and crossover musician Taro Hakase returns to New York as part of his first-ever world tour. Entitled JAPONISM after his latest album, Hakase's pop-infused compositions and charismatic showmanship are known to get fans dancing at his concerts. First brought to international attention following a collaboration soundtrack and a concert tour with Celine Dion in 1996, Hakase has performed before over two million people and has sold more than six million albums in Japan alone. Along with his eight piece band, Hakase brings his tour to one of New York's most celebrated stages.
For the complete story, click here.
By Vlad Baranenko (Saitama-ken, 2000-02) for JQ magazine. Vlad is an avid photographer.
F. Scott Fitzgerald famously said, "There are no second acts in American lives."
Fortunately, there are Second Quests.
Over 25 years after the blockbuster Nintendo video game series first hit the scene bearing its namesake in honor of Fitzgerald's wife, The Legend of Zelda: Symphony of the Goddesses returns for an encore run in some of North America's most distinguished theater halls (including, for the first time, a pair of dates in Mexico). Presented by Jason Michael Paul Productions, the show—currently on tour through December—presents the very best of Zelda's lush symphonic scores paired with a live orchestra and visual effects.
In this JQ exclusive, producer and lead creative Jeron Moore sounds off what's new about the show, the experience of working with Nintendo to bring the ultimate live experience to fans, and the evolution of Link throughout the saga's rich history.
What was the inspiration for this installment of the show?

Well, if you're a Zelda aficionado, you'll recognize the term "Second Quest" from the New Game+ mode from the original 1986 entry, The Legend of Zelda, on the NES. It's a mode you'd unlock once you defeated the game, and what it did was reorganize the game a little bit, made the dungeons a bit harder, made the items a bit more challenging to find, made the bosses a bit more difficult to defeat. We've taken the idea of visiting familiar places while encountering new challenges and applied that to the Second Quest, which has been revamped to include a half hour of new material while keeping all of the classics that make The Legend of Zelda what it is.

What surprises can we expect from the Second Quest?
They wouldn't be surprises if I told you! But I will hint that we're celebrating the 20th anniversary of a particular, very special handheld title. We've also finally included some music from one of the most recent Zelda games, which we steered cleared of with the first season program. And at the request of Mr. Eiji Aonuma, you can also expect to see a fully revamped Wind Waker segment, featuring gorgeous visuals from the game's recent HD release on the Wii U. The Wind Waker has never looked better.
How did the idea for format of the show come about? The large screen, the orchestra?
It's simple. There's just nothing classier than a large orchestra tuning up, then performing powerhouse symphonic interpretations of your favorite music, no matter the genre. For The Legend of Zelda, we wanted Symphony of the Goddesses to be as accessible as possible. There's nothing worse than sitting in a room and feeling left behind because you didn't walk in with a prerequisite knowledge of the material. The music undoubtedly stands on its own, but incorporating visuals opens it up and informs the entire audience of context, not just those who've played the games before. Of course, being the fans that we are, we've carefully edited the footage into an entertaining narrative that, we feel, makes sense. With that, we're able to hit on many of the important moments universally adored by fans, so yeah—lots of inside jokes, but we try not to let anything fall flat.
By Rashaad Jorden (Yamagata-ken, 2008-10) for JQ magazine. A former head of the JETAA Philadelphia Sub-Chapter, Rashaad currently studies responsible tourism management at Leeds Metropolitan University. For more on his life in the UK and enthusiasm for taiko drumming, visit his blog at www.gettingpounded.wordpress.com.
Many JETs—myself included—have been drawn to taiko because we love the sound emanating from the drums and want to partake in something traditionally Japanese. But what do we really know about taiko?
For those, looking to expand their knowledge of Japanese drumming, Heidi Varian's The Way of Taiko (now available in a new edition from Stone Bridge Press) is a great way to go. Varian, a member of the San Francisco Taiko Dojo, introduces readers to the history and contemporary culture of the music that is a symbol of Japan to many.
Varian calls taiko the "heartbeat of Japan," and that's appropriate because the drum was a method of gathering townspeople or letting them know about any impending danger, in addition to being used to celebrate festivals. Like seemingly everything that's considered an integral part of Japan, taiko has an enormously long history clouded in mystery (it actually may not have originated in Japan), but Varian explores it.
She not only examines taiko's beginning and its importance in ancient Japan, but how taiko appeared in traditional Japanese theatrical forms like noh and kabuki. She also writes about how taiko gained a foothold in the United States—the first documented taiko drum appeared in San Francisco in 1910—and its pioneers (such as Seiichi Tanaka and Kenny Endo) on this side of the Pacific. Varian also doesn't also live in the past when talking about taiko, as she raises important issues about its future.
By JQ magazine editor Justin Tedaldi (CIR Kobe-shi, 2001-02) for Examiner.com. Visit his Japanese culture page here for related stories.
As the summer winds fade to fall colors, the weeks ahead are shaping up with these exciting events, ready to be enjoyed both before and after Labor Day.
This month's highlights include:
Wednesday, Aug. 28, 6:30 p.m.
New York Mets Fourth Annual Japanese Heritage Night
Citi Field, 123-01 Roosevelt Ave.
$23 Promenade Reserved/$37 Pepsi Porch/$63 Baseline Box Silver
Watch the Mets take on the Philadelphia Phillies with a special Japanese Heritage Night pre-game show featuring the Japanese Folk Dance Institute of New York, the Japanese Men's Choir, taiko and fue master Kaoru Watanabe, and the Spirit Award presentations to important members of the community. Look for fun Japanese activities and games throughout the evening at the special Japanese Heritage Night tables! A portion of the proceeds of all ticket sales made through the special JHN ticket window and through online sales will be given to the Japanese American Association's Committee on Aging Issues.
Saturday, Aug. 31, 2:00 p.m.
Hatsune Miku Magical Mirai 2013 premiere
Anthology Film Archives, 32 Second Avenue
$20 general admission
In Japan, Hatsune Miku is a phenomenally successful virtual idol that grew out of fan-created songs. With a name meaning "first sound of the future," she is based on an innovative singing synthesizer software character. This special theatrical release—her first in the U.S. in nearly two years—celebrates the pop Vocaloid's sixth birthday of by capturing a special commemorative live concert at the Yokohama Area simulcast in both New York and Los Angeles. (For this Examiner's review of Miku's previous live film screening in Times Square, click here.)
Sunday, Sept. 1, 5:30 p.m.
J-Summit New York Benefit Concert
The Bowery Electric, 327 Bowery
$15 advance/$18 day of show
Offering a welcoming environment to enjoy music, dance, performance and fashion for all fans and artists, j-Summit New York has created a community focused on the connections and cultural exchanges between New York and Japan through electrifying events. Proceeds for this special benefit concert will contribute to the 2011 earthquake and tsunami relief fund. Bands for the night include Aki, Lust, Red, Iri, Nicole Oliva, Nafsi Groove, and Yuri Bear.
For the complete story, click here.
By JQ magazine editor Justin Tedaldi (CIR Kobe-shi, 2001-02) for Examiner.com. Visit his Japanese culture page here for related stories.
In the dog days of summer, it's best to escape the heat in a place that's cozy and cool. For those into Japanese cultural events, this month offers a diverse selection of music, film premieres and parties—all in the comfort of indoor air conditioning.
This month's highlights include:
Thursday, Aug. 1, 7:30 p.m.
Young Professionals 2nd Annual Midsummer Matsuri and Karaoke Party
Japan Society, 333 East 47th Street
$10 for corporate and individual members, $15 for non-members
Japan Society's Young Professionals events provide the opportunity for emerging business leaders from the U.S. and Japan (aged 25-45) to meet people with similar interests, experience programming on timely topics, and network with their peers. Attendees are invited to join for a night of networking, singing, eating and drinking featuring singer and Japanese TV personality Alex York as MC! Yukata and other summer attire are welcome, and admission includes light Japanese food and one drink ticket, cash bar thereafter. Space is limited; for advance registration email youngpro@japansociety.org or call 212-715-1219.
Saturday, Aug. 3, 7:00 p.m.
Asia Society, 725 Park Avenue
$35 members/students/seniors, $40 nonmembers
As part of the closing night presentation of the 36th Asian American International Film Festival, this screening of Our Homeland includes a Q&A with the director followed by an awards ceremony and gala reception featuring chef's tasting tables and open bar with specialty cocktails sponsored by Rémy Martin. Sent decades ago as a child to North Korea under a repatriation program, Sungho returns to Japan for a temporary medical visit. A wrenching human drama unfolds as his family grapples with why he was ever let go. Under the constant surveillance by an accompanying North Korean official, Sungho and his family reunite again in this sensitive tale inspired by Korean-Japanese director Yang Yonghi's true family story. Capturing the tender feelings of separation, memory, and belonging, the film also provides a rare glimpse into the life of ethnic Koreans in Japan. Presented in Japanese and Korean with English subtitles.
Friday, Aug. 16
Lincoln Plaza Cinema and Landmark Sunshine Cinema
$13, $13.50
Winner of the Directing Award for U.S. Documentary at the 2013 Sundance Film Festival and a hit at film festivals around the world, this candid New York story explores the chaotic 40-year marriage of renowned "boxing" painter Ushio Shinohara and his artist wife, Noriko. As a rowdy, confrontational young artist in Tokyo, Ushio seemed destined for fame, but met with little commercial success after he moved to New York City in 1969, seeking international recognition. When 19-year-old Noriko moved to New York to study art, she fell in love with Ushio—abandoning her education to become the wife and assistant to an unruly, husband. Over the course of their marriage, the roles have shifted. Now 80, Ushio struggles to establish his artistic legacy, while Noriko is at last being recognized for her own art—a series of drawings entitled "Cutie," depicting her challenging past with Ushio. Spanning four decades, the film is a moving portrait of a couple wrestling with the eternal themes of sacrifice, disappointment and aging, against a background of lives dedicated to art.
For the complete story, click here.
By JQ magazine editor Justin Tedaldi (CIR Kobe-shi, 2001-02) for Examiner.com. Visit his Japanese culture page here for related stories.
After you've seen the outdoor fireworks, enjoy some summer events in the cool indoors, whether it's catching one of 20 films in Japan Society's annual festival or firing up the newest home video release from Aerosmith that documents the band's triumphant return to Japan following the 2011 Tohoku earthquake and tsunami.
This month's highlights include:
July 11-21
Japan Society, 333 East 47th Street
$12 general/$9 Japan Society members, seniors and students. I'M FLASH! prices $15 general/$12 Japan Society members
Now in its seventh season, with 10 days of screenings and over 20 titles, JAPAN CUTS 2013 presents the roughest, sharpest, and smoothest of today's cutting-edge Japanese film scene, encompassing bigger-than-life blockbusters, high-concept art house titles, moving and provoking documentaries, delirious rom-coms, refined melodramas and a handful of UFOs—unidentified film objects. Dovetailing with the New York Asian Film Festival, this year's highlights include the smash-hit samurai blockbuster Rurouni Kenshin; Eiki Takahashi's absorbing glimpse into the glitzy world of Japanese pop music, DOCUMENTARY OF AKB48: Show Must Go On; the winner of the 36th Japan Academy Prize for Best Picture and Best Director, The Kirishima Thing; plus the new film from the wildly prolific auteur Takashi Miike, the psycho killer-teacher horror film Lesson of the Evil, a return to the director's signature gonzo schlockmeister approach.
July 18-20
Lincoln Center Festival presents Matsukaze
Gerald W. Lynch Theater, 524 West 59th Street
$35-$75
Harmonious sounds and haunting songs converge in this exquisite production of Matsukaze (Japanese for "wind in the pines"). Inspired by a popular 15th-century play crafted in part by Noh master Zeami, the opera features a spare, ethereal score by Toshio Hosokawa, one of Japan's most prominent living composers of contemporary classical music. Matsukaze tells the story of two sisters, two lingering spirits, who wander the porous boundary of the living and the dead in hopes of being freed from a former mortal lover. John Kennedy conducts the Talea Ensemble and a cast of soloists and chorus in this arresting, dreamlike performance set in the shadowy place where the wall between the ephemeral and the corporeal disappears. Sung in German with English supertitles.
For the complete story, click here.
By JQ magazine editor Justin Tedaldi (CIR Kobe-shi, 2001-02) for Shukan NY Seikatsu. Visit his Examiner.com Japanese culture page here for related stories.
On April 28, legendary American rockers Cheap Trick played an invitation only, packed to the gills performance at the John Varvatos boutique in Manhattan's Lower East Side. The occasion: a tuneful recreation of the band's debut concert at Tokyo's Nippon Budokan arena, 35 years to the day of that historic gig.
Originally recorded for a Japan-only live album (where the band enjoyed a Beatles-like following at the time), Cheap Trick at Budokan was released in the U.S. the following year, igniting the band's popularity at home. It remains their best-selling album at over three million copies sold, and hits like "I Want You to Want Me" and "Surrender" remain classic rock staples.
Held at the former site of another storied rock venue, CBGB, and hosted by Varvatos himself, Cheap Trick was in fine form throughout the 90-minute set. Sponsored by Sony, the entire show was professionally filmed and posted on Livestream.com. Original members Rick Nielsen, Robin Zander and Tom Petersson (with Nielsen's son Daxx providing the beat) still continue to radiate the energy, chemistry and charisma that make them one of the best live acts among their '70s peers.
New Yorkers can enjoy Cheap Trick's next area performance for free on July 12 as part of the Seaside Summer Concert Series at Coney Island. For more information, visit www.cheaptrick.com.
WIT Life is a periodic series written by professional Writer/Interpreter/Translator Stacy Smith (Kumamoto-ken CIR, 2000-03). She starts her day by watching Fujisankei's newscast in Japanese, and here she shares some of the interesting tidbits and trends together with her own observations.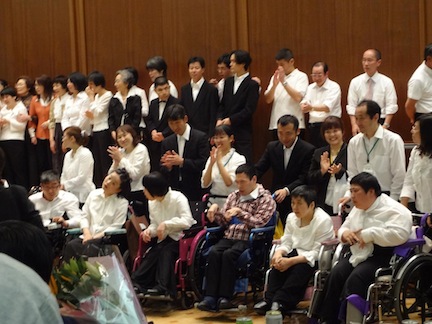 Last night I saw a concert at Carnegie Hall given by the Hearts and Eyes Choir ( ゆきわりそう合唱団 or Yukiwariso gasshoudan).  This choir was established in 1990 by founder Hiroyo Ubayama, who was on hand to offer her greetings to the audience.  It is composed of members with physical and mental disabilities, and the origin of its name is because the choir "shares its dreams and expresses its joy with its hearts and eyes."  They travel the world performing with the motto "we will all be sisters and brothers."  This was their second time on stage at Carnegie Hall, following their debut performance back in 2000.
They were joined by local choral groups as well as featured singers, and the pieces chosen were Rhapsody for Orchestra, Four Seasons of Old Home and Beethoven's Symphony No. 9 in D Minor.  Happy Doll founder Nozomi Terao was the MC, and during intermission collections Read More
By Kirsten Phillips (Niigata-ken, 2005-2008) for JQ magazine. Kirsten is a native New Yorker and currently works as a teacher for the New York Board of Education.
Sakura matsuri season is upon us. For JET returnees, this time of year hearkens back to picnics with friends or students. Copious amounts of alcohol under the pink shower of blossoms and maneuvering through crowded lines of vendors celebrating the coming of spring. Sakura season also brings out the finest Japanese talent in New York and no event worth mentioning would be whole without the beating heart of COBU.
You haven't been following COBU around like a bloodhound? Shame on you. Don't even know what a COBU is? Double shame on you. Fortunately, oneesan is here to clue you in.
Spearheaded by artist and visionary Yako Miyamoto, COBU is more of a statement in taiko than a collaboration. We are heard. We are seen. We are felt. We are here. A handful of iron women play tirelessly in perfect sync. A little humor, an appropriate smattering of sexy and a metric ton of showmanship make COBU a delight for audiences across the tri-state area.
This year's Branch Brook Park performance in New Jersey was a staggering hit by COBU, showcasing the talent of their following, or deshi. Upstage, COBU performing members Micro Fukuyama and Haruna Hisada kept time and loudly cheered on the fledgling members as they demonstrated some of COBU'S trademark choreography and pulsing patterns. If you have ever witnessed a COBU show before, it's easy to become dazzled by the performing members, but this showcase invited audiences to the notion that, hey, they can be a part of this rhythm, too.
Just learned about a talented JET alum musician via the Pacific Northwest JETAA Facebook group–boogie woogie and blues piano player Arthur Migliazza.  Have a look and a listen:
By JQ magazine editor Justin Tedaldi (CIR Kobe-shi, 2001-02) for Examiner.com. Visit his Japanese culture page here for related stories.
Tucked between Oscar and cherry blossom season, March offers an unmissable array of concerts, performances and film premieres, along with a special gathering to mark the two-year anniversary of the Tohoku earthquake and tsunami.
This month's highlights include:
Sunday, March 3, 6:45 p.m.
Exploring the Road of Shamisen – Koto Workshop and Concert
Still Mind Zendo, 37 West 17th Street
$15 advance, $18 at the door
For reservations, email contact[at]marcreation.com or call 917-400-9362
In the latest workshop of the Spring Traditional Japanese Musical Instrument Series, shamisen specialist Yoko Reikano Kimura will demonstrate the vast 400 years of shamisen repertoire and explore the infinite possibilities of the instrument. Shamisen was brought to Japan through the Silk Road and since then it was popularized among samurai to ordinary citizens. But in today's cosmopolitan age, new shamisen music continues to thrive.
March 6-9
The Bach Variations: Bach and Mendelssohn
Avery Fisher Hall, 10 Lincoln Center Plaza
$41-$123
In its first-ever Bach Festival, a kaleidoscopic three-week celebration of the depth and breadth the man the New York Times named the greatest composer of all time, Kobe-born conductor and harpsichordist Masaaki Suzuki leads five vocalists along with his own Bach Colleguim Japan and Yale Schola Cantorum with his own unique approach, combining his perspective with the virtuosity of the New York Philharmonic. On the program are Bach's "Motet No. 1: Singet dem Herrn" and "Magnificat," along with Mendelssohn's :Magnificat in D Major" and "Christus."
March 9-June 9
Edo Pop: The Graphic Impact of Japanese Prints
Japan Society, 333 East 47th Street
$12 general admission, $10 students and seniors, Japan Society members and children under 16 free
Edo Pop playfully juxtaposes classic ukiyo-e prints from such masters as Katsushika Hokusai and Utagawa Hiroshige with contemporary works inspired by these artists and their works. Delve into alluring worlds created by the power of Edo period and contemporary popular culture in which change is the only constant. Organized by the Minneapolis Institute of Arts, with the contemporary art selections curated for the New York presentation by Miwako Tezuka, Ph.D., Director, Japan Society Gallery.
For the complete story, click here.
By JQ magazine editor Justin Tedaldi (CIR Kobe-shi, 2001-02) for Examiner.com. Visit his Japanese culture page here for related stories.
Japan Society swings into the new year with two nights of its upcoming 15th Contemporary Dance Showcase: Japan + East Asia showcase from Jan. 11-12. This year's program features four North American premieres.
Since the inception of the Performing Arts Program in 1953, Japan Society has introduced more than 600 of Japan's finest performing arts to an extensive American audience. The program also commissions new works to non-Japanese artists, produces national tours, organizes residency programs for American and Japanese artists and develops and distributes educational programs. Originally America's leading platform for the introduction of Japanese choreographers and companies, the Dance Showcase has expanded to include artists and works of international acclaim from the broader East Asian region.
From Tokyo comes the U.S. premiere of post-post-post butoh Misshitsu: Secret Honey Room – Duo Version, created and performed collaboratively by Makotocluv founder Makoto Enda and former Dairakudakan dancer Kumotaro Mukai, following a world premiere at Setagaya Public Theatre/Theatre Tram in Tokyo in August 2012. Formed in 2001, Makotocluv appeared at Japan Society in 2008 and was hailed by the New York Times as "wonderfully fluent in the language of the theater." Misshitsu: Secret Honey Room marks Mukai and Enda's first collaboration in 15 years.
For the complete story, click here.
By Preston Hatfield (Yamanashi-ken, 2009-10) for JQ magazine. Preston moved from San Francisco to New York City in January 2012 and is now accepting submissions from people who want to be his friend. Abduct him from his house in the middle of the night, or find him on Facebook and ask about his JET blog in which he details his exploits and misadventures in that crazy Land of the Rising Sun we all love.
If life is one ongoing adventure and each day is its own side quest, then on several days ago the already labyrinthine halls beneath Madison Square Garden were not those of a theater but a dungeon, and the spirited host of attendees was nothing short of raiders in pursuit of plunder. Their coveted treasure on this magical evening was The Legend of Zelda: Symphony of the Goddesses from Jason Michael Paul Productions. Wielding the baton like her own personal Master Sword (or, as was the case at the onset of the Wind Waker movement, an actual replica of the Wind Waker), conductor Eimear Noone led the Orchestra of St. Luke's into an epic musical campaign that toured across Hyrule and the 16 games in Zelda's renowned platform, which is currently celebrating 25 years since its American debut on the original 8-bit Nintendo Entertainment System.
The evening commenced with a rousing overture in the form of "The Legend of Zelda Medley" before embarking a four-part movement that began with the crowd favorite Ocarina of Time, and concluded with A Link to the Past, the game where many of the now iconic Zelda themes first premiered. Each movement in this symphonic journey—this Tour de Triforce, if you will—began at the beginning of each game and proceeded to tell the familiar tales of heroism and mystic wonder, transitioning almost fairylike from one key moment to the next, as large screens over the orchestra showed in-game footage for context and intermittently focused on soloists and the choir.
By Preston Hatfield (Yamanashi-ken, 2009-10) for JQ magazine. Preston moved from San Francisco to New York City in January 2012 and is now accepting submissions from people who want to be his friend. Abduct him from his house in the middle of the night, or find him on Facebook and ask about his JET blog in which he details his exploits and misadventures in that crazy Land of the Rising Sun we all love.
Multinational pop rockers Monkey Majik are teaming up with shamisen heroes the Yoshida Brothers, the duo known for their traditional sound and pluck, for a three-date North American tour that kicks off Nov. 14 at Manhattan's Marlin Room at Webster Hall, followed by the Mod Club in Toronto Nov. 18 and the National Arts Centre in Ottawa Nov. 20.
Monkey Majik was founded by Maynard Plant (Aomori-ken, 1997-2000), a native of Ottawa, Canada, while he was teaching English in Sendai on the JET Program. Known for a having a fun and versatile style of music, the band first earned mainstream attention in 2006 for their singles "Fly" and "Around the World," and have since collaborated with other Japanese groups like SEAMO, m-flo, Bennie K, and the Yoshida Brothers.
In this exclusive JQ interview, the versatile vocalist and guitarist discusses the band's origins, his own relationship with music, and his sense of home and community in Sendai, which is still recovering from the devastation caused by the 3/11 earthquake and tsunami.
Which came first: the love of music or Japanese culture, and how has the one influenced and supported the other since you came to Japan?
I probably first took interest in Japan when I was about 10 years old or so when I visited Expo 86 in Vancouver, Canada. My interest in music also started at an early age. Most of my family is musical, so it always came natural. Certainly since arriving in Japan about 15 years ago, my musical interests have changed. The Japanese music scene is incredibly diverse and different from the Western scene. The sound is very unique and [it] has had a deep effect on our music.
It's funny, many ALTs in Japan feel like rock stars, but you actually became a rock star. What was it like going from small time notoriety and fame at your school, to becoming famous on a national level for your musicianship?
It didn't happen overnight, so I suppose I never took notice. It's a lot like learning Japanese—you don't just wake up fluent one day. Success is born out of hard work and commitment. Regardless of where you live, the same elements come into play.
How did the current band members come together? Were you friends before you started collaborating professionally? How have each of you influenced Monkey Majik's sound, style, and group dynamic?
I put the current band together after most of the original members quit in 2000. I first called my younger brother Blaise, and within a couple of months we found Tax (Kikuchi Takuya). It was around 2005 that our original bassist Misao Urushizaka quit. We then recruited Dick (Hideki Mori). It's difficult to say if the friendship came before membership, but one thing is certain now: we wouldn't be doing this if we hadn't become best friends. We have a lot of respect for each other and all [band] decisions are made together.
Courtesy of JETAA Northern California's Mark Frey (Kumamoto-ken, 2002-06):
In a new article by JET alum Roland Kelts (Osaka-shi, 1998-99) on Pete Townshend in The New Yorker, Kelts references his book Japanamerica—of which  Townshend said "I love that book!" to JQ magazine editor Justin Tedaldi  at an NYC signing yesterday for his new memoir Who I Am—at the end of the article and offers some thoughts contrasting the experience of artists in the U.K. and Japan after World War II.
I first met Pete Townshend fifteen years ago in a modest London hotel suite. I was there with my friend Larry David Smith to interview Townshend for Smith's book, "The Minstrel's Dilemma." We were already seated inside when I looked out the first-floor window and saw Townshend pulling into the parking lot.
He arrived alone, sans entourage or fanfare, driving himself in a gray Mercedes station wagon. Minutes later, the knob on the suite door rattled and shook. I stood, thinking that it might be a member of the hotel staff and wondering if I should turn the knob from our side. There was a pause, then more rattling, then the door swung open and Townshend burst through, eyes wide with exertion. He had apparently been trying to pull when he should have pushed.
We were scheduled to meet for two hours, but Townshend was unstoppable, regaling us not with stories of rock debauchery, but a stream of complex, sometimes half-formed ideas about popular culture, history, and human psychology. We were told not to ask him about his failing marriage; he immediately addressed it, confessing to a jolt of sadness while shaving that morning. "Don't mention Keith Moon," wrote his personal assistant via fax. "I never properly mourned for Keith," he soon said, unprompted, and through tears.
For the complete story, click here.