The Consulate General of Japan in New York has provided a "Letter of Support" for JetWit recognizing to the valuable role JetWit plays in supporting the JET Programme and the JET Alumni Association.  Both the English and Japanese versions are included below with permission from the Consulate.
**********
ENGLISH VERSION
(Text)
Message from the Consulate General of Japan in New York
JET, the Japan Exchange and Teaching Program, is an international exchange initiative launched by the Japanese government in 1987. JET recruits talented, young university graduates from around the world and brings them to Japan, where they serve as assistant language teachers in Japan's public school system or coordinators for international relations in local government offices. Most JETs are posted to rural areas, often in very small towns or villages, where they become tightly integrated into their local schools and neighborhoods, forging lasting friendships with their adopted homes. Of the over 50,000 people who have participated in the JET Program to date, half of them, around 26,000, are from the US. In fact, one in every thousand Americans is a former JET.
25 years have passed since the start of JET and former participants are successfully making their marks in various fields. They include: Anthony Bianchi, a member of the municipal assembly of Inuyama City and the first foreigner from North America to be elected to public office in Japan; Mike Maher-King, creator of Smile Kids Japan, a website that enables JETs to volunteer at Japanese orphanages; Roland Kelts, professor at Tokyo University and author of the popular book Japanamerica, Collin Joyce, popular writer and author of the book Nippon Shakai Nyumon (Introduction to Japanese Society); and Michael Auslin, Director of Japan Studies at the American Enterprise Institute. JET alumni can also be found working at various Japanese companies and organizations around the world.
One of JET's core strengths is that its participants continue to make a positive impact long after they return from Japan. With their unique cross-cultural experiences and language abilities, former JETs have formed a close-knit community dedicated to promoting bonds of friendship and mutual understanding between Japan and their home countries. Today, the JET Alumni Association (JETAA) is active around the globe. In the US alone, there are 14 JETAA chapters with more than 10,000 registered members. As this network of JET alumni grows, we look forward to its positive contributions in business, culture and other fields, and we hope it will play an active role in the future development of the JET program itself.
JetWit.com nurtures this vibrant community by connecting former JETs and providing them with news on the latest Japan-related events, JET activities, the work of notable alumni and job opportunities. With its helpful information and frequent updates, JetWit has emerged as the de facto central website for JET alumni. We look forward to JetWit's continued success as a key online resource for former JETs and all those wishing to cooperate with them.
Yasuhisa Kawamura
Director, Japan Information Center
Consulate General of Japan In New York
**********
(Image of original signed letter)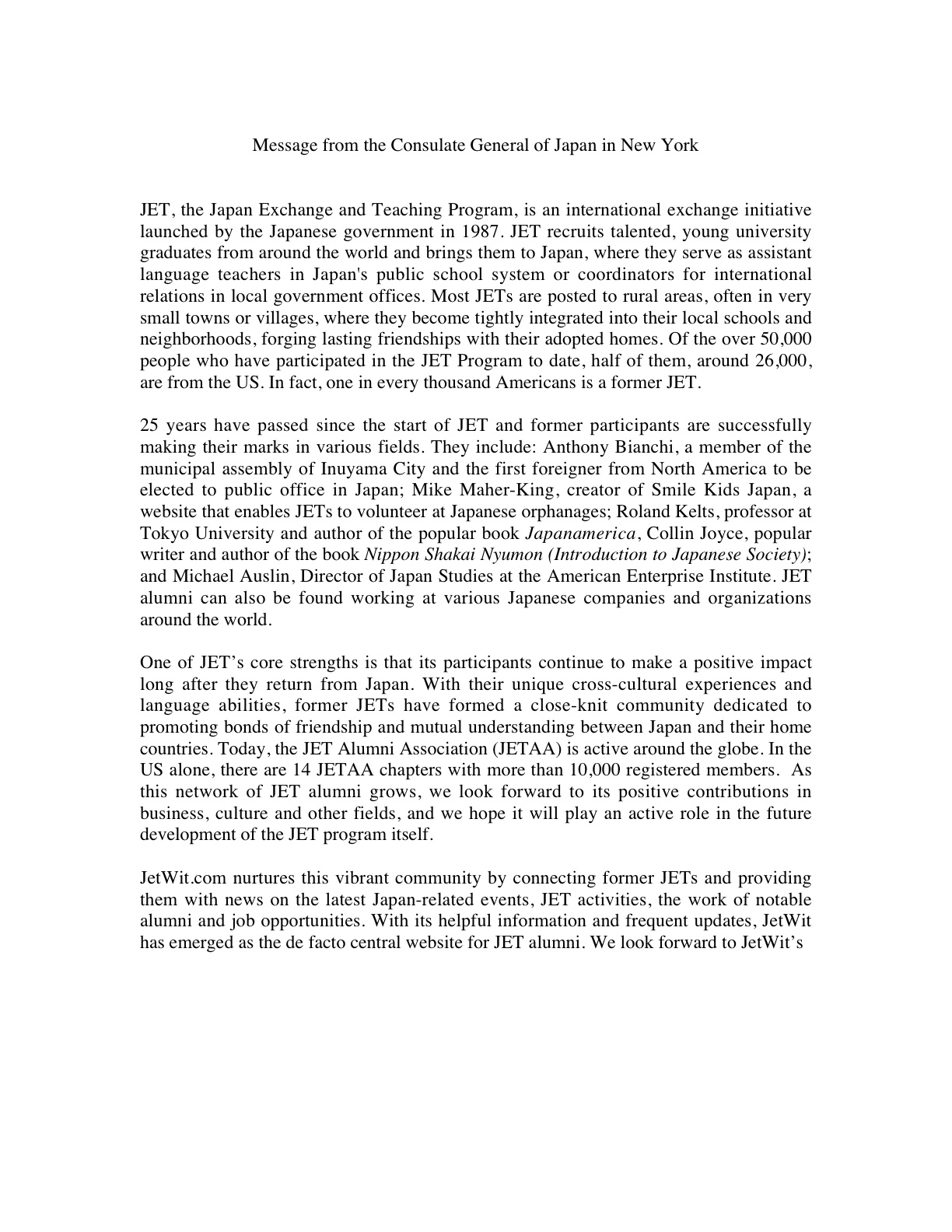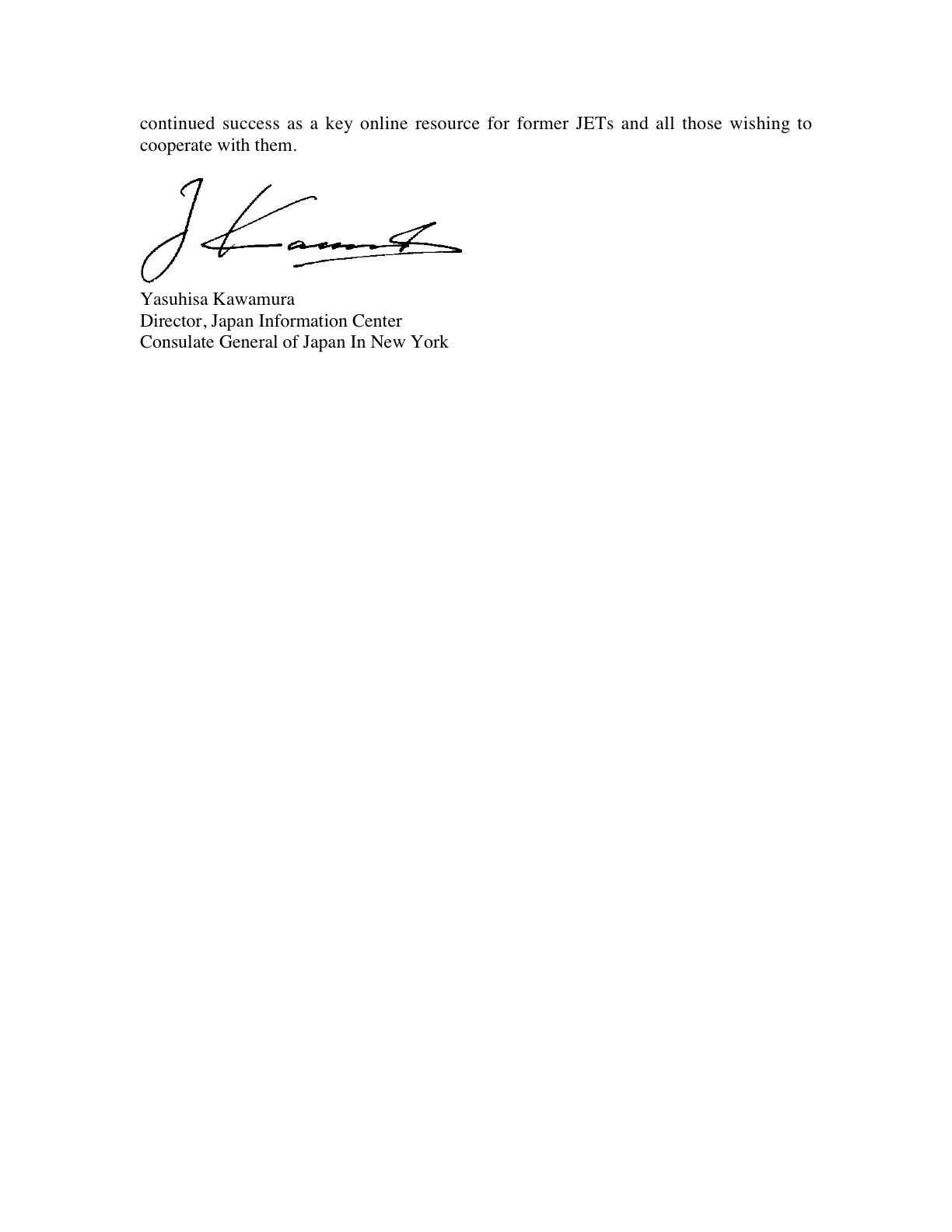 **********
JAPANESE VERSION
(Text)
在NY日本国総領事館メッセージ
JETプログラム(Japan Exchange and Teaching Program)は、外国の青年を日本の学校の英語指導助手等として派遣する事業で、総務省、外務省、文部科学省、地方自治体と自治体国際化協会が中心と なって実施してきました。1987年の事業発足から今日まで、5万人以上が参加し、その約半分26000人がアメリカからの参加者です。すなわちアメリカ 人の1000人に1人はJET経験者であるということです。JET参加者の多くは、日本の地方都市に派遣され、中には外国人が一人もいないようなとても小 さな町や村で、生徒達に英語を教え、地域の人々と交流し、日本社会を十分理解してきた方々も少なくありません。
プログラム発足から25年が過ぎた今日、元JET参加者が様々な分野で活躍する姿が見られるようになりました。北米出身で初めて日本の公選職員と なった愛知県犬山市のアンソニー・ビアンキ市議会議員、日本の孤児院でのボランティア活動を組織的に展開しているマイク・マーラーキング氏、『ニッポン社 会入門』の著者コリン・ジョイス氏、『Japanamerica』の著者ローランド・ケルツ氏、アメリカン・エンタープライズ政策研究所(AEI)のマイ ケル・オースリン日本部長、その他にも大学教授や有力紙コラムニスト等枚挙に暇がありません。また、日系企業にも非常に多くの元参加者が勤務しています。 私は、JETプログラムは、世界中の数ある交流事業の中で最も成功したものであると確信しています。
JETプログラムの素晴らしいところは、現役JETの活躍はもちろんのこと、元JETの方々が様々な分野で活躍し、日本という共通項を基に強力な ネットワークを構築していることです。JETの同窓会組織(JETAA、JET Alumni Association)は、世界各地に支部を持ち、アメリカだけでも14支部に計1万人以上が登録しています。このネットワークは、日本と諸外国をつな ぐ重要な絆であり、JETプログラムという木にたわわに実っている果実だと思います。この果実が、ビジネスを含め様々な社会的ニーズに応えて活用されるこ とを強く期待しています。それは、今後のJETの発展にもつながるものです。
JetWit.comは、JETネットワークを支える重要なツールとなっており、総領事館でもJETの活動を知るためによく参照しています。同サイ トは、JETや日本関連の情報を元JETに発信している他、日本滞在経験を活かせる仕事の求人情報が掲載されており、その充実した情報量により、元JET の方々にとって中心的サイトとなっています。元JETの活動について知りたい方、元JETとの協力を考えていらっしゃる方、そんな方々の間でこのサイトが 有効活用されることを期待しています。
平成23年2月1日 在ニューヨーク日本国総領事館 広報センター長 川村泰久
**********
(Image of original signed letter)