News agency Kyodo News has recently been publishing monthly articles written by JET alumni who were appointed in rural areas of Japan, as part of promotion for the JET Programme. Below is the English version of the column from December 2013. Posted by Celine Castex (Chiba-ken, 2006-11), currently programme coordinator at CLAIR Tokyo.
*********
Originally from Chicago, Elizabeth Gordon (Iwate-ken, Ninohe-shi, 2003-05) holds a Bachelors Degree in Psychology with a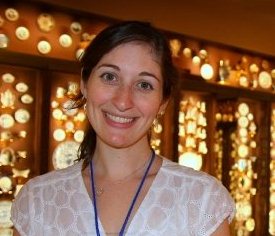 minor in Japanese Studies from Northwestern University, IL, and a Master's degree in East Asian Studies from Columbia University, NY. She spent two years teaching English in rural Iwate  before joining the Japan Foundation in New York as a Program Officer. She currently works as the Director of Private Events of the Adler Planetarium in Chicago.
Soba Diplomacy
Noodle making is an art, not to be taken lightly.  Only a true master can produce the perfect noodle.   After the wooden board is cleaned, the ingredients are kneaded in perfect rhythm until the correct consistency is achieved, and only the master knows for sure when that is.  The rolling pin goes back and forth in a circular motion but forms a perfect rectangle, which is folded in half, then in half again, and in half again.  Ever so delicately, the master cuts, slice after slice, all exactly the same width.  They are cooked for just the right amount of time and then served with a simple dipping sauce sprinkled with scallions.  The movements were ingrained in his muscles. I imagine he could have completed the whole process with his eyes closed.  There is simplicity in the process, but the flavor is layered and complex.
When I arrived in Ninohe City, Iwate Prefecture in the summer of 2003 as a participant on the JET Program, I did not know a soul, nor had I ever heard of Iwate Prefecture.  There was a short orientation in Tokyo, followed by a shorter orientation in Iwate's capital city of Morioka.  It was on the final day of orientation in Morioka that I met my supervisor, Mr. Sato.  He picked me up and we drove the one and a half hours through the countryside back to Ninohe City.  Mr. Sato did not speak much English and his heavy Iwate dialect was difficult for me to understand.  We did, however, find common ground in a little bit of sports but mostly through food.  I listed all of my favorite Japanese dishes, and he loved the fact that I could eat with chopsticks.  He brought me to the Board of Education office and showed me my desk, which would be my home base for the next two years.
There was no rest for the weary, however.  Before I could sit down I was whisked away on a driving tour of the entire city.  We stopped at my two junior high schools and one of the eight elementary schools at which I would be teaching.  I was asked to give a short self-introduction at each location.  We also stopped at city hall to meet the mayor, and at the bank to open an account.   Back at the board of education it was suggested that I be taken to the grocery store before I was dropped off at home for the evening. Read More
News agency Kyodo News has recently been publishing monthly articles written by JET alumni who were appointed in rural areas of Japan, as part of promotion for the JET Programme. Below is the English version of the column from November 2013. Posted by Celine Castex (Chiba-ken, 2006-11), currently programme coordinator at CLAIR Tokyo.
********
Originally from Australia, Nicholas Klar (Niigata-ken, Itoigawa-shi, 1995-97) wrote the book "My Mother is a Tractor" about his life as an ALT in Omi, Itoigawa, Niigata-ken. After JET he worked for many years as a college counsellor and History teacher in international schools before returning to Japan to live. He now runs a small business in the Japan Alps, "Explore the Heart of Japan" as well as a popular travel website (http://myoko-nagano.com).
Remember that here all is enchantment, – that you have fallen under the spell of the dead, – that the lights and the colours and the voices must fade away at last into emptiness and silence. -Lafcadio Hearn
It was a stark winter's day as usual in Niigata-ken, grey like sodden blanket. Not one that I had set out on seeking ghosts, but it suited the mood. As I changed trains in Naoetsu for Ōmi the old tempura stand I had been hoping for a snack at was still there, but today it was closed. It seems even the sturdy yukiguni could not stand the sort of weather that was being hurled at them this winter from across the Japan Sea. I settled into my seat, its soft orange covers familiar like an old friend, and waited for the delayed departure. I scrubbed the mist from the brown streaked windows with my hand as the motor idled and the minutes slipped by. Outside schoolboys in their traditional Prussian kit seem oblivious to the biting gusts of artic-like snow. Eventually with the sound of the station attendants whistle the doors snapped shut and the blue and white carriage groaned away from the platform.
As we crossed over the dark frigid waters of the Himegawa almost an hour later I grew excited. I hadn't been back to the haunts of my old town for years. It was an unplanned visit and no-one really knew I was coming. I looked over for the local chugakko as the train passed by, obscured now by the construction of the new Hokuriku shinkansen. Framed behind those were the mountains I had loved so much. So many times I had taken my bike up into those North Alps making new discoveries, getting lost in the awesome beauty of its nature. Days of sunshine, days of rain. How I missed them. And the ghosts that inhabited them.
To the right there was a slight glimpse of my former apartment block. Not mine anymore, not for many years. In fact I think it now lays empty, apart from maybe a ghost or two, as the town depopulates. Tall, grey, forbidding – once referred to by a friend as, "…classic 1950's communist Romanian style architecture". The memory of that remark brought a brief smile to my face. Yet, it is the only place I will ever live in that has a sea view at the front and the mountains at the back. Grand views of God's great vista on tap.
When the doors clunked open at Ōmi eki it was if nothing had changed. The chimes rang the same they had all those years ago and the black asphalt platform lay several centimetres thick with windswept snow. It felt soft under my feet as I began my ascent up the cold cement stairs. Standing in his post was my first metaphorical ghost – Watanabe-san the station master in the same blue-clad uniform, looking not a whit older than when we had last met a few years ago. He didn't recognise me of course, even though I had taught his daughter at Ōmi chugakko. During my stay many of the station attendants had greeted me by name each time I passed through the gate. The inside of the station was a time capsule still painted the same green, apart from a more modern poster here and there, populated by even more ghosts of my memories. Local oba-chan in the waiting room still sat chatting on wooden bench seats around the kerosene heater behind glass doors. The three old shuttered-up ticket windows still existed – a sad reminder from the more grandiose boom days of Ōmi. Perhaps they were stubbornly retained in the forlorn hope that those times may yet return once again. Read More
Thanks to AJET Chair Kay Makishi for bringing this to JETwit's attention.  Notably, in addition to the current JET who is quoted, Aaron Miller (Ehime-ken, 2002-04) is also quoted in connection with his recently published book on discipline in the Japanese education system and the writer of the article is a current JET.  On a related note, a really good book on discipline in the classroom is Discipline with Dignity, though not sure how it works cross-culture:
http://www.japantimes.co.jp/community/2013/10/27/general/when-it-comes-to-discipline-in-class-leave-it-to-the-locals/#.UoTb2WRATv2
SPECIAL TO THE JAPAN TIMES
Aaron Joseph remembers the email Interac sent him regarding his school placement in Sakai, Osaka, in August 2012.
"There was a line that said, 'It's kind of a rough school, but we are sure you can handle it.' "
It didn't take long for the Nashville-born Assistant Language Teacher (ALT) to see the company wasn't kidding about Otori Junior High School.
"My first day teaching — my very first class — one kid asked me, 'Are you a miserable f-ck?' I did a double take — it was perfect pronunciation." He says the next six months at Otori were filled with disinterested classes, instances of students smoking inside and fights — some nearly breaking out between students and teachers.
Although his situation was extreme, Joseph faced a challenge shared by many ALTs in Japan: how to deal with misbehaving students. Not every ALT has to stare down scrappers and smokers everyday, but most have dealt with loud, inattentive or disruptive classes and students, sometimes frequently. How does a non-Japanese teacher approach discipline in these scenarios?
For Joseph, it was clear: don't engage. "Interac made it pretty clear at orientation that discipline was not our business," he says. "Don't get in a battle of wills with a teenager — if you get mad at them, you can't do anything."
Private dispatch companies tend to be direct about discipline; in their teaching manuals, businesses such as Interac or Aichi Prefecture-based Altia Central strongly advise ALTs to leave matters of discipline to fully licensed teachers.
For teachers working through the Japan Exchange and Teaching (JET) Programme, or those tasked with leading classes by themselves, disciplinary procedures aren't so straightforward. The JET handbook for ALTs never explicitly states that a foreign teacher should avoid discipline, offering up only strategies to stop students from becoming disruptive. [The Japan Times contacted the education ministry about official procedures, but did not get a response in time for publication.]
Daniel Nicholls, a JET ALT based in Mie Prefecture, says he has never been told by JET, his board of education or his school not to discipline students. Read More
News agency Kyodo News has recently been publishing monthly articles written by JET alumni who were appointed in rural areas of Japan, as part of promotion for the JET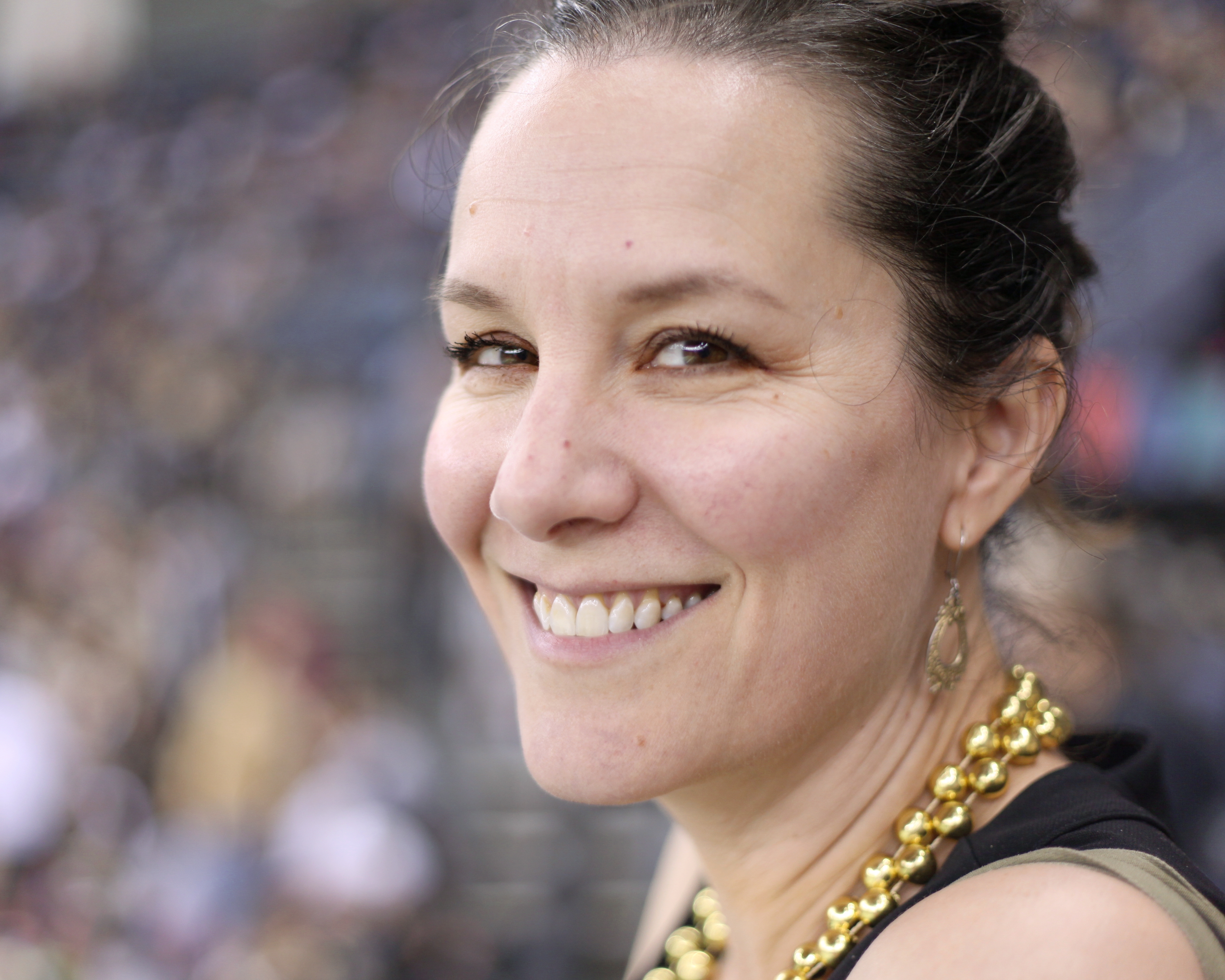 Programme. Below is the English version of the column from September 2013. Posted by Celine Castex (Chiba-ken, 2006-11), currently programme coordinator at CLAIR Tokyo.
********
Daneeta Loretta Jackson (Fukuoka-ken, Buzen-shi, 1993-95) was born and raised in the backwaters of Southeast Louisiana. She was educated at public school where she discovered her love for storytelling. She holds a B.A. in English from Loyola University of the South, an M.A. in English from George Mason University, and an M.A. in the Art and Technique of Filmmaking from the London Film School. Her hobbies are international travel, watching movies, anything having to do with dogs, and sleeping. She works as a writer and filmmaker and is a Creative Producer at the ElekTrik Zoo, an arts partnership she co-founded with her husband, Patrick Jackson. She joined the JET programme in 1993 because she wanted adventure. It had a profound affect on her and changed the course of her life.
I was a JET Programme participant from 1993 to 1995 in Buzen-shi, Fukuoka-ken. I never expected to go to Japan. I never dreamed about it when I was a child like so many of my counterparts did. I don't mean to sound flippant, but the JET Programme for me was a kind of accident. It is too long of a story to recount here. In short, my husband applied for the both of us. He requested a rural post in Fukuoka-ken because a boy from his Japanese baseball team in California was from Fukuoka. When he got word we had been accepted, he told me we were going to Japan. I had about two months to prepare.
Before I knew it, I was on a plane to Tokyo in July of 1993. The first few days were a whirlwind. The orientation in Tokyo and the jet lag made it seem like I was in some sort of dream. I had no idea what awaited me in the countryside, I couldn't speak much Japanese, and everything seems so strange… so different from my native Louisiana. Read More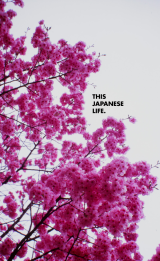 Thanks to AJET Chair Kay Makishi for the heads up on Fukuoka JET alum Eryk Salvaggio who writes the blog "This Japanese Life" and recently published a book by the same name.  You can read more about Eryk in this Japan Times interview with him from 2012.
About the book:  http://thisjapaneselife.org/this-japanese-life-the-book/
Most books about Japan can tell you how to use chopsticks or say "konnichiwa." Few tackle the real stress of life in a radically different culture.

The author, a three-year resident and the writer and researcher behind one of the best Japan blogs, tackles the thousand tiny uncertainties of life abroad with honesty and wit.

Perfect for anyone about to leave home for Japan or elsewhere, This Japanese Life will deepen any reader's understanding of Japanese culture as it's fused into a method of dealing with the hardships of working and living there.
About Eryk:
Eryk Salvaggio was an American newspaper editor in Bangor, Maine before teaching English in Japan with the JET Program. He lived in Fukuoka City from 2010-2013, writing a blog, This Japanese Life, about Japanese culture and the tiny anxieties of being an expatriate.

The site was named one of the best Japan Blogs by Tofugu and was spotlighted by The Japan Times. Salvaggio has written for McSweeney's, The Japan Times, Tofugu and Kulturaustausch.

His work as a visual artist has been covered in The New York Times and elsewhere.

He currently lives in London.
A great Return On JET-vestment article that ran today in the Japan Times:
Program lauded for continuing to bear cultural fruit, friendships
STAFF WRITER
Here's the full article:  http://www.japantimes.co.jp/news/2013/09/03/national/jet-alumni-advocates-for-japan/#.UiaU_GRATv0
Here's the quote:
Steven Horowitz, who was a JET in Aichi Prefecture from 1992 to 1994, likened his former colleagues to a global expat community of around 60,000 people in terms of their shared affection for Japan. "I think it is going to pay . . . dividends for years and years to come," he said.

To consolidate the alumni network, Horowitz runs JETwit.com, a website that accumulates information about alumni and Japan-related jobs.
Let's Talk Japan is a monthly, interview format podcast covering a wide range of Japan-related topics.  Host Nick Harling (Mie-ken, 2001-03) lived in Japan from 2001 until 2005, including two great years as a JET Program participant in Mie-Ken.  He practices law in Washington, D.C., and lives with his wife who patiently listens to him talk about Japan . . . a lot.

In this episode, Nick speaks with JET Program alumni Chelsea Reidy and Elayna Snyder about their upcoming 900-mile bicycle tour of Shikoku's famous 88 temple pilgrimage.  
Listen to hear them describe their creative "Temple by Temple Project," which they are funding through Kickstarter, and how they plan to share their adventure with others.

To learn more, check out their website, www.bigricefield.com, and the Temple by Temple Project on Kickstarter. 
Enjoy!
Nick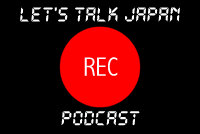 Just saw this posted to the JETAA New South Wales Facebook group which was re-posted from the Fukushima ALTs Facebook group.
"New JET members are in today's newspaper (Fukushima Minpo).  It says 43 new JET members visited the governor and expressed their hopes."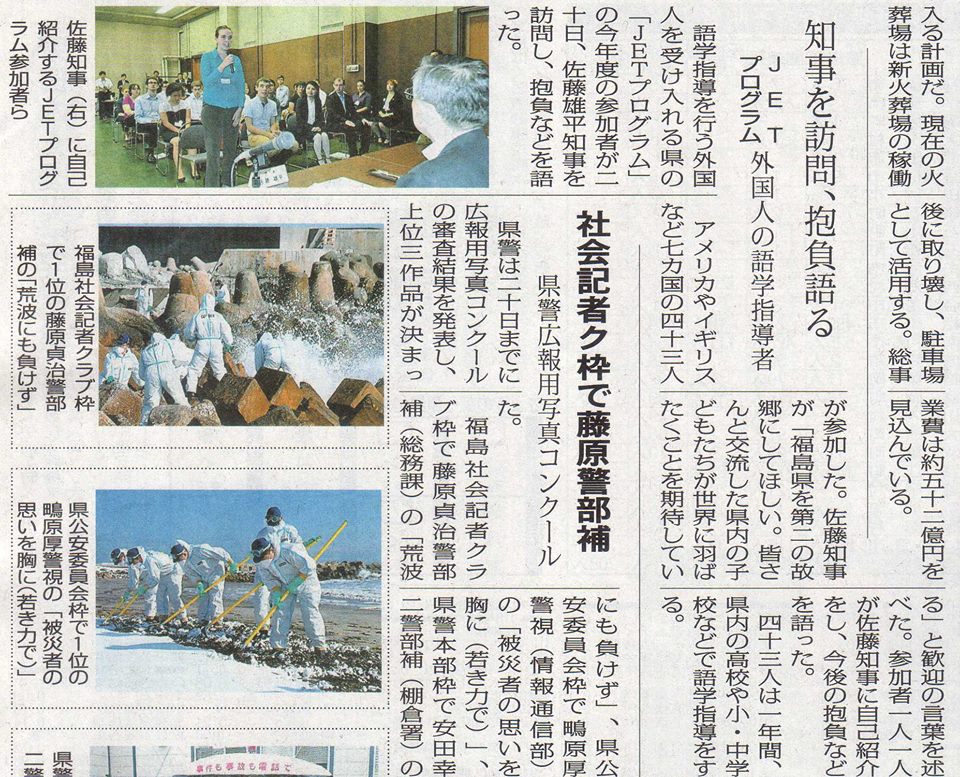 The following article recently appeared in Japanese in the Sankei Shimbun.  Very special thanks to CLAIR NY's Matt Gillam for providing a quick and functional summary/translation upon request.  Scroll further down for the Japanese version.
"Fostering Japan Evangelist"
http://sankei.jp.msn.com/world/news/130807/amr13080716050007-n1.htm
Article by Hajime Matsuura
Sankei Shimbun, August 7, 2013
On his way home the other day, Jaime Vogenitz, originally from Philadelphia, had an experience unthinkable in the US.  A woman with two children waved to him, gave him some deep-fried foods, and told him to have them for dinner.  "I was deeply moved. She must have known I am teaching here," he said.  He arrived in Minamisoma (Fukushima Prefecture) last year in July and is teaching in the elementary school there.
He teaches 3 or 4 classes a day, about 500 or 600 kids altogether, and tries to find ways to make learning English fun for them. During his free time he also sits in on the kids' Japanese language (kokugo) classes to improve his own Japanese ability.
Vogenitz is in Japan on the JET Program, which is a joint undertaking between local authorities and the Ministry of Foreign Affairs and other agencies. It brings Assistant Language Teachers, Coordinators for International Relations, & Sports Exchange Advisors from mainly English-speaking countries to Japan. Around 90 percent of these are language teachers like Vogenitz, and about half of those are from the US.
There was a blank space in heavily damaged Minamisoma after 3.11, but last year Vogenitz overcame stiff 1-in-5 odds to be accepted into the Program and became the first person to fill the recreated position.
Even though Minamisoma is so close to the Fukushima No. 1 Reactor and the situation there is known even in America, Vogenitz was happy to be able to be able to come here.  Having studied Japanese himself he says he "wanted to share the joy of learning a new language with kids in the affected areas."
Just last month, on July 26th, a send-off party was held at the Ambassador's Residence in New York for the 95 new JETs who would leave New York the next morning for Japan.  There was a mixture of anxiety and expectation, but everyone shared the same feeling of wanting to "become 'cultural ambassadors' after returning to the States to introduce your knowledge of and great experiences in Japan to people here in the US" (Monica Yuki, JETAANY President).
Begun in 1987, the JET Program has brought over 55,000 people to Japan.  About half the participants from the US have joined alumni associations there after returning home, which serve as "places for people who love Japan to get together", and where they serve as interviewers for new JET applicants.  And while there was a lot of fundraising and volunteer activity in the US after 3.11, many JET alumni were out in front leading these efforts.
This network is also "a market to cultivate supporters of the US-Japan relationship."  JET alumni who return to the States help form the backbone of society, and are active in a wide variety of fields from foreign officers and academics to journalists, and some have even run for Congress.  They conceal the potential to become the wellspring of Japan's soft power.
The JET Program's continued existence was in danger from the DPJ government's 'jigyo shiwake' review process.  But putting aside evaluations of its management, the review failed to recognize the Program's "return on investment" and "cost-benefit analysis" in terms of foreign relations and cultural exchange value.
Vogenitz says, "I am grateful to have such meaningful work," and he hopes to study management after he returns to the States. In the meantime, his father, who supported his going to Minamisoma, is planning to visit him there next summer.
******************
「日本伝道師」育てる外国青年の招致事業 ソフトパワーの源泉に
2013.8.7 16:02
米東部フィラデルフィア市出身で日本に滞在中のジェイミー・ボゲニッツさん(27)が、帰宅途中、米国では考えられない体験をした。
子供を2人連れた女性から通りすがりに手招きされたので、近寄ってみたところ、女性は買い物袋から揚げ物の総菜を取り出した。「晩ご飯に食べなさいよ」
「感激しました。僕が地元で教えているのを知っていたのでしょう」と語るボゲニッツさんは、福島県南相馬市に住む英語教師だ。昨年7月に来日し、地元の小学校で教えている。
日課はなかなか忙しい。小学生500~600人を相手に、毎日3、4コマほどの授業で教壇に立つ。授業にゲームの要素を取り込むなど、教え方にいろいろと工夫を凝らしている。空いた時間は、小学生と一緒に国語の授業を受けて日本語力を磨き、放課後は柔道を習っているという。
ボゲニッツさんは、日本の地方自治体などが共催する外国青年招致事業、JETプログラムの一環で来日した。外務省などの協力を得て、JETプログラムは主に英語圏から外国語指導助手、国際交流員、スポーツ国際交流員を日本に招致する。9割方がボゲニッツさんのような外国語指導助手で、その半数ほどが米国人という。
JETプログラムでは東日本大震災を機に、津波で大きな被害を受けた南相馬市の枠が一時的に空白となった。2012年から復活し、合格率5倍の難関を突破したボゲニッツさんは再開第1号として指名された。
福島第1原発の近隣だったこともあり、米国でも南相馬市の被災状況は知られていたが、意気に感じたボゲニッツさんは指名を喜んだ。学生時代に日本語を学んでいたボゲニッツさんは「新しい言語を覚える喜びを被災地の子供たちと分かち合いたかった」と言う。
7月26日、ニューヨークの日本総領事館では、JETプログラム参加者として翌日に日本へ出立する95人を招待した壮行会が開かれた。若者らの表情には、期待と不安が入り交じっていたが、共通するのは「帰国後には『文化大使』として日本に関する知識と良き体験を母国に紹介する」(ニューヨークJET同窓会代表のモニカ・ユキさん)点にある。
1987年に始まったプログラムは、約5万5千人の外国人を採用してきた実績がある。米国の場合、およそ半数のJET出身者が「親日家交流の場」である同窓会に登録し、新しい応募者の面接官役も務める。東日本大震災に関連した募金・ボランティア活動は米国でも活発だったが、多くのJET出身者が旗振り役だった。
そのネットワークは「日本外交の支援者を開拓する市場」でもある。米国に戻ったJET出身者は社会の中堅として、外交官、学者からジャーナリストまで、幅広い職業で活躍しており、米議会選に立候補する者も出てきた。日本のソフトパワーの源泉となる可能性を秘めているのだ。
JETプログラムは民主党政権下の事業仕分けで存続の危機にひんしたことがある。マネジメントへの評価はさておき、外交・文化交流における"投資効率"や"費用・便益分析"を事業仕分けは見落とした。
「やりがいのある仕事を得て感謝しています」。帰米後に経営大学院に通い、ビジネスマンとなる将来図を描くボゲニッツさんの声が受話器の向こうで弾んでいた。南相馬市行きを応援してくれた父は、来年夏に初来日を予定している。(ニューヨーク駐在編集委員・松浦肇)
Remember the job listing for  the Part-time Project Director with the US-Japan Bridging Foundation (USJBF) to support JETAA USA growth?  The USJBF has announced that it has selected Laurel Lukaszewski (ALT Kagoshima-ken, 1990-92) for the position for its new initiative "Strengthening the JETAA Network and Connecting Next Generation Leaders."
Shojiki ni itte, it's hard to imagine anyone better suited for the role.  Laurel has maintained a strong connection with Japan and the Japan-US community since here time on the JET Program by previously serving on the Board of Directors for the National Association of Japan-America Societies (NAJAS), as the Executive Director for the Japan-America Society of Washington, D.C, and as a Program Director of the Japan-America Society in Seattle.  She currently lives in Washington, D.C. where she actively participates on the Board of the National Cherry Blossom Festival and JETAADC.  You can see her in this panel discussion with fellow JET alums Jim Gannon (Ehime-ken, 1992-94) and Anthony Bianchi (Aichi-ken, Inuyama-shi, 1988-89) from the 2011 JETAA National Conference in D.C.
Laurel (who is also a sculptor–see her work here) officially started working Tuesday, July 9.  Here is the official announcement from the USJBF:
July 11, 2013

The U.S.-Japan Bridging Foundation (USJBF), is pleased to announce that Laurel Lukaszewski has been hired as Project Director for its new initiative "Strengthening the JETAA Network and Connecting Next Generation Leaders." Funded by the Japan Foundation Center for Global Partnership (CGP), the purpose of the project is to build infrastructure in support of the Japan-Exchange and Teaching Program Alumni Association, United States of America (JETAA USA) and enhance its impact promoting U.S.-Japan relations.

Laurel is an alumna of the JET Programme (Kagoshima-ken, 1990-1992) and has a solid understanding of U.S.-Japan relations, the U.S.-Japan community and how nonprofit and membership organizations are governed and run. After completing the JET Programme and receiving an M.A. in Asian Studies, Laurel embarked on a nine-year career with the Japan-America Societies in Seattle and Washington, D.C.. In 2005, Laurel left her position as ED of the JASW to pursue a career as an artist. She has maintained her ties to the JET Programme and U.S.-Japan community by serving as an active member of the JET Application Review and Interview committees for over thirteen years. Laurel served on the Board of Directors of the National Association of Japan America Societies (NAJAS), and has been on the National Cherry Blossom Festival Board of Directors since 2002. Paige Cottingham-Streater, Executive Director of the U.S.-Japan Bridging Foundation said, "Laurel is a valuable addition to our team and will bring a unique understanding about the JET community and its potential to promote a strong U.S.-Japan relationship."

The U.S.-Japan Bridging Foundation, a 501(c)(3) nonprofit organization, awards scholarships to U.S. undergraduate students to study for one semester or academic year in Japan. The Foundation grows global leaders to help prepare America's young people to assume future leadership roles in business, education, international and public affairs and other professions.

URL:  http://www.bridgingfoundation.org/news/new-project-director-to-facilitate-jetaa-capacity-building
News agency Kyodo News has recently been publishing monthly articles written by JET alumni who were appointed in rural areas of Japan, as part of promotion for the JET Programme. Below is the English version of the column from June 2013. Posted by Celine Castex (Chiba-ken, 2006-11), currently programme coordinator at CLAIR Tokyo.
*******
Nadya Dee (Kagoshima-ken, Hioki-shi, 2007-11) is a writer, editor and blogger born and raised in the city of Kingston, Jamaica. With a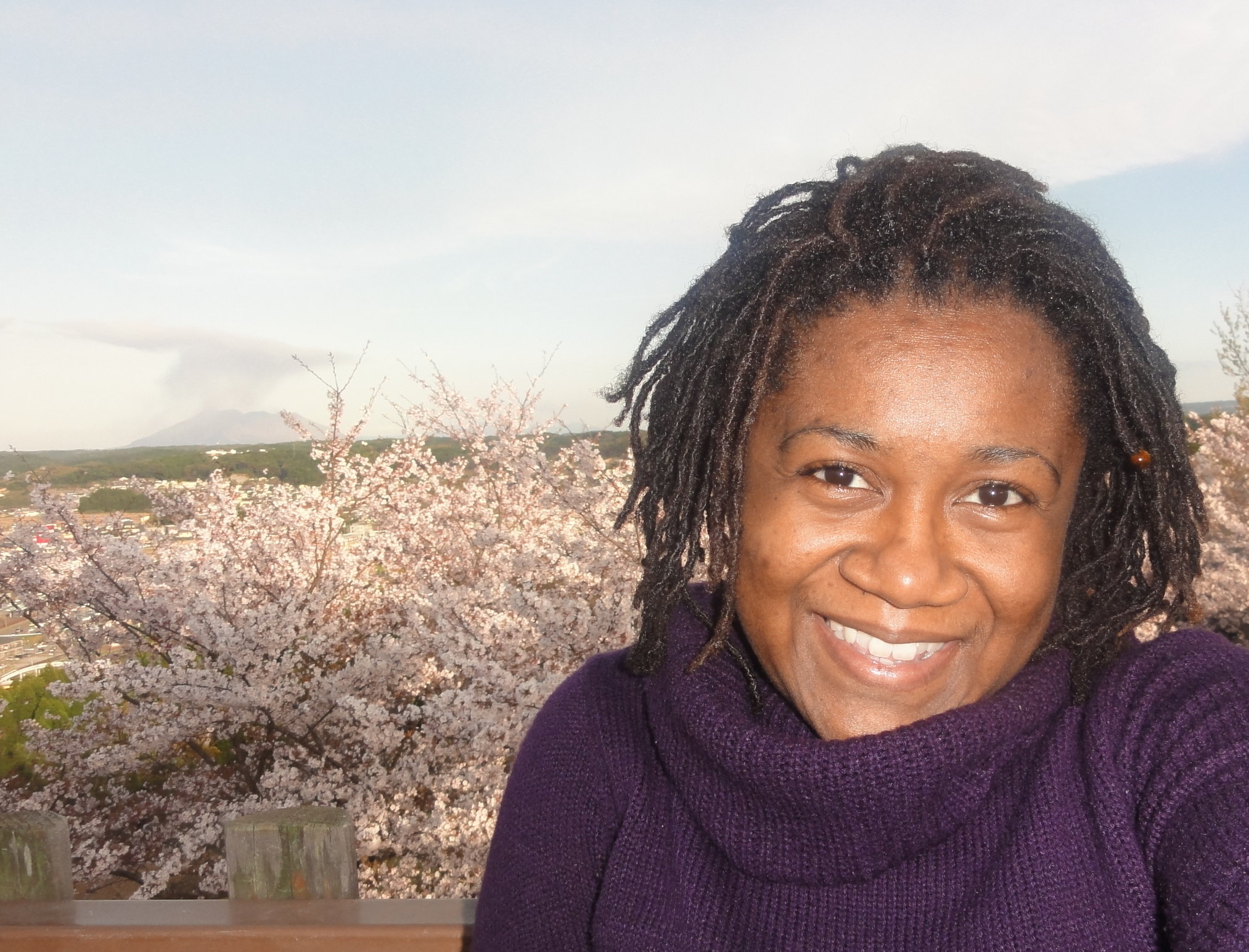 Bachelors degree in English Literature from The University of the West Indies, she joined the JET Programme in 2007 and spent four years living and teaching English in Kagoshima, Japan. She currently works as an independent copywriter and her professional website can be found at http://nadyadee.wordpress.com. As a writer, she intends to write books and collections of short stories which explore the evolution of human consciousness. Through her international experiences she hopes to create written works that speak to the heart and soul of all mankind. 
Ichi go Ichi e 一期一会: A Once in a Lifetime Opportunity
Before going to Japan in 2007, I knew nothing about Kyushu let alone Kagoshima. I searched the internet but could only find a little information about the place that I was going to live for a year. I learnt about the active volcano Sakurajima and the "Last True Samurai" Saigo Takamori but I never expected to have such an amazing experience and I never thought that, half way across the world, I would find my second home.
I joined the JET Programme to broaden my international experience with the intention of spending just one year. I left my homeland, Jamaica, and went to Japan as an Assistant Language Teacher to teach English as an alternate form of communication. I went as an ambassador, to increase global awareness and foster a positive relationship between Japan and Jamaica; two countries so far apart but with such similarities. While living in the town of Ijuin, in a city called Hioki on the Satsuma Peninsula in Kagoshima Prefecture, I taught Bob Marley songs, learnt Kagoshima-ben, played taiko, danced in a mud festival, wrote haiku and made great friends who I now consider a part of my extended family.
As a Prefectural ALT I taught at a technical high school, an agricultural high school, a special needs school and two different high schools in and around Hioki and Ichiki-Kushikino City. My responsibilities included lesson planning, team-teaching in Oral Communication classes, motivating students to practice English, editing essays and compositions, helping students to prepare for skit and speech competitions, providing pronunciation and interview preparation support as well as promoting international awareness within Japanese society. I always ensured that all my students learnt about Jamaican food, music and culture in my self-introduction classes.
After a year of adjusting to life in Japan I got the rare opportunity to perform taiko with the 'Fukiage Seishou Daiko Group' in four festivals throughout the rural area of Hioki City. In the following years I went on to teach reggae dances to my Japanese friends and we also performed in various shows and matsuri in and around Kagoshima City. Read More
Posted by  Celine Castex (Chiba-ken, 2006-11), currently programme coordinator at CLAIR Tokyo.
The Public Relations Office of the Government of Japan published an article on the JET Programme in their monthly publication that aims to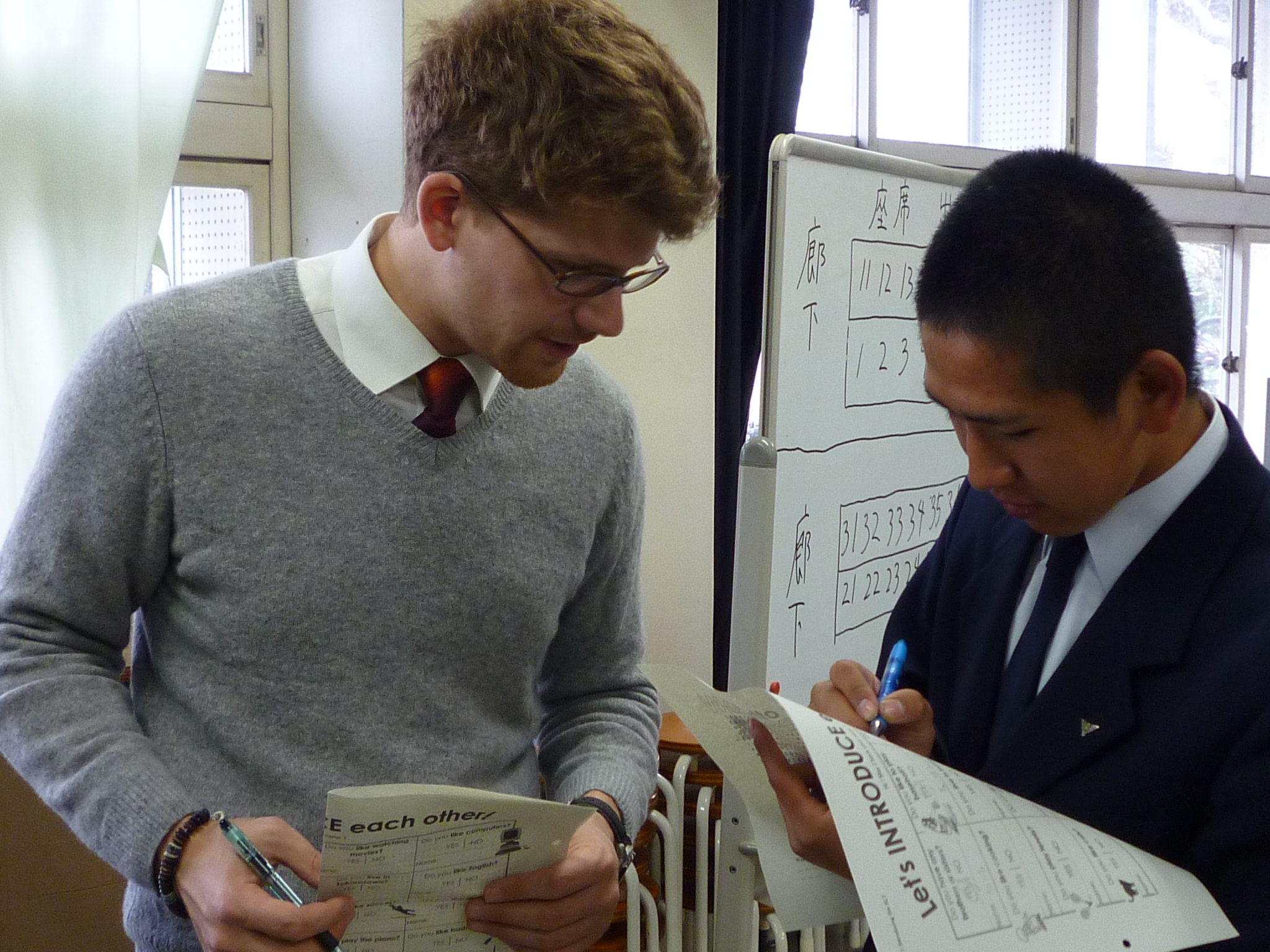 promote a better understanding of Japan in the world. They interviewed Bryan Darr (Saitama-ken, Tokorozawa-shi, 2008-13), current JET participant in Tokorozawa Shogyo High School in Saitama Prefecture. Bryan's contributions to the JET community include being the Education and Professional Development Coordinator for National AJET in 2011-12, a regular speaker at Saitama Skill Development Conferences and an active member of Peer Support Group (PSG), a listening and referral service administered by AJET.
Click here to see the article "Young Pioneers of the JET Age."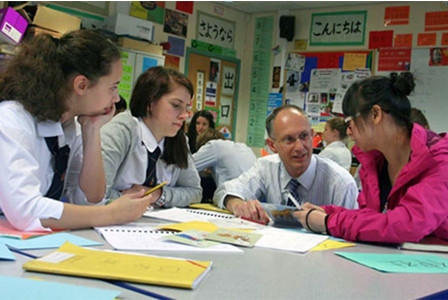 Via the JETAA UK website:
An ex-JET, Crispin Chambers (Hyogo-ken, Awaji-shima), who now teaches Japanese at Tavistock College in Devon has won a teaching award for the South West of England. He is now a finalist for the Pearson National Teaching awards 2013. This is the first time a teacher of Japanese, and an ex-JET has been nominated, and JETAA would like to extend our warmest congratulations!!
Crispin was originally a JET on Awaji Island for 2 years and then became JET programme co-ordinator for a year at CLAIR in Tokyo. After returning to the UK, Crispin gained an MA in Japanese at Sheffield University followed by a PGCE at Nottingham University. He has been teaching Japanese and French at Tavistock since 1996, and has trained several other teachers of Japanese. His lessons are inspiring and fun, and were described by the Teaching Awards judges as "a joy to watch". You can see his entry and leave him a message here:
You can learn more about Crispin's fantastic Japanese lessons on a case study of the school written by the Japan Foundation in 2011. Click here orhere  to read it.
There are currently two former Tavistock College students on the JET Programme in Saga and Sendai, so Crispin has gone on to inspire the next generation of JETs.
Former AJET Chair Matthew Cook (Osaka-fu, 2007-12) has been announced as "Shusa" ("Senior Staff") at the Osaka Prefectural Board of Education.  His role will be working with all levels of English Educational Affairs and working as a member of the new English Education Reform Team.
Matt may be the first ever non-Japanese person to hold a senior level full-time position at a Board of Education in Japan*.  (If anyone is aware of other examples, please post in the comment section.)  Among other things, it is also encouraging to see a JET alum with an opportunity to play a substantive role in English education reform in Japan.
Matt has spent the past ten months working for the Osaka Prefectural Board of Education as a the Program Coordinator for their Native English Teacher (NET) Program (somewhat akin to being a JET Program Coordinator at CLAIR) following his completion of five years as a JET ALT in Osaka-fu and serving one year as AJET's national council Chair.
Omedetou, Matt-san!  Ganbatte kudasai and yoroshiku onegaishimasu!
Here's a link to the article about the announcement in the Yomiuri Shimbun (Japanese only):  http://www.yomiuri.co.jp/kyoiku/news/20130522-OYT8T00381.htm  (If anyone readers could provide a short summary in the comment section, by the way, that would be greatly appreciated.)
*Note:  I learned there have been other former JETs and other non-Japanese who worked as advisors and in other roles for the Osaka Prefectural Board of Education.  However, my understanding is that none of them worked at the policy-making level.  Here's a 2003 article from The Guardian that quotes one in particular who seemed to have some good insights into reform and Japanese language education, Huw Olphant:  http://www.guardian.co.uk/education/2003/jan/30/tefl  Huw currently works as Head of Society and English Education for the British Council in Japan and was apparently mentioned in Importing Diversity, a book about the JET Programme published in 2000.
*********
Update 06.01.13     
*********
Thanks to current JET Kevin McCoy for summarizing some of the above Daily Yomiuri article:
このうち、元滋賀県立高英語教諭でハーバード大教育大学院で教育修士号を得た武田浄さん(46)と、府内で外国語指導助手などを約6年間務めた米国籍のマシュー・クックさん(34)の2人を、この日、任期付き職員として採用した。他の5人は、英語に堪能な府教委職員で、従来の担当と兼務する。
Two the seven team members, Takeda Kiyoshi (46), a former English teacher at Shiga Prefectural High School, who received his Master's degree at Harvard University Graduate School, and Matthew Cook (34), an American who worked for approximately 6 years as an ALT for the prefecture, were hired as "shokuin" (staff) with a limited period of appointment. The other 5 members are all staff at the prefecture's Board of Education with exceptional English skills who will also serve their usual "tanto" (staff) positions.
Kevin also found the following report which is a little more specific with regard to titles:
http://www.nnn.co.jp/dainichi/news/130521/20130521032.html
同チームは7人で構成。これまで英語教育に携わってきた職員に加え、ハーバード大教育大学院で教育修士号を取得し、国内の公立中高で教諭経験がある武田浄さん(46)と、バージニア工科大卒で府教委の外国人英語指導員などに就いてきた米国国籍のマシュー・クックさん(34)を、それぞれ参事と主査で任期付き採用した。武田さんの任期は2016年3月末までで、クックさんの任期は2015年3月末まで。
The team is made up of 7 members. In addition to staff who have been involved in English education until now, Kiyoshi Takeda (46) [...] and American national [...] Matthew Cook (34) were each hired as "sanji" and "shusa", respectively. Takeda's appointment is until the end of March 2016, and Cook's appointment will last until the end of March 2015.
Update 5/28/13:  I originally listed Karl as a Gumma JET before learning that he's actually based in Saitama-ken.  Apologies for the error.
CBS News did a feature on Japanese school lunches this past Saturday morning, May 18.  They happened to pick a Higashi Chichibu Junior High School in Saitama-ken where JET Karl Hoeschen works and they ended up interviewing him for the story.
Click the link below to see the video.  (The features starts around 07:54:30, after the opening segment on Michelle Obama.)
http://ctv4.criticalmention.com/playerpage/player?shareid=124788&partnerToken=26ce96c33e478f62013e5c8a55bd1a48&clientId=0
Here's another link to the video that also has a written article in connection with the video:  http://www.cbsnews.com/8301-33816_162-57585156/whats-for-lunch-in-japanese-schools-its-always-healthy/