Oct
25

Translating/Interpreting, Travel/Tourism, Uncategorized, WIT Life

Comments Off

on WIT Life #358: LA eats Japan
Professional Writer/Interpreter/Translator Stacy Smith (Kumamoto-ken CIR, 2000-03) presents WIT Life, a periodic series about aspects of Japanese culture such as film, food and language. Stacy starts her day by watching Fujisankei's newscast in Japanese, and here she offers some interesting tidbits and trends along with her own observations.
Although the days are still balmy here in NY, we've had some chilly nights and mornings as we get deeper into fall. In LA however, the warm weather sticks around longer, allowing for fun outdoor activities as we move closer to winter. I'd like to share one that I wish I was able to attend in person!
LA eats Japan has been an annual food festival since 1999, and it will be held outdoors for the first time this year at Little Tokyo. This free event will be held on Sunday, November 14 from 11 am-8 pm, and is presented by the Japanese Restaurant Association of America with support from the Consulate General of Japan in LA.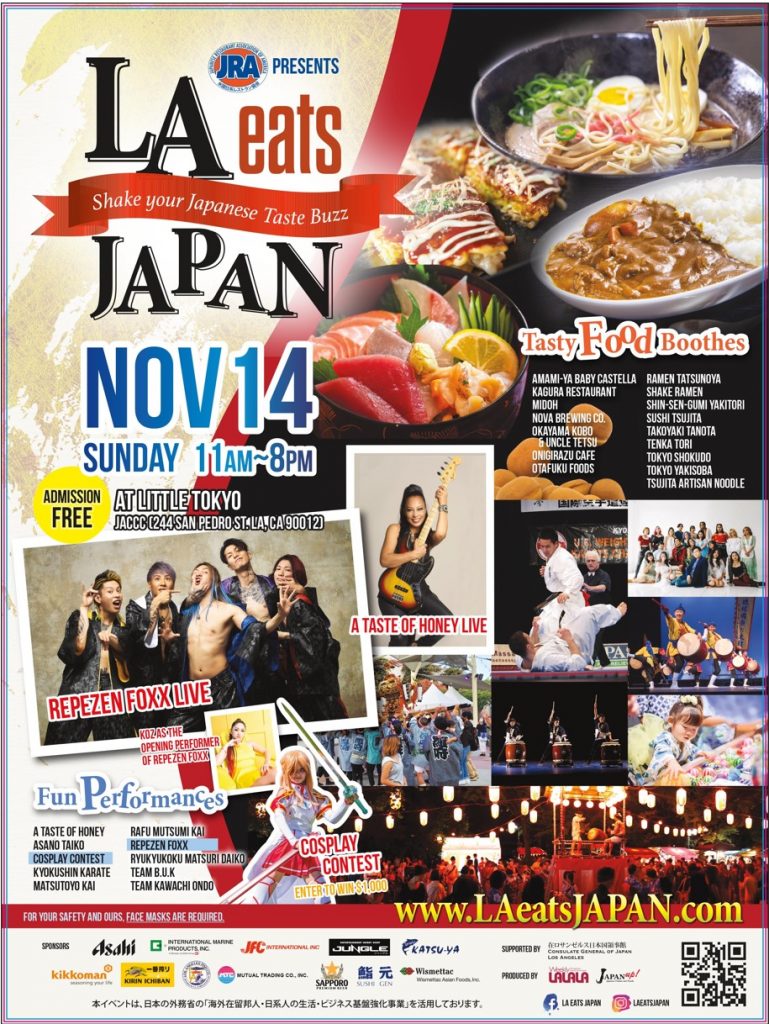 There will be 17 vendors from local restaurants selling curry rice, yakitori, okonomiyaki, ramen, yakisoba and sushi, as well as sweets such as kakigori and castella. In addition to all this amazing food, there will be a cosplay costume competition with a prize of $1,000. Live performances will feature contemporary techno music, as well as traditional martial arts and music like karate and taiko. A mikoshi portable shrine will even be paraded through the streets!
For those who want to experience Japanese food, culture and sightseeing spots but aren't able to travel at this time, I would like to recommend the Kyushu Virtual Fest to be held Thursday night. It is the second half of a two-part event, and I attended the first last night. Having lived in Kumamoto on JET, I was thrilled that they spotlighted Aso and other amazing places in the prefecture, as well as a waterfall I had never visited but hope to on my next trip. They also highlighted sites and products from Fukuoka and Kagoshima, and there were many giveaways and discounts for viewers. This event is free as well so definitely check it out!