The JET Program was founded in 1987 as a program that fostered ties between Japan and four other nations. Today, the program has evolved to include participants from more than 40 countries around the world, with activities ranging from English-teaching to sports exchanges.
This episode of Asia on Air celebrates 30 years of the JET program by interviewing three former JETs:
Joy Champaloux

,

Associate Program Officer at Sasakawa USA and President of the JET Alumni Association of Washington, D.C.;

Bill Clifford

, CEO and President of the World Affairs Councils of America and Non-resident Senior Fellow at the Foreign Policy Institute at the School of Advanced International Studies at Johns Hopkins University; and

Hayley Aron

, Administrative and Program Assistant at the Maureen and Mike Mansfield Foundation.
Listen in for host Brian Graf's discussion with our accomplished guests on their experiences in Japan as JETs and how these experiences have shaped their careers and encouraged them to support U.S.-Japan relations.
Host and Creator: Brian Graf
Guests: Bill Clifford, Hayley Aron, and Joy Champaloux
Producer and Engineer: Graham Dietz
Music by HitsLab and Moby Gratis
---
Asia on Air is a new Sasakawa USA podcast committed to analysis of the latest news in U.S.-Asia relations. Through the lens of the U.S.-Japan relationship, each episode features expert opinions on a variety of subjects ranging from security and foreign policy to economics and culture. Click here to listen to Asia on Air's SoundCloud channel.
By Suzanne Bhagan (Tottori Prefecture)
When: 26 November
Where: Matsue, Shimane Prefecture
Even though Thanksgiving is technically over, that's no reason not to keep the celebrations going this weekend!
When: 2 December
Where: Niigata City, Niigata Prefecture
Join Niigata AJET to learn how to make Niigata's favorite treat, sasadango, from mugwort-flavored mochi, red beans, and bamboo leaves!
All You Can Eat Crab & Onsen Bus Trip!
When: 2 December
Where: Kumihama, Kyoto Prefecture
Sign up for an all you can eat crab buffet, hot springs, and Amanohashidate on a one-day-only trip!
Block 3 AJET Event: Mitsumine Shrine and Yomatsuri
When: 3 December
Where: Chichibu, Saitama Prefecture
Celebrate Chichibu City's annual festival, Yomatsuri, where dozens of enormous portable shrines are marched through the city after a spectacular fireworks display.
By Suzanne Bhagan (Tottori Prefecture) 
When: 11-12 November
Where: Gokase, Miyazaki Prefecture
Miyaki AJET invites you to spend a packed weekend in Gokase kayaking, taking in the vibrant koyo, making friends at a cabin party, and checking out Heike Matsuri!
When: 12 November
Where: Ibusuki, Kagoshima Prefecture
Kagoshima AJET is inviting all community members to finish off SDC weekend strong by hiking up one of Kagoshima's volcanoes!
When: 12 November
Where: Nakatsu, Oita Prefecture
This autumn, join Oita AJET for a wicked biking trip on the Yabakei trail.
HAJET Book Club: The Left Hand of Darkness
When: 12 November
Where: Kobe, Hyogo Prefecture
Why not join HAJET for a chilled afternoon of discussion about books? They will be covering The Hand of Darkness by Ursula K. Le Guin.
By Suzanne Bhagan (Tottori Prefecture)
Hey, past and present JETs! Here's a snapshot of what's going on in Nihon-land this week!
When: 1-3 November
Where: Onomichi, Hiroshima Prefecture
On Culture Day, head to Onomichi for its famous Betcha Matsuri. At the festival, three oni (Betcha, Soba, and Shoki) will "beat" the sickness out of you to bless you with good health for the following year! The festival also a temple walk and amazing taiko performances.
Shizuoka City Daidogei Festival
When: 2-5 November
Where: Shizuoka, Shizuoka Prefecture
Shizuoka AJET invites everyone to an annual event that features street performers from around the world juggling, dancing, and performing acrobatics, comedy, and aerial acts!
When: 3 November
Where: Moriyama, Kyoto Prefecture
Spend Culture Day appreciating ukiyo-e paintings at Sagawa Art Museum with Shiga AJET.
Learn to make Japanese sparklers
When: 3 November
Where: Kumamoto, Kumamoto Prefecture
Did you know that only three companies in Japan make traditional sparklers? KumAJET invites you to join in this exciting workshop that involves real-life gunpowder!
When: 3-5 November
Where: Miyama, Kagoshima Prefecture
This annual pottery festival is held in the small pottery village of Miyama. Get some Korean-inspired Japanese pottery for your kitchen!
When: 5 November
Where: Matsue, Shimane Prefecture
It's never too late to celebrate Halloween. Join in a traditional Halloween dinner party for lots of fall food. Fancy dress is optional but there's a prize for the best outfit!
By Suzanne Bhagan (Tottori Prefecture)
What's on this week? Halloween parties and lots of other unique festivals! Here's a snapshot of some cool events to check out!
When: 28 October
Where: Kyoto, Kyoto Prefecture
Calling all ghouls and girls! Join Block 6 for their annual Halloween bash. Party includes nomihodai, a costume contest, and a dance contest! Get your groove on!
When: 28 October
Where: Omura, Nagasaki Prefecture
Is there anywhere spookier to celebrate Halloween than in a cabin in the woods?
When: 29 October
Where: Misasa, Tottori Prefecture
Are you brave enough to walk on fire barefoot like the monks do?
When: 29 October
Where: Iwami, Shimane Prefecture
Block 9 JETs, share in this JET Furusato Vision Project cultural event! Join in the Iwami kagura dance and ignite your creative spark with Iwami yaki pottery workshops!
By Suzanne Bhagan (Tottori Prefecture) 
Hey JETs, past and present! October's not even over yet and there's still a lot going on! Read on to find out how you can get in on all the action!
Journey to the end of the night
When: 21 October
Where: Toyama Park (West), Children's Square, Tokyo
Join in a massive (and free!) game of tag that spans six parks and about 9 km across the city!
When: 21 October
Where: Tajima, Hyogo Prefecture
If you like answering Halloween-inspired trivia questions, drinking, and just plain having fun, this one's for you!
When: 21 October
Where: Fukui Prefecture
Block 5, get ready for the biggest and best co-ed 5-a-side football tournament this side of Japan. No team required!
When: 21 October
Where: Kitakyushu, Fukuoka Prefecture
Think fast! All JETs are welcome to visit Kyushu's famous theme park that's closing at the end of the year.
When: 21 October
Where: Ehime Prefecture
Hike up the highest mountain peak (1982 m) in western Japan with Ehime AJET!
When: 22 October
Where: Kanoya, Kagoshima Prefecture
Get in on the Halloween action early with a costume contest and pumpkin weight guessing contest at the Ryujin Taisai Festival!
AJET Charity Toyama Scavenger Hunt
When: 22 October
Where: Toyama-shi, Toyama Prefecture
Explore the city, make new friends, and raise money for a good cause! Proceeds will go to the Bridge For Smile charity.
Outdoor Climbing Day at Zakkokutani
When: 22 October
Where: Toyama Prefecture
Beginner and experienced climbers, grab your harnesses and let's go outside!
By Suzanne Bhagan (Tottori Prefecture)
Hey, everyone! There's another national holiday this week (Health and Sports Day) so who's ready for some hiking, kiritanpo, kayaking, parades, beef, and screaming? Read on to find out more!
When: 7-9 October
Where: Odate, Akita Prefecture
Enjoy live performances and kiritanpo (rice grilled stick and specialty of Akita prefecture) at this unique festival.
29th Yufuin Eat Beef and Scream Tournament
When: 9 October
Where: Yufuin, Oita Prefecture
I scream, you scream, we all scream for beef (literally)! Head to Mount Yufu for this unusual event that combines beef eating and screaming into a stratovolcano.
When: 9 October
Where: Ogaki, Gifu Prefecture
Help carry the mikoshi and be part of one of Ogaki's biggest events for the year!
When: 14 October
Where: Kyoto, Kyoto Prefecture
Celebrate Halloween early by hitting the street with Kyoto's very own yokai parade.
When: 14 October
Where: Lake Biwa, Shiga Prefecture
Pack a bento and come kayak Japan's largest freshwater lake with a professional instructor!
When: 15 October
Where: Miyoshi, Tokushima Prefecture
Strap on those hiking boots to climb Shikoku's third tallest peak.
By Suzanne Bhagan (Tottori Prefecture)
Put away that cool biz. October is here! Before you snuggle under that kotatsu, here are some events to get you nice and toasty!
When: 8 October
Where: Otsu, Shiga Prefecture
Get ready to work it. Shiga AJET invites volunteers to flex those muscles to pull festival floats at the famous Otsu Matsuri.
When: 7 October
Where: Kyoto, Kyoto Prefecture
This fall, Block 6 kicks off their welcome undoukai/picnic in the park for all Block 6 JETs, new and old.
When: 8 October
Where: Hita, Oita Prefecture
Oita AJET welcomes all JETs and friends to hop on a pleasure boat, drink, eat, and relax on Hita's Mikuma river.
When: 7 October
Where: Nagaoka, Kochi Prefecture
It's time for HAJET's annual rafting trip down south. Grab a paddle pronto!
By Suzanne Bhagan (Tottori Prefecture)
Konnichiwa past and present JETs! This autumn's already steaming up with a host of events to keep you occupied. Here are some highlights you shouldn't miss!
When: 1 October
Where: Ojiya, Niigata Prefecture
Forget human sumo wrestlers! Head to Tsunotsuki or bull versus bull wrestling in Ojiya to see which beast comes out on top!
When: 30 September
Where: Saihaku, Tottori Prefecture
It's already fall so you know what time that is: time to tackle Daisensan, the tallest mountain in the Chugoku region!
Block 4 Welcome Party: Odo Beach Bonfire
When: 29 September
Where: Itoman, Okinawa Prefecture
Calling all Block 4 peeps! Bring some booze and marshmallows and get to know one another!
When: 30 September
Where: Mutsu, Aomori Prefecture
Cozy up with live music from over 20 local artists and groups and nosh some tasty food at this music festival.
When: 29 September – 1 October
Where: Fukue, Nagasaki Prefecture
Head to one of the main Goto islands for Nebuta parades, fireworks, dances, and a whole lotta fun!
When: 24 September – 1 October
Where: Miyako, Fukuoka Prefecture
Join in one of Kyushu's three major float festivals that's famous for its "fighting floats" where competing floats hit one other!
By Suzanne Bhagan (Tottori Prefecture) 
Hey, everyone! It's already past the middle of September and there's a national holiday (Autumnal Equinox Day on 23 September) coming up. Here's what's going on in Japan's JET community this week and the next!
When: 23 September – 24 September
Where: Oirase Town, Aomori Prefecture
Snap the "living dolls" that ride the giant floats during the Shimoda Festival in Oirase!
When: 30 September
Where: Minamiaso, Kumamoto Prefecture
Pack a tent. It's party time on the side of the world's largest caldera for the first ever Kuma Fest!
Hiroshima AJET's Annual Whitewater Rafting Trip
When: 29 September – 1 October
Where: Yoshino River, Kochi Prefecture
Block 9 peeps, get your paddles ready! Hiroshima AJET is hosting its yearly whitewater rafting in Shikoku.
When: 30 September
Where: Miyakonojo, Miyazaki Prefecture
September can be tough with classes, speech contests, and sports day so rustle up a team and head to the MAJET Trivia Night! It's also a potluck so bring something yummy to share!
When: 24 September
Where: Kobe, Hyogo Prefecture
At this sesh, Hyogo JET's Book Club will dissect Howl's Moving Castle by Diana Wynne Jones. P.S. it isn't considered cheating if you can't finish the book and only watch the movie instead.
Kagawa AJET Moon Viewing and Party
When: 23 September
Where: Marugame Castle, Kagawa Prefecture
Forget yesterday's eclipse. Kagawa AJET hosts a moon viewing party at Marugame Castle for the autumnal equinox! Take a tour of the castle, picnic, and enjoy the scenery!
When: 30 September
Where: Kamaishi, Iwate Prefecture
Get your drink on at the first ever Kamaishi Wine Festival! It takes place during the Kamaishi Magokoro Food Festival and the Rugby World Cup 2019 Fan Zone Rehearsal Event so drink up, eat up, and join in a game of street rugby!
When: 30 September – 1 October
Where: Maibara, Shiga Prefecture
Get ready for a legendary weekend of mad views and copious amounts of Pocari Sweat as Shiga AJETs cycle 150 km (93 miles) around Lake Biwa!
When: 30 September
Where: Nakagami, Okinawa Prefecture
An exciting night of dance performances: hip hop, belly dance, tribal fusion belly dance, jazz dance, popping, flamenco, and more!
Ashlie O'Neill (Hyogo-Ken, 2013-Present) AJET National Council Vice Chair and Director of Alumni Relations. Ashlie is in her second year on the AJET National Council as the Director of Alumni Relations. She works alongside Ryan Hata (National AJET Director of Alumni Resources ) and members of JETAA to strengthen the relationship between former JETs, current JETs and Japan. Please feel free to contact her email at ashlie.oneill@ajet.net or her Linkedin profile. Ashlie helps to keep you up up to date with JETAA happenings around the world.
This month marks the 5th anniversary of the Tohoku Earthquake and the loss of the lives of the two JETs Taylor Anderson and Monty Dickson.  Many JETAA chapters around the world are getting together to remember those affected by the disaster as well as raise money for various organisations in Tohoku. This edition of the JETAA Chapter Beat will focus on these events.
About the film: In March 2013, Wesley Julian launched and successfully funded a Kickstarter campaign to create Tohoku Tomo — a documentary film telling the story of true friendship and commitment to Japan's recovery by the international community following the Great East Japan Earthquake.
Julian and a small team traveled across the United States and Japan to interview individuals who have made and continue to make a difference in Tohoku.
Many of these people dropped what they were doing and dedicated themselves to Japan's recovery. Many of them even took it upon themselves to establish non-profit organizations aimed at connecting with and rebuilding Tohoku and its communities. At the core of all of these organizations are individuals. Many of these groups were founded by members of the Japan Exchange and Teaching (JET Program). What started as a love of Japan through teaching blossomed into a true friendship and commitment to the Tohoku region. These founders and many other volunteers have truly become friends of Tohoku. They are, in Japanese, Tohoku Tomo.
Locations
JETAA Alaska
When: February 29th, 6:00pm
Where: The BP Energy Center, Anchorage
JETAA Midsouth/NOLA
When: March 3rd, 5:30pm
Where: Tulane University, Newcomb Campus, Jones Hall 102, New Orleans
JETAA Toronto
When: March 9th, 6:30pm
Where: Revue Cinema
Sasakawa Peace Foundation and JETAADC
When: March 11th, 4:30pm
Where: The Mayflower Hotel, Washington DC
JETAA NSW
When: March 16th, 6:00pm
Where: Japan Foundation, Sydney
JETAA Southern California
When: March 18th, 7:00pm
Where: Occidental College, Choi Auditorium, los Angeles
Florida JETAA-Miami
When: March 30th, 8:00pm
Where: Florida  International University, modesto A. Maidique Campus, Room GL 100
Florida JETAA-Orlando
When: March 31st, 8:00pm
Where: Asia Trend/ Y.E.S.S Center
About the Project: The mission of the 113 Project is to create a venue for dialogue and action that reclaims the message of the Tohoku disaster as an opportunity for good. The 113 Project will encourage collaboration among thought leaders, activists, community members and volunteers to continue the critical work of recovery and revitalization in Tohoku as well as to look at and address together challenges faced by others through the lens of lessons learned out of the Tohoku experience.
JETAA Northern California
When: March 8th, 6:30pm
Where: JCCC NC , 1840 Sutter Street, San Francisco
JETAA Rocky Mountain
When: March 13th, 2:00pm
Where: Sie Film Center, Denver
PNWJETAA
When: April 22-24th
Where: Cherry Blossom Festival, Seattle
For a full list of Tohoku Tomo and 113 Project events, please see the Tohoku Tomo website at http://tohokutomo.com/screenings/ or email them at info@tohokutomo.com.
Live Your Dream: The Taylor Anderson Story
About the film: This film is a story about Taylor Anderson and all the young people who travel the world trying to make a difference. Taylor was an extraordinary American who dedicated herself to teaching Japanese children, living her dream right up to the events of March 11, 2011. The earthquake and tsunami in Japan were a disaster that no one could have expected. 
When:March 13th, 1:00pm
Where: Sendai Mediatheque, Sendai, Japan
Details: http://jetprogramme.org/en/info/greateastjapanearthquake/
Additional Events around the world
D-prep: A disaster Preparation Event
JETAA Vic/Tas/SA
The Big Bento Lunch
When:March 1st-31st
Where: Anywhere you wish
Hosting a Big Bento Lunch is as easy as rounding up up a group of your friends and work mates and eating some delicious Japanese food!
Since 2012, Big Bento Lunch participants have raise more than $30,000 for many charities by holding family picnics or parties or and getting bentos delivered to work places. It is simple and fun!
To register your lunch and help us support the Taylor Anderson Memorial Fund, visit the Big Bento Lunch website at www.bigbentolunch.com.au
Posted by Albert David Valderrama (Ibaraki-ken, 2010-present), JET Programme ALT/PA, co-founder and National Co-Representative of API AJET, and Chief Editor of the @api webzine.
_______________________________

@api #005 is out now! Read the full issue at http://goo.gl/rnrBqh or click the image below.
Inside this issue:
People: Faces of API AJET, National Representatives
Essay: A Year of Pretending to be Japanese by Aimee Wenyue Chen
Review: HOME:WORD by Cat Dinh
Interview: @api Exclusive with Sandy Cheng, Chair of the AJET National Council
What is "@api"?
"@api" is a web-based magazine put together by contributors and members of the Asian Pacific Islander Association for Japan Exchange and Teaching (API AJET). Archived issues are available on Issuu and WordPress.
Asian Pacific Islander AJET (API AJET) was created during the summer of 2012 following many talks about the specific issues the API community faces.
This special interest group (SIG) aims to create a supportive environment for all APIs living in Japan. We also hope to increase awareness about API issues and incite dialogue among curious JETs and non-JETs. Furthermore, API AJET hopes to act as a tangible resource for anyone interested in understanding an API's unique perspective (as a foreigner) in Japan.
The group is open to all. Join to share, discuss, and learn about the API experience. Membership is free!
For more information go to our website at api.ajet.net, email us at api[at]ajet.net, or find API AJET on Facebook, Google+, and Twitter (@apiajet).
Saw this originally posted to the JETAA Southern California Facebook group by Stephen Haverfield:
Passing along info from Stonewall Japan: LGBT Computer-based Q&A sign in:
Greetings from Stonewall Japan! Many of you may know of our organization already but for those unfamiliar, we are one of the national AJET special interest groups. With almost 800 members, we are definitely the largest of the SIGs, and our mission is to provide a safe community for LGBTQIA English language speakers living and working in Japan.
http://ajet.net/contact-ajet/special-interest-nationality-language-groups/Stonewall.ajet.net
We are contacting you today to let you know about the resources we have been putting together for the incoming 2014 JETs. As departure looms, we're sure you are all extremely busy with preparing the new JETs for their life abroad. In order to help with that process, we have created a small handout about living as an LGBTQIA person in Japan. It includes links to resources and has a lot of great information that we certainly wish we had had when we first arrived on JET! We have also gathered some wonderful volunteers from Stonewall's leadership to provide Q&A sessions through Google Hangouts for incoming JETs BEFORE they leave, which we hope will answer a lot of lingering questions and alleviate some stress from the often stressful process of preparing for departure.
The orientation handout is attached and the link to the Q&A session sign-up is here:
http://stonewall.ajet.net/new-jet-info-session-sign-up-2014/
However, as you know, the time for orientation is limited, especially considering AJET will no longer have a presence this year at Tokyo orientation. So we were encouraged by National AJET to send this out to the JET alumni associations / orientation coordinators post-haste. We hope that you can distribute the handout and the link to the Q&A to the incoming JETs in your area as soon as possible (the deadline for the Google Hangouts sign up is July 12th and we have a limited amount of spots open).
Lastly, we want to congratulate you on the work you've done and continue to do to make sure the new JETs arrive in Japan with the knowledge they need to hit the ground running. A big Otsukare-sama goes out from the whole Stonewall team.
Thank you and onegaishimasu,
Sincerely,
The Stonewall Japan Leadership Team
stonewallsig@ajet.net
Attachment: Handout https://docs.google.com/document/d/1n2WwAeSZYmv2nqVETSA8SI4lKbMLKi9vp3AUn4salVc/edit?usp=sharing
By Eden Law (Fukushima-ken, 2010-11) for JQ magazine. Eden lived and worked in the core city of Iwaki on JET, and is JETAA New South Wales's webmaster, meaning he is the voice on all the online and social media for the Sydney-based chapter like Twitter, Instagram (both @jetaansw) and Facebook.
At the start of this year, dramatic changes took place as CLAIR (the Council of Local Authorities for International Relations) formally announced changes to its relationship with AJET (the Association for Japan Exchange and Teaching), with the full details made public by the latter on their Facebook page on a post dated January 27. The immediate outcome of this decision means that AJET's participation and input at CLAIR-organised events such as the Tokyo Orientation and After JET conferences will be discontinued.
While AJET has had a low profile in the collective consciousness of many on the programme, these changes will inevitably impact all JET participants, most immediately in how conferences will be held and run, and how AJET will continue to represent and assist the needs of the JET community. Historically, the volunteer organisation has existed from the start of the JET Programme and is run by JETs to benefit and support participants in Japan. Now, it faces the biggest challenge of its 27-year history.
For those who may not have heard of or know about AJET, its constitution describes it as a volunteer organisation whose purpose is to foster a successful working relationship between JET Programme sponsors and participants, as well as to promote and support the JET community. In turn, it presents itself as a representative of the same community. Founded in 1987 right from the start of the JET Programme itself, AJET's early work was very much focused on providing a support network for the first participants.
Kay Makishi (Fukuoka-ken CIR, 2011-14), 2014's outgoing AJET chair who completed her one-year term on the AJET council, sums up her focus on the JET community: "I wanted to see more energy spent on starting projects like our Professional Development Conference Calls…[and] collaborating more with JETAA so JETs have more support finding jobs post-JET," she explained.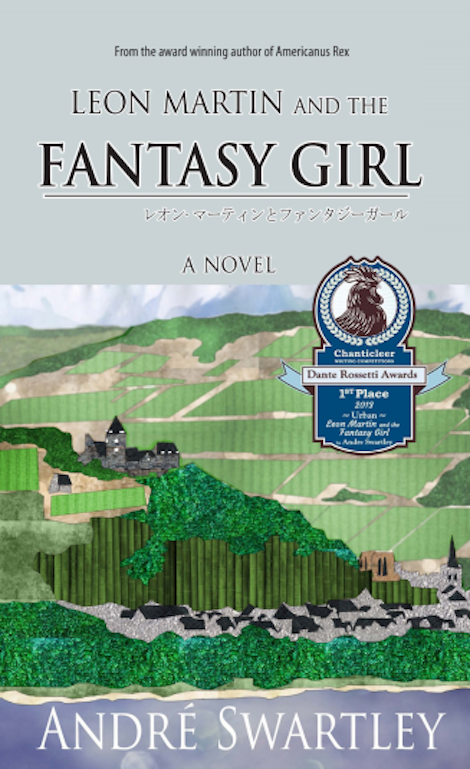 Via the Saga JET Programme website:
This month's edition of AJET's Connect Magazine features a double (DOUBLE) page spread interviewing current Karatsu City JET Andre Swartley about his award-winning book – Leon Martin and the Fantasy Girl. If you haven't read this month's edition, the interview and short review is below. If you want you buy a copy of the book click here.
Leon Martin and the Fantasy Girl delves into cultural exchange on a level that most people never get a chance to experience. When a group of American high school students arrive at a small German town for a summer work-study program, they find themselves caring for a potentially illegal alien in a life-threatening situation.
Leon and Autumn, a pair of teens staying with the same host family, are at the forefront of the action. Instead of spending their summer doing the work they traveled to Germany to do, they find themselves looking after a girl named Shin. Her presence is the glue that holds this story together, as well as what makes it so unbelievable. Shin's story is vague at first and takes its time in clearing itself up.
The build-up to the second half requires readers to have some faith that that these characters will eventually find themselves in slightly more realistic situations, which they do. Spending a summer abroad in Germany is adventurous, but saving a fellow foreigner who should have been taken into custody from the beginning is a bit of a stretch. Read More