Nov
4

AJET, Events, Japan Local, JETAA Chapter Beat

Comments Off

on JETAA Chapter Beats November 2018
Chapter Beats November, 2018
JETAA Chapter Beat is a periodic mosaic of events taking place in the JETAA sphere. Compiled by AJET's Director of Alumni Relations Megan Buhagiar (Ishikawa Prefecture, 2017- Present)
JETAA Rocky Mountain
Colorado & Wyoming Japanese Speech Contest
Where: First Baptist Church of Denver
1373 Grant St.
Denver, CO 80203When:  Saturday, November 10 @ 9:30 AM – 3 PM
Co-sponsored by the Consulate-General of Japan in Denver and the Japan America Society of Colorado, the annual Colorado/Wyoming Japanese language speech contest in coming up on November 10th and JETAA Rocky Mountain has been asked to have a few JETs come and talk about the JET Program. We need two JETs for the morning to set up a table and talk about how awesome their JET experience was. Around noon, the afternoon shift will begin and all four JETs will be treated to free Bento boxes courtesy of the Colorado Japanese Language Education Association (CJLEA). The Afternoon JETs will staff our table AND give a 15 minute talk and Q&A.

Bring anything you like from your JET experience. Letters from students, and of course photos, really help get people excited about the JET program when they see all the amazing things we get to do and connections we made with our local communities back in Japan.

And of course, JET Alumni are welcome to attend and socialize. The members of CJLEA have been incredibly supportive of the JET program and JETAARM. They are Japanese language teachers after all!
JETAA NY
JETAA NY Fall Photo Walk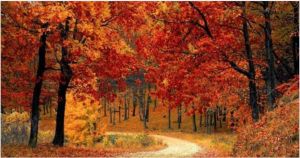 DATE:       Saturday, November 3rd
TIME:        12:00 – 14:00 EDT
PLACE:    Central Park
5 Av to Central Park W, 59 St to 110 St,
New York, New York 10022
Details
Join us for a casual stroll through Central Park while taking some beautiful pictures of the fall colors. Bring your camera / smartphone / Polaroid and let's capture the signs of the season. Afterwards, we can show off our new pictures over coffee/tea/snacks.
More details including meeting location to come!
Questions? Contact Andy at community[at]community[dot]org
JETAA NY / Carnegie Mellon University – Heinz College
Carnegie Mellon University is a strategic partner of JETAA and are offering opportunities for JET Alumni to learn more about the master's programs offered at Carnegie Mellon University's Heinz College of Information Systems and Public Policy. 
Their partnership guarantees a 30% minimum scholarship award when JETAA alumni enroll in one of their master's programs.
Prospective graduate students from a wide spectrum of majors and backgrounds will be interested in learning more about our highly ranked master's degree programs in Information Systems & Management, Public Policy & Management, and Arts & Entertainment Industry Management.
Please find more information about their Fall Visitation Weekend below:
Our Fall Visitation Weekend will take place on Friday, November 9th and Saturday, November 10th. Attendees will meet faculty, administrators, and current students to learn about our curriculum, career development, internship opportunities, scholarships, the city of Pittsburgh, and much more. Your students and alumni are eligible for up to a $250.00 travel stipend to attend.  Follow this link to Register.
We will be hosting Online Information Sessions throughout the fall semester.  Learn about our master's programs without leaving your desk!  Each session includes a presentation by the admissions team and features the program director and/or current students. For the upcoming schedule of live events, or to view a recorded session, CLICK HERE
Members of the Heinz College attend conferences, graduate school fairs and other events around the country. We hope you can meet us on the road! Check our Travel Schedule
JETAA Ottawa
Sign-up for Networking & Welcome Back Reception on November 14
Sign-up for invitations to Networking & Welcome Back Reception co-hosted with the Embassy of Japan is now available! Please click the button below to signal your interest and reserve a slot on the invite list.

The annual Networking & Welcome Back Reception is on November 14. Co-hosted by the Ambassador of Japan to Canada and JETAA Ottawa, this evening event includes welcoming back the newly returned JETs in style, an excellent networking opportunity, and great Japanese food.

If those interested, there is also a career fair with Japanese companies in Canada planned for prior to the reception itself.

Date: Wednesday, October 14

A limited number of invitations will be made available to JET alumni on a first come, first served basis.

We are working to give as many JET alumni the chance to participate in this event as we can, but we cannot confirm that all members who fill out the form at the link will get an invitation. We appreciate your interest and understanding.
JETAA SC
Nihongo Dake Dinner (NDD)
Save the Date! November 10th will be another great opportunity to catch up with alumni while also brushing up on those Japanese skills. Don't worry if you're Japanese isn't perfect because all levels are welcome! Come as you are and enjoy some good food. More details about location will be coming in future newsletters and on our FB page.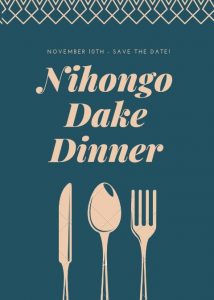 JETAA Cape Town
Japanese Film Festival, Cape Town
DATE:        2nd – 4th November
VENUE:     V&A Nouveau
PRICE:      Free
The Japanese Film Festival is one of the oldest foreign film festivals in South Africa and has been continuing every year since 1994. Free screenings at V&A Nouveau 2 – 4 November, check it out!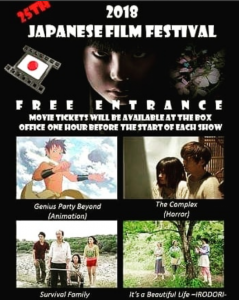 JETAA UK
JLPT Bootcamp Retreat
| | |
| --- | --- |
| Date | 16th November 2018 – 18th November 2018 |
| Time | Friday evening, All day saturday, and return to Edinburgh on Sunday afternoon |
| Price | £300 |
An weekend of Japanese lessons, meals, games, films and fun at Gorton House (a short drive from Edinburgh)
The weekend aims to be immersive – i.e. we'll be conversing in Japanese as much as possible, even whilst eating and socialising! However, the emphasis is on fun for ALL LEVELS, so don't let the immersive aspect scare you! This will be about practising the skills you have in a relaxed atmosphere outside lessons, should you want to.
This retreat is run by JETAA members and and supported by JETAA funds to keep the cost as low as possible for attendees.
More information and register your interest at : https://nihongoscotland.com/index.php/jlpt-bootcamp-language-retreat/
JETAA Prairies
JETAA Prairies Japan Trivia and Networking Night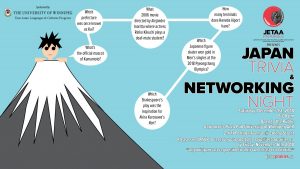 Date:          Saturday, December 1st
Time:                   18:00 – 22:00 UTC
Venue:       Garbonzo's Pizza Pub
471 Portage Avenue, Unit 2,
Winnipeg, Manitoba R3B 2E3
Do you like trivia? Are you knowledgeable about Japan? Do you want to test your knowledge in a fun environment? Are you a Japanese national who loves trivia? Are you a current university student who is thinking of applying for the JET Programme?
This event is OPEN TO ALL who are interested in Japanese culture (and not just JET alumni). We will ask questions from a variety of topics including (but not limited to) Japanese history, pop culture, sports, news, geography, and film. Questions will be answered in a team/table format. Don't worry if you don't have a team: we will create the teams.
To reserve your spot(s), please send your rsvp (name and number of guests) to rsvp@jetaaprairies.ca by Friday, November 16th, 2018.
JETAA ABC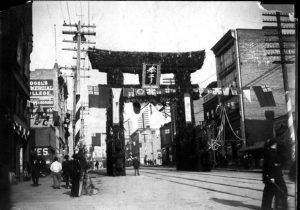 DATE:        Saturday, November 17th
TIME:         14:00 – 20:00 PST
VENUE:     A-maze-ing Laughter
Morton Park, 1800 Morton Ave,
Vancouver, BC V6G加拿大, Vancouver
Please RSVP with the following Link by November 14th, 2018
(https://drive.google.com/open?id=1Ts_7OBkoK33jJ0nO9TUu2-6D1yAl5PuuHmka1wgZrNI)
Come out and join us for an epic downtown-wide scavenger hunt! The JETAABC Amazing Race 2018 will be a video/photo scavenger hunt where participants compete in teams of 2 to 4. Friends of JET alumni are welcome to join!
The theme of our Amazing Race will involve Japanese culture and its history in downtown Vancouver: since the beginning to the present day.
On the day of, you will receive A Hit List of Tasks for which the locations and methods will range widely but can primarily be performed within downtown. For each completed task, teams will be awarded points of varying degrees – depending on difficulty of the task. The teams with the highest points at the end wins! The race itself will run from 2:30pm to 5:30pm. We will be meeting at the A-Maze-ing Laughter Statues near Stanley Park at 2:00 for to start the race at 2:30pm sharp!
From 6:00pm to 8:00pm, an after-party will be held and all participants are encouraged to come. We will be showcasing the goods of our photo hunt as well as announcing the winners of our competition over food and drinks. If you cannot make it for the Race itself, we highly recommend that you join us for the after-party!
More details of the event to come!
If you have any questions or concerns, please contact Ian Fan at ian@jetaabc.ca.
National AJET
ATTENTION JET ALUMNI
An exciting opportunity for bilingual Japanese speakers to make extra income has been shared with National Ajet. Please see details below.
JeenieTM is a mobile app that connects travellers on demand via video/audio with LIVE linguists who can help them with language and cultural issues (think "Uber" for languages). Linguists can sign up at absolutely no cost and then decide how much, how often and where they would like to work. It all takes place in cashless transactions, worldwide, 24/7, via smartphone. More information is at www.Jeenie.com.
We have significant opportunities for Japanese speakers to earn extra income right now, and we think JET alumni would be ideal candidates for providing services on our platform. They can work on their own schedule from home (or almost anywhere) and get paid for their valuable language skills. We would be delighted to welcome them to our community of Language Jeenies!