May
28

Food & Drink, Translating/Interpreting, Uncategorized, WIT Life

Comments Off

on WIT Life #354: 969 NYC Coffee
Professional Writer/Interpreter/Translator Stacy Smith (Kumamoto-ken CIR, 2000-03) presents WIT Life, a periodic series about aspects of Japanese culture such as film, food and language. Stacy starts her day by watching Fujisankei's newscast in Japanese, and here she offers some interesting tidbits and trends along with her own observations.
Japan's COVID-19 situation continues to worsen, and the state of emergency declaration for Tokyo, Osaka and eight other prefectures has been extended through mid-June. Okinawa in particular has shown high case numbers as of late. And yet the Olympics are still scheduled to proceed without a hitch?…Meanwhile, here in the U.S. we are slowly coming out of our quarantine slumber and rejoining the real world. Last weekend's warm temperatures allowed my partner and I to discover a great Japanese cafe during a walk.
This spot is 969 NYC Coffee, opened by owner/chef Mitsumine Oda in 2016. He worked in the past for a Tokyo company, but he hated being a salaryman under someone else's direction. Sick of long hours and in search of independence, he decided to quit and strike out on his own in the U.S. Oda first worked at a sushi cafe in Manhattan for three years, where he earned enough money to buy a house for himself and his sister and mother, who had also immigrated and became citizens.
969 NYC Coffee's menu features a variety of onigiri, ramen, sushi and other Japanese food faves. Don't be fooled by the name, as it also has an extensive menu of non-coffee drinks, especially matcha options. We got a smattering of delicious dishes, starting with onigirazu, a sandwich with rice instead of bread and wrapped in seaweed (I tried this for the first time and found it to be very filling!). We enjoyed the two types of Hiroshima fried oyster (カキ or kaki), adorned with avocado and a slice of American cheese, and fried mackerel (アジ or aji), also with avocado as well as a spicy mayo sauce. Rounding out our meal were seaweed salads and luxurious coconut milk matcha lattes (made with matcha from Japan, Oda noted.)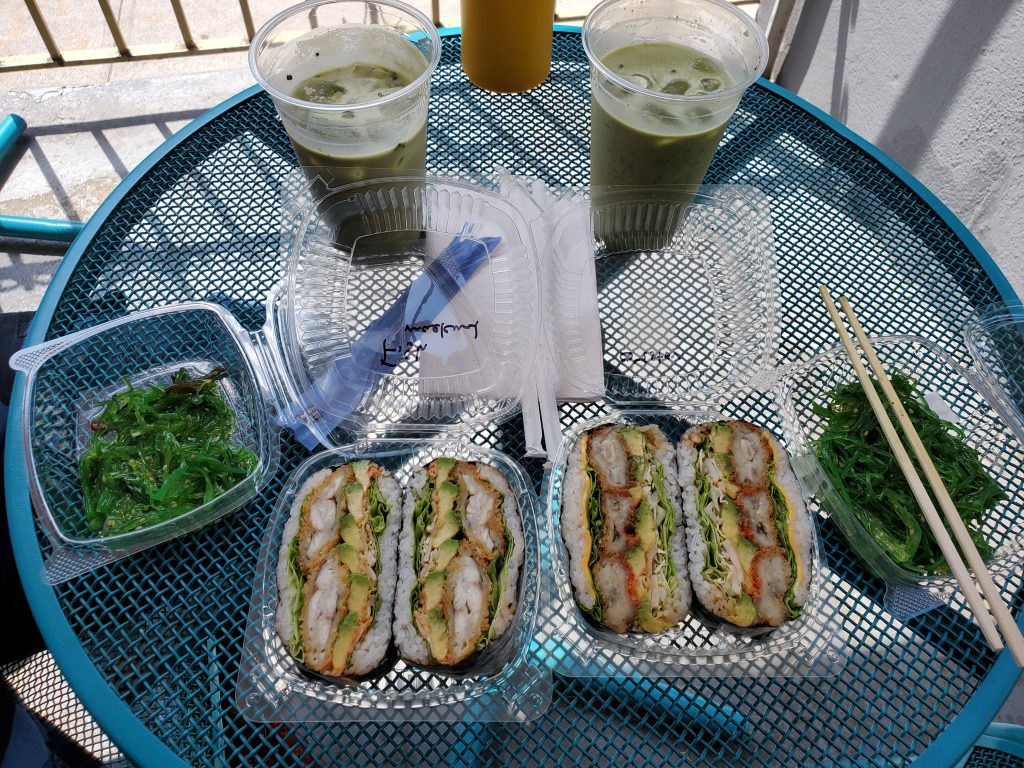 He eagerly shared other items from Japan such as the「 ありがとうございました」 sign he got at a 100 yen shop. When I told Oda that my partner is studying Japanese, he started a conversation with him by asking 「日本語面白い?」 (to which the answer was, 「はい!」. Oda is super friendly and chatted with us while preparing our food, and you could tell he loved what he did. He assured us, "Everything here has authentic Japanese taste because I make it all myself!" Simply put, Oda is living proof of his guiding philosophy of putting your heart into everything you do. It was the perfect place to have an impromptu Sunday brunch, and we'll definitely be back soon!