Dec
17

Books, JQ Magazine, Reviews, Uncategorized

Comments Off

on JQ Magazine: Book Review — 'No Pianos, Pets or Foreigners!: My Life in Japan in the '80s'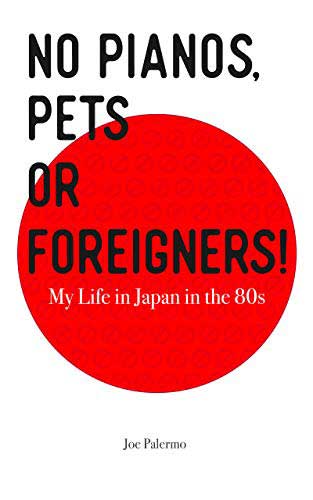 By Rashaad Jorden (Yamagata–ken, 2008-10; Kochi-ken, 2018-2020) for JQ magazine. A former head of JETAA Philadelphia's Sub–Chapter, Rashaad is a graduate of Leeds Beckett University with a master's degree in responsible tourism management. For more on his life abroad and enthusiasm for taiko drumming, visit his blog at www.gettingpounded.wordpress.com.
Before the advent of the JET Program, there were Westerners who taught English in Japan. Joe Palermo was one of them, and he tells his story in No Pianos, Pets or Foreigners!: My Life in Japan in the '80s.
Palermo arrived in Gunma Prefecture in 1982 as a Mombusho English Fellow (a precursor to modern-day JETs) and his book—whose title was inspired by a phrase he often saw in ads while looking for an apartment—is obviously a walk down memory lane, as well as a collection of "what I did in Japan" stories.
The book could best be described as a score of tales best told over a beer or two (like when he realized he left his shoes in a supermarket parking lot during heavy rain). Some of the anecdotes Palermo shares are products of their time, such as his self-introduction to students, "I am E.T.: English Teacher." Much of No Pianos, Pets or Foreigners contains tidbits that might really only interest Palermo's close friends (like the appearance of his house). However, the author excels with his observations of life in Japan, such as illuminating things you may not have been aware of or had totally forgotten, like the tendency of Japanese to rarely go to the dentist.
Touching on a Palermo rumination or two, you might think so that's why such-and-such was the case, like why some Japanese sometimes mistakenly believe a gaikokujin is speaking English instead of Japanese (due to an English/Japanese switch in their hands, Japanese might expect to hear English upon meeting a gaikokujin). As a fluent Japanese speaker who encourages his students to not limit speaking English outside of the classroom, Palermo is obviously able to immerse himself in Japan better than some others, even if people mistakenly assume he understands all the nuances of Japanese culture.
In a sense, No Pianos, Pets or Foreigners is a book that could have been written by many other ALTs. It's a journey documenting the ups and downs, the joys and frustration, and the "this doesn't happen in my country" experiences. The difference here is, Palermo's journey in Japan didn't end when he finished teaching English in Gunma: he landed a corporate job and married a woman whom he first met on a study abroad tour of Asia during his university days. The second half of the book delves into the largely corporate, post-teaching part of his Japan life with a touch of humor, such as how the Japanese language made ordering a pizza an adventure.
If you spend enough time in Japan, or any place for that matter, there are interesting stories to be told; some of which can be educational. No Pianos, Pets or Foreigners does inform and amuse.
For more information on No Pianos, Pets or Foreigners!: My Life in Japan in the '80s, click here.
For more JQ magazine book reviews, click here.