JET alumna Sarah Coomber (Yamaguchi, 1994-1996) wrote The Same Moon about her adventures after moving to Japan! Sarah will read a short passage from her book and then we will take questions from the audience. You do not need to have read the book to enjoy this event. We hope you'll join us. Two copies of Sarah's book will be given away via random draw to those attending live.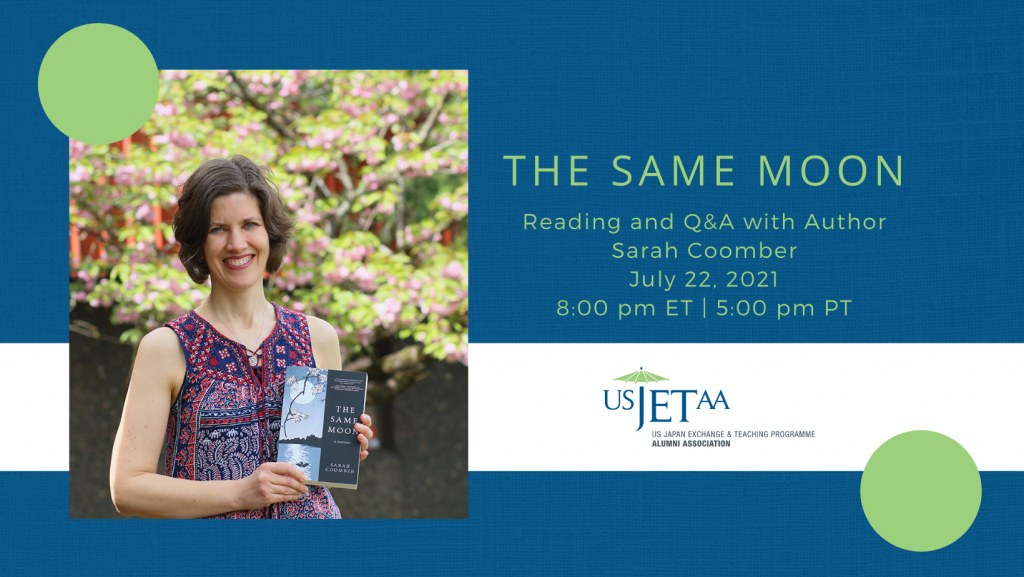 Date: July 22, 2021
Time: 8 PM ET / 5 PM PT
Join: REGISTER
About The Same Moon
Recently wed—and quickly divorced—twenty-four-year-old Sarah Coomber escapes the disappointments of her Minnesota life for a job teaching English in Japan. Her plan is to use the year to reflect, heal and figure out what to do with her wrecked life while enjoying the culture of the country where she had previously spent a life-changing summer that included a romance with a young baseball player.
About the Author
Ever since she turned seventeen, Sarah Coomber has held two homes in her heart: Minnesota, where she grew up, and Yamaguchi, where she spent a summer with the Maeda family, who welcomed her like a third daughter and introduced her to what became an on-again, off-again Japanese life.
That life has included teaching English in Yamaguchi on the Japan Exchange and Teaching Program (1994-96); teaching Japanese language and dance to children at an immersion camp in Minnesota; and studying the koto—Japanese zither—in Yamaguchi and Portland, Oregon, where she achieved her level four Seiha School certification.
Sarah has worked as a public relations professional, reporter, science writer and college English teacher, and her stories and essays on Japan have appeared in the Christian Science Monitor, the Japan Times, the Star Tribune, Cha: An Asian Literary Journal, Memoir Journal, the Font: A Literary Journal for Language Teachers and elsewhere.
She now works as a communications/writing consultant and coach, and teaches Holy Yoga, exploring the nexus of yoga and the Christian faith. She lives … and tries to remember to breathe deeply … with her family in Minnesota. More about here at https://sarahcoomber.com/.
Aug
9

Books, Cartoon/Illustration, Humor, Japan Local, JET Alum Author Beat, Language Study, Notable JET Alums, Writers

Comments Off

on JET alum Lars Martinson publishes "Kameoka Diaries Volume 2" e-comic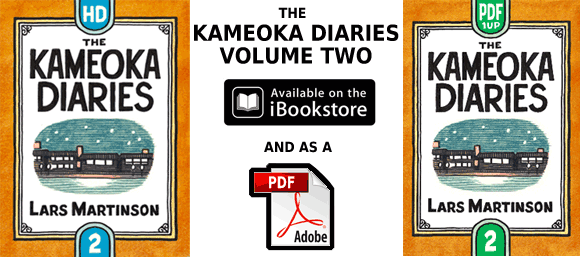 *************
Lars Martinson (Fukuoka-ken 2003-2006), author of the graphic novels Tonoharu: Part Two andTonoharu:  Part 1, has  just published the Kameoka Diaries Volume 2. This is a follow-up to Kameoka Diaries Volume 1, Lars' insightful and entertaining (especially to any JETs) e-comic about his return to teaching English, this time in Kameoka, Kyoto.
Notably, you can purchase a copy for $0.99 for iPhone/iPad/iPodTouch or pay $1 for a PDF version for Mac/PC/Android/whatever.
More info here and below:  http://larsmartinson.com/kameokadiaries2-now-available/
In Lars' words:
When I submitted my first e-comics to Apple, ( The Kameoka Diaries: Volume One and Young Men of a Certain Mind ) it took one month for them to get approved, so I'm surprised & delighted it only took two days this time. But hey, I'm not going to look a gift horse in the mouth!

I'll write more about the new volume of The Kameoka Diaries soon; I just wanted to get this announcement blog entry out right-away.

So please check it out. And if you enjoy it, please consider writing a review on iBooks, and/or telling your friends, and/or tweeting about it, and/or "liking" it on Facebook. Thanks a bunch!
JETwit Note:  I just downloaded a copy onto my iPhone as soon as I saw the announcement.  Volume 1 was great, even on an iPhone screen.  
Jun
10

Books, Japan Local, Notable JET Alums, Return on JET-vestment, Video

Comments Off

on JapanLocal: Promotional Video for JET alum book "For Fukui's Sake"
Below is a promotional video for the book For Fukui's Sake:  Two Year's In Rural Japan by JET alum Sam Baldwin (Fukui-ken, 2004-06) (who also created the video).  The video does a great job of capturing the images and essence Fukui through Sam's eyes.  Read more about Sam in the book review Tim Martin (Fukui-ken, 2006-08) did for JQ magazine.