Jul
30

Events, Food & Drink, JQ Magazine

Comments Off

on JQ Magazine: The Joy of Sake Returns to NYC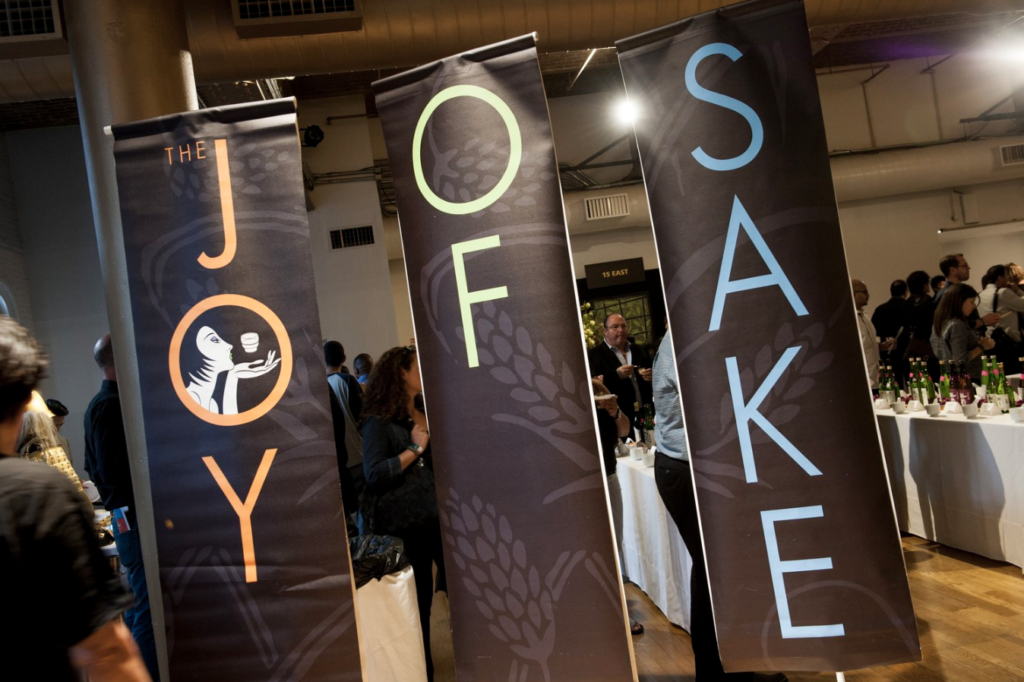 By JQ magazine editor Justin Tedaldi (CIR Kobe–shi, 2001-02). Justin has written about Japanese arts and entertainment for JETAA since 2005. For more of his articles, click here.
A beverage that can be paired with foods as diverse as sushi, chocolate and even pizza, American sake lovers are eagerly awaiting the return of The Joy of Sake, the world's largest sake tasting outside Japan, which returns to New York's Metropolitan Pavilion in Chelsea on August 4 with the biggest sake celebration in the city's history.
After a hiatus due to the pandemic, this year's event will feature a record 576 competition-level sakes (up from 513 in 2019) and top restaurants serving sake-inspired appetizers.
Now in its 21st year, The Joy of Sake celebrates the ancient art of sake-brewing. It features hundreds of premium daiginjo, ginjo and junmai labels from every sake-brewing region in Japan, including over 300 sakes not available in the U.S. "After such a challenging time for everyone," said Joy of Sake founder Chris Pearce, "we wanted to bring this celebration back better than ever and support both the sake makers and New York's resilient restaurant scene."
Read more at JQ magazine.
Great listing received directly from the company. Posted by blogger and podcaster Jon Dao (Toyama-ken, 2009-12). Click here to join the JETwit Jobs Google Group and receive job listings even sooner by email.
————————————————————————————————————
Position: Associate TV News Producer/Researcher
Type: Full-Time
Location: Washington DC

Overview:
As a producer, you would be responsible for monitoring and summarizing  political news and information from around Washington. This would include attending press briefing, monitoring daily news sources, researching  throughout various news media outlets for interesting stories, setting up interviews, and in-house recording. You would assist the reporters in creating daily news stories sent to Tokyo for national broadcast, as well as longer term feature stories. Read More
Posted by Benjamin Martin, a 5th year JET on Kume Island in Okinawa, publisher of the blog MoreThingsJapanese.com and author of the award-winning YA fantasy series Samurai Awakening (Tuttle).
June 16th marked the beginning of power generation at Kume Island's Ocean Thermal Energy Conversion Power Plant with a ceremony and visiting dignitaries from around Japan and the world.  The newly completed OTEC power plant will be able to generate up to 50kWs of electricity from a turbine driven by the difference in warm surface sea water and cold deep sea water.
This station is the only power generating OTEC facility of its kind in the world.   While OTEC is not a new idea and different countries are now studying its possibilities, this is the first step towards creating an effective market for the future.  In addition to power, the mineral rich deep-sea waters used by the plant can be used in a variety of industries, making the entire process more efficient and beneficial.  The station is part of the Okinawa Prefecture Deep Sea Water Research Institute, and as the goal of the institute is to research the deep-sea water, the power plant's primary role will be as a research and educational tool. Its construction has been part of a continuing dialog on clean energy between Kume Island, Okinawa, and the National Energy Laboratory of Hawaii Authority and their OTEC project, but was designed and built under advisement from Saga University's Institute of Ocean Energy.
The ceremony marked the official start of power generation after initial testing and the first power generated in March of this year.  Starting at ten in the morning, visitors were invited to the Research Institute Grounds to view the OTEC plant, sample some of the many products made with deep-sea water, and enjoy entertainment by artists from local to abroad.  The open fair was followed by a half-hour ceremony with speeches and messages that ended with the pushing of the 'start' button. Special guests included:
Aiko Shimajiri – Parliamentary Secretary of Cabinet Office and Ministry of Reconstruction from the House of Councilors
Akikazu Shimoji – Okinawa Commerce and Labor Department Industrial Development Supervising Officer
Yoshihisa Kawakami – The Okinawan Vice-Governor
Alfred Mageleby – Consul General form the American Consulate General Naha
Nonaka Tomoyo – Director of the Gaia Initiative 
Mark McGuffie – Managing Director of Enterprise Honolulu
Gregory Barbour – Executive Director of NELHA
These guests were all involved in different aspects of promoting the OTEC project on Kume Island in communicating with the Hawaii OTEC program.  This historic achievement will have an important role in the local economy and development of Kume Island and will be a key test of this clean energy technology for institutions around the world.
The official events ended with a reception before the nearby visitor's center where more performances took place and several speakers were invited to share their thoughts on the OTEC start and future of the program. Keynote speaker Nonaka Tomoyo surprised Kume Island Mayor Taira with a proposal for creating free WiFi on the island, which the mayor was just able to avoid commenting on.  Though it was a positive proposal, the Mayor is limited in the ways he can promote growth on the small island.  Luckily, organizations like Gaia Initiative and the sister-city partnership with Hawaii County are providing knowledge and political support to help Kume Island grow technologically and economically.
The celebration will continue Monday with talks by people involved with OTEC.  The continued dialog between interested parties promotes new ideas and the sharing of vital information.
For the future, project supporters hope that the power plant will justify the creation of a new deep water pipeline and expanded capacity generators which will allow for more industries and power.  Both Hawaii and Kume Island will continue to communicate and share information that will help the different projects create new opportunities for efficient use of the deep-sea water and OTEC power.
Visit MoreThingsJapanese.com for more pictures from the event and more on OTEC power.
Posted by Benjamin Martin, a 5th year JET in Okinawa, publisher of the blog MoreThingsJapanese.com and author of the YA fantasy novel Samurai Awakening (Tuttle).
On November 20, 2012 The Emperor of Japan Akihito and Empress Michiko visited Kumejima as part of a four-day visit to Okinawa.  Preparations were long in the making, but it was still extraordinary to see the spectacle of a visit lasting less than 5 hours.  Luckily, I was asked to help photograph on behalf of Kumejima Town and was able to stand with television and newspaper camera people in designated media areas.
The Emperor and his wife arrived around 10:30 JST on a plane from Okinawa-honto.  Since Kume Island has only a small airport, they used a JAL Express plane instead of the usual flying fortress.   There they greeted a group of students and dignitaries and then drove to the Deep Sea Water Research Institute to tour its grounds.  One of the major reasons for the visit is the proposed OTEC power plant.  Along the way Kumejima Townspeople greeted the Emperor by waving Japanese flags (a rarity in Okinawa), shouting "Thank you for coming" and "banzai!"  After the tour, the motorcade arrived at the Town Hall just before 13:00 to rest and talk with Mayor Taira.  There they discussed Kumejima's many natural resources such as Kuruma-ebi, Umi-budo, and Deep Sea Water while eating lunch.  They talked so much they didn't have time to finish!
For more on the Emperor's visit and plenty of pictures visit More Thing Japanese!