Jul
30

Events, Food & Drink, JQ Magazine

Comments Off

on JQ Magazine: The Joy of Sake Returns to NYC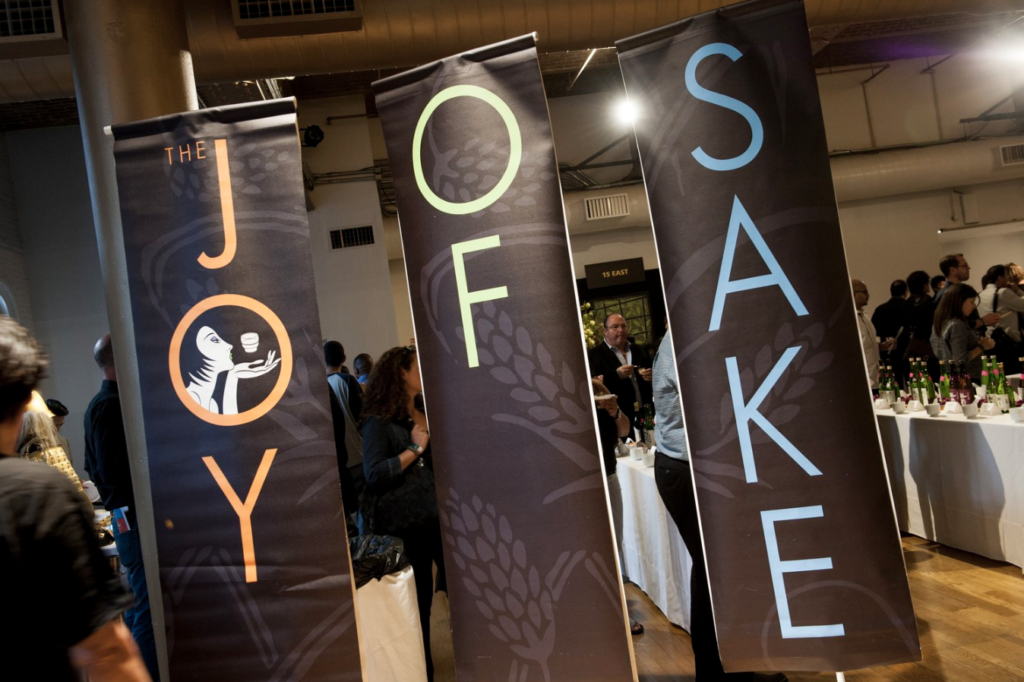 By JQ magazine editor Justin Tedaldi (CIR Kobe–shi, 2001-02). Justin has written about Japanese arts and entertainment for JETAA since 2005. For more of his articles, click here.
A beverage that can be paired with foods as diverse as sushi, chocolate and even pizza, American sake lovers are eagerly awaiting the return of The Joy of Sake, the world's largest sake tasting outside Japan, which returns to New York's Metropolitan Pavilion in Chelsea on August 4 with the biggest sake celebration in the city's history.
After a hiatus due to the pandemic, this year's event will feature a record 576 competition-level sakes (up from 513 in 2019) and top restaurants serving sake-inspired appetizers.
Now in its 21st year, The Joy of Sake celebrates the ancient art of sake-brewing. It features hundreds of premium daiginjo, ginjo and junmai labels from every sake-brewing region in Japan, including over 300 sakes not available in the U.S. "After such a challenging time for everyone," said Joy of Sake founder Chris Pearce, "we wanted to bring this celebration back better than ever and support both the sake makers and New York's resilient restaurant scene."
Read more at JQ magazine.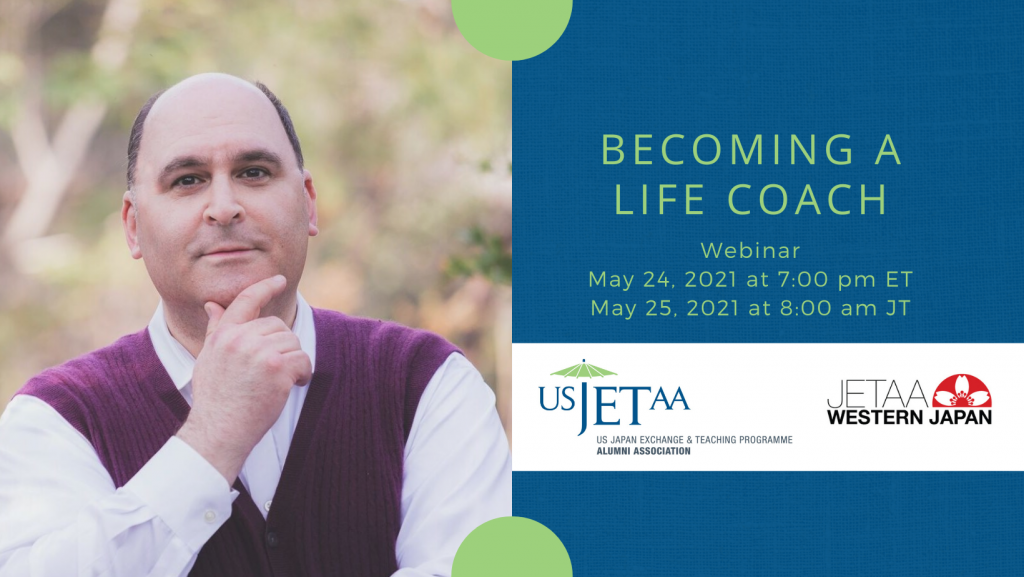 Join the U.S. JET Programme Alumni Association (USJETAA) and JETAA Western Japan for this upcoming event.
Becoming a Life Coach
May 24, 2021 at 4 pm PT / 7 pm ET
Japan Time: May 25th at 8 am
Register: https://us02web.zoom.us/meeting/register/tZ0rcu-spjMvG9E9FEycUK1GkZWy5-SLd6U
Facebook event: https://www.facebook.com/events/24691713708797
Life coach? That's a profession? Really?!? I've never heard of it! Perhaps you've heard of a life coach but aren't quite sure exactly what it entails. Or maybe this is truly your first time. Join USJETAA and JET alum Jeff Singal who will kick off this event with a brief background on his journey from being a JET in Mie (1995-1997) to how he learned about life coaching as a profession and why and how he decided to enter this profession. We'll cover how to become a life coach and what a life coach does, and much, much more. This event is brought to you by USJETAA and JETAA Western Japan.
The webinar is partially supported by CLAIR and the Japan Foundation CGP.
By Suzanne Bhagan (Tottori Prefecture)
Hey, everyone! There's another national holiday this week (Health and Sports Day) so who's ready for some hiking, kiritanpo, kayaking, parades, beef, and screaming? Read on to find out more!
When: 7-9 October
Where: Odate, Akita Prefecture
Enjoy live performances and kiritanpo (rice grilled stick and specialty of Akita prefecture) at this unique festival.
29th Yufuin Eat Beef and Scream Tournament
When: 9 October
Where: Yufuin, Oita Prefecture
I scream, you scream, we all scream for beef (literally)! Head to Mount Yufu for this unusual event that combines beef eating and screaming into a stratovolcano.
When: 9 October
Where: Ogaki, Gifu Prefecture
Help carry the mikoshi and be part of one of Ogaki's biggest events for the year!
When: 14 October
Where: Kyoto, Kyoto Prefecture
Celebrate Halloween early by hitting the street with Kyoto's very own yokai parade.
When: 14 October
Where: Lake Biwa, Shiga Prefecture
Pack a bento and come kayak Japan's largest freshwater lake with a professional instructor!
When: 15 October
Where: Miyoshi, Tokushima Prefecture
Strap on those hiking boots to climb Shikoku's third tallest peak.
By Suzanne Bhagan (Tottori Prefecture)
Put away that cool biz. October is here! Before you snuggle under that kotatsu, here are some events to get you nice and toasty!
When: 8 October
Where: Otsu, Shiga Prefecture
Get ready to work it. Shiga AJET invites volunteers to flex those muscles to pull festival floats at the famous Otsu Matsuri.
When: 7 October
Where: Kyoto, Kyoto Prefecture
This fall, Block 6 kicks off their welcome undoukai/picnic in the park for all Block 6 JETs, new and old.
When: 8 October
Where: Hita, Oita Prefecture
Oita AJET welcomes all JETs and friends to hop on a pleasure boat, drink, eat, and relax on Hita's Mikuma river.
When: 7 October
Where: Nagaoka, Kochi Prefecture
It's time for HAJET's annual rafting trip down south. Grab a paddle pronto!
Welcome to JETAA Chapter Beat. Theodore Genba Bigby (Yamagata 2008-12) walks you through some of the highlights from JET alumni associations across the globe.  Genba currently serves as the JETAA UK Webmaster and on the JETAA Midlands committee.
Although JETAA Chapter Beat has been absent recently, the hearts of JET alumni have been going strong. Let's take a look at some highlights for the next four weeks.
2012-2013 JETAA Tokyo Mentor Program
Kanto
JETAA Tokyo have announced that they intended to run a mentor programme with the aim of developing the careers of local alumni. As part of the programme, which is currently under way, alumni are offered the opportunity to be mentored by experienced alumni who have successfully established themselves as working professionals in the Tokyo area. It is hoped that this personal advice and insight will prove valuable to the development of their careers.
Mentees can expect the following resources:
Monthly contact with their mentor through face-to-face meetings, telephone, Skype, Facebook or email (although mentees are responsible for initiating contact).
Advice and suggestions on researching career opportunities in the Tokyo area.
Feedback on job search materials (résumé, rirekisho, letters of recommendation, etc).
If possible, attendance to the JETAA Tokyo Mentor Program Kick-off and the Program Finale.
Although internships are not officially offered as a part of the initiative, there is an opportunity for mentors and mentees to discuss future opportunities on a personal basis. This is an extremely interesting project and if it proves to be successful, it may be replicated by other chapters across the globe.
Middle Tennessee Anime Convention (MTAC)
Friday 29th March 2013, 12am – Monday 1st April, 12am
Nashville, Tennessee
During this year's MTAC, the JET Programme will be hosting its own table! People wishing to volunteer are urged to contact John Gale, JET Program Coordinator at the Consulate-General of Japan, jet@nv.mofa.go.jp or 615-340-4300. It would be a great opportunity to connect with the many university students who are expected to attend who have a strong interest in Japan. Why not come down and tell them about your experiences in Japan whilst enjoying the largest anime convention in Tennessee?
Nashville Cherry Blossom Festival
23rd March 2013, 10 am
Nashville, Tennessee
See here for more information: http://nashvillecherryblossomfestival.org/
Why not get down to the 2013 Nashville Cherry Blossom Festival? JETAAMC are also looking for volunteers to staff the table and speak to the public about their JET experience. To volunteer, please contact John Gale at jet@nv.mofa.go.jp. It must be noted that this event is imminent, so even if you can't volunteer, please show some support!
Spring Hike to Breakneck Ridge
14th April 2013
Beacon, New York
http://jetaany.org/2013/03/15/spring-hike-breakneck-ridge/
 If you're tired of being cooped up all winter, why not have a nice relaxing walk along Breakneck Ridge? Reliably reported to be the best hike in the Tristate area, you'll be rewarded with amazing views of New York state.
"While no advanced hiking skill is needed, please note that the first part of this hike is strenuous with some rock scrambling. Please wear shoes with a good tread and comfortable clothing. We will be going very slowly and spotting each other."
See the link above for details.
April Book Club: The Hare with the Amber Eyes
16th April 2013 – 7 pm – 9 pm
Flatiron Building, New York, New York
http://jetaany.org/2013/02/27/416-april-book-club-hare-amber-eyes/
Written by Edmund de Waal, April's book will be The Hare with Amber Eyes: A Hidden Inheritance. Meeting on the 14th floor of the iconic Flatiron building, this is a must.
Registration is required in order to attend this event, so please click on the link above and follow the instructions.
Midlands Meetup
13th April 2013 12:30pm
Woktastic, Birmingham, Midlands
http://www.jetaa.org.uk/events/jetaa-midlands-meetup/
JETAA Midlands is now in the process of re-invigorating the group. Starting with this initial meeting, they are inviting not only alumni, but friends of Japan with a view to starting regular meetings and establishing a new committee.
March Networking Mixer
27th March, 5:00pm – 7:30pm
St. Paul, Minnesota
Be sure not to miss this great chance to network with other alumni. This session will be held at Barrio Tequila Bar. Don't forget to bring your meishi !
Social Evening
5th April 2013 7:30pm
The Basement Bar, Edinburgh, Scotland
JETAA Scotland is starts its monthly social meetings again this April and continue on the first Friday of every month. All comers are welcome!
Posted by Benjamin Martin, a 5th year JET on Kume Island in Okinawa, publisher of the blog MoreThingsJapanese.com and author of the YA fantasy series Samurai Awakening (Tuttle).
With its tall mountains and island geography, Japan has areas with heavy rain throughout the year and snowfall in the winter.  Over the years, in many areas the snow has been changed from a hardship to benefit.  The first place in Japan to create a snow festival is Tokamachi in Niigata prefecture.
Tokamachi (十日町市) City is located in eastern Niigata prefecture.  The names of that area are interesting in that they refer to the days it used to take to travel to them by foot.  When we went there from the Echigo-Yuzawa station we passed several towns with these similar names such as Muikamachi (six-day town).  The area has many small towns and is primarily full of rice farms.  Niigata is famous for the delicious rice that the large amounts of snowfall help create.
This year's snow festival took place between February 15 and 17th with the main stage events taking place on the 16th at the local Tokamachi Elementary School sports ground.  As with all the nearby farms, the fields were topped with over two and a half meters of snow.  While the snow is difficult to live with, the locals have found some ingenious ways to not only make it work for them, but to enjoy it as well.
One of the major attractions of the Tokamachi snow festival are the snow sculptures.  From small igloos to towering designs the sculptures turn all the excess snow into art.  Local artists and teams transform piles of snow into everything from popular manga characters to full size replicas of buildings and ships.  These  are so popular that they have spread to other snow festivals such as the more famous one in Hokkaido.
Every year the main stage for the event is constructed of snow.  This year the design was a towering ship and compass.  The portals were lighted and throughout the main event fireworks were lighted around it.  It was a surprisingly long and steep walk from the lower town to the event but as guests of the local town government we had great tickets that put me 5 people back from the stage and only three from the walkway.
Originally, the focus of the festival was to highlight the beautiful kimonos created in Niigata.  The main event after the opening speeches is still a fashion show of kimonos which are especially striking against the pure white of the snowy stage. Following the show were performances by artists Junichi Inagaki, Becky, and LG Monkees.  As well as appearances by the local school children singing along with Tetsu and Tomo who helped to MC.
Despite the cold weather and snow falling throughout much of the show, huge numbers of people came out to see the show and it was well worth a few cold toes.  The entire event was well-organized with crowd control built into the area with snow dividers.  While we weren't allowed to take photos or video of the performers, we were allowed to take pictures of the stage and fashion show.  We didn't have time to see every sculpture but I did catch a few on our way out.  I hope you enjoy a little look at a wonderful town and event.  I'll share more on the trip soon.
For more photos from the event visit MoreThingsJapanese.com
**Don't forget to enter the TWO free giveaways for signed copies of my book plus extras.  Enter on morethingswriting.com and/or Goodreads!**