Apr
3

Blogs, Food & Drink, I'll Make It Myself, Writers

Comments Off

on I'll Make It Myself!: What I Ate in Nagano, Day 1: On the Road to Yudanaka Onsen
L.M. Zoller (CIR Ishikawa-ken, Anamizu, 2009-11) is the editor of The Ishikawa JET Kitchen: Cooking in Japan Without a Fight. A writer and web administrator for The Art of Travel, ze also writes I'll Make It Myself!, a blog about food culture in Japan, and curates The Rice Cooker Chronicles, a series of essays by JETs and JET alumni on the theme of cooking/eating and being alone in Japan, and The JET Alumni Culinary Group in LinkedIn.
New Rice Cooker Chronicles submissions always welcome. Just e-mail it to jetwit [at] jetwit.com.
Craft beer wasn't the only delicious thing I had on my trip to Nagano. Let's recap!
Posted by Benjamin Martin, a 5th year JET on Kume Island in Okinawa, publisher of the blog MoreThingsJapanese.com and author of the YA fantasy series Samurai Awakening (Tuttle).
Japan is _____________.
Japanese people eat ____________.
In Japan, everyone wears ___________.
When you hear "Japan" what do you think of?  What images come to your mind?  Before I began studying Japan, I thought of swords, anime, rice and green mountains.  Like many people, I thought of Japan through the stereotypes I picked up from television and books.  Anyone who doesn't specialize is bound to think of another country by the most easily recognizable differences from their home culture.
Yet Japan is diverse.  Most of Japan's long history, during which all its unique culture developed, happened before cars and easy transportation.  That fact, plus its island geography has created many opportunities for difference that NHK (Japan's national television and radio broadcaster), trains, and the internet have yet to make fully disappear. NHK has had a huge impact on language, dress, and some social customs, yet one thing is still beyond its reach.
The weather.
Japan's geography has created some vastly different climates given the relatively short distances between most places in Japan.  This great difference is at the core of an exchange program between two towns in Japan.  Every year, Kumejima-cho and Tokamachi City trade students so that they can experience the vast difference in climate and the changes in culture it imposes on local life.  As with every exchange program, its goal is to create more aware youth and stronger ties between the local people and wider world.
Tokamachi
Since Tokamachi is located in Niigata Prefecture on the western side of Japan, it gets a lot of rain, and in the winter, a lot of snowfall.  The high mountains and rough weather have led to small towns, yet the heavy snowfall also means rich farmland and other local resources.  The heavy snowfall leads to mineral rich soil when the snow melts.  The soil then lets farmers produce some superior crops.
One of the crops is carrot. I know.  A carrot is a carrot is a carrot.  Then you go to Niigata and eat something that looks like a carrot, smells like one, has the firm texture of one, but tastes far sweeter and has more flavor than any carrot you've ever tasted before. Seriously.
Then there's the rice.  Rice is a staple in Japanese cuisine.  And in a country where rice can be as diverse as coffee, the region has become famous for its delicious rice.  Rice is a heavy water consuming plant, which also means its easier to farm there where water is plentiful.  Not only is rice exported considered delicious, but locals will tell you it is even better eaten locally due to the quality of the local water when boiling the rice.
Rice and the quality of water are also the two most important ingredients in a traditional drink so well-known that much of the world knows the Japanese word for sake.  In Niigata's case, Nihonshu or rice wine is produced by several companies in the region and is highly regarded.
Despite those claims to fame, the snow beats out the rest by sheer popularity, if not by the locals who have to shovel it, then by the thousands of tourists who trek to the region to snowboard, ski, and sled.  Japan's train system and many domestic airlines makes it surprisingly easy to travel, which means Tokyoites can pop over for a weekend of skiing at any number of resorts throughout the long winter season.
The huge quantities of snow have also led to the Tokamachi Snow Festival.
Unfortunately, not all the snow can be turned into art.  There is so much each year that pipes run through most streets and parking lots.  These pipes shoot out warm salt water to melt snow and keep the roads clear through the night.  This was perhaps the biggest surprise to me as someone who grew up in a desert.  The 'waste' of water is so huge that it boggles my mind, though I'm sure they deal with it in an effective manner.
The huge quantity of water and large elevation changes even mean that hydroelectric generators can produce much of the area's power needs in a relatively environmentall
All of these Tokamachi features has led to students who speak the same language as other Japanese students, still play in much the same way and wear some of the same clothes, but whose lives in the winter are far different from those far to the south.
***
Checkout the second part of this articleon www.morethingsjapanese.com, with more pictures, video, and things Japanese.
***
Posted by Benjamin Martin, a 5th year JET on Kume Island in Okinawa, publisher of the blog MoreThingsJapanese.com and author of the YA fantasy series Samurai Awakening (Tuttle).
With its tall mountains and island geography, Japan has areas with heavy rain throughout the year and snowfall in the winter.  Over the years, in many areas the snow has been changed from a hardship to benefit.  The first place in Japan to create a snow festival is Tokamachi in Niigata prefecture.
Tokamachi (十日町市) City is located in eastern Niigata prefecture.  The names of that area are interesting in that they refer to the days it used to take to travel to them by foot.  When we went there from the Echigo-Yuzawa station we passed several towns with these similar names such as Muikamachi (six-day town).  The area has many small towns and is primarily full of rice farms.  Niigata is famous for the delicious rice that the large amounts of snowfall help create.
This year's snow festival took place between February 15 and 17th with the main stage events taking place on the 16th at the local Tokamachi Elementary School sports ground.  As with all the nearby farms, the fields were topped with over two and a half meters of snow.  While the snow is difficult to live with, the locals have found some ingenious ways to not only make it work for them, but to enjoy it as well.
One of the major attractions of the Tokamachi snow festival are the snow sculptures.  From small igloos to towering designs the sculptures turn all the excess snow into art.  Local artists and teams transform piles of snow into everything from popular manga characters to full size replicas of buildings and ships.  These  are so popular that they have spread to other snow festivals such as the more famous one in Hokkaido.
Every year the main stage for the event is constructed of snow.  This year the design was a towering ship and compass.  The portals were lighted and throughout the main event fireworks were lighted around it.  It was a surprisingly long and steep walk from the lower town to the event but as guests of the local town government we had great tickets that put me 5 people back from the stage and only three from the walkway.
Originally, the focus of the festival was to highlight the beautiful kimonos created in Niigata.  The main event after the opening speeches is still a fashion show of kimonos which are especially striking against the pure white of the snowy stage. Following the show were performances by artists Junichi Inagaki, Becky, and LG Monkees.  As well as appearances by the local school children singing along with Tetsu and Tomo who helped to MC.
Despite the cold weather and snow falling throughout much of the show, huge numbers of people came out to see the show and it was well worth a few cold toes.  The entire event was well-organized with crowd control built into the area with snow dividers.  While we weren't allowed to take photos or video of the performers, we were allowed to take pictures of the stage and fashion show.  We didn't have time to see every sculpture but I did catch a few on our way out.  I hope you enjoy a little look at a wonderful town and event.  I'll share more on the trip soon.
For more photos from the event visit MoreThingsJapanese.com
**Don't forget to enter the TWO free giveaways for signed copies of my book plus extras.  Enter on morethingswriting.com and/or Goodreads!**
Niigata JET Robert Shane Ellis has been making original films and even added Japanese subtitles to his most recent film, "Sunset Core."
Have a look:  http://www.youtube.com/rbeort
Hiroshima-ken JET Gail Meadows is Editor of Hiroshima JET webzine the Wide Island View and a regular JetWit contributor who writes the Japan America Society Roundup.
This Thanksgiving I'd like to share with you a story about an experience that one Hiroshima JET was very grateful to have during his time in Japan. This story made headlines in Japanese newspapers in Hiroshima and Niigata prefectures in the summer of 2008, and now we've published it in the Wide Island View. My eyes well up every time I read it! I believe that this is one extraordinary example of a JET reaching out and connecting with the Japanese community. So without further ado, let's begin…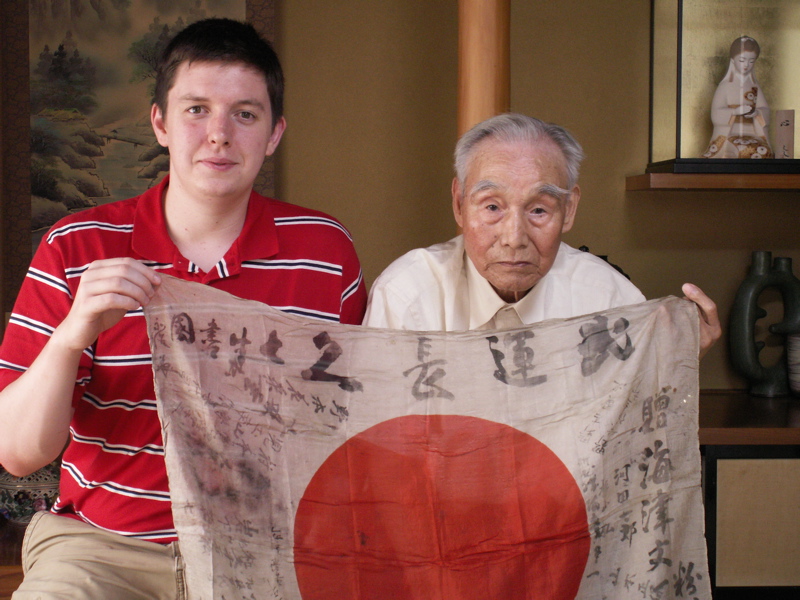 By Aaron Sponseller
As I exited Nagaoka Station, I had no idea what would happen over the course of the next several hours. After taking an all-night bus trip from Hiroshima to Tokyo and then hopping on a train for another couple hours to reach this city in Niigata Prefecture, my wife, Tomoko, and I were tired yet enthusiastic to see how this day I had long-awaited would turn out.
We had come to Nagaoka to finish something that was long overdue. My grandfather served in the United States Army for the entire duration of World War II. In the spring of 1945, in the Philippines, he came into possession of a Japanese war flag.
When enemy soldiers were captured, they were stripped of all their gear and military issued clothing. It was not unusual for their captors to take these objects and keep them as souvenirs. Allied soldiers would take Nazi paraphernalia back to their home countries in the European Theatre; they did the same thing with Japanese paraphernalia in the Pacific. Japanese swords, katana, were prized as souvenirs. However, getting a sword back to the U.S. may have proven difficult, so many soldiers looked for smaller or more easily smuggled items. Less conspicuous items. One of the most common items to smuggle home was a Japanese flag.
Before heading to war, most Japanese soldiers took part in a ceremony of some kind that marked their departure. These ceremonies were typically held at Shinto shrines around Japan, with each ceremony marking the departure of several soldiers. During the ceremony, most soldiers were presented with a medium-sized Japanese flag (just the traditional white flag with a red "sun" in the middle). The flags were usually written on, however. The top of the flag read 「武運長久」(pronounced bu-un cho-kyu). This translates to something along the lines of "continued luck in battle." The flag would also have the name of the soldier on it in large characters, as well as the name of the person at the ceremony who presented that flag to the soldier. The presenter was typically someone important to the soldier such as a boss or a good friend. Around the red sun were the hand-written names of the soldier's friends or family or otherwise important people. The soldiers carried these flags with them throughout the war as reminders of who they were fighting for.
So, in the spring of 1945, in the Philippines, my grandfather found himself in possession of one such flag. Another soldier had quite a few flags and just gave one to my grandfather. Before I moved to Japan, my grandfather told me "I've wanted, for some time, to try to return the flag to the family to which it belongs. But I have no idea how you go about doing anything like that."
Click here for the rest of the article…