Sep
9

Food & Drink, Writers

Comments Off

on Around Japan in 47 Curries: Tottori nashi pear
Tom Baker (Chiba, 1989-91) is writing a 47-part series of posts on his Tokyo Tom Baker blog, in which he samples and comments on a curry from a different prefecture almost every week. Here's an excerpt from his 13th installment, in which he reveals that Tottori Prefecture nashi pear curry has a cinematic connection: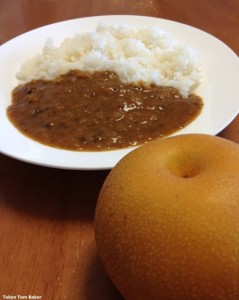 In 1990, I went to the theater to see the movie "Ghost." Patrick Swayze plays a murder victim, and Demi Moore plays his grieving girlfriend. The villain who arranged the murder wants to find out how much she knows, so he sets out to seduce her. In the most shocking scene I saw on film that year, the actor Tony Goldwyn pulled out a crumpled paper bag and presented Demi Moore with some delectable "Japanese apple pears" – a rare, expensive and little-known treat in America, a gift meant to show his generosity and savoir-faire.
I was aghast. My beloved nashi had been introduced to the American public at last – but as a tool of seduction in the hands of a cold-blooded killer. Oh, the injustice! They might as well have taken those pears, chopped them into tiny pieces and made them into curry!
Well, 23 years later, I have learned that someone did just that.
Apr
3

Blogs, Food & Drink, I'll Make It Myself, Writers

Comments Off

on I'll Make It Myself!: What I Ate in Nagano, Day 1: On the Road to Yudanaka Onsen
L.M. Zoller (CIR Ishikawa-ken, Anamizu, 2009-11) is the editor of The Ishikawa JET Kitchen: Cooking in Japan Without a Fight. A writer and web administrator for The Art of Travel, ze also writes I'll Make It Myself!, a blog about food culture in Japan, and curates The Rice Cooker Chronicles, a series of essays by JETs and JET alumni on the theme of cooking/eating and being alone in Japan, and The JET Alumni Culinary Group in LinkedIn.
New Rice Cooker Chronicles submissions always welcome. Just e-mail it to jetwit [at] jetwit.com.
Craft beer wasn't the only delicious thing I had on my trip to Nagano. Let's recap!