Jul
11

Article/Journalism, Events, Film, Food & Drink, Fundraising, Japan Fix, Japan Trends, Notable JET Alums, Volunteer

Comments Off

on Japan Fix London: Hyper Japan – Interview with Mary Moreton
Posted by Dipika Soni (Ishikawa-ken, 2003-06). Dipika has recently moved back to London as is currently looking for new work opportunities related to Japan, writing and translation.
——————————————————————————————————————————–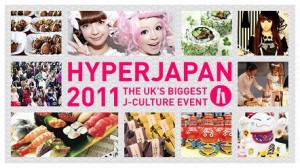 It's not surprising that London has changed a lot during the years I've been away in Japan. Being the "most populous municipality in the European Union", rapid development, modernization and globalization are to be expected. However, it still throws me of guard when my British friends now drop 'katsu-don', 'kirin beer', and 'kawaii' into everyday conversation. I know those words weren't part of my vocabulary before I took off for my life as an ALT!
For a recently returned expat like me, it is a huge comfort to see Japanese culture so widely embraced in my home city.  Which is why I was particularly excited to hear about HYPER JAPAN, a three day event promoting all the different aspects of Japanese culture that make it so appealing to us in the west. Determined to get my 'Japan-fix' to fight off the homesickness, I applied for a volunteer position and was delighted to discover one of the Hyper Japan team, Mary Moreton, was a fellow ex-JET. Not one to miss a chance to share JET stories, Mary kindly agreed to meet me one soggy London afternoon.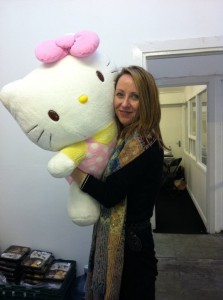 Hi Mary, sorry for dragging you out in this! Could you start by telling me a bit about your time on JET – why you applied, where you were based?
I was a CIR in Aomori City CIR from 2002 – 2005. I studied Classical Japanese Literature at University, which was a really interesting course that I enjoyed a lot, but not necessarily a degree that could lead straight to a clear career path. I wasn't interested in working in say finance in the city like many of my friends, and I had spent time in Japan before (I did a year out in Osaka), so I decided to apply for JET.
How did you find Aomori compared to your experience of living in Osaka? I would imagine it to be quite different!
Yes, it was completely different to my previous experience of living in the city. I remember in my first week, there was another girl from UK who was based at the kencho, and we decided to meet up and explore one day. We walked around for about 10 minutes until we realised there really wasn't much to see! It was totally different from my experiences of urban areas such as Tokyo, Osaka and Kobe.
What did you do after JET?
After returning from JET, my first job was as a PA for the European director of a Japanese electronics company where I was working in a mainly Japanese environment. Even though I had left Japan, during my working day, things weren't too different. Although I felt that my unique point was my Japanese ability, I did not necessarily want to restrict myself to working for Japanese companies. I then went on to work for a British based Insurance broker. I worked in their Japanese department, so I was still using Japanese but not working in a completely Japanese environment as I had been used to. I had always been interested in translation, so in addition to working, I decided to do a part-time MA in translation. In the end I had to quit my job to focus on my dissertation in the last term.
With my MA finished I then decided to do freelance translation and signed up with several Japanese agencies. Not all of them gave regular work, and there were certain areas of translation (technical) that I couldn't do, but after settling into a good relationship with a few coordinators, I managed to find my niche. Through that I did some work for the Sushi Awards, which led to my current position with Cross Media. Once again I am working as the only native English speaker in a Japanese company, but I enjoy it a lot as I get to promote all the things I love about Japanese culture and cuisine, and share it with a whole new audience.
Could you tell us a bit about the background of Hyper Japan?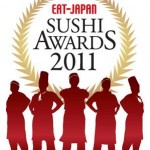 The Eat-Japan Sushi Awards have been around for a few years. Japanese food is a lot more popular now in the UK than when I left in 2002 to go to Japan. Now there are so many places around where you can try Japanese food, and there is a lot more scope to promote it – which is where the idea for the sushi awards came from.
Japanese anime, manga and games have always had a fanbase in the UK and the rest of Europe, and there is a large Japan Expo held in Paris which mainly focuses on these aspects of Japanese culture.
I think most people think that Japan is cool, but not necessarily for just one thing. There are separate events to cater for cosplay, anime, and sushi fans, however there wasn't anything that brought all these together – which what Hyper Japan attempts to do. In the same way that people who live in Japan experience the old and the modern co-existing harmoniously (you could find a Shinto shrine next door to a pachinko parlor), Hyper Japan aims to showcase both the contemporary and classic sides of Japanese culture under one roof.
To read the rest of the interview, click 'Read More'.

So what can people expect for their ticket?
Hyper Japan hosts a mix of large, well-known companies (such as Nintento), and smaller-businesses/entrepreneurs and community based groups, so as well as the corporate presence we also aim to encourage a 'roots-up' cultural experience. The event is unique in the way that has a wide scope, bringing together people who share a common interest that is Japan, whether they are Japanese companies or British people. There will be lots of freebies, food/drink tasting, shopping and you will also be lending a hand to the people and regions affected by the Tohoku Pacific Earthquake as 10% of all net ticket revenue will be donated to the Japan Society Tohoku Earthquake Relief Fund.
I believe that last year (2010) was the first ever Hyper Japan. What is different about the event this year, and what new additions can returning attendees expect?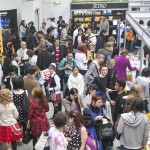 Last year the event was quite focused on sub-cultural groups (Lolita, street fashion, cosplay), but we were surprised by the amount of people who came that were not part of those groups. This year we have expanded the food and drink area, and also introduced more traditional elements, such as kimono dressing and wagashi making. We also have the Japanese Media Arts Festival joining us to showcase Japanese films and film-makers, a Maid Cafe dinning experience, sake cocktail seminars, and performances including traditional taiko.
There will also be a charity focused area to raise awareness and support for the disaster-affected Tohoku region. This will feature a photography exhibition about the tsunami, and a charity raffle with some great prizes.
That all sounds amazing! Lastly, how can people get involved with Hyper Japan?
Hyper Japan is always on the look-out for volunteer bloggers/writers to contribute to the website. At the moment we are heavily focused on the event, but we will go back to being an information site on all things Japan and are looking for writers to get involved with their specific areas of interest. People interested in writing articles, even just about their experience of life in Japan, or anyone interested in photography, illustration are encouraged to get in touch. At this stage, unfortunately we cannot pay contributors, but we aim to develop the website further so that it becomes a platform to showcase creative work related to Japan.
Specifically for the event we are looking for anyone who would like to volunteer as a photographer, writer/translator. This would suit people who would like to build up their portfolio/work-experience and we are happy to credit people with their work and write references. Please contact the press office at press@hyperjapan.co.uk if you are interested in volunteering.
HYPER JAPAN will be held on Friday 22nd to Sunday 24th July at Olympia 2, London. Tickets can be purchased in advance from the website, and kids under ten go free.