The first instalment of JetWit Fashion Beat is brought to you by Dipika Soni (Ishikawa-ken, 2003-06). Dipika currently works as an in-house translator for PFU (a Fujitsu company) in Kahoku-shi, Ishikawa-ken. She is also the vocalist for the Japanese hardcore punk band DEGRADE.
————————————————————————————————————————-

Looking for unique Japanese omiyage? Need ideas for witty Christmas presents? I have found your solution! Look no further than T-shitsu.com.
After 3 years of meticulous planning, designing and market research by a motley crew of friends living in Kanazawa City, T-shitsu.com finally opened their doors to the gaijin community at large earlier this year. The shirts have been steadily gaining in popularity with both the current JET and JET Alum communities due to their fun designs.
The idea behind T-shitsu is to develop a range of witty designs for foreigners to set them apart from their peers in Japan. From the website:
One of us received a shirt as a present many moons ago which has the words 'I'm Huge in Japan' emblazoned on it and we all noticed that whenever that shirt was aired, people would comment on it. Every single time.

We searched the web for more shirts along the same vein and were frustrated to see that the options out there are slim to none. The shirts we did find…well… let's just say "Baka Gai-jin" isn't the best phrase to have on your chest as a foreigner in Japan!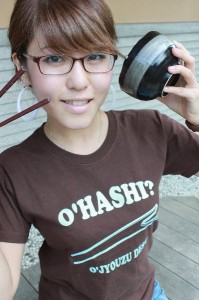 In addition to serving the current gaijin clan, I think these shirts make a great gift for anyone who has experienced life as a foreigner in Japan, and Japanophiles in general around the globe.
The word "shitsu" means "quality" in Japanese, and the shirts are certainly of a high standard. All designs are available in a wide range of men's and women's sizes, and quick home and overseas delivery is possible.
Do also check out the Facebook page for regular updates, t-shirt competitions and general "gai-jin" related chat from the T-shitsu crew. They are always on the look out for new designs so if you have a good idea for a shirt – don't hesitate contact them!
Last but not least, if you do purchase a shirt from our friends over at T-shitsu.com, please mention that you heard about them from JetWit. Thanks and happy shopping!
Have a suggestion for a future JetWit Fashion Beat post?  E-mail dipika [at] jetwit.com.