Mar
11

Audio, Earthquake Tsunami, Press Release

Comments Off

on Krewe of Japan Podcast Launch! New Episode 3/12 ft. JET Alumni Wesley Julian & Dan Martin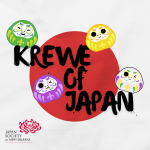 Posted by: Doug Tassin (Fukushima-Ken ALT, 2007-2010 & Krewe of Japan Podcast Co-Host)
Sponsored by the Japan Society of New Orleans, the Krewe of Japan Podcast launched a new weekly episodic podcast in February 2021. But what is a "krewe"? A krewe is an organization that stages a parade or event for the New Orleans Carnival season. Much like a Mardi Gras parade with diverse entertainment and an overarching theme, this Krewe is about to march right into the podcast library of those not only in New Orleans but those around the globe. Through insightful and entertaining conversations with a variety of experts and professionals (both foreign and native Japanese), Japan enthusiasts, and others in various fields involving Japan, the Krewe of Japan Podcast will highlight a broad spectrum of Japanese culture, travel, history, language and much more. Past and soon-to-be-aired guest interviews include (but not limited to):
Matt Alt, accomplished writer/translator/localizer based out of Tokyo who wrote the book Pure Invention
MattVsJapan, a popular YouTube language show host who has his own Japanese learning methodology called Refold
Shoko & Bon Koizumi, the great-grandson of the esteemed 19th century literary figure Lafcadio Hearn (Japanese name: Koizumi Yakumo)
Andrew Freund, director of USA Sumo
Dr. Samantha Perez, history professor at Southeastern Louisiana University and coordinator of the Matsue-New Orleans Sister City Exchange Program
Saeko Yatsuka-Jensen, a Japanese professor from Tulane University
A joint conversation on English teaching opportunities in Japan with John Loynes (former JET, privately-owned Eikaiwa entrepreneur) & Bradley Trenery (Private English Instructor)
This week's episode (dropping tomorrow, March 12) will feature an interview with a couple JET Program alumni, Wesley Julian and Dan Martin. Wesley and Dan produced the fantastic documentary about the global community's response to the Great East Japan Earthquake called Tohoku Tomo and its "follow-up" docuseries highlighting all that Tohoku has to offer called The 113 Project. They shared a behind-the-scenes look into the making of Tohoku Tomo and The 113 Project, their insights and experiences with Japan both before and after the tragic day of March 11, 2011, and how you can still help Tohoku with its recovery.
The Krewe of Japan Podcast can be found on Apple, Google, Spotify, Amazon, and Stitcher.  Missing your platform? Have ideas for episodes, feedback, comments, or questions? Let the Krewe know by e-mail at kreweofjapanpodcast@gmail.com or on social media (Twitter: @kreweofjapan, Instagram: @kreweofjapanpodcast, & the Krewe of Japan Youtube Channel).