Jun
26

Cultural Outreach, JETAA Chapters, Local Government, Return on JET-vestment, Volunteer

Comments Off

on Hawaii JET alums volunteer as Hiroshima City Mayor Matsui leads visiting delegation (Japanese article)
*******************
JETwit recently posted a JETAA Hawaii article by chapter President Darryl Toma about Hawaii JET alums volunteering to support a visit by the Hiroshima City Mayor along with a visiting delegation from Hiroshima.
FYI, there's also now an article in Japanese about Mayor Matsui's visit on the Japan Local Government Center (aka CLAIR-NY) blog:  http://www.jlgc.org/TopicList.aspx?topicCategoryID=16&topicID=279&languageTypeID=2&controlType=Display
Via JETAA Hawaii.  Go to their site for photos and video:
"This past weekend (June 8-10), the Pan-Pacific Festival took place in Hawaii, which involved a range of events, even including a parade through Kalakaua Avenue with groups from all over the Pacific Rim.
Joining the festivities was Mayor Matsui and some of his delegates all the way from Hiroshima.  Through the Japan Local Government Center (JLGC – CLAIR) in New York, JETAA Hawaii had the opportunity to assist the Mayor in some of his tourism promotion activities.
At the first event (June 9, Saturday), JET alumni Keith Sakuda, Kristine Wada, and Darryl Toma joined Mayor Matsui at Ala Moana Center Stage to give a presentation on Hiroshima and promote some of its famous and not-so-famous attractions that include the Peace Park Memorial and Museum, Atomic Bomb Dome, Miyajima, Okonomiyaki, Momiji Manju, Mazda Stadium (baseball), as well as some of the upcoming events such as the 2013 Hiroshima Confectionary Expo (April 9 – May 12, 2013) and Hiroshima Flower Expo.  Following their presentation, a Kagura dance group performed on stage.
At the second event following the presentation at Ala Moana Center Stage, Keith, Kristine, and Darryl joined up with fellow JET alumni David Tokuda, Christine Toyama, and Reid Yamada to have lunch with Mayor Matsui and some of his tourism promotion delegates.  Discussion topics varied, including JET alumni experiences, teaching methods, impressions of Hiroshima, and suggestions for improving tourism promotion for Hiroshima.
The next day (June 10, Sunday), JET alumni David Tokuda and Darryl Toma joined the Mayor and his delegation, along with a representative from the JLGC, to promote tourism to Hiroshima in Waikiki.  Passerbyers filled out questionnaires about Hiroshima, received free information packets that included origami, and had chances to win a variety of prizes from Hiroshima that included brushes, beads, and various pottery.
Overall, the JET alumni that participated had a great time assisting Mayor Matsui and his delegation with their activities and look forward to future opportunities to assist them, as well as the JLGC.
A big thanks goes out to Mayor Matsui from Hiroshima City for giving JETAA Hawaii this opportunity.  We would also like to thank Mayor Matsui's delegation for their great support throughout each event.  In addition, we would like to thank Naomi-san and everyone from JLGC in New York for her great support in coordinating everything.  Last but not least, thank you very much to Lisa from the Honolulu Japan Consulate for assisting in coordination and of course, all of the JET alumni who participated in these events.
We will look forward to the next time we can meet!"
A quick book recommendation from current Hiroshima-ken JET Gail Cetnar Meadows…
Now and then I read a book that's so good I want to tell everyone I meet about it, and I've recently finished one such book. For those interested in learning more about the atomic bombing of Hiroshima, I highly recommend a graphic novel written by atomic bomb survivor Keiji Nakazawa. Barefoot Gen: A Cartoon Story of Hiroshima is a 10-volume graphic novel loosely based on Nakazawa's experiences and those of other Hiroshima residents who survived the bomb. The book taught me a lot about what happened in Hiroshima in the year's following World War II — things beyond what I learned visiting Hiroshima's Peace Memorial Museum or listening to the accounts of hibakusha. For those who are interested, I've written a piece on the Wide Island View talking a little more about it and encouraging others to check it out.
Hiroshima-ken JET Gail Meadows is Editor of Hiroshima JET webzine the Wide Island View and a regular JetWit contributor who writes the Japan America Society Roundup.
This Thanksgiving I'd like to share with you a story about an experience that one Hiroshima JET was very grateful to have during his time in Japan. This story made headlines in Japanese newspapers in Hiroshima and Niigata prefectures in the summer of 2008, and now we've published it in the Wide Island View. My eyes well up every time I read it! I believe that this is one extraordinary example of a JET reaching out and connecting with the Japanese community. So without further ado, let's begin…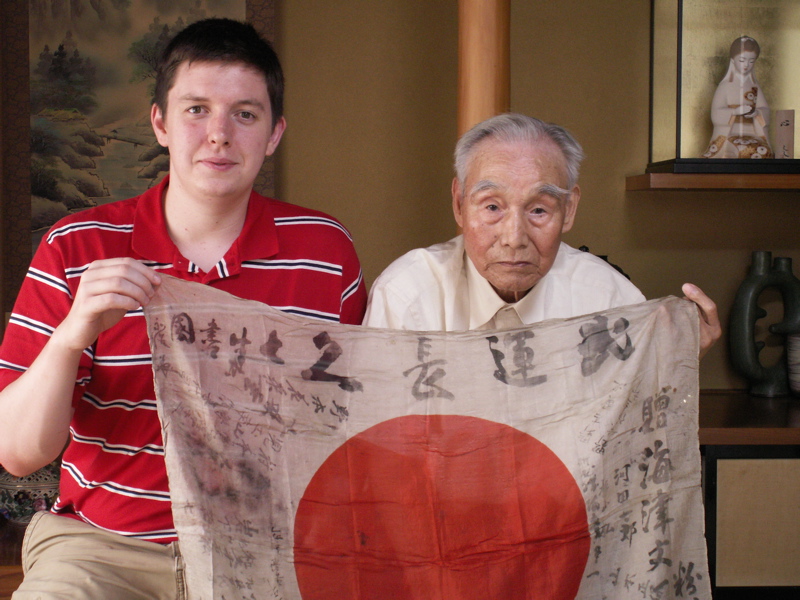 By Aaron Sponseller
As I exited Nagaoka Station, I had no idea what would happen over the course of the next several hours. After taking an all-night bus trip from Hiroshima to Tokyo and then hopping on a train for another couple hours to reach this city in Niigata Prefecture, my wife, Tomoko, and I were tired yet enthusiastic to see how this day I had long-awaited would turn out.
We had come to Nagaoka to finish something that was long overdue. My grandfather served in the United States Army for the entire duration of World War II. In the spring of 1945, in the Philippines, he came into possession of a Japanese war flag.
When enemy soldiers were captured, they were stripped of all their gear and military issued clothing. It was not unusual for their captors to take these objects and keep them as souvenirs. Allied soldiers would take Nazi paraphernalia back to their home countries in the European Theatre; they did the same thing with Japanese paraphernalia in the Pacific. Japanese swords, katana, were prized as souvenirs. However, getting a sword back to the U.S. may have proven difficult, so many soldiers looked for smaller or more easily smuggled items. Less conspicuous items. One of the most common items to smuggle home was a Japanese flag.
Before heading to war, most Japanese soldiers took part in a ceremony of some kind that marked their departure. These ceremonies were typically held at Shinto shrines around Japan, with each ceremony marking the departure of several soldiers. During the ceremony, most soldiers were presented with a medium-sized Japanese flag (just the traditional white flag with a red "sun" in the middle). The flags were usually written on, however. The top of the flag read 「武運長久」(pronounced bu-un cho-kyu). This translates to something along the lines of "continued luck in battle." The flag would also have the name of the soldier on it in large characters, as well as the name of the person at the ceremony who presented that flag to the soldier. The presenter was typically someone important to the soldier such as a boss or a good friend. Around the red sun were the hand-written names of the soldier's friends or family or otherwise important people. The soldiers carried these flags with them throughout the war as reminders of who they were fighting for.
So, in the spring of 1945, in the Philippines, my grandfather found himself in possession of one such flag. Another soldier had quite a few flags and just gave one to my grandfather. Before I moved to Japan, my grandfather told me "I've wanted, for some time, to try to return the flag to the family to which it belongs. But I have no idea how you go about doing anything like that."
Click here for the rest of the article…