Hiroshima-ken JET Gail Meadows is Editor of Hiroshima JET webzine the Wide Island View and a regular JetWit contributor who writes the Japan America Society Roundup.
This Thanksgiving I'd like to share with you a story about an experience that one Hiroshima JET was very grateful to have during his time in Japan. This story made headlines in Japanese newspapers in Hiroshima and Niigata prefectures in the summer of 2008, and now we've published it in the Wide Island View. My eyes well up every time I read it! I believe that this is one extraordinary example of a JET reaching out and connecting with the Japanese community. So without further ado, let's begin…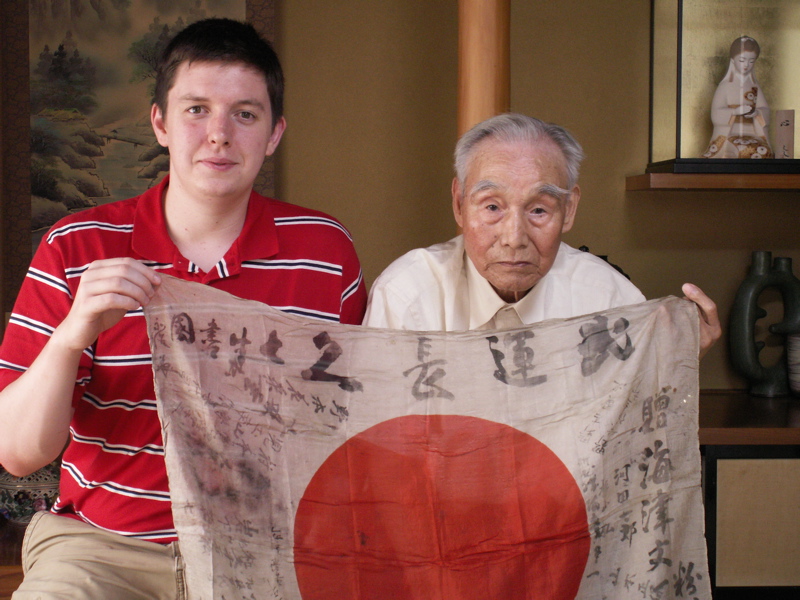 By Aaron Sponseller
As I exited Nagaoka Station, I had no idea what would happen over the course of the next several hours. After taking an all-night bus trip from Hiroshima to Tokyo and then hopping on a train for another couple hours to reach this city in Niigata Prefecture, my wife, Tomoko, and I were tired yet enthusiastic to see how this day I had long-awaited would turn out.
We had come to Nagaoka to finish something that was long overdue. My grandfather served in the United States Army for the entire duration of World War II. In the spring of 1945, in the Philippines, he came into possession of a Japanese war flag.
When enemy soldiers were captured, they were stripped of all their gear and military issued clothing. It was not unusual for their captors to take these objects and keep them as souvenirs. Allied soldiers would take Nazi paraphernalia back to their home countries in the European Theatre; they did the same thing with Japanese paraphernalia in the Pacific. Japanese swords, katana, were prized as souvenirs. However, getting a sword back to the U.S. may have proven difficult, so many soldiers looked for smaller or more easily smuggled items. Less conspicuous items. One of the most common items to smuggle home was a Japanese flag.
Before heading to war, most Japanese soldiers took part in a ceremony of some kind that marked their departure. These ceremonies were typically held at Shinto shrines around Japan, with each ceremony marking the departure of several soldiers. During the ceremony, most soldiers were presented with a medium-sized Japanese flag (just the traditional white flag with a red "sun" in the middle). The flags were usually written on, however. The top of the flag read 「武運長久」(pronounced bu-un cho-kyu). This translates to something along the lines of "continued luck in battle." The flag would also have the name of the soldier on it in large characters, as well as the name of the person at the ceremony who presented that flag to the soldier. The presenter was typically someone important to the soldier such as a boss or a good friend. Around the red sun were the hand-written names of the soldier's friends or family or otherwise important people. The soldiers carried these flags with them throughout the war as reminders of who they were fighting for.
So, in the spring of 1945, in the Philippines, my grandfather found himself in possession of one such flag. Another soldier had quite a few flags and just gave one to my grandfather. Before I moved to Japan, my grandfather told me "I've wanted, for some time, to try to return the flag to the family to which it belongs. But I have no idea how you go about doing anything like that."
Click here for the rest of the article…