Gemma Vidal (Okayama-ken, 2010-12) is a recently returned JET seeking work in licensing/merchandising (if it's within the publishing industry, even better!). You can usually find her in her little web spaces Gem in the Rough and Peachy Keen (her JET adventures) or training with San Jose Taiko.  If you know of any authors/aspiring writers you'd like to see featured in JET Alum Author Beat, just contact Gemma at gem.vidal  [at] gmail.com
Congratulations are in order to Will Ferguson (Nagasaki-ken, 1991-94), author of Hitching Rides With the Buddha (f/k/a The Hitchhiker's Guide to Japan), who was awarded the esteemed 2012 Scotiabank Giller Prize for his novel 419. You can check out the announcement on the Scotiabank Giller Prize website and read more about his novel and other works on Will's own website. Congratulations again, Will!
What better way to warm up from the cold weather than a cup of sake! If you're a fan of sake and live in Japan, check out John Gauntner's (author of The Sake Handbook) annual Sake Professional Course 2013. It is a 5-day educational course which includes classroom sessions and visiting sake breweries in the Osaka/Kyoto/Kobe area. For more information about the schedule and registration, please visit the SPCJapan website. You can also download a free version of Sake: The Least You Need To Know, a quick start guide to sake here
Suzanne Kamata (Tokushima-ken, 1998-90), author of Losing Kei and fiction editor of Literary Mama announced that her latest Young Adult novel, Gadget Girl: The Art of Being Invisible will be published by GemmaMedia (cool name) in May 2013!  Gadget Girl follows the life of 14-year old Aiko Cassidy and her dream to become a manga artist. The story won the SCBWI Magazine Merit Award in Fiction. You can check out the book on her website or through Amazon, Powells, and Indiebound.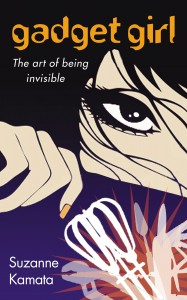 Japanamerica's Roland Kelts (Osaka-shi, 1998-99) will lead a presentation titled, "Japan's New Anti-Piracy Law and the Online Media Debate" with media lawyer David B. Hoppe and music journalist Steve McClure on November 14th.
Attention NY residents! James Kennedy (Nara-ken, 2004-06), author of The Order of Odd-Fish is holding a signing on November 27th at the Pittsford Barnes & Noble in Rochester at 7PM and presenting new material on November 28th at Writers and Books (also in Rochester with a $5 fee). Details can be found on James' website and this site for the November 28th event. Go and show your support!
Want a chance to win a free book written by one of our own? Benjamin Martin (Okinawa-ken, 2008-Present), publisher of the More Things Japanese blog is giving away two personalized copies of his new book, Samurai Awakenings  which was just released last month! The giveaway ends on November 30th, so go to Goodreads and sign up! You can read JETwit's own brief interview with Benjamin about his book.
Mie-ken JET alumni Laura Popp's fantasy novel, Treasure Traitor is out! Here's the summary on Amazon's website to give you a taste of the story:
"In a universe torn by war, two governments vie for power: the elemental Kingdom and the telepathic Hierarchy. Hierarchy women with animal bonds think nothing of sacrificing their beasts' lives to protect themselves. Except sixteen-year-old Renagada. The bond with her carrion-eater bird Acha is two-sided, and she knows his mind as much as he knows hers. When Rena overhears her parents plotting to kill Acha because of superstition, she must leave her fiancé and home of sheltered luxury to flee with Acha into the desert. Peril awaits them at every turn, and someone is tracking them…"
And that's all for this round of the Author Beat!