Mar
31

Jobs

Comments Off

on Job: Internet Marketing Coordinator at Outdoor Research – Seattle, WA
Via the Pacific Northwest JETAA yahoo group:
Hello,
We have a new opening in marketing for an Internet Marketing Coordinator. This is a full-time exempt position with full benefits. This person will assist in the creation, production, implementation, and analysis of web marketing initiatives. A complete job description may be found on the OR website.
Please send resume and cover letter to jobs at outdoorresearch dot com
Thank you!
Suzanne Ekler, PHR
HR Administrator
Outdoor Research
****************
Thanks to Kirsten Phillips (Niigata-ken, 2005-08) for sharing proof of what JET alums already know:  obaasans are not to be F*&%$ed with:
http://www.japantoday.com/category/crime/view/84-year-old-woman-apprehends-22-year-old-burglar-in-fukuoka
Via the JETAA Northern California jobs yahoogroup:
Program Coordinator
Description:
The Japan Information and Culture Department of the Consulate General of Japan in Miami has an opening for a program coordinator. This is a full-time contract position. The ideal candidate will be fast-paced, results oriented, creative and flexible. Excellent interpersonal skills and communication skills in team planning, public speaking and presenting are required.
Via JETAA Chicago:
Customer Service Representative
Job Description –
The customer service representative acts to bridge communication between customers, outside representatives and sales managers. He or she will process orders and provide support to customers and distributors regarding order status, pricing and delivery. The customer service representative works closely with the purchasing department and the warehouse to ensure prompt and efficient shipments, guaranteeing customer satisfaction.
Via Monster.com. See the original listing here:
About the Job
Winebow Inc.​, a prestigious importer and distributor of wine and spirit products from around the world, has an exciting new position in our organization.​  Winebow is currently seeking a Sales Rep to sell our Sake portfolio in Manhattan.
In case you missed it (or enjoyed it so much you want to relive it), below is a highlights clip from the JET Alumni Author Showcase along with clips of each of the three author readings, all of which took place March 22 in NYC.  (Bonus tip:  Try to picture each author teaching an English class in a Japanese high school as you watch them do their readings.)
Highlight Clips
James Kennedy (Nara-ken, 2004-06), author of The Order of Odd-Fish

Roland Kelts (Osaka-shi, 1998-99), author of Japanamerica:  How Japanese Pop Culture Has Invaded the U.S.

Robert P. Weston (Nara-ken, 2002-04), author of Zorgamazoo

JETAANY Hosts First Author Showcase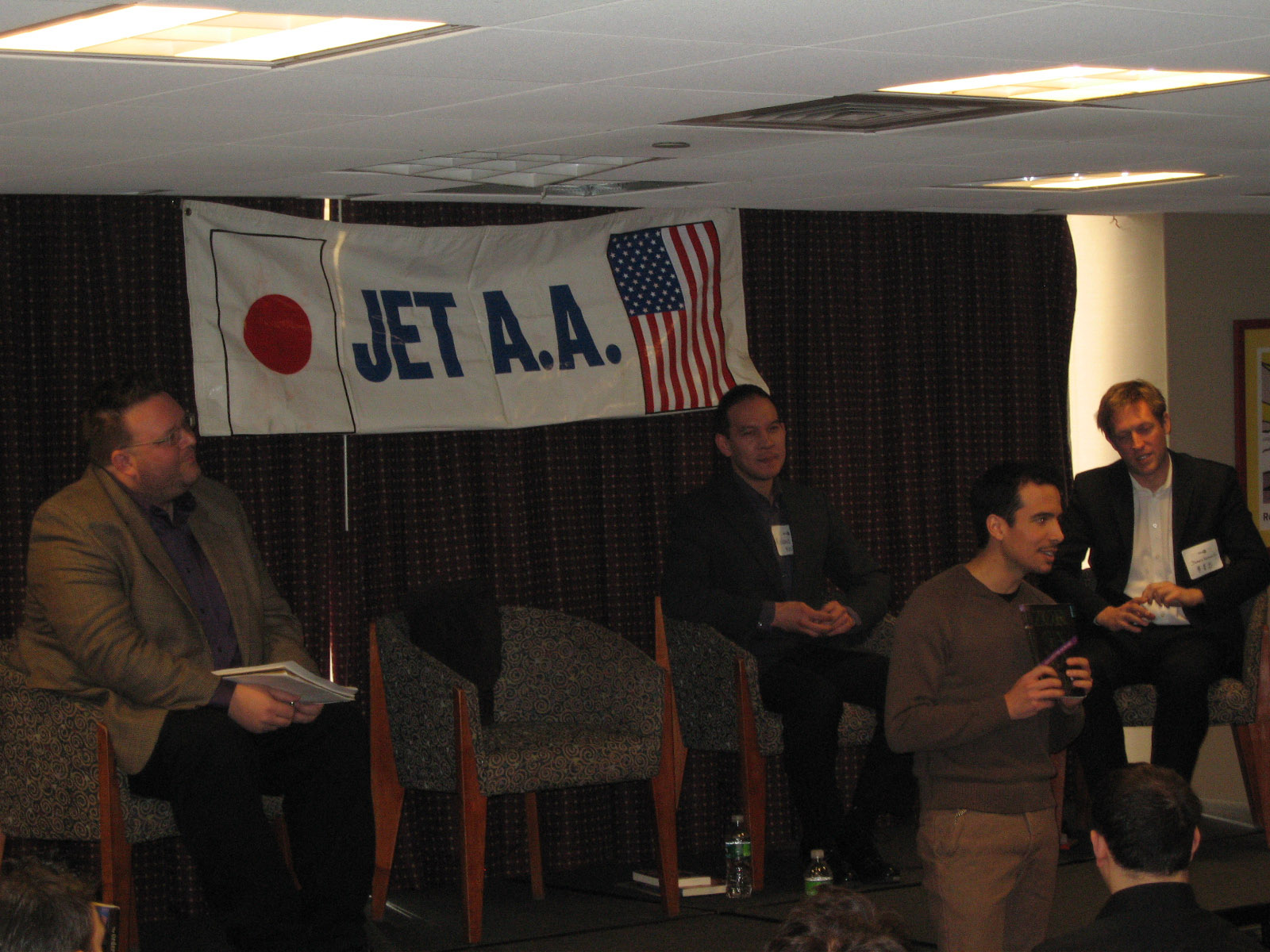 By Gina Anderson (Nara-ken, 2003-05), former JETAA DC newsletter chair and Justin Tedaldi (CIR Kobe-shi, 2001-02), editor of JQ (JETAA NY) Quarterly Magazine

New York City's Holiday Inn hosted a summit for published JETs as JETAANY launched its debut JET Alumni Author Showcase on March 22. The panelists included pro writers Roland Kelts (Osaka-shi, 1998-99), Robert Weston (Nara-ken, 2002-04) and James Kennedy (Nara-ken, 2004-06).  (Click here and here for photos and here for video clips.)
Drawing over 60 JET alums, friends and family, the event kicked off with some words from Akira Sugiyama, director of the Japan Information Center of the Consulate General of Japan in New York. Moderator and playwright Randall David Cook (Fukui-ken, 1991-93), creator of the critically acclaimed Off Broadway plays Sake with the Haiku Geisha and Fate's Imagination, asked each author to share a favorite selection of their works with the crowd.
A professor at three different universities including Tokyo University, a writer and editor for two magazines and a columnist for the Yomiuri Shimbun, Kelts spoke about Japanamerica:  How Japanese Pop Culture Has Invaded the U.S., his non-fiction book about the eponymous subject. He began by Read More

Devon Brown (Tokyo-to, 2002-04) is a freelance writer with a focus on food.  You can read more of her writing at TravelingTastebuds.blogspot.com.
Everyone knows how to boil pasta, right? -Think about the last soggy rigatoni salad you ate before you answer that question. The good news, is that making perfect pasta is easy is if you know the rules.
The below info came via an e-mail about an event organized by CareerCross, an online job-search site for people trying to find bilingual work in Japan or with Japan-affiliated companies.  Seems like something that might be of interest to JET alums.

CareerCross is holding a special seminar designed to give job seekers an added advantage when interviewing at a foreign company in Japan.
As Japan and the world sinks deeper into recession and corporations aggressively cut jobs, one cannot afford to be less than 100% prepared for the opportunity to interview for a job. Competition for jobs is difficult and will only get more difficult as companies can choose from a larger pool of qualified candidates.
CareerCross has brought in Japan's leading interview skills trainer to teach you how to "Get Your Job Now!" From your cover letter and resume to the interview, learn exactly what works and doesn't when interviewing at a foreign company in Japan. You will be able to answer the difficult questions with confidence, as you will be prepared and coached by the very best.
Join us for one afternoon designed to prepare you for success.
— Get Your Job Now! Space is limited, and the registration deadline is April 8th, 2009, so sign up now!
JetWit Blog Beat by Crystal Wong (Iwate-ken, 2002-04) is a recurring item featuring posts from the blogs of various JET alumni.  Crystal is a formerEnglish-language writer for Kyodo News. She now works as a media planner in Chelsea and sorely misses all her favorite midtown ramen joints.
This week was a busy one, with two JET alum blogs being added to the blogroll:
Welcome Chen Reichert, a Philly based JET alum and creator of Boto, a Japanese robot tourist inspired by her time in Japan. You can find out more about Chen, her designs and Boto's adventures at her blog.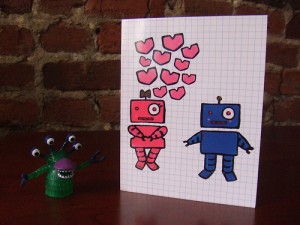 Also be sure to check out the site of MEF alum Bruce Rutledge, the owner of Chin Music Press, a Seattle based independent publisher. His latest post mentions Clay Shirky's recent piece on the future of journalism.
Devon Brown (Tokyo-to, 2002-2004) shares her tips on making better pasta.
Well-known blogger and Twitter guru Guy Kawasaki recently tweeted about Roland Kelts' (Osaka-shi, 1998-1999) interview with Japanese novelist Haruki Marukami. Read the interview here.
Also, last but not least, be sure to check out JET alum Lars Martinson's Tonoharu, listed on a host of year end top ten lists!
Via Japan Society (NY):
Reporting to the Corporate Membership Manager, the Corporate Development Associate works with the Development team on corporate fundraising operations, including corporate membership, corporate sponsorship, and special events.
Responsibilities include: fielding corporate membership inquiries; assisting the Manager with mailing lists and acknowledgment letters, renewals and solicitation letters, and follow-up with lapsed members; fulfilling corporate member benefit obligations and requests, including complimentary catalogs, gallery passes, and Executive Courtesy Cards; conducting prospect research on corporations (for membership and sponsorship); helping with marketing materials in Quark and Power Point; liaising with program directors on sponsorship solicitation letters, benefits, and gift agreements; compiling and sending informational packets; assisting in tracking and updating sponsorship proposals in Raiser's Edge; fulfilling corporate sponsor stewardship obligations, including sending exhibition catalogs and complimentary tickets; ensuring that corporate sponsors are recognized in the appropriate manner in credit lines; creating sponsorship reports; entering gifts Raiser's Edge; drafting acknowledgment letters for cash and in-kind donations; tracking in-kind gifts; assisting in special events and working with the Special Events team; and other tasks as assigned. Read More
Via the Honyaku Google Group:
Modis Design, a company that specializes in bilingual Japanese/English marketing, is seeking experienced translators of literary works as well as financial translators.  Read below for more information. Read More
Another listing via JETAA Chicago:
Description:
Our Client, a large manufacturing company, is looking for a Business Planning Administrator. This person will be responsible for furnishing monthly "budget vs. actual" variance analyst, and cost accounting information.
This job listing comes from JETAA Chicago:
The following job posting is a job being offered at a law firm.  The
main element of the job is that the applicant must have Japanese
language skills, legal experience is a preference.  This could be an
amazing opportunity for someone that is interested in Intellectual
Properties Law.
SOCIETY FOR WRITERS EDITORS & TRANSLATORS (SWET) OPEN FORUM: Wordsmithing in Japan
April 21 (Tues), 2009; 7:00-9:00 p.m.
Fee: 1,000 yen for SWET members; 2,000 yen for non-members
Place: 5th Floor, Shoko Kaikan/Shohisha Senta, Shibuya
1-12-5 Shibuya, Shibuya-ku
Miyamae-zaka area; map at www.city.shibuya.tokyo.jp/est/shoko.html
Are you hoping to launch a career in writing, translating, copyediting, editing, English-language publishing or other work based in Japan? Where should you start? What qualifications do you need? Who can you collaborate with? How can SWET help you? What can you do for SWET?
Open to members and non-members alike, the SWET Open Forum offers an opportunity to address questions to established professionals in a variety of wordsmithing professions, as well as present requests and suggestions for SWET activities throughout the year. Take this opportunity to tap SWET resource persons on hand, sound off on questions and concerns, and enjoy a chance for informal networking and information-sharing.
The SWET members present will share their expertise in the following fields: J-E translation, editing, copyediting, proofreading, editing translations, writing, rewriting, technical writing, copywriting, design and layout.
For further information, contact SWET by email at events at swet dot jp.