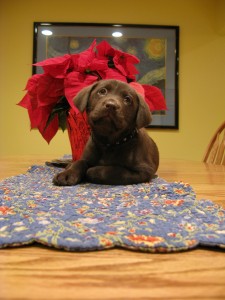 My name is Rick Ambrosio (Ibaraki-ken, 2006-08).  And whether readjusting to post-JET life is something you're facing now, will deal with in the future or if you just enjoy reconnecting with that awkwardly uncertain feeling you had when you got back from Japan, come along with me as I look for a new job, a new apartment, and yes, mow the lawn of my parent's house.  Tadaima!
Hello all.  Yes, I'm back, still living at home, doing chores and looking for work!  Apologies about the long black out and happy new year to all!  I think Julie, who writes Editorial Pursuits, really did a great job summarizing how I feel right now, in terms of thanking people, looking for work, and dedicating myself to working harder.  So thanks Julie, you saved me a good amount of space to write about….  (Drum Roll)
The Puppy!  That's right.  As if I needed more distractions, this Christmas my sister wanted one thing, and she got it.  A puppy.  A deviously cute, usually well behaved puppy.  Let me outline what that first week was like.
Day 1:  Love Puppy.  He's so cute.  Did you see that?  He looked at me!  Sooo cute!
Day 3:  Puppy is cute.  He pees where he shouldn't, and Read More