Writer Graham Shelby (Fukushima 1994-97) recently teamed up with The Butcher's Apron Radio Show to produce this full-on audio story (music, sound EFX, the whole thing) about a distinctly JET experience.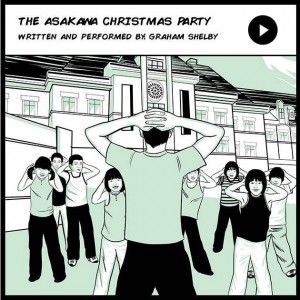 "The Asakawa Christmas Party" tells the true story of a complicated Christmas party Graham and a few other American JETs attended at a Japanese elementary school. It was complicated because…
a.) it took place on the anniversary of the Pearl Harbor attack.
and…
b.) the teachers asked them to teach "a traditional American Christmas dance."  (FYI – there aren't any).
How'd it turn out?  Doozo. 
The story was produced as part of Selfridge and Co's Reasons to Believe series of original Christmas tales.  Graham has a few more Japan stories here.
Dec
12

Blogs, Food & Drink, I'll Make It Myself, Writers

Comments Off

on I'll Make It Myself!: Avocado Almond Cookies
L.M. Zoller (CIR Ishikawa-ken, Anamizu, 2009-11) is the editor of The Ishikawa JET Kitchen: Cooking in Japan Without a Fight. A writer and web administrator for The Art of Travel, ze also writes I'll Make It Myself!, a blog about food culture in Japan, and curates The Rice Cooker Chronicles, a series of essays by JETs and JET alumni on the theme of cooking/eating and being alone in Japan.
Downtown Kanazawa is experiencing its seemingly annual winter butter shortage. The grocery stores I frequent have signs that read "one package per customer" and explain that the shortage is due to conditions in Tohoku, where much of the nation's dairy is produced. My friends in other cities report that they're having no issues finding or buying butter–maybe the shortage is from all the bakeries in town making Christmas cakes?
As a result of butter's becoming increasingly expensive and hard to find here, I'm trying to cut back. I have a collection of recipes for muffins, quick breads, and pastry crusts that take yogurt, oil, or applesauce instead, but all my standard holiday cookie recipes take butter. This year, I've decided to work on some Japan-friendly non-butter cookie recipes in hopes of saving my wallet and my holiday spirit.*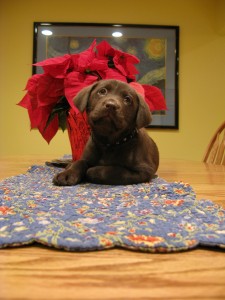 My name is Rick Ambrosio (Ibaraki-ken, 2006-08).  And whether readjusting to post-JET life is something you're facing now, will deal with in the future or if you just enjoy reconnecting with that awkwardly uncertain feeling you had when you got back from Japan, come along with me as I look for a new job, a new apartment, and yes, mow the lawn of my parent's house.  Tadaima!
Hello all.  Yes, I'm back, still living at home, doing chores and looking for work!  Apologies about the long black out and happy new year to all!  I think Julie, who writes Editorial Pursuits, really did a great job summarizing how I feel right now, in terms of thanking people, looking for work, and dedicating myself to working harder.  So thanks Julie, you saved me a good amount of space to write about….  (Drum Roll)
The Puppy!  That's right.  As if I needed more distractions, this Christmas my sister wanted one thing, and she got it.  A puppy.  A deviously cute, usually well behaved puppy.  Let me outline what that first week was like.
Day 1:  Love Puppy.  He's so cute.  Did you see that?  He looked at me!  Sooo cute!
Day 3:  Puppy is cute.  He pees where he shouldn't, and Read More