Oct
5

Article/Journalism, Books, Cartoon/Illustration, JET Alum Author Beat, JQ Magazine, Notable JET Alums, Writers

Comments Off

on JET Alum Author Beat 10.05.11
JET Alum Author Beat is a new feature by Ling Tran (Saga-ken, 2009-11) intended to keep readers informed of what various JET alum authors are up to.  Contact Ling at jetwit [at] jetwit.com if you'd like to see something included in upcoming posts. She is also interested in providing exposure for aspiring authors/writers among alumni and current JETs – excerpts and updates are all welcome. 
Sam Baldwin Ono (Fukui-ken, 2004-06) hails from the UK and made a life altering decision when he decided to move to Fukui-ken through the JET Program. The quiet facade of inaka Japan gradually revealed its colorful nature, eventually leading Sam to share stories and insights in For Fukui's Sake: Two years in rural Japan. Whether for reference (newbie JETs, holla!), nostaliga, or reflection – ESID aside – this book is available electronically. If you want to be notified of its hard copy release, click here. Visit the website For Fukui's Sake  for details. (Fukui t-shirts are also available for purchase.)
Cartoonist Lars Martinson (Fukuoka-ken, 2003-06) has been busily settling into his new home and  schedule in Kameoka, Kyoto. He managed to fit in a brief post after a short hiatus. Eager followers can see how he is doing here – more substantial updates to come!
Jul
1

Uncategorized

Comments Off

on A Night Out with Fukuoka IT
Professional translator Joel Dechant (CIR Kagoshima-ken, 2001-04) is now guest blogging for Fukuoka Now
In my search for a local freelancer community, a friend of mine introduced me to a group called Fukuoka IT.  I'll be the first to admit that I am no codejammer, but I am interested in web tools and IT as they relate to the field of translation. Not to mention, I am always game for meeting new people, so I got in touch with Mark Cowan, a self-confessed Java lover and the fearless leader of Fukuoka IT.
Mark, a native Canadian and long-time Fukuoka resident, started the Fukuoka IT Google group 2 years ago as a way for foreign IT specialists in the Fukuoka area to get together and  share ideas. In the beginning meetings were often comprised of Mark and one or two other brave souls, but he persisted. Membership grew by word of mouth and eventually the group decided to expand its network by inviting Japanese techies into the fray. With mailing list membership now at 50, the Fukuoka IT group saw a record 18 members turn up for June's meeting held at the Chuo Civic Center. Each month, members set a different topic and conduct presentations or engage in coding competitions. The aim is to share ideas and build professional networks.
Continue reading 'A Night Out with Fukuoka IT'
May
2

Baker's Dozen, Career, Uncategorized, Writers

Comments Off

on Baker's Dozen by Eric Baker
Eric Baker (Fukuoka-ken, 2006-08) will be writing the Baker's Dozen column as he  approaches the end of a year of travel and reconnecting. He will discuss his thoughts and experiences as he transitions back to working in the States after two years on JET.
Like many folks, I discovered JetWit through a JET friend. Joining the Facebook group, I began exchanging messages with Steven, our prescient leader, who suggested I start writing a few posts about my life as I, too, join the increasingly anxious fray of those looking for work.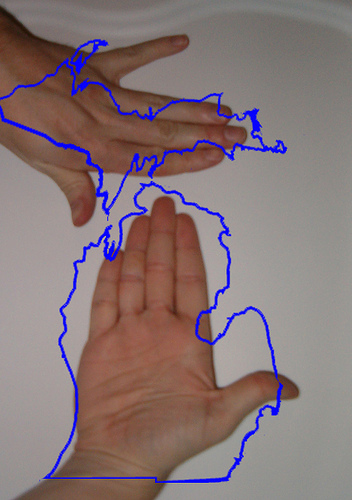 You may wonder how it came to pass that I'm starting these posts now, in May. I'm either ahead of the game for an '09 JET or way behind for the group who finished in the summer of '08. As you may have guessed, I'm the latter–I took a scenic western route returning from Japan to round out 2008. This year I've balanced my time between reading and fitness binges at "home" in Detroit, and with a number of week or two-long stints on the road, reconnecting with my diaspora of American friends, seeing how they live.
So far I've found value through the ups and downs of my deliberately gradual reentry. But while my old friends are well on their varied roads to success, evidenced in their shapely Apple and Ikea products and the flatscreen TV pandemic (when did that happen?), I turn 25 tomorrow, am living with my parents, and am increasingly in need of that pension refund. I check my account most days for that deposit, and in the meantime my 0% American Express keeps me afloat. But with my Nokia prepaid phone, goodwill cutlery and non-HD compatible 27″ JVC, I'm clinging to the fringes of social acceptance.
In fits and starts, I'm making the inevitable transition to commence thinking about and searching for my next job. I've missed most grad school deadlines, so that is eliminated for now. But most everything else is up in the air. Like my friends, I'm happy to move since—my pride in the Great Lakes (五大湖, anyone?) and ability to use my right hand as a map of my state aside—finding work in Michigan isn't realistic right now. And for better or worse, I sometimes feel more socially isolated being temporarily back "home" than I did in my inaka hamlet.  I'm becoming antsy to really Read More