According to a Daily Yomiuri article, the Japanese government plans to increase JET Programme participants by 2,300 between 2015 and 2019 with an eye towards eventually increasing the program to 20,000.  This seems to be in line with LDP policies announced back in April.
Update 1:32 pm Sep. 22:  Here's an English version of the article:
http://the-japan-news.com/news/article/0001586882
ALTs to be placed in all primary schools
The Yomiuri ShimbunThe government has decided to increase the number of Assistant Language Teachers considerably over a five-year period, starting from the next school year, to strengthen English education at primary schools.
Aiming to create a system in which ALTs will be assigned to all public primary schools by the 2019 school year, the Education, Culture, Sports, Science and Technology Ministry, the Internal Affairs and Communications Ministry and the Foreign Ministry plan to increase the number of ALTs by about 2,300 over five years as a national project. Combined with ALTs who are hired independently by municipalities, the ministries intend to expand the total number of ALTs to 20,000, or 1.5 times the current level, by the 2019 school year.
The education ministry has decided to lower the starting age for English education from the current fifth year of primary school to the third year by the 2020 school year, and make it an official subject from the fifth year.
Here's the article in Japanese.  Attempted translations or paraphrases are welcome in the comments section:
2014年09月22日 17時27分
小学校の英語教育を強化するため、文部科学、総務、外務3省は、学校で英語指導などにあたる外国語指導助手(ALT)を来年度から5年間で、国の事業だけで約2300人増員し、6400人以上とする方針を決めた。
 自治体が独自に採用しているALTなどと合わせ、2019年度までに総数を現在の1・5倍の2万人に拡充し、すべての公立小学校に配置できる体制を目指す。
 小学校の英語教育では、文科省が20年度をめどに、開始時期を現在の5年生から3年生に引き下げ、5年生からは正式な教科にする方針を固めている。質の高い学習環境を整える上で、英語を母国語とするALTの確保や活用が課題として指摘されていた。
 ALTは、国の国際交流事業(JETプログラム)が始まった1987年に約800人が来日し、2002年に約5600人となったが、その後財政難で減り、現在は約4100人。ほかに、自治体の独自採用などで、約8000人が各地の小中学校などに派遣されている。全国の公立小学校(約2万1000校)では常駐する学校もあるが、1人で数校を受け持つケースもあり、半年に1回程度しか派遣を受けられない学校もあるという。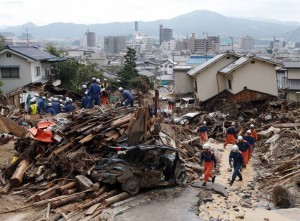 Donate to help disaster victims in Hiroshima! 

The death toll from mudslides in the city of Hiroshima jumped to 71 recently, with at least 15 people still missing. Nearly 1,000 people out of about 1,300 evacuees are sheltered in nine local elementary schools:
http://www.japantimes.co.jp/news/2014/08/27/national/hiroshima-slide-toll-rises-66-dead-21-missing-mayor-admits-delayed-alert/#.VAAfDPldV8E

Hiroshima Kenjin Kai of Southern California has formally joined the efforts of Hiroshima Prefecture and various Hiroshima-based NGOs and NPOs in the effort to raise funds in support of the victims of the disaster that befell the local community and residents of northern Hiroshima.

Anyone interested in joining in this effort, please send donations to:

Hiroshima Kenjin Kai of Southern California
(payable to "Hiroshima Kenjin Kai of SC"; write "JET Program Alumni – Hiroshima Relief" in memo)
Attention: Mr. Takami Igawa – HKSC President
712 East First Street
Los Angeles, CA 90012

This fundraising drive will be carried through the end of September (September 30, 2014).

All funds collected in this drive will be sent to Japan Red Cross Hiroshima Office for distribution to the disaster victims.

For any inquiry, please contact Dr. Charles Igawa, HKSC Secretary via email at <icigawa@gmail.com> or via (562) 818-7857.
For those who are in Japan or who would prefer to donate directly to the City's disaster relief bank/postal accounts, visit:
Yvonne Thurman-Dogruer (Kagoshima-ken, 1994-95) is a former JETAANY President and Treasurer. She has a Master of International Affairs degree from Columbia University, had a ten-year career at its Center on Japanese Economy and Business, and ran her own business for a number of years.  Yvonne currently consults for small businesses and start-ups while continuing the full-time job-search, and is an avid sailor.
JETAA NY President in 1999. Columbia grad in 2002. Director at Columbia Business School in 2005. Entrepreneur and business owner in 2008. Now? Unemploy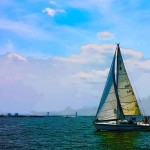 ed.
Rarely do I say that I'm unemployed. That's never my response when someone asks what I do. I'm consulting. I'm job-searching. I work from home. All true. I don't know how to relate to 'unemployed' as a status. It's easier on the ego to instead talk about what I've done up until this point. But after a year and a half with no steady paycheck, there is no doubt I am one of the many unemployed in this country, regardless of how the U.S. Bureau of Labor Statistics might choose to define me. I do consulting work when I can get it, and I continue to look for a full-time, salaried position. I am unemployed.
This summer marked a couple of milestones in my life; 25 years since graduating high school, and 20 years since I was on the JET program. I've attended really great reunions — hours full of fun and therapeutic reminiscing about the past. I would come home from them feeling good about reconnecting with those who had played an important role in my personal and professional growth, and proud of the many things I've accomplished in life so far. And then comes the question, "where am I now?". That has me stumped. What are these invisible barriers holding me back from moving forward? This all feels so foreign to me, as I had always felt grounded in my professional life. Every day is a challenge to keep steady, strong, and navigate myself through such an unpredictable environment. And every day, I seem to get through, and continue to look for that thing called a job to give me some sense of stability.
So I chatted with Steven Horowitz a few months back and with his encouragement decided to write for JETwit and reflect on this past year-and-a-half of my professional life, and make some observations about this job market. It's my hope that while I continue zig-zagging through the murky waters of the New York job hunt and share my experiences, it might help my fellow JET alumni who are going through the same thing. Whether you've returned from your Japan stint some decades ago like me, or have come back more recently, if you are job searching now – you will have a voice to contribute here. I do not aim to give advice, only to encourage discussion. Let's start talking, continue to keep our heads about us, and our humor.  Stay tuned…
Each month, current and former JET participants are featured in the "JET Plaza" section of the CLAIR Forum magazine. The July 2014 edition includes an article by JET alumnus Laurel Stevens Lukaszewski. Posted by Celine Castex (Chiba-ken, 2006-11), currently programme coordinator at CLAIR Tokyo.
***********
Laurel Stevens Lukaszewski (Kagoshima-ken, Minamitane-cho, 1990-92), is a professional artist who has shown her work throughout the US and in the UK. She is also the former executive director of the Japan-America Society of Washington, DC and is currently project director for the United-States Japan Bridging Foundation's JETAA Initiative. Since 2002 she has been a member of the National Cherry Blossom Festival's Board of Directors. Raised on both the east and west coasts of the US, Ms. Lukaszewski holds a bachelor's degree in International Affairs and a master's degree in Asian Studies from Florida State University. She lives in the DC metro area with her husband and two rambunctious cats. To view her artwork, please visit www.laurellukaszewski.com
Enduring Connections
Twenty-four years ago I interviewed for the JET Programme in Atlanta, on my birthday. I felt this was a good omen, so I was not nervous even though this was my first professional interview. Despite spending the last two years of college studying all things Japanese, from language to religion, I had no personal connection with the country and had never been there. What was merely acting on a brief comment by a Japanese politics professor about an opportunity to teach in Japan led me down a path that has guided me over the past two decades.
I spent my two years on JET as the first Assistant English Teacher to be assigned to the town of Minamitane-cho, on Tanegashima, an island off of the southern tip of Kyushu in Kagoshima-ken. I taught at five junior high schools and visited eight elementary schools, usually the first foreigner any of the students had ever met. My role in class varied depending on the school, but every teacher I worked with was eager to include me in activities ranging from PTA BBQs to harvesting sugar cane with students.
During my first weeks I experienced two homestays before moving into my own apartment. In Kirishima, a beautiful mountain town overlooking the Sakurajima volcano, I stayed with a family with three school-age daughters. I did not know at the time that they would become my Japanese family, that their home would become mine whenever I returned to Japan, even decades later. Arriving in Minamitane-cho, I had a second homestay. And, once again, I had no idea that this young couple with three-year-old twins would end up being lifelong friends, attending my wedding, sending seasonal messages as the twins grew into young adults, and hosting my husband and me years later when we were stranded in Kagoshima by a typhoon.
One of the wonderful things about JET is it allows you to become part of the community. Whether anticipated or not, you become involved in the lives of your neighbors, teachers and students. When an art teacher learned my hobby was pottery, she invited me to visit her studio even though she did not speak English. Every week I would join another teacher and my neighbor and spend the evenings working with clay and chatting—an immersion experience in neighborhood news and gossip. When I returned to the US, it was these memories of Japan that endured. My experience taught me I could live in a world where I did not necessarily understand everything, but could still cope and thrive. Read More
By Alexis Agliano Sanborn (Shimane-ken, 2009-11) for JQ magazine. Alexis is a graduate of Harvard University's Regional Studies—East Asia (RSEA) program, and currently works as an executive assistant at Asia Society in New York City.
As a martial artist, Monbusho Fellow, JET, consultant and CEO, there seems little that Harry Hill (Gifu-ken CIR, 1987-88) has not done or experienced when it comes to U.S.-Japan relations.
Now, Hill can add another feather to his cap: last February, the Japan-U.S. Friendship Commission and CULCON (the Conference on Cultural and Educational Interchange) in Washington, D.C. appointed him has their new chairman. For those familiar with Hill and his history, this appointment comes as no surprise: Hill knows Japan as intimately as he knows America. He began his career there as a Monbusho English Fellow in the mid-'80s and then served as a JET in Gifu Prefecture, experiences that helped him to tap into hitherto unexplored entrepreneurial sectors, in particular sports-related infomercials.
Since 2006, his company, Oak Lawn Marketing has been the largest infomercial brand in Japan. If you've seen Billy's Bootcamp advertised there, you have Hill to thank for. Now back stateside, Hill uses his broad background in education, culture, business and non-profits to further strengthen interpersonal understanding between the U.S. and Japan. JQ caught up with Hill at his new digs—asking about life, opportunities and the risks that inevitably lead to his success.
Could you explain your background with Japan?
I developed a passion for martial arts, budo, and Shorjinji Kempo, in particular, during my time at college.  This passion creates a curiosity and interest in Japan. During the summer of my sophomore year, I spent several weeks imagining my future. One of the books that influenced me at the time was Japan as Number One by Ezra Vogel. Looking around my immediate peers and acquaintances, I knew very few people who knew about Japan or could be considered Japan experts. Yet, many smart and respectable people were stating that Japan and Asia was the next land of opportunity. So I decided to start Japanese language training in my junior year with the intent of finding opportunity in Japan.
How did your time as a Monbusho English Fellow and JET lead to a career as an entrepreneur?
I was an MEF in Gifu Prefecture from 1985-1987 and the first CIR in Gifu during the first year of the JET Program from 1987-1988. As an MEF, I worked at both the kencho and kyoiku center. At the kyoiku center I helped put together teacher training programs for English teachers. In my two years in Gifu, I probably met and helped with training probably almost every junior high school or high school teacher in Gifu. I was also essentially a one-shot teacher. During my two year stint, I visited something like 230 of about 240 junior high schools and high schools, hence my job was more of a cultural ambassador who offered exposure to the English language and U.S. culture.
In 1988, Gifu hosted a regional exposition "Mirahaiku." Since I also had a desk at the kencho, I was asked by the general affairs division to make the English name for the expo, which I named "Future Watch '88."  The English name received a significant amount of press coverage, more from local media and to a lesser extent English language media, but inspired the organizers that the expo should have an international flavor. As a CIR from 1987-1988, some of my main responsibilities was to work for the planning organization for the expo, which was a hybrid of individuals seconded from both business and government. The expo was a great success, and the network of business leaders and government leaders with whom I worked side by side gave me the confidence that I could do business and open doors if I started my own business.
Each month, current and former JET participants are featured in the "JET Plaza" section of the CLAIR Forum magazine. The June 2014 edition includes an article by JET alumnus Patricia Bader-Johnston. Posted by Celine Castex (Chiba-ken, 2006-11), currently programme coordinator at CLAIR Tokyo.
***********
Patricia Bader-Johnston (Yokohama-shi, 1989-91) was one of the first CIRs on the JET Programme. She currently is the Representative Director and CEO of Silverbirch Associates K.K; and is a retained Advisor to Tokyo Business Development Center, as well as a Partner in Thurlestone Capital (a leading clean energy investment firm in the UK). Before founding Silverbirch Associates in 2008, Ms. Bader-Johnston held senior roles in leading companies including Goldman Sachs, BAT and IBM, over a span of 25 years in Japan. She is an active speaker, writer, panel moderator and university lecturer on topics related to CSR and sustainability, globalization trends, and doing business in Japan.
I was a CIR in Yokohama City government between 1989 and 1991. It was the year of YES 89, an international expo involving over 60 countries that ran throughout that first year, and set the tone for many of the experiences I had in my early days in Yokohama. It also no doubt helped set a path for my future career in Communications. Working as a member of Yokohama City Hall – City pin in my lapel and all – I not only received the gift of a Key to the City when I left, but also a host of memories and formative experiences that remain with me to this day.
I had already been in Japan for two years before becoming one of four of Canada's first CIR's on the (then) brand new and completely unknown JET programme. Because the program was so new, we no doubt benefited from a fair amount of attention and special care in that first year. I had a chance to personally interview Prime Minister Nakasone a few years after I left the programme, and he told me how JET had been meant to emulate the US Peace Corps. He had wanted to bring young foreigners into Japan to "cause positive friction" to force Japanese to internationalize more quickly. He called this programme "Kokusaika."
In order to have the foreigners live in the country long enough to create this "friction", they needed to be given something to do over a longer term, so they came up with two types of jobs descriptions: the AET to influence educators and young people, and the CIR to influence local governments.
As a CIR I was exposed to many various experiences that ranged from working in the International Press Center for YES 89 to assisting at UN conferences. I mc'ed an ASEAN conference, interpreted for the Crown Prince and Prime Minister Kaifu when they met the International Director of the Red Cross, helped play host to numerous foreign delegations that ranged from the Vice President of the United States to the Mayor of Vancouver Canada and the Vancouver City Police Pipe Band among others! It was an amazing collection of experiences for a young foreigner in Japan. As the resident Canadian CIR in the Yokohama International Communications and Exchanges Division, I introduced the name that stuck to the Maritime Museum in Yokohama, raised a flag with Mayor Takahide and actress Agnes Chan when the Pacifico International Conference Center opened, and even had the great honor of being named celebrity "Postmaster for the Day" (complete with carrying out his duties for one full day). It was also a great honor to be asked to judge the Horseback Archery competition in Kamakura one year! Through these combined experiences I met many influential people who continue to be a help to me in my career today.
Had I not met officials from the Canadian Embassy in Yokohama through YES 89, I would not have been invited to apply for my next role in Communications and Culture at the Embassy in Tokyo. I was the first non-Japanese to take on a local senior program officer role for them. My network gained through the JET programme made me an asset to the embassy that allowed me to participate in a far greater range of projects, and my Japanese ability, honed through countless formal meetings with Japanese government colleagues, was polite enough for me to represent the embassy at official events. I planned and hosted every Canadian JET welcome event that took place in the eight years I was with the embassy, so have met many Canadian JETs over the years and have even hired some of them since then! Read More
The following was written by JETAA Northern California President Mark Frey (Kumamoto-ken, 2002-06) with contributions from Xander Peterson (Miyazaki, 2009-2012) and was originally published in Japanese in the most recent edition of the CLAIR Forum which is distributed to pretty much every prefecture and town government in Japan as well as every Japanese consulate and embassy.  Below is the English version.  Here's a link to the CLAIR Forum (PDF) which has the article in Japanese.
Leading U.S.-Japan Exchange in Northern California: JETAANC
By Mark Frey, President, JETAANC, mark.frey@jetaanc.org
Many of you know participants of the JET Program (Japan Exchange and Teaching Program). They may be your co-workers or friends. But what happens to them when they return to their home countries? I hope to show you some of the exciting things that former JETs are doing on behalf of U.S.-Japan relations. I will also suggest some ways that you can engage JET alumni to further your own goals.
In 1989, two years after the start of the JET Program, former JETs gathered and established the JET Program Alumni Association (JETAA) with the aim of giving each other support and continuing the mission of the JET Program to foster grassroots international exchange.
Over the past 25 years, JETAA has grown into a vibrant worldwide organization. There are now over 57,000 JET alumni living across the globe. Over 28,000 of them live in America. That's about 1 in every 8,000 American adults! You can see the positive impact that JET alumni can have in promoting Japan around the world.
This year I became President of JETAA's Northern California chapter, JETAANC. With over 3,000 members, I am proud to say that we are one of the largest and most active chapters in the world. Next year we will celebrate our 25th Anniversary.
Our alumni are working at every level of every sector of the local economy, including for-profit, non-profit, education, and government. They are promoting exchange between the U.S. and Japan whenever and however they can.
Every year, our alumni provide substantial support to the JET Program. Read More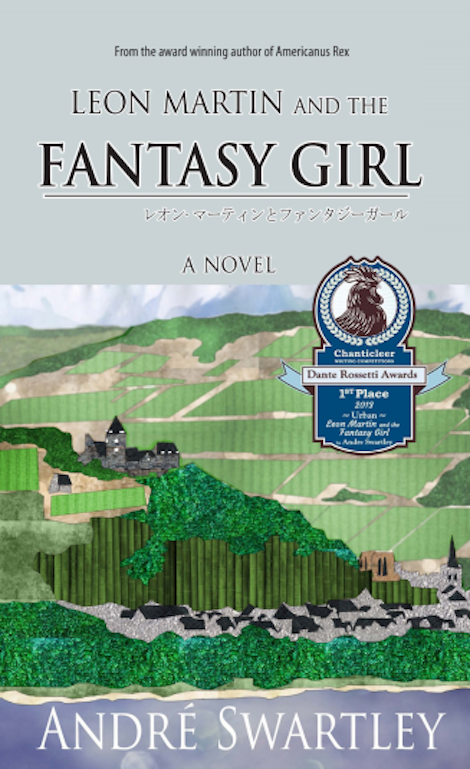 Via the Saga JET Programme website:
This month's edition of AJET's Connect Magazine features a double (DOUBLE) page spread interviewing current Karatsu City JET Andre Swartley about his award-winning book – Leon Martin and the Fantasy Girl. If you haven't read this month's edition, the interview and short review is below. If you want you buy a copy of the book click here.
Leon Martin and the Fantasy Girl delves into cultural exchange on a level that most people never get a chance to experience. When a group of American high school students arrive at a small German town for a summer work-study program, they find themselves caring for a potentially illegal alien in a life-threatening situation.
Leon and Autumn, a pair of teens staying with the same host family, are at the forefront of the action. Instead of spending their summer doing the work they traveled to Germany to do, they find themselves looking after a girl named Shin. Her presence is the glue that holds this story together, as well as what makes it so unbelievable. Shin's story is vague at first and takes its time in clearing itself up.
The build-up to the second half requires readers to have some faith that that these characters will eventually find themselves in slightly more realistic situations, which they do. Spending a summer abroad in Germany is adventurous, but saving a fellow foreigner who should have been taken into custody from the beginning is a bit of a stretch. Read More
Originally posted on the JETAA USA website:
Donated Books from Ambassador Kennedy Translated into Japanese
Following Ambassador Kennedy's donation last November of 110 books to the Taylor Anderson Reading Corner at Mangokuura Elementary School in Ishinomaki, the volunteer group that reads to the students there, Soyokaze no Ohanashi (The Gentle Breeze Talks), joined together with the Miyagi International Association (MIA) and current JETs in the prefecture to translate nine of these books into Japanese. The books chosen cover various topics such as the lives of children in the US and other countries around the world, science, and wildlife, and are simple enough to be accessible to younger students.
Ms. Kyoko Sasaki, from Soyokaze, reportedly first reached out to Mr. Andre Perez to ask for his support for the project. Andre, who is currently a Coordinator for International Relations with Miyagi Prefecture and MIA, took on the planning of the event, coordinating details between MIA and Ms. Sasaki. Once these were settled, he reached out to Miyagi JETs through his position as a Prefecture Advisor and tapped into the Miyagi AJET(MAJET) network through Ms. Tanya Zolotareva, another CIR and a MAJET officer. The various groups collaborated, with each taking responsibility for different steps of the process of selecting books, translating them, and affixing the translations. The whole undertaking reportedly went quite smoothly, thanks to MIA's previous experience with translating books, the eight JETs and roughly 10 other people who volunteered their time and talent, and Mr. Perez's connections to both MAJET and MIA.
The project was also profiled on Miyagi Prefecture's Facebook page (https://www.facebook.com/visitmiyagi) and in the Asahi Shimbun and Kahoku Shimbun.
The books will now be available to students at Mangokuura E.S. to look at any time and they will be able to work on their understanding of the English texts by referring to the new Japanese translations. Having prepared translations at hand will also make it easier for the volunteers who read to the children.
As Ms. Sasaki, who is also a friend of the Andersons, having known Taylor, said in talking with one of the local newspapers that reported on the story, "This is a way to express our thanks to Taylor's family. We want to show them that we are continuing Taylor's legacy by carrying on her work."

Via the AJET website:
On May 7th, we held our fourth AJET Professional Development Conference Call. Our guest speaker was former JET, Mr. Anthony Bianchi (Aichi-ken, Kiyosu City, 1989-91) who now serves as a city council council member in Inuyama City, Aichi prefecture. Mr. Bianchi is often highlighted in the Japanese media and is well-known for being the first American-born elected official in Japan. Click here to read a short interview with him on AJET.net.
Mr. Bianchi discussed the inner workings of his current position, various initiatives to improve English and international communication in his community and how JETs can potentially get involved with local politics in their communities.
Click here to listen to the recording of the call on the AJET website:  http://ajet.net/2014/05/13/professional-development-call-anthony-bianchi/
**************
Very nice article on JET alum and former AJET Chair Matthew Cook (Osaka-fu, 2007-12) that recently appeared in the newspaper of Matt's hometown, Danville, Virginia and describes his path from the JET Program to becoming a key player in Osaka's pioneering English education reform efforts.
By DENICE THIBODEAU
dthibodeau@registerbee.com
Thibodeau reports for the Danville Register & Bee.
May 10, 2014
When Danville native Matthew Cook headed to Osaka, Japan, in 2007 to take a job as an education specialist and trainer in the Japan Exchange and Teaching Program, little did he realize he would end up working for a Japanese government agency to completely reform how English is taught in the city.
CLICK HERE to read the rest of the article:  http://m.godanriver.com/news/danville/danville-man-appointed-to-japanese-board-of-education/article_1b9620f2-d972-11e3-8adc-0017a43b2370.html?mode=jqm#.U3A0DN98uYw.facebook
*****************
Another thought provoking article by JET alum author and writer Roland Kelts(Osaka-shi, 1998-99), this one in the current issue of Adbusters.
A new breed of young people have outdone the tricksters of advertising.
Roland Kelts, 07 May 2014
They don't want cars or brand name handbags or luxury boots. To many of them, travel beyond the known and local is expensive and potentially dangerous. They work part-time jobs—because that is what they've been offered—and live at home long after they graduate. They're not getting married or having kids. They're not even sure if they want to be in romantic relationships. Why? Too much hassle. Oh, and too expensive.
In Japan, they've come to be known as satori sedai—the "enlightened generation." In Buddhist terms: free from material desires, focused on self-awareness, finding essential truths. But another translation is grimmer: "generation resignation," or those without ideals, ambition or hope.
CLICK HERE to read the rest on ADBUSTERS:  https://www.adbusters.org/magazine/113/satori-generation.html
Click here to read more of Roland's articles from Adbusters:  https://www.adbusters.org/authors/roland_kelts
News agency Kyodo News has recently been publishing monthly articles written by JET alumni who were appointed in rural areas of Japan, as part of promotion for the JET Programme. Below is the English version of the column from April 2014. Posted by Celine Castex (Chiba-ken, 2006-11), currently programme coordinator at CLAIR Tokyo.
***********
Eliot Honda (Ehime-ken, Uwajima-shi, 2009-12) was born and raised in Honolulu, HI, and moved to San Francisco where he received his Bachelor of Fine Arts from the Academy of Art University. After graduation he spent nine years in the TV/Multimedia industry mainly working with clients on commercials, corporate videos, and news. He left San Francisco in 2009 for the JET Programme, and stayed in Ehime for the next three years. He used his multimedia skills to work on sister city relationship programs between Honolulu and Uwajima. After the JET Programme, he returned to Hawaii and joined his mother's business in real estate, and still do multimedia work on the side.
Uwajima, my second home
It was the little things that made my time in Japan incredible. Waking up to the smell of the ocean, the sound of my shoes squeaking against the tiled floors of Johoku Junior High School, the taste of fresh fried jakoten and my favorite thing, seeing my students smile.
There's no single moment that can sum up how incredible my time on the JET Programme was, but my wedding party comes pretty close.  Over 200 of our friends and co-workers showed up to celebrate my marriage to a wonderful woman from Uwajima.  It was probably the most beautiful thing I had ever seen.  It wasn't just because it was my wedding, it was because in the 3 years I had lived in Uwajima, Ehime I had found a home, a community, and a new love. I fell in love with a city that I had never been to, and I had fallen in love with the people of Uwajima.
This is a small city whose money doesn't come from tourism, and doesn't have the flash and awe of Tokyo, but it has heart like I've never seen in all my life. From mountain to ocean you can find beauty all around you, and the warmest people I have ever met. I had several encounters with elderly men and women who I had asked for assistance and soon found myself engaged in a twenty-minute conversation.  The words "I'm from Hawaii" spawned a whole new conversation.  There were moments in which I had to recall what it was I was looking for simply because we had been talking for so long.
There were moments when I would have to take a breath and ask myself: "Is this really happening?  Am I really here?"  Every day in Uwajima, whether a good day or a bad day, was a gift.  Not only to be in Japan, but just to be a part of the growth of the students, and the community.  There were three Hawaii ALTs in Uwajima and all of us acted as that bridge between Hawaii and Uwajima and were more than happy to share our culture with the students.  I think my favorite time with my students was the free-time between classes and during sports activities.  They would ask me many questions about Hawaii and America, and they'd share their culture with me. It always warmed my heart to see their eyes light up when I'd talk about my hometown. I tried to give these students as much of myself as I could, but they gave me so much more. Read More
Each month, current and former JET participants are featured in the "JET Plaza" section of the CLAIR Forum magazine. The May 2014 edition includes an article by JET alumnus Yuri Lowenthal. Posted by Celine Castex (Chiba-ken, 2006-11), currently programme coordinator at CLAIR Tokyo.
***********
Yuri Lowenthal (Shiga-ken, 1993-96), grew up in Nashville, Tennessee, but moved all around the world because his father was in the Foreign Service, so he went to elementary school in Nashville, Junior High in Niamey, Niger, and then college back in Williamsburg, Virginia at the College of William and Mary. His hobbies are mostly entertainment related, and he's managed to make a living at it! He joined the JET Programme because it joined his love for Japan and adventure, and had no idea that it would prepare him for one of the most difficult yet rewarding professions, acting.
My JET Programme Experience: How Do You Prepare for the Unknown?
Who knows what the future will bring? I guess we all have an idea. I thought I knew what was going to happen. Surely I would continue work as a CIR in Shiga Prefecture as long as they would let me, then find another job in international relations, just like my father. I was having a blast working in Shiga prefectural office doing everything from helping ALTs troubleshoot issues in their schools or in their lives, keeping the ALT community informed with newsletters, teaching English to cadets at the local police academy, translating, interpreting and fielding the occasional letter to the Governor from a man who believed that aliens were working with the Japanese government on time-travel experiments and mind-control. I had been in love with Japan since I was a kid, and this was the perfect life for me. Now I am an actor, writer and producer living in Los Angeles. What happened? Life, I suppose. We all change, and the best experiences change a person greatly. My experience in Japan constantly forced me to question my preconceived notions of things and stay open to many different kinds of ideas. It is what made me stay in love with Japan. Because of my father's work, I had visited many countries all over the world, but there was something different about Japan. Every day gifted me with something new, excited me with mysteries, and kept me interested.
While working in Japan I was also able to explore my love of the arts. I studied Butoh dance in Kyoto, Kabuki, Bunraku and Kyogen in Osaka, and made short films with my friends (often, much to the confusion of the people around us.) One day I realized that, as much as I loved living and working in Japan, I had to try my hand at acting for a living, much in the same way I took a big chance and came to live and work in Japan because I loved that so much. But I did not leave Japan behind when I returned to the US. I came home with a confidence that I did not have before my experience with JET: the confidence I built as a CIR, working with all different kinds of people, both from Japan and other countries; learning to solve problems creatively and on-the-fly; developing and maintaining relationships with people, both personal and business; teaching and allowing myself to be taught. And because you never know how what you learn at any given time will come in handy later, I had no idea that when I came back to the States that I would use the Japanese language I had honed to work with Japanese clients in TV and film production in New York City.
The money I had saved during my time in the JET Programme gave me the time and space to create the relationships that led to actual work that would employ what I learned working for the local government in Shiga Prefecture. These skills would allow me to work with Brad Pitt for a Japanese jeans commercial, produce an episode of Beat Takeshi's nature program in the Bahamas, and get into a harrowing altercation with an angry chimpanzee for a show about two Japanese comedians visiting the US. And then, when I got married and moved to Los Angeles, I began working in the anime-dubbing business. While knowledge of Japanese is not essential to the work, it has been one very important skill that has set me apart from most of my other colleagues. Many of the characters I have played have been Japanese. And because so much of my work is voice acting, I have been able to play the roles because of my experiences and the skills I developed in Japan despite the obvious fact that I do not look Japanese! In the competitive world of acting, an advantage like this is hugely empowering. Read More
Former AJET Chair Matthew Cook (Osaka-fu, 2007-12) has been heavily involved in this cutting edge effort to improve Osaka's English education system and is quoted in the article.
http://www.japantimes.co.jp/community/2014/03/30/issues/osaka-embraces-english-reformation/#.U1fJOmRARzE
BY TERU CLAVEL
While Osaka Mayor Toru Hashimoto's controversial political antics have increasingly drawn criticism, little attention has been paid to how his leadership has prompted the most progressive reforms of English-language education in the nation. Hashimoto, who served as Osaka's governor from 2008-11, made possible the appointment of fellow Waseda Law School graduate Toru Nakahara as superintendent of the Osaka Prefectural Board of Education, charging him with the task of empowering students to compete on a global stage.
Only in Osaka will students in the public school system have the opportunity to start preparing for the TOEFL iBT — an internationally recognized English-language proficiency exam for non-native speakers administered over the Internet that tests reading, writing, speaking and listening skills for entrance to English-speaking university overseas — in grade one of primary school.
With the urging of Mayor Hashimoto, Nakahara — who also graduated from the University of Michigan Law School and was a practicing attorney at a California firm for 10 years — left the private sector and took a substantial pay cut to become the principal of Izumi High School in Osaka in 2010. In 2013, Nakahara became Japan's youngest-ever superintendent at age 42, overseeing 1,600-plus schools, and he formed what is known as the English Reformation Project Team.
Nakahara's accomplishments in the United States and at Izumi High School have led him to be recognized as an education innovator.
"One thing I noticed when I was in Ann Arbor (Michigan) Read More