Yvonne Thurman-Dogruer (Kagoshima-ken, 1994-95) is a former JETAANY President and Treasurer. She has a Master of International Affairs degree from Columbia University, had a ten-year career at its Center on Japanese Economy and Business, and ran her own business for a number of years.  Yvonne currently consults for small businesses and start-ups while continuing the full-time job-search, and is an avid sailor.
JETAA NY President in 1999. Columbia grad in 2002. Director at Columbia Business School in 2005. Entrepreneur and business owner in 2008. Now? Unemploy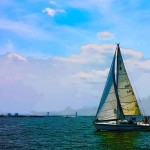 ed.
Rarely do I say that I'm unemployed. That's never my response when someone asks what I do. I'm consulting. I'm job-searching. I work from home. All true. I don't know how to relate to 'unemployed' as a status. It's easier on the ego to instead talk about what I've done up until this point. But after a year and a half with no steady paycheck, there is no doubt I am one of the many unemployed in this country, regardless of how the U.S. Bureau of Labor Statistics might choose to define me. I do consulting work when I can get it, and I continue to look for a full-time, salaried position. I am unemployed.
This summer marked a couple of milestones in my life; 25 years since graduating high school, and 20 years since I was on the JET program. I've attended really great reunions — hours full of fun and therapeutic reminiscing about the past. I would come home from them feeling good about reconnecting with those who had played an important role in my personal and professional growth, and proud of the many things I've accomplished in life so far. And then comes the question, "where am I now?". That has me stumped. What are these invisible barriers holding me back from moving forward? This all feels so foreign to me, as I had always felt grounded in my professional life. Every day is a challenge to keep steady, strong, and navigate myself through such an unpredictable environment. And every day, I seem to get through, and continue to look for that thing called a job to give me some sense of stability.
So I chatted with Steven Horowitz a few months back and with his encouragement decided to write for JETwit and reflect on this past year-and-a-half of my professional life, and make some observations about this job market. It's my hope that while I continue zig-zagging through the murky waters of the New York job hunt and share my experiences, it might help my fellow JET alumni who are going through the same thing. Whether you've returned from your Japan stint some decades ago like me, or have come back more recently, if you are job searching now – you will have a voice to contribute here. I do not aim to give advice, only to encourage discussion. Let's start talking, continue to keep our heads about us, and our humor.  Stay tuned…