Written by professional Writer/Interpreter/Translator Stacy Smith (Kumamoto-ken CIR, 2000-03), WIT Life is a periodic series about aspects of Japanese culture such as film, food and language. Stacy starts her day by watching Fujisankei's newscast in Japanese, and here she shares some interesting tidbits and trends along with her own observations.
Recently I had the chance to check out the newest exhibition at the Sato Sakura Gallery, Curious Beasts. As the name indicates, this collection of paintings is of animal portraits ranging from cats and tigers to dogs and birds. The works are from the artists Fumika Koda and Yuji Musashihara, and being a cat lover I was partial to Koda's paintings as they mostly feature felines. In particular, I liked her painting Beautiful Spring Day (春うらら, haru urara), which shows a cat caught under falling cherry blossoms (花吹雪, hanafubuki).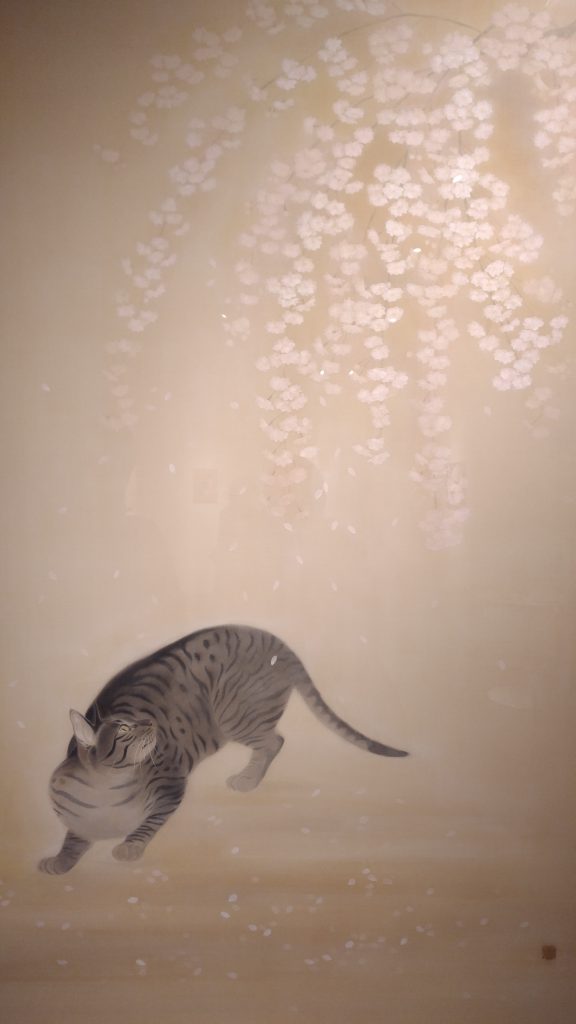 Musashihara's bengal tiger portrait adorning the gallery window is especially powerful. He also has a cute cat painting called Hide and Seek (かくれんぼ, kakurenbo), which shows a kitten dwarfed by temari (手毬) balls. The exhibition runs through March 28, so make sure to check out all the interesting creatures who lie in wait for your visit!