Feb
12

Art, Events, Translating/Interpreting, WIT Life, Writers

Comments Off

on WIT Life #321: Sato Sakura Gallery
Written by professional Writer/Interpreter/Translator Stacy Smith (Kumamoto-ken CIR, 2000-03), WIT Life is a periodic series about aspects of Japanese culture such as language, film, business, food and politics. Stacy starts her day by watching Fujisankei's newscast in Japanese, and here she shares some interesting tidbits and trends along with her own observations.
Last September, Chelsea received a great addition to its art scene in the form of the Sato Sakura Gallery. This Japan-born museum has two locations (Fukushima/Tokyo) that specialize in 日本画 (Nihon-ga or traditional Japanese painting). This term and concept was created in response to 西洋画 (Seiyou-ga or Western painting), which made its way to Japan during the Meiji Era (1868). Today the idea of Nihon-ga can refer to both purely traditional Japanese painting, as well as new styles of painting that incorporate Western painting methods while remaining faithful to traditional Japanese painting techniques.
The inaugural exhibit at the new Chelsea location has 桜 (sakura or cherry blossoms) as its theme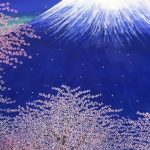 , and showcases 12 different artists and their works. They range from regular-sized paintings to giant folding screens, and my favorites were from self-proclaimed "flower and cherry blossom maniac" Reiji Hiramatsu. In particular, his work "Playful Carps" piece is impressive.  Its bright colors are striking, and I enjoy the playfulness of the fish in a pond with petals filling its surface. I also really like his "Mt. Fuji and Cherry Blossoms," of a gorgeously blue Mt. Fuji shrouded by vivid pink sakura. Weeping sakura and other iterations can be found on the screens, and all artists present their own unique sakura visions. This exhibition will be available for viewing through March 31, so make sure to check it out.
Sato Sakura Gallery is the perfect place to seek refuge during these chilly winter days. Last weekend I joined a Nihon-ga workshop held there, where participants learned about the history of this painting style. Not only did we get to create the necessary colors by mixing mineral pigments with a specific type of protein, but we were able to make a Nihon-ga of our own to take home.
The gallery is located right by the High Line, so when the weather starts warming up you can enjoy an elevated stroll after appreciating the art. For the time being while nothing is in bloom yet, check out Sato's sakura to get yourself ready for spring's upcoming flowers!